Therm-a-Rest ProLite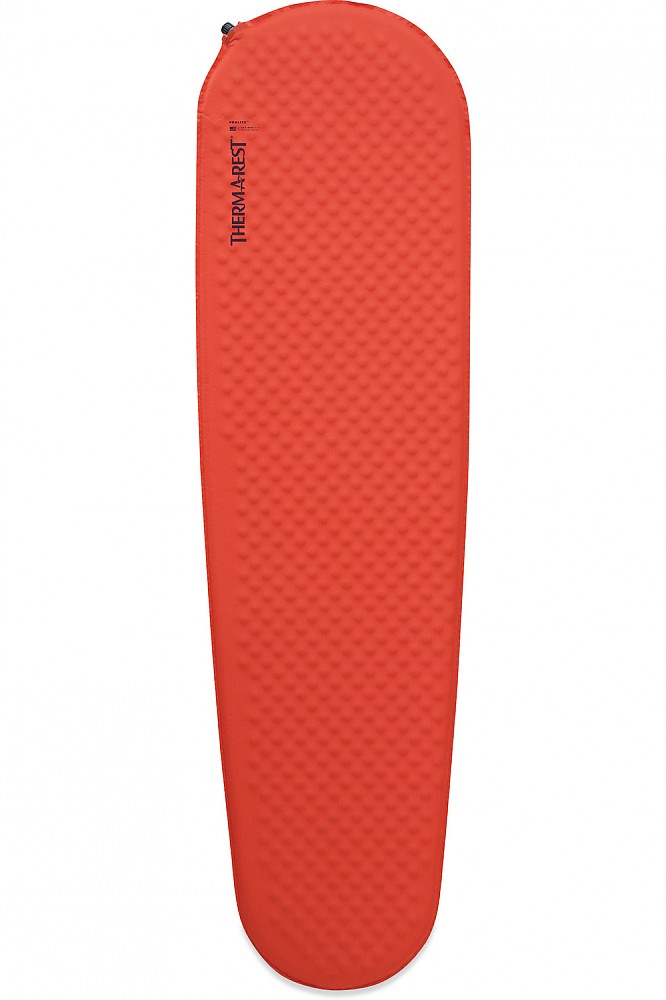 A spartan self-inflating pad, lacking the warmth and comfort of most other inflatable pads. Good for those who need the lightest possible and the most compact pad while keeping it relatively durable and affordable. Otherwise, there are better options in various pad departments.
Pros
Relatively compact packed size
Good combination of low weight and affordability
Reasonable warmth for trips above and around freezing
Good manufacturing quality
The fabric looks relatively durable
Great warranty coverage
Cons
Tiny storage bag makes proper packing-down difficult and time-consuming
Requires careful handling, avoiding usage outside the tent etc.
Comfort and warmth don't differ from 15-mm foam pads
Easily pressed down to earth after self-inflation, final inflation by mouth is mandatory
Tricky to use in winter
No repair kit included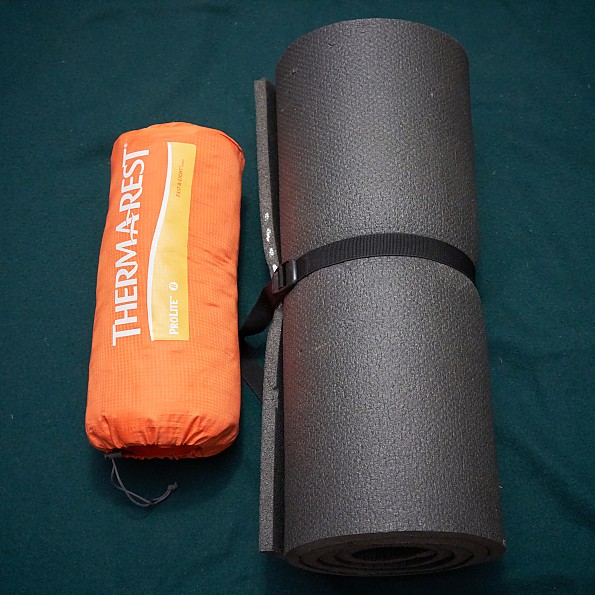 In comparison to 15-mm foam pad, 50 cm width (20")

In the daily usage I prefer 15-mm thick foam pads (20" / 50 cm width), like Therm-a-rest Ridgerest, or cheap equivalents with similar thickness. These pads are lightweight, next to indestructible, and they may be helpful in a variety of scenarios: from packing the bicycles for plane traveling to having lunch on the ground in the middle of the day. These pads aren't really warm, and a couple of years ago I purchased short 20-mm self-inflating pads for a "second layer" in winter trips. Though the overall comfort of 15-mm pad is OK for us.
I usually travel with my wife and son, each of us equipped with foam pad (plus 20-mm inflatable pad in winter). This makes three pads in warm weather and six ones in winter, divided between two adults. Recently our child started participating in weekend trips on his own bike, so we lost the opportunity to attach his foam pad to the bicycle seat or off-road stroller, and carrying two thick foam pads on single backpack (or bicycle rack) is REALLY troublesome. So I decided to substitute one foam pad (out of three) to equivalent inflatable pad for reducing the overall package.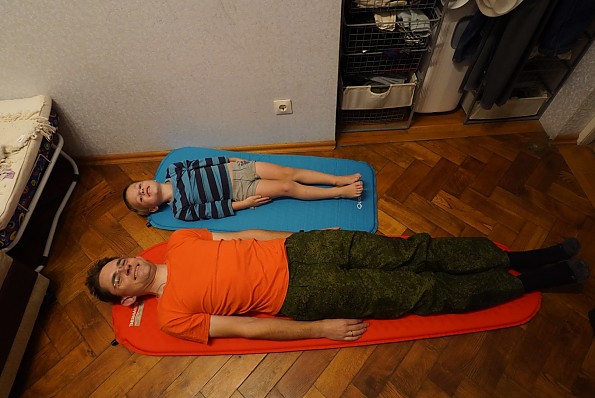 I chose the Thermarest Prolite ("Regular"—51 x 183 cm or 20 x 72 in.) due to several reasons:
Compact package, it fits well inside the rolled foam pad, or may be put somewhere in my backpack.

It's about as lightweight as a foam pad.

Its thickness isn't excessive, so it will mate with foam pads well.

It's relatively durable for inflatable pad, in contrary to ultralight (and very expensive) air mattresses.

"Regular" size matches our foam pads exactly, the tapered end is welcome due to the tapered floor in our Hilleberg Nallo 3 tent. 

Therm-a-Rest pads benefit from worldwide lifetime warranty, which covers most issues which would make the pad unusable (like air bubbles or loss of air-tightness of the shell).
Unlike most inflatable pads, Prolite is not "excessively" warm and comfortable—it's similar to regular 15-mm foam pads, like Ridgerest. Anyway, I was interested neither in extra comfort (15 mm foam pad is more than enough for me), nor in extra warmth (as I will not use the air-filled pad in winter on its own without some backup). So these drawbacks didn't bother me.
Construction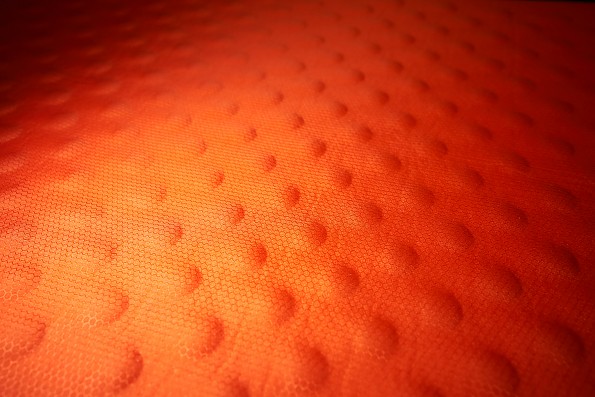 The pad is unrolled and self-inflated in the usual way, the valve is the simple one. There're round holes in foam on the entire pad surface, so under the glued-on fabric shell it looks like a slice of Holland cheese. Obviously these holes were introduced to reduce weight (and warmth), as there's a "Women" version, which is shorter (165 vs. 183 cm), but has the same weight due to less density of holes in foam. It's therefore a bit warmer.
Generally, the pad cannot reach the necessary level of support on its own—after self-inflation you'll basically lie on the ground due to small thickness. So the final inflation by mouth (several breaths) is mandatory to reach the required pressure. Finally the pad becomes about as rigid and [not very] warm as said Ridgerest.
The included storage bag is super-tiny, therefore packing down the Prolite takes at least 3 min. 30 sec., of which during the 2.5 minutes you painfully slowly squeeze the rolled pad into the bag! In some cases you'll give up and start rolling and squeezing from the beginning, in an effort to find the most suitable shape of the roll to match the bag shape...
In comparison, rolling and securing the regular foam pad takes up to 30 sec. Also our 120-cm inflatable pads are much easier to pack. As a result, in real world use I either put the Prolite inside the rolled foam pad, or roll and pack it into the backpack using the spare tent bag.
Real world impressions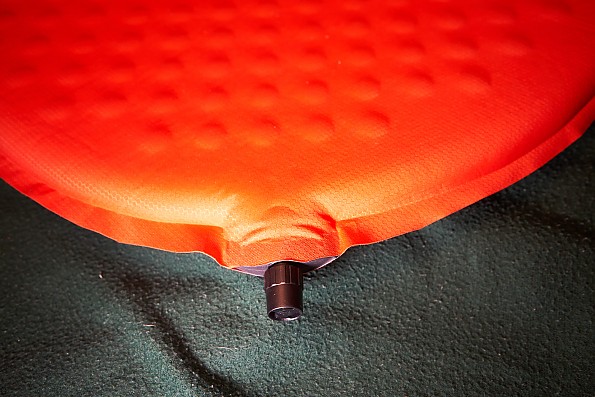 Overall, in several two-day winter trips around freezing this pad performed satisfactory. Of course, it's not exceptionally warm, and below freezing it's better to have a second pad underneath for warmth and redundancy. But when the ground isn't frozen, it's comfortable enough for me. 
In cold winter conditions using this pad becomes tricky, as it cannot self-inflate on its own due to loss of foam elasticity below freezing. You can inflate it by mouth completely, but in such manner a lot of water vapor will be brought inside, which will freeze, and after several nights you'll have problems with a noticeable amount of ice formed inside the pad. So if you plan to spend more than several winter nights on this pad, you'd better consider the special pump sack for initial inflation. Luckily it's not my case (as we never do long winter trips), I am able to inflate this pad by mouth, and later it successfully dries at home with an opened valve.
In our trips I baby this pad, avoiding every possible damage, as I hate the idea of searching for a hole in dark winter night, with limited access to water. And any hole will be noticeable immediately due to small internal volume. Unfortunately there's no repair kit included. So the second layer pad is really necessary in winter as a backup. However in summer, having two more foam pads, it's possible to rotate all three of them by 90°, so the damaged pad lies under the feet, where the warmth is not critical.  
Conclusion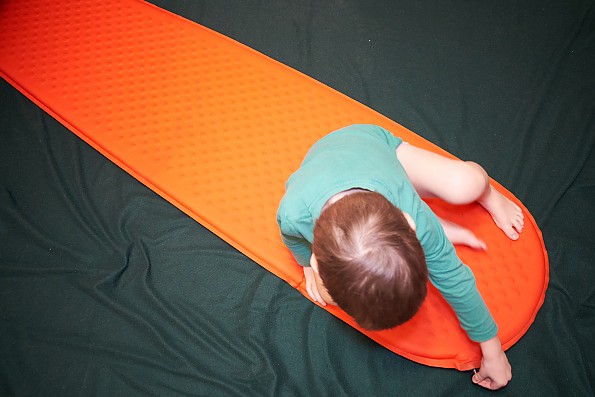 So far I'm pretty much satisfied with Prolite pad, as I purchased it for a definite purpose, knowing its limitations and tricks in advance. Although I suspect that most users will either pick warmer and thicker self-inflating pad (like Prolite Plus), or ultralight air mattress, or stay with foam pad. So indeed the Prolite is not for everyone.
Background
About 7 nights in temperatures around freezing. It's my first "standalone" inflatable pad, not counting three 120-cm ones.
Source: bought it new
Price Paid: 78 EUR

Proven, lightweight, self-inflating pad, but a little more difficult to pack.
Cons
Difficult to deflate
Feels "flimsy"
I've used Therm-a-Rest pads for years, but I had two: a thick but enormous one for base-camping, car camping, and family trips, and a thin, light backpacking model. But I'm not getting any younger, and the thin one was starting to be too thin. So I went with the ProLite: same thickness as my "comfort" pad when inflated, and only slightly heavier and larger than my lightweight pad when packed.
I was not disappointed in its size and weight—I'm pretty sure I could fit the new pad in the old backpacking pad's stuff sack. And I may have to: the included stuff sack is pretty thin and seems likely to wear out quickly. The pad itself seems mostly high quality, with a grippy bottom surface that is a nice touch, but the weight savings comes from a waffle-style interior, and it just feels to me like it won't last as well as the old one—which is 20+ years old and still going strong! So maybe I have high expectations for my gear.
The other complaint is that it is more difficult to pack. Partly due to the thickness, you really need to work to get all the air out. I find I need to roll it up, squeeze hard, and then unroll and quickly re-roll it to get it narrow enough to fit in its stuff sack. This is made more complicated by the valve placement: the pad has a rounded, mummy-bag shape to it, and the valve is about 30 degrees right of center at the head of the pad. This leaves about an inch or so of pad beyond the valve, and I just can't get that last bit to squeeze down as well as the rest of the pad. A minor quibble, perhaps, but it feels like something that could have been designed better.
Overall, a good pad, and, really, I'm happy with it. I don't know that there are any better products on the market. But I do think, with this pad, Therm-a-Rest has left room for improvement.
Source: received it as a personal gift

Have used this pad for 5 years with no problems. Inflates quickly, stays inflated all night, packs small.
Cons
Not enough r's for winter
Stuff sack too small
This pad has performed well after being used for the past 5 years, at least once every month of the year in the northern climate.
The stuff sack is really small, so it takes some extra time to get it in and the "handle" of the stuff sack broke within the first year, but no real loss there. Most of the time I don't use it anyway. The width seems perfect for a backpacking sleeping bag, which isn't cut too wide to save weight. 
Although I have not compared many of these pads, this one seems to be among the lighter of them. The only time I can say this pad has failed me was when I used it in a quinzee, and that was only because it didn't have the insulating value I needed for use on top of the snow.  Since then I have layered this with a Thermarest Ridgerest under it and it worked fine. 
All in all, I really think this is a great pad.
Source: received it as a personal gift

Bought this to replace my old one from 1995 (not because of performance). I just wanted new technology and less weight.
I love this pad. It is all the padding I need to make a hard ground manageable. I recently used it on an overnighter and the temp. was well below 20°F, not a bit of chill all night.
Rolls up to the size of a Nalgene bottle and fits right in your pack.....lovely!!!
Very comfortable sleeping pad. Great for backpacking and camping. Have had it for four-ish years and haven't poked a hole in it yet.
Cons
Bulky if not packed properly
A great sleeping pad. Does not self-inflate very well but easy to blow into and fill with air. Very comfortable on almost any surface. Mostly used for backpacking and camping. Packs pretty small if rolled properly.
I have had good longevity out of this product. I have had it for four or five years now and it has always bring it with me on camping trips. 
Source: bought it used

Compact and comfortable mat for backpacking.
Pros
It is thin enough to not reduce head height in a backpacking tent.
Provides good insulation on cold ground
Comfortable mattress
Almost self-inflating, but requires a few puffs to fully inflate. Provides superb insulation, even on cold ground.
My backpacking tent only has around 80 centimeters of head height and this mat does not reduce this by much.
I have used this mat for three years now and it has proved to be well made and reliable.
Background
It replaced an inferior mat that became punctured and leaked air.
Source: bought it new
Price Paid: £70 gbp

Love my Therm-a-Rest.
Pros
Light
Packs down small
Durable
Cons
A little hard to get into stuffsack
The ProLite sleeping pad is a perfect pad for backcountry, lightweight camping. I have had mine for about five years now and it still works good as new. It's not your home mattress, but it is very comfortable given the size and weight. I highly recommend!  
Source: bought it new
Price Paid: $90

This is an AMAZING pad! It's like magic!!! You can inflate it just right! And it seems pretty puncture-proof! It's light!
I've only had trouble rolling it up, as most self-inflating pads are hard I assume. I know it's a bit pricey, but well worth it!
-pirate
Price Paid: $89

Your Review
Where to Buy
Help support this site by making your next gear purchase through one of the links above. Click a link, buy what you need, and the seller will contribute a portion of the purchase price to support Trailspace's independent gear reviews.
You May Like
Specs
Men's
small
regular
large
Price
MSRP: $119.95
Current Retail: $99.95
Historic Range: $29.00-$129.95
Reviewers Paid: $89.00-$90.00

R-Value
2.4

Weight
12 oz / 0.35 kg
1 lb 2 oz / 0.51 kg
1 lb 8 oz / 0.69 kg
Width
20 in / 51 cm

Length
47 in / 119 cm
72 in / 183 cm
77 in / 196 cm
Height/Thickness
1 in / 2.5 cm

Packed Dimensions
11 x 5 in / 28 x 13 cm
11 x 5.8 in / 28 x 15 cm
13 x 6 in / 33 x 15 cm
Fabric
50D mini hex rip polyester

Women's
Price
MSRP: $94.95
Historic Range: $59.95-$119.95

R-Value
2.7

Weight
1 lb 2 oz /0.51 kg

Width
20 in / 51 cm

Length
66 in / 168 cm

Height/Thickness
1 in / 2.5 cm

Packed Dimensions
11 x 5.8 in / 28 x 15 cm

Fabric Type
50D mini hex rip polyester

Recently on Trailspace