Osprey Aether AG 70

#4 in men's Expedition Packs
The Aether AG 70 has been discontinued. It was replaced by the Osprey Aether Plus 70.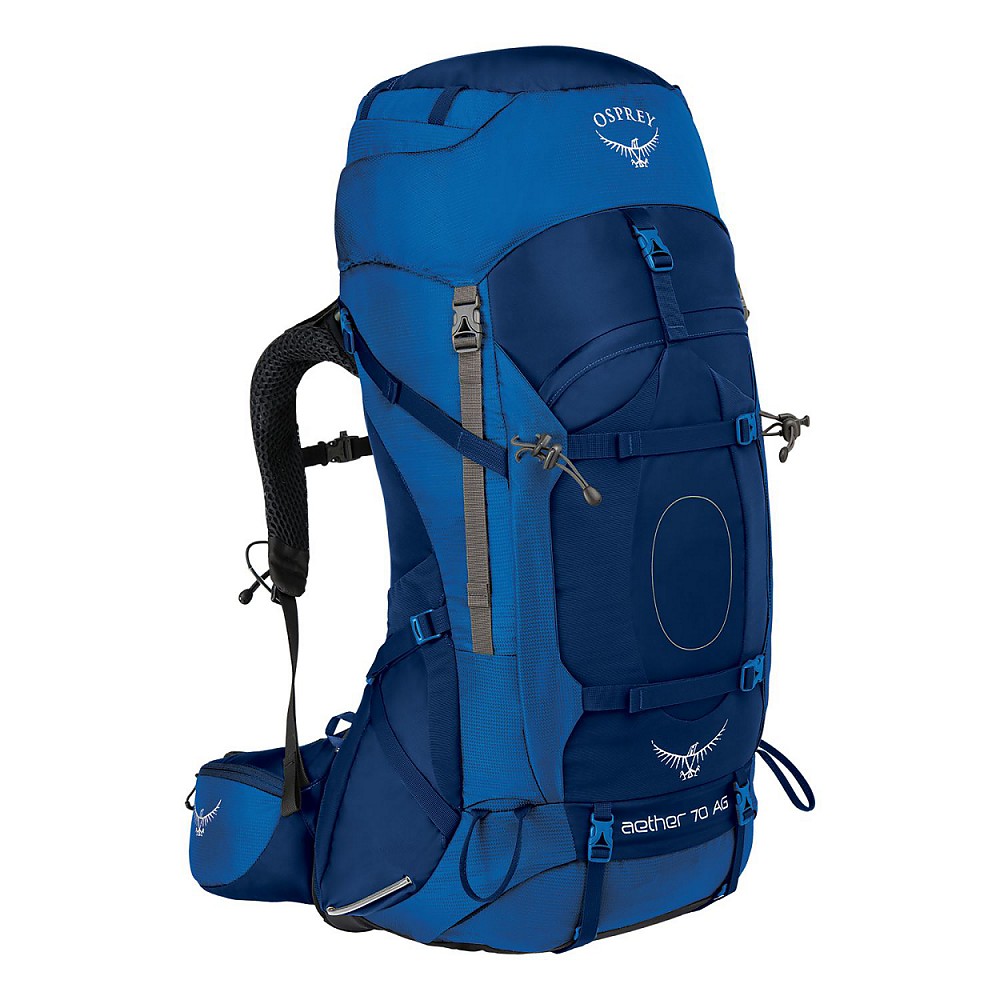 Very comfortable 73-liter backpack with advanced harness, which basically helps you carrying up to 50 lbs/25 kg with comfort. Lots of pockets, compartments, and external attachment points for better load distribution. It's made to last long.
Pros
Very comfortable to carry up to 25 kgs (50 lbs)
Great quality and fabric strength, excellent zippers
Lots of pockets and large compartments
Various external attachment points for sleeping pad, tent, poles, ice tools etc.
Great adaptability to volume of your gear (e.g. using without lid)
Separate opening on the bottom
Overall design is really clever, every piece is on its place
Reasonable weight of 2.5 kgs (5.5 lbs)
Cons
Some adjustments to the owner's body are made by replacement of belt or entire backpack to another size
Supplied extras are bound to market (daypack in US, raincover in EU)
Front zipper opening is not as convenient as it looks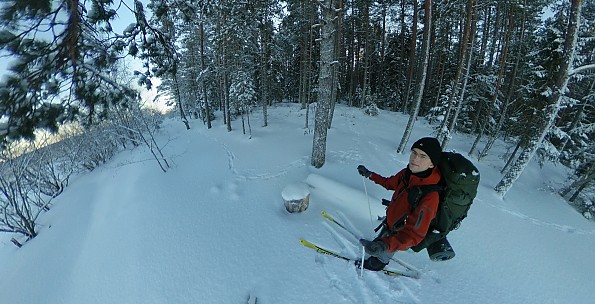 Background 
I'm not an avid backpacker, I was never interested in multi-day trips on foot. Though a dozen times per year I do short backpacking trips, mostly in winter, with heavy load (up to 25 kg / 50 lbs). After a season of using Simond Alpinism 55+10 I decided that I shall invest in better backpack, one which could serve me practically forever.
Mostly, I didn't like in Simond that it's not designed for loads of 15 kg and above: it was very comfortable under 10 kg, but each kilo above that caused increasing discomfort. Also I didn't like the lack of auxiliary compartments and pockets, which limited my abilities to displace various equipment with convenience. The thing I liked in Simond was very long zipper running from top to bottom, allowing me to access the entire backpack with ease. Also the Simond was ready for attaching the foam pad (or even skis) outside, using its multiple attachment points.
As a replacement I considered the premium-level backpacks, like Fjallraven Kajka. The latter was very nice, but I didn't like the obvious problems with attaching the foam pad (especially the thick one) and huge weight of backpack. Then I studied some reviews here and there and decided that it's worth trying the Osprey Aether AG backpack (I decided to raise the volume a bit in comparison to previous backpack and pick the "70" version, which is actually 73L).
After purchasing I made a test: loaded this backpack with 50 lbs of various gear and made an hourly walk with my child on kick-bike (he was 3 at that time). Walking with my child under heavy load is always difficult, because he moves slowly, unevenly and often stops, exploring the surroundings. In fact, after an hour of walking under 50 lbs I was quite fresh, like I walked with my previous backpack for 15 minutes! So I kept Aether AG with me.
***
In short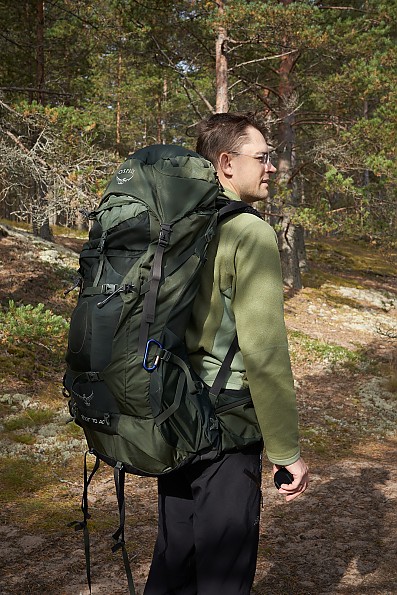 Fit: It's designed for men, as there's separate women model, Ariel AG. Overall the fit is good, although the adjustments are somewhat limited (my belt is usually set close to minimum length), and some of them are made by choosing another size of backpack or belt. There're two sizes of backpack itself, mine is L.
Comfort: It's very comfortable and stable while carrying 50 lbs/ 25 kg of gear. Often I don't take off the fully loaded backpack on stops, as it doesn't handicap me. The ventilation is good. 
Capacity: My only comment regarding its capacity is that the main compartment is rather slim. Overall it's not very big backpack. 
Organization & Accessibility: There's an enormous amount of pockets, sleeves, and external attachment points. I really like it, as I carry lots of various small items, and it's easy to find a place for each of them. On the contrary, some might prefer a single big compartment over that for simplicity. 
Compression: Absolute. You can leave the lid at home, covering the backpack with special flap, and also there's A LOT of compression straps everywhere, so its actual volume may be reduced to zero, while keeping the proper shape.
Ease of Use: It's a bit challenging to learn all the features and adjust the harness correctly (see the Manual for detailed instructions). But after that it works perfectly.
Durability: The backpack is made of strong 250D Cordura, double that on the bottom, and it basically looks like new after more than a season of usage. All zippers are super heavy duty.
Construction and Features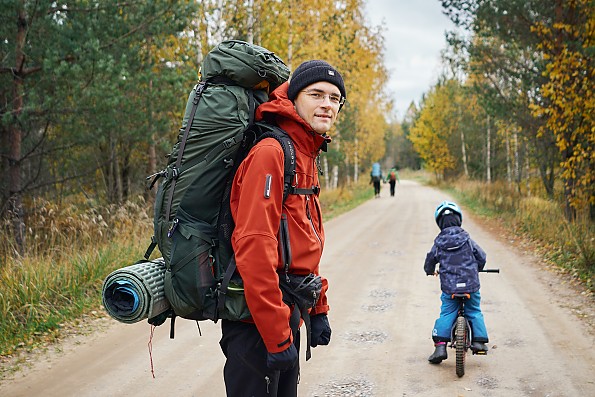 My load: 2 inflatable pads inside, tent, pots, stove with fuel, my clothes, my wife's clothes (on very top), 2 sleeping bags (3-season, down), 2L of water in side pockets, 2 more pads on external attachment. It feels good!
This backpack has quite a straightforward design, representing a single volume with removable soft divider in lower third, separating the sleeping bag compartment. 
The main structure of the backpack is made upon alloy frame and very advanced belt (can be heat-molded to one's body), which easily carries a huge load, distributing it evenly on your hips. It's done much better than on any of my previous backpacks. Shoulder straps have the adequate length, width and stiffness, and they are comfortable too. There's a certain range of harness adjustability by detaching the huge Velcro pad below the upper attachment points and moving it back and forth.
Actually this backpack has two sizes (M = 70L, L = 73L), which define the possible range of adjustability, mine is L, as my height is 184 cm, and the backpack belt is usually set very close to minimum position. Luckily I don't have room to become even slimmer in future. :-) The belt may be replaced to a smaller or bigger one, if necessary.
There're three entrances into the backpack: zipper on the bottom (it opens just the bottom compartment, when divider is installed), zipper on the front (usually blocked by straps and rarely used) and of course the traditional closure on the top. The lid of the backpack is very advanced, having as many as three zippered pockets of various sizes on the top and bottom. One of these carries the rain cover (absent in US versions).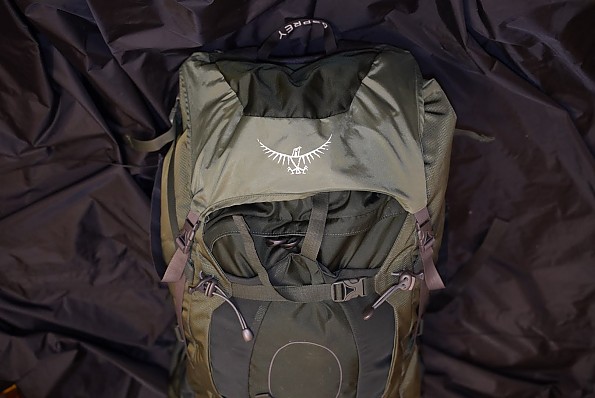 With detached lid
The upper compartment (lid) is completely adjustable (floating) and detachable—very often I leave it at home while carrying a small load. The backpack is then covered by special rainproof flap cover (permanently attached in main compartment, named "FlapJacket") which has necessary clips for locking in place and volume adjustment.
Actually this is a great feature, as the backpack can be squeezed down to zero volume while keeping the proper shape, thanks to A LOT of compression straps everywhere. Notably, the straps on the back may be reattached to the side (there're two free clips for that), which allows for complete compression of backpack.
The main body of the backpack has two side mesh pockets (each is good for 1.2L vacuum bottle) combined with volume adjustment straps. You can guide these straps either inside or outside pockets, depending on your habits. I prefer the outside placement. It's all very cleverly designed, with necessary cutouts just in place. Each pocket can be accessed either from the top, or from the side (i.e. it's possible to access it on the trail).
On the front part of the backpack there's another big mesh pocket with buckle and adjustment, usually I carry there either a foldable shovel, or raincoat. Inside the main compartment there's one flat sleeve on the back, suitable for A4 papers. The belt has two very large zippered pockets. Finally, below the upper harness attachment there's external sleeve for hydration pack, such a placement (right below the one's shoulder bones) ensures good weight distribution.
The backpack has two pairs of adjustable auxiliary straps on the front and bottom. Each of them may accommodate a medium-sized foam pad (about 12 mm thick), or a compact tent. For bigger pads I DIYed the longer straps on the bottom, leaving the originals in place. There're loops for elastic cord on the very top of backpack lid, but the cord itself is absent. Also there are special attachments for daypack (included to US version AFAIK), poles and ice tools.
My Impressions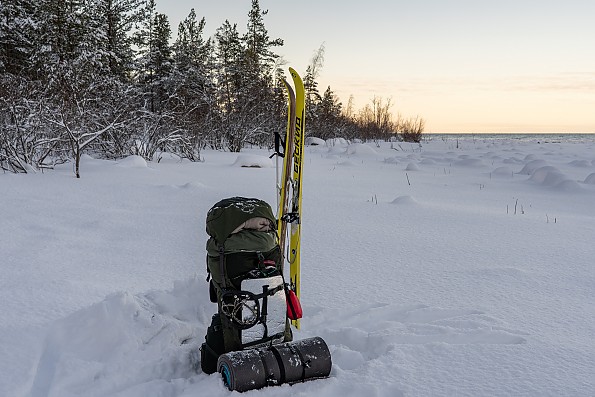 Over 40 lbs (20 kg) inside
So far I've used this backpack in a dozen of two-day trips (hiking and skiing) under heavy load (up to 50 lbs), and also in numerous minor occasions with lighter load (without lid). Most notably, its advanced harness really works. At home, it may be really difficult to drag the loaded backpack around the room. But once it's on my shoulders, the good part of weight virtually disappears, and you feel like you can run and jump with those 50 lbs. Of course throughout the day the fatigue steadily grows, but still the backpack remains comfortable enough.
Sometimes I carry two foam pads on my backpack (i.e. when traveling with my child), and they are held very well by front and bottom straps. Of course with foam pads attached outside, there's little possibility to wrap the backpack into rain cover, so I mostly rely upon various waterproof bags. I wish it had the additional daypack in place of raincover.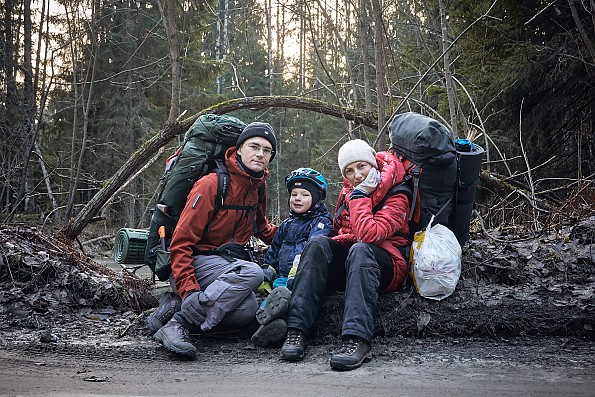 After a half-year of using both old (Simond) and new (Osprey) backpacks—as shown on photo above—we decided to keep one old backpack for my wife and also hold from purchasing a similar Osprey Ariel AG for her. In truth, such kind of gear finds too little usage in our family, so there's no need for stockpiling the backpacks. Also my wife prefers one big compartment over numerous pockets of Osprey.
The Osprey Aether AG is an excellent piece of equipment. I never regretted its purchase and highly recommend it.
Experience
I purchased this backpack in late 2018, and since then I've used it in a dozen of two-day hiking and skiing trips, under a load of up to 50 lbs (25 kg). It's my third backpack of such class.
Source: bought it new
Price Paid: 275 USD

Your Review
Where to Buy
Help support this site by making your next gear purchase through one of the links above. Click a link, buy what you need, and the seller will contribute a portion of the purchase price to support Trailspace's independent gear reviews.
You May Like
Specs
small
medium
large
XL
Price
MSRP: $310.00
Current Retail: $232.50
Historic Range: $185.73-$310.00
Reviewers Paid: $275.00

Weight
5.162 lbs
5.214 lbs
5.266 lbs
5.319 lbs
Volume
4089 cu in / 67 L
4272 cu in / 70 L
4455 cu in / 73 L
4638 cu in / 76 L
Dimensions
31.5 x 15.75 x 13.39 in
33.46 x 15.75 x 13.39 in
35.43 x 15.75 x 13.39 in
37.4 x 15.75 x 13.39 in
Load Range
35-60 lbs

Recently on Trailspace