Therm-a-Rest Trail Lite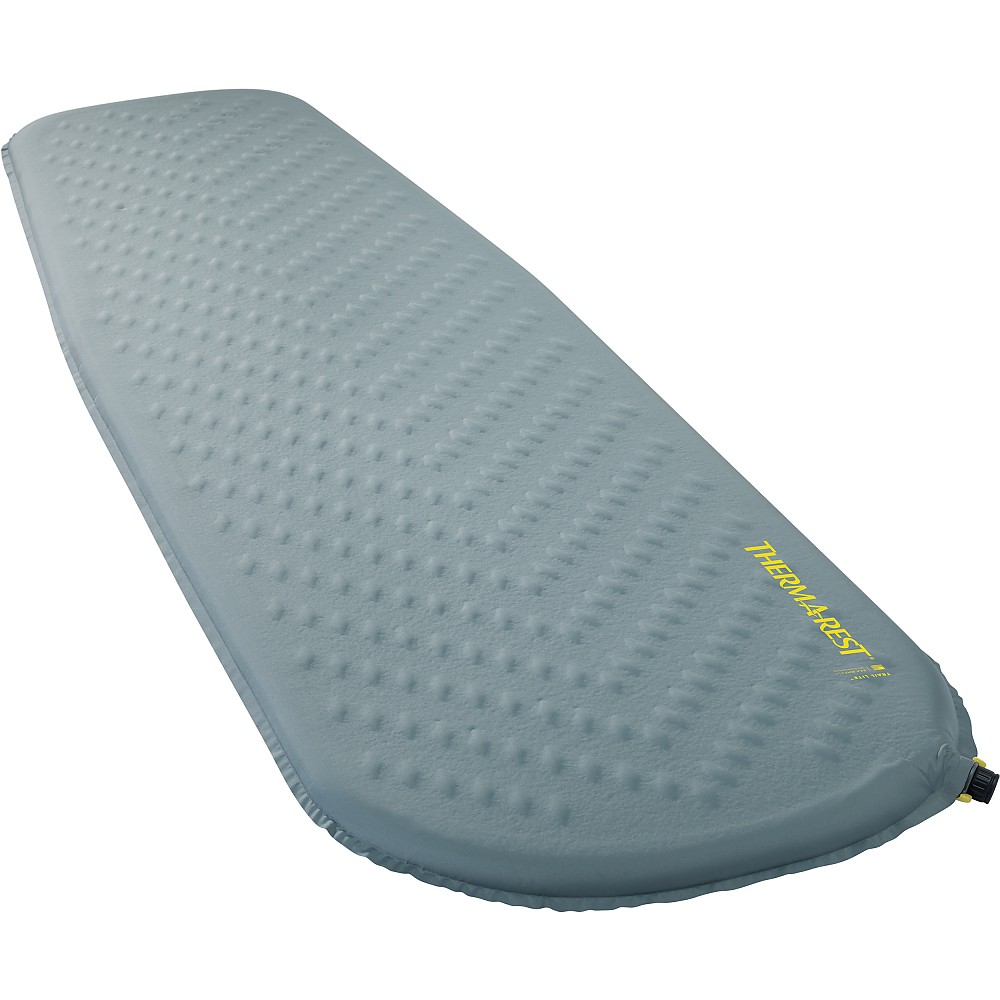 At 1lb 11oz, it's not the lightest but does a fine job for 3-seasons.
Pros
Fair weight
Fairly compact
Fairly comfortable
Cons
Anything below 35°F - things get a little chilly
I've been using the Trail Lite for two years now and I've always been pleased with it. Knowing there are new pads out there that offer more loft, higher R-value, and lighter weight, my curiosity has been piqued but for now, the Trail lite is what I know. I would say that overall this pad has always served me well and has lived up to my expectations of it.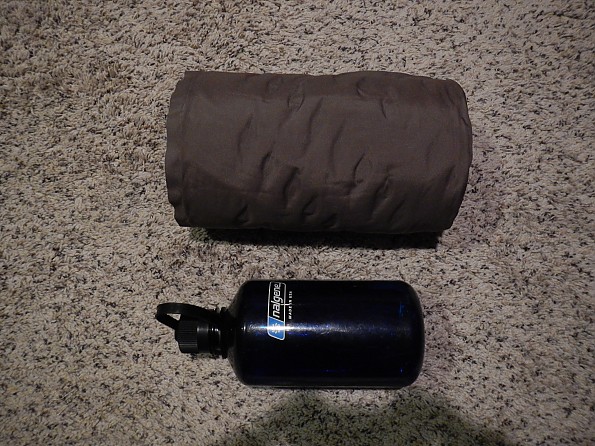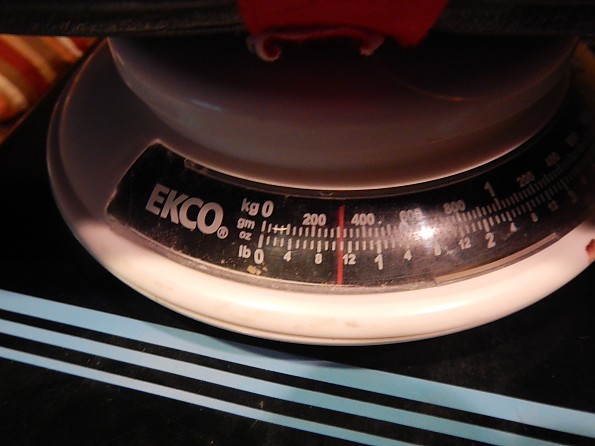 The bag inflates to approximately 1 1/4" thick. Not a great amount of loft but enough. Sometimes when I am laying on my side and most of my weight is concentrated to a small area in my shoulder, my shoulder will push through to the ground if the pad is not inflated taut.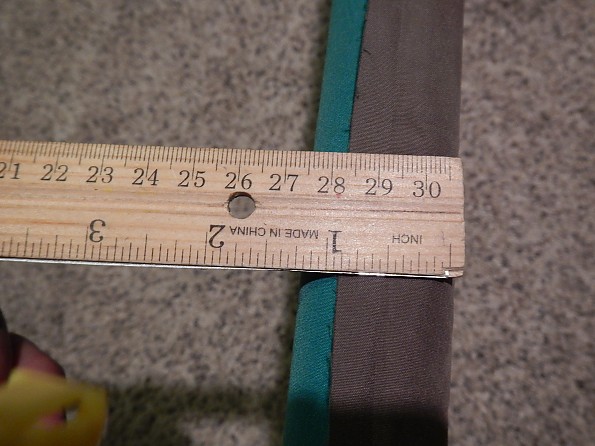 Ease of use: It self inflates which is nice. Just throw it out and come back in 5 minutes.
(I noticed on a couple of the other reviews, they say that it does not self inflate. Mine does. I rolled it up to take the pics and then unscrewed the valve, unrolled it and threw it on the floor. In 2 minutes it was full. I wonder if it has to do with the storage? I store mine open valved and draped over a bungee. I don't roll it until I'm ready to go out the door)
Although it is self-inflating, it helps to add a few more blows at the end before twisting the valve shut. The valve is easy to work. I have found the best technique to use while inflating is to keep blowing into the valve as you twist it shut simultaneously. This ensures the correct amount of air remains in the pad.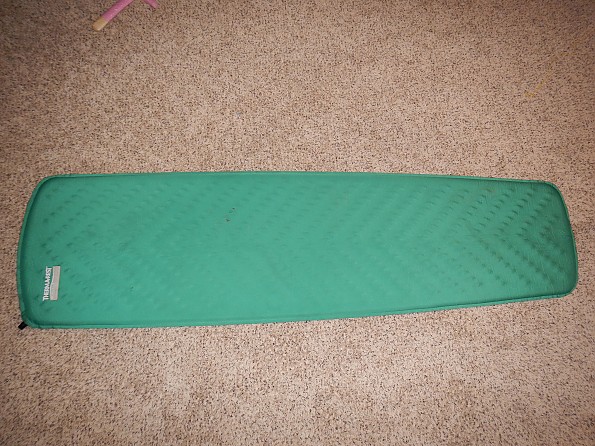 Features: I think this pad has a great universal shape. It's perfect for a mummy bag and is just about the right size underneath to give you full comfort from head to foot. 
Construction and durability: So far, the pad has held up pretty well. I am not particularly harsh on the pad but I don't baby it either. I will say that I don't use it to float down roiling rivers over sharp rocks; I usually just throw it in the tent after it's pitched and roll it up in the morning. I have used it several times on bare ground while sleeping in my bivy, so deciduous forest twigs and rocks have had no effect on it.  
In cold weather, say 35°F or less, the bag will lose it's loft at night. As the air inside the bag cools from ground contact, its volume decreases significantly. I've woke up with my back against the ground a couple of times. You can mitigate this problem by initially over-inflating the pad at the onset (in cold weather). It may feel too firm when you first lay down but will slowly adjust to a very comfortable level of inflation as the night progresses. 
The pad fills up the majority of space under an 80" sleeping bag. If you are 5'11" like me, your heels may be un-insulated as they may hang off the end of the pad.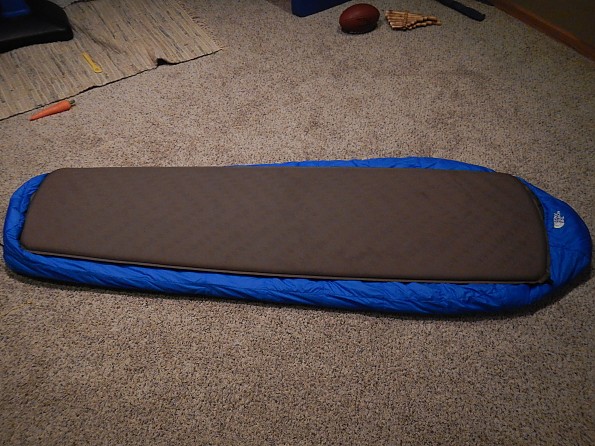 My brother suggested that I always leave the valve open and hang the pad up to store it. I've noticed that this dries out any moisture that entered the pad while inflating and in-turn, reduces the weight (a tad). I imagine it slows down musty bacterial growth as well. 
Source: I had an old Therm-a-Rest pad that delaminated at the valve so they replaced it with this model

Simple, lightweight, and comfortable. Great for a weekend car camping adventure or a backpacking trip in the backwoods.
Pros
Easy to pack away
Durable
Good insulation
Cons
Does not self inflate as much as you'd think
I've been using the Thermarest Trail Lite regularly for over a year. I originally purchased it because it could be rolled up quite small for backpacking and was a bit thicker, when inflated, than the simple closed cell foam pad I'd used previously.
Since you can adjust the thickness by adding extra air it tends to be more comfortable than the foam ones. But when deflated and stored in the included stuff sack it takes a lot less space in my pack.
They are reliable and the material that they are made from seems durable. I've never had an issue with deflating on its own. I have used these pads on several winter outings and not once have I felt the cold through the pad.
I don't exactly find that it self-inflates. I inevitably have to blow it up. Not a big deal, but I know in the winter that your warm moist breath can cause condensation inside, so keep that in mind. Deflating and packing is quite easy. I just open the valve and let the air out. Then I fold it in half and roll out the remaining air. It packs down nicely and fits easily inside the stuff sack.
The manufacturer recommends that you store the pad in the inflated position so it will remember that shape and will inflate faster on its own. I don't have the room to do that, so I keep them rolled up in the stuff sack and I have not had an issue so far. 
Source: bought it new
Price Paid: $60

A great company with a lifetime warranty on their camping mats, and mats that will give you a comfortable night's sleep.
Pros
Lifetime warranty
Repair service
Insulation
A good night's sleep
Therm-a-Rest are brilliant camping mats for a good night's sleep and I can't rate the company highly enough. The mats have a lifetime warranty and there's also a brilliant repair service for punctures and valves so you will only need to buy one in your lifetime.
I bought my Therm-a-Rest mattress 20 years ago and have used it for hiking trips and car camping trips a few times per year. Last year it developed a bubble whereby the fabric had separated from the inner core. I sent it back for repair and within a week they had sent me a new mat.
The original mat cost £70 twenty years ago, which I thought expensive at the time, but now I know it's probably the best £70 I've ever spent.
I store it unrolled with the valve open behind my sofa when not in use.
Background
Three-season hiking and camping in the UK and Europe.
Source: bought it new (Mat replaced by Therm-a-Rest under lifetime warranty)

Light, but not very sturdy.
Cons
Not sturdy
Hard to repair
I have had my Therm-a-Rest Trail Lite for a few years now, purchased in 2009, but it has never really done it for me:
Although it is light I found it small for my frame size (6'-1"/ 1.85 m tall). I just went for convenience since the plan was to have it for backpacking and bought the biggest size available at the time.
It has always been barely comfortable to sleep in and I always slide off from it. Every time I found myself sleeping on the tent bottom.
Not very sturdy. Somehow it got a couple punctures even though I have never used it other than inside my tent. Fixing those was a major pain and after the repairs it still leaks. Probably another puncture that I have not been able to find or perhaps it is the valve.
Source: bought it new
Price Paid: 90 $ US

I've had mine for about five years, never a problem—except that it has been about four years since it self-inflated, which is why I didn't give it 5 stars. Still, blowing it up takes only about a minute.
My ultimate backpacking solution is a 2/3 length closed cell foam pad plus my Therm-a-Rest on top. Toasty warm, great comfort, and minimal weight, for the cost (okay, I'm still salivating over the NeoRest, but can't see spending the dough when I've got a good solution already).
BTW, if you're looking for the ultimate car-camping solution, nothing beats the REI 3.5 Camp Bed. Way too heavy and big for backpacking, but more comfy than a decent futon bed.
Price Paid: $65

I've owned several Therm-A-Rest products over the years. I've also sacrificed a good night's sleep in the name of "ultralight." However, a good night's sleep is priceless on a multi-day trek.
The Therm-A-Rest Trail Lite is hands-down the best product they have made in years. Yeah, it may weigh a few more ounces then the ProLite, but it is four-season warm and very comfortable for the weight. Besides, a few ounces is worth all of that extra energy you will gain from a good night's sleep.
Just think, this would have been consideded "ultralight" just a few years ago! I'm very happy with this product, and you can't beat the price .
Price Paid: $50

Used on week-long canoe trip. Very comfortable. It packs very light and small but is long unless folded length-wise before rolling.
The self-inflation is noticeably weaker if it's been rolled up for more than a day, but that's hardly an issue since manual inflation takes only a minute and I prefer a firmer pad anyways.
The width is a bit short, making turning on the side a bit difficult but all in all this is a superbly balanced pad.
Price Paid: $60 CND

Took a long time to make a decision and this was it. Weight versus comfort. Needed to be carried on a bike, yet look after me at the most important point of the day—sleeping.
I love the product. I certainly am not light and it takes care of me well.
Incidentally, I don't know if it's just a UK thing but mine came with a sac to store it in (I didn't realise and bought one extra tbh also!).
Source: bought it new
Price Paid: £54.99

Great product. I bought the women's Trail Lite because I found it on clearance and it has better warmth rating.
I weigh 200 lbs and sleep on my side and cannot feel the ground with my hip. It is fairly lightweight (1 lb, 15 oz) and overall a good pad. I do wish Therm-a-Rest would throw in a stuff sack with their products.
Price Paid: $26

This is such a nice pad! It is cheaper than the Prolites and is all you could ever want. It has a fabric that is tough and prevents the sleeping bag from falling off the pad while you're sleeping
It doesn't self inflate, so that is a little annoying, but has plenty of cushion.
Overall a great pad!
Price Paid: $60

Super comfortable. Super light. Super durable. Packs down "pretty" small but not the smallest.
Highly recommend for any type of overnight from one night to a hundred.
Price Paid: $45

It deflated overnight during a camping trip. That's why I give it a 0.
Got another one, hope it works.
Price Paid: $69

Your Review
Where to Buy
Help support this site by making your next gear purchase through one of the links above. Click a link, buy what you need, and the seller will contribute a portion of the purchase price to support Trailspace's independent gear reviews.
You May Like
Specs
Men's
Regular
Large
Price
MSRP: $79.95
Current Retail: $79.95-$134.95
Historic Range: $16.76-$134.95
Reviewers Paid: $45.00-$90.00

R-Value
3.2

Weight
1 lb 10 oz / 0.74 kg
2 lbs 5 oz / 1.05 kg
Width
20 in / 51 cm
25 in / 64 cm
Length
72 in / 183 cm
77 in / 196 cm
Height
1.5 in /3.8 cm

Thickness
1.5 in/ 3.8 cm

Packed Dimension
11 x 7.8 in / 28 x 20 cm
13 x 8.3 in / 33 x 21 cm
Outer Fabric
50D polyester

Materials
Polyester, Polyurethane

Country of Origin
USA*Built

Women's
Price
MSRP: $79.95
Current Retail: $114.95
Historic Range: $21.45-$114.95
Reviewers Paid: $26.00

R-Value
4.5

Weight
1 lb 10 oz / 0.74 kg

Width
20 in / 51 cm

Length
66 in / 168 cm

Height
1.5 in /3.8 cm

Thickness
1.5 in/ 3.8 cm

Packed Dimension
11 x 7.8 in / 28 x 20 cm

Outer Fabric
50D polyester

Materials
Polyester, Polyurethane

Country of Origin
USA*Built

Recently on Trailspace