Big Agnes Horse Thief SL 35°

Top 25 in unisex Warm Weather Down Sleeping Bags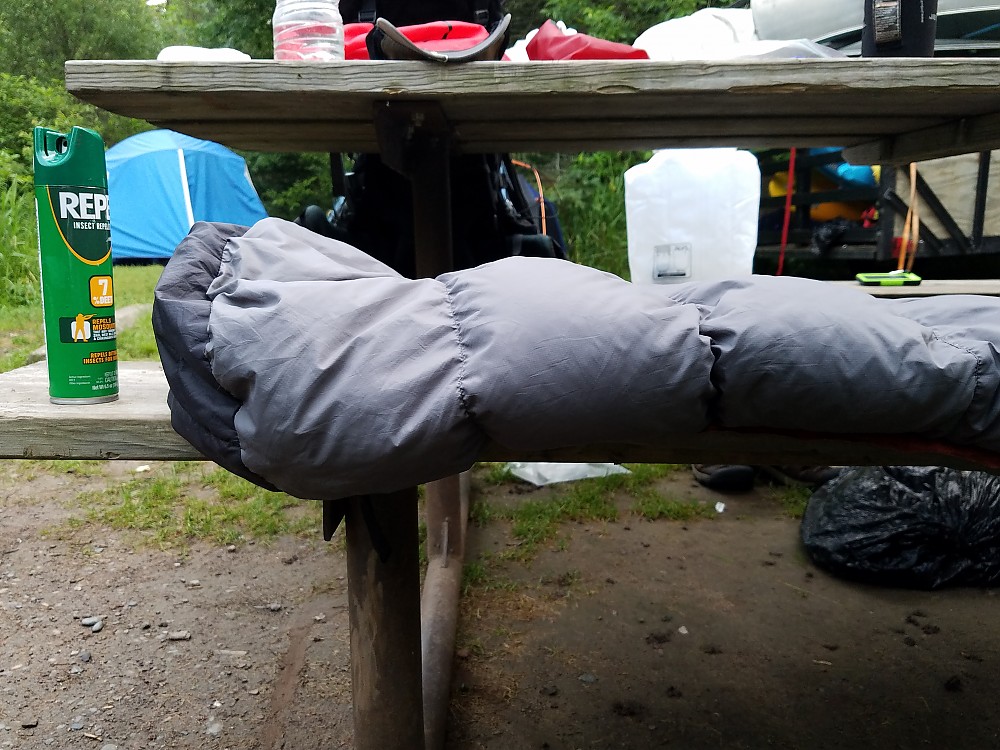 Specs
regular
long
Price
MSRP: $369.95
Historic Range: $92.81-$359.95
Reviewers Paid: $60.00-$180.00

fall 2010
regular
long
Weight
1 lb 8 oz / 680 g
1 lb 11 oz / 770 g
Fill weight
9.5 oz / 270 g
11.5 oz / 326 g
Temperature rating
35 F / 1.7 C

Fill
725 fill down

Shape
mummy

Max user height
5 ft 10 in / 180 cm
6 ft 6 in / 200 cm
Shoulder girth
67.5 in / 171 cm
72.5 in / 184 cm
Hip girth
64 in / 160 cm
69 in / 180 cm
Foot girth
43 in / 110 cm
44 in / 110 cm
Reviews
7

reviews

5-star:

0

4-star:

5

3-star:

0

2-star:

0

1-star:

2
A lightweight hoodless option that lightens the load in your summer pack. Recommended for weather where the temps hover around or above 50°F.
Pros
1lb 12oz
Comfortable
Built-in pad sleeve
Enough room to turn on your side
Works with women's Therm-a-Rest ProLite as well as Big Agnes pads
Cons
My version is not DriDown
Hood pillow sleeve is off your mat
Warmth: The bag is rated at 35°F. The bag does a fine job in temperatures above 50°F. Mid 40's and below, the comfort level starts to drop off quick. In temperate climates, like the one here in Minnesota, you can judge the weather well enough to make a pretty good estimate of whether you'll be in comfort range. 
Fit and Comfort: I must say, the bag is a comfortable cut. It's a wider style mummy so I have some room to wiggle around in. Although your air pad remains stationary, you can roll to your side in the bag. The draft collar sometimes gets in your face while on your side but it's not that big of a nuisance.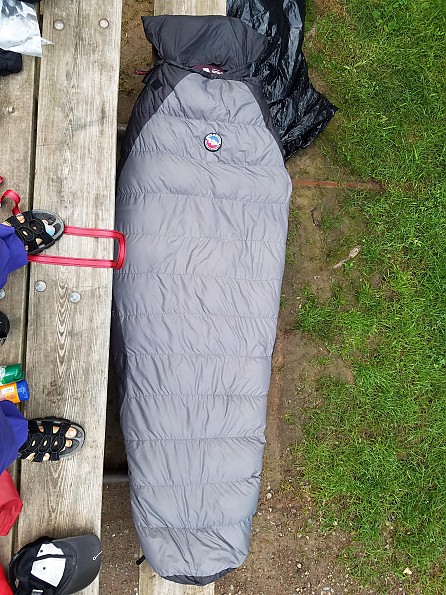 Entry/Exit: The zipper is 3/4 size and leaves plenty of room to get into and out of the bag. 
Moisture: I have had some issues with moisture in this bag. If I sleep next to the lake or a river where there is heightened humidity, the bag can absorb some of the moisture by morning. It's not enough to become too concerned, but I did notice that on a multi-day trip it was helpful to sun dry the bag each day to get that nice crisp dry feeling by night. 
On a week trip down the Namekagon River, my teammate hit a tree and flipped his canoe. My pack was in his boat and so the bag became drenched. I wrang it out as best I could and then spent an hour and a half drying it out next to our fire. I slept in it fully damp and it was not pleasant. I also spent the next three days in the same damp bag. Yes, down does not dry quickly. 

Packability: This is a big plus with this bag. It packs down to a Nalgene size bottle.
                                       Bag compressed next to a Nalgene bottle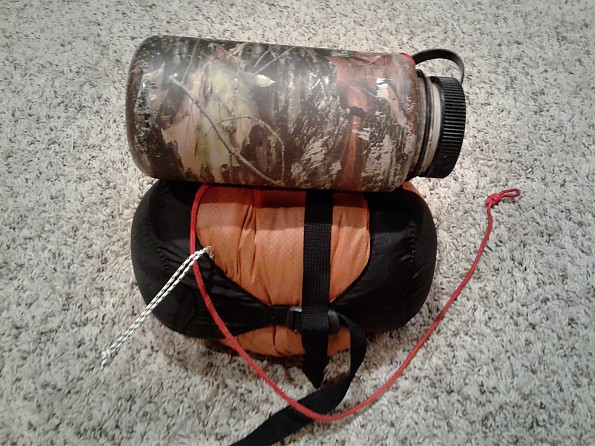 Currently, I leave my women's Therm-a-Rest ProLite pad in the bag sleeve and pack them together. Both of them together pack down smaller than most of my bags by themselves.
                              Bag and pad packed together

These pics shows the compatibility of the pad and the bag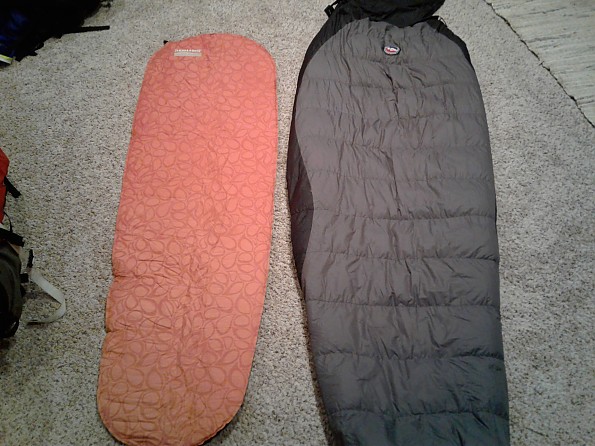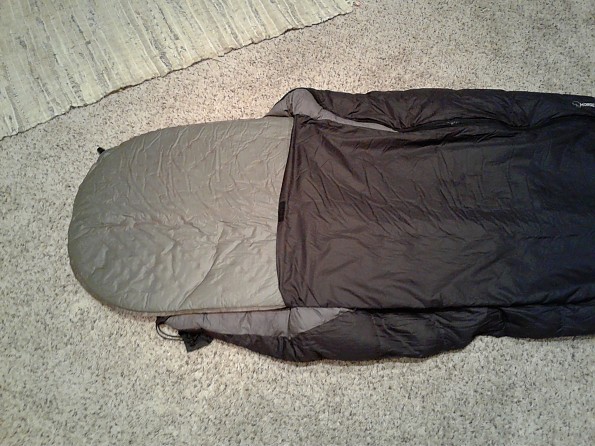 Loft: The bag does an amazing job of fluffing up with just a few shakes. This might have to do with the 800 fill down? Puffs to about two inches (topside).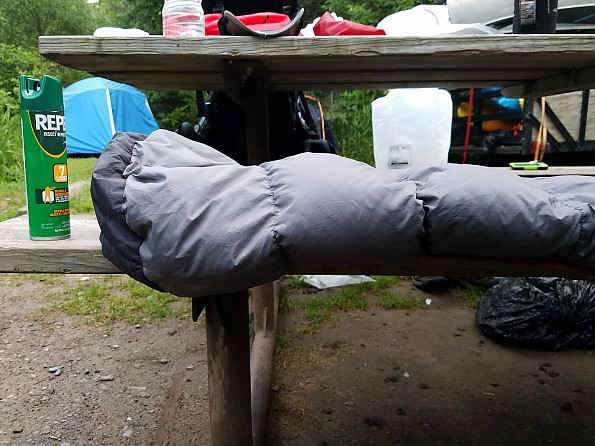 Ease of Use: The pad slides into the bag sleeve with relative ease. There's a hand hole at the foot of the bag sleeve so you can reach up and help pull the pad into the bag. The zipper works well enough with an average amount of snags.
The pillow sleeve is, in my opinion, oddly placed. It is sewn at the end of the bag so it's slightly too high (completely off the mat). I think that it should be staggered like a shingle on a roof so a portion of it is in the bag and a portion is outside. This would result in a head placement closer to the bag. You can take the pillow sleeve and actually fold it into the bag with the pillow. This places the pillow a bit too far into the bag for my tastes.
Features: There's the ubiquitous Big Agnes yoke style draft collar. I'm personally not a fan of this style of collar. I like the collars that you can cinch down with a drawstring (keeps heat in much better). I will say that since this is a summer bag, the need to keep in heat is not as necessary, so I am OK with the yoke collar on this model.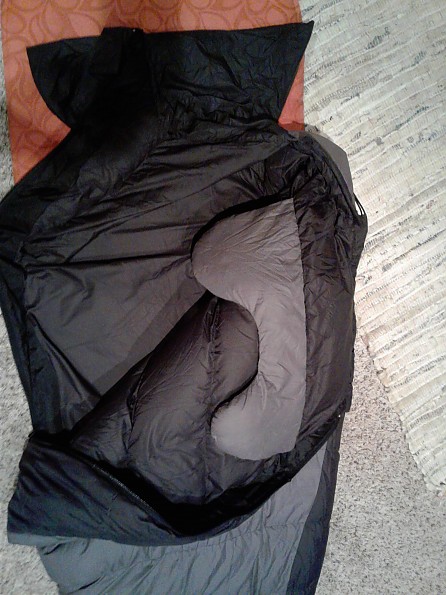 The hood has been omitted to reduce the weight. It makes sense since the bag is meant for warm weather. 
This is going to sound completely ridiculous but my favorite feature is actually putting the pillow sleeve over my head so everything is dark. It fits perfectly so my mouth is still fully exposed enabling me to breath. When the sun comes up in the morning, the light doesn't bother me a bit, I just go right on sleeping.
Construction and Durability: I've used it for a season thus far. So far, so good. I sometimes worry that the velcro attached to the pad sleeve opening is going to be stronger than the nylon and rip it. Not yet. The fabric is tightly woven but very light. This is assuredly to bring down the weight. 
Conditions: I've only used this bag during this past summer since it's only a summer bag. I would not risk using this 35°F bag in the spring or fall here in Minnesota. 
Conclusion: I like this bag during the summer months. I will say that if the temps are forecasted to border 40's up to 50, I sometimes get a bit anxious and pack a warmer bag. I do recommend it if you want something that will pack down to nothing and weigh very little. 
Source: bought it used
Price Paid: $60 without pad

I originally purchased this bag with the insulated-air core pad for the affordable savings in weight. For the money, there's no seeping-pad / bag combo out there that hits my sweet-spot for comfort, warmth, weight and price. The bag and pad together weigh under 3 lbs and I spent around $250. Used to be if you wanted something this light, you'd have to pay a mint for something potentially flaky. So for me, this is a bargain.
I love down bags, and the bag is lightweight and warm--so far down to 45f. I find the quality of the bag excellent too. It feels very sturdy, the material is very comfortable and the workmanship is top-notch. I love the way it mates with the the insulated air core pad, so it's hard to roll off of the mat.
There are always trade-offs, and for me, this combo hits the sweet spot of comfort, warmth, weight and price. For my money, nothing else compares.
Design: Mummy
Fill: 600 fill down
Temperature Rating: 35 degrees Farenheight
Weight: 1.5 lbs
Price Paid: $170

Love this thing.

I've had this for several years with use along the lakeshore of Pictured Rocks and temps in high 30's. I wish they still made this bag so I could buy it for my kids now that they are backpacking also.

To answer a couple of questions that may resolve issues posted up years earlier than this one: The pillow sack goes inside with you, not hanging off the edge. I believe some of the cold feeling people may be getting is from not using an insulated air mattress; I made that mistake also and can tell you that an insulated pad makes a huge difference.
Pros
Lightweight
Compact
Room to move if you toss and turn
Won't fall off pad in the night
Warm if you use the right pad and dress appropriately
Summary says it all.
Source: bought it new
Price Paid: About $200

I was really disappointed in this bag. I needed a bag to use in temperatures from 30-50. I read all the reviews and narrowed it down to the Horse Thief 35 degree and the Marmot 40 degree bags. I purchased both bags so my wife would also have one.
At 40 deg my wife was cold all night which was surprising since she is a very warm sleeper. I tried the bag also at 40 degrees and was cold all night also.
I really like the bag design and roomy size but had to return it because it was not close to its rating. With the Marmot Atom 40 degree bag I slept comfortable at temperatures down to 33 and 30 degrees which was surprising for a 40 deg bag.
Price Paid: $180

I really like this bag and the integrated Big Agnes pad system.  It packs down super light and small and feels roomy enough for me and my big manly shoulders (I'm a tick under 6'0, a tick under 200 lbs., and I have the long version of this bag). 
I don't think I've gotten close to pushing the 35 degree rating, because cold weather camping is for maniacs and insane people, so I'm withholding a star until I can confirm the rating. 
In short, this is my go-to bag until further notice.  I got a crazy good deal online, too (think it was a returned item or a second or something like that).
Price Paid: $135

Not for me this.
I spent three nights with the Horse Thief and mummy sleep mat combo and didn't have a good night's sleep once.
There has been a lot said and written about the Big Agnes system, which in theory seems a winner. However, I found myself cocooned in the bag and any movement caused the whole thing, mat included, to tilt off the deck with me. It felt as if my legs were taped together.
I ended up removing the pad form the sleeve and reverting to a traditional bag on mat set up. It also made a right old racket each time I moved, with the noisy squeaking mat causing much mirth among my pals next door.
Unless you can sleep flat on your back, with your arms by your side without moving for six hours, this isn't for you. Their claims of it being like your mattress at home are just fanciful marketing spiel.
Thankfully the good people at Big Agnes have been very helpful and accepted the return. I will be reverting to bag and mat. In their defense, I may have been better suited to a non-mummy type bag, but I would still think long and hard about going for this new system.
Make sure you choose a model large enough that enables you to move on your axis without the whole thing moving with you. A shame, because the Big Agnes tent I bought with it is superb.
Fill: down
Price Paid: GBP200

This is a nice comfortable bag. If you are larger than 5' 10" and weigh more than 200 lbs. it may be too small for you. It was perfect for temperatures in the 50s so the 35 degree rating may be optimistic. Light and packs small.
Design: mummy
Fill: 725 down
Temperature Rating: 35 f
Price Paid: $112

You May Like
Recently on Trailspace