Big Agnes Double Z

The Double Z has been discontinued. If you're looking for something new, check out the best air-filled sleeping pads for 2023.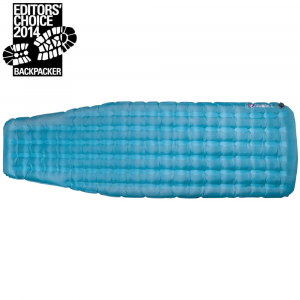 For a summer-only pad, the Big Agnes Double Z offers big comfort and durability with a relatively light weight. At 4 inches thick, it absorbs bumps and other ground imperfections better than the self-inflating foam-core mattress type.

The pad's design creates quilting-style pockets throughout the sleeping surface, which distribute weight efficiently while maintaining some degree of airflow. Don't try to take it below 40°F without at least a thin layer of closed-cell foam on top.
Pros
Extremely comfortable
Mummy cut saves weight vs. rectangular cut
Edges are a bit fatter than the rest; "hold" you on the pad
Pad thickness compensates for variations in terrain
Durable, abrasion-resistant bottom, silky top fabric
Brilliant valve design lets air in and out quickly
Light!: 1lb 11oz in the size large, 1lb for the regular
Cons
No insulation means a narrow window of application
Packed size not much smaller than foam-core pads
Best For:  
Warm-weather backpackers and hikers whose walking style allows proper camp setup time. Shoulder-season campers who use a two-pad system. Anyone who appreciates good sleep in the backcountry.
Design:  
The Double Z pad incorporates a half-taper mummy cut, meaning the section from your head to your hips stays the full width, and then only the leg section is taken in. The corners are not rounded, so your feet actually have room to move around while staying on the pad. The pad clocks in at a full 4 inches thick, and the dimensions of the size large I tested are 78" long by 25" wide…very generously sized.
Double Z pad drying in the Idaho morning sun...

The Double Z features a quilted design which connects the top and bottom of the pad with short runners of fabric every few inches; this type of construction stabilizes the pad and will prevent the head/foot area from ballooning out under weight. This construction also provides an "edge" to the sides of the pad—an area just a bit taller than the quilted area—which will help keep the user centered on the pad throughout the night.
Zoomed in on the Double Z's quilted construction...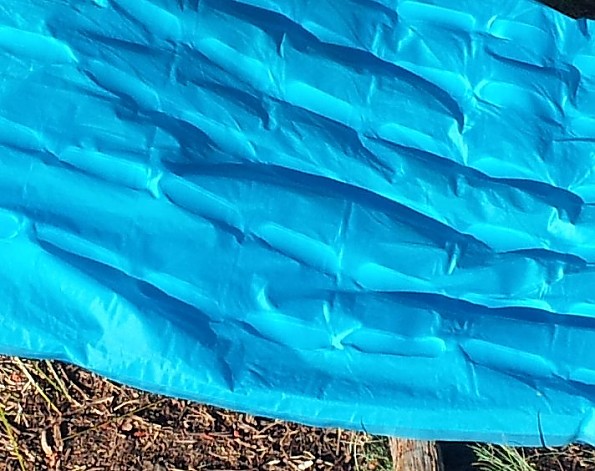 The valve deserves mention here if only because of its clever design. For filling the pad only the top section is unscrewed, and a one-way valve lets air in without having to plug it between breaths. For deflating the pad the bottom section is unscrewed—bringing the top section with it—and one is left with a 1" gaping hole that very quickly lets out air. The valve itself is located in a convenient position near your head, out of the way when sleeping yet easily reachable if adjustments are needed.
Double Z Valve in inflate mode...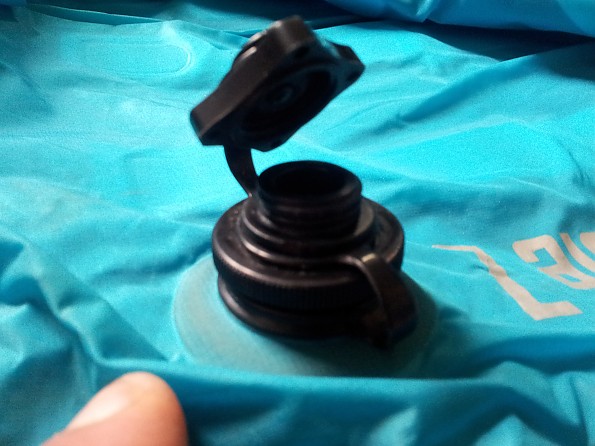 Double Z Valve in deflate mode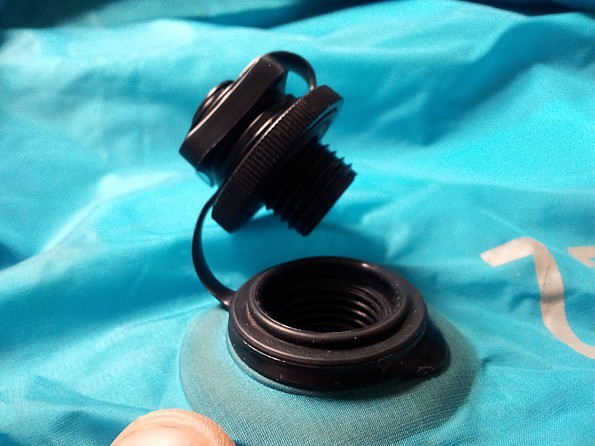 With the paper-thin 20-denier fabrics some manufacturers are using in sleeping pad construction, Big Agnes has obviously intended this pad to be long-lasting and durable option for backpackers. The Double Z uses a burly-feeling, 40-denier (?) nylon taffeta for the base and a decidedly not-crinkly, soft-finished nylon ripstop for the top.
Performance:
The crux of my testing the Double Z pad came in the form of a 21-day wildland firefighting assignment to the sub-alpine mountains of Idaho. I brought the Double Z along as my only pad, knowing the potentially freezing nighttime temps—yes, even in the middle of summer—would test the limits of the pad. I was very pleased with the results.
Big Agnes gives the pad a lower limit of 35 degrees Fahrenheit and I wholeheartedly agree. I used the Double Z every night for this fire assignment, both in a tent and directly on the ground, and I was cold on nights where the temps dropped under 40°F; I could feel the heat being robbed from underneath. I spent a couple very cold—if cushioned—nights waiting for morning light.
Double Z stock shot, looking plump and supple...


I was able to procure a full-length, 3/8"-thick Evazote pad from supply once we got to our second fire on the Bitterroot National Forest, and set to experimenting with placing it both below and on top of the Double Z. In my testing I found placing the Evazote pad on top did a better job of increasing warmth, and indeed, with the added CCF pad I was able to remain comfortable on the Double Z down to freezing. In other words, if you like to bring a CCF pad along anyway, as a backup in case your inflatable pad fails, the Double Z can be pushed down to freezing with such a setup.
Speaking of pad failure, this was never a concern of mine with the Double Z. All the welds held up perfectly, the valve never cross-threaded or did anything weird, and the base fabric stood up to anything I asked it to during those three weeks of continuous use in dry, prickly sagebrush country. More than half my nights were spent under stars, and I quickly learned that with just a bit of campsite care, there was no place I couldn't just plop down the Double Z…rocks, gravel, and bare dirt all work just as well as being under the pines.
Considering bacterial growth over time: I always used my lungs to inflate the Double Z, and often packed it away with wetness both inside (from the vapor in my breath condensing) and outside (from vapor in the air condensing) and I never had any problem with mold. As a matter of practice, I always hang up my pads—valve pointing down—for a few days after I get back from a trip, hopefully in sunlight; I find this goes a long way toward disinfecting the inside surfaces and retarding growth of the funk.
Years down the road and hundreds of nights later, I can tell you where these pads will first fail, however. Inside the pad are these little hard plastic blocks—they almost feel like Legos—used to reinforce wherever the stabilizing strips connect the top and bottom of the pad. These plastic bits are imperceptible while lying on the pad, but there are dozens of them there, and when one rolls the pad up to store it, the edges of these bits press against the face fabric.
As one can imagine, there are places where these blocks smash against one another when packed, and there will be face fabric between the blocks. So, after many hundreds of nights stuffed in a backpack, I can imagine little pinhole leaks might all of a sudden start popping up. Moreover, though these blocks do take up very little volume, they somehow prevent the pad from packing down as small as I think it should. Though it will weigh less than a comparably-sized foam-core inflatable pad, choosing the Double Z won't free up much pack space.
Double Z packed up, with mechanical pencil for scale...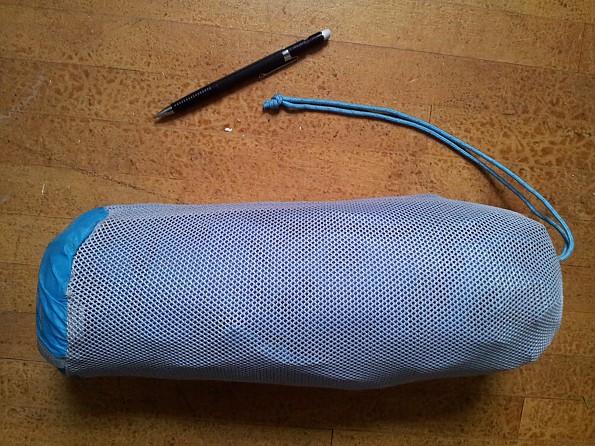 Clean Up & Maintenance:
For the exterior, fill a bathtub with a few inches of water, add dish soap, drop in a deflated and sealed Double Z, and go to town. Use a nylon brush if you like; the Double Z can handle it.
Clean the valve with running water and an old toothbrush. Clean the inside by sloshing diluted vinegar around in it, rinsing it out a time or two, and then hanging it up for a few days, valve open and pointing to the ground. The vinegar will also take care of any building funk.
For patching holes, I like Tenacious Tape or Kenyon K Tape. No waiting for epoxy to dry or wondering if you cut your patch large enough. Put on a piece of the tape, rub it on for 10-20 seconds, fill your pad up with air and go back to sleep.
Conclusion:
The Big Agnes Double Z is a well-designed niche product. If you're looking for a supremely comfortable pad for strictly warm-weather use, take a gander at the Double Z. It is very durable, comfortable, generously-sized, and pretty darn light. Did I mention it's comfortable?
Spike camp @ 7200', looking forward to the Double Z...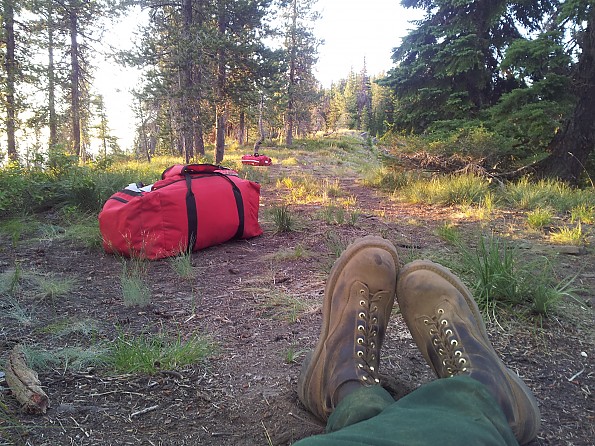 Testing Conditions:
Hiawatha National Forest, Pictured Rocks National Lakeshore Trail, in Michigan's incomparable Upper Peninsula: Spring/summer temps ranging between 70-40°F in the day and 55-30°F at night.
The Caribou, Bitterroot, and St. Joe National Forests, Idaho. Late summer, in the high mountains; up to 100°F in the day, and down to freezing at night.
About the Author:
Vince Contreras has been working as a professional Forester and Ranger for various federal land management agencies since graduating with a Bachelors Degree in Forestry from Southern Illinois University in 2010. He currently resides in Michigan's Upper Peninsula, a Forester and Wildland Firefighter for the US Forest Service. He enjoys rock climbing, backpacking, and German Idealism. Other hobbies include leatherworking, bushcraft, and really, just creating original things.
Source: received for testing via the Trailspace Review Corps (Sample provided by Big Agnes for testing and review)

A fluffy cloud made for sleeping!
Pros
Lightweight
Packs small
Super comfy
The Double Z saw its first action in GSMNP on a recent three night car camping trip in June. True to the statements made by Big Agnes it inflated to a pillowy 4 inches in thickness. No problems with the thickness at all (pretty much why I bought it in the first place), but my personal preference would have been to be a couple of inches wider at the shoulder ( it is listed at 20" wide). I know the larger pad is wider (25" wide) but I just did not need the extra length.
This pad tapers into a mummy shape and I found the regular to be a great length for me (I'm 5'6" 170 lbs). It is a tad noisy when laying down and getting comfortable. I will say that overall the noise isn't too disruptive. The Double Z is much more quiet than a NeoAir for example. If sharing the tent with a partner I would not expect too many complaints unless they are a light sleeper. 
I am mostly a back sleeper with an occasional toss to one side or the other. Once my full weight was put onto the pad I could not feel the ground with my hip, knee, or elbow. When inflating the pad I did so conservatively and found it too firm when I first layed down, thus needing to let some air out. The valve at the head end was easy to find and operate while laying on top of the pad and I was able to dial in the correct firmness.
I did use the Big Agnes pump house to inflate the pad as I had read some info about prolonging the Double Z's life by not introducing moist air into the pad via blowing it up by mouth. I will say I really liked the double valve that is connected to the pad. The top piece is used to inflate and all the air forced into the pad stays put and will not escape unless the second part of the valve is released. 
After waking up the next morning after use I found I was less stiff than normal and was able to get up and get moving right away. Using other products that are not as thick have prompted me to have more stiffness and pain upon waking. This pad made a huge difference for me, I did not wake up any morning with pain or back stiffness.
The stabilizers are a very well thought out part of the construction. At no time on this pad did I feel bouncy or unstable. I did have a worry it would feel like a pool float or an overinflated air mattress but those thoughts were put to rest the moment i took it out of the package and inflated it for the first time in my living room.
I was also impressed with the fact that I did not need to add any air over the course of the three nights I slept on it. The lowest temperature experienced was 62° and I was very cozy in my tent with rainfly using a 55° bag. The R-value on this is super low 1.5 so this is great for warmer weather but depending on your comfort level this may not be best for shoulder seasons. I will most definitely use this in late spring and summer trips. I had no issue with clamminess during the rain we received in the campground. I did not find the pad sticky at all, it was mostly smooth and cool to the touch.
I stated above this was a car camping trip but we were still very mindful of items packed. The Double Z packed down to water bottle sized proportions. Smaller than a Nalgene in my opinion. It comes in a mesh stuff sack with repair kit located at the bottom. A nice bag with drawstring that opened wide to accept the rolled up pad. No fighting what so ever to get it back in its place. Deflation was a snap. Minimal work on my part once the valve was opened all the way the air was very easy to push out. I had it all tidied up in its stuff sack in less than 3 minutes. 
Overall this is a great piece of gear I recommend highly. If you are looking for luxury in a small package this is it!
Source: bought it new
Price Paid: $79.95

Your Review
You May Like
Specs
Price
Historic Range: $39.73-$109.95
Reviewers Paid: $79.95

Recently on Trailspace