Katabatic Gear Alsek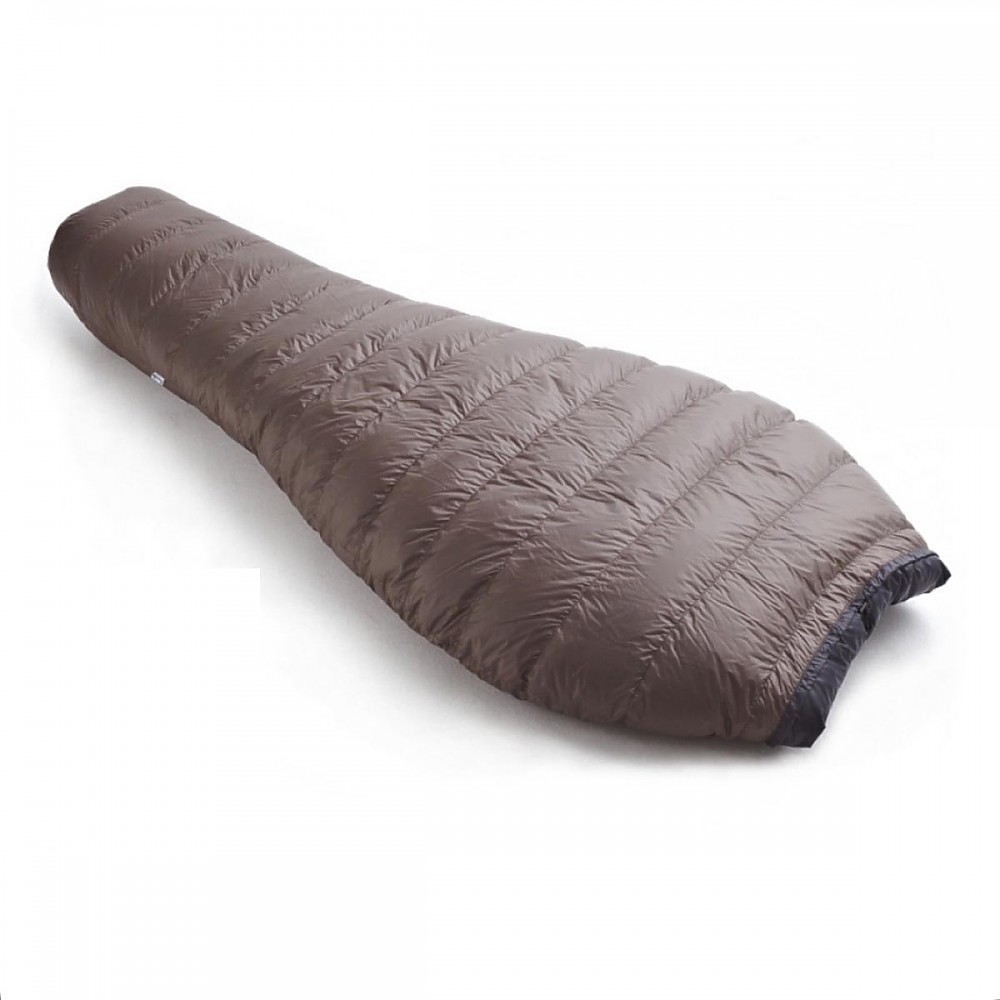 The Katabatic Gear Alsek is the most comfortable and functional quilt that I have used. It is well-designed, durable, and conservative in its temperature rating, such that it really stands out amongst the competition. It has exceeded my expectations for warmth, comfort, and reliability.
Pros
Superior and effective pad attachment system
Lightweight and compressible
True to, if not exceeding, its temperature rating
Made in Colorado, USA* using premium and ethically-sourced materials
Horizontal baffles minimize down-shift as compared to vertical baffles of other manufacturers
Many unique features like a differential cut, elastic trim, and over-stuffed footbox
Cons
Expensive*
Neck drawstring and snaps slightly more robust than necessary
Availability
*I listed the origin of my quilt as a Pro and the expense as a Con, understanding that they are directly related. When I purchased my quilt in May 2016, all production was done in the USA. Katabatic Gear now offers quilts at lower price-points, particularly the Flex Series, in part because they have directed certain aspects of their production outside of the USA. It's the classic tale of staying competitive and meeting customer demand, all while balancing quality and sourcing. A similar quilt costs about $45 less today than what I paid. If you have questions or concerns, please contact Katabatic Gear directly so that they may better explain the production process and price-points.

In this review, I will assume most readers are already somewhat knowledgeable about backpacking quilts, down fill-power, baffle construction, and care of down products. If not, there's a plethora of information about all these topics online and in Trailspace forums.
Here are the specs on my particular quilt:
Temperature—Lower Limit Rating: 22°F
Weight: 22.3 oz (by my scale, without pad attachment straps or cords); Stated weight: 22 oz
Colors: Brown shell, black liner
Material: shell=Pertex Quantum Ripstop .85oz/yd; liner: Pertex Quantum Taffeta 1.0oz/yd
Fill Power: 850 (890) HyperDRY Platinum Goose down
Fill Weight: 13.4 oz
Loft Height: 2.75"
Size Regular Dimensions: length=6', Shoulder width=54", Hip width=42", Foot girth=38", Foot box length=25"
Packed Size: 6x12"
Accessories: 4 pad cords, 2 webbing straps (0.4 ounces each), nylon stuff sack (0.5 oz), and organic cotton storage sack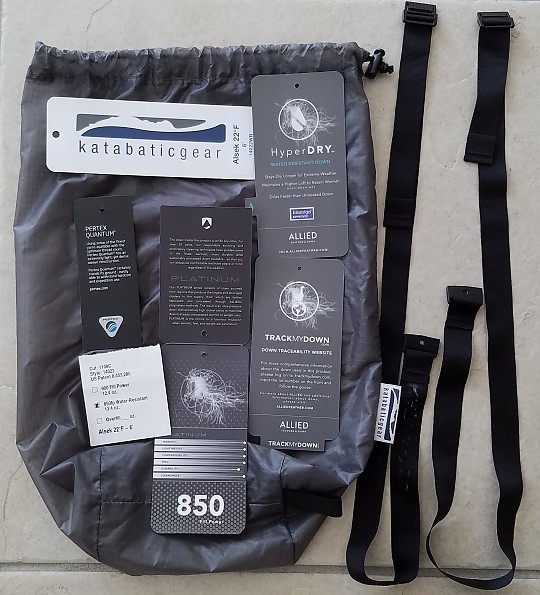 Warmth: First let me describe my particulars, since sleeping bag/quilt temperature ratings are often skewed, dependent on the user. Despite being a female, I think of myself as an average-temperature sleeper, meaning I am not unusually cold or hot. I make this subjective judgement based on anecdotal comparisons to my fellow thru-hikers. In 2018, the average sleeping bag rating for polled PCT thru-hikers was around 17°F. When I hiked the trail in 2018, I got by using a 30°F Enlightened Equipment Revelation quilt for the first half (Washington through Northern California, July-August) and my Alsek for the second half (Sierra to Mexican Border, September-October).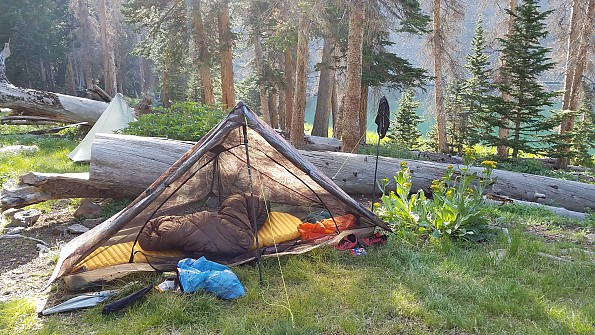 I did have some uncomfortably cold nights in my EE quilt but was absolutely fine with the Alsek at elevation in the Sierra and temperatures into the mid-20's. This is the limit to which I have tested the quilt but am pretty confident I would be OK at the lower limit since I have yet to need to add layers at night. I normally sleep in just Capilene tights and a long-sleeve shirt.
Katabatic Gear is well-known for their conservative temperature ratings, meaning that their quilts consistently perform at or even below the stated lower limit. This was perhaps the single most important factor that led me to this quilt and I have not been disappointed. I attribute their realistic temperature ratings to several reasons: above industry-standard baffle fill/volume, the differential cut of the quilt, and a superior pad attachment system that actually works to seal in heat and reduce drafts.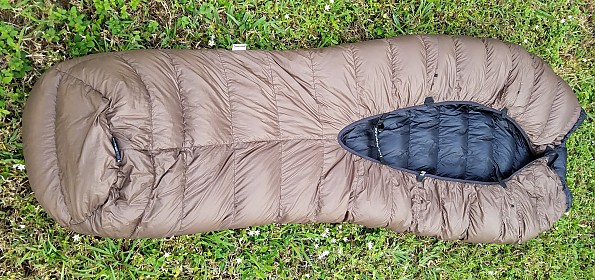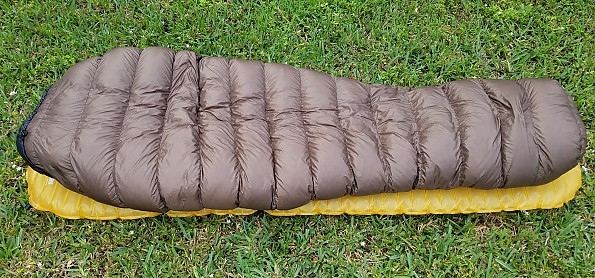 Most importantly, I find the baffles to be sufficiently stuffed to provide adequate loft for the baffle size and to avoid down-shift. I have never had to redistribute the down, even after washing the quilt (though it would be easy to do so, if needed). I stress this point because down-shift was such a problem with my Enlightened Equipment quilt that I finally got rid of it. I had to constantly redistribute down along the vertical baffles (it tended to pool at the bottom end) and even from one baffle to the other, as there were small channels purposely built to allow redistribution. What ended up happening was all the down would escape from the inner baffles into the outer baffles, leaving no insulation on the top where it was needed most. It drove me crazy! EE has since redesigned their quilts to negate some of these problems, but I will probably never go back to using a quilt with vertical baffles.
Secondly, Katabatic Gear's unique differential cut combined with elastic trim along the opening edges effectively hugs a body tightly while not feeling constrictive. The website describes the differential cut as such:
"The shell fabric is cut wider than the liner fabric, making the circumference of the shell larger than that of the liner. This means that when you start to draw the bag in more tightly, you will not crush the insulation."
For me, this design equates to an effortlessly good fit around my body and therefore less drafts when compared to a more simply-designed quilt. I think it is one of the best and most-effective features.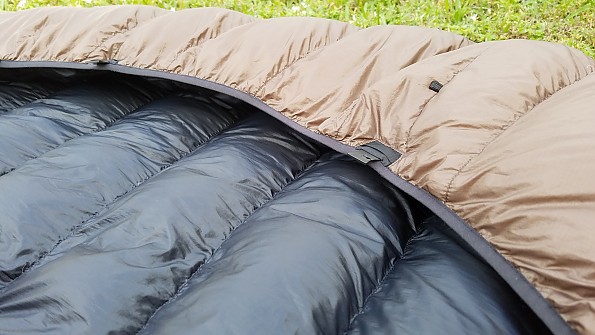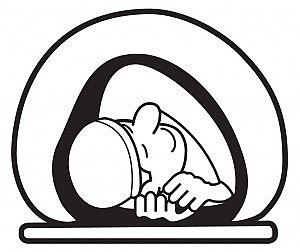 Cartoon depicting the differential cut and the quilt cinched in around the body on a cold night.
Lastly is a renowned pad-attachment design, which has basically put Katabatic Gear on the map amongst gear makers and innovators. There is simply no better design that I have tried. In cold conditions, a pad-attachment system is integral because quilts rely on the insulation of a pad to make up for the lack of insulation on the back of the quilt. It is this interface that makes or breaks a quilt design, and I have seen some pretty lackluster and ineffective attempts at this. The beauty of Katabatic Gear's system is that the quilt can be snugged against the body whereas most pad attachment straps secure at the edge or under a sleeping pad, leaving a large draft tunnel. The website again describes it best:
"The ability to attach your sleeping bag to the top of the pad, as well as the ability to easily adjust the girth/volume of the bag, allows you to optimize the position of the bag depending on your sleep position, and the level of warmth you need from your bag. In warm weather you have much more room than you are used to in a mummy bag. In cold weather, just close the bag in around you for maximum warmth."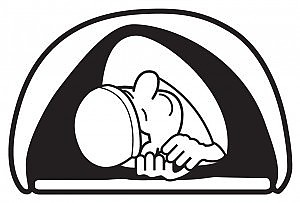 Cartoon depicting the quilt on a warmer night in "open" mode.

I describe the pad attachment system further under "Entry/Exit and Ease of Use" but I will say here that it really does keep me warmer. The only fault in the system is that the clips do sometimes detach from the cord. This is probably due to me using a smaller diameter cord than is supplied and also because I toss and turn so much. But I would rather the clips break free under a certain amount of strain rather than causing damage to my pad or the quilt. It is a simple matter to re-attach them when they do come loose.
There are a few more features that provide added warmth. There is an additional webbing strap near the foot box that can be buckled and cinched to close the gap. Also, the neck collar has a drawstring and snaps allowing cinching and securing around the neck. A down-filled draft collar really makes the closure feel nice and cozy. I have used all of these features and find them effective at sealing in the heat. And I couldn't finish this topic without mentioning how important it is to use some sort of thermal protection for your head, as most quilts do no come with an attached hood.
Fit & Comfort: The design of a backpacking quilt is very suitable for my sleeping style. I move around a lot, often ending up on my stomach with a knee or leg kicked out. I always felt bound and disoriented inside a mummy bag. This quilt allows me to bend my knees and always seems to end up over the top of me, no matter what position I sleep in. After using quilts for several years and many thousands of miles in the backcountry, there is nothing I miss about a mummy bag.
Katabatic Gear offers five sizing options (Small, Regular, Long, Regular Wide, Long Wide) all in five temperature ratings (40, 30, 22, 15, 5F) in their Elite series of quilts. Thus, most users should easily be able to optimize a fit and temperature range to suit their needs. I am of average height (5'9") and a bit on the skinny side, so a size regular has worked well for me. The extra length allows me to sink my head inside during extremely cold conditions, but I normally just use my Black Rock Gear down beanie to keep my head warm.
The foot box has ample space but at the same time does not allow voids. I have never had a problem with getting cold feet in this quilt. Lastly, because of the down-filled draft collar, the drawstring and snaps usually stay out of the way and do not cause discomfort. I am very pleased with all aspects of the comfort of this quilt.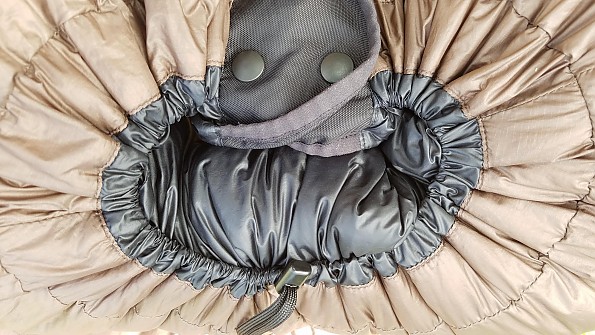 Entry/Exit and Ease of Use: Quilts are purposely easy-going when it comes to entry and exit, and this quilt is no exception. In fact, it is the least fiddly quilt or sleeping bag that I have used. On warmer nights, I don't even have to bother with the clips, drawstring or snaps. I merely stick my feet into the foot box and roll the top over like a blanket. It doesn't get much easier!
As for the pad attachment system, it is simpler to look at the pictures depicting this system than it is to describe it. Basically there are two sets of clips on either side, about 12 inches apart, which attach to two cords tied around the sleeping pad. Katabatic Gear supplies the 2mm cords (plus two spares). I did not like the stiffness of the stock cords or having to tie them around the pad each time (now the cords include a cord lock for tightening), so I fabricated my own.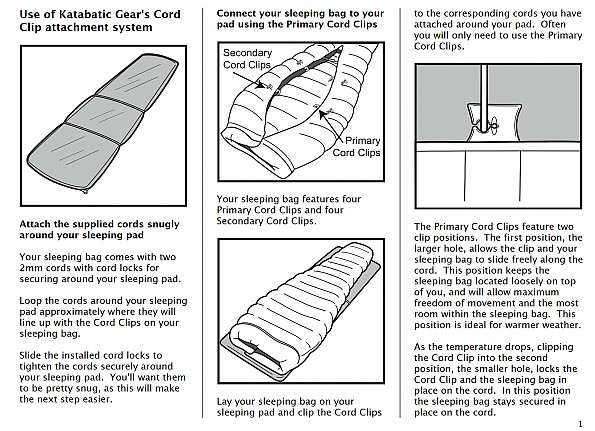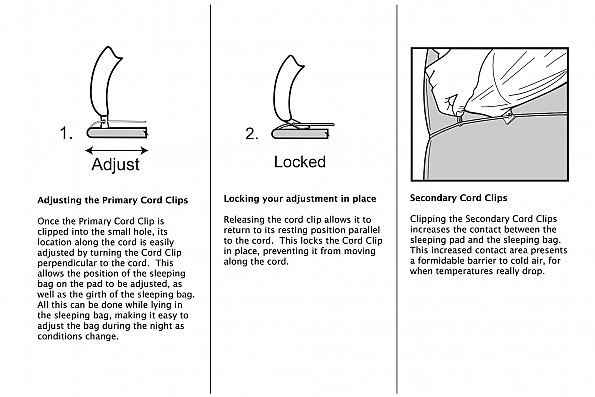 For my custom cords, I spliced 1.75mm Samson Lash-it Cordage to form two continuous loops that fit my sleeping pad (NeoAir XLite) precisely. This way the cords just slip over my pad, which I have also notched with a permanent marker for optimum placement. Usually I roll the pad with the cords still looped around and some people go so far as to tape the cords in place. Once you get everything set up, it requires very little daily adjustment.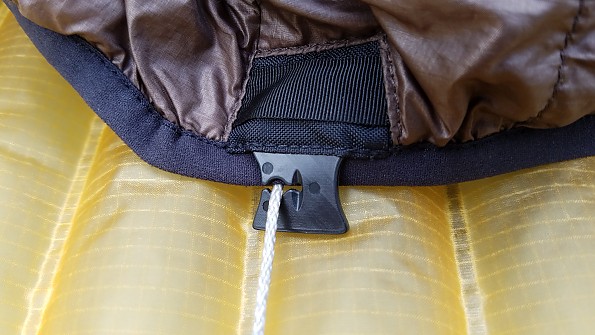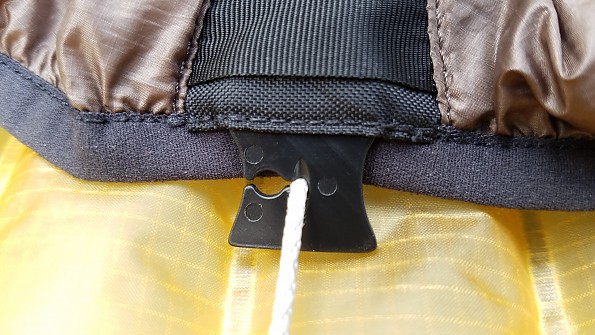 The outer and inner holes in the clips allow for adjustment and locking the clips into place.

When I'm inside the quilt, the width of the clips is easy to adjust, the clips fasten and unfasten using just one hand by feel in the dark, and the small cordage is not noticeable under my body. For a midnight bathroom call, I simply undo one side and climb out. The quilt stays put during my shuffling around since the other side remains attached to my pad. I really do prefer all this to a zipper!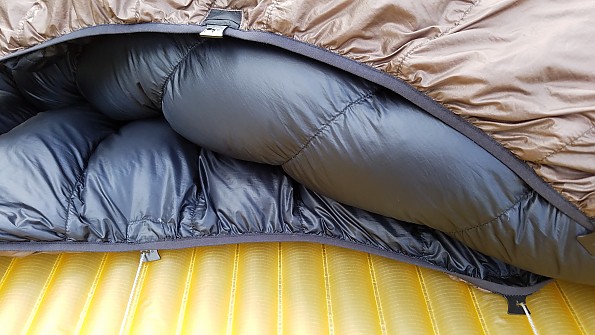 The quilt also comes with a pair of removable webbing straps for connecting the opening in lieu of a sleeping pad. These can secure the quilt directly around your body and doing so most closely replicates a fully enclosed, zippered mummy bag. But I like the pad clips so much that I have never even tried the webbing straps.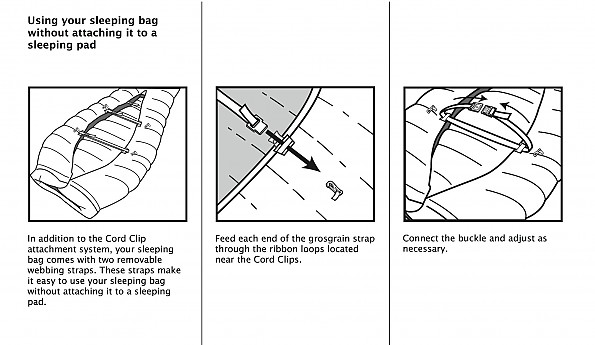 Additionally, there are secondary attachment points above the cord clips. On my quilt, these are just small loops and I have never used them. They are mentioned and depicted in the instructions.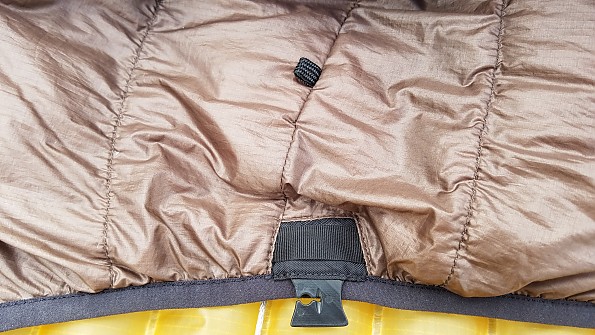 Moisture: My quilt has two lines of defense against moisture. The first is a highly impermeable Pertex shell material with DWR treatment that is so tightly woven that it resists water droplets. I have noted that condensation will bead-up on the surface but rarely has the material wetted-out. In washing the quilt, I actually found it very hard to initially soak the material. Likewise with the down, which is treated with a hydrophobic chemical, making the down fibers resistant to water. According to Allied, Katabatic Gear's down producer/distributor, their proprietary HyperDRY down stays dry longer, maintains a higher loft when wet, and dries faster than untreated down.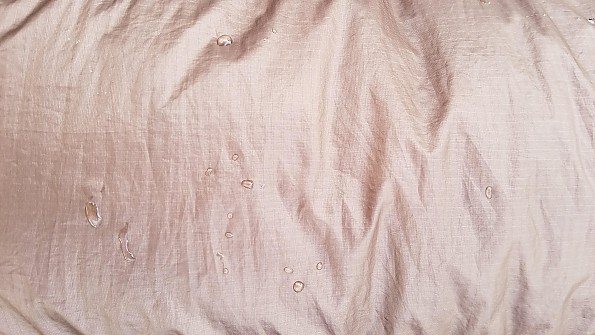 Can you see the water droplets?
There are now a multitude of hydrophobic down products on the market and I couldn't really say if one is better than the rest. Nor can I say for certain how much better hydrophobic down is compared to non-treated down. Anecdotally, I have noticed that it took my Montbell Down Anorack (which has just regular 900FP down) about twice as long to dry as a jacket with hydrophobic down, so I do see a difference there.
In using hydrophobic down quilts for numerous thru-hikes, I have never had a problem with them getting wet to the point that it affected my comfort or took a long to dry. I have experienced a lot of nights with condensation on my foot box, due to brushing up against the sides of my single-wall tent, the Solplex. Normally I just use a packtowel to mop up any surface moisture and I'm good. Sometimes I have to pack a slightly damp quilt in the morning but it always seem to be dry by the time I pull it out for the next night. I like the peace-of-mind that hydrophobic down offers and think it's worth the choice. Katabatic Gear offers untreated 900FP goose down, as well.
Packability and Loft: This quilt has resounding loft recovery after being squished down into a 10L compression sack. There is even enough room left in the sack to fit my sleeping pad and a few clothes. When unpacking for the day, the down takes only about 10-20 minutes to recover. It can be helped along with a bit of "fluffing" action.
Interestingly, while doing this review, I finally looked up the lot number on the tags that came with my quilt to see the details of where the down was sourced. According to Allied's TrackMyDown.com website, the down came from Eastern European Grey Geese and was tested at 890 FP, so it actually exceeds Katabatic Gear's stated specifications. Is there a noticeable difference between 850 and 890 FP down? Well, not that I can notice but it makes me feel better.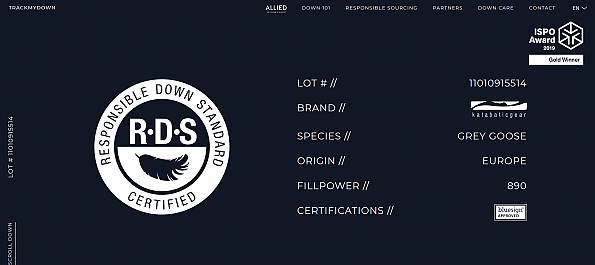 Other Features:
Colors: Unlike several quilt manufactures, Katabatic Gear does not offer customizable colors. All their quilts have a black liner, which is ideal for absorbing heat in the sun and accelerating drying, should a quilt get wet. The shells are mostly produced in Earth-tone colors, which I find appealing. The Alsek is a stealthy brown, which blends in well to outdoor surroundings, especially if cowboy-camping.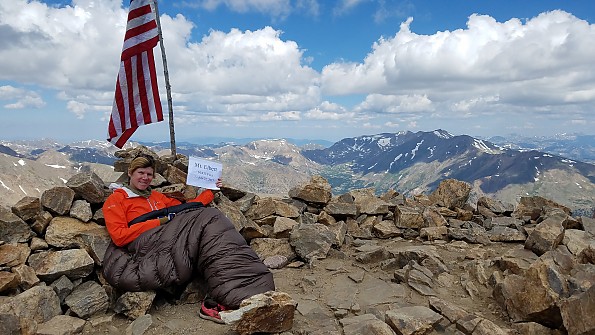 Summiting Mt Elbert, second tallest mountain in the Contiguous US, while on the Colorado Trail.


Flex vs Elite series: Katabatic Gear offers a Flex and Elite series of "sleeping bags"—they refer to their quilts as such. The main difference is that the Elite line has a permanently enclosed foot box while the Flex series has a zippered foot box. When aiming for a colder-weather quilt, I decided that a permanent foot box made the most sense and I have been very happy with my decision. Even when using a quilt with a zippered foot box, I almost always used it with the foot box closed. I just find the zippers, drawstrings, and snaps to be too fiddly, or at least they were on my EE quilt. But it's nice that these options exist.
I have already mentioned most of the other features but I'll list them again here:
trapezoidal and overstuffed foot box

horizontal continuous baffles
differential cut with elastic binding around the opening
patented cord clip attachment system
removable webbing straps so that quilt can be cinched down when not used with a pad
Construction & Durability: The workmanship in this quilt is some of the best I have ever seen. I inspected it thoroughly when I first got it and shortly concluded that it's simply a work of art. I could not find one flaw, inconsistency or even a loose thread. The choice of material and down is top-notch, as I find it comfortable against my skin with a very high snuggle-factor. The baffles are well-designed and consistent. A box-baffle and differential cut construction ensures a quality shape and effective warmth, which is superior over all the competition.
The only slightly negative comment I could come up with is that the shoestring-like collar drawstring seems a bit overkill. I think a smaller elastic cord and cord lock might do but on the other hand, the provided drawstring slides easily in and out and will never rot. Likewise, the collar snaps are perhaps overly robust and yet they are also very easy to connect (even when fumbling in the dark) and are probably more durable compared to the smaller snaps on similar gear. A tougher and stiffer fabric outlines the snaps so that fabric doesn't get caught in them...all these little details add up to an amazing product.

As for durability, the quilt has stood-up to months of use (but not abuse—I am good to my gear, especially the expensive stuff!). There has been almost zero down leakage (only a few single wispy fibers at the seams), the cord clips show no wear or degradation, and the Pertex material looks as good as when it was new. There are no snags, tears, or stains.
One downside of higher down fill powers is that they more easily become compromised by dirt and oils. I am generally well-above average when it comes to hygiene, but even so, the loft will decrease some after 4 or 5 months of constant use on a long trail. I have washed this quilt twice and both time the loft has been restored to like-new (I used Nikwax Down Wash as detergent). But I think the Pertex material also does a good job of keeping dirt and oils from absorbing in the first place.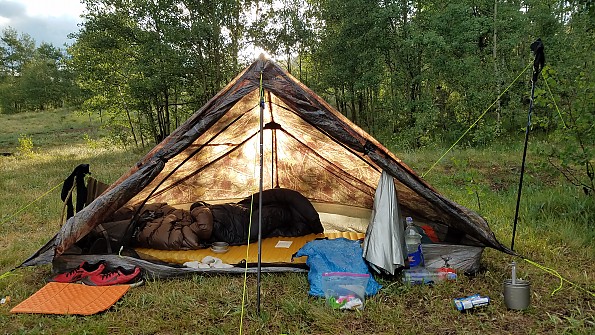 Home sweet home in the Colorado Rockies.

In summary, my Katabatic Gear Alsek is one of the best gear purchases that I have made. It has been a trustworthy friend on the trail and I don't regret spending the money on it. I expect it to last me a lifetime, after all.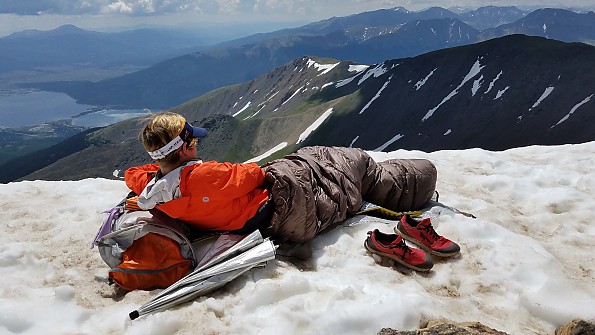 Experience
I received my quilt May 2016 and have since used it for thru-hiking the Colorado Trail (500 miles, summer 2017), the last 1,000 miles of the Pacific Crest Trail (fall 2018), the Continental Divide Trail (2700 miles, 2019) and Arizona Trail (800 miles, October 2019). This amounts to about 9 months of constant use. I have used it in temperatures ranging from the mid-20's to lower 60's (F) and at elevations up to 13,000 feet. I would not hesitate to use it again on my next thru-hike.
Source: bought it new
Price Paid: $505

A very warm, very light, and very comfortable alternative to the traditional mummy sleeping bag. Once you try a quilt you'll never go back to a standard mummy style bag.
Pros
Light weight
Warm
Comfortable
Top of the line materials
MADE IN THE USA
I've been tossing about the idea of a backpacking quilt or some time now and finally took the plunge. It's too bad I didn't do this years ago.  For my first foray into the world of backpacking quilts I chose a (very) small company located in Wheatridge Colorado — Katabatic Gear.  I made this decision because I'm familiar with the materials they use in production of their product - Pertex Quantum and their unique system for attaching the quilt to a sleeping pad.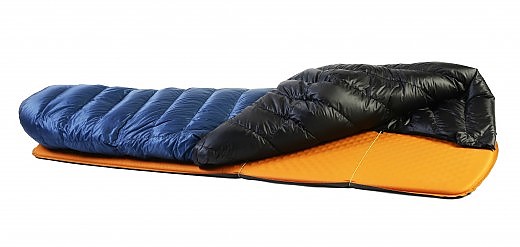 The Alsek is their 22 degree model but they offer a 40 degree model (Chisos), a 30 degree model (Palisades), a 15 degree model (Sawatch), and a 0 degree model (Backwelder).  
Speaking specifically to the Alsek the outer material is Pertex Quantum Ripstop 0.85 oz per yard.  The lining is Pertex Quantum Taffeta 1.0 oz per yard.  You have your choice of fill material either 900 fill power goose down or 850 fill power water resistant down. While my heart said 900 I went with the waterproof down. Katabatic also offers an overfill option for $14 per oz and that will get you 5-10 degrees more warmth.  If you choose that option you cannot return the bag.  
The bag is offered in small (5' 6") regular (6') and long (6' 6") wide regular, and wide long.  My regular size Alsek has 13.4 oz of waterproof fill and the total weight is a whopping 22 oz.  In my opinion Pertex offers some of if not the best DWR coating on the market and that coupled with water resistant down gets me a bag that can handle the moist climes of the Washington Cascades. I don't use a stuff sack; I stuff my bag into the bottom of my backpack which is lined with a trash compactor bag.  When I pull this guy out it fluffs up immediately to a full loft.  
When you first look at one of these you think it is a backless sleeping bag and that is pretty good description.  It is designed to be attached to a sleeping pad and I use it with a Thermarest NeoAir or NeoAir Xtherm depending on expected temperatures.  
The foot of the quilt is much like a sleeping bag in that it is a trapezoidal box with a bit of overfill in that area to keep your toes warm. Above that it is open and you actually sleep with your back/side on the sleeping pad.  When you think about it; in a regular bag you squash that down on the bottom flat - so why not put it where it's needed. So far I've not experienced any cold spots or drafts with this bag and I've used it for about ten nights with rain on a couple, wind on most.  
The quilt comes with two cords that you tie around your sleeping pad (also comes with two spares).  You attach the quilt to the pad with four small clips - two on each side. These allow you to draw the quilt close to your body when it's cold or move it out a bit when it's warmer.  Each clip has two holes one which grips the cord tightly and the other a bit looser allowing you to adjust easily.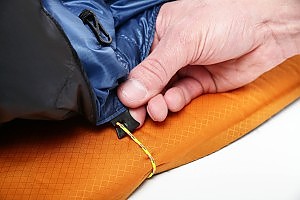 To get into the quilt you attach it to the two or three of the attach points, get in, attach the last point(s).  Slide them in towards your body and you're all tucked in with no draft tunnels next to your body. Lastly there is an overstuffed down collar at the head of the bag to cinch it closed around your shoulders to keep the warm air in, the cold out. To get out you just unclip one or two of the clips and slide out. Gone is the zipper that always seems to catch on the baffle on the way up or down or both.  
There is no hood on these quilts as in mummy sleeping bags and Katabatic sells down hoods of two different weights to provide for head warmth should it be needed. I've not yet found the need, a light stocking camp suffices for me in temps down to 15 degrees or so. A plus, there is no more of the sleeping bag sliding off the pad problems I've experienced in the past.  
I'm a side sleeper and I never had a good night's sleep in a sleeping bag — never, ever until I got this quilt. I long ago thought they called them mummy bags because you'd have to be a mummy to actually sleep in one. Now I have to set an alarm if I wanna get an early start on the trail.  
Bottom line, this sleeping bag (that's what Katabatic calls 'em) is very light, it's warm, it's comfortable. It's also versatile — you can cover up like a quilt when it's warm, draw it in a bit when it's cooler, and snug it up for colder conditions.  What it isn't is cheap. My Alsek costs  $450 (that's for a standard length, 850 fill, no overfill).  The warmer models cost less, the colder models cost more. Obviously wider, longer, 900 fill, and overfill will cost you a bit more.  
When I first examined it I found the construction to be absolutely flawless — not a snag, missed stitch, or other problem to be found. It comes with a stuff sack, an organic cotton storage bag, instructions, four of the attach cords, and an elastic strap that you would use if you were sleeping without a pad.  For me it is worth every penny and more.  Like I said, I sleep like a kitten and I stay warm.  
One other drawback if you will — Katabatic is a very small company. All their stuff is made to order in their factory in Colorado and there is usually a waiting list.  Believe me it is well worth the wait and the cost.  
Source: bought it new
Price Paid: $450

Your Review
Where to Buy
Help support this site by making your next gear purchase through one of the links above. Click a link, buy what you need, and the seller will contribute a portion of the purchase price to support Trailspace's independent gear reviews.
You May Like
Specs
small 850fp
small 900fp
regular 850fp
regular 900fp
long 850fp
long 900fp
regular wide 850fp
regular wide 900fp
long wide 850fp
long wide 900fp
Price
Reviewers Paid: $450.00-$505.00

Temp Rating
22°F

Fill Weight
12.6 oz
11.7 oz
13.4 oz
12.4 oz
14.2 oz
13.2 oz
16.3 oz
15.2 oz
17.4 oz
16.2 oz
Total Weight
20.6 oz
19.7 oz
22 oz
21 oz
23.2 oz
22.2 oz
25 oz
23.9 oz
25.3 oz
26.5 oz
Recently on Trailspace