Reviews
This is an effective product for cleaning and restoring…
Rating:


Source: bought it new
Price Paid: 11 USD

Summary
This is an effective product for cleaning and restoring loft to down garments and sleeping bags/quilts. It works for both hand and machine washing. The price for a bottle is steep, but I have found it to be pretty concentrated, with good results using less product than is prescribed.
Pros
Removes dirt and oils
Restores loft
Cons
Expensive
Leaves a bit of a 'soapy' odor
Product directions are in such a small font that they're hard to read.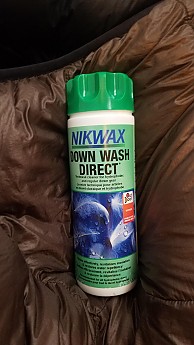 Background:
Nikwax Down Wash Direct is a specialty detergent for washing high-quality down products like jackets (puffies) and sleeping bags/quilts. Anyone who is familiar with high fill-power down products knows how expensive they can be, therefore requiring special care. It is also well-known that a user's body oils and dirt are transferred to the down fibers, greatly diminishing their ability to loft. It is important to routinely wash down items to remove the dirt/oil and restore loft.
Uses:
I have used several quilts and jackets during thru-hikes of the Colorado Trail, Pacific Crest Trail, and Te Araroa. Down items are going to get DIRTY during the course of a thru-hike, no question about it. So I followed advice from many websites and manufacturer instructions to wash my quilts and jackets with this Down Wash after my thru-hikes.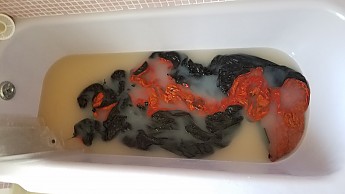 As you can see from the picture, there was an astonishing amount of dirt built up on my Enlightened Equipment quilt! I added about 2 oz of Down Wash to the bathtub water and this was the result. The instructions say to add 3.4 fl oz to 3-4 gallons of hand-hot water, but I felt that given the concentration of the fluid, less was better.
I rinsed the quilt several times, then ran it in the dryer on low heat for a LONG time. The quilt came out like new, with observably better loft, perhaps even better than when it was new. I have washed this quilt twice and my Katabatic Gear Alsek quilt once, all with similar results.

For my down jackets plus beanie, I washed them together in a machine with about 1.5 oz of Down Wash product. Both jackets (Mountain Hardwear Ghost Whisperer and a Montbell EX Light Anorack) came out looking like they doubled in size, the loft is so good. In fact, some of the baffles appear to be bursting at the seams.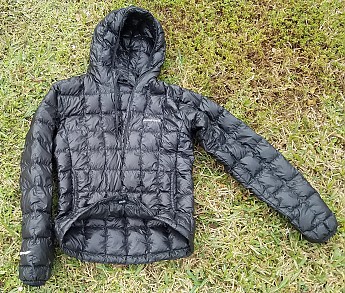 Down Wash Direct also claims to restore water repellency to hydrophobic down. This is a claim that I cannot really verify without devising some sort of experiment. It is at least good to know that the product is supposedly safe for down that is already hydrophobically treated and that it may actually add a hydrophobic treatment to down that is not. I'll just have to take them at their word on this.
What I do know from reading of others experiences is that using an ordinary detergent to wash high-quality down products is a bad call. Such detergents can actually leave a residue on the down fibers, preventing them from lofting like they should. Thus washing them proves to be counter-productive. I wish I could say exactly what magic makes Nikwax Down Wash work so well in restoring loft but it's a mystery to me. It just does.
Economy: The product is sold in 10oz bottles. So far, 1 bottle has lasted me through 3 quilt washings and 1 jacket (2 jackets combined in a machine) washing. There is approximately 1/3 or 3 oz left.
Odor: The product has a mild, 'soapy' odor that is not unpleasant and pretty neutral. The odor is present on the down product afterwards, giving it a freshly-laundered smell. I am not allergic or sensitive to detergents, so this doesn't bother me. And believe me, that fresh scent will go away quickly once it gets mingled with campfire smoke and thru-hiker body funk.
Have a down filled jacket or sleeping bag? A bit dirty…
Rating:


Source: bought it new
Price Paid: $7

Summary
Have a down filled jacket or sleeping bag? A bit dirty or has it lost it loft? Look no further! If you want to take care and make your expensive gear stand the test of time, you can't do without this!
Pros
Restores loft
Great on down
Cleans gear too
Cons
# uses per bottle
$ per use
I did the ultimate "no no." I washed my down jacket like it was a regular piece of gear. I know, I know! I looked at the directions on the jacket and I followed it. After it came of the wash (I used very little detergent...at least I had that going for me) and I dried it (once on regular) it came out flat and pretty depressing.
I was nervous I ruined my jacket. I read about Nikwax and gave it a shot.  y jacket is the only piece of down filled gear I have, but I'd love to have a down sleeping bag someday, so this needed to be tested. The minimum for each wash cycle is 100ml (the entire bottle is 300ml for $7 as a reference). Had this been  more gear or a 3 season bag, it would have used 150ml...only two times per bottle. 
Nevertheless, here is what I did and it worked for me, try it for yourself. I washed on gentle cycle in a FRONT LOADING WASHER using hot/cold option (warm/warm is fine too). I put the Nikwax in the detergent tray.
Note: I cleaned out the bleach, detergent and fabric softener tray beforehand. I only wanted water and this Nikwax on my jacket. I washed it through two cycles, the first with the detergent and the second without any. It was only for it to be washed with water again and make sure the jacket was clear of any remaining detergent.
After this I put the jacket, again alone, into the dryer with a pillow case and 5 tennis balls in it. Used the case to tie itself shut. I put it on Permanent Press (or Knits or Delicates) for 50 minutes and did two cycles.  I can easily see adding another rinse cycle and extra dry cycle if this were a sleeping bag.  The tennis balls help to fluff up the jacket and remove clumps. I also took it out every 20 min or so to remove clumps by hand too.
I really wish I took a before and after photo. My jacket seems brand new. It's bright yellow again and very fluffy. The loft is back and so is the warmth protection. This Down Wash helps to do this and keep the oils in the feathers and adds a BIT of water resistance.
I also purchased the Down Proof so I can give it some added water resistance.  From my reading the Down Proof will last through 6 or 7 Down Wash cycles before it needs to be reapplied.  I'll let you know more when I review that!
Highly recommend for anyone with down-filled gear. Since a bottle is about $7 and may be for 2-3 uses, that may seem off-putting...but I'd rather spend $3 a wash as opposed to $150 for new gear!
This product really works! Took a 20+ year old down…
Rating:


Price Paid: $10

This product really works! Took a 20+ year old down sleeping bag that was soiled, stinky and flat to looking like new with all the loft restored.
It took 2 washings in a front loader, but this one was really bad! Nikwax Down Wash is fragrance free and still managed to get rid of the odor and not mask it.
It works to clean down bags and garments safely, but…
Rating:


Source: received it as a sample, freebie, or prize (Nikwax)

Summary
It works to clean down bags and garments safely, but is more costly than Gear Aid Revivex.
Cons
Very thin product requiring using more than Gear Aid ReviveX Outerwear Pro Cleaner
So, end user cost is 3-4 times higher
Tried it and find it's effective to clean, but at three to four times the cost of Gear Aid ReviveX Pro Cleaner.
Where to Buy
sponsored links
Help support this site by making your next gear purchase through one of the links above. Click a link, buy what you need, and the seller will contribute a portion of the purchase price to support Trailspace's independent gear reviews.
currently retails for:
$10.95
MSRP: $9.75

Recently on Trailspace