Nikwax Down Wash

The Down Wash has been discontinued. It was replaced by the Nikwax Down Wash Direct.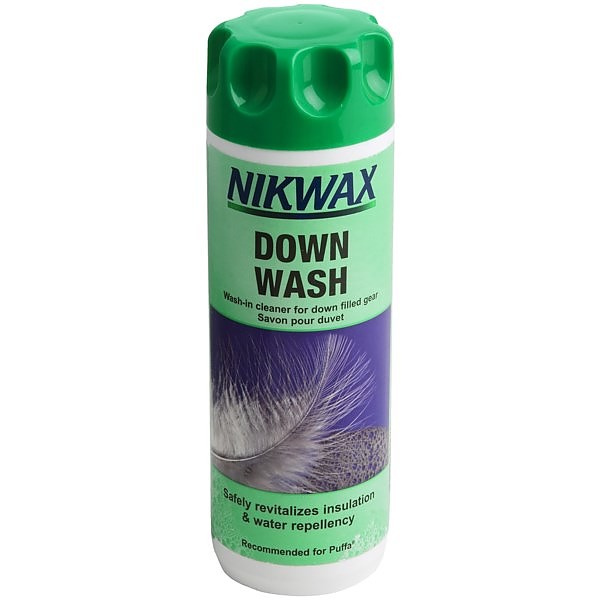 Have a down filled jacket or sleeping bag? A bit dirty or has it lost it loft? Look no further! If you want to take care and make your expensive gear stand the test of time, you can't do without this!
Pros
Restores loft
Great on down
Cleans gear too
Cons
# uses per bottle
$ per use
I did the ultimate "no no." I washed my down jacket like it was a regular piece of gear. I know, I know! I looked at the directions on the jacket and I followed it. After it came of the wash (I used very little detergent...at least I had that going for me) and I dried it (once on regular) it came out flat and pretty depressing.
I was nervous I ruined my jacket. I read about Nikwax and gave it a shot.  y jacket is the only piece of down filled gear I have, but I'd love to have a down sleeping bag someday, so this needed to be tested. The minimum for each wash cycle is 100ml (the entire bottle is 300ml for $7 as a reference). Had this been  more gear or a 3 season bag, it would have used 150ml...only two times per bottle. 
Nevertheless, here is what I did and it worked for me, try it for yourself. I washed on gentle cycle in a FRONT LOADING WASHER using hot/cold option (warm/warm is fine too). I put the Nikwax in the detergent tray.
Note: I cleaned out the bleach, detergent and fabric softener tray beforehand. I only wanted water and this Nikwax on my jacket. I washed it through two cycles, the first with the detergent and the second without any. It was only for it to be washed with water again and make sure the jacket was clear of any remaining detergent.
After this I put the jacket, again alone, into the dryer with a pillow case and 5 tennis balls in it. Used the case to tie itself shut. I put it on Permanent Press (or Knits or Delicates) for 50 minutes and did two cycles.  I can easily see adding another rinse cycle and extra dry cycle if this were a sleeping bag.  The tennis balls help to fluff up the jacket and remove clumps. I also took it out every 20 min or so to remove clumps by hand too.
I really wish I took a before and after photo. My jacket seems brand new. It's bright yellow again and very fluffy. The loft is back and so is the warmth protection. This Down Wash helps to do this and keep the oils in the feathers and adds a BIT of water resistance.
I also purchased the Down Proof so I can give it some added water resistance.  From my reading the Down Proof will last through 6 or 7 Down Wash cycles before it needs to be reapplied.  I'll let you know more when I review that!
Highly recommend for anyone with down-filled gear. Since a bottle is about $7 and may be for 2-3 uses, that may seem off-putting...but I'd rather spend $3 a wash as opposed to $150 for new gear!
Source: bought it new
Price Paid: $7

This product really works! Took a 20+ year old down sleeping bag that was soiled, stinky and flat to looking like new with all the loft restored.
It took 2 washings in a front loader, but this one was really bad! Nikwax Down Wash is fragrance free and still managed to get rid of the odor and not mask it.
Price Paid: $10

It works to clean down bags and garments safely, but is more costly than Gear Aid Revivex.
Cons
Very thin product requiring using more than Gear Aid ReviveX Outerwear Pro Cleaner
So, end user cost is 3-4 times higher
Tried it and find it's effective to clean, but at three to four times the cost of Gear Aid ReviveX Pro Cleaner.
Source: received it as a sample, freebie, or prize (Nikwax)

Your Review
You May Like
Specs
Price
MSRP: $9.75
Historic Range: $0.88-$103.95
Reviewers Paid: $7.00-$10.00