Black Rock Gear The Original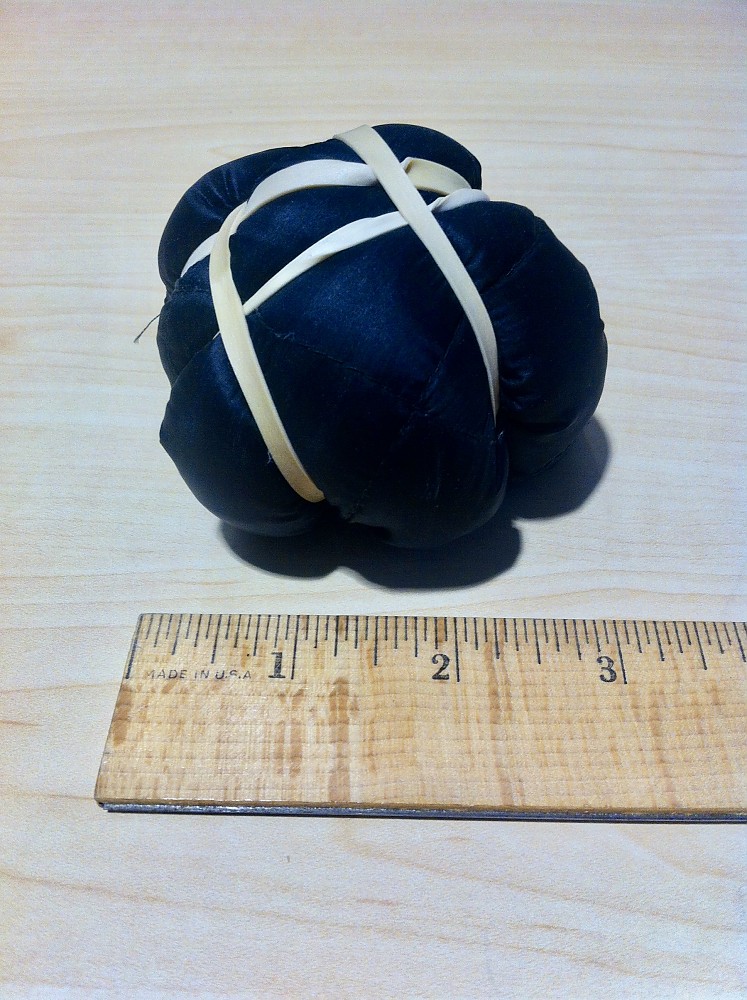 The Black Rock Gear Original is a simple, functional, quality down beanie, deserving a place on everyone's head. It gets my highest honors by being a part of my ultralight equipment for multiple thru-hikes/section-hikes this year.
Pros
Less than 1 oz
Warm into the 30's
Pairs perfectly with a quilt and Buff for a warm night's sleep
Made in the USA by a small cottage company
High quality materials
No hard quills (to poke your head) and sheds almost nothing
Cons
High price-point (but worth every bit)
When I first received my Trailspace 2016 Top Reviewer beanie, I marveled at what a nice garment it is but also wondered when I would first have a chance to use it (being that I live in Florida). Turns out, I have worn it over 40 nights this past year and now can't imagine life on the trail without it.
I completed 270 miles of the AT this summer and fall, where overnight temps dropped into the 30's a couple nights. But primarily, it was a mainstay of my equipment list for a thru-hike of the Colorado Trail (roughly 500 miles), July-August. I wore it just about every night and sometimes during the day. The hardest thing each morning was having to take it off my head and revert to my sun visor.
Likewise, putting it on at the end of a long, hard day was a little piece of heaven. It's always cold above 12,000', even in July! Also, because I use a quilt (vs hooded mummy bag), a warm hat or hood is a necessity.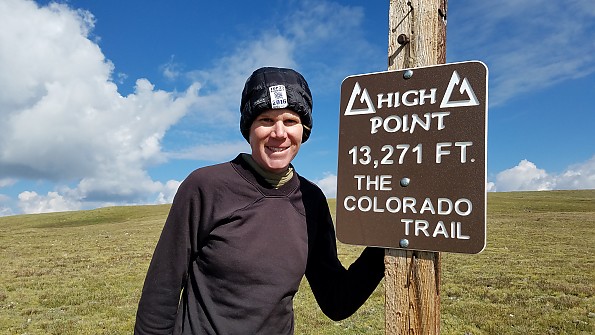 (A HIGHlight of the trip, happy to show off my Trailspace pride)

Comfort
As other reviewers have stated, it's easy to forget that you are wearing the beanie. There are a number of reasons it is so comfortable.  First, the stretchy, polyester microfiber band on the inside really gives it a warm, fuzzy, and personalized feeling against the forehead.
Secondly, it is so incredibly light that it seems to just hover over your head and not actually sit on top. In a size medium, mine does not feel constrictive, nor does it move around or slide off easily. It also provides full coverage over my ears. I have not noticed any cold spots, as a result. The company offers four sizes, so finding the perfect fit should be easy.
I think it also breathes very well, while still retaining warmth and wind-resistance. I have never noticed my head sweating, even while hiking in it. And because I use an umbrella in inclement weather, I even feel comfortable wearing it when it's raining.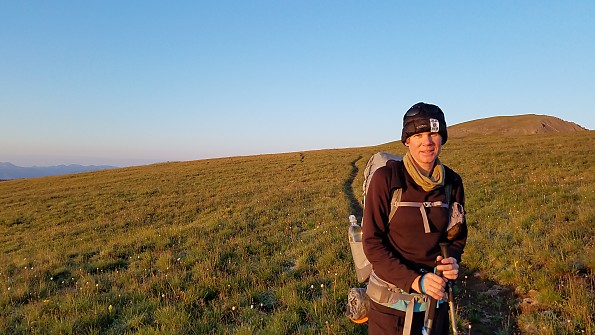 (A 5:30 a.m. start from the yurt saw us hiking through early-morning frost on this 13,000' plateau in the San Juans—one of those mornings I just couldn't bear to take the beanie off.)

Quality
I think my generation of beanie has 900fp down, but the company website states that it is now using 950fp down. Either way, it is high quality. I have never felt a quill poking through—it's stuffed with only the softest/thinnest of down fibers. Occasionally, these tiny down 'hairs' find their way out the seams but overall, down leakage is almost nothing compared to other down products that I own. The stitching of the baffles is good and the 10d taffeta super silky and soft. Loft is close to ¾ of an inch.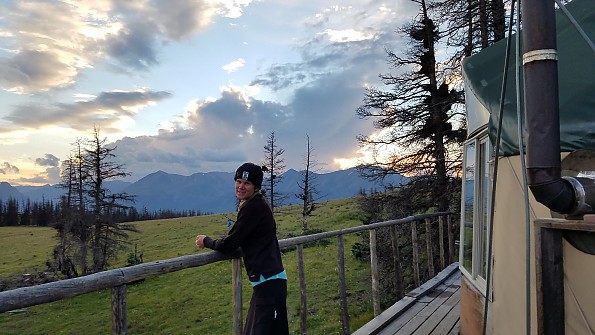 (Taking in a Colorado sunset from a yurt, while ALSO enjoying a warm head, it just doesn't get much better.)

Weight/pack-ability/versatility
This beanie is so light and so compressible, there are not many reasons even an ultra -light backpacker like myself can come up with to leave it at home. In fact, it's so small, you may be hard-pressed not to lose it. I keep mine safely inside the zippered pocket of my puffy when it's not being worn.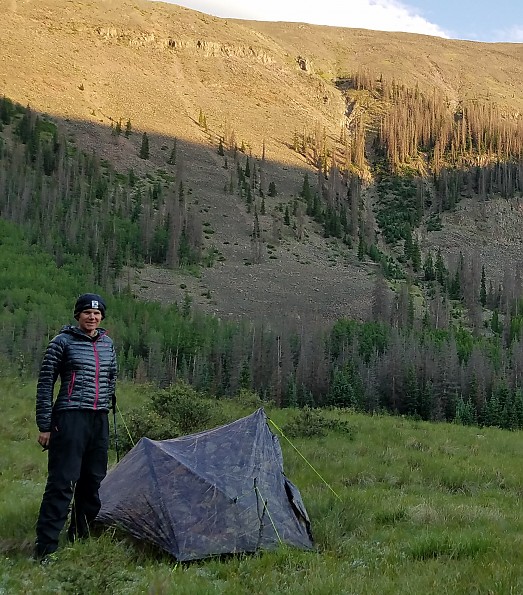 (Settling in for the night in my cozy 1 person tent, all bundled up for a cold end to the day)

In terms of versatility, this beanie may be a better option than having a hooded down puffy, dropping some weight and allowing more combinations. For instance, most of the time some sort of head insulation is needed with a quilt, but rarely is it too cold that you would also want to wear a jacket under the quilt. This beanie may not have full coverage (such as hoods produced by Zpacks and Enlightened Equipment), but when paired with a buff (neck warmer), it is sufficient. It is also more capable of a looking stylish for a night on the town, keeping warm in driving rain or snow, or just hanging around camp. You don't feel restricted in turning your neck as you might when wearing a jacket hood or purpose-made quilt hood.
Durability
Like most down garments, this beanie is not designed for activities like caving or mud-wrestling. But for normal outdoor and casual use, this beanie should last years. Also, I did NOT follow the hand-wash only care instructions but instead put it in the washing machine on delicate cycle, and it came out just fine.

(Exploring an old miner's cabin is an added bonus in the Colorado Rockies. An hour earlier we were huddled inside, escaping an afternoon hailstorm.)


In summary, I thank Black Rock Gear and Trailspace for the opportunity to get to know this wonderful piece of gear. I look forward to many more warm, comfortable nights wearing it  during my upcoming thru-hike in New Zealand.
Source: received it as a sample, freebie, or prize (Trailspace 2016 Top Reviewer)

The Black Rock Hat is a 900-fill Goose Down Beanie that became my new best friend during the Winter of 2014. Though price is a consideration, I have found it to be worth every penny.
Pros
American made
900 fill goose down
0.9 ounces
Full coverage, including lower ears
Comfortable fit, even with glasses
Warm
Cons
Price
"Friend" makes fun of the shape
When I told my wife I was buying a down beanie with my Christmas money, she said, "That's nice dear." When the bank statement arrived, she freaked a bit. I'll admit $65 for a hat is a hit to the wallet. But this review will show why I think it was worth every penny.
First, Black Rock Gear is a cottage industry manufacturer. It's made entirely by a guy named "Evan" living in Seattle, Washington. There is no Chinese sweatshop involved. No 10-year-old child in Malaysia earns 25 cents a week to make this. It's an American made product, and when you order it, you talk to the guy who makes it.
Second, the quality of this hat is outstanding. 900-fill Goose down is baffled in 15d Ultralight Ripstop fabric. Stitching is even, and there are no loose threads. Inside the hat is a band of Dryline (Elastic Stretch Polyester) material to wick moisture when you start to sweat. The band is soft and comfortable across the forehead and ears.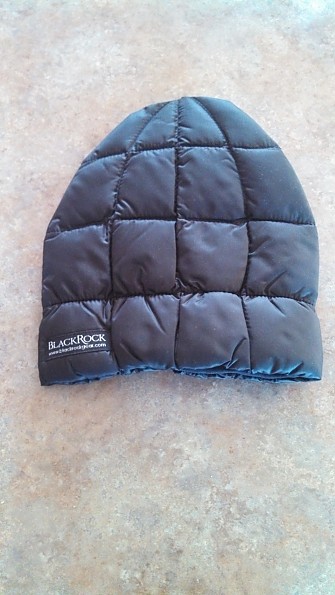 Headband
Third, the fit is perfect. One of my beefs with beanies is they leave the bottom of my ears exposed to the cold. The Black Rock Hat covers my ears completely.
Fourth, I can wear it comfortably with glasses. Glasses wearers can tell you that one of the worst things about winter hats is the pressure they put on your ears where your glasses sit. In the short term, it is not a big deal, but when you wear a beanie for hours, the pressure points begin to get sore. Options are usually adjust your glasses to an odd placement on your face or even put your ear pieces on the outside of the beanie (a precarious way to wear them). The Black Rock Hat is loose enough on my head that I can wear my glasses all day long without any discomfort.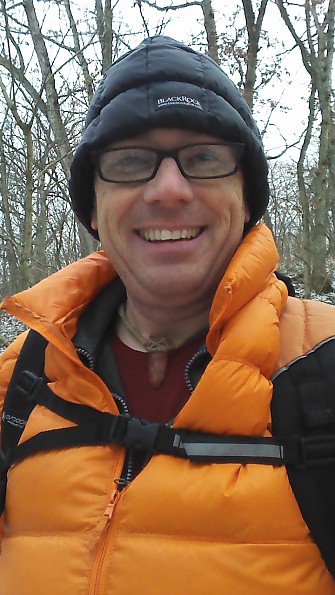 Fifth, it is warm. Officially, this hat is rated 20°F-50°F, but I have worn it comfortably into the teens. Because the fit is a bit looser than most beanies, I can combine it with my Ibex Zepher Skull Cap and take it down into the subzero temperatures that have been common this season. All this warmth is wrapped up in only 0.9oz of weight.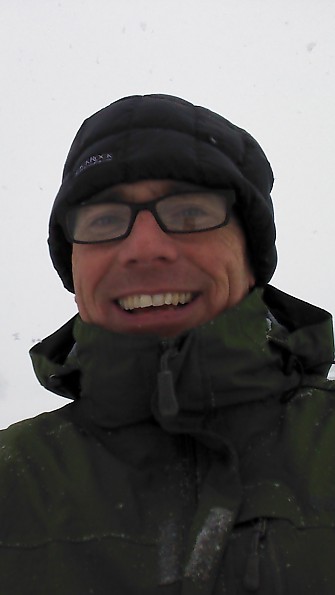 Out in a 10°F February blizzard.
When I mentioned this hat in the forums a couple months ago, the first comment was a down beanie is worthless when it is wet. I have worn this hat in several heavy snow storms this winter without any dampness occurring. In rainy conditions, the hood on my rain jacket has dealt with this issue—just as it would with my old fleece beanie.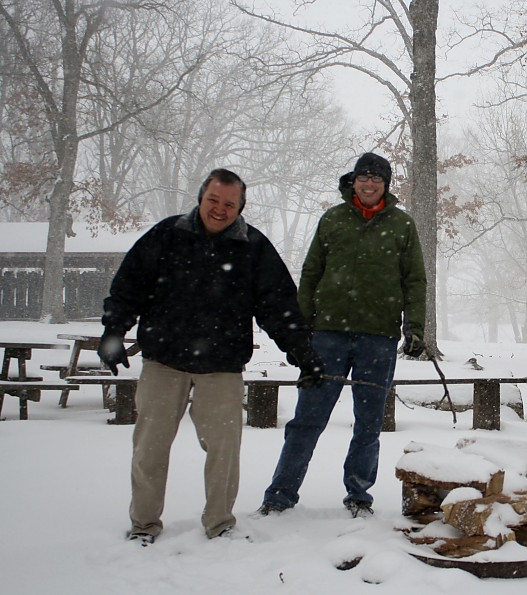 Heavy snowfall in this promotional picture
done for work. My head is warm and dry.
Summary: This hat is so light and packable, I can stuff it in a pocket and forget it is there. At 0.9oz it is an obvious choice to put in the Ultralight backpack. I have no doubt it will last me every bit as long as my mass produced hat from the store. When you actually know the name of the person who made it, you know you are promoting an American entrepreneur who works hard to make his customers happy. I highly recommend you spend the money on this hat.  
Source: bought it new
Price Paid: $65

A super lightweight, comfort-focused winter beanie that goes with me on every cold-weather excursion. My favorite use has become as a sleeping hat in the tent when the overnight temps are chilly.
Pros
Lightweight
Warm in most cold-weather conditions
No itch
Good for active or passive use
Domestically made (USA)
Cons
Rides up (maybe it's just an issue for big-headed baldies, like me)
Fit and Comfort:
I have a big, bald head, measuring 24 1/4 inches or 61.6 cm or 7 3/4, depending on which measurement you use, so hats can be a bit tricky for me. The Original BlackRock Hat, size Large fits pretty well and is very comfortable on the head. No itching, no readjusting. This was a freebie, so choosing a specific size was not an option. Based on BlackRock's sizing charts, my head would just make the cut for an XL, but the Large doesn't feel restrictive or too tight.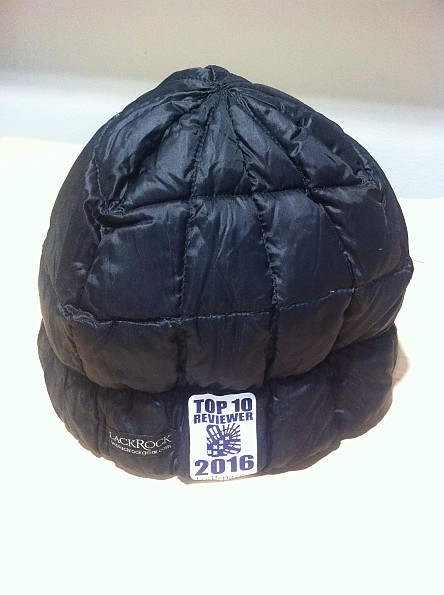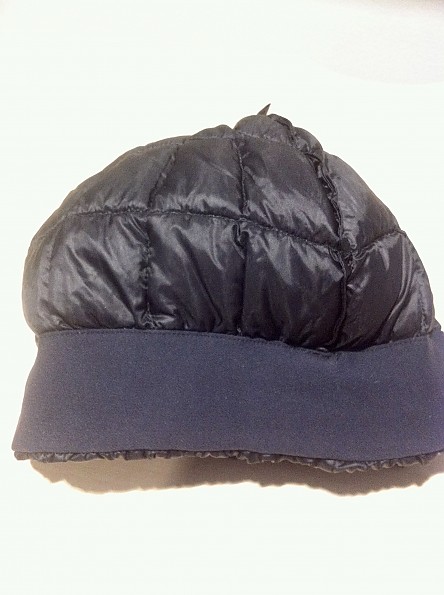 Turned inside out to show the soft headband. 
Weight: 
Next to nothing. Seriously, it's less than an ounce and didn't register on my scale. It's super lightweight and when wearing it, it doesn't even feel like there's a hat on your head. Pretty incredible.
Temps and Layering:
I've worn the Original BlackRock Hat in a wide range of temps, during varying degrees of activity with varying degrees of layers underneath. For me and my bald head, the most comfortable temp range when active (usually hiking) is approximately 20°F to 40°F (-7° to 4°C) with no layers, and 0F to 20F (-18 to -7C) with a merino beanie underneath. I've worn it all the way down to -20F (-29C) with a thicker merino beanie and a hoodie underneath, but that was pushing it. But while wearing it at rest (usually while sleeping in a tent or hammock), the ideal temp range for me is 35F to 50F (2C to 10C) to keep body heat from escaping atop my head.
Packability:
This hat is the most packable I've ever owned. I can stash it in a small pocket as a backup and it takes up very little room at next-to-no weight at all. Even if I don't plan to wear it, I typically take it with me on winter hikes, just in case.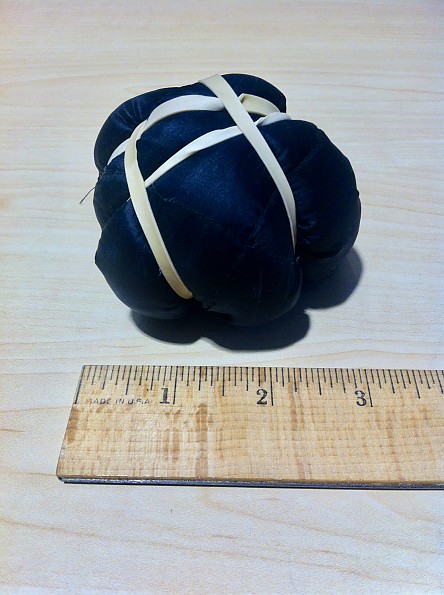 Super packable. Less than 3 inches (7.6cm) wide when stuffed, which is comparable to the size of a tennis ball. 
Look/Fashion:
I wouldn't normally comment on a product's look or appeal since that is so subjective, but I have to on this one based on how many comments I've received on the hat. Friends and family alike have had strong reactions look of this hat, ridiculing it regularly, and laughing when I wear it. I have thick skin (and a warm head, thanks to the hat) so I don't care, but it's worth mentioning. Most people just haven't seen a goose-down beanie before.
Domestically Made (for those in the USA):
While I don't get too caught up in judging a product solely by where it was made, I do appreciate the fact that BlackRock makes its high-quality products in Seattle. 
Riding Up:
The hat tends to ride up a little a bit and doesn't cover the bottom of my ears very well. I've hypothesized this is either because of my large head size (24 1/4 inches or 61.6 cm or 7 3/4) or due to a lack of hair (i.e. slippery dome), or a combination of both.
Conditions:
I've worn the Original BlackRock Hat for two full winters in the valleys and ridges of central Pennsylvania, most regularly while winter hiking and cool-weather tent-sleeping. I particularly like it as a sleeping hat, as it keeps my bald head nice and warm, but not overly hot.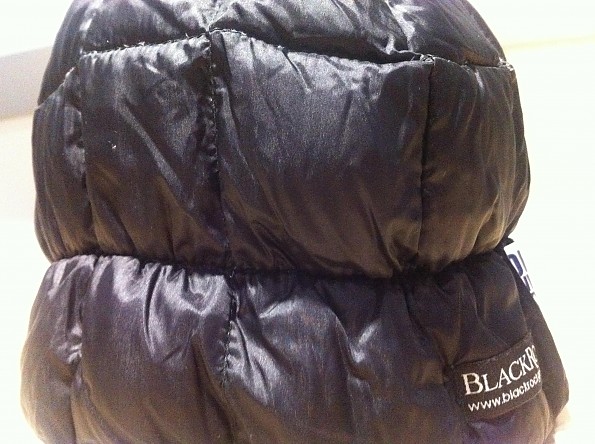 Background
With a bald head, I've worn a wide range of winter hats over the years to keep my head warm when the temperature drops, including fleece, acrylic, wool, and various blends. This is my first goose down beanie.
Source: received it as a sample, freebie, or prize (Trailspace 2016 Top 25 Reviewer of the Year)

The comfort, weight, and warmth have me grabbing this hat before any of my others. I'm starting to miss my old head covers; I don't see them much any more.
Pros
Super light
Super comfortable
Don't let the price tag deter you. It has become my go-to hat for all sorts of outings.
Because this is a cottage company out of Seattle, you will pay a few extra bucks to keep things made in America. That said, I use my down hat so much that I've gotten the price tag's worth of use out of it and then some. I can't say that for all of my gear.
The hat is so incredibly light, you don't remember you have it on. It stuffs into any spare crevice you find in your wardrobe. The down is advertised at 950 fill. That's a pretty high volume-to-mass ratio and must explain why the hat is so lightweight. The website says 27 grams. Just to give you an idea, that equals just under 1 oz. 
The hat is rated to around 30°F and it does its job quite well under the advertised condition limits.
In non-wet conditions, the breathability is top-notch.
Even in wet weather, the hat still keeps you warm. I know that there is truth to the fact that down loses much of its insulating value when wet but I must say, my Black Rock hat has been pretty wet on some outings and it has still kept me warm. In the pic, I am under a frozen waterfall.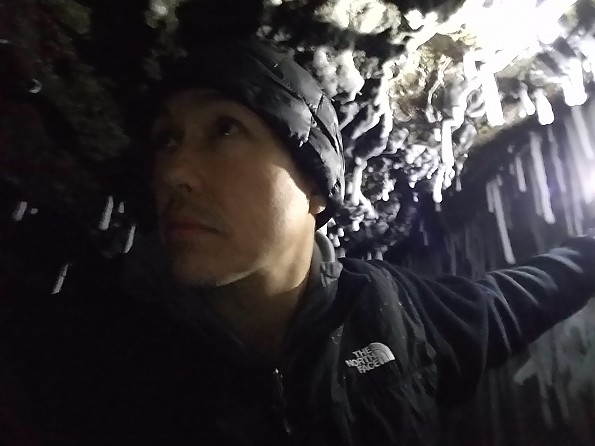 The ceiling was dripping the whole time and the mist was spraying. After I exited the innards of the falls, I still had a 2-mile hike back to camp. The hat was wet but my head still remained warm. As with any sort of exercise, your head produces a good amount of heat. That extra head heat seems to burn off the moisture at an accelerated rate.
(note: the company now offers new water-resistant models)
While climbing, the hat fits well under a helmet for a bit of added comfort and warmth in the winter. Hoods and headlamps fit over it just the same.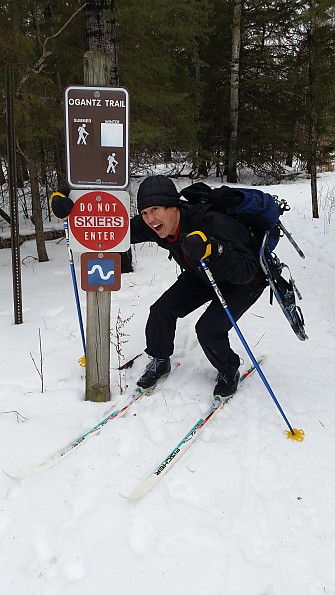 The first time I put the hat on and looked into the mirror, I thought it looked like it had a bit too much volume. Some of my friends said, "What kind of hat is that?" If you think about it, it's like a puffer for your head. The hat is so dang comfortable that I didn't mind what it looked like. Turns out, it has become somewhat of a fashion statement among my haute couture friends. They all think that it's the next big thing. I don't know, nor do I really care; I'm going to keep rocking it for its utilitarian function.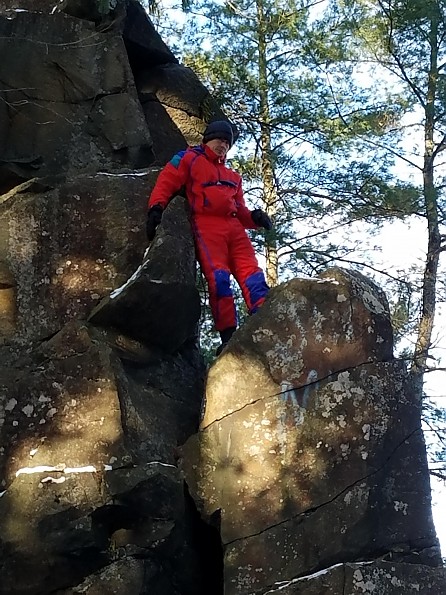 I've only had a couple of puffs of down leak out at the seams. This is after months of prolonged use.
There is an elastic headband sewn into the interior. It is really soft and comfortable.
I really like to pull the hat down over my eyes when I go to bed, that way, things are dark and warm.
As far as conditions go. I've used the hat just about every day during the last six months of winter—evening walks, scout campouts, climbing, hockey, in the snow, sleet, rain, paired with a hood in sub-zero temps, to sleep, etc.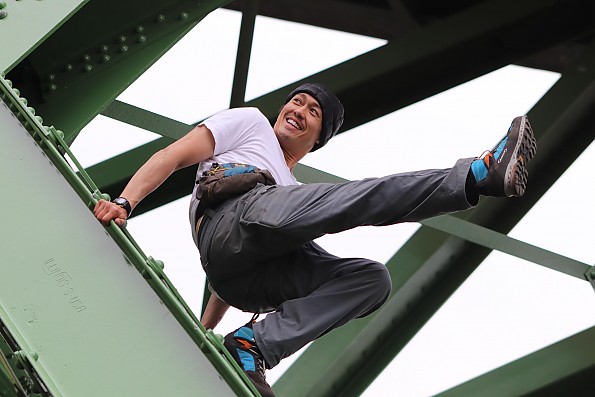 I'm not sure what else to say about it. After all, it's just a down hat. With that said, I add my testimony that it's a great piece of gear. I would recommend one to anyone who enjoys cold weather recreation.

Source: received it as a sample, freebie, or prize (Trailspace Top 25 Reviewer of 2016 prize)

Impossibly light and compressible. Good wind resistance and warmth.

Pros
Compressible
Made locally (to me)
Light
Breathes well
Bonus vinyl decal for the chair lift pole
Cons
All the common failings of down.
Hate how beanies make your head itch and tie your hair in knots? This may be your new favorite hat. 
I received this beanie as a Trailspace prize.  I like hats and already have a ton, but this one is definitely unique.  I know of no other down beanie on the market. 
Testing conditions:
I wore mine on Mount Rainier on a day ski to Camp Muir in mid May. It is almost never windless here and this day it was 24-ish degrees (F) and the wind was unpleasant to be in. Ungloved hands got cold rather quickly while eating lunch. 
I put the hat on when we stopped to rest and eat lunch. I truly forgot I was wearing it it was so comfy and warm.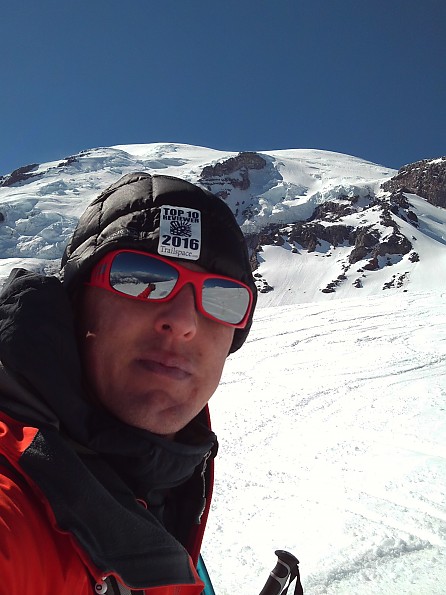 This day I wore a base layer, mid-weight gloves, an insulating mid layer, and a wpb shell with this hat.


Features
It is a quilted down hat with a stretchy sweatband. It is so basic, but so effective. 
Local
This is made by a guy in Seattle, which is close to me. I prefer U.S. sweatshops to foreign ones.
Weight
You'd need a better scale than mine to make it register. A postal scale maybe? It is as close to weightless as you can get. They claim it is under an ounce and I believe it.
Warm
I wore it in 24 degree temps and 10-15mph winds at 10,000 feet and it was great. No drafts.
Compressability (is that a word?)
If you try you can get it to ping-pong ball size.
Breathability
I wore it skiing down the mountain and it eventually became too warm, but never too sweaty. 
Who needs this?
People who hate itchy beanies and want the most warmth for the least space and weight. Once you own it there is really no excuse not to bring it; it weighs nothing and takes up almost zero space.  Squish it in a sandwich bag, compress it, and toss it in. 
Source: received it as a sample, freebie, or prize (Trailspace Top Reviewer of 2016 prize)

At 3/4 of an ounce and ridiculously warm, how can you go wrong?
Pros
Super dooper light
Goose down warmth
Large enough to cover your eyes
I was lucky enough to get my Black Rock Gear The Original hat as part of the package of goodies I received from being one of the Top Reviewers of 2016 from the good people at Trailspace.com. I knew instantly this flyweight 3/4 ounce genuine goose down hat would have a permanent place in my backpack.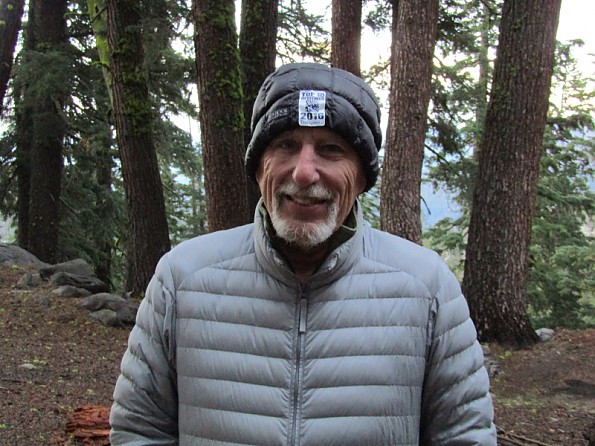 It wasn't until my recent Tahoe to Yosemite through hike that I got to try this baby out. For 16 straight days the minute we would hit our next camp my Tilley hat would come off and the Original would be put on. I wore it in camp and also kept it on all night. Because I use a Sierra Designs Backcountry Bed and a pillow my head is exposed during sleep, the Original took care of keeping my noggin warm all night.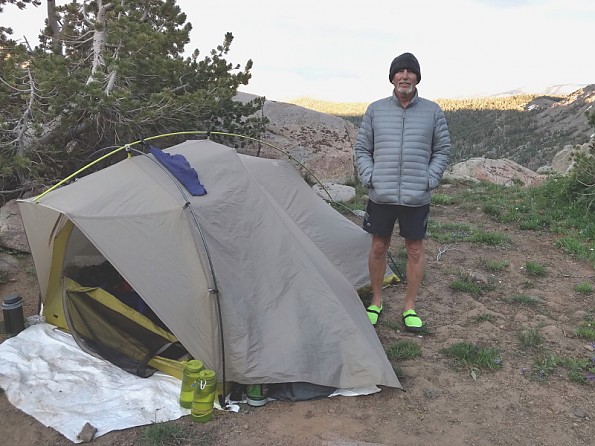 As you can see in this photo, if it's too bright out to sleep I would just pull the hat down over my eyes, problem solved.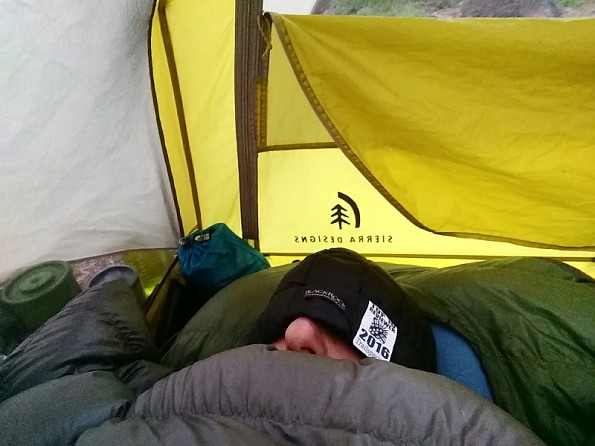 Thanks so much to Trailspace for providing me with this great hat, it belongs in every hiker's pack.
Sizes: Small, medium, large
Colors: Black, Cobalt Blue, White, Green, Black Siliconized
Price: $70
Source: received it as a sample, freebie, or prize (Trailspace 2016 Top Reviewer prize)

This is simply the warmest, most comfortable, most durable, lightest beanie available at any price. I now own two of them, and I will buy another if my older one ever dies.
Pros
Warm
Light
Durable
Quality
Good fit
I bought my first original Black Rock hat two years ago. I have worn it on several extended backpack trips to high elevation cold, and it has always kept me warm.
It is, of course, 900+ fill goose down, and that's not just a sales gimmick. It is sewn with quilts, or baffles, to keep the down in place, but you notice no cold seams due to the stitching. The liner is just the right size in just the right place to keep any sweat away from the down, and it also acts like a collar to keep the hat in place, in winds or in the sleeping bag.
This past December I thought I had lost my original hat, and waited for Evan to get back into production on the hats. The day he announced that he had inventory, I ordered a HadronS, which is the exact same hat but with a lighter, more water resistant outer shell and slightly heavier fill.
Since this is a review for the "Original" hat, I will just say that the original is equal to the more expensive Hadron in nearly every way. I have since found my original (now over 2 years old and going strong.) So, I wear it as my "daily driver" and it gets worn nearly every day in my woodshop in the winter, but it takes the wear and tear of daily work and shows no sign of wear...only surface sawdust.
It is a product made by hand, in the U.S.A in a private cabin industry owned by an individual who cares about his customers. 
This is a great product, and a great company. I recommend it highly.
Source: bought it new
Price Paid: $65

The best of the best. Handmade with care in the USA by a small business. Excellent customer service. Crazy warm and soft. Does not squeeze your head.
Pros
Excellent construction
Super warm
Comfortable
If you are serious about keeping warm and comfortable and are sick of hats not doing their job, this is the product for you.
First, it is made right here in the USA by a very small company. You are supporting a small business and supporting someone who believes in his product and will give you great customer service.
The fit is generous and the hat comes in a few different sizes, depending on head circumference. I have a pretty big head, and hats are always just fitting. Not so with this hat. It slid right on with no squeezing of my ears or head and no pain from wearing it for a long while. Pure comfort.
The hat itself is so light, feather light and so soft. As soon as I slipped it on I felt the difference in temperature. My head warmed up immediately.
It works beautifully on its own or over another hat. It folds down to almost nothing. After years of getting sicker and sicker of the cold, I can say that this hat is worth every penny.
I highly recommend this product.
Source: bought it new
Price Paid: $65

I was highly skeptical of the idea of a down hat when I heard of Black Rock Gear. I figured when I was climbing hard and sweating I'd be putting my hat on at belays or whatever and it would wet out and turn into mush on my noggin. Light is right is great, so why not use Primaloft?
Then Evan happened to leave one in my car after a climbing trip and I started wearing it around a bit.
At first I treated it all nice and gentle and tried to keep it dry. Then I forgot about it in my pocket, wore it in the snow, and just forgot about it being light and down filled. Now it's generally the only hat I bring (except for a thin helmet liner when working hard).
This thing is awesome, super warm for the weight, super compressible, and I haven't really had any of the moisture issues I worried about. I've had mine up Mt. Rainier, backcountry ski tours, ice climbing, and just for generally camping or wearing around town on cold days.
I'm not giving it back (so in full disclosure, I didn't pay for my hat)! It's worth the price though. I'm totally sold.
Source: received it as a sample, freebie, or prize (Black Rock founder Evan happened to leave one in my car.)

This hat is made well, but almost no loft. This hat is not warm in any temp under 35 degrees. I wish it were.
Update: October 18, 2010
I wrote a review on this hat earlier and would like to clarify why I hadn't given it a four and a half or five.
It's put together like a five star product, workmanship is the best. But I'd like to make plain why the hat may not be keeping me warm. I mostly have tried using it at the shooting range last winter. We shoot for a minimum of three hours no matter what the temperature. Just standing around and practicing shooting targets is all the activity we are getting out there.
So perhaps the reason I thought it would not keep me warm is the way I am using it, AND the fact that I NEVER really get warm out there in some of the cold weather, wind and all. That said, I shouldn't blame the hat, rather, my cold weather layering in general.
One of my close friends turned me onto this hat so I bought one, and he uses his backpacking down into the single digits. So, perhaps I was over critical given the circumstances. I will be using it backpacking this winter, and I would buy the hat again.
Sorry for the confusion, but fair is fair.
Fabric: ripstop
Fill: down
Price Paid: $60

This hat has rafted the Grand Canyon, worked two-week shifts at wilderness therapy, gone to Indian Creek to climb and the Brewery right after. It's been snowed on, rained on, sat on (I've actually lost it in my pocket a few times, ends of getting so compressed that you can't even feel it) and worn to 0 degrees Fahrenheit.
It gets wet like any hat when it's dumped on, but while that's a concern because of the down, the warmth from your head dries it out faster than any other hat I've worn. It's super light and compressible and the Dryline headband liner keeps it stuck right on your head.
Helmets might compress it a bit, and after being stuffed in a pocket it takes a minute to get its loft back. I mostly noticed that up on the very top where all the stitches come together, while the bottom two bands of down rarely got over compressed.
People recognize the hat for exactly what it is all the time. "Is that a down hat?" Why yes it is. No visor or ear flap models yet, but it's a solid hat for every adventure.
The PCT, the Grand Canyon, El Capitan; day trips, touring, expeditions; Mom, partner, kid.
Fabric: Momentum 90
Fill: 800
Price Paid: $50

This hat is SWEEET! I wore this hat on a recent trip to the Inca Trail in Peru. It didn't get extremely cold but it was great having this hat to sleep in at night. Everyone that saw it was extremely impressed and was like "wow, is that a down hat?" Come to think of it, I'm not sure I've ever seen a down hat either. If so, it obviously wasn't of this quality.
With just the right amount of 900 power fill the hat is extremely light and packs down to nothing. On the trail or camp it is great. Wearing it around town you could easily stuff it into a front jean pocket and never know it was there. I'm looking forward to using it again on a winter trip on the Appalachian Trail.
Around town or on the trail this hat keeps you toasty. The quality is amazing! You can definitely tell it is handmade by someone that cares about their product. Not to mention dealing with Evan is great!
Thanks, Evan!
This place is great. Very unique high quality items you will not find anywhere else.

Pros
Made in USA
High quality products
Stands behind his products
Had one of their down hats for a few years, and it is by far the warmest hat I've owned. I ripped it two years ago (my own fault), and the owner of the shop was nice enough to repair it for me free of charge. Really stands behind his products.
I also have cold hands during winter, and so I got the Foldback Mitts. No more cold hands! And it's a great design.
Source: bought it new

The only hat I carry around now! I got the hat as a gift and I was originally skeptical of how well it would work (I mean come on, it's only a hat).
I have taken it out climbing this winter several times, and it definitely gets the job done. I was amazed that I could either wear a fleece jacket on a route (restricting movement), or just wear the hat.
The hat compacts to almost nothing, so I can stuff it in my pocket and take it on multipitch routes to stay warm at belays. Since the hat is down, it expands once you put your helmet on keeping you nice and toasty ice climbing.
I can't wait to use it this spring on longer fast/light routes.
Fabric: Ripstop
Fill: 800 fill down
Source: received it as a personal gift
Price Paid: Gift

I had heard rumors that there was a down hat available somewhere and with a little research found Black Rock's down hats. I rock and ice climb about 200 days out of the year and was looking for hat that I could count on to keep me warm in the process.
I have fallen in love with this hat and take it with me everywhere. It is lighter, warmer, and more water resistant than ANYTHING else on the market. It is designed super well with a bit of stretch, it breaths better than you would think, and it doesn't seem to get wet even in the rain????
Bravo, Black Rock!
Price Paid: 50$

This hat is an integral part of my hiking/camping gear collection now.
I used it this past weekend in the Grandfather Mtn District area (N.C.). Hard to believe a quality hat can make that much difference. 28° temps with an unknown wind-chill factor really put it to the test.
I'm really impressed. Evan at Black Rock really knows what he's doing. Kudos!
Price Paid: $49

I do not understand the above post at all, that originally rated it low.
This is an awesome hat and keeps my bald head warm down in the single digits.  Warmest hat I own. Very compact and lightweight. Has ample amounts of loft in my opinion.
Price Paid: $59

I wore this down hat in Colorado in sub-zero weather and my head FROZE. My little fleece hat is warmer. If you want a warm hat for really cold weather get the Mad-Bomber hat with leather and fur. You do not see ANYBODY in Alaska wearing these things for good reason!
Cons
Cold
No good for really cold weather!
I definitely don't recommend this hat for really cold weather. It is a joke for what it costs. There is not nearly enough down in this thing and the people that are giving it a positive review must live in Southern California. Get a Mad-Bomber hat.
This is an honest review from somebody that actually tried to use this thing.
Source: bought it new

Not a very good hat.
Cons
Useless when sweating and takes forever to dry
Price
Not comfortable, hard to hear through
Not breathable
Not as warm or as comfortable as a good wool beanie. This hat doesn't breathe well so it gets sweated up easy and is worthless.
I love down, but not for hats. Look at merino/possum blend hats for something 10x as good as this down hat.
Your Review
Where to Buy
Help support this site by making your next gear purchase through one of the links above. Click a link, buy what you need, and the seller will contribute a portion of the purchase price to support Trailspace's independent gear reviews.
You May Like
Specs
XS/S
Medium
Large
XL
Price
MSRP: $70.00
Historic Range: $65.00
Reviewers Paid: $49.00-$65.00

Weight
20 g
24 g
27 g
31 g
Head Size
19-20 in
20-22 in
22.5-24 g
24+ in
Insulation
950 loft Goose Down

Fabric
10d Fabric

Liner
Dryline

Thread
Gutterman Polyester Thread

Recently on Trailspace