MontBell EX Light Down Anorak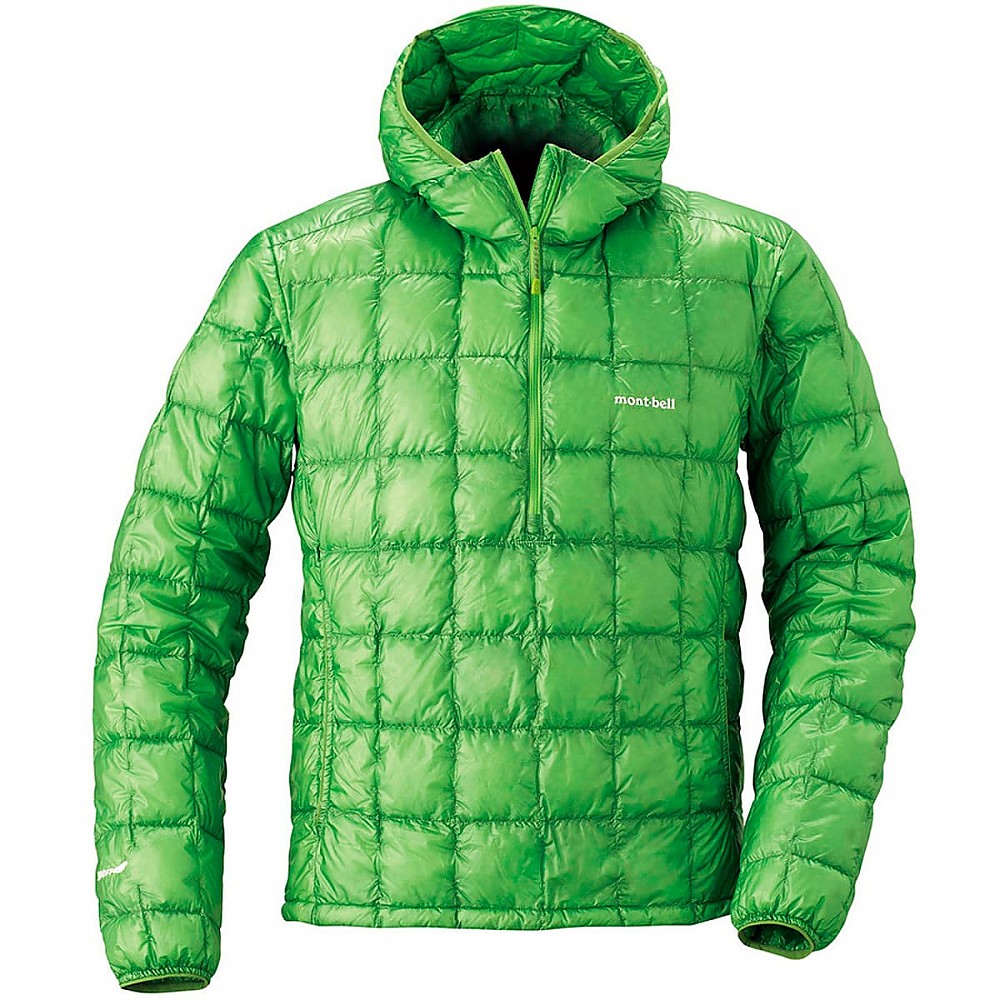 This ultra-lightweight down jacket is a great mid-layer for backpacking and thru-hiking, filling the niche of a three-season camp "puffy". It should be thought of more like a sweater or hooded sweatshirt rather than a jacket, as it trades off many typical jacket features for its svelte weight and compressibility.
Pros
Ultralight
Packable
Good warmth-weight ratio
Cons
Down not water-resistant
Baffle design can allow some down shifting
No women's sizing
Price/can only be purchased new through Montbell website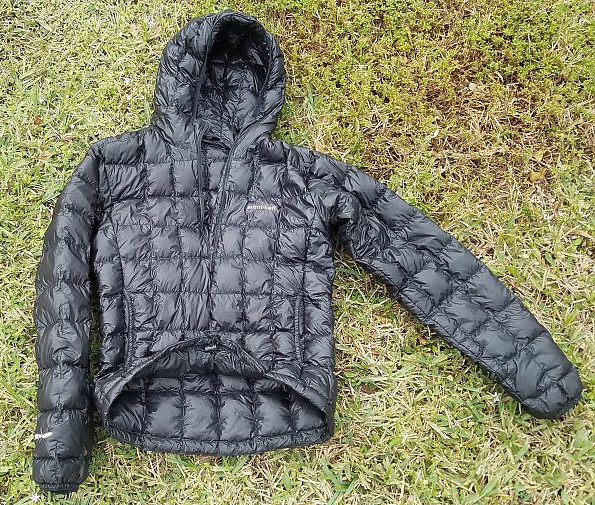 Specs
Weight: 5.25 oz in a size XS (my measurement)
Gender: Men's (or unisex, because there is no women's version)
Insulation: 900 fill power down (2.3 oz of fill)
Fabric: 7 denier ballistic ripstop nylon with DWR coating
Retails for $269
Ideal uses: The Montbell EX Light Down Anorak is ideal for those wishing to keep their pack weight and size to an absolute minimum and yet still have a reliable insulating layer. Thru-hikers appreciate the versatility and minimal weight that down jackets offer, commonly referred to as "puffys." The ultralight thru-hiker/backpacker strategy is to spend most of each day walking and very little time in camp. Hence, there's less of a need to carry heavy layers...the assumption being that a person will retreat to their sleeping bag/quilt when temperatures drop and be moving otherwise.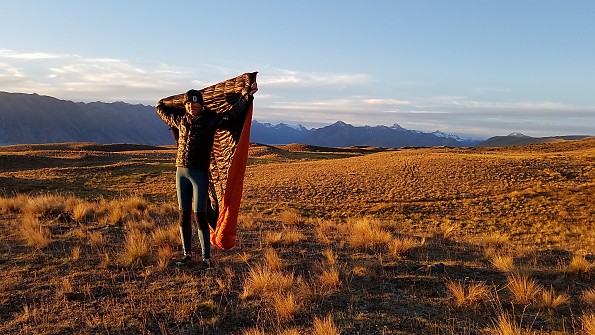 This jacket is one of the lightest and warmest filling the camp "puffy" niche. It is extremely comfortable for wearing around camp or paired with my quilt, when cold temperatures test the lower limits of my sleep system. Its nearest competitor is the highly-regarded Mountain Hardwear Ghost Whisperer (MHGW) hooded down jacket, which I also own and have taken on thru-hikes. The MHGW is a great jacket too, but I prefer my Montbell puffy simply because it is more comfortable, slightly lighter, and yet also slightly warmer. For reference, my MHGW women's size small weighs 6.5 oz.
Conditions: In the year that I have owned this jacket, I have taken it on two thru-hikes, the Te Araroa and Pacific Crest Trail, and for many shorter trips, totaling almost 5000 miles. This jacket has been a well-rounded mid-layer for multiple seasons, environments, and temperatures. Its weight and size are barely noticeable in my pack when I don't need it, but it provides the comfort and security of a warm blanket whenever I do.
In New Zealand, conditions were generally much wetter but not as cold. In contrast, the PCT was very dry but also presented temperatures below freezing through the High Sierra mountains. Through it all, this jacket served as my main insulating layer for three-season use and continues to be my favorite puffy for backpacking and thru-hiking.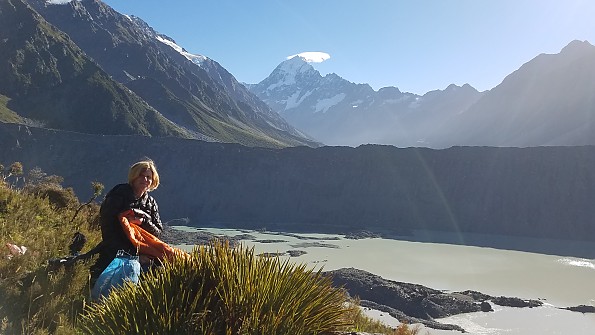 Fit & Comfort: I love the comfort and simplicity of a cotton hoodie sweatshirt. Which is why the minute I tried on my friend's Montbell Ex Light Down Anorak, I knew I had to have one. This jacket is the equivalent of a hoodie, only made of down and therefore uber-light, warm, and compressible. I wanted something I would be comfortable sleeping and hanging out in, and this jacket is great for both those activities. So I don't mind sacrificing on a full-length front zipper, zippered pockets, hood adjustments, and all that jazz.
This jacket is only offered in men's sizing, so it might be hard to find a good fit if you're a woman. I list the lack of women's sizing as a con, but for me personally, I think a men's jacket is a better choice. I was really lucky to find a men's XS, which fits like it was custom made for me. For starters, the arms are the perfect length, whereas I often find women's jackets to be a bit too short in the arms (Smartwool PhD Ultra Light Sport Jacket). If need be, I can pull the sleeves down past my knuckles or even retract my hands inside. But normally, the elastic wrist cuffs settle in perfectly around my wrists and are snug enough to keep out drafts.
The hood fit is also very comfortable. It's neither too large nor small, allowing just enough room to wear a beanie or baseball cap underneath. The hood is trimmed by an elastic hem, which is soft and comfortable around the face. There is a zipper garage over the chin, to prevent any rubbing from the zipper.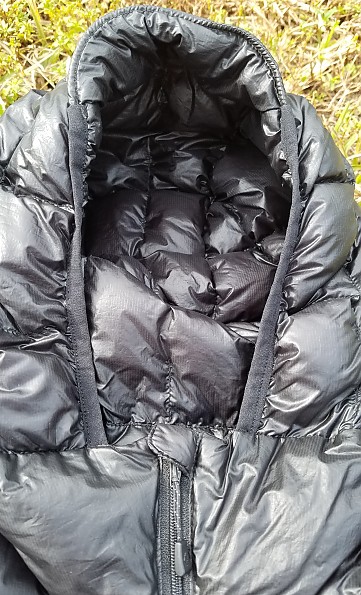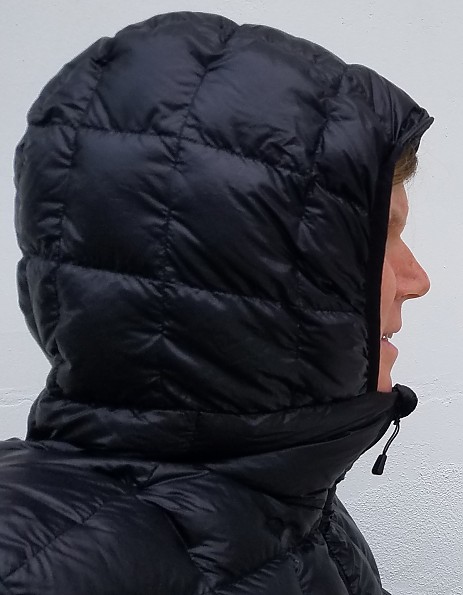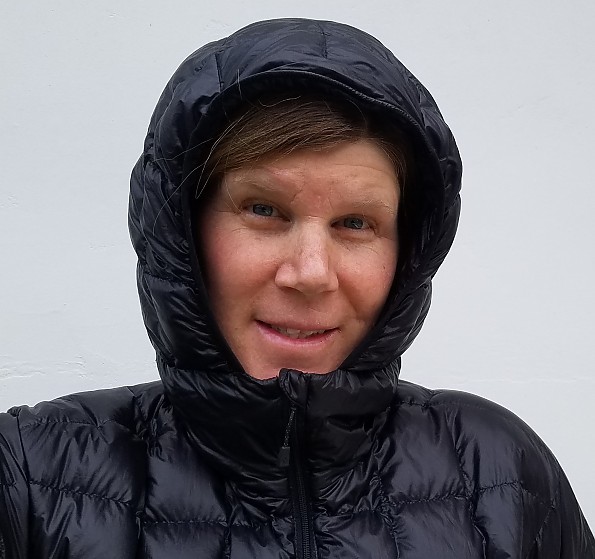 Additionally, the shoulders are wide and roomy, while not feeling too bulky. The torso is a good width and length for me, but do note, I don't have much in the way of a chest or hips. The waist-line snugs down at hip level and doesn't ride up high when I sit down, letting in drafts at the back. It fits so well that I have never even felt the need to tighten the waist hem...the only part of the jacket that is adjustable...which brings me to...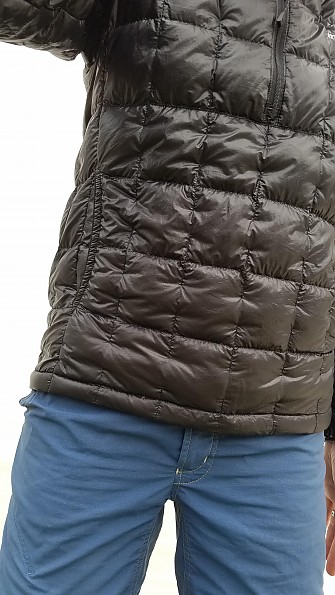 Adjustability: The design is minimalist, with a half-zipper, non-adjustable elastic-hemmed hood, and elastic-hemmed wrist cuffs. The waist hem has an elastic cord, with one cord-lock and left and right pull ends that are located inside the kangaroo pocket. The hem is tightened by pulling one or both of these cord ends from inside the pocket (I never even knew this until reading another review, that's how little I have needed this adjustment).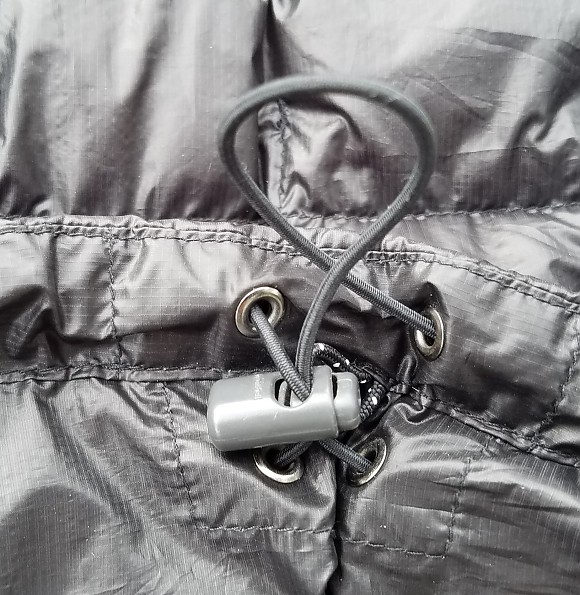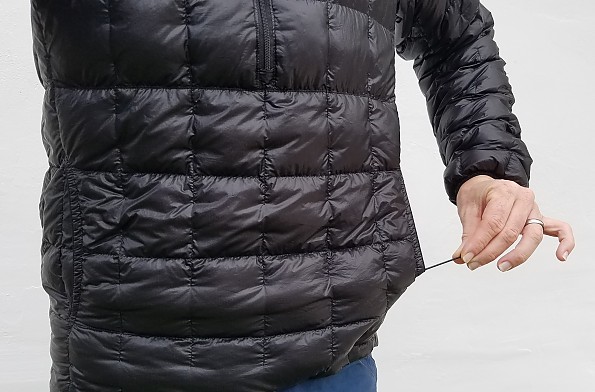 Because of the lack of adjustability, it is not a good jacket for hiking in. There is no way to dump heat when temperatures begin to fluctuate. More about this in the next section...
Breathability & Moisture: Most down puffys score poorly in this category, which makes sense. The mere nature of down as a super-insulator means it also doesn't breathe well. Nor does it handle moisture effectively. This jacket is too warm for me to wear when I'm active and hiking. I have hiked with it on only on the coldest of mornings and usually for no more than a few minutes to an hour while I'm still warming up. The minute I start up a hill, I begin sweating like crazy...something I try to avoid by utilizing layers, instead. For daytime insulation, I wear a breathable lightweight fleece that I can pair with my rain jacket or windbreaker.
The nylon material of this jacket does little to wick moisture away from the skin. On the contrary, it actually sticks to wet skin...a factor I learned the hard way when trying to wear the jacket on its own while I did my laundry on a hot day. I started sweating and then had a hell of a time just pulling the jacket off. Remember, one has to enter and exit through the waist opening by pulling it over your head. This becomes almost impossible when the fabric is stuck to your skin.
Water Resistance: The nylon has a DWR coating and that is it. Like many down products, this jacket is not meant to stand up to the elements. Further, the down has no hydrophobic treatment, which is an added feature that some equivalent jackets boast. Having washed this together with my MHGW (which does have hydrophobic down), I can definitely say that the non-treated down retains more water and stays wet much longer. The anorak took about twice as long to dry as my MHGW.
It's a big downside but not a deal-breaker. In fact, getting the anorak wet has never been an issue for me. I only wear it outside during fair weather or inside a tent or hut when there's precipitation. I carry both a rain jacket and umbrella to ward off the rain, if I must go outside for a potty break. Even in very wet conditions in New Zealand, this jacket was fine. I just treat it with the same care as I do with my down quilt.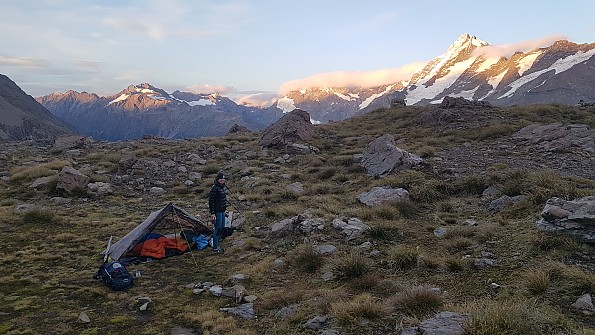 Warmth and Layering: The anork has a good warmth-to-weight ratio. It's not the warmest puffy out there, but it is just about the lightest. It's important to differentiate that this is a mid-layer garment which can also be used as an outer jacket in warmer weather down to about 30-40 degrees alone or in combination with a rain jacket. For a winter jacket in colder temperatures, I would want a more substantial coat or parka.
Given that the anorak utilizes a sewn-through baffle design to save weight, it should be paired with a windbreaker or rain jacket when it's breezy. I haven't noticed drafts or cold spots per see, but I also understand the limits of the design. I think of it more as a warm sweater that fits well with my rain jacket.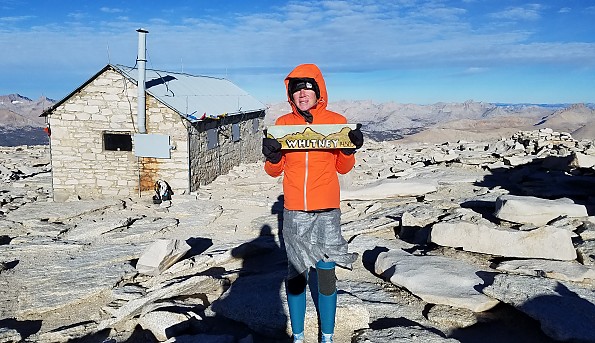 The anorak is not visible in this picture but it is underneath. I needed every layer I had for the brutal wind on top of Mt Whitney.
The hood does add additional warmth but I also prefer to wear my down beanie during regular conditions. Having the beanie in conjunction with a hooded puffy allows me to wear just the beanie when sleeping in my quilt. I don't wear the anorak to sleep in except for the coldest nights, as I tend to sweat a lot in my sleep. It also prevents my body heat from doing its job of warming the quilt properly.
Function/Features/Ease of Use: The anorak keeps me warm simply and effectively. I tend to get pretty cold when I'm not active, so the minute I get into camp, my puffy goes on. Likewise, it is the last thing to come off when I break camp in the mornings. I like that I just pull it over my head and it's on. There is no fussing with getting the zippers to line up and the half-zipper adjustment is easy and smooth. Further, the simple kangaroo pocket is perfect for snuggling my hands together to warm up while also allowing enough room to temporarily stuff items like a headlamp, spoon, or tent stakes.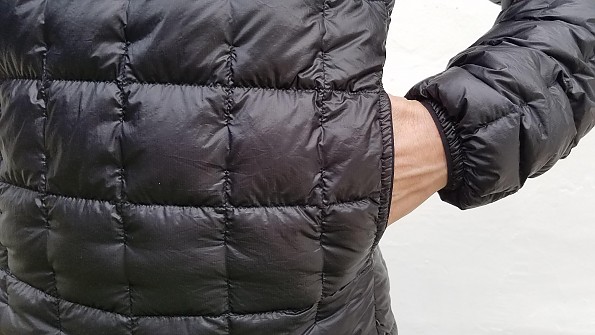 This may sound cheesy but putting the anorak on at the end of a day is one of my highlights. I look forward to it second only to eating my dinner and crawling into my quilt. It means the hard labor of the day is done and that I'm going to shortly be warm, full, and sleepy.
Construction & Durability Abrasion: The anorak is well constructed and reasonably durable. In general, I am pretty careful with my gear and treat my puffy with even more respect. It is a high-priced item and 7 denier fabric is very thin and fragile, as far as fabrics go. As such, I have avoided hiking with it on, mostly for reasons already explained, but also to minimize friction with my pack and abrasion from overgrown trails.
However, my anorak has been worn around camp for hundreds of nights and during numerous tasks and activities (collecting water, cooking, eating, hanging around camp fires, hitting the town(s), etc). After all that use, there is not one hole or rip, even in the high-wear areas of the sleeves, which is pretty impressive. The material is also fairly windproof, water-resistant, and doesn't leak any down.
The one complaint I have about the construction is that the baffles are not closed on all four sides. There is a small gap that can allow down to shift to the adjacent baffles. I have noted that some of the boxes appear under-filled when held up to the light, but it's hard to say if this is because the down has migrated or the baffles were just always this way. Also, there is no insulation built into the nylon behind the kangaroo pocket (the baffles cover the top, instead), but I haven't noticed this to cause a cold spot.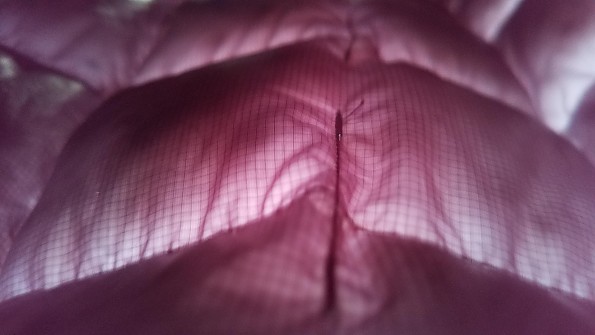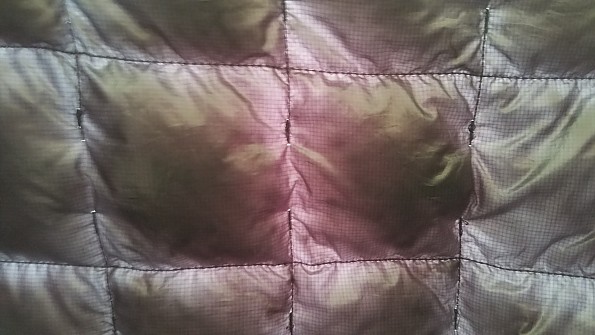 I have washed the jacket several times, ignoring the directions to hand-wash it and washing it in a machine, instead. I was careful to at least not use an older style machine with a center pole. The jacket held up to this abuse just fine and came out noticeably loftier. On the most recent washing, I used Nikwax Down Wash and was very happy with the results. Despite down products having the reputation of being hard to clean, I think the anorak is rather easy to clean. I just try not to do it too often.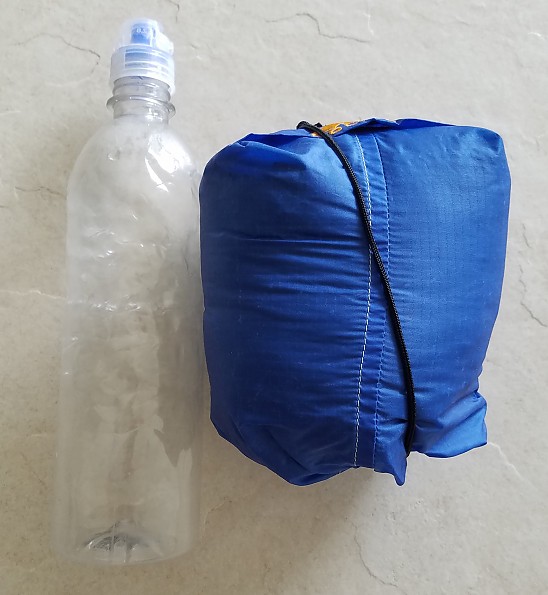 My anorak did not come with a ditty bag (I bought it used) but I don't use one anyways. I either stuff it in a compression sack with my quilt or wherever in my pack. It can fit anywhere you need it to.
Source: bought it used
Price Paid: $178 USD

While simple in design and weighs little, the Mont-bell Down Anorak is unexpectedly warm when needed. The jacket packs down small, taking up minimal space and then fluffs up quickly to regain loft when you are ready for it.

Its light weight and small packed size make it a great addition for a weight-conscious hiker looking to reduce what they carry.
Pros
Ultra-lightweight design
Very warm for its weight
Packs into a stuff sack the size of a 1 liter bottle
Cons
Sewn through box-stitching allows for cold spots in windy conditions
Separate stuff sack
Background:
The anorak was used during the fall and early winter for hikes, camping trips and walks from the coast to the desert country of eastern Oregon. Temperatures ranged from the high twenties to mid-fifties. Wind speed varied from none to gusts in the forties. Precipitation was minimal with some snow encountered.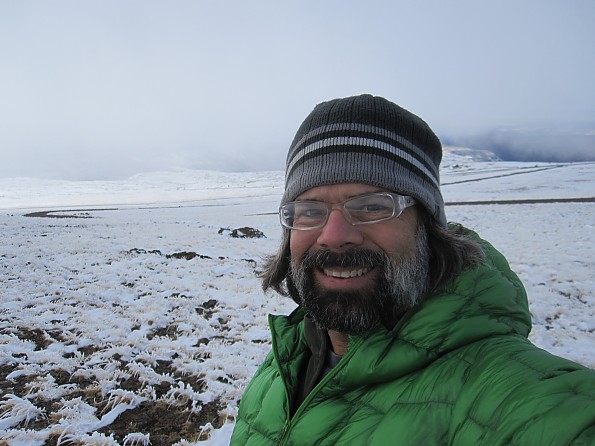 Design and fit:
The pullover is made simply with a hood, quarter zip and a pouch, through hand warmer pocket. Minimalist in features to keep it lightweight.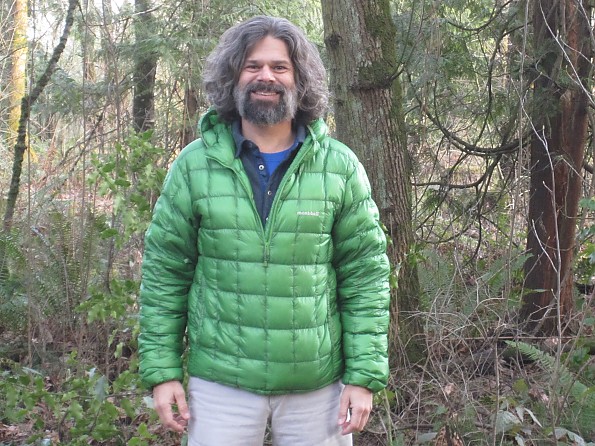 On my scale the jacket weighed in at 6.18 oz. It also uses 900 fill goose down to increase warmth and loft with low weight.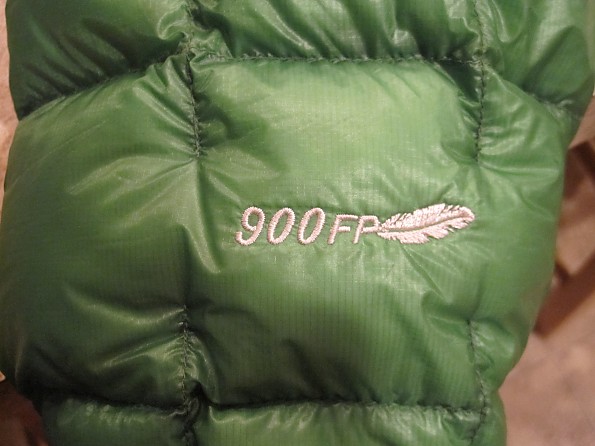 The coat is sewn using a box-stitch pattern to keep the down from migrating and creating cold spots. There is a vertical opening, about an inch long between the boxes to allow air flow and quicker lofting when stuffed.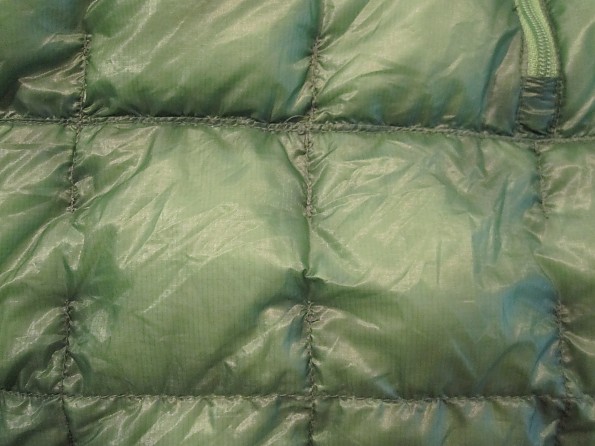 There is an elastic cord with toggle to tighten the hem and elastic piping around the cuffs and hood to help seal out drafts.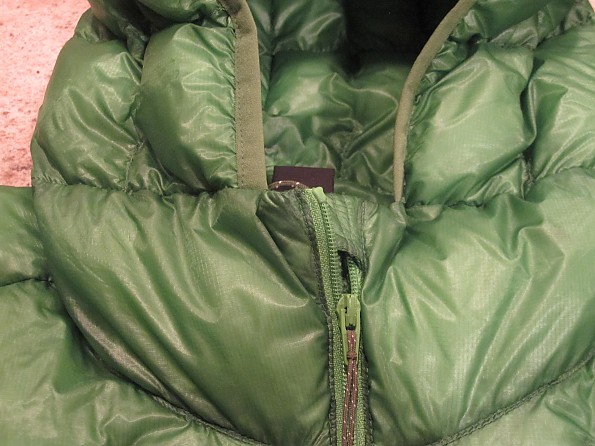 The seven denier ballistic rip-stop nylon fabric used has a DWR coating to shed water but, I don't think would stand up to much abuse otherwise. Additionally, the jacket comes with a small stuff sack. It is handy for packing but, easy to lose track of.
I found the pullover fits my medium frame well and allows a good range of motion without binding. The non-adjustable elastic piping around the hood does a surprisingly good job keeping the hood in place when windy. 
Testing: 
While hiking the coat generally stayed tucked away in my pack and used it to keep warm when resting or getting in a view.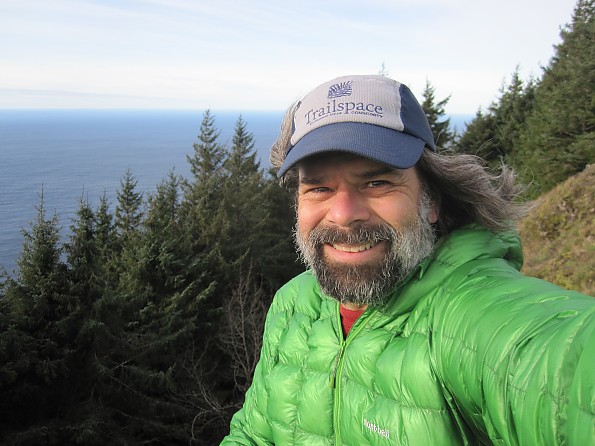 Since the pullover has only a quarter zipper and no other venting, it was simply too hot to hike with it on. When needed though, the pullover provided ample warmth and kept me comfortable.
My only complaint is that when a hard wind blew the sewn through stitching did allow cold spots at the seams it spite of the puffy pockets of down. Putting a shell over the anorak mitigated the problem.
I also found that I didn't use the stuff sack that often. I just stuffed the jacket back into my pack when not needed. 
Conclusion:
Overall, the jacket performed very well and I thoroughly enjoyed using it.  In comparison to my Patagonia Down Sweater, it performed every bit as well while weighing about half as much.   
It also packed smaller taking up less space. Highly recommended.
Source: received for testing via the Trailspace Review Corps (Sample provided by Montbell for testing and review)

Super light at only 180g for a men's large. With 900 FP down it is also very warm. Very packable, compresses to the size of a softball. Gives me the opportunity to leave much heavier mid layers at home.
Fit and comfort are great, half zipper allows easy putting on and taking off. Elastic on cuffs and drawstring on the waist keeps the cold drafts out. There is no drawstring on the hood, but it is well fitting and keeps the warmth in.
A bit pricey, but aren't all lightweight packable down jackets?
Update 12/2017: I'm editing this review after having used this jacket for a couple years now. The fabric is a super light 7 denier nylon and because of that it is not the toughest by any stretch of the imagination. While this might bode well for long distant hikers, for me and my sometimes off-the-trail adventuring it has become a stick magnet and now sports numerous holes that have been patched over with Gorilla Tape.
Though I still love it and find that it works well as a mid layer with a hard shell during winter months and even an outer layer on cool fall and spring mornings, I think it will be used more sparingly in my pack for times when distance and weight are priorities and a more robust wool layer will be used during more adventurous hikes.
Source: bought it new

Your Review
Where to Buy
Help support this site by making your next gear purchase through one of the links above. Click a link, buy what you need, and the seller will contribute a portion of the purchase price to support Trailspace's independent gear reviews.
You May Like
Specs
Price
MSRP: $299.00
Historic Range: $153.26
Reviewers Paid: $178.00

Weight
7.6 oz / 215 g

Fill weight
3 oz / 85 g

Insulation
900 Fill Power EX Down

Material
7-denier Ballistic Airlight nylon ripstop (water repellent finish)

Compressed size 4.7 x 7.9 in / 12 x 20 cm

Center back length
28 in / 71 cm

Recently on Trailspace