Hilleberg Allak 2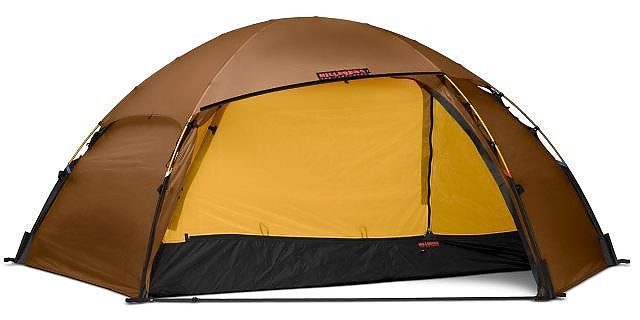 Could this be the best 4-season, 2-person tent in the world?
Pros
Easy to pitch
Very strong
Double vestibule for changeable weather
Great vents which can be controlled from inside the tent
Double doors with mesh and zippered fabric for flow through ventillation
Reasonable interior height for me 6' 2"
Sleeves may be double poled in bad weather
Inner and outer pitch as one
Cons
Pole through red tabs, needs to be the highest—not explained in instructions
Note added 6/18/2018: a new three-person version has been announced for 2019 https://www.trailspace.com/gear/hilleberg/allak-3/

........................
As soon as I saw this tent pitched I knew it was the "business". It's a Hilleberg Red label tent which is 4-seasons. There is an Arctic Black Label version that is near identical except that the doors are diagonally opposed And the fabric and poles are stronger and heavier. You choose.
In my opinion the Allak Has has a better door arrangement. 
As I mentioned above the vents are excellent and can be controlled from inside the tent. There are many different options. The fact that the two doors have zippered mesh/fabric panels, with the fabric zippered back you don't need to buy a mesh inner for summer. These two meshed doors allow marvelous flow through ventilation in hot weather.
The pole sleeves are supplemented with clips. This avoids the tedium of pole threading I have with my Hilleberg Unna. I have not found anything in the instruction manuals or videos which give a tip for placing the poles. There are three identical poles, but the three sets of sleeves are not identical. Make sure that the pole that is threaded through the red labeled sleeves is the highest in the pole intersection area. That red pole has fewer pole clips in the intersection area because it is meant to be the highest above the tent.
Another major advantage in this tent and in fact all Hilleberg tents, is that the inner and outer pitch together. If you pitch in the rain, the inner doesn't get wet!
As with all Hilleberg tents it is signed by the seamstress who sewed the tent in Estonia—not China.
For what you get I don't think this tent is too expensive. You get what you  for in this world. This tent is marvelously well designed and constructed. Highly recommended.
Pitching in windy conditions is very easy. 1/21/19.
Pitching the Hilleberg Allak. Extremely easy to pitch even in high winds or rain. Stake out the base in its final form. Then insert the poles in the (short) sleeves. If windy, guy out the poles already. Then circle the tent clipping the poles ever higher. Next if windy, attach the second guys to the poles using the pole wrap technique. Lastly attach the roof fly cover. All this can be done without wetting the inner which is attached to the outer. The two fabric or mesh opposing doors can provide, together with the two large roof vents, excellent cross flow ventilation in hot weather. The key thing with the Allak is that the tent is always stable during pitching....at every stage.
It is worth noting that there is a slightly wider and longer, Black Label version of this tent namely the Staika: https://www.trailspace.com/gear/hilleberg/staika/#review42572
There are small differences in the locations of the twin doors and the smaller sized roof vents in the Staika. Also the Staika has extra pegs to stabilize the outer between the poles In strong winds. Obviously being a Black Label, the Staika gets stronger poles and outer fabric. It also of course weighs more than the Allak.
Source: bought it new
Price Paid: $1300 (Australian)

Outstanding and fully free-standing.
Pros
Fully free-standing—including entrances/lobbies
All-in-one pitch—including (optional) footprint
Flexible and thorough ventilation
Fine tradition of backup and service from Hilleberg
Made of A1-quality materials in Europe
Great depth of detail to design and specification
Cons
Cost
Weight—over 3 kilos/7 lbs (4 kilos/9 lbs with footprint and second set of poles)
Badging/branding—a bit too insistent/gaudy
Cost of optional footprint and second set of poles
Weight of optional footprint and second set of poles
Large packsize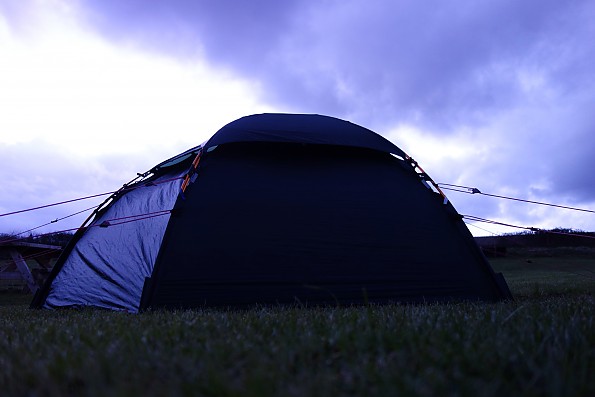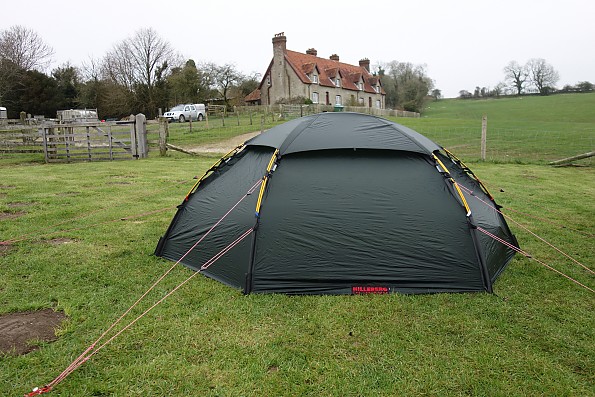 The Allak's combined qualities of being fully free-standing (including lobbies), having an all-in-one pitch (including footprint), and managing true four-season endurance is pretty irresistible; especially to those like me, who—only too often—find they have to pitch their tent fast in weird inhospitable places in fading light and driving rain.
I chose the Allak above Hilleberg's Staika (same sort of thing, heavier, even stronger) and Soulo (very similar specifications but 1-man) due to its breadth of abilities and—for me—perfect size: the Allak is a not ungenerous tent for two six-footers, with just enough elbow room, sitting height, and independent lobbies—each of which will take a big backpack, waterproofs, and boots.
The Allak can be given extra depth of performance by double-poling for heavy weather: this simple feature allows it to resiliently and fairly quietly cope with gusty winds in the 40-50 knot range; whereas, single-poled, I find the large panels deflect too much, eventually causing the poles to flex more than one wants to witness. 
Designed for kayakers in an archipelago of small rocky islets, the Allak is fully free-standing so can be set down on a slab of rock; this also makes it a decent tent for the mountains. The tough footprint can be left attached to the fly/inner assembly, so making for a really fast all-in-one pitch on dodgy surfaces, and for a protective outer skin when the tent's rolled up.
The fly and inner are connected tautly and elastically at a large number of points, making the inner relatively airy, and reducing contact-transfer of condensation and drips; this is also helped by the Allak's fairly taut pitch.
Though the cost and weight are bearable for such a fine tent; and though I have firsthand experience of Hilleberg's superb customer service (with another tent); I must say I find Hilleberg's insistent badging a bit naff.
Source: bought it new
Price Paid: 30% off the £1000+ total retail (closing-down sale)

the giant tomato. that's what the red version of this tent looks like. lol.
after i got this tent, set it up once in the basement, to try and get a feel for how it work, and to make sure all parts were there.  i bought the tent used.  without reading the directions, it went up easy and then i took it back down and put it away for 2 months  :-(
my first experience of using this tent was in mid-January, at a scout camp in south-east nebraska.  no snow on the ground, but the ground was still frozen.  air temp was 0-degrees the first nite with no wind.  24-degrees the second with a light breeze.  on purpose i set the tent up in the dark, with my 12-year-old holding a headlamp. it took me less than 5 minutes to set the tent up.  the external poles make it super simple. 
i did not stake the tent down before setting up, due to a lack of wind, i didn't stake the tent down until night 2.  the tent camp with 2 sets of stakes, one "V" shaped and another that look like big nails.  because i wasn't thinking and used the "V" shaped pegs in frozen ground, 3 our of the 6 bent.  i should have used the others - big dummy. 
inside the tent plenty of room for me, a XL large thermarest and all of my gear.  only the boots in a vestibule.  if i wouldn't have been laying in the middle with my pack, i did have plenty of room for another person.  lots of head room.  plenty of room for 2 full size thermarests.  there aren't very many people i like enough to share a very small space with, but i could have no prob.  :-)
once zipped up, tight, no condensation except around the "air-hole" on my zipped up tight sleeping bag.  nothing on interior walls or my feet or anywhere else.  loved that. 
first experience with this tent was awesome.  i'll update my review when i have used it more.
Source: bought it used
Price Paid: not very much, bought used

I have had an Allak for two years or so, and have solo camped in all four seasons. This is the best tent I will ever own!
Pros
Tent is strong
Low profile yet with sufficient headroom
Waterproof
Ventilation options great
This tent has room for me and my gear, great sitting-up room, and after just a few times setting up in all kinds of weather (the video at Hilleberg helped) I can be snug in the Allak within 5 minutes. Never have had condensation problems.
Source: bought it used
Price Paid: Around $650 with stakes, footprint, and mesh tent

Your Review
Where to Buy
Help support this site by making your next gear purchase through one of the links above. Click a link, buy what you need, and the seller will contribute a portion of the purchase price to support Trailspace's independent gear reviews.
You May Like
Specs
Price
MSRP: $1,070.00
Current Retail: $1,165.00
Historic Range: $898.00-$1,165.00
Reviewers Paid: $650.00

Minimum Weight
2.8 kg / 6 lbs 3 oz

Packed Weight
3.3 kg / 7 lbs 4 oz

Outer tent fabric
Kerlon 1200

Poles (9 mm)
3 x 370 cm / 3 x 145.7 in

Pegs
12 V-Peg

Recently on Trailspace