Hilleberg Enan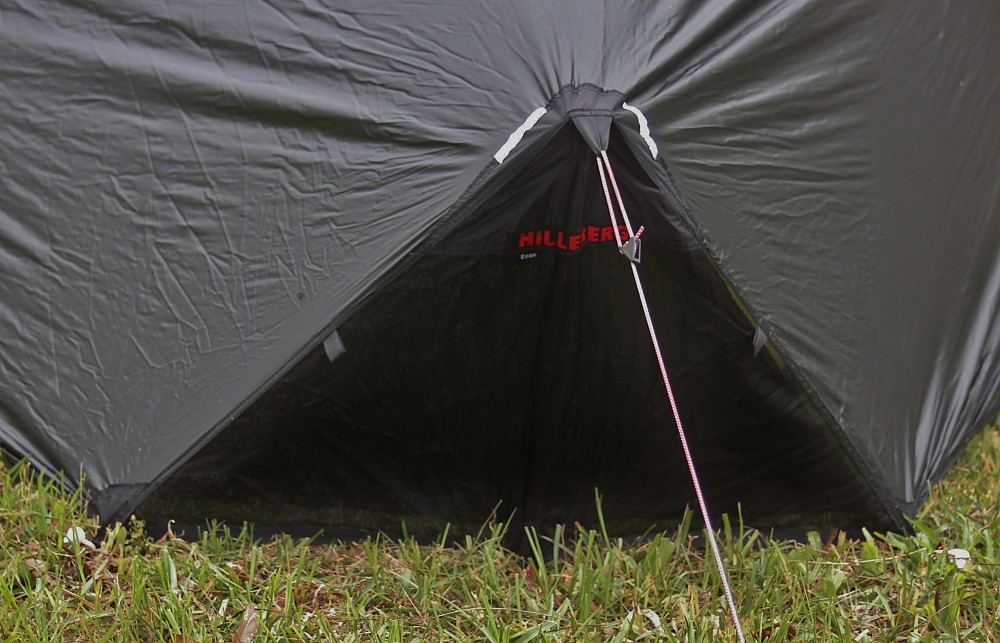 The Enan is a lightweight and versatile 3-4 season solo shelter that does not skimp on quality or design features. Ventilation control, a sizeable vestibule, and good strength-to-weight ratio are included.

This tent was built for snow free use in a temperate (warm) climate. It comes loaded with quality hardware including metal zipper pulls, and metal rings at the corners for stakes. Someone needing a high quality, functional solo shelter that can live with a little less head space than a dome shape, should consider the very light, single pole Enan.
Pros
Lightweight
Excellent build quality
Lots of useful design features
Good ventilation control and nearly windproof
The vestibule will accommodate a full size pack and boots.
Removable inner tent
Cons
Expensive
Non free standing—if it matters to you.
A couple of the vent toggles were hard to reach.
The tent, guy lines, and other parts can get tangled if you don't pack it neatly.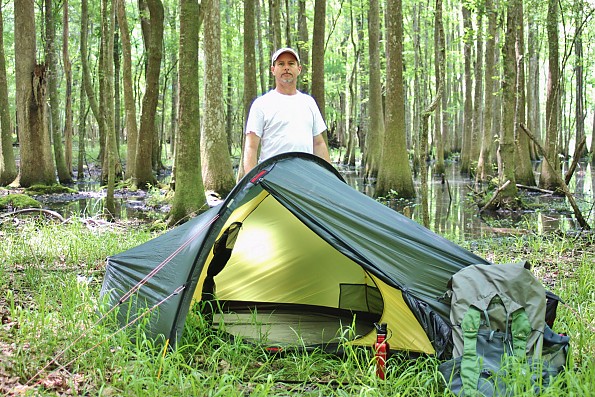 Backpacking in Wambaw Swamp, S.C., USA
Who is Hilleberg?
Hilleberg the Tentmaker is a Swedish company that was founded in the early 1970s with an innovative tent design (see below) and today offers a wide product line of quality shelters in four different Label categories. The labels are designated by colors: Black, Red, Yellow, and Blue. Each label represents a group of tents based on their design.
The Enan is in the Yellow Label category along with the Anjan, Anjan GT, and Rogen models. These four tents are in the lightest category and are designed for use in snow-free seasons and warmer climates.
Design
The Hilleberg design uses the tent poles and rain fly as an exo-skeleton with the inner tent simply suspended inside with elastic straps and toggles.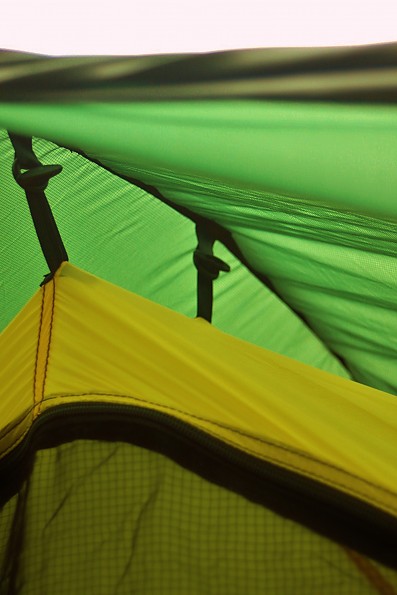 Top of the inner tent linked to the outer tent by elastic straps, toggles, and rings.
This lets both sections get erected together at the same time.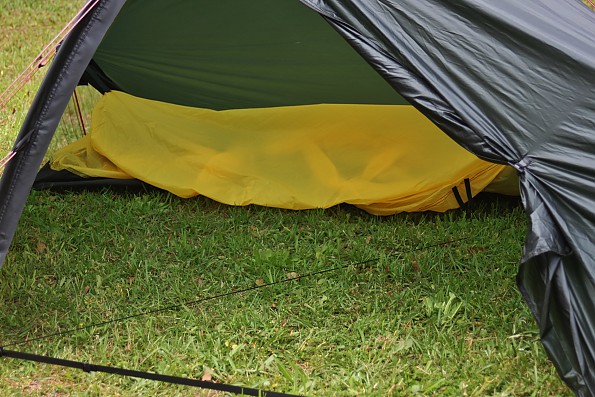 Inner tent partially disconnected and moved aside to change the interior space to mostly vestibule space. 
You could also use the inner tent separately as a bug shelter under a tarp or under some type of natural shelter like a cave opening. Hilleberg offers a kit for this that uses the Enan's tent pole, or you could rig up a ridge line and suspension yourself.
Materials & Specs
Hilleberg uses its own tent fabric named Kerlon. It is a high tenacity nylon ripstop.
They currently have five fabric weights (2000, 1800, 1200, 1000, and 600) ranging from 10-70 Denier, each triple coated with silicone. 
The Enan is made with the lightest, Kerlon 600.
Here are the Enan's specs:
Minimum weight: 870 g / 1 lb 15 oz

Packed Weight: 1.1 kg / 2 lbs 7 oz

Outer tent fabric: Kerlon 600 a triple silicone coated 10D High Tenacity Ripstop. 1500mm hydrostatic head.

Inner tent: Made with 10D nylon and mesh door. There is also an all mesh option.

Floor: 50D Double coated urethane bathtub floor. 5000mm hydrostatic head.

Pole: Single 9mm pole measuring 293 cm / 115.4 in long

Pegs: 8 Tri-Pegs
Even at 2 lbs. / 870 g. minimum trail weight the Enan has some really nice features allowing for a solid setup, good ventilation, and a configurable interior space.
Structural Components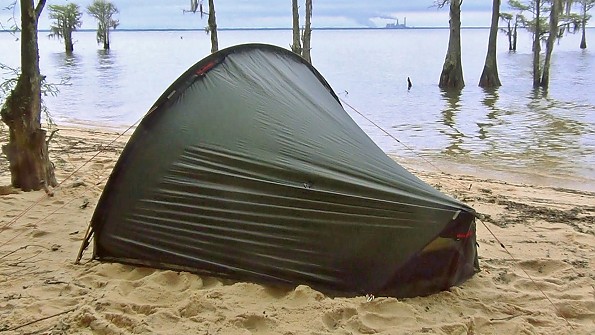 A single hoop pole forms the basis for this non-freestanding design. The rain fly extends all the way to the ground and does a superb job of blocking out cold wind with the vestibule zipped up and the end vents closed.
Both ends of the tent have a vent (see more below), plus a red fiberglass rod to hold the tent up. This rod is built into the tent and stays permanently in place, even during packing up and storage.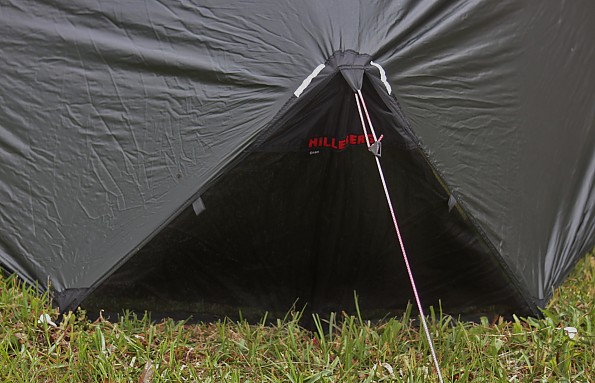 Outside view of the end of the tent and guy line.
Red fiberglass rod is inside tent and directly below top of guy line.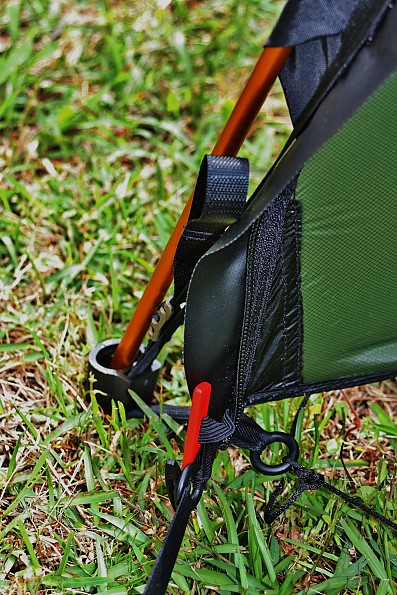 Detail of the unzipped vestibule opening shows the tent pole, plastic pole socket, and adjustable tensioner (black webbing loop and metal buckle beside pole).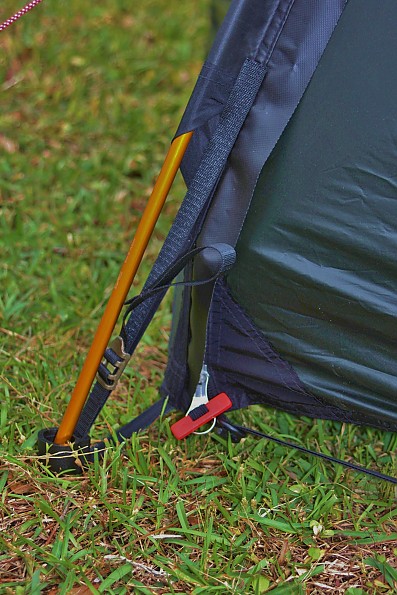 The red toggle locks the silver zipper pull in place when zipped shut, and can be fastened so you can reach it from inside or outside the rain fly.
Heavy duty pole sleeve and zipper flap. View is up near the top of the tent.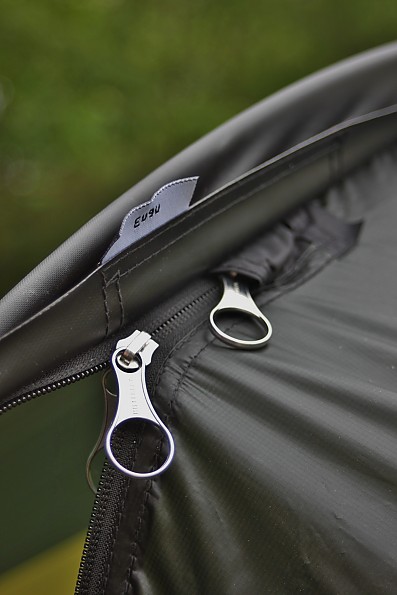 Rain fly / vestibule zipper. Same location as photo above, but with the zipper flap lifted up.
Leaving the rain fly zipper undone a little at the top increases ventilation. The large heavy duty flap keeps rain out. This top section of zipper is above the vestibule area, and not where water could drip on the inner tent if left unzipped a bit for some air flow during a thunderstorm.
Attached Guy Lines & Tensioners
Pre-installed double point guy lines with adjustable line tensioners are on both sides of the tent.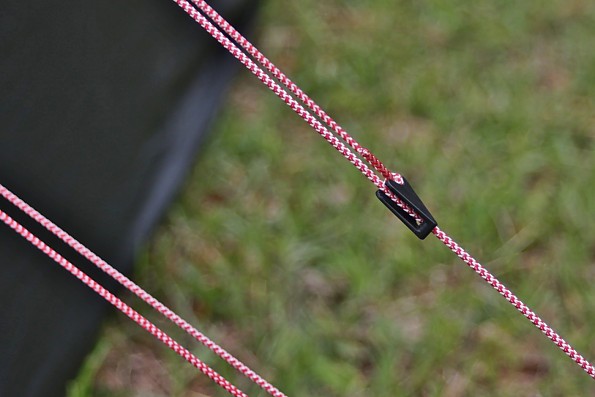 The guy line gets wedged in this part of the tensioner. To adjust you pull the line away from the plastic tensioner, slide it to tighter or loosen the guy line, then let the line snap back in the tensioner. Very quick adjustment and holds well.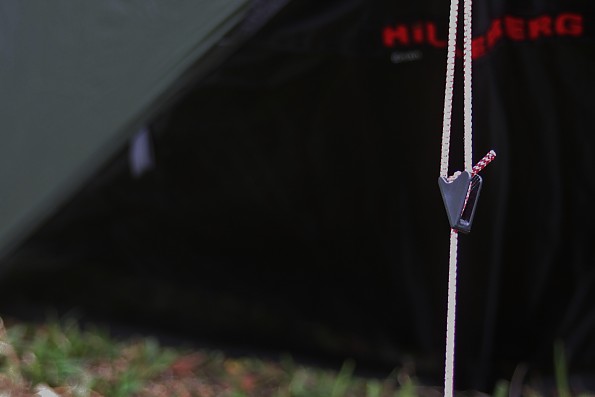 Closeup of the guy line and tensioner.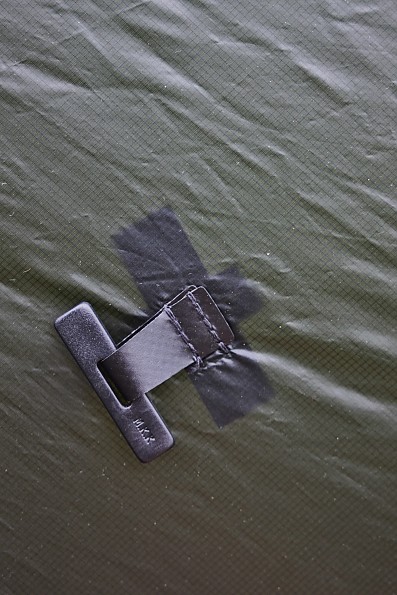 Heavy duty toggles and tie out reinforcements.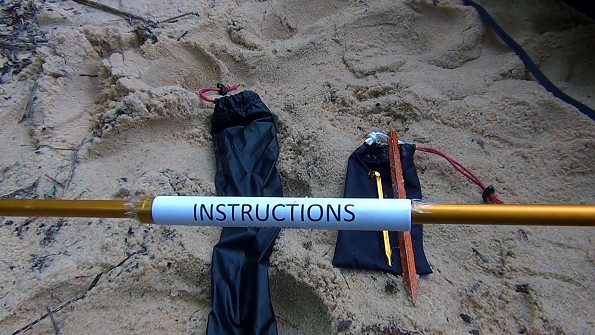 The tent uses a 9 mm aluminum tent pole. It comes with a replacement section for repairs and instructions.


Ventilation 
If there is anything worse than a hot stuffy tent that you can't open up in a warm climate I don't know what it is. The Enan can be ventilated rain or shine and mostly without getting the inner tent wet. In a warm and humid climate that is a huge plus.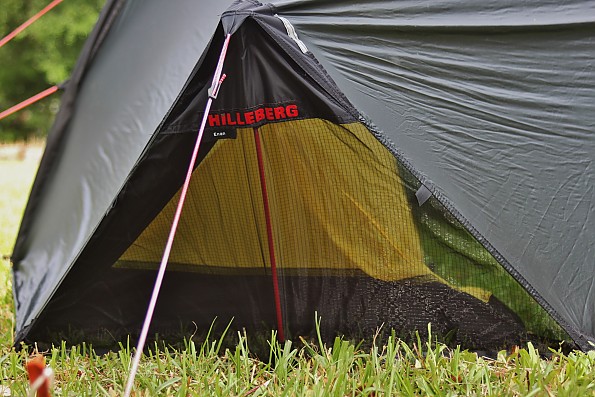 Each end of the tent looks like this. There is a large triangular mesh vent in both tent ends that can be closed off with an attached fabric panel (see below).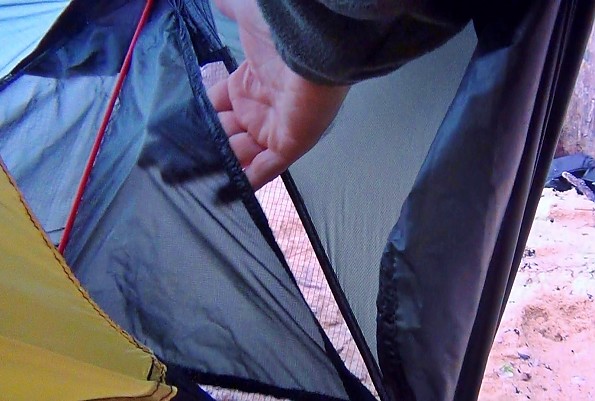 Looking inside the rain fly at the end of the tent.
The fabric panel I'm pulling with my hand can be detached at both bottom corners and rolled up or just pulled out of the way to allow air to flow freely through the tent.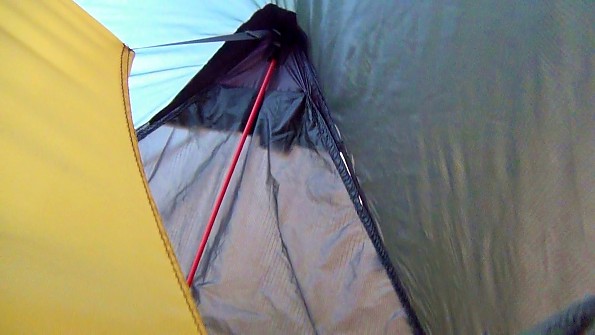 The fabric panel in place and blocking air from coming through.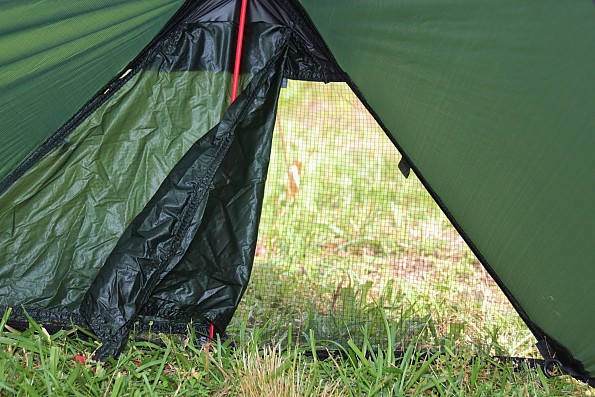 Inside view with the detachable, yellow inner tent moved aside for clarity.
The triangular fabric panel has been taken loose on one side to expose the mesh vent.
Here the fabric panel is completely rolled up and tucked into its own small, built-in pocket at the top.  

The two bottom corners of the fabric panel attach with a red toggle and will stop most of the air coming through the mesh vent when fastened. 
One of the red toggles is behind the inner tent and can be hard to reach, but just undoing the one easier to reach (pictured) will uncover most of the vent anyway.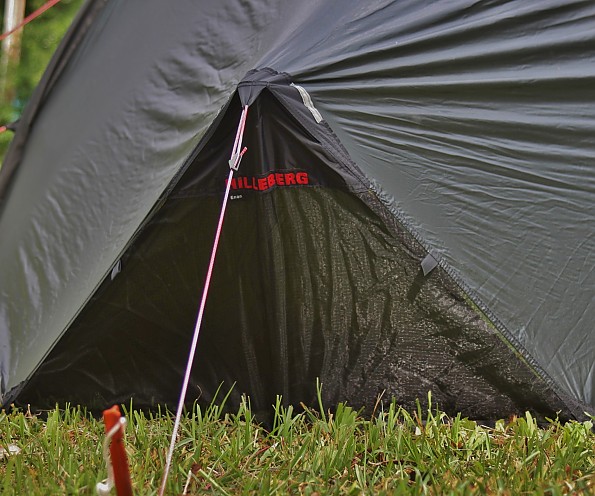 Here the fabric panel is fastened in place, closing off the vent.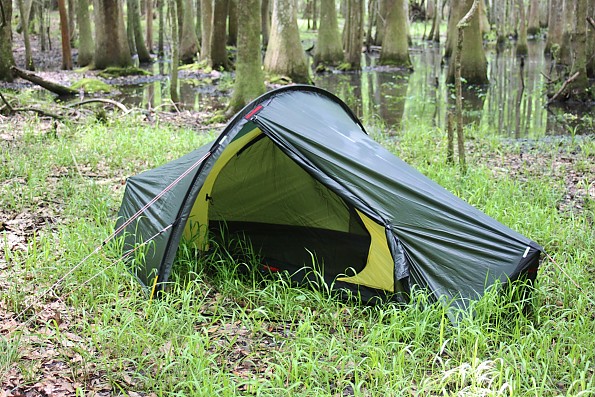 You can see the large black mesh door on the yellow inner tent.
The inner nylon tent  has a large all mesh door. There is no fabric panel to close off the door. It is not necessary since the rain fly can block all the wind.
Hilleberg also offers an all-mesh inner tent for even more ventilation.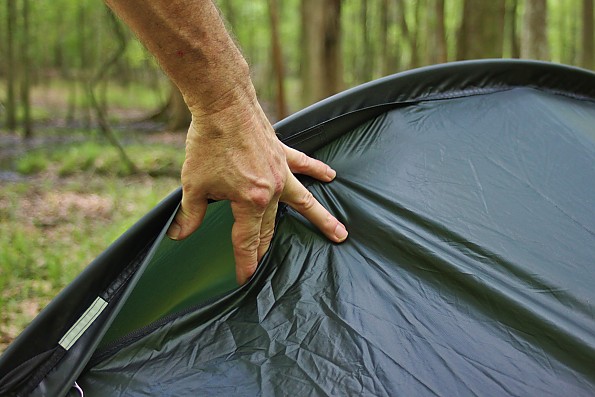 Additional venting through the rain fly by unzipping it a bit. 
Interior Space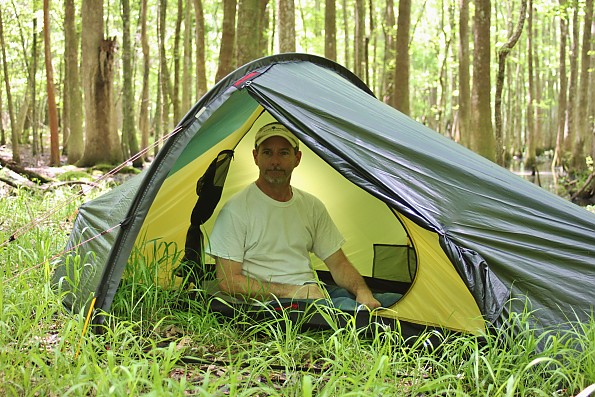 I'm 5' 7" tall and I have about 5" of headroom left.
The single pole and straight roof slope on the Enan leaves a little less head and shoulder room than many dome or double hoop tent designs. This is a tradeoff for the simplicity and lighter weight of the single pole design.
Interior Space Specs:
Total inner tent area: 18.3 sq ft

Vestibule: 8.6 sq ft / 0.8m2

Inner tent where you sleep: roughly 35 x 84 in / 90 x 215 cm

Head height: 36 in / 93 cm

Overall width: 64 in / 165 cm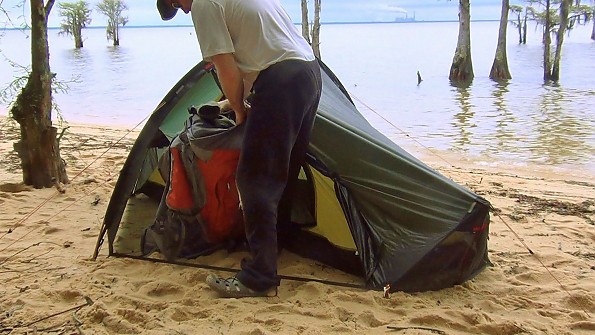 With the rain fly unzipped, access to the large vestibule is easy, and the inner tent is still out of the rain.
The single hoop pole gives the tent a good bit of width, much of which is used up by the vestibule, which I'm okay with. 
I would like for a tent to either give me a real vestibule or none at all (just assume I'm leaving my pack outside in a plastic bag)! The Enan gives you a real vestibule. Room for pack and boots, extra clothes on top of your pack, and a couple water bottles.
However, if you need more room to pack your gear up, or to change out of wet clothes, etc. you can take the inner tent loose and move it aside for more vestibule (dirty/wet) space.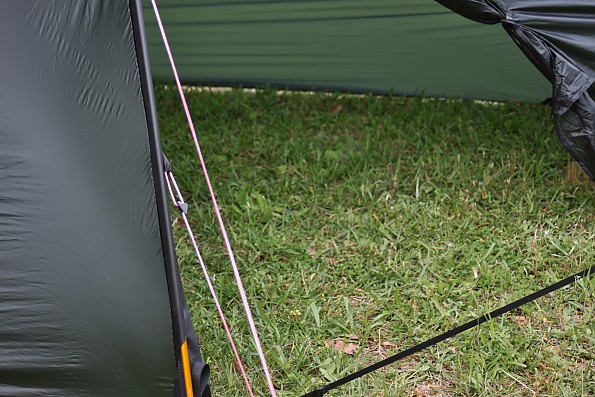 Here the inner tent has been unhooked from the outer tent and moved aside to make more room in the vestibule, what I call "dirty space."
This gives you a lot more room to change out of wet, dirty clothes without having to sit in the inner tent to do it. This is a nice option in a solo tent!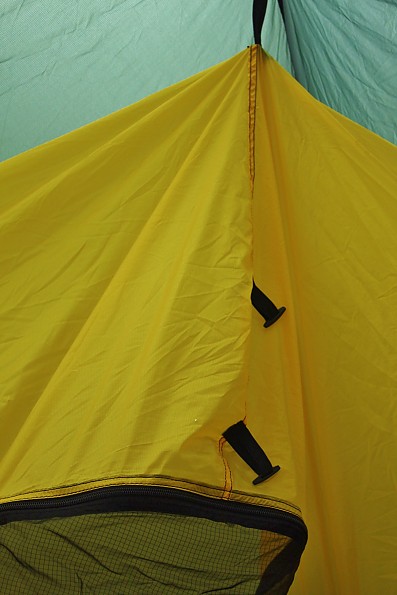 The top of the yellow inner tent with two of the toggles undone.
Undoing the toggles will let you remove the inner tent partially or completely, all from inside and with the protection of rain fly.  
Looking inside the inner tent at the foot end. Mesh door on inner tent is unzipped.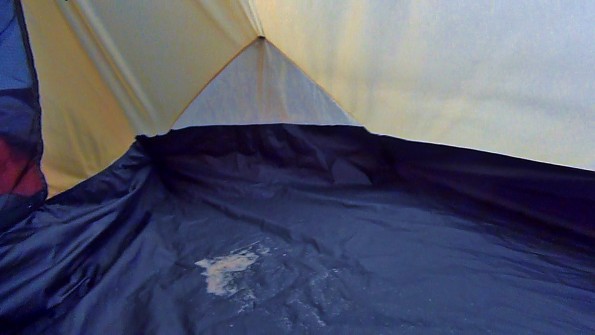 A view of the 50 denier double coated polyurethane bathtub floor. Sides come up about 3 in / 7.5 cm.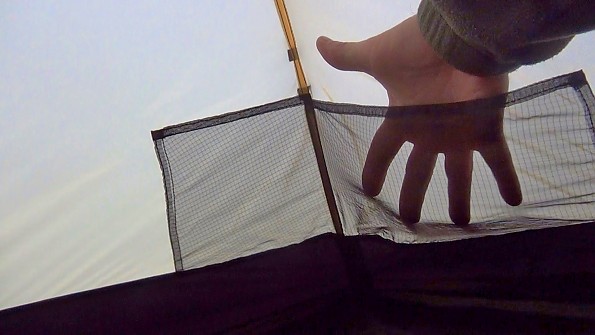 Two mesh pockets keep things like headlamps and toilet paper handy.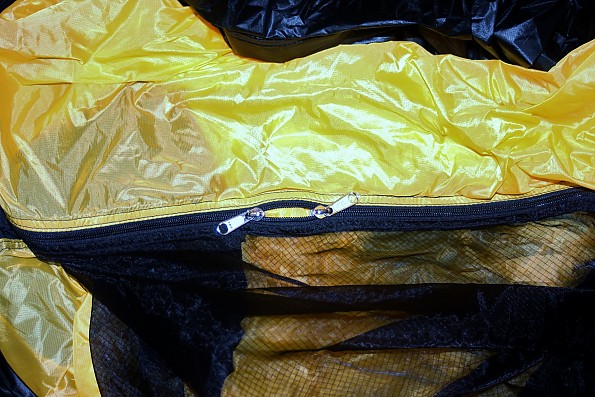 Zipper on the inner tent mesh door is heavy duty and has metal pulls.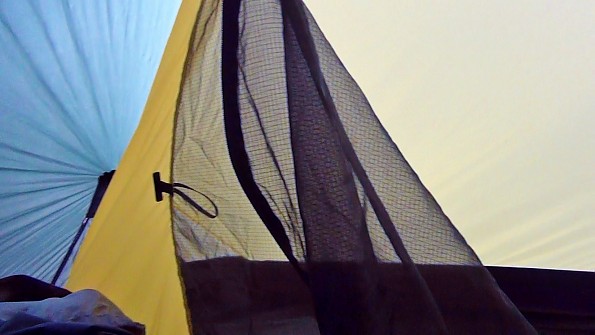 The mesh door on the inner tent can be rolled up and held out of the way with the toggle and elastic loop you see at the edge of the yellow / mesh fabrics.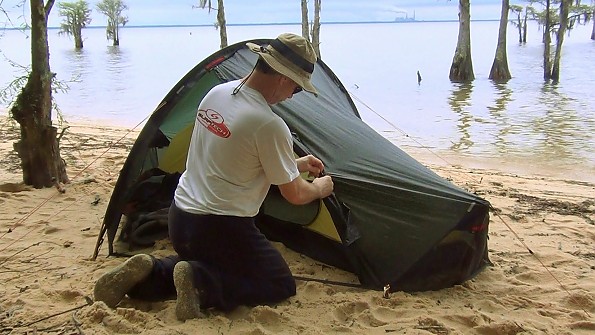 The vestibule door can be rolled back and fastened with a large plastic toggle and loop.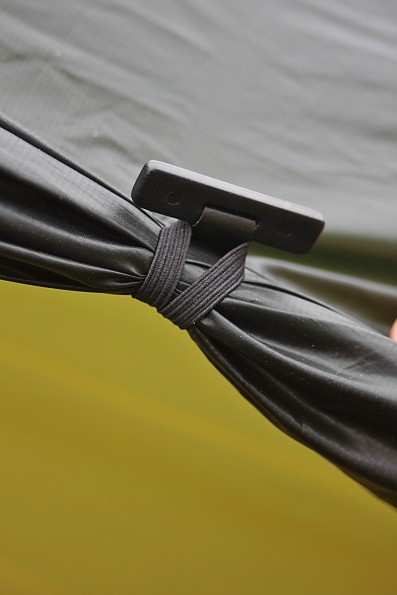 Vestibule door keeper, a toggle and elastic webbing.

I really liked the ability to take the Yellow inner tent down from inside the tent, and move it aside for packing up, or changing clothes during a rainstorm!
The combined features of this tent—
A. Strength-to-weight.
B. Ventilation control, wind blocking.
C. Inner tent offset from the vestibule opening to help it stay dry when getting in or out during rain.
D. Large, usable vestibule.
F. Configurable inner space. 
—make this tent one of the most configurable solo shelters I have ever used.  
The Enan's design helped me stay comfortable in cold wind, as well as humid heat.
Setup
Technically this tent has three poles, but two of them reside in the ends of the tent full time and you don't have to worry about those (see below).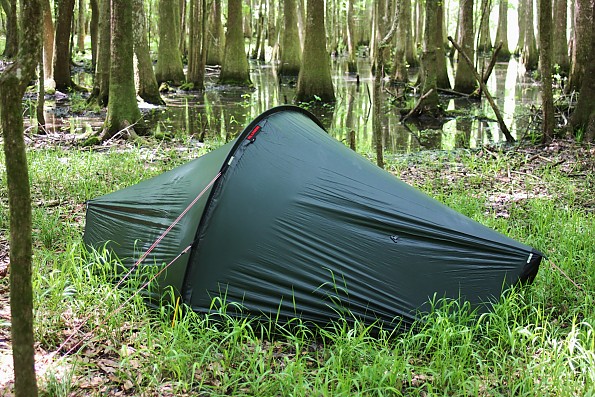 This is one of those shelters you should definitely practice setting up a couple times before actual use.
Here is a short 2 minute video showing the area where I tested the tent in strong winds, as well as what the tent looks like being set up.
Hilleberg has good setup instructions included with the tent, as well as a video tutorial and downloadable instructions on their website.
In wet or windy conditions you should pitch the tent with the end that does not have the door facing into the wind, this offers the best protection in the entrance / vestibule area.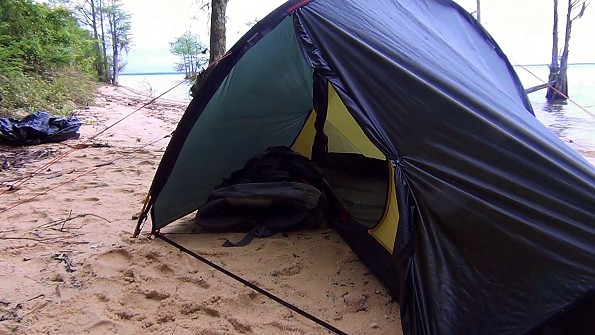 Looking into the wind. Pitched this direction the vestibule is sheltered.
This tent comes with four attached guy lines, as well as some other webbing and cord, all part of the tent structure.

Attached guy lines on each end of tent.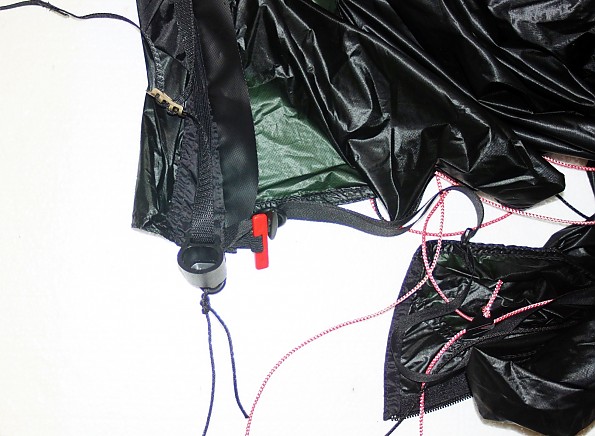 Tent pole socket, toggles, guy lines, and other webbing.

*As noted above, pack the tent with care so these don't get tangled up. I found rolling the guy lines up a bit helped.
Stakes
The tent I tested came with Hilleberg's Tri-Pegs, which were only 5.5 in / 14 cm long. They would be okay for rocky or packed soil, but they are not nearly big enough to hold in the sand where I stayed much of the time.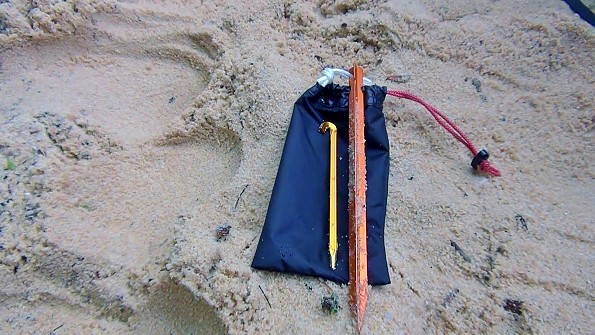 The stake on the left is the Hilleberg TriPeg, on the right is Coghlans 9" Y stake. 
I opted to use six of my own long aluminum Y stakes while camped on sand.

One of the four metal rings used to stake down the tent corners.

After setting this tent up a few times I learned to pack it back in a manner that kept the various guy lines and straps organized, and allowed one end of the tent to come out of the stuff sack first, ready to be staked down. 
I can now set it up, have it guyed out, and my backpack in the vestibule in about three minutes. The tent's features let you set it up fast, control the ventilation, and configure the vestibule size if needed (see below).
Stability & Functionality
I set up and tested this tent in various conditions including: thunderstorms with wind, freezing temps with wind, direct sun, heavy forest with high insect populations, saturated soil, reaching dew point and condensation.
Once set up and guyed out, this tent is surprisingly stable in headwinds, but strong cross winds can push the outer tent against the inner tent midway between the tent pole and end of the tent which can transfer condensation to the inner tent.
The single tent pole sits securely in pole sockets at either side of the tent and has built in tensioner for the pole sleeve to help with pitching the tent taut.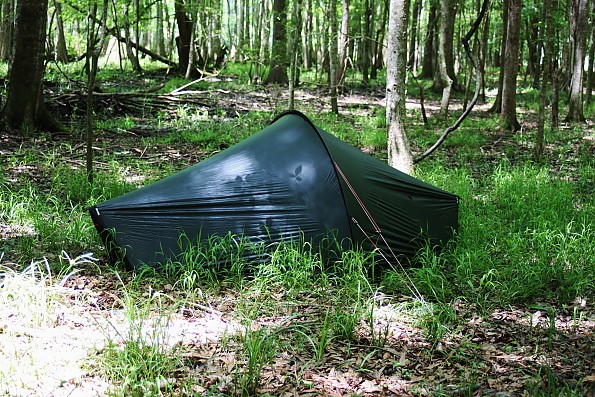 The guy line tensioners work well and make getting the tent stabilized quick and easy.  
I did not use a footprint while testing. I tested this tent two nights in standing water and several times on saturated ground. I had no issues with water getting through the 50 denier bathtub floor at any time during testing.
The tent can be set up and adjusted quickly. During testing the Enan shed wind and rain very well. The venting provided excellent air flow across the whole length of the tent. These things plus a configurable interior space, and a sizable vestibule for a solo tent, make it a very well thought out, lightweight design.
I was impressed.
Stuff Sack Stuff
Packing up is where I have a love / hate relationship with lightweight silicone treated fabrics. This one was no different. Its light weight and slick surface don't always cooperate with my ability to get it back in a stuff sack.
I pushed tent fabric into the stuff sack, and when I pull my hand back out the fabric just comes right back out stuck to my hand! If it is raining, or the tent is wet, the tent fabric just sticks to my hand worse.
Technique and practice helps and it's just a tradeoff (I suppose) for a lightweight waterproof fabric, and not a fault of any particular lightweight, silicone treated shelter.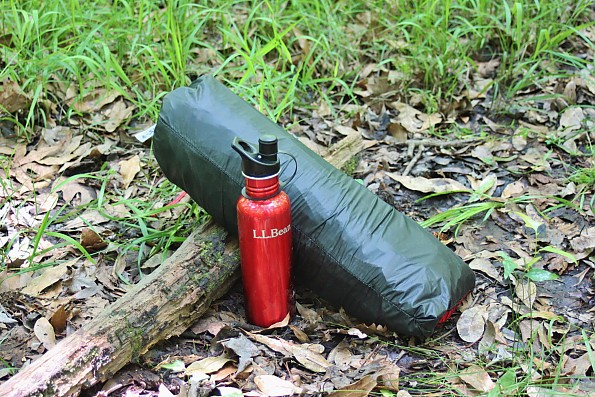 When packing up I found it helpful to stuff the tent so that the guy lines and webbing don't get tangled, and so that one end of the tent comes out of the stuff sack first. 

The Enan and its parts fit in the stuff sack with room to spare.
The packed size is about 6 x 20 in / 15 x 51 cm.
Testing
I tested this tent in the lower coastal plain of South Carolina.
I slept in the Enan 23 nights over four months, including three nights in my yard.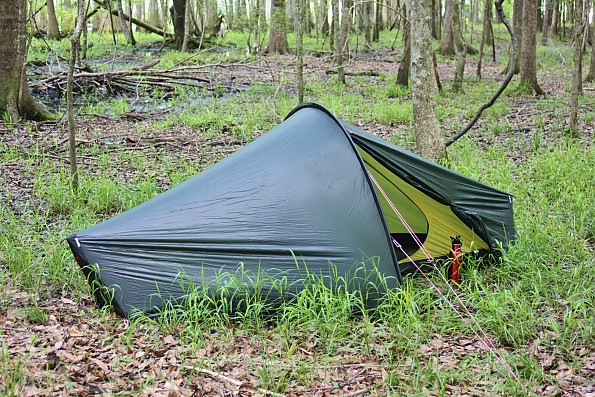 I tested the tent in:
Thick woodlands with damp soil.

On sandy shores exposed to high winds.  

A buggy swamp with mud and grass.  

In a grassy field with packed soil.
We have a temperate climate ranging from hot, humid summers to dry winters and many nights below freezing. We have a heavy insect population and loose, soft, and sandy soils.
Summer temps can reach 90°F / 35°C and humidity can reach 100% and stay there for days at a time.
Winter temps are often 50°F / 10°C during the day and fall below freezing at night in mid-winter. Occasional winter temps / wind chills are in the single digits.
Average rainfall is around 75 inches per year, heaviest in spring and fall.
About Me
I have been hiking, backpacking, and running around the woods of the Southeast U.S. since about 1976.
I started with army surplus gear and secondhand gear. I used it until I could buy my own new tent, stove, boots, water filter, etc. I have been fascinated with the design and functionality of outdoor gear ever since.
I believe that with the right skill sets and some well-designed gear you can be fairly comfortable in a wide range of conditions, but picking that gear can be confusing at times.
I hope this review has been a help to you!
Source: received for testing via the Trailspace Review Corps (Sample provided by Hilleberg for testing and review)

Replaces my bivy sack.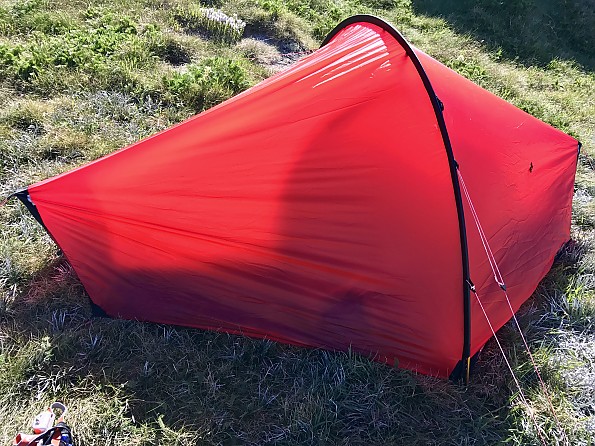 I will not give a detailed review because an excellent detailed review (by Mike Gartman) has already been posted. I just want to add some not so obvious additional points.
The first time I set this tent up I had some bad tent breathing motion of the outer relative to the inner, so they would touch in strong wind gusts. When I got the tent home I realized that on the two triangular head and foot sections of the tent there are a total of four loops that could have additional guys tied into. So I bought the additional guys and toggles and connected the additional four guy lines to the tent.
Next outing was also very windy, but these additional four guy lines had a dramatic effect of stabilizing the tent. All the breathing motion ceased. Also I now have a footprint which covers the bedroom and the vestibule of this tent.
I regard this as a 3.5-season tent now. It is much stronger than the default factory version and the outer goes to the ground..unlike other three-season Hilleberg tents. I have found the ventilation is excellent through the head and the foot areas of the tent. Because the outer goes to the ground you can really control the rain splatter and spindrift...yes, I do use this tent in light snow.
Given the weight of this tent my only problem is headroom. I cannot sit up in this tent. I am 6'3". But on the other hand, it weighs little more than my Bibler bivy and it sure provides so much more cover for me and my gear than a bivy. I guess I should sell the bivy because I will NEVER use it again, given that I own the Enan. NB the photo shows my Enan without the 4 extra guys.
Experience
I own four Hilleberg tents. I have been hiking and camping since the early 1970s.
Source: bought it new
Price Paid: $625 (US)

Robust yet lightweight three-season solo tent. Space inside and especially in the porch is excellent. Headroom OK for those up to 6 feet.
Pros
Robustness
Ventilation
Space / Weight ratio
Weatherproof
Pitches outer first
Quick to pitch
Cons
Cost
Limited to wind speeds < 40 mph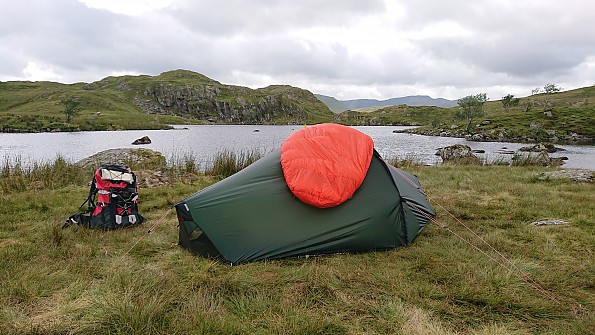 These are my initial thoughts on the Hilleberg Enan, something which I see as a "Mark 2" to the popular Akto. For those wanting to skip to the executive summary—after 20 nights it seems to be great tent for my needs (This initial review is based on my first two nights, but nothing I've learned since contradicts my initial thoughts).
Lightweight (albeit not 

ultralight

) – 1200 g

Robust  / Weatherproof

Flysheet first pitching

Good size inside, and it has 

just

 enough headroom.

Really quick and easy to pitch on your own (kind of important for a solo tent!) even in strong winds.
For a full review search for my Wordpress "WestonFront" blog where you'll find this and other backpacking gear honestly and pragmatically reviewed.
What is the space like inside?
Perfect for my needs. I am 5' 11" and find the length of the inner tent around 6" longer than my absolute needs. If I have my feet all the way to one end, then the height over the inner tent above my face when sleeping is not claustrophobic. If you are much above 6' that might be different. I can sit up at the highest point of the tent with about 1" above my head in my normal posture. If I sit bolt upright my head brushes the inner. The Terra Nova Laser is 2 cm taller.
There is space for a set of clothes, book, torch etc in the vertex next to the middle of my sleeping mat. Plenty for 1-2 night stop. The porch is excellent with plenty of room for my 55 L pack, boots, and waterproofs in the fixed fly half and enough space to cook within the openable section. One great addition would be if I could figure a way to attach the door corner to a walking pole to stretch it out like a tarp. This is a nice feature of some Nordisk tents. I suspect something could be fashioned from a short length of climbing cord.
How does it handle the wind?
The Enan coped well with winds up to 40 mph in an exposed position. I have added two extra guys to the windward end for which there are fittings for this purpose. This helped make the fly tighter and provided reassurance for this life long tunnel tent sceptic. The tent flapped a bit, but the flysheet material does not "crinkle" like a crisp packet. The benefits of silicone over PU I guess. I think this was probably the strongest winds to which I'd be keen to expose the tent. On reflection I do need to be aware that I'm used to using bombproof geodesic tents. That this single pole tunnel tent would best be pitched in the lee of a wall or a bank is the price to pay for the reduced weight. I reckon that's fair enough.
How does it handle condensation?
Most Hilleberg tents are designed to be able to be used in snow with their flysheets coming right down to the ground. This reduces the ventilation between the fly and the inner tent and seems to lead to significant condensation for many people. So significant as to be "unworkable" in a number of reported cases. So, for me at least, it was time to think about the science.
According to a variety of sources, and depending on body weight and environmental factors, people respire between 300 – 500 ml of water over an eight-hour period of sleep. If little or none of that water escapes the tent then that could become a lot of condensation. Also as the temperature drops overnight so will the dew point of the water laden air within the tent. Thus I reasoned, if you choose to sleep in a tent whose volume is very small, you are likely to end up with a condensation problem whatever the make / shape of the tent.
So, was the Enan likely to reduce this issue to an acceptable level? On paper Hilleberg looked likely to have resolved the issue and asking around proved that it was people with problems who had published their thoughts, a good number of long-term Akto users were quietly very happy with their tents. The secret to reducing condensation is to have a good number of air changes within the space.
Good air circulation is promoted by having a cross flow of air, ideally from bottom to top rather than just from left to right. This is how sash windows are designed to work. Here Hilleberg have come up with an unusual but effective solution by including a mesh panel at both ends of the tent, the ends which should be aligned with the direction of the wind. [Also true of the Terra Nova Laser.]
Cunningly, these are steeper than vertical. Thus water from the fly will not run down them, nothing can pool on them either. Whilst wind blown rain will pass through them it is slowed down enough so that (in my experience) >>99% drops to the ground before it hits the inner tent. In my first pitch in an elevated exposed position, with winds of 40-50 mph and heavy rain I counted three drops of water on the inner tent behind the windward vent in the morning. No water actually came into the inner tent itself. There are rain covers you can put across the vents if the weather is really foul and thus is best done from outside the tent ahead of need; it's very fiddly to do from inside the tent in the middle of the night.
On my first test night I had both vents open until around 0500 when I shut the windward one. Things were getting a little wild outside! In the morning the inside of the fly was completely dry. However the overnight temperature was a very mild 14° C. On my second test night I shut the windward vent from the outset and devised an effective and lightweight way to keep the top of the door open despite its design.
This is where Hilleberg may have missed a trick. The Akto has a small rain hood over the top of the door and a second zip allowing you to have a segment of the door open, not just a slit which is practice is pretty much held closed by the tension of the flysheet. But if a 10 g clothes peg can reduce the condensation I have to carry in a damp tent by 100's grams it's an excellent investment. After the second night which consisted of heavy rain, 20-30 mph winds and a minimum overnight temperature of 10 C I had just the lightest layer of condensation on the flysheet, an amount that anyone would consider acceptable.
For a full review search for my Wordpress "WestonFront" blog where you'll find this and other backpacking gear honestly and pragmatically reviewed.
Experience
Now used for 20 nights, mostly wildcamping in the UK
Source: bought it new
Price Paid: £650

Your Review
Where to Buy
Help support this site by making your next gear purchase through one of the links above. Click a link, buy what you need, and the seller will contribute a portion of the purchase price to support Trailspace's independent gear reviews.
You May Like
Specs
Price
MSRP: $675.00
Historic Range: $508.00-$720.00
Reviewers Paid: $625.00

Minimum Weight
960 g / 2 lbs 2 oz

Packed Weight
1.2 kg / 2 lbs 10 oz

Outer tent fabric
Kerlon 1000

Poles (9 mm)
1 x 293 cm / 1 x 115.4 in

Pegs
8 Y-Peg UL

Recently on Trailspace