Hilleberg Anaris


Hilleberg the Tentmaker brought back the Anaris name on a new design for 2020 with a new tent supported by trekking poles and incorporating the latest materials. Light, but not UL, this two-person, ridge tent is designed to withstand anything nature can throw at it other than heavy snow loads. A palace for one, but plenty of room for two plus gear. Reliability for those on extended excursions into the back country, but comfy enough to appreciate camped next to the car.
Pros
Roomy feeling interior
Great ventilation
Netting has great visibility
Sturdy construction
Surprisingly easy setup
Fly can be removed or used alone
Cons
Some needlessly heavy components
Lacks control for rolled up fly
Slow drying in morning
Investment
Hilleberg the Tentmaker is well known in the industry today, but didn't start out intending to be a tentmaker. Bo Hilleberg started out to create a forest equipment company. It was his frustration with the tents of the day going up via a complicated process of setting up first an inner tent and then adding the fly that inspired him to get into tent making. He wanted a connected, double walled tent that went up all at once, but didn't know how to build one.
Luckily for him, and us, he met and married Renate who also loved the outdoors and just happened to know how to sew. Today the family business continues with daughter Petra as CEO. If you'd like to know more about the company, Bo and Petra have this video of the two of them talking about the history or you can read more here.
Hilleberg made their brand famous for strong, well-made tents designed to handle all four seasons. Naturally these sturdy tents were made of heavier materials to withstand high wind and snow loads. Around 2010 they decided to start work on a lighter, but still sturdy, line of tents intended for warmer weather use in areas without snow concerns. In 2012 they started to release these new models under the Yellow Label. Their Black Label  all-weather shelters favor sturdiness at the expense of weight while their Red Label line can handle snow, but make weight savings the highest priority.
Hilleberg respects their history and when they decided they wanted to create a ridge tent that could be supported by trekking poles they looked to their own past tents. This new model Anaris brings back an old name and is based on features extending all the way back to Hilleberg's original tent, the Keb. I've had the last couple of months to get to know this tent pretty well. While testing continues, I hope you'll find what I've learned so far informative.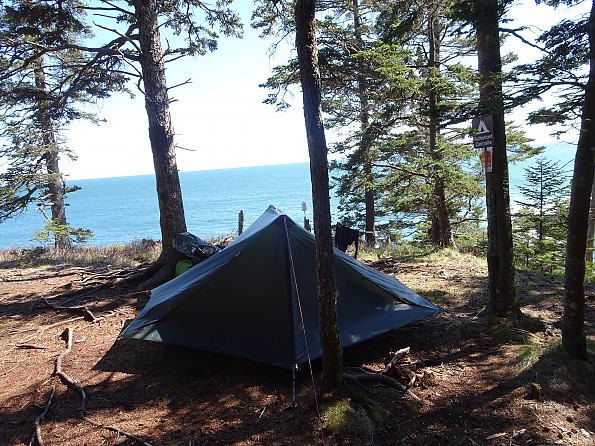 Chilly spring visit to the Bay of Fundy.
Specs: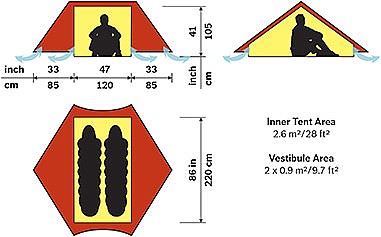 Graphic from Hilleberg website.
The inner tent, in yellow above, measures 86"L x 47"W x 41"H providing about 28 square feet of floor space. 41 inches high at the ridgeline sloping to about 10 inches at the head and foot walls. The vestibules extend 33 inches from either door creating about 10 square feet of covered area. Occupants lay parallel to their individual door and vestibule.
Full Weight: 1.4 kg/3 lbs 1 oz
Fly Only Weight: 640 g /1 lb 7 oz
Includes: Inner tent, outer tent, 12 Y-Peg UL stakes with stuff sack, guylines and a tent sack.
Not Included: Trekking poles/Support poles ~130cm/51"
Setup:
I was pleasantly surprised at how easy I found the Anaris to set up. Having seen folks struggle at times with finicky, pole-supported shelters and having little experience with them myself I was sort of expecting the worst. A quick read of the provided instructions let me break it down into simple, easily remembered steps; Stake the base, stake the poles, stake the corners, stake the vestibules or roll them up depending on conditions and final adjustments if needed.
The provided guy lines and line locks did the hard part making me look like I knew what I was doing. Check out this video of the process to see how simple it really is. I've crunched the 5:45 minute process down to about 90 seconds here.
The joined tent really shone when setting up in the rain. I was able to lay out the base with the fly protecting it, then complete the entire setup without the inner tent even having a few drops on it.
We've only looked at the standard setup here. Later, in the Features section I'll go over some of the setup options built into the design of the Anaris which include:
Partially removing the outer tent
Totally removing the outer tent
Setting up the outer tent alone as a tarp shelter
Using your own guyline to support the tent(s) between trees
This built-in flexibility definitely counts as a feature.
Stability & Weather Resistance: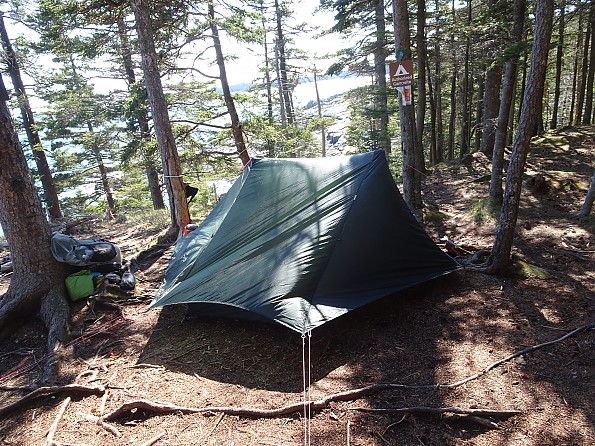 With two stake out points at each corner of the inner tent, another at each corner of the outer tent, plus the support pole guy out lines staked out on the long sides the Anaris is firmly rooted to the ground even without the vestibules staked out. Including the vestibules there are 12 stakes in the ground. Thankfully I only saw a little bit of sleet and snow falling on it, but spring in the mountains of western Maine provided plenty of wind and some rain as well. Inside the Anaris there was a sense of being well sheltered as winds hit the canopy. No annoying flapping noise or feeling buffeted like a ship at sea.
Rain opportunities were few and light events up until the last few days as we've had a very dry spring here in Maine. Recent downpours have provided a perfect chance to see how watertight the Anaris is and it has done great so far. I had it set up in a constant rain for 24 hours prior to taking it down to record that setup video. It was totally dry inside before I took it down and even after putting it back up while it was raining. It poured again all afternoon the next day and despite the outer tent being wet for over two days there was no wetting of the inner tent at all.
After two solid days of being soaked and at times hit by heavy, extended downpours, I could run my hand on the underside of the outer tent and it felt relatively dry. There was some moisture which I attributed to condensation, but given the conditions I was impressed. The inner tent shows no signs of water dripping from above, but there were a few small drops of water on the floor.
Their location being near the sides leads me to believe that during the heavier thunderstorms the wind blew those drops in under the fly. For this test I'd pitched the outer tent to maximize air flow. When I get my next chance to do foul weather testing I'm going to try to pitch the outer tent lower around the edges by moving the stake out points closer to see if that eliminates the issue, though it really was quite minor given over two solid days of rain.
Ventilation: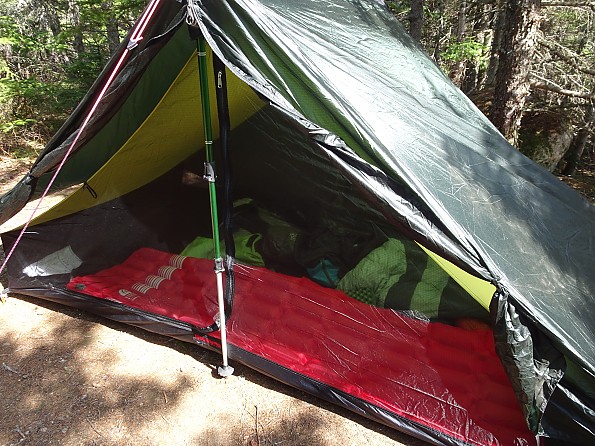 The Anaris is designed to maximize airflow inside, even with the vestibules staked out and closed tight. The outer tent extends out beyond the inner, but not straight into the ground. This covers  the inner without blocking air flow around the entire perimeter of the inner tent. The result was great air exchange without feeling the wind blow through the tent. Even with the vestibule opened wind seemed to have a hard time getting in unless it was directly into the door, yet humid nights didn't feel stifling inside. There was a sense of air exchange that made for comfortable sleep even in damp forest camps.
When it was really warm the toggles that connect the outer and inner tents at the corners could be unhooked. This allowed one or both sides of the outer tent to be rolled up, exposing the inner tent completely.
There is a nice gap between the two tents so air flow helps keep condensation down. On warm, wet nights there was some, even when sleeping solo, but not a lot. It collected on the underside of the outer tent and was only noticed when taking the tent down in the morning.
Room & Storage:
As noted earlier, the Hilleberg Anaris has plenty of room for two average sized people to lay side by side without being on top of one another. Frau Stranger assisted with the two person testing. The 47-inch width of the inner tent allowed for natural sleep positions and tossing and turning without bruising one another. The only conflict I found was my back hitting her when I swung my feet out to put my boots on.
With a tad over 7 feet of interior length and the roughly 10" vertical walls at the head and foot ends, most folks will have a bit of interior storage space even with two people inside. For one person there's enough room to sprawl out and still bring all of my gear including my pack inside, with only my boots parked outside the door. There are no pockets or pouches inside the Anaris, so bring your own organization.
Outside the door is a good sized vestibule that covers about 10 square feet. When pitched normally there is a vertical gap of about 6 inches, which can be reduced to about 4 inches by adjusting how the vestibule is staked out. The guylines at the corners of the Anaris, when fully shortened leave about a 6-inch vertical gap at the point where vestibule meets tent. This could be lowered by shortening the guylines, which I would hesitate to do for platform setup. Another option would be to attach them to the stakes with a knot or other method that shortened the lines.
In any event, there is a definite gap there for ventilation that limits the amount of protected space in the vestibule. A wind driven rain will likely wet a significant portion of the area, while a vertical rain would pose less of an issue. The area closest to the tent has the best protection and I had no problems keeping my boots out there in the rain.
Packability: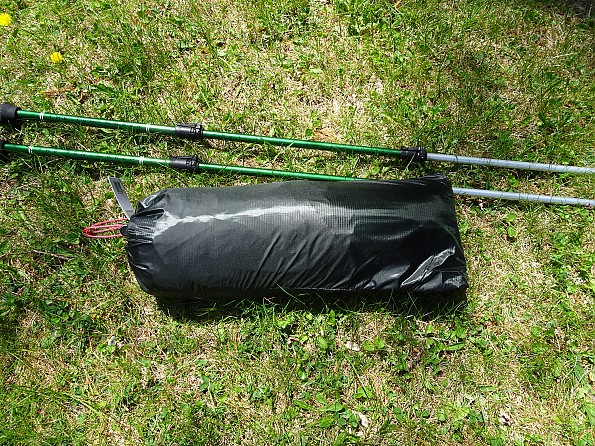 The lack of poles to stow certainly made packing easier. Once the setup process had been reversed, removing poles and stakes, it was very simple to fold each long side over once and then roll up the triple layers of tent. Vestibule material and guylines tucked into the roll making it simple to slide the entire bundle into the provided stuff sack. The slippery surface of the Kerlon and other materials made stuffing easy compared to materials with a more rubberized feeling surface.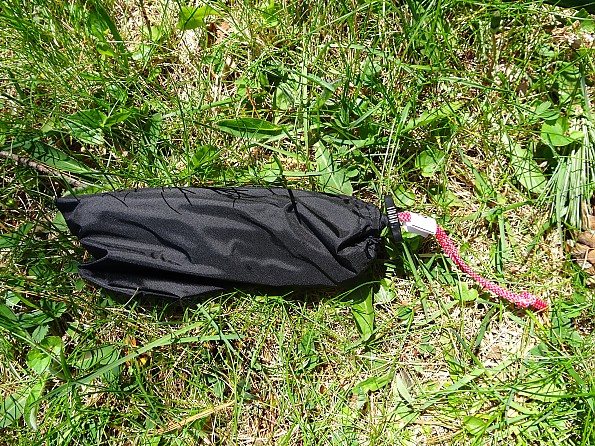 The Hilleberg stake bag is made from their strongest XP material.
Hilleberg recommends not over compressing the Anaris to protect the materials. I'm not sure if I followed those guidelines because once I finished gently stuffing it into its sack I stuffed the sack into my pack and crammed everything else in after. With no poles and the stake bag tucked into the lid of my Six Moon Designs Minimalist the Anaris left a small footprint in the pack.
Ease of Use:
As I mentioned, I quickly felt confident about setting up the Anaris despite not having a lot of experience with hiking-pole-supported shelters. I have used my poles to support a tarp before though and noticed that using a shelter specifically designed for the purpose was much easier. The line locks that Hilleberg used are my favorite design having encountered it on other shelters I own. Easy to adjust and they stay put once locked in.
Beyond setup I found that it took me a few nights to decide which end was the head of the tent. The L-shaped zipper of the door creates an opening on one side of the support pole which I first thought was the head end. After setting up on an unnoticed slope one night I spun around to keep my head higher and realized I was wrong, heh. By having the door at my feet it was easier to swing them out to put my boots on. I also realized that in this position it was really easy to put my toe in the corner of the tent to hold it tight while pulling the zipper closed.
One thing that would help make the Anaris easier to use would be some loops to hold the outer tent once it has been rolled up for ventilation. I ended up tucking the ends of the rolled fly into the guylines that are attached to the poles. It worked, but some loops would have been nice there. Something that let you hold either side or both would be perfect.
Features:
Let's start with the system Hilleberg used to hold the hiking poles that support the Anaris in place. These sturdy pockets feel like a heavy vinyl or other synthetic material. Big enough to accommodate the hand grips on the Hilleberg Trekking Pole, the stiffness of the material would also hold the pointy end of a pole, a dedicated shelter support pole or even a locally sourced stick I'd imagine. I have tried  it with the Hilleberg poles and my Komperdell Contour Titanal Power Lock poles, but haven't gotten around to trying a found stick yet. I'll be updating this review once I've had more testing time, so I'll try to look for some sticks on future trips, heh.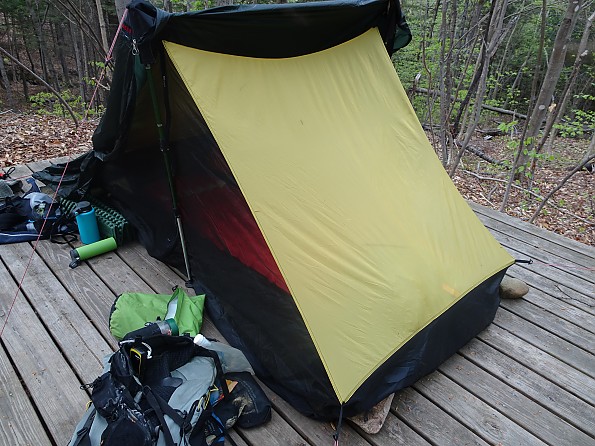 Now I think we should look at some of the various configurations the Anaris can be used in beyond the standard setup. Here you can see I have flipped one side of the outer tent after unhooking the toggles that connect it to the inner. I used the attached guylines to connect it to the stakes on the far side so it didn't flap around in the wind. Taking it off and putting it back on was very easy and fast, taking about a minute.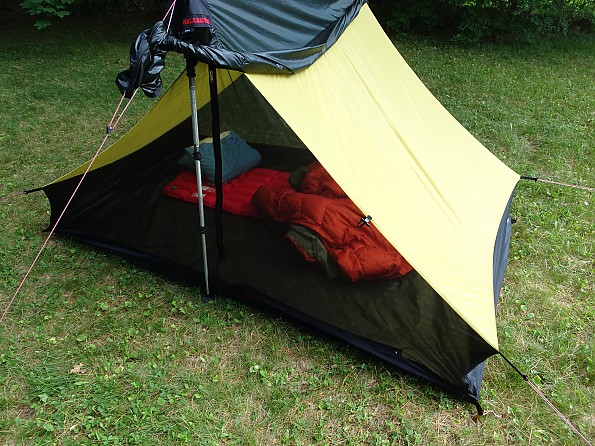 Here I have disconnected the outer tent on both sides and rolled it up. The solid panels of the inner tent act as a sunshade creating a much cooler spot to hang out after setting up an afternoon camp.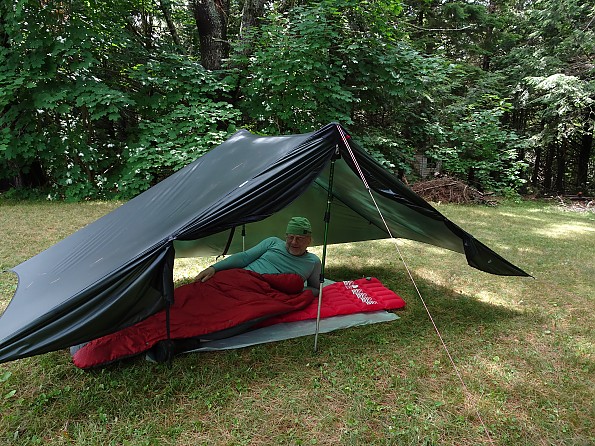 Disconnecting the final connections, the outer tent can be totally separated and used as a standalone shelter. This setup covers about 38 square feet at ground level providing a lot of protected space for one person and enough for two if they sleep close. A bug net or other shelter can be suspended from the attachment points on the underside that are used to connect the two tents normally.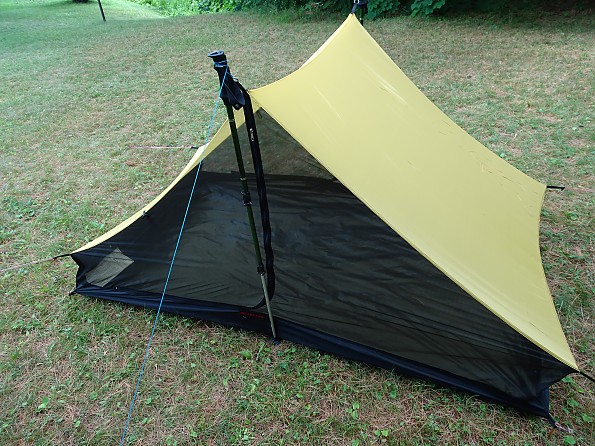 One final option is to set up just the inner tent. Since the pole holders are built into the outer tent a little more creativity is required here. The ring that connects to the outer tents toggle is a great place to connect a line to. Whether you string it between two trees, or get creative on how you attach it to poles, the end result is a nice, fair weather shelter from bugs and sun. After setting up like this a person could also rig up the outer tent or another tarp, higher up above for additional sun shading or minor rain protection, but with a lot of ventilation.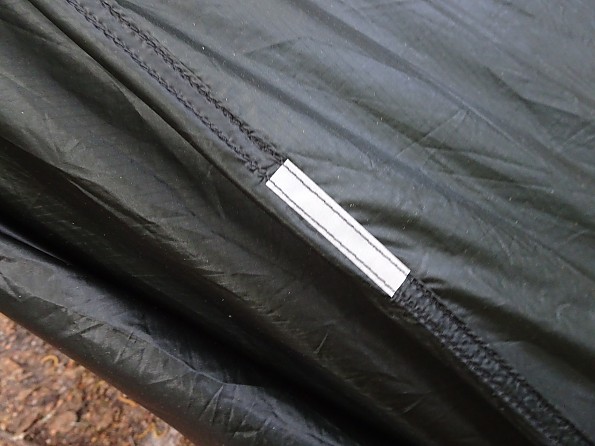 There are two of these reflective strips above either door. They are brightly reflective, so easily seen, but don't light up the whole tent like holiday lights. It was enough to find the tent on the way back from a nature break, but not so bright a person couldn't sleep after.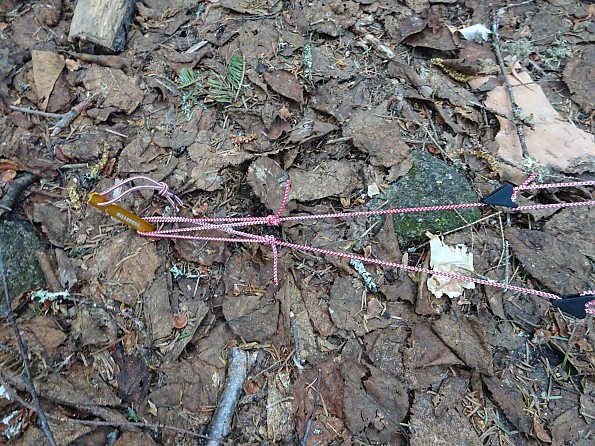 Lots to see in this one pic. Starting on the left there is one of Hilleberg's Y-Peg UL stakes. This is a smaller, lighter version of their Y-Peg and they say the UL version was aimed at balancing hard ground penetration and soft ground holding power. Each is 15 cm/5.9" long and weighs 9.6 g/0.34 oz Gold color is pretty easy to spot in green or white conditions and shows up pretty well even in dry browns like this from an early spring trip.
The lines used on the Anaris are Hilleberg's own proprietary 2mm cord. I can't beat their description for detail, so here it is:
Its interwrap construction interweaves super strong Vectran cord longitudinally with polyester, producing a cord with no sheath to slip, near zero stretch, minimal water absorption, an easy-to-handle soft feel, high UV resistance, and a stout 60 kg (132 lb) breaking strength...
We'll look at one cord that is showing some wear or damage later, but in general the cords have done their job. Soaking in several days of rain has tested their ability to hold their shape and they have done well there. No signs of stretching even after being soaked for all that time.
Finally, on the right side of that picture you can see a couple of the line runners Hilleberg used. These locks are easy to manipulate and stay in place really well, even when wet. I have seen zero issues with slippage and having experience with similar locks before I expect none.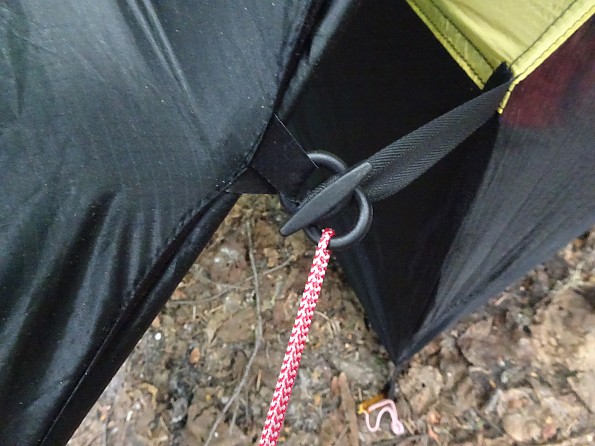 This closeup shows the toggle system that connects the inner and outer tents at each corner. The guyline you see dropping out the bottom holds the side wall of the inner tent in place while a separate line holds the corner of the outer tent beyond the picture. This is easy to connect and disconnect  and a very functional support system.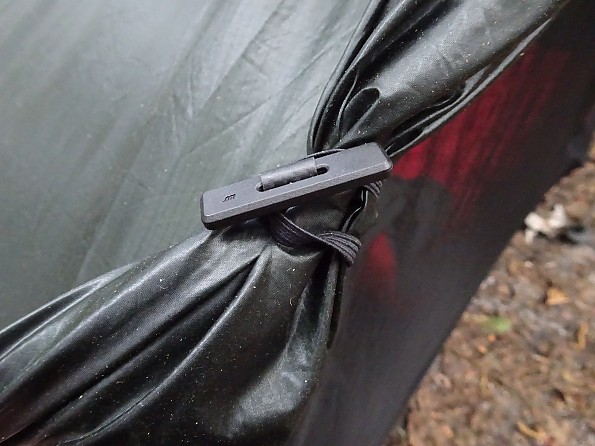 This toggle holds one side of a rolled up vestibule. These were big and easy to use when looking at them, but stymied me when trying to release one in the dark by feel only with one hand. I liked that they weren't so tight that they compressed the material. I leave things open like this often in camp unless the weather is bad so that wear can add up.


Construction & Durability:
These are a big part of why folks buy a Hilleberg rather than a cheap knockoff of their designs. They are also why this is a three-pound, two-person tent instead of a two-pound or lighter version. While it won't take the heavy snows that their Black Label shelters can handle, the Anaris is engineered and constructed not to fail. Mountain camps and summer thunderstorms have hit it with wind, rain, and even a little sleety looking snow, but it shrugged it all off.
Hilleberg used their Kerlon 1000 silicone coated 20D nylon for the outer tent which has some pretty impressive specs. With a hydrostatic head of 5000mm and a tear strength rated at a minimum of 8 kg/17.5 lbs, this material isn't bear-proof, but it will hold up to the wilderness pretty darn well.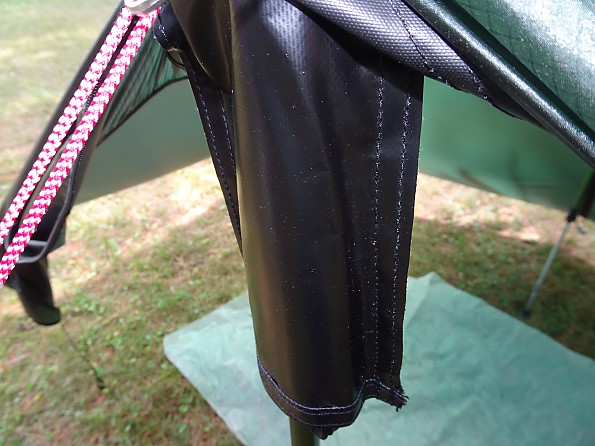 Some of the hardware seems needlessly heavy, especially on the zippers. Having grown used to UL materials the metal zipper pulls seem large and weighty. The pockets that hold the poles are another example of materials chosen to be sturdy rather than only focusing on light.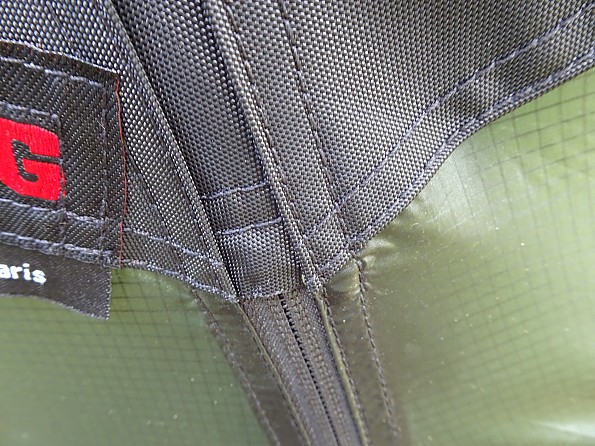 The stitching is well done throughout both tents. You can see these were not rushed off the line but made with care. Hilleberg moved production to Estonia some years back and the Anaris has a tag with its tailor's name sewn in. Clearly they take pride in their work. In this closeup you can also see the support fiber grid of the Kerlon 1000 material of the outer tent. That won't stretch and sag when it gets wet.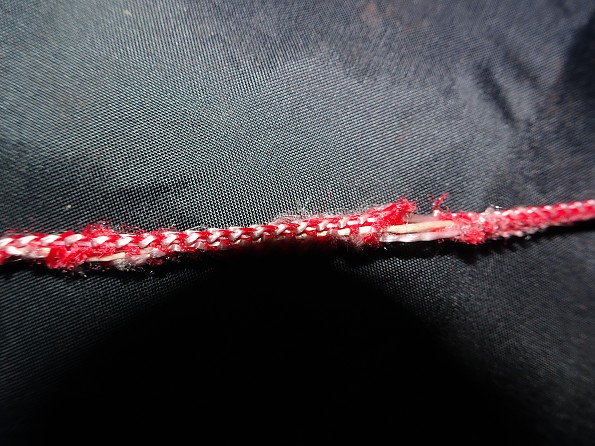 The only wear I can see after over two months of heavy use is on this one guyline. I haven't figured out exactly what the cause is, but I anticipate having to swap this out pretty soon. Might have been chewed on, it is hard to tell. Other than a few bits of pine tar there are no other signs of use to speak of. Based on what I am seeing so far I don't expect to have much to report on in this area even after completing my testing later this year. I believe this tent might outlive me, but certainly looks like it will hold up for a long time.
Conditions: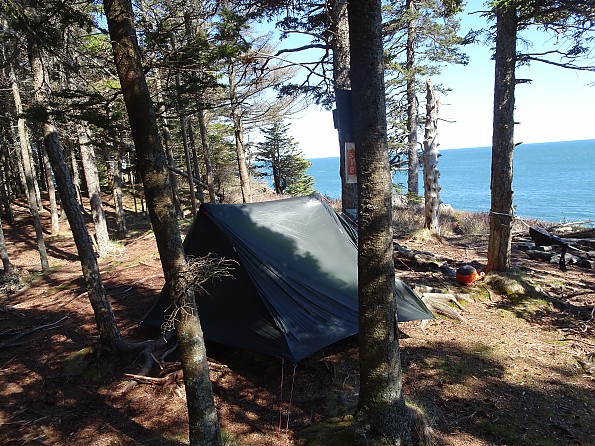 I started testing the Hilleberg Anaris on an early season overnight trip to the Bay of Fundy. This spot gets crowded in the summer, but I had it all to myself that day.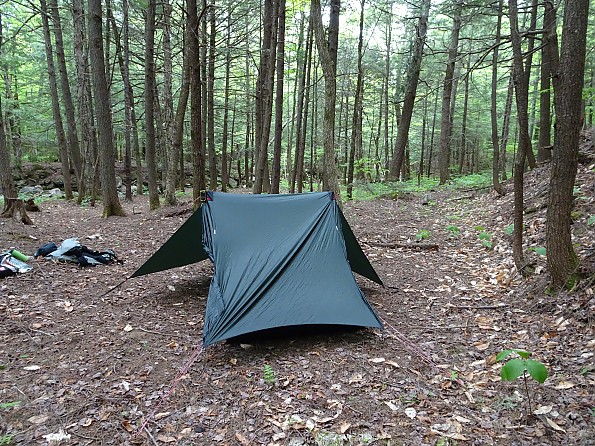 Later testing continued on multi-night backpacking trips in western Maine including two visits to the Grafton Loop and another to the Caribou-Speckled Mtn Wilderness on the New Hampshire border.
Other than field testing I have also asked Frau Stranger to help me with two-person testing in our backyard campground. It was hard to get her out of her hammock, but I am not big enough to test a two-person tent alone.
Early Conclusions:
As I said, I am still testing the Anaris, but I wanted to get what I've learned so far out there for folks who have been wondering what this new Hilleberg shelter is all about. From what I have experienced so far I have come to understand why folks speak so highly of their tents. If their three season, Yellow Label shelters are this well made, I can't imagine how sturdy the Black Labels are.
Not being one who likes to fiddle around with my equipment I was really pleased with the setup of this tent. Once I had the Anaris up I rarely had to even make any final adjustments to the pitch. I'm sure those who enjoy fiddling could improve upon my work while satisfying their urges. I'm just saying I didn't find it necessary.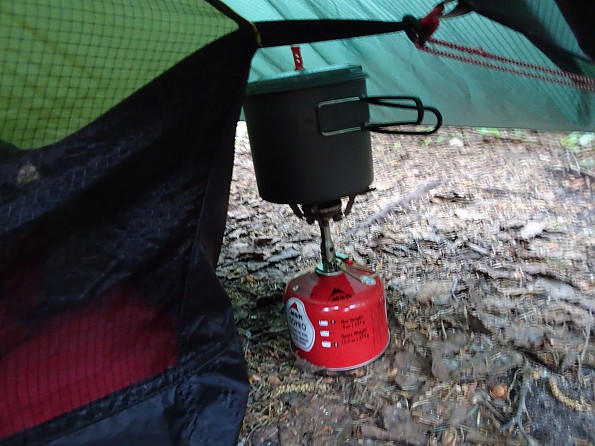 So far most of my testing has been on solo trips where I found the Anaris to be a great place to end and start my days on trail.  The canopy of the outer tent created a lot of protected space for stashing boots and other equipment. My pot and stove, once cooled, spent nights under one end. Inside I had room for all my stuff pulled out of my pack and my pack too.
When testing with my wife we both found the Anaris to be  plenty of room for two. We had two roughly 20-inch pads, a Therm-a-Rest TrailPro and the Sierra Designs Granby I recently reviewed, side by side with neither of us squeezed up against the walls.
Storage space inside could be found at head or feet for average sized folks. At 5' 7" I have almost 18" of longitudinal space to work with. That meant that everything didn't have to sit outside in the vestibules even with two people in the Anaris. The 10 square feet or so of vestibule space was less protected the farther away from the tent you went. Heavy wind-blown rain definitely sent some drops under the edge.
I'm still experimenting with pitching the Anaris for rain, so I'll report back on how I do at improving this. It may be resolvable with shorter guylines bringing that outer tent closer to the ground.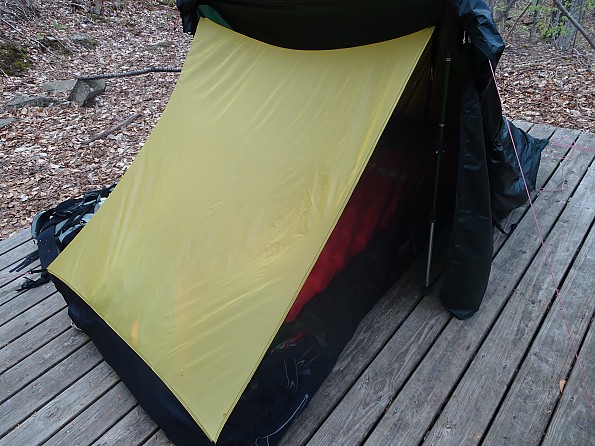 That big gap is a feature of the Anaris though, intended to ensure good air flow. Hilleberg really focused on making this tent comfortable and functional in warm, humid conditions. Even on unseasonably warm spring days that hit 88°f in May I found the interior of this tent to be a safe place to hide from the bugs despite the heat. Rolling back the outer tent let the breeze really blow through.
I haven't really found a lot of negatives in my testing. The extra weight is noticed when I am paying attention to the components, but 3lbs for a bombproof 2p shelter is not really a big deal, especially when that includes the 12 stakes which many UL shelters don't include in their weight calculation.
The lack of loops to tie the rolled up fly was a minor annoyance. It would be a nice feature, but it could be dealt with easily enough. The Kerlon material did seem hard to dry in the morning if either dew or condensation moistened the outer tent. If left set up it dried well enough, but if I took the Anaris down to start drying the underside of the bathtub floor the roof material didn't dry as well unstretched.
That floor held up really well I must say. Hilleberg offers an optional footprint that attaches directly to the Anaris, continuing the connected tent theme, but I can't imagine most folks will need it. I camped on rocky tent pads and unimproved random wilderness sites with natural forest floor under me. Other than a few dabs of pine pitch the underside looks pretty good and there are no signs of stretching or other damage.
I will continue my testing over the next few months, mostly looking at durability. Seeing if I can set up a better storm pitch in hopes of protecting more of the vestibule is also going to be a focus. For now, I can say I am pretty impressed with the Anaris and can see why folks speak so highly about the quality Hilleberg brings to their products.
I think folks looking for a 2P shelter to give them lots of room on solo trips will really appreciate this tent. There is a lot of sheltered space in there to hide from bugs or weather. Generally I think two people are better off sharing a 3P tent, but the Anaris did not seem crowded with two inside. Frau Stranger and I both roll around a bit at night and neither clobbered the other in our tests.
The $595US MSRP has to be acknowledged as a pretty big investment, but looking at the materials and workmanship of the Anaris I think it can be justified. I wasn't joking when I said this tent might outlive me. It certainly is better put together, heh.
Our family has recently been examining our purchases with an eye for longevity. Gear that wears out fast has environmental costs that we like to avoid. We've been willing to spend a little more to invest in good quality items that will last and I think this is an example of such gear. I would expect it to last years even for folks like me who spend a lot of time on trail. With proper storage, folks who only get in a few trips a year may want to consider who to leave it to in their will.
Over all, I think those who appreciate solid, durable gear they can depend on will appreciate the Hilleberg Anaris. Gram counters looking to shave their load to a bare minimum would probably trade this tent's bombproof qualities for something lighter. To me, this tent was enough to get me out of my hammock and back on to the ground for the first time in a few years. It really has been a pleasure to test and I look forward to continuing that process.
Please let me know in the comments if you have any questions about the Anaris I can answer as I continue to update this review.
Experience
This was my first experience with a Hilleberg shelter. I've had limited experience using trekking poles to hold up a tarp before, but not shelters designed for the purpose. Tents on the other hand I've been using on and off for about 50 years, though I frequently use a hammock of late.
Source: received for testing via the Trailspace Review Corps (Sample for testing and review provided by Hilleberg)

Your Review
Where to Buy
Help support this site by making your next gear purchase through one of the links above. Click a link, buy what you need, and the seller will contribute a portion of the purchase price to support Trailspace's independent gear reviews.
You May Like
Anaris promises versatility, comfort, and an "elegantly light solution"
"Roomy for two and palatial for one" the Hilleberg Anaris is a lightweight, warm-weather, ridge tent with versatility. Constructed to be pitched with two trekking poles or by suspending its ridge ends from trees, its combination of light weight, simplicity, and comfort make it ideal for backpacking and other warmer weather backcountry adventures.
"We know that there are many backpackers who use trekking poles for hiking and want a lightweight way to integrate their poles into their shelter," said Petra Hilleberg, CEO of Hilleberg and daughter of its co-founders. "While many choose a minimal setup, such as our Tarp 5 or Mesh Tent 1, we wanted to offer them an elegantly light solution for those who prefer the strength, comfort, and attention to detail of a true Hilleberg tent."
Hilleberg created the Anaris for those who want a simple shelter solution that is light yet roomy and comfortable. The Anaris features two entrances and two spacious vestibules and offers numerous pitching options. Both entrances can be partially or fully rolled away, while either or both sides of the outer tent can be rolled up for more airflow.
Like all Hilleberg tents, the Anaris's inner tent and outer tents are linked, and can be pitched separately or together. The outer tent can be used alone as a tarp, with multiple options for rolling the ends or the sides, and the inner no-see-um mesh tent with full mesh ends can be used for bug protection in hot weather.
The company was not trying to make an ultralight shelter with the Anaris, which weighs 3 pounds 1 ounce (1.4 kg). "Rather, we wanted to make the strongest, most comfortable ridge tent for warm-weather use at the lightest weight we could without compromising on our standards of quality and performance," said Petra Hilleberg. "We have a standard of quality, strength, and comfort that we will not compromise on."
Designed for two-person and solo use on short or long trips, the Anaris is well suited to treks in forested terrain. "Warm-weather backpackers are probably the most likely to use the Anaris, but it is also an excellent choice for hunters for early season hunts in forested areas, and it's a great backup for trekkers who want to have shelter options other than huts" said Petra Hilleberg.
The Anaris is part of Hilleberg's Yellow Label series of lightweight, snow-free, three-season shelters. The company's product development team, led by Bo Hilleberg, co-founder and chairman of the company, worked on the Anaris for several years, creating numerous solutions before they were satisfied to launch the tent in 2020.
"Our goal was to create a light, airy, and roomy tent for warm-weather backcountry adventures," said Petra Hilleberg. "We wanted it to be simple to use and offer a great deal of flexibility in how it could be set up and used."
The tent takes its name from an earlier, all-season "Anaris" that was part of the Hilleberg line from the mid 1980s through the early 1990s. It in turn was based on the ridge design of Hilleberg's first tent, the Keb, introduced in 1973.
"We have had a number of ridge tents in our line over the years, and from that experience, we felt that a Yellow Label ridge model that pitched with trekking poles would be both a great solution and an ideal addition to that series," said Petra Hilleberg. "We took everything we had learned from those earlier ridge models—Keb, the original Anaris, the modular Muddus, and the Rajd—as well as from our tarp and mesh shelter experience and put all of that into the new Anaris."
"The Keb and the original Anaris were all-season tents," said Bo Hilleberg, "and were used in all terrain and conditions with great success, including by a Swedish Himalayan Expedition in the middle of the 1970s, who used it to over 5500 meters (18,000 feet). This new Anaris takes the best of our simple yet sturdy ridge concept and reimagines it for the 21st century with our lightest fabrics."
Accessories: Hilleberg Trekking Pole,
Specs
Price
MSRP: $595.00
Current Retail: $630.00
Historic Range: $595.00-$630.00

Minimum Weight
1.3 kg / 2 lb 14 oz

Packed Weight
1.4 kg / 3 lb 1 oz

Inner Tent Area
2.6 sq m / 28 sq ft

Vestibule Area
2 x 0.9 sq m / 2 x 9.7 sq ft

Poles (not included)
use 2 trekking poles set to approx 125 cm/49 in – 130 cm/51 in

Pegs
12 Y-Peg UL

Recently on Trailspace