Six Moon Designs Minimalist

The Minimalist has been discontinued. It was replaced by the Six Moon Designs Minimalist V2.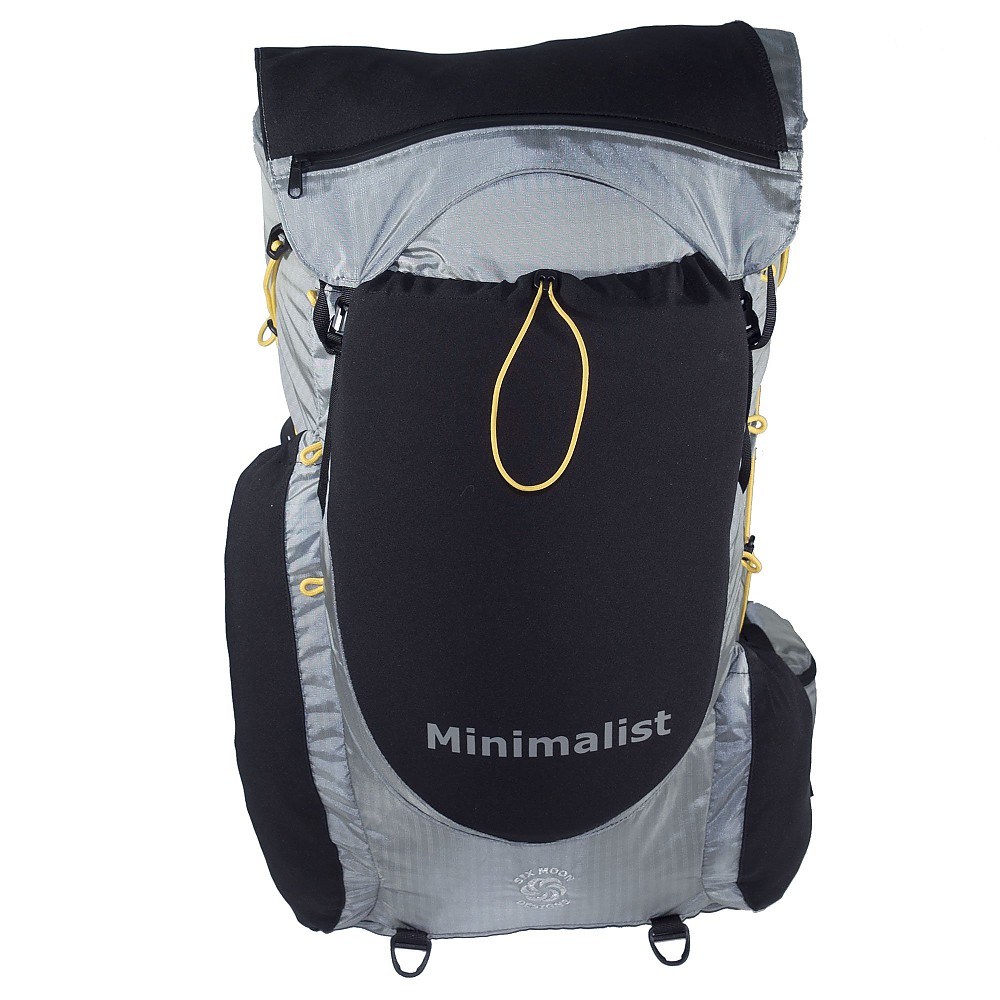 The Six Moon Designs Minimalist is a backpack engineered to let you change configurations easily to match your changing needs. The frame and hip belt are entirely removable. You can select shoulder straps or a vest harness at time of purchase which can be swapped easily as well if you purchase both.

The Minimalist is best for Light/Ultra Light use with total loads below 35 lbs. It remained functionally useful and comfortable with loads approaching 50lbs. Its comfortable ride makes it great for day-after-day use on distance hikes.
Pros
Comfortable even when overloaded
Internal frame performs but isn't in the way
Vest adds features and function
Lots of attachment points
Holds canister or big dry bag on top w/straps
Removable frame and belt for minimalist use
Double layer rectangular bottom
Cons
Long straps to hold top load hang down when not in use
Lid pockets have little space and lose function with full pack bag
Black harness shows off sweat stains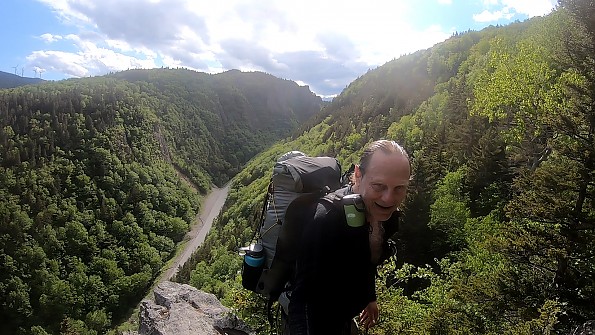 A distance pack for distance trails. The Minimalist high above Dixville Notch on the Cohos Trail in New Hampshire.
This review is based on extensive testing of the Six Moon Designs Minimalist pack with vest harness option and both hip belt and frame. Some testing was done with belt and/or frame removed, but primary use was with both attached on multi-day trips. I opted to test the Minimalist with the vest harness both for the storage options it provided and the increased stability that SMD claimed it would provide.
Specs:
Dimensions: 11"W X 7"D X 22"T
Torso Sizes: 16" - 22" | 38 - 56 cm
Maximum Load: 35 lb - 15.88 kg
Bag Material: Nylon Robic
Total Volume: 3300 ci - 54 L
Weights: Main pack = 20oz/570g
                     Shoulder harness = 6oz/170g
                     Vest harness = 8oz/225g
                     Hip belt medium sized = 6.65oz/188g
                     Delron hoop stay = 2oz/57g
Sizing: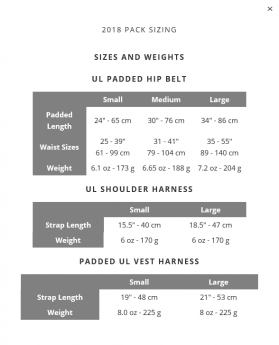 Fit:
The Minimalist name made sense right from the start as SMD uses two simple and easy to use features to help you position the pack where you want it on your body.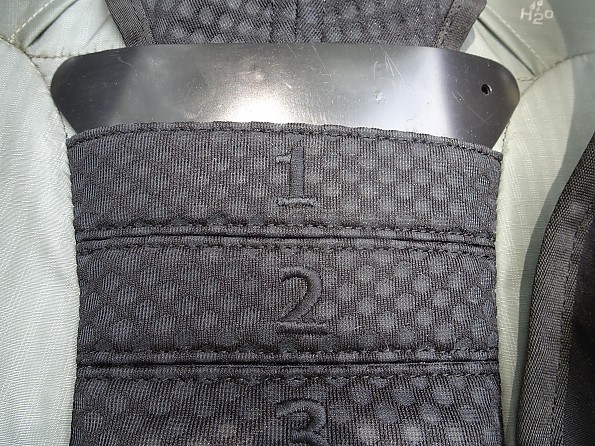 Easy, on the fly, adjustment by moving the insert from one numbered hole to another.
This hard plastic insert can be positioned to raise or lower the top of the harness yoke. Doing so lets you effectively adjust the torso length between the yoke and hip belt. Changing this setting also changed where the vest wrapped around the torso and how high the pack rode on my back.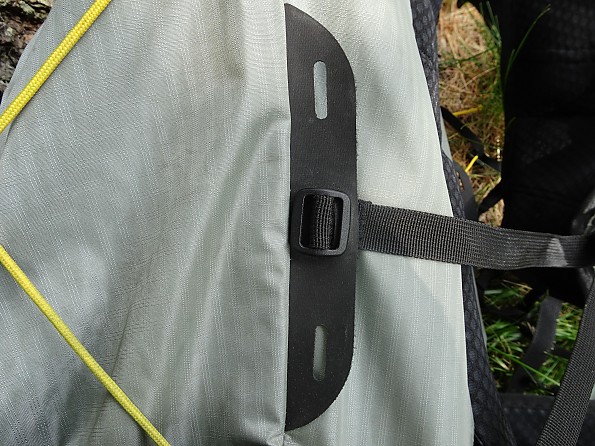 The buckle acted as a button allowing easy change of the bag attachment point.
The other major fit related component is a three-position attachment point on the side of the bag for the torso strap. Changing where this strap met the bag again could help with various torso lengths, but also changed how the vest fit and how loads were carried.
Combined, these adjustments allowed me to get a good fit under a wide variety of conditions and loads. In the snow I was able to shift the pack so the bag rode higher. The belts were able to extend enough to accommodate insulation layers. For three-season use, smaller volume loads could be carried lower and held close to the spine by shifting the bag attachments and lengthening the torso.
Comfort & Ride:
Having fallen in love with modern, external frame backpacks like my Seek Outside Unaweep, I was curious to see what my body had to say about an ultra light pack with a minimalist, internal frame. The base of the internal frame extends into a panel that supports the hip belt attachment area. This does a great job of transferring load directly to the hips much like the external frame of the Unaweep.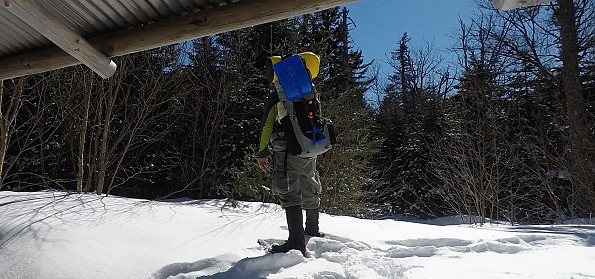 Shovel, crampon bag, and 20L dry sack attached externally.
Even when used on a multi-night, winter trip with a starting load of almost 50lbs I was pleased to find no excessive stress at the hips or shoulders. I'm sure the vest contributed to the feeling, but the pack seemed to stick with me very well despite the contortions needed to navigate deep mountain snow.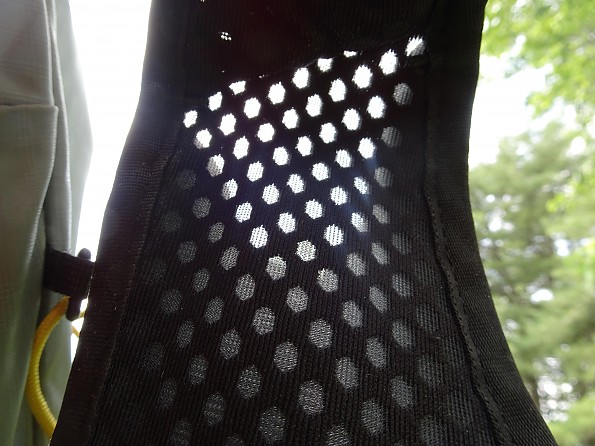 Close look at the open mesh and foam of a vest panel. Lots of air holes!
In warmer conditions I appreciated the open mesh of the vest and hip belt. These areas seemed to be able to let sweat dry rather than accumulate through the day. While the center of the Minimalist bag is designed to ride against the spine, the shape of the bag allowed air to reach a fair amount of the rest of my back.
Both the vest and shoulder strap options use SMD's six-point connection system to attach to the pack. In either case the top of the yoke and center of the hip belt will transfer the load to the spine. Two contact points in the middle of the bag along with two more on the belt provide a lot of stability. This, combined with the way the vest spreads out body contact, delivered a really comfortable ride. Crawling under blowdowns was never more fun as the pack stayed in place no matter what.
Capacity: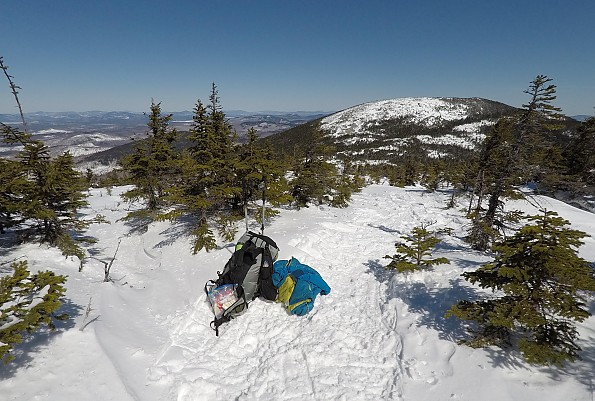 The SMD Minimalist soaking up winter sunshine on West Baldpate.
Six Moon Designs lists the main bag as being 38L when the top is fully rolled down, plus another 10L if you extend the roll top. Most folks who are ultra light won't need more space than that, but if needed, additional loads or a bear canister can be carried on top. SMD attached some very long straps to the top lid for just that purpose. On my winter trips I put a 20L dry bag full of insulation up there so I didn't have to cram all my down into the main bag.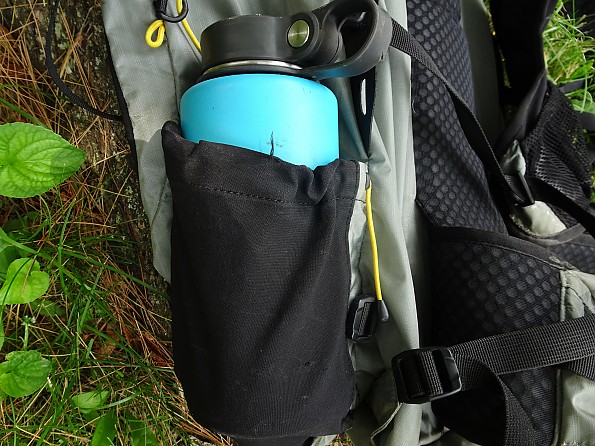 Cinch lock on the side pockets lets you adjust to smaller items securely.
In addition to the main bag there are two side pockets, both made of what SMD refers to as four-way stretch material. One is short, about 8 inches, making it perfect for a water bottle.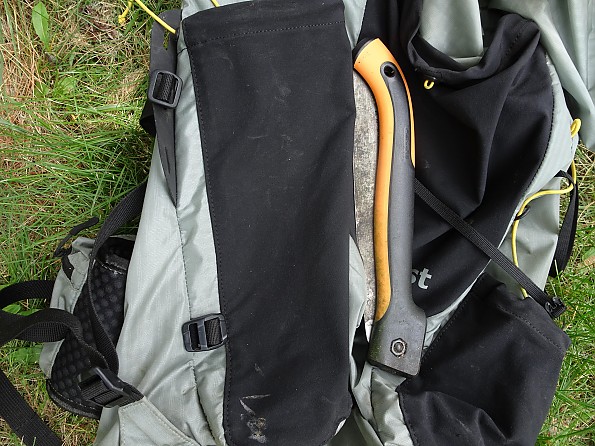 The tall pocket completely swallows my folding saw, yet I can push it out with the pack on.
The other is longer, about 14 inches, making it great for all sorts of items. I've had my trail work tools, lopper and saw, tucked in there on a few trips. It also makes a great umbrella stand, tarp stake stash, or dirty laundry holder.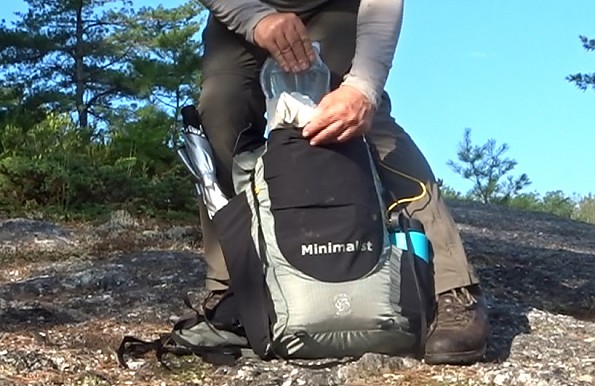 The rear pocket is also made of the same stretchy material and has a cinchable draw string at the top. It measures about 12 inches wide at the top and tapers down to about 6 six before reaching its curved bottom. Plenty of room to cram rain gear or extra layers as needed along with my sit pad and floor mat. A 3L Platy bag fit in there nicely as well.
Compression:
There are cords running down either side of the pack which can be cinched via an easy to use pull lock at the top if compression is desired. Even completely empty the pack doesn't feel floppy if I try to shake it around so I'm not sure this was even necessary, but it appears to function very well. It also works great for securing taller items carried in the side pockets which was my primary use for it.
Features & Ease of Use: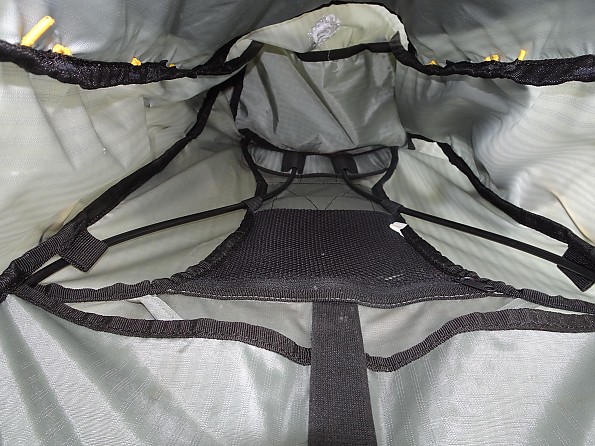 Tiny, 2-ounce stay transfers load to hips and stabilizes pack on your back or on the ground.
Starting on the inside, the Delron Hoop Stay is a small, light, plastic stick that has been bent into a sort of tennis racquet shape. The ends are tucked into pockets near the hip while the top forms a wide, rounded arc across the top of the main bag. This thing not only helps transfer load to the hips, but gives the bag something to help it hold its shape making loading/unloading easier.
    Large cinch pouch for bottle or phone plus mesh out and zipped inner pockets below.
The vest option is what drew my interest in testing the SMD Minimalist. I'd been using my Aarn Sport Pockets for years and really appreciated having access to items without having to take off my pack. The SMD vest has a lot less space, but I let that guide me to cut down on a lot of extra stuff I'd been carrying and moving some items to the main pack.
Still I had ready access to my head net in my right mesh pocket; sunscreen, chapstick, TP and cleaning wipes in the right zip pocket; while the left zip carried my glasses case, which also holds hair ties, toothpicks, a couple micro adapters, and the all important Trailspace stickers; and the left mesh held my inReach.
Beyond its carrying capacity the vest really impressed me as a way of attaching a pack to my body. Spreading out the load contact totally eliminated any shoulder soreness, even on long days or with loads in excess of the recommendation. When bushwhacking or winter hiking in deep snow that put me into the tree limbs, I really enjoyed how the pack followed my body when ducking and dodging. Even crawling under blowdowns seemed easier with such a steady load.
The thin foam inserts used in the vest panels were made with holes that were great at venting and letting air carry away moisture. As a heavy sweater I really appreciated that function. I also appreciated the cinchable pockets higher up for carrying water and snacks.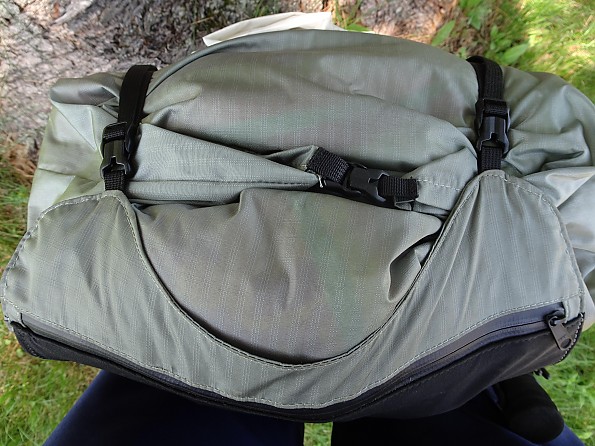 With the collar fully stuffed the lid flap didn't cover the roll top.
The lid pockets are somewhat small which limits their usefulness. The waterproof, zippered pocket was a good size to hold the bag I use to carry my map, compass, notepad, and pen. Used to hold flat items like that it worked well and was truly waterproof, but stuffing anything thicker in there, like gloves or a hat seemed to make the lid not wrap over the pack well. In fact when using the extra space of the extended collar the lid panel barely covered the top of the pack. Not something that you'd notice with a small load, but a minor issue with a full food bag inside.
I have to bring up the short, 8-inch side pocket and my happiness using it for a water bottle. Never having had a functional pocket like this on any of my packs I'd been carrying my water bottles in my Sport Pockets for years. I was a bit shocked to find that not only could I pull my GSI Microlite 1000 out and take a drink, but I could actually put it back into the pocket! Not sure if this pocket is magical or just in the right place for my arms. All I can say is that it worked for me like nothing else has before.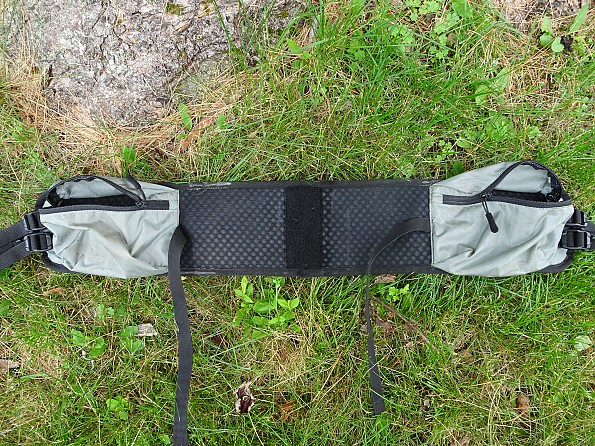 More of the open mesh and foam line the belt. Great for moving moisture away.
Almost forgot to mention the hip belt because it does its job without much fanfare. Again SMD used the padding with open holes encased in a mesh that combine to allow for easy air and moisture flow. It has a natural shape for wrapping around hips and the double belted inward pulling straps were easy to get the right tightness without over cinching.
The large and well positioned hip pockets were a nice bonus. They have a good amount of space and are easily accessed while in motion, making them great for a phone, small camera, or snacks. The black straps you see hanging down attach to the base of the pack bag. This adds a lot of stability and helps transfer load to the hips well.
Construction & Durability:
The bag itself is made of nylon robic with the side panels a thicker 110D helping to give the main bag a rectangular shape. The pockets on the sides and back are made from what SMD calls four-way stretch. The Six Moon Designs Minimalist is well put together from solid materials that have held up very well for me. Stitching is even and remains tight throughout. I found one loose thread hanging inside the zippered waterproof pocket to be the only exception which is pretty darn good I'd say.
All hardware, pockets, and attachment points have remained solid. There are a few minor stains from being tossed in the dirt or leaned against a tree, but no care was taken to avoid such...heh. Winter use with snowshoes strapped to the pack at times as well as pushing through the tree limbs with the shoes on my feet in deep snow left no holes or snag marks in the bag or pocket materials.
A quick note about water resistance here to say that there isn't much. Using a pack liner would be highly recommended, especially if you are the sweaty sort. As one of those sorts I found that on long hot days sweat would soak through the bag so anything that needed to be kept dry was safely tucked inside the liner.
Overview Video:
Testing Conditions:
I began testing the Six Moon Designs Minimalist as soon as I received it in late January. Initially I used it for local snowshoeing day trips as I got a feel for the pack. Then I took it to the mountains for multi-night snow camping and climbing. Three-season testing included lots of day hiking, a Bay of Fundy trip, and from Canada to Stark on the Cohos Trail in New Hampshire. Total pack miles are about 350 miles with almost all done with frame and hip belt in use. Some limited testing was done with one or both removed, but my primary focus was on using the entire system.
Conclusions:
I found the SMD Minimalist to be very functional. It remained stable and comfortable with a variety of loads. Living up to its name it provided what was needed to get the job done well without a lot of added clutter or weight, coming in at about 37 ounces as tested.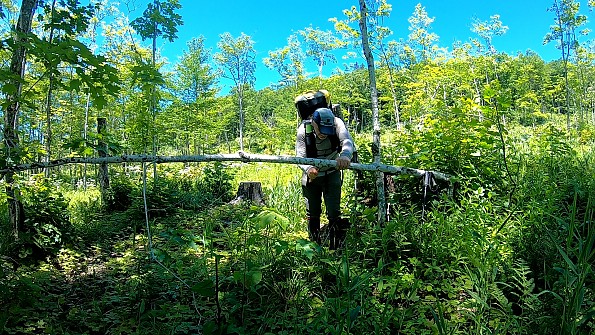 I was able to reach the saw and take care of business. No need to drop the pack.
Despite all of the visible features, it is the invisible comfort factor that impressed me most. The vest held the bag in place with amazing stability. All manner of contortion was possible when bushwhacking or dealing with low duck unders. I was able to do trail work while carrying a 35lb, Daddy Pack load, bending over to slash growth as we walked. This pack often made me forget it was there, even on long days on the Cohos.
Part of the credit goes to the fitting system I'm sure and would likely translate to the standard shoulder harness. Still, I credit the vest for spreading out the load contact so there was never any shoulder or neck pain, even when over loading the pack.
I took full advantage of the storage space on the vest and hip belt. Having access to the things you need on trail without having to take off the pack is something I've long appreciated. The shoulder pouch pockets are large enough to hold a phone or pint bottle. The mesh outer and zipped inner pockets on the vest don't add a lot of space, but let me create an organized system for what I needed on trail.
For an ultra light backpack the Minimalist is on the large end in terms of volume. While removing the frame and/or hip belt drops a few ounces it also reduces the recommended load by 10lbs. It certainly remains functional with those items removed if you keep the load light, but there is a lot of empty bag space as the smaller load doesn't need that much room. When testing it like that I instinctively felt I should be using something smaller like my Cotopaxi Luzon 18. For someone with just one bag, being able to remove the frame and belt does give you more options.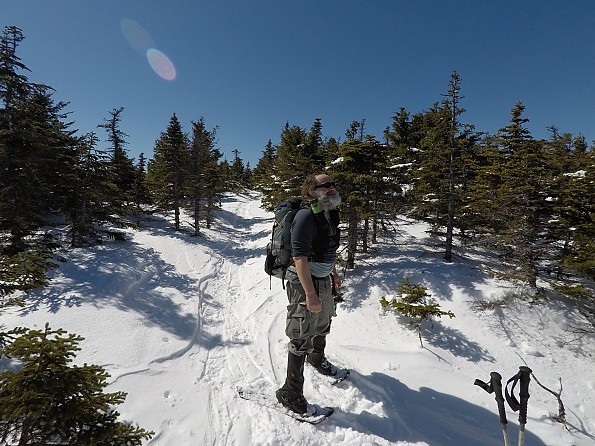 West Baldpate winter wonderland.
On the other end of the volume scale, I was pleasantly surprised to find that I was able to use the Minimalist pack for multi-night outings during the Maine winter season. The ability to strap a dry bag on top let me go beyond the 48L limit of the main bag. With the stable, comfortable ride this pack was a real joy when snowshoeing up a mountain in deep snow. The many tie out points on the back really came in handy for attaching snowshoes securely too.
One last positive feature to mention would be the double layered rectangular bottom of the pack bag. This helps give the bag some extra abrasion protection, but also helps the bag keep its shape. I found that even fully loaded the Minimalist would stand up on its own. Nice to have the pack stay where I put it rather than falling over into the mud.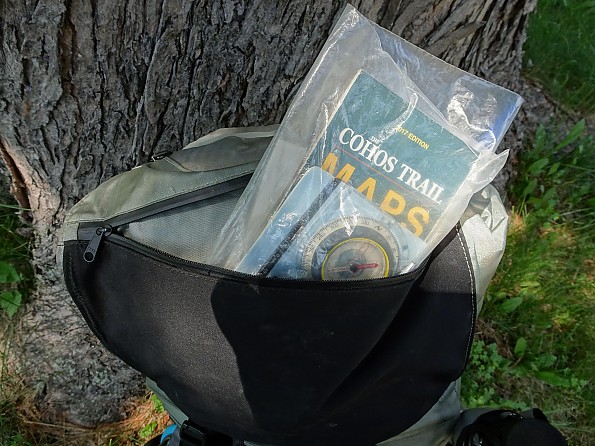 Using the bag's collar space compressed the lid pockets making them best for flat objects.
There were two negative points that stuck out for me related to the top of the pack. The pockets there are very flat to begin with. If the main bag is loaded, filling the top collar, the lid flap is compressed to the point of being almost useless. I was able to keep my map/compass/notepad bag in there, but nothing else.
The other issue was related to the long straps that attach to the lid and allow you to carry a bear canister or other gear on top. When not in use there is a very long tail of strap hanging down. When this long strap is extended to hold a load there is a long traverse between attachment points. Depending on what you have on top there was danger of load shift or loss. Adding an attachment point in the middle, nearer the top load, might help with that.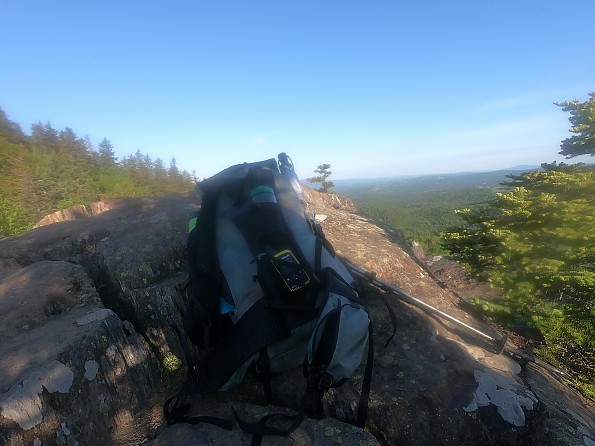 The safe part of Table Rock on the Cohos. Didn't want to risk losing the pack on the pointy end.
Over all I was really happy I had the chance to test out the Six Moon Designs Minimalist. It changed my mind about what an internal frame pack was capable of as it handled overloading very well. The vest harness and belt have spoiled me with the comfortable ride. I've never hiked day after day without some load bearing body part feeling friction or pain like I have with this pack. While it is great for an overnight trip, this pack is built for longer distance use. It has just the right amount of space to carry a moderately geared thru hikers load plus a 10L food bag. Serious UL hikers probably won't need all that space, but they'll still appreciate the comfort and can always use the extra room to carry a watermelon.
Experience
I tested the SMD Minimalist for six months starting at the end of January. It was used for multi-night winter camping and climbing in Maine, as Daddy Pack for a couple of family trips on the Cohos Trail in New Hampshire, and as a distance pack hiking about 100 miles of the Cohos from Canada to Stark. Total pack miles including day hikes and snowshoeing are about 350.
Source: received for testing via the Trailspace Review Corps (Sample for testing and review provided by Six Moon Designs)

Your Review
You May Like
Specs
| | |
| --- | --- |
| Price | MSRP: $205.00 |
| Base Weight | 12 lb / 5.5 kg |
| Maximum Load | 35 lb / 15.88 kg |
| Capacity | 3300 cu in / 54 L |
| Dimensions | 11 x 7 x 22 in |
| Torso Sizes | 16-22 in / 38-56 cm |
Recently on Trailspace