Seek Outside Unaweep 6300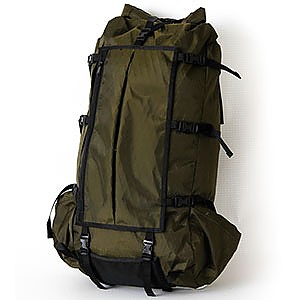 This bag is designed as a load hauler for backcountry big game hunting, so large, heavy loads are not an issue. Made to be comfortable with 100 lbs or more, smaller loads ride very well on or off trail. Great for cold weather gear, expedition style multi-week food bags, and can be used to carry hard to pack loads outside the bag.
Pros
Comfortable with or without heavy loads
Follows torso without restricting motion
Well constructed with strong even stitching
Durable
Cons
Pricey
Single compartment style not for everyone
Note:
Seek Outside is constantly updating their product lines, adding and removing features as they react to customer input. This review is for a pack I had made to order back in December 2015. They have since discontinued the Mini Lid and changed some of the strap and belt hardware. The basics of the frame, pack bag and harness remain, so keep in mind that the current model is not identical, but should preform similarly under the same conditions.
Known for both their backpacks and their line of tipi shelters designed to incorporate wood stoves, Seek Outside has been a favorite of serious backcountry hunters for years. They build their products in Grand Junction, Colorado, and much of it is made to order.
I'd hesitate to call them a cottage builder due to their size, but they seem to have a bit of that mentality for good and bad; They do what they do and will customize within limits, but they set the limits heh. I spoke to someone on the phone and via email prior to making my order and felt well taken care of throughout the purchase process.
Specs:
78L/6300ci main bag
1000ci Talon
3lb 13oz listed weight using Expedition Olive material pack and Talon only
The Unaweep 6300 is all about load, so lets start with a look at the single compartment pack bag. Seek Outside lists it as 78L with a 44" circumference and a maximum closed height of 37". Since the total bag height is only 39" you may not want to use the full height in wet country where an extra roll of the top may be in order.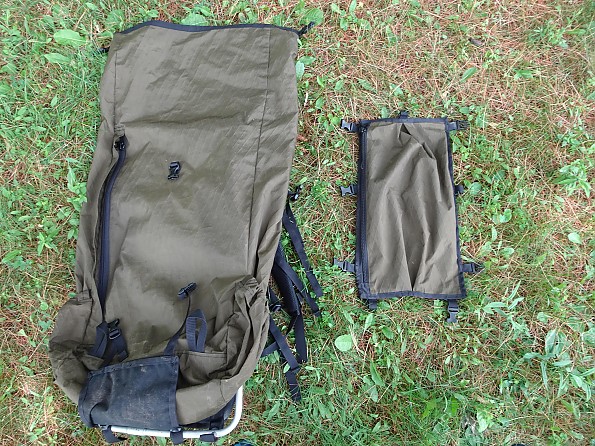 More capacity is added via a flat pouch called a Talon which combined with straps comprises the compression system for the Unaweep pack. They tout the Talon as adding roughly 1000 cubic inches of capacity, though function is somewhat limited by the thin profile of the pouch. I can fit a 3L Platy bag in there, though usually I carry my tarp stakes and some extra line.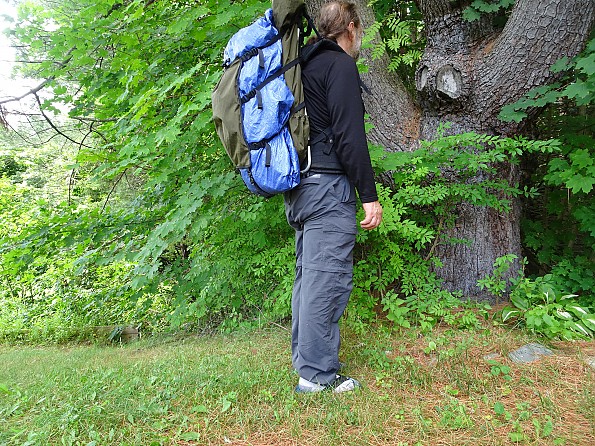 When you need to carry odd shaped or extra large loads the pack bag can be flattened and the Talon compression system used to hold things in place. This is often how hunters will carry out meat they have harvested.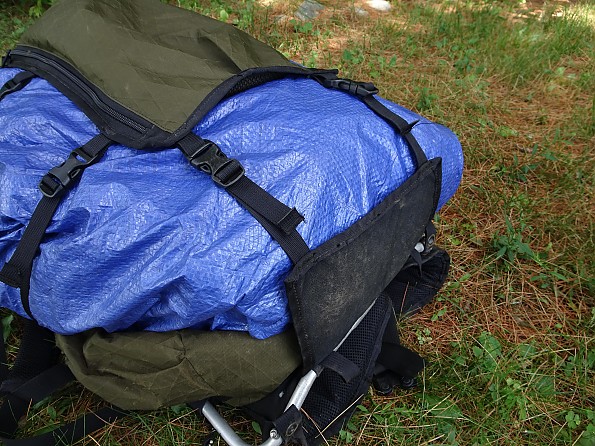 The small shelf at the base of the pack bag works with the compression straps to create a bit of a base for items to rest on. If needed, an actual hard shelf could be placed on top to create a larger area of support.
Using this system, capacity is mostly limited by your creativity and your strength. I've seen pictures of folks with large portions of an animal on their back and heard of one claim of 140 pounds of meat in one go.
Ride and Comfort: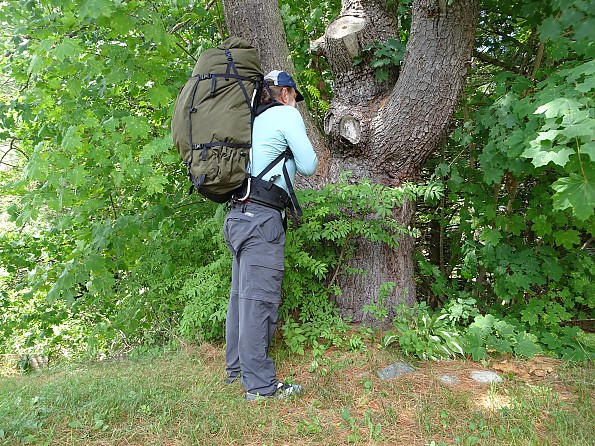 To me, these two qualities go hand in hand and I found the Unaweep design to really excel in these areas. In order to carry large, heavy loads the harness needs to feel good while doing its job of keeping the weight where it needs to be. Thoughtful packing also helps, but the articulated frame and well placed lifters keep the top of the load close to the spine.
The bag's position higher up on the frame allows the belt to work with the frame's bottom bar to transfer weight directly to the hips. Combined these two qualities keep loads of all sizes feeling like they move with the body rather than against it.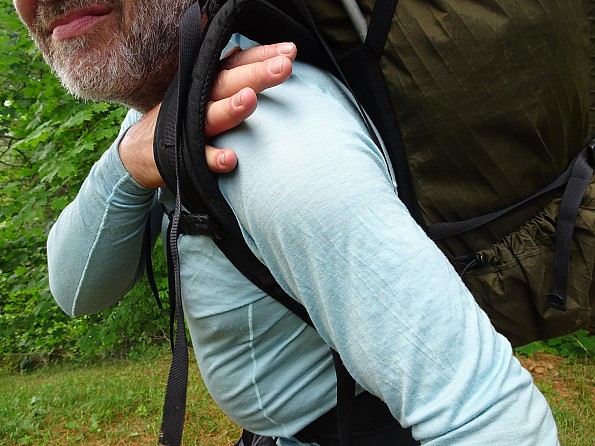 Both the hip and shoulder padding is lined with an open, breathable mesh that lets the foam inside dry surprisingly fast when the pack comes off. I've set up the pack to ride high, slightly off the top of the shoulders, when lightly loaded.
The effect is exaggerated in the photo above for demonstration purposes, but the goal is to hold the pack in place with just the strap covering the front of the shoulder. This lets a lot of air circulate around the entire upper shoulder and neck area.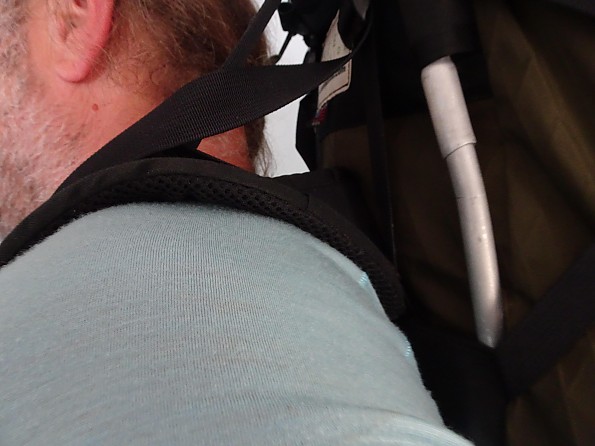 Under a heavier load the pack pulls the straps down and distributes the load nicely across the entire shoulder area. There is still room for ventilation, just a bit more shoulder is covered. Again you can see how the top of the frame works with the lifters to pull the top of the load close to the spine.


Compression:
The flat Talon does a great job of holding unused pack capacity in check. I've used the pack completely empty as a means of hanging my Aarn Sport Balance Pockets for day hikes and the compression system wrapped that big bag tightly to my back. The buckles are the weak point for those wanting to really cinch down a load and Seek Outside has resolved that by changing the hardware from the plastic clips found on my pack to a new Gatekeeper model with examples found at that link. The new version would allow you to pull harder on a strap without fear of breaking the plastic buckle.
Organization and Accessibility:
With one giant compartment, organization is a do it yourself project in this pack. If you are the sort who needs a pocket for each item to keep things in order you'll probably need a lot of stuff sacks. Being used to having a system that relied on pockets it took me a while to adjust to this style, but I have come to like the flexibility it provides for each trip's load. Winter or summer gear, day hiking or with food for two weeks, I can use the space how it works best without the restrictions compartments create.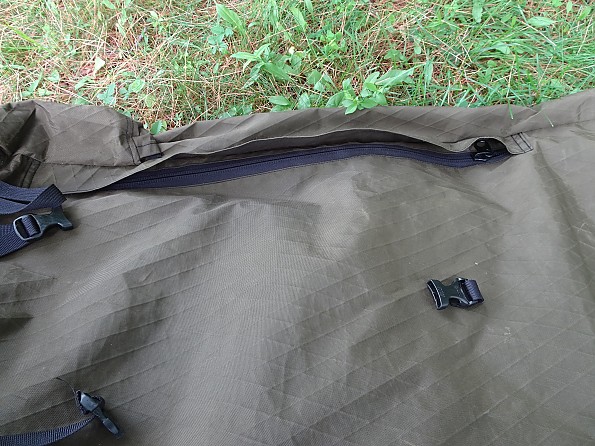 Primary access is through the giant, 44" circumference, roll top opening. When I ordered my pack back in 2015 Seek Outside offered a vertical zipper for easy access and it seemed a good idea at the time. It does allow me quick access to my sleep gear stowed in the bottom of the pack, but also allows water inside during heavy rain. I do believe they no longer offer this option as I don't see it on the order form any longer. As I mentioned, they change things that don't make sense and I think this was one of them.
Features:

Lots to see in just this one picture. Starting in the center is the lifting handle which is sewn directly to the pack before passing though to become the top of the harness adjustment system. The buckles and straps allow you to raise or lower the shoulder harness in relation to the frame. This helps adjust for torso length, but also lets you adjust where the pack rides on your back.
The outer straps are the lifters which are connected to the shoulder straps and bag in a way that lets them do their job very well. The top connection is right over the sleeve that contains the top cross bar of the frame and tension there pulls the entire top of the pack forward.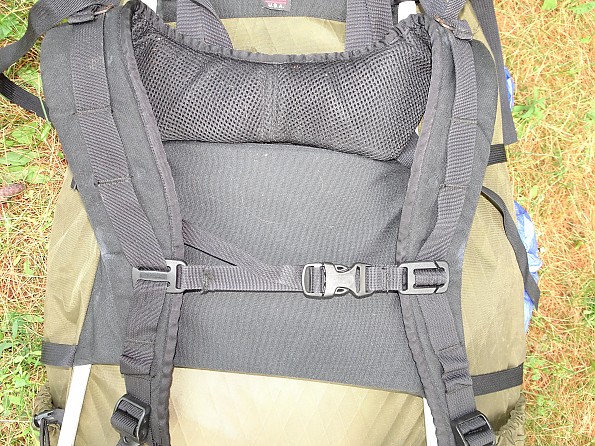 Moving down a bit you can see the padded yoke covered in the open mesh I described earlier. Also note the adjustable height chest strap and the sewn loops on the shoulder straps which make great attachment points. The large black area in the back is a lightly padded back rest that is stretched across the frame. This creates some space between back and bag and creates less friction than the bag material keeping you from putting holes in your shirt or your back.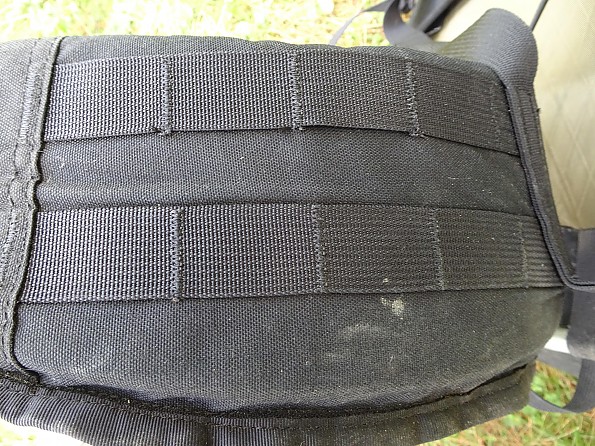 The wide, padded hip girdle has two rows of sewn loops for attaching gear. I have created some belts with snaps to hold my Balance Pockets in place when I need them locked down and can rig the traces from my pulk to connect there in Winter if I want to. The girdle itself rides great on top of the hip bumps and even under heavy load distributes the pressure rather than digging into the flesh.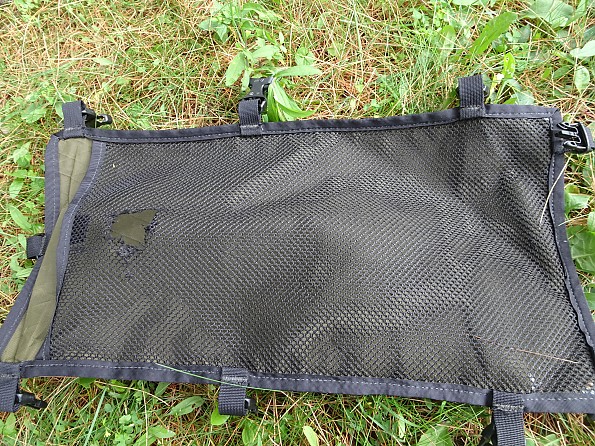 The back side of the Talon has an open topped mesh pouch. You can see some mouse damage there from a night when I forgot to move my garbage bag to my food bag. This is a nice idea, but would be nicer if the Talon could be mounted on the pack with the mesh exposed, letting you better use it to dry small items while hiking. Still, I find it a nice spot to carry my garbage.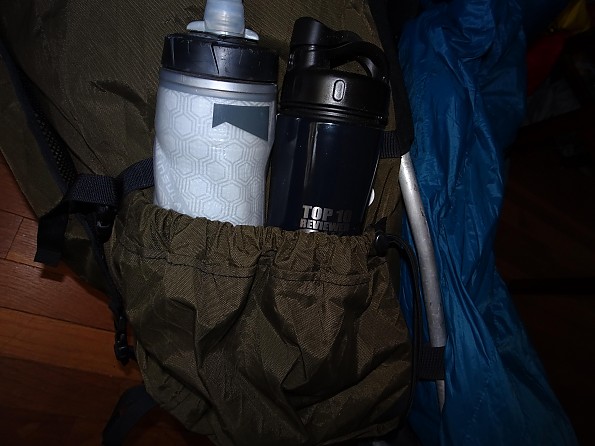 The two small side pockets are not really that small. In winter I stuff my Hillsound Trail Crampons in one for easy access. Here you can see there is more than enough room for two water bottles. The cinch cord at the top combined with the compression straps above allow the pockets to hold taller items like poles, rolled up sleeping pads or tents.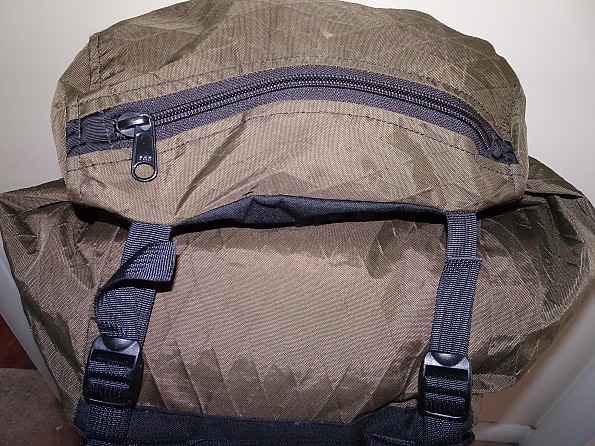 The Multi Lid ($60 add on) seems to have been discontinued, but it had semi-permanent attachments at the top of the frame and used two of the Talon compression straps to connect on the other side. It provided a nice area for small things and had two zippered inner pouches great for holding key and wallets. Its location and completely exposed zipper unfortunately meant it soaked up water in a downpour.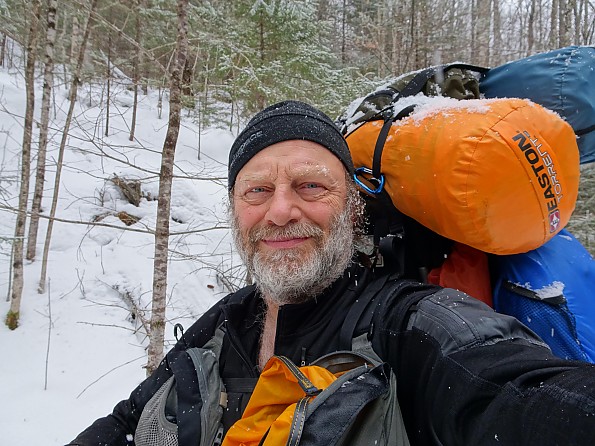 The strap design didn't lend itself well to using it to hold gear on top of the pack, but it could be managed. Here only the tent is riding under the lid with the sleeping pad and snowshoe bag actually strapped onto the tent bag with some of my DIY straps. You can also see the Aarn Balance Pockets hanging on the shoulder straps.
Construction and Durability: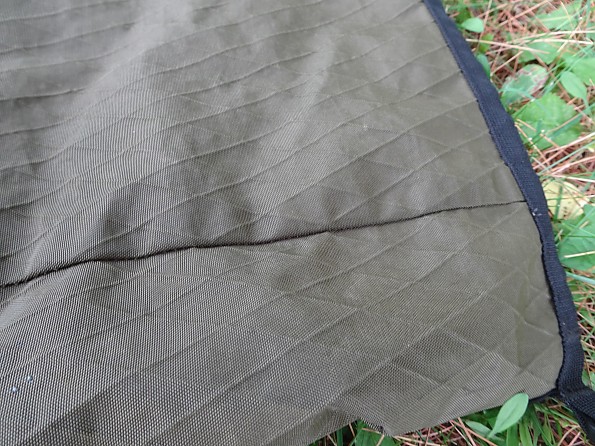 My pack was ordered with the Expedition Olive material which Seek Outside lists as a 420 denier plain weave with a 200 psi PET laminate. In this picture you can see the heavy duty bag material has held up to abuse very well. The stitching is uniform throughout the bag though it is a somewhat open seam. They suggest an external application of Aquaseal for those wanting a completely waterproof bag.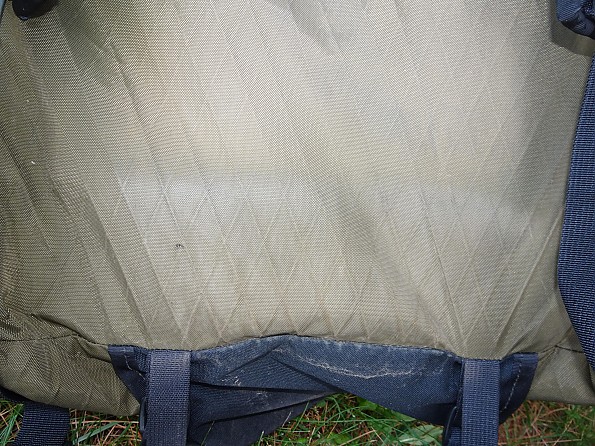 With the hip belt flipped down you can see the lighter area below where the material was protected contrasting with the darker area above which has been soaked in sweat on many occasions. There don't appear to be any friction areas or signs of material degradation other than the discoloring.
Testing Conditions: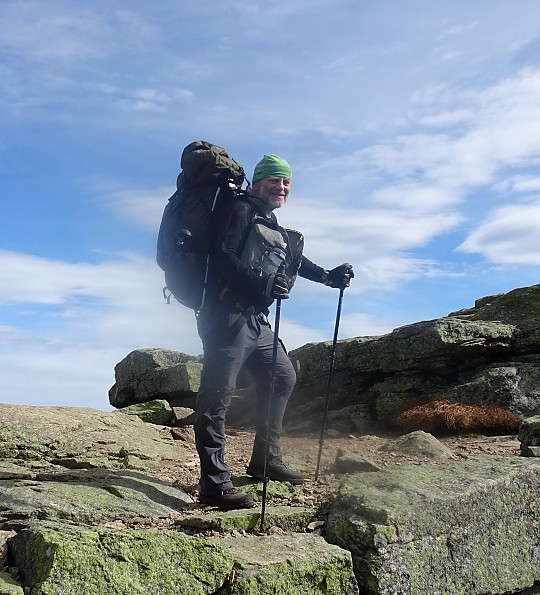 The Seek Outside Unaweep 6300 has been used heavily over the last 18 months or so. It has seen peaks and bogs deep in the mountains of Maine and New Hampshire as a three-season pack. It also has been used as a winter backpacking bag for outings in both states. Family trips and an ill fated expedition test last year have pushed the weight load a well over 60 pounds on trail and I have tested loads over 75 pounds locally for a few hours at a time.
Conclusions:
It didn't take long at all for this to become my favorite pack. The idea of being comfortable while carrying a heavy load never seemed realistic before, but now I expect it. More weight seems to just push the load down into the hips where it is meant to be carried. With the shoulder straps properly adjusted I'm able to bushwhack and navigate blowdowns without the load pulling me over when I have to bend or twist. The straps and the articulated frame do an amazing job of keeping the forces of the load under control.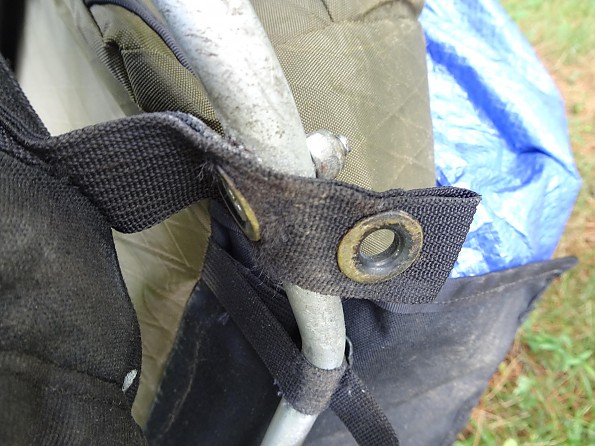 One design feature that really seemed to make this work for me was the way the hip belt was attached to the base of the frame. This direct connection allows for a bit of custom adjustment by moving to the other grommet and really seems to transfer the weight to the hip belt well when you get it in the right spot for your body.
The bag has not proven to be as waterproof as I'd hoped, though I admit I haven't seam sealed despite buying the Aquaseal some time ago. Heavy rains have managed to get some water in a few times, through the zipper I am pretty sure. I use a contractor bag to avoid having any issues if I expect rain and sometimes when I'm just feeling paranoid. The pack material itself sheds water pretty well so a cover isn't really need to prevent it from getting soaked and taking on weight.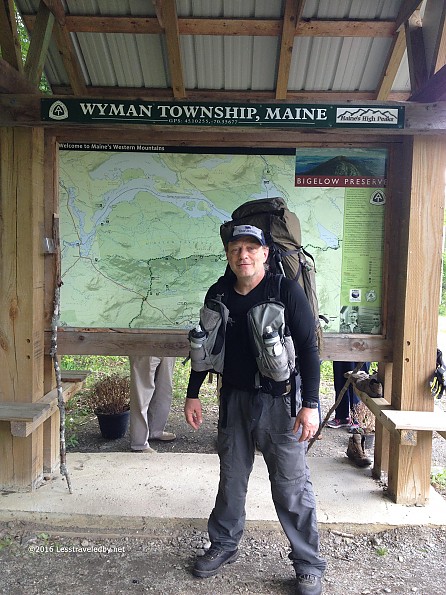 Last year I decided to do some testing of the Unaweep, and myself, by setting out with 15 days of food to see how far I could get before I ran out. The full pack including 2L of water weighed 57lbs when I got out of the car and almost tore off my shoulder the first time I tossed it up. Despite some serious climbs up to Horn Pond from the highway via the AT that heavy pack rode just fine that first day and continued to get better each day as I ate my way through the food while working my way north. My leg about fell off on day five putting an end to my test a few days later, but that was related to heat and dehydration, not the pack.
I am sorry to see the top lid has disappeared. I didn't like the design of the one I have, but would have liked to see them improve it rather than remove it. Better straps and a waterproof closure would have made it more useful and a little more room might have been nice as well.
Overall I have been happy with my purchase of the Unaweep and feel comfortable recommending this or the other Seek Outside packs based on the construction and design of the 6300. If they made this beast as well as they did I assume they apply that same thought and care to their other packs.
While a bit of an investment, the payoff comes on trail. I've had almost no neck or back stiffness due to exertion because I'm able to carry loads in a natural position and stance. Hearing the guys complain about stiff necks on a trip last week reminded me of what I've been missing. Not beating myself up on trail allows me to stay out longer and have more fun while I'm there so I feel the money was well spent despite my cheap nature.
Source: bought it new
Price Paid: $439 base pack plus $75 for custom features

Your Review
Where to Buy
Help support this site by making your next gear purchase through one of the links above. Click a link, buy what you need, and the seller will contribute a portion of the purchase price to support Trailspace's independent gear reviews.
You May Like
Specs
Price
MSRP: $429.00
Reviewers Paid: $429.00

Main Bag Volume
4800 cu in / 78 L

Talon Volume
800 - 1200 cu in

Weight
3lbs - 3lb 8 oz

Torso Range 26
16 - 21 in

Access
Top Loading Roll Top, Talons for quick access

Recently on Trailspace