LoneStranger
TOP 10 REVIEWER
REVIEW CORPS
11,539 reviewer rep | 1,729 forum posts
2:27 p.m. on August 2, 2016 (EDT)
This trip was supposed to last two weeks, but was cut short due to injury. Despite that I'd still say it was one of the best times I've ever had on trail. This trip was planned as an experiment in expedition packing with supplies to remain on trail the entire time. The sense of freedom stepping off the highway knowing I had what I needed to live out there for weeks was amazing.
Long version with 35 pics can be found here:
https://lesstraveledby.net/2016/07/29/strattoncaratunk-via-the-at-june-2016/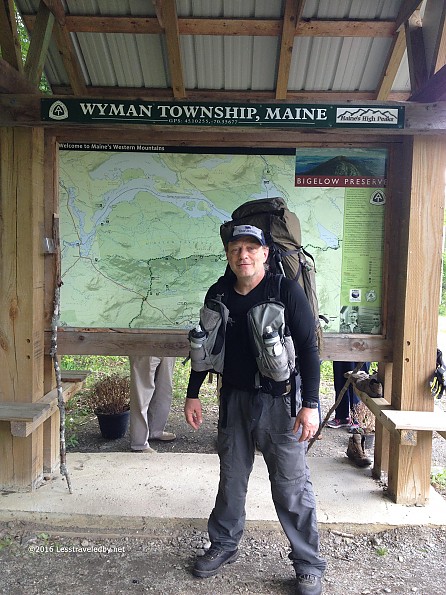 Starting out from Rt 27 with a pack that weighed 57lbs wet when we left home. One of those Aarn Balance Pockets has a turkey roll-up left over from lunch so technically I'm packing a little more in this shot. The Unaweep was an investment that has really paid off as that load rode comfortably the entire time I was out despite some serious terrain.

This was an "easy" section of the trail before turning onto the ridge trail that leads up to Horn Pond. Later there would be some hand to hand combat with some wet and vertical rock sections that someone confused with the trail and blazed.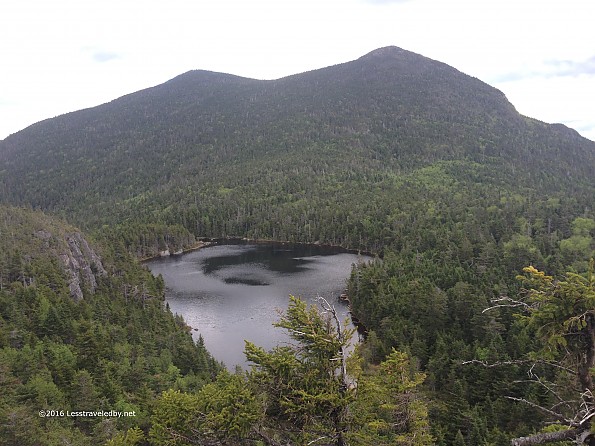 Hard not to feel like it was worth the effort when you see this in front of you. There is a nice, free, but hosted camping area down there on the shore to the right.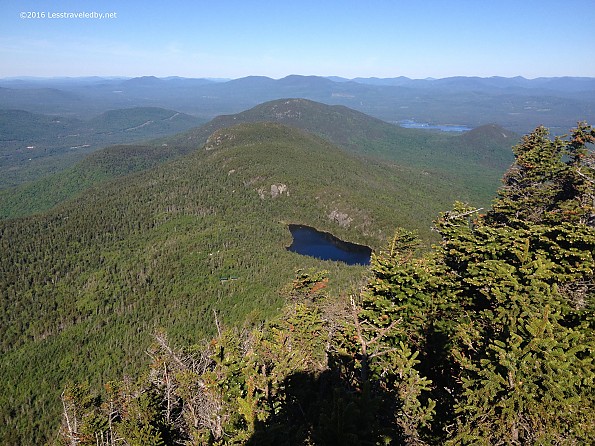 Morning of the second day looking back towards the pond after climbing the first peak of the day. If you look very closely you can see the two LTs down there in the camping area.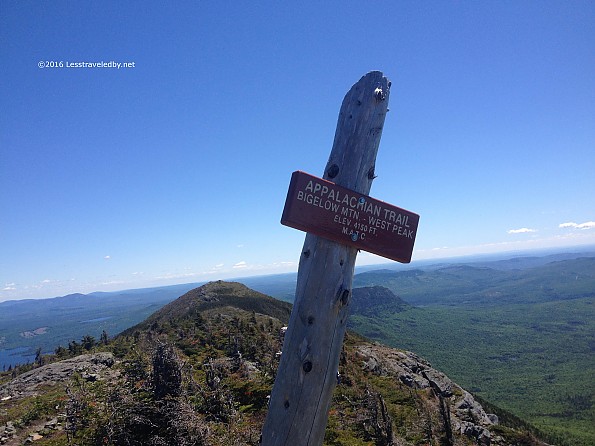 This day was a series of peak climbs with a several hundred foot descent between each on some pretty rugged terrain. Hot and muggy weather didn't help, but thankfully there was enough water in the col spring to refill my bottles.

Safford Notch tent area was just my sort of spot. Well down a side trail from the AT it had a nicely maintained privy and a couple of tent platforms that had seen better days. I had this place all to myself and enjoyed it knowing the next few days I'd be camping in more populated spots.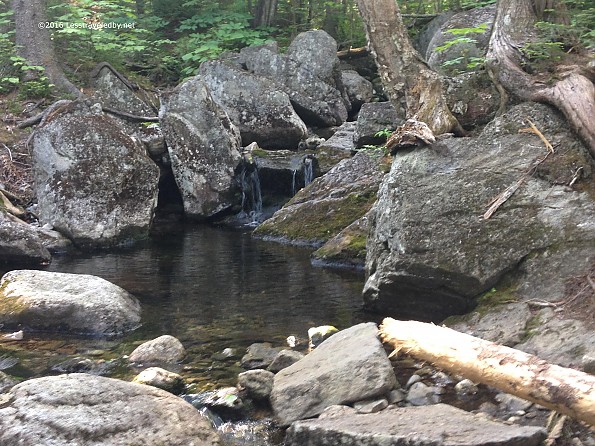 Cold water on a hot day is a wonderful thing. This brook was right near the Little Bigelow shelter and makes a great soaking spot though I was more focused on drinking it.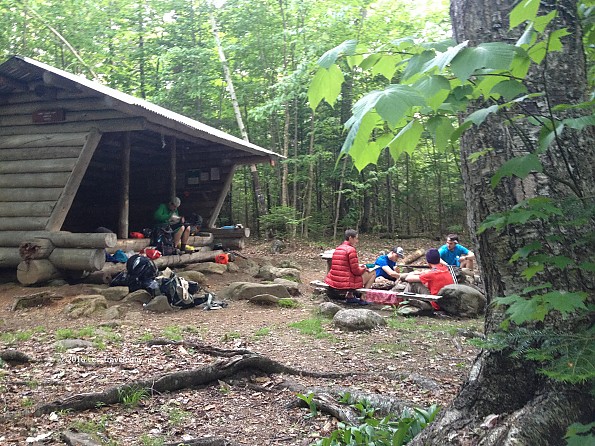 Day four was another hot steamy affair that was spent mostly climbing over one giant hill that somehow was called a mountain despite having neither top nor view. I pulled into West Carry Pond shelter hot and thirsty mid afternoon and again opted to spend the rest of the day soaking up water rather than hiking on. I'm a steam engine and it is a real effort to keep the tanks wet when its close to 90°f and humid.
As you can see from the puffy jackets on some of the SOBO thru hikers not everyone thought it was hot. I noticed that some others at a previous shelter had lit a breakfast fire on a 70°f morning. Good thing those folks visit in the Summer because I'm pretty sure Winter up here would be too much to handle.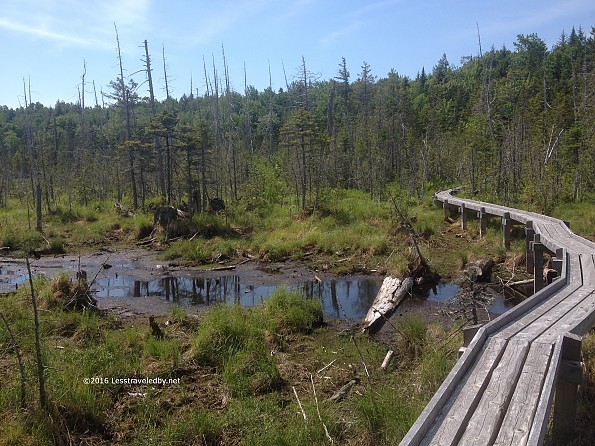 The next day being the hottest yet I got an early start on what looked to be a relatively easy 10 mile day. MATC has done some amazing work bridging some of the bogs. I met a crew getting ready to build some more that morning.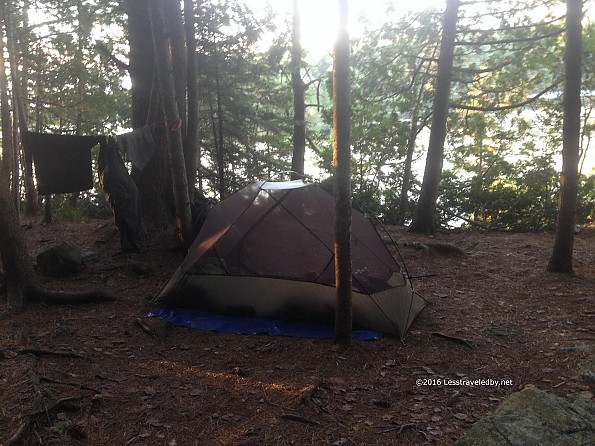 Somewhere on the way to Pierce Pond my hip did something I'm pretty sure its not supposed to do. Sort of felt like the leg wanted to fall off, but then decided not to. I kept walking and there was no pain, but something didn't feel quite right that night.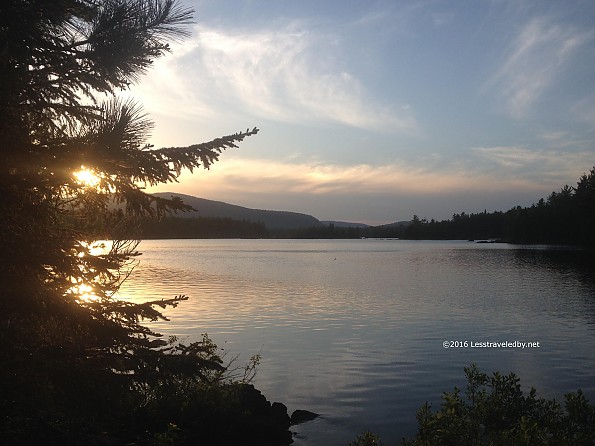 Since I was in such a beautiful spot I figured I'd spend a zero day there and see if my leg felt better. With only a few people stopping in for lunch and no one camped there the second night but me I really enjoyed some relaxation and a LOT of food.
The next day I started out thinking I might be good to go, but on the 4 mile hike to the canoe ferry across the Kennebec the hip still didn't feel right and I decided to pull the plug. I didn't want someone to have to carry me off the next mountain if my leg did actually fall off.
So it was a bummer to not get to keep going, but the week I did have out there was fantastic. The load was getting lighter each day and the food plan worked really well. I am normally ravenous after 5 or 6 days, but after a week I was feeling pretty normal and only had one burger at Northern Outfitters while I waited for my ride.
I also really enjoyed meeting the shiny, happy SOBO thru hikers. Most of them were friendly and obviously having a good time. The AMC is promoting alternatives to the traditional NOBO hike to spread out the crowds and it is definitely having an impact. They are going to have to think about expanding the early season ferry hours next year I think, as the numbers will only grow.
Hope you folks are getting out there!! I know I've been on a few trips since this one and am about ready to leave on another once I figure out where to go :)