Aarn Sport Balance Pockets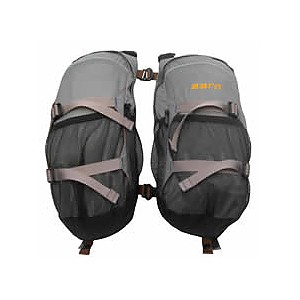 Designed to be used as part of an Aarn Bodypack these versatile front bags have proven to work pretty well with other backpacks too. The balancing benefits of carrying a small amount of weight in the front are quite noticeable, especially with heavier loads in back. Easy access to water bottles, snacks, camera gear, and other items you need to use often on trail are a great fringe benefit.
Pros
Balancing effect increases comfort and safety
Includes inner dry bag
Easy access in line of sight
Pretty rugged
Cons
No longer sold in U.S., requiring international ordering
May need to create your own rigging
Freaks out judgy people on trail, though that can be fun sometimes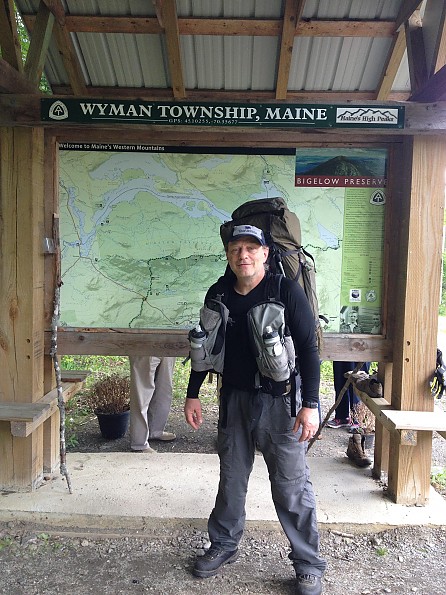 Aarn is a New Zealand based company that has been making a system they call a Bodypack in various forms for almost two decades. The man behind the designs, Aarn Tate has been focused on creating packs with an eye on balance since the '70s. One of the keys to his designs is the use of a small bag or bags carried on the front with enough weight to counter balance the load carried on the back.
I purchased a set of their Sport Balance Pockets in March 2015 and was soon able to figure out how to attach them to both my Osprey and Kelty packs. My application is not true to the intended design so please keep that in mind, but even used improperly I've been quite happy with these bags.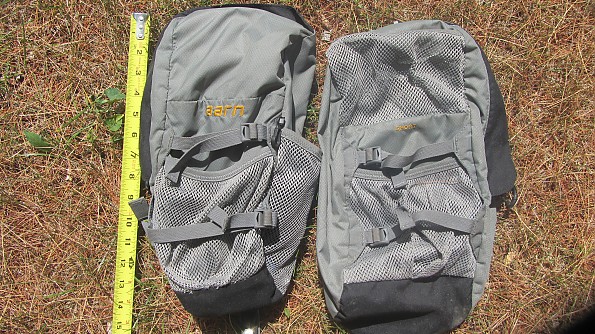 Construction & Durability:
These bags were clearly designed with function in mind, but also an eye towards durability. A wide variety of materials were employed including 500D Cordura, 210D, 100D x 70D and 40D ripstop nylon giving the bag chance to hold up to real world abuse.
The bags each have two outer mesh pockets with current models looking similar to the one on the right above in terms of positioning. The double straps provide great support for water bottles to prevent them from bouncing around with each step.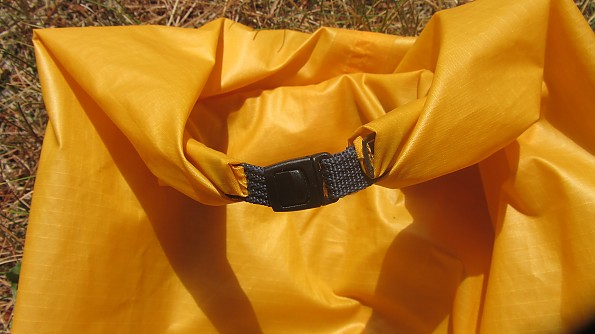 Inside each bag is a removable dry sack complete with roll top closure. The outer bag can completely wet out in an extended downpour while your electronics and snacks stay safe and dry. These bags are surprisingly tough and have endured any load I've thrown at them without a sign of stress let alone failure. I've carried my knife, multiple cameras at once and some very large bags of crushed up Doritos on various trips and despite the occasional frenzied hunt for a cheese stick I've never poked any holes in them.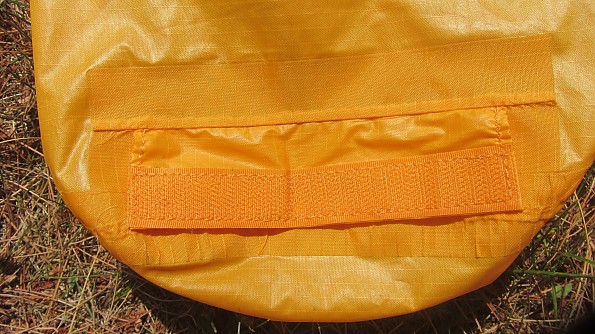 The bottom exterior of the inner bags has a wide Velcro type fastener on a somewhat stiff band. This mates easily with a corresponding strip on the inside of the outer bag. Once attached it keeps the two securely connected. This feature really helps when you need to pull something from the bottom of the bag.

Capacity:

These bags were listed having a 12L combined capacity but I've never put anywhere near that sort of volume in them. They hold more than you'd want to carry in them is how I'd describe it. Even when not carrying water bottles in them I prefer to avoid over stuffing them to avoid feeling encumbered. Generally I try to keep the weight carried in front to no more than a few pounds unless I'm carrying a very heavy pack on my back, so space has never been an issue.

Comfort:

Admittedly I am not using these pockets as designed so I can't give a true assessment of how they work when used as part of a Bodypack system. What I can tell you about is my experience attaching them to a variety of packs, both internal and external framed.
Each of my packs benefited from the balancing effect of attaching the Sport Balance Pockets. Even with lighter loads in back, but especially with heavier loads, there was a noticeable sense of standing more upright. There was less stress on my shoulders where pack yokes often pull backwards leaving soreness. I also felt more confident on exposed rocky sections as loads seemed to move with me rather than need to be dragged along.

There is definitely some blocking of airflow as I use these bags. From their website I gather that the complete system allows the bags to hang away from the body more which they claim helps. I have found that I still have plenty of exposed chest area for my cooling shirt to do its thing so haven't found this to be a problem for myself.

Features: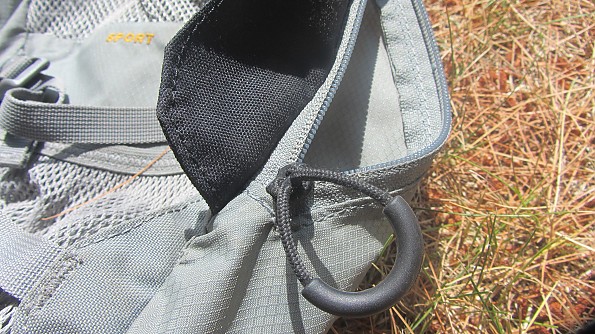 Here you can see a couple of things that make a big difference on trail. Note that giant finger pull on the zipper. You can use this thing even with a moderate glove on because it is made to stay open, waiting for you to grab it. It also balances the tension on the zipper nicely allowing you to grab it from a variety of angles.

You can also see the large, black storm flap, here in the folded back position. When folded back it allows easy access and stays out of the way. If the rain gets serious you can flip it over the zipper and it does a great job of keeping water from coming through that way.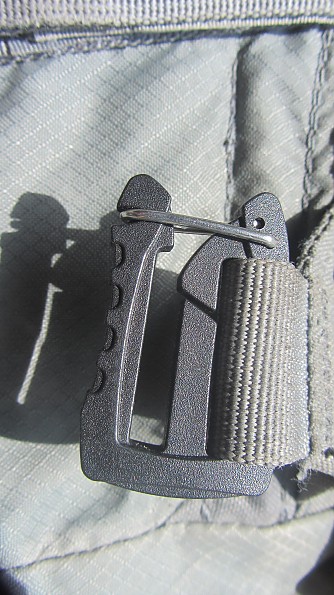 This buckle design is another area where they really put some thought into making something for use on trail. Simple, easy to use, hard to break—this thing is found at the top of the metal stay that runs the length of the back of the pack. Meant to clip into the Bodypack harness I have found that most of my packs have a nice spot to clip to on their shoulder straps.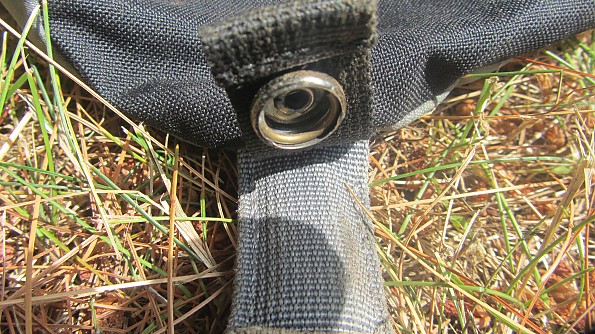 At the bottom of the bag there is a snap meant to attach to the Bodypack belt which I have taken advantage of at times. Depending on trail conditions I will either leave the bag hanging loose for better air flow or attach it to the belt of my pack when doing ledges or climbs where I don't want the bags moving around.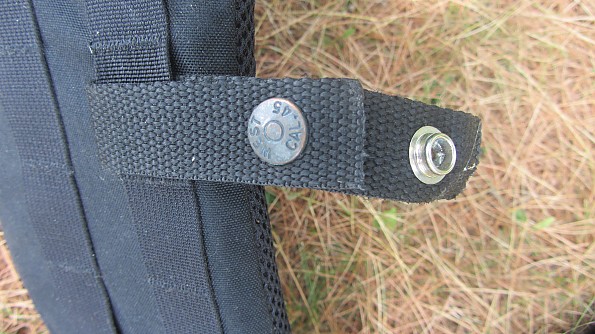 A quick trip to the fabric store and I put together a couple of straps like this which I can attach to any of my packs. Once installed it gives me a spot to snap the bottom of the bag to my belt to keep it secured. Again, this is off-book use, but it works for me.

Test Conditions:

These bags have seen four season use since March of last year. Sub-zero winter trips in the Pemi to hot sweaty summer Baxter adventures with a fair bit of rain and snow along the way.

The fact that I like these bags so much even though I'm using them wrong makes me really curious about just how good an entire Aarn Bodypack system would be. They were high on my list last year when I was shopping for a new bag, but the load handling ability of the Seek Outside system won out in the end. As you can see from the picture above I've put the Sport Balance Pockets on the Unaweep to help balance out my winter pack in order to enjoy the best of both worlds.

When I first started using these bags I was really happy about having access to my cameras and my snacks without having to take off my pack. The number of pictures I took skyrocketed and easy access meant I was eating better throughout the day. Since then I've traveled some really rocky, exposed sections of trail and noticed how much more confident I felt in those situations. The small amount of weight in front really gave me a much better sense of balance. That is also really nice when rock hopping water crossings, especially the ice covered ones.

This past year I've started using these bags differently as I've switched to drinking out of water bottles rather than the Platy bags I've been using for years. I am terrible about keeping hydrated on trail and am finding that bottles really help me drink more during the day as opposed to sucking from a hose. Having those bottles in easy reach is a big part of why this is working much better for me.
In that winter pic you'll notice I have an insulated bike bottle on one side and a stainless steel thermos on the other. The thermos is filled with boiling water in the morning which is used to keep the other bottle refilled and thawed out during the day.

One thing I have noticed is that wearing these things on trail can trigger an interesting response in some folks you meet; They believe you are carrying much more than you are. I've had a man accuse me of carrying a 75lb pack on a day I was carrying 35lbs and once had two ladies gasp at my heavy load when I had an empty backpack on just to have something to attach the Balance Pockets to and the only thing in them was my cameras, an apple, and two cheese sticks for lunch at the summit.

Interesting and very functional concept is my final word on these bags. I keep checking to see if they have gotten a new U.S. distributor after their previous one disappeared last year, but so far no luck. I'd love to get a better look at one of their full systems as my experience with these bags has left me impressed with both the product and the company behind it.

UPDATE:

I contacted the company to see what their plans were, if any, regarding future U.S. distribution. They got back to me saying that they are looking into setting up a small warehouse which they will stock with all current models in the near future. They also say they would like to find an actual distributor to handle U.S. sales, so it sounds like their stuff may become more accessible here in the U.S. soon.

Source: bought it new
Price Paid: $59

Yes I start by now this summer 2011 on my second year with balance pockets. They are great, I am perfect balanced and seldom get tired. These pockets remind me of British soldiers gear during second world war.  
Ole Due Jakobsen
Walking the camino in France and Spain
Price Paid: 50 Euro

Your Review
Where to Buy
Help support this site by making your next gear purchase through one of the links above. Click a link, buy what you need, and the seller will contribute a portion of the purchase price to support Trailspace's independent gear reviews.
You May Like
Specs
Price
MSRP: $60.00
Historic Range: $59.00
Reviewers Paid: $59.00