DeLorme inReach SE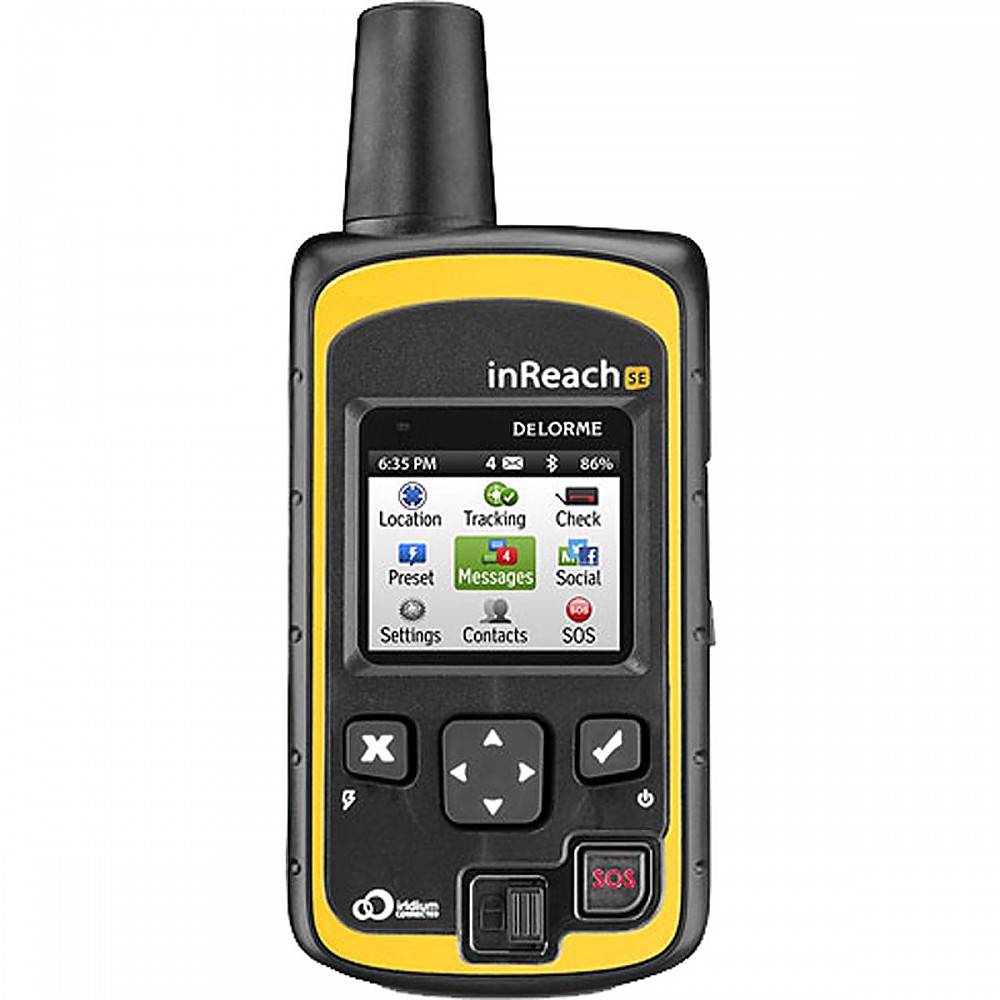 The safety of an SOS button connected via satellite to a monitoring response team combined with features you can use on every trip. Those features include two-way texting including localized weather reports, live updating of your personal online map and others you can choose or ignore as desired. The device and subscription service are not cheap, but for those venturing far afield, especially those who go alone, it gives a good return on the investment.
Pros
Good connectivity to stable network
Settings allow for customized use
Good battery/power efficiency even in cold
Online mapping features both live and after the trip
Social media connectivity for social folk
Bluetooth capability
Cons
Keying process is time consuming when messaging
Web site has many features that are hard to undersand at first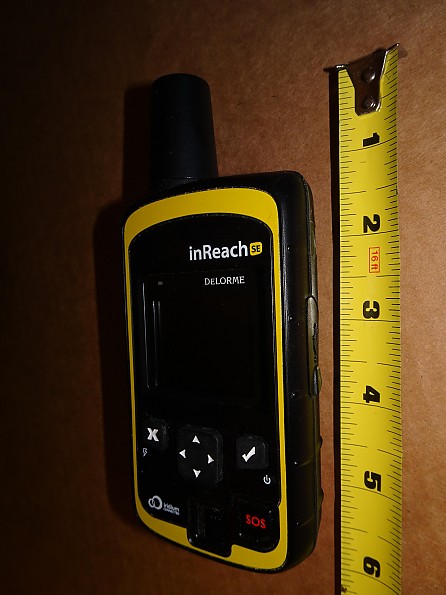 Lots of function packed into a pretty small package, the Delorme inReach SE is either a safety device with lots of useful functions or the other way around. Whether you carry it for safety or for the other functions it isn't that big of a load for what you get as far as I'm concerned. Measuring roughly 6"x2.25" if you count the antenna it weighs 6.8oz/194g on my scale when full charged. Not sure of the weight when the battery is empty :)
Subscriptions Rates as of Feb 2017.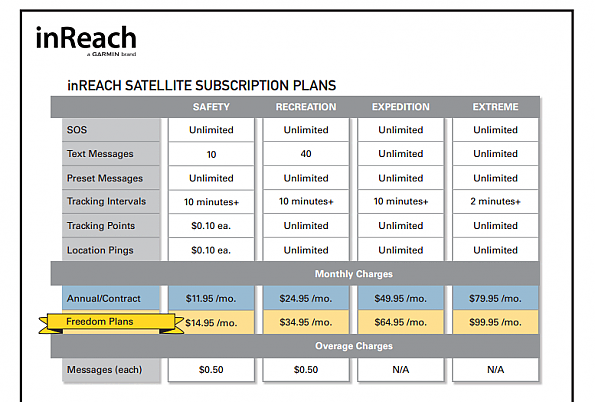 Since a lot of people were asking I've added their current list of plans and prices for the needed subscription service. See the Garmin site for current rates and rules to determine what might work best for you.


Features:
Despite the fact that you hope to never use it, the SOS feature is still likely to be the first part of the inReach you'll want to know more about. From a user standpoint Delorme has made the process as easy as they can while still preventing you from sending an alarm by accident.
The sliding switch in the center bottom has to be moved to the left, exposing the red bar behind it to indicate the SOS button has been enabled. Pressing the SOS button just to the right will then put the device into action contacting the GEOS monitoring where they coordinate emergency rescue services around the world.
Assuming you are able to communicate they will initiate a two-way conversation to determine your emergency and keep you updated on rescue efforts. If you are unresponsive they will coordinate with local resources to launch a search based on the GPS coordinates attached to your SOS message.
The key to all of that is the satellite communication and GPS accuracy. The inReach relies on the Iridium network of low earth orbit satellites with full coverage of the entire planet. While they are popular among outdoor enthusiasts these devices are also used by pilots and sailors around the world who depend on that connectivity. More on that subject later when we talk about real world experience.
Controls:
All direct input is via the five buttons on the front with two being devoted to the SOS function as described previously. The other three buttons are the X which functions generally as a back/cancel/no input, a four-way toggle in the middle which is used for screen navigation and the Check Mark which functions generally as an enter/yes button depending on context.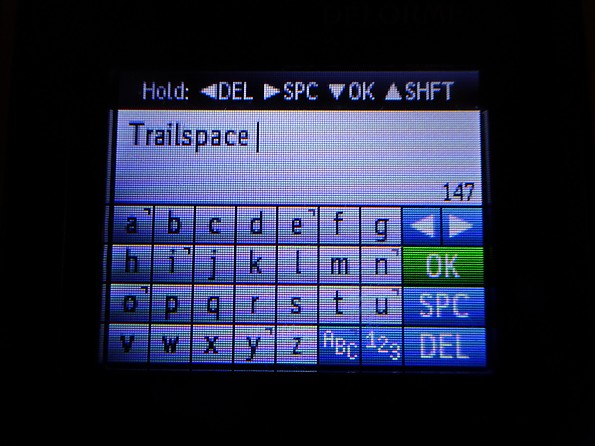 Text input for messaging is done via the on screen keyboard for the most part with some ability to select preprogrammed messages which we'll get into later. Entering messages using this interface is a long, slow process at first. Over time, especially on longer trips, I found I picked up speed as I developed the skill.

Various features and settings are accessed via on screen icon menus using the external buttons.
The Preset button allows you to access a quick menu to send one of three preprogrammed messages. These messages don't count against your metered message count as they need to transfer almost no data via the satellite network.
The Tracking button takes you to an interface that lets you start or stop collecting tracking information. Locations can be recorded at 10, 20, 30, 60, 120 or 240 minute intervals dependent on a setting that can be changed in the field.
The Check button lets you manually request a check for waiting messages. This feature is useful for those who disable automatic message checking to save battery charge.
The Social button takes you to a message interface for sending directly to FaceBook or Twitter if you've configured an account ahead of time. The Contacts button takes you to a list of stored addresses to select message recipients from.
The Weather button takes you to an interface where you can request localized weather reports based on current or stored locations. Messaging fees apply to use this service, but the received forecast is stored on the device and can be repeatedly accessed.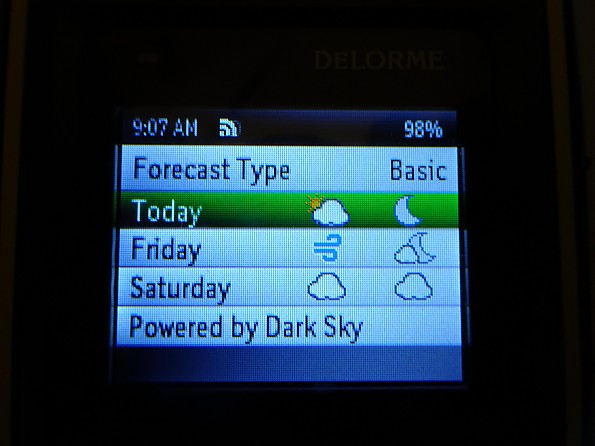 The front page of a weather forecast is a very simple set of weather icons for the next three days and nights.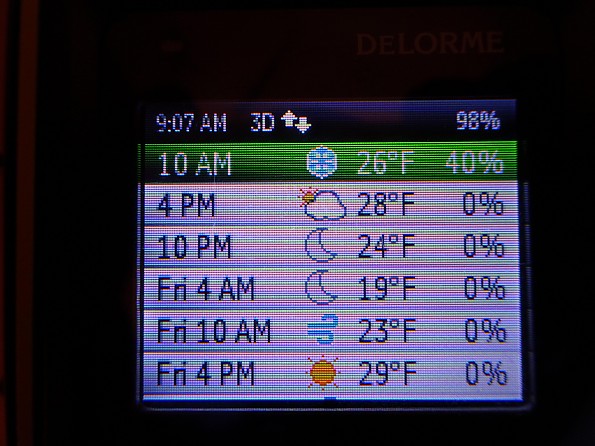 Digging in one layer there is a series of six hour forecasts which can be scrolled through to view the entire three day period. At this level we find a weather icon along with a temperature and chance of precipitation forecast.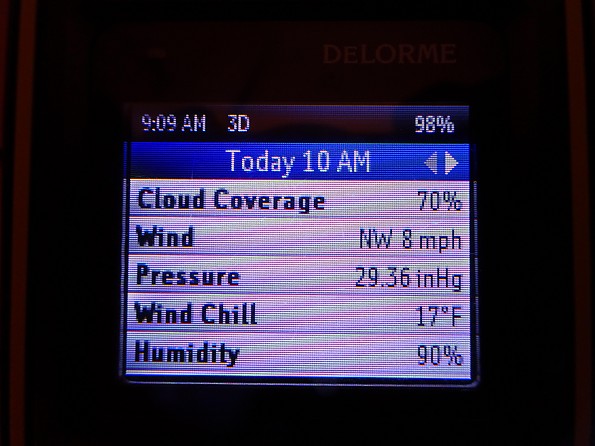 Drilling all the way down there are some pretty specific numbers included behind each six hour forecast. These numbers can give you an idea of the sort of weather you'll be facing, but like any weather forecast shouldn't be taken too literally.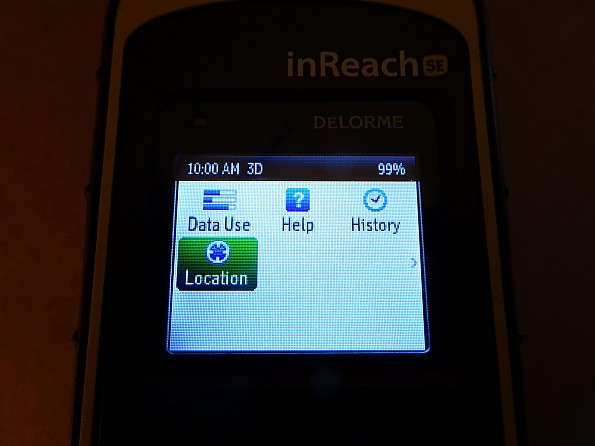 The second menu screen contains rarely used features. Data Use will let you see how many messages and track points you have used for the current month. If you are concerned about overages this gives you a way to monitor your usage. The Help area contains a lot of useful information and certainly would make for good privy reading if you were desperate I guess.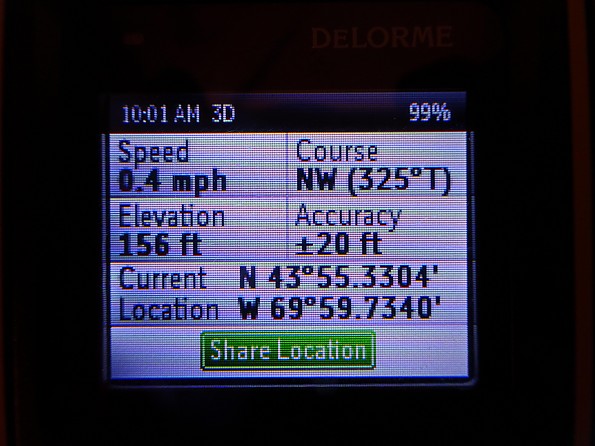 The Location button does actually get used at times. It is an easy way to see your current location in terms of GPS coordinates. The Share Location button gives you an easy way to send them to a phone or email account, including your own for future reference.
Web Site: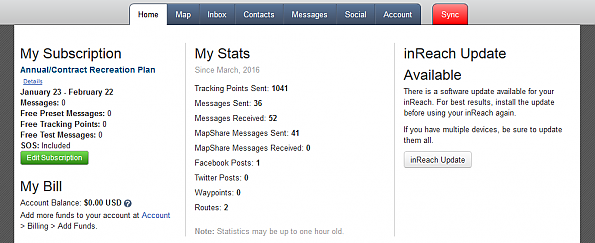 A lot of the functionality of the inReach device starts and ends with the Explore web site that is part of your account. There you can see your current usage at a glance as well as your use over the last year and your current account balance.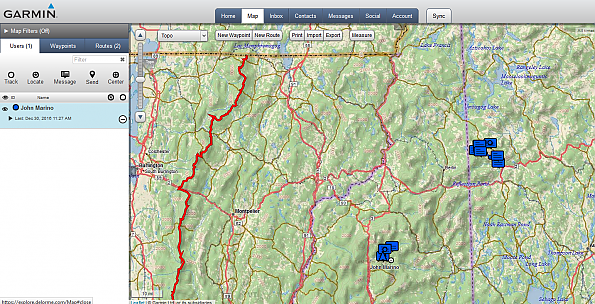 The Map page lets you access recorded data from all of your trips, but lets you filter it by date or even just a specific trip. In this view you can see a cluster of activity in the Pemi area and the Grafton Notch area. On the far left side you can see a solid red track from a .gpx of the Long Trail I uploaded and now waits for me to turn it blue.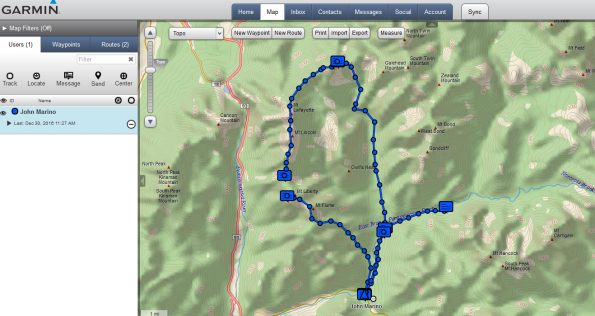 Zooming into the NH activity you can see tracks from two different trips in this view, a Fall Pemi loop and a Winter Eastside out and back. These tracks are created in real time as the device collects location data. The gap on the left side of the loop is due to me forgetting to turn on the inReach that morning because I was so excited to be hitting Franconia Ridge that day.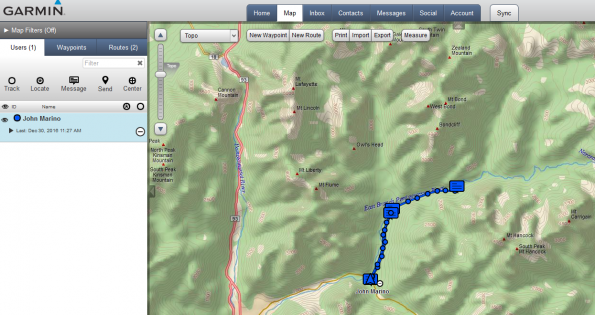 Filtering out the Fall trip makes the Winter trip easier to follow. The blue chat icons you see are the location of text messages I sent to my wife at the start and end of each day.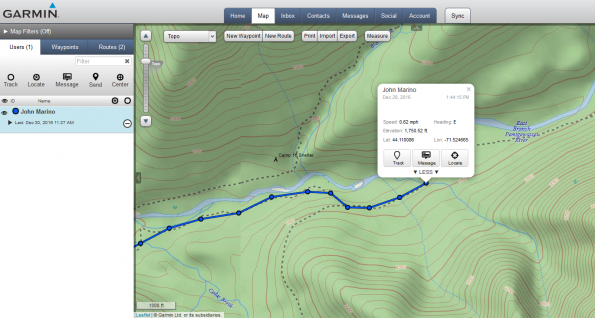 The map is interactive so clicking on a tracking point brings up the associated data. The speed indicator is probably meant for planes and boats and seems to randomly vary between a few set values. The location data is very accurate though.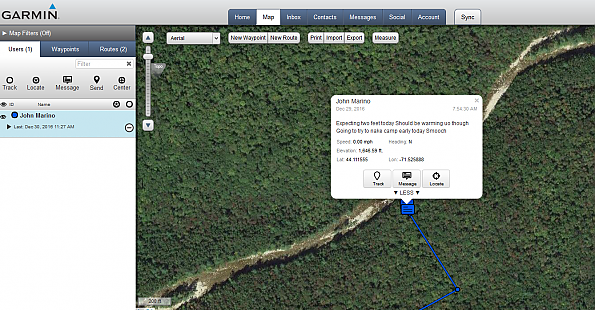 The background map can be changed to a satellite view if desired. In this case the green forest behind my message about the approaching blizzard is amusing. Also amusing is my lack of concern for typos while sending my wife a message on a 15°F morning.
Preprogrammed Messages: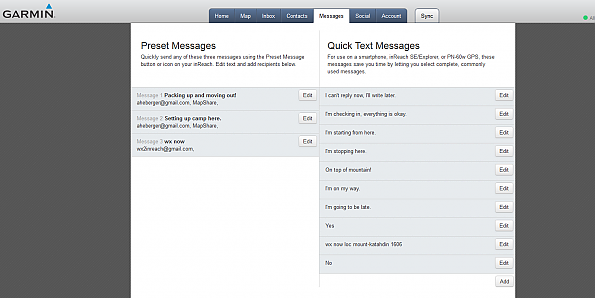 Along with setting up frequently used addresses in an address book you can also program some messages via the web site. The Preset Messages are configured with both a static message and recipient list. They can be sent easily by pressing a few buttons and transmit almost no data so aren't counted against your message use. You can also program canned text strings that can easily be entered into messages in the field. These are added to standard messages and just save you time.
Construction & Durability: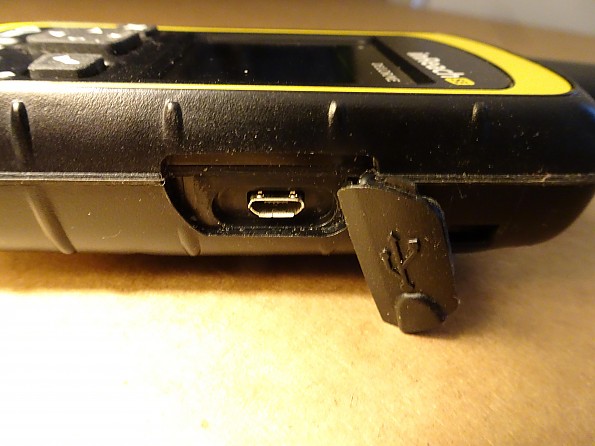 Delorme wrapped the delicate technological bits inside a heavy duty case designed to be carried in the real world. Having encountered rain, snow and several falls from a few feet off the ground my unit continues to look brand new after a full year of use. At first glance I expected the panel protecting the mini USB port to let water in. On closer look I found a rubber seal on the back of the cover that completely encloses the port when the hatch is in place.
Testing Conditions: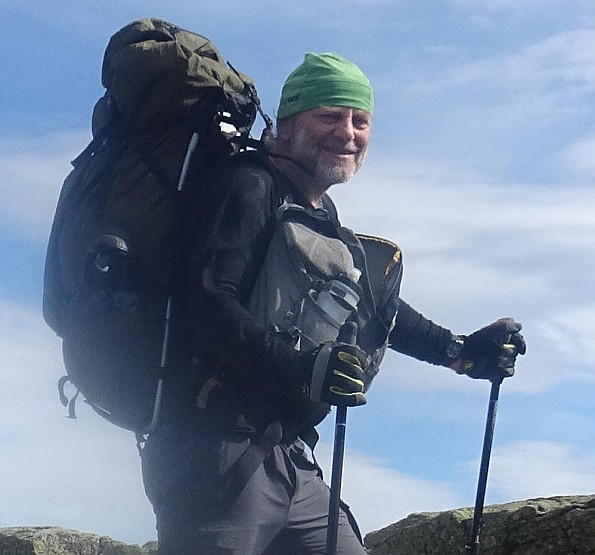 Look closely and you can see the inReach SE riding above the water bottle in the top mesh pocket of my Aarn Sport Pocket high up on N.H.'s Franconia Ridge.


I've taken the Delorme inReach SE on every trip since I purchased it last March. Outings have ranged from single nights to over a week and encompassed all four seasons. The device was configured to send location data and check for messages once every ten minutes. Generally it was turned on when leaving camp and turned off when making camp, unless I forgot :)
Conclusions:
Being generally a cost conscious person I have to start by acknowledging that paying for the device and needed subscription service was something I put off for a few years. Having used it for a year I wish I'd taken the plunge sooner. For both myself and my family, the ability to communicate while on trail has been a huge benefit. Previously there was a lot of worrying on both sides. For my girls at home to be able to follow my progress on the map provides peace of mind and the messages we exchange lessens the amount of worrying we do considerably.
In terms of device function I have been generally impressed. Despite configuring the device in a manner that consumes a lot of power by sending and receiving so often I am able to get five full days of trail use before I start getting warning messages. I've heard of folks doing just the opposite, configuring their device to only do manual messaging with no tracking and getting weeks out of a single charge with a few message exchanges each day.
The localized weather reports really came in handy on longer trips. I study the weather for days prior to going out most times, but forecasts go stale after a few days. On one trip with weather hotter than expected it came in really handy to find that out in time to load up on extra water.
The messaging really came in handy when I popped something in my hip a week into a two-week expedition hike. Coordinating a rescue ride from my family to get off trail was easy despite being in an area with no cell service.
Satellite connectivity has been pretty good with mountains or heavy leaf canopy being the most frequent issue. I have noticed a few short outages of service, but they are very rare. When service is blocked by terrain or trees the device will keep trying frequently to communicate. I'm not sure about specifics, but it seemed to me that could be a power drain based on what I was seeing.
One time I turned off messaging for a while so it would stop checking since it wasn't getting through the trees in hopes of saving power. I really liked the ability to configure the device to do more or less with a tradeoff in terms of battery life.
Messaging was very reliable, though there were some delays. All messages went through so far as I know, but there were a few occasions where they were not delivered for an hour or two based on conversations with my wife. Using the weather service it was clear that morning and evening were heavy traffic times leading to satellite delay. Other times of day the messages in either direction would transmit very quickly. This makes sense as a lot of folks turn on their devices in camp to send and receive messages including weather reports.
The mapping and data access on the web site was also something I found value in. My family enjoyed watching my trips progress and especially enjoyed zooming into the satellite view to see where I was standing when I sent them an "On top of mountain!" message. When I returned I was able to download .gpx data to add to my reference library for planning future routes.
I have had a great experience using the inReach SE so far and plan to continue carrying it until something better comes along. The expense has been justified by what we've gotten out of it as a family and myself especially. It seemed I slept better on trail knowing things were OK at home and they felt the same knowing how I was doing. Hopefully I never need the SOS function, but having that on top of the parts I am going to use on most trips seals the deal.
Source: bought it new
Price Paid: $299.95

It worked when I really needed it in the Sierras (and was a comfort in Mongolia).
Pros
Two-way texting with truly global coverage
Detailed maps anywhere in the world
Lightweight
Excellent battery life and can be recharged via micro USB
It worked in my emergency
Cons
Tedious texting interface if phone connection does not work
I bought this device as my "rattlesnake plan." My plan is to always carry it on hikes as my Plan B if I get bitten (or break a leg, etc) too far from the trailhead for cell service and too far for my wife to find her way out (poor sense of direction). I bought it on sale at REI--$50 off plus $50 service credit, so effectively $200.
I've used it on numerous day hikes in the SF Bay area and the Sierras and I used it earlier this year on a horse trek in Mongolia.  I send daily "cookies" to my personal website (on the DeLorme website) and in Mongolia I used it to check in with a friend. It accepts an internal micro-SD card, so I downloaded several gB of maps of the regions I planned to travel in Mongolia.  Everything worked fine and battery life was outstanding.  I find the website easy to use and it allows my friends to peek at my travels if they like.
I put it to a more severe test two weeks ago when my wife and I were hiking in the Sierras. We were returning to the trailhead when a question from her to distracted me just enough that I did not notice the gravel on a smooth, forward-downsloping rock. My foot slipped forward, caught at the toe and rolled under. As I fell, I heard a loud pop. 
I knew immediately from the popping sound that a bone or tendon had snapped (and it hurt). I tried for a half hour to hobble the last two miles to the car, but only made 30 feet. I had walked out with a broken leg (the other one) 15 years ago, but this time the leg was unstable and more painful.
I sat down and decided it was time for Plan B: the Inreach. I hit the SOS and then started settling in. After hitting SOS, I pulled out the phone and paired it and sent a followup text to GEOS (the SOS monitoring service in Texas) to explain that I had broken my ankle and needed assistance.
I sent a series of texts to them explaining my location, though I knew they already had my GPS coordinates.   Thunder Mountain, a 2000-foot rocky bluff, was at my back and I was in heavy forest.  I had sat down at the edge of one of the few clearings on this part of the trail. The clearing was about 40 feet in diameter. 
Even though it was 75°F with no forecasted rain when we started, I always carry enough that I can survive the night if I need to. My wife helped me change into a dry base layer. I put on a fleece sweater, light jacket, and my ultralight raincoat, earband, neckgaiter and extra beanie cap. I took both of the foam sit pads we carry and used them for ground insulation. I had an emergency blanket for later.
After 10 minutes, we had not received acknowledgement from the satellite network that my SOS signal had been received. Only an hour remained until sunset and the return trail was straightforward, so I sent my wife (and our Great Pyrenees, Bear) to the trailhead with a goal of driving to a nearby ski community where she could get cell service and call 911 (Plan C).
About 15 minutes post-SOS I received confirmation from the satellite that my signal had been forwarded.  During this waiting period, I also texted a friend (Plan D). 25 minutes post-SOS, GEOS acknowledged and asked for me to verify my situation. This was when I figured out there was a problem with the Bluetooth pairing.  I could send messages on the phone, but no return came back to the phone. All responses from the SOS service came to the Inreach only—not to the phone app. 
Similarly, my friend responded, but it only showed up on the Inreach. This confusion, combined with the ~10 minute delay between send/response, made me wonder if messages sent on the phone were actually getting to GEOS. By this time I had sent them far more messages than they acknowledged, so I could not be sure what was and was not working with the Bluetooth connection. 
To be safe, I turned off the phone and did all further communications using only the tedious texting screen built into the Inreach. This was slow and error prone, but did not really slow things down because everything was moving so slowly anyway. GEOS communicated with me about 20 times over the next 5 hours to make sure I had food, water, warmth, to query me about my ability to stay the night if I had to, to ask about clearance for a helicopter to land or to lift me out and to verify that I had a light to signal the helicopter.
They also confirmed that my wife made it out and had contacted the local sheriff's office. She could have texted me when she was in the ski village and had cell service, but she did not think of it. It was comforting to be able to occasionally ask them "is there a plan?" They kept talking about a helicopter, but apparently only the National Guard can fly at night and they had timed out for the day.
After 4 hours, two deputies hiked in to keep me company and be sure I was warm, had water, food, was not in shock, etc. They seemed a bit disappointed that I had all of that (plus emergency blanket, compass, paper maps, firestarter...). Still it was good to not be sitting in the dark alone thinking about mountain lions and the fact that I looked a lot like wounded-animal prey. The deputies told me they heard from my wife via her 911 call 15 minutes before the GEOS contact. They said that GEOS contacts a regional SAR office in Florida who contact the national center in Maryland who contact the state center in Sacramento who contacted the local sheriff's department.  They also told me this was the "most organized" rescue they had ever seen, i.e. my preparedness and my wife's deliberateness.  They were happy that she had returned to and remained at the trailhead in the dark and did not try to hike back to me, getting lost and causing more problems for them.
After another two hours, two more SAR team members (firemen from the nearby ski resort) arrived with a Stokes basket mounted on a single wheel and they started taking me out. To the very end, the GEOS contact was expecting a helicopter to winch me out between the trees. Eight more volunteers joined midway to spell them for the tiring work of managing the Stokes basket on the rough trail.  The whole event was viewed as "great training for our volunteers" by the SARS team and was obviously an enjoyable social outing for them.
Seven hours after breaking my ankle, I was back at my car. After lots of thanks to the professional and volunteer SAR team members, my wife drove me three hours home and to the local ER. 
I broke both leg bones at the ankle and have a plate and 11 pins. It will be a while before I can repeat that little hike.
The Inreach did not work perfectly—the Bluetooth connection had worked flawlessly in the past, but the phone failed to receive incoming messages when in SOS mode. DeLorme agrees with me that this is not the way it is supposed to work and are trouble shooting it now. I hope to hear what happened and if it will work better if there is a next time.  Once in SOS mode, you cannot turn the device off until you declare the emergency has ended.  The device sends periodic tracking cookies along with your location to GEOS while in this mode. 
The bottom line is that the Inreach did the job I needed and had adequate reception to send and receive despite my proximity to a large rocky bluff and my location at the edge of a 40'-diameter "tunnel" in the tall trees. You'd better believe that I will be carrying my "rattlesnake plan" on future hikes—once the leg is rehabbed.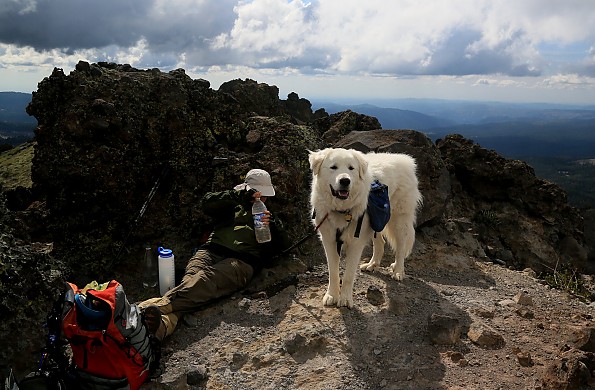 "Bear" and wife at the summit of Thunder Mountain on an earlier, happier trip.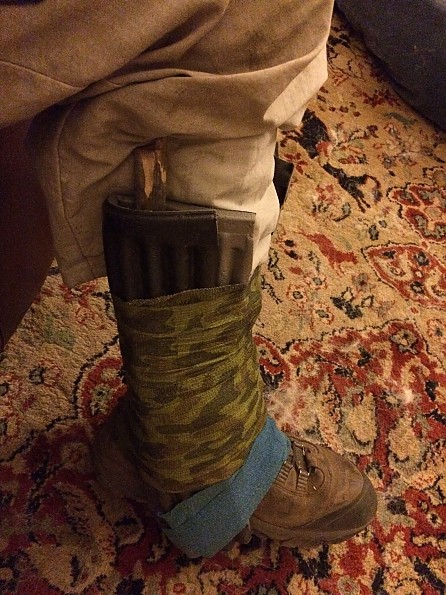 Field stabilization using my sitpads and sticks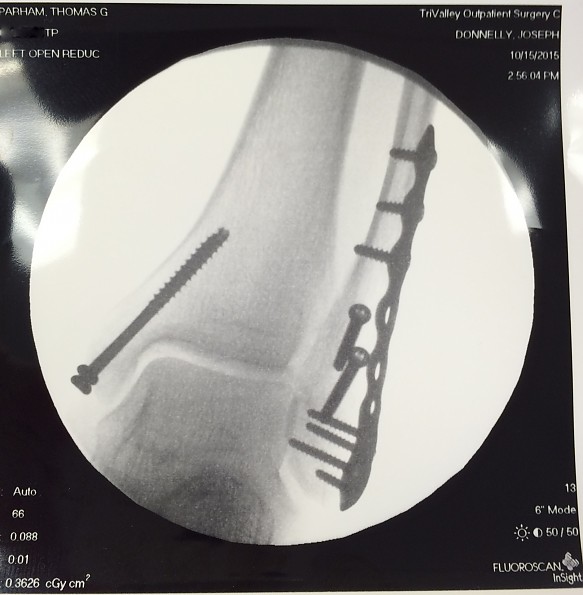 The aftermath
Source: bought it new
Price Paid: $200

Updated: Field test was stunning success! (See below)

Setup is easy. Signals are very good. Communication is now TWO-WAY! And the Bluetooth connection to your mobile device (with GPS) gives you the best of both worlds!

Batteries are now rechargeable (USB or 115v.) and longer lasting (I know, I use to have a PN-60/Spot). I don't know how it could get any better! Now I feel comfortable going out alone. That is, my wife is more comfortable!
Pros
Easy to use
Capable
Light
Long-lasting battery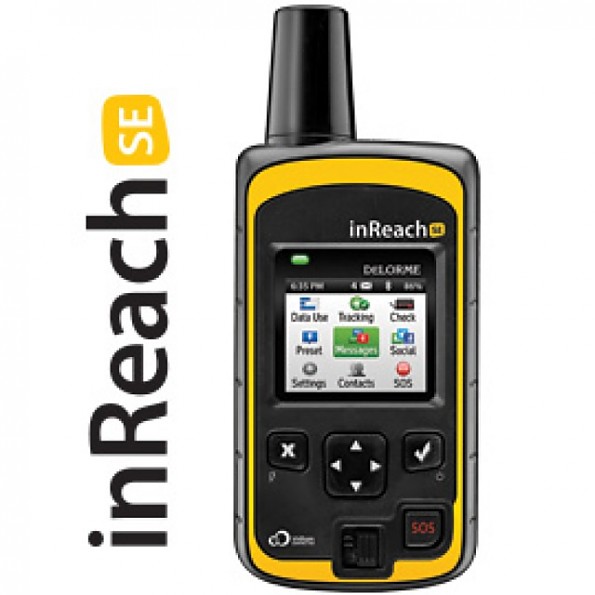 UPDATE: Field test finally complete! See "***********  UPDATE" below ...
Delivery only took a few days — strong, clean box in great condition. Packaging was way easier to open then anything I've purchased in years. All recyclable. Quick Start Guide was right there handy and it's short and sweet.
Usually the first thing I have to start searching for is an online version of the user manual (which I always keep on my computer — because I always lose the manual first!). In this case it says on the first page ""User Manuals" - go to manuals.delorme.com (I love it)
Get it out of the box and the first thing I notice is "Designed and manufactured in the U.S.A."! 
(What can I say. 20 years in the Navy — I always read the nameplate first). I also see model # and IMEI (serial) # so I enter them in MyStuff so I can just copy them later. Looks like all the basic instructions you need to save a life are right there on the nameplate. I like that too. The inside lid of the box tells me to "Get to know the SOS" so I try the unlock-lock slide switch. it has good solid action and re-locks with a satisfying click. Definitely not going to come loose accidentally and send a "pocket" S.O.S.
The next page of the Quick Start Guide says "Read before you activate" so I do. The print is a little too small (Quick Start guides should never require reading glasses) but it's organized well and plainly written. There are multiple temptations to go off doing things but I manage to read it all through first.
It's well below freezing outside but I decide I'll brave the cold and go ahead with Setup now. (How long can it take?) So I go  online and start the account setup process. One thing they didn't make clear. You can't use your shop.delorme.com userid and password here. I tried several times and got rejected every time. Then I looked over and saw the "New Account" setup on the other side. I realized this was a different kind of account and went for New.
I powered up the inReach SE to get the account info and it came right on and went to Setup. The IMEI was correct so I copied it from MyStuff to delorme.com. That process was easy, especially with Safari suggesting a good secure password right on the spot, and 1Password remembering it for me automatically. For Customer info, Billing info, credit card, etc. I auto-filled pages at a time from 1Password and I was done in 5 minutes. Got the welcome message in my email and delorme.com was already trying to send to my inReach. This stuff is instant! 
OK, time to put on something warm and go outside! Setup is asking me if I'm ready to receive the test message. I only have a clear view of about ¼ the night sky from my balcony but I tell it to go ahead anyway. Seemed like a long time to mess around but I guess it was really only about two minutes and I had the message. I did the Reply thing (it says to press Send but you really want to hit the OK button when you're done typing) and hustled my frizz butt back inside.
Downloading the Earthmate app was easy too. My iPad is synced to iTunes on my iMac so i just had to plug the iPad in. When I downloaded Earthmate from my iMac it went right to my iPad synch page in iTunes and installed itself to my iPad over WiFi. Pretty cool!
Pairing the iPad with the inReach SE was easy too. It was already trying to pair so I just had to go to Settings, Bluetooth on the iPad and select the inReach SE. Then I go into the Earthmate Options, Account & Synch and provide my logon credentials* (1Password has already synched that userid & password over to my iPad so all I have to do is copy & paste). Done!
Now I can do the map browsing and message typing from the iPad. Easy!  And all of my contacts in the Contacts app are available within Earthmate for addressing messages. Email or text depends on whether I select an email or a phone.
Finally I have to synch Earthmate and my inReach SE with my account on the DeLorme website (explore.delorme.com). If you already have a userid and password for shop.delorme.com don't use that here. This is a different login. If you already have an account on explore.delorme.com — for instance, you already have the old inReach — use that login and add the SE as a new device. If not, create a new account.
Here you will provide essential information and choose a subscription plan. They are quite flexible. I chose the Recreation Plan (can't give prices here - they might change - but that info is at shop.delorme.com). Everything went smoothly until I got to "Synch", where the preset messages and contacts I've entered are transferred to my inReach SE via USB cable.
I'm required to download an app first but my Mac refuses to open the DMG because the "developer is unidentified". I had to lower my security to allow the app to run. And then I am told the inReach Synch app cannot install until I download Mono Framework (478 MB!) - which also is apparently unsigned. But I trust these  are not malicious programs (I got good email support from their Customer Service too). But don't forget to turn your Security settings back to "Allow apps downloaded from Mac App Store, or from Mac App Store and identified developers when you are done. 
After that's done the Synch goes without a hitch and my preloaded contacts and preset messages are on my inReach SE. Note: these are available for sending from your SE when your iPad or smart phone is not around. My plan, for instance, is to send custom messages to anybody I want in the evening from base camp using the iPad keyboard and contacts list, via the bluetooth connection to the SE. I will tell my wife the plan for the next day.
For example, Progress Point 1 will be Superstition Lake, Progress Point 2 will be the junction with Cummins Creek Trail, etc., etc. Then tomorrow, when I reach those points respectively, I will just hit the button on the "Made Progress Point 1" message, then later the "Made Progress Point 2" message, etc. That way I can turn tracking (breadcrumbs every 10 min., etc.) off and save power.
So that's it. This thing is a winner so far! Tomorrow I'll take it out for a hike and see how it does.
***********  UPDATE 3/6/2014: Field Test (finally!)
Took the SE on a Sierra Club hike through Silver Falls State Park. Started by pairing the SE to my wife's iPhone. Gedunk! (Navy jargon for easy!) I could have downloaded the maps to the Earthmate app but I would have used up a bunch of my wife's data limit. Ouch! 
So I took a couple of clicks to "Start Tracking" without even looking at the user manual, stuck it in my shirt pocket and started the hike.
The Canyon Trail is, well, in the canyon the whole way so I figured the SE might miss a few breadcrumbs because of loss of signal. Naah! When we stopped for lunch at the lodge I looked — every marker was there, like clockwork, every ten minutes. So I sent a message to my wife "Lunch" easy as pie. (When I got home she said she got the message, clicked on the link and enjoyed panning around on the map to see where I was).
Best of all — and this is the main reason I got rid of my old one — I checked the battery at the end of the day when I got home (7 PM) : 95%. Unbelievable. I'm thinking I could do several days on one charge! Unlike my old one which died after several hours!  I LOVE IT.
Source: bought it new
Price Paid: $300

Works great for texting and an emergency beacon, but the Delorme website is not very intuitive. It is well worth buying.
Pros
Remote communications
Water tightness
Syncs with iPod touch very well
Cons
Can't access the battery
Does not display coordinates as a primary function
Not the most intuitive controls
Instructions not all that clear
Websites are not intuitive
I purchased the unit from REI as soon as it was listed on their website. It arrived and I set my account without much difficulty. I needed to call customer service but that was mostly due to the poor set up instructions and website. It works like a cell phone for texting . . . . sort of, but different.
The device itself works great and I have used on one multi day trip without any problem. The problems are with the Delorme website and setting up access for others and how to do it. At least that is my experience. I found it very tedious and could not set access for my family without providing them with my account passwords. I don't really care, it just shouldn't work that way or be that confusing.
I only text to my family's cell phones and I purchased the device just for that and the S-O-S in the first place. The website and map is just a nice extra. I gave up trying to get the website access for my family setup. Delorme needs to make the website and software very simple to use for people like me.
Device construction: Fine and seems solid and water tight.
Battery life: Excellent but that ability to carry an extra battery would be an improvement.
Device controls and software: Works fine but seems a little old style. It works like my old Garmin Rino GPS device. Touch screen would be nice, but maybe not as durable.
S-O-S function: Unknown how well it works, I hope it works well if I ever need it.
Satellite lock: I think it works fine. Sometimes it was better than others which I assume depends on location. Sometimes it took a while when out in the open but most of the time it didn't. I was able to send and receive messages while in my tent on a number of occasions.
IPod sync: Worked fine. Most of the time I just used the device itself to text but I also set it outside my tent and used my iPod from inside the tent to send messages.  I did not use the map feature on the IPod. 
Service fees: There are three levels. I chose the cheapest which is $9.95 a month. It is expensive to text unless you get a more expensive plan that includes unlimited texting. For me, the device will just sit unused for a few months at a time without being used so I calculated that $9.95 per month would work out to be less expensive over the course of a year. 
Satisfaction: I gave it four stars because it needs some software and website improvement. I hope that Delorme continues to improve their software and website but that is not a deal breaker for me. I also hope they write a much more detailed manual for the device.
One nice feature I discovered about the device which I hope is accurate is the label on the back of it. It says "Designed & Manufactured in the U.S.A. by Delorme".
The device does exactly what I want it to do and I am very happy with it and would recommend it to anyone.  It is great feeling to be any where on earth and be able to communicate with family and with emergency rescue help with a device that will fit in a shirt pocket. 
Source: bought it new
Price Paid: $299

A phenomenal upgrade! Two-way text communication, SOS/ 24-hour search and rescue, tracking with ability to share GPS location, 100% global coverage. Facebook and Twitter updates.
Pros
Easy to use
International tracking
Compact
Cons
Internal batteries, need solar unit for thru hikers
Released June 2013, a phenomenal upgrade!
Features
(Pros): 2-way text communication, SOS/ 24-hour search and rescue, tracking with ability to share GPS location, 100% global coverage. Facebook and Twitter updates. Maps, when integrated with smartphone. It allows tracking points and website location, which was great when friends wanted to see my progress and know my location. I was also able to have a private password for invited friends only.
Cons: Lithium battery is not removable requiring use of solar devise.The maps, while getting unlimited international downloads, you need wifi to do so. I am still hoping they will provide thru-hiker trail maps and USGA map uploads to correspond with my paper maps (for compass use). None yet.
I used the InReach SE 30 days consecutively on a through hike. Proving invaluable. Great devise for its easy use and size.
Recommend: YES!
Source: bought it new
Price Paid: $299

Your Review
Where to Buy
Help support this site by making your next gear purchase through one of the links above. Click a link, buy what you need, and the seller will contribute a portion of the purchase price to support Trailspace's independent gear reviews.
You May Like
Specs
Price
Historic Range: $209.93-$299.95
Reviewers Paid: $200.00-$300.00

Recently on Trailspace