GSI Outdoors Microlite 1000 Twist

The Microlite 1000 Twist is a double-walled steel bottle that holds a liter of...whatever. It is a very effective insulator for keeping things cold (and presumably hot, though I have only used it in hot weather). It is lightweight, durable, and different in some key ways than some of its competitors. It's a worthy choice if you're looking for an insulated steel bottle that's slightly lighter weight and less expensive.
Pros
Lightweight
Reasonably priced
Well-insulated
Seemingly durable
Cons
The attached top might annoy some people
Opening narrower than some other options
Rim isn't as rounded as some other options
INTRODUCTION
Insulated steel bottles have become increasingly popular due to chemical risks and environmental concerns about using plastic. Insulated bottles also have the benefit of keeping your cold stuff cold or hot stuff hot in the winter. On the downside, steel bottles very often weigh quite a bit more than plastic and usually cost more.
GSI Outdoors' Microlight 1000 Twist is relatively lightweight and moderately less expensive than some of its insulated steel competitors.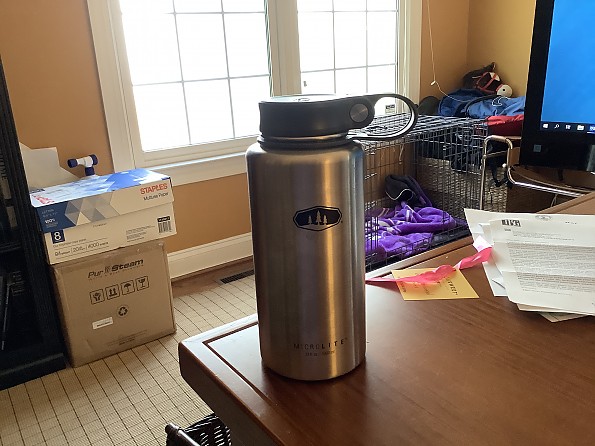 SIZE/WEIGHT
Quality HDPE liter-sized bottles weigh six or seven ounces, which no insulated steel bottle can match. (HDPE is the cloudy soft plastic that's less likely to leach harmful chemicals into your water; I have quit using hard/clear plastic bottles due to the chemical issue). The Microlight 1000 is about 13 ounces. A comparable Hydro Flask liter-sized bottle we have weighs about the same, and a Yeti Rambler 36, slightly larger than a liter, weighs in at nearly 23 ounces.  This looks pretty similar to Hydro Flask, slightly shorter and stouter.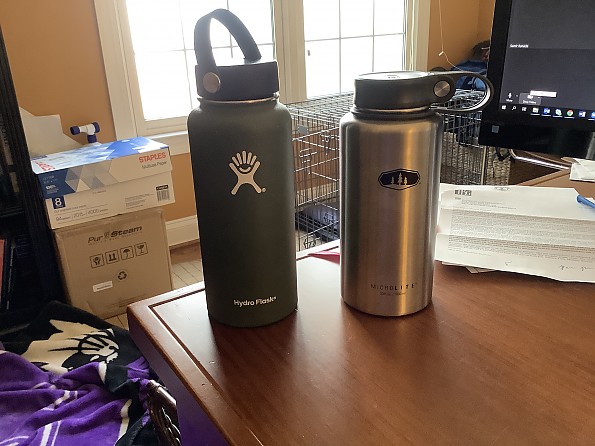 INSULATING CAPABILITY
Based on a very unscientific comparison, the Microlight Twist keeps water cold as well as (if not better than) a Hydro Flask and maybe on par with the Yeti Rambler 36, which is the best bottle I have found in terms of insulation. If you fill the bottle 1/4 to 1/2 full of ice cubes and cold water, it will still be quite cold after several hours of hiking. That's great for a lighter and less pricy bottle.  
DURABILITY
In general, double-walled steel bottles are extremely durable. Even when they sustain a dent or two, it almost never impacts the performance of the bottle.  Softer HDPE bottles (think cloudy plastic Nalgene or Hunersdorf) will also last for a very long time but are more prone to damage from drops or broken tops.  Though it's too early to tell, so far, this is not a bottle you need to treat gently.  
A potentially significant plus is the base, which is made from a softer silicone that should absorb impact better than bottles with a steel bottom. Like the bottom, the top is a somewhat softer/more forgiving material than some of the competing tops. I have broken Yeti and Hydro Flask tops in the past.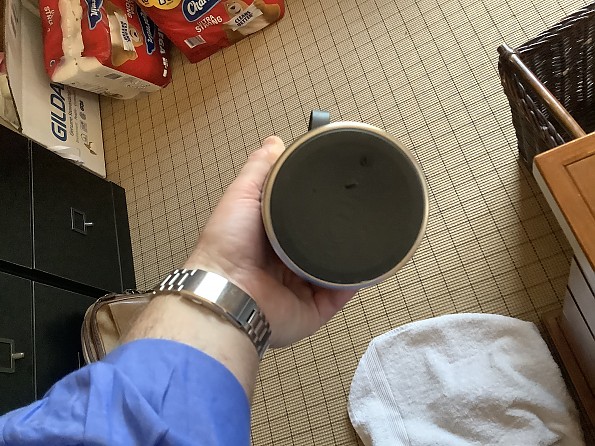 FEATURES
The Microlight Twist has an attached and well-insulated top. There is no easy way to detach the top, and unless you drink with the top hanging straight down, under your chin, the strap tends to cause the top to hit your face. On the other hand, you won't lose the top. My favorite plastic bottles for hiking, Nalgene and Hunnersdorf, either come with attached tops or have the capability (I tether the Hunnersdorf tops to the bottle with thin cord). Yeti and Hydro Flask tops generally aren't attached.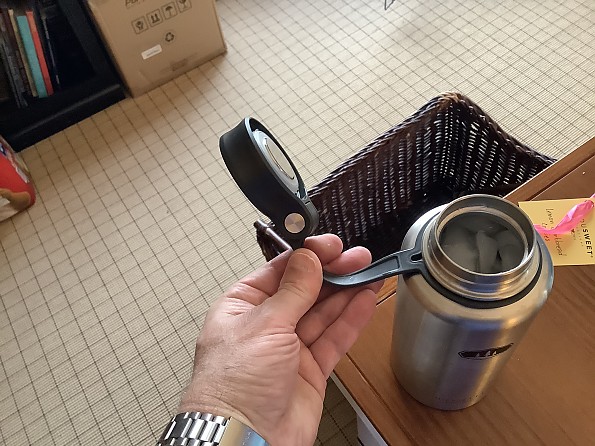 The mouth of the Microlight Twist is a bit narrower than many bottles—wider than a skinny Hydro Flask, though. This posed no issues for drinking or filling it, but it could make the bottle more difficult to clean. Also, the lip of the bottle is narrow and not rounded, which makes for a mildly less pleasant chug than the more rounded metal 'lips' of the openings of some of the competition.  
COST
Cost is a meaningful plus for the Microlight Twist. It's always prudent to shop for sales, but this bottle's list price is 20% less than Hydro Flask and about 30% less than Yeti, for a bottle that effectively performs just as well at keeping things cold and avoiding damage.  
HOW I HAVE USED IT
I started using this as my primary bottle for walking and hiking, which means it has been used daily for the past month or so in very hot, humid weather. We had nearly a month where the daytime temperature was 90+, and it was almost always very humid. I'm currently at the beach for a week, and it has been one of two bottles we bring to the beach daily in a small daypack or beach bag.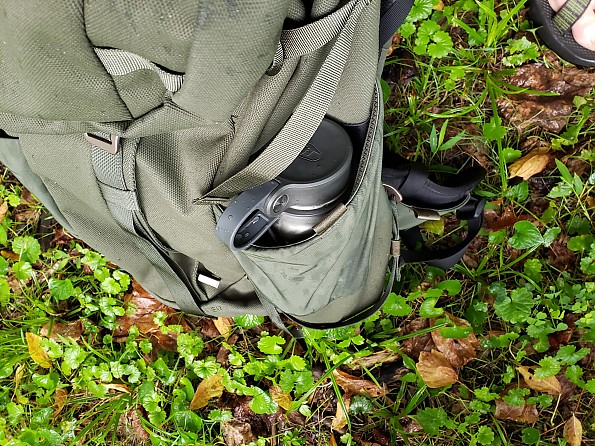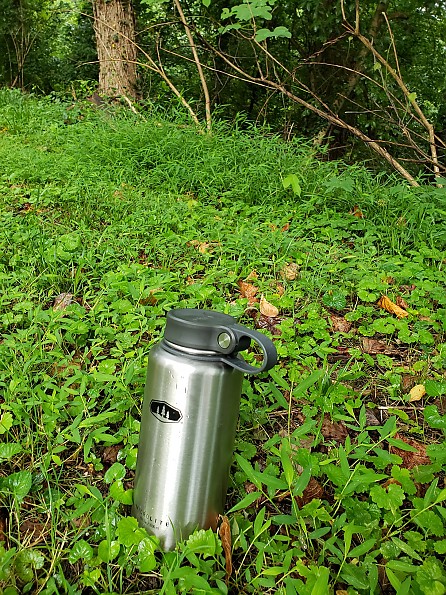 I also use it as a reservoir for the dog and her folding bowl, standard fare for hot and humid DC summers and long walks with the dog.  
TAKEAWAYS
Lightweight, well-insulated, very resistant to damage, and relatively inexpensive—what's not to like? The attached top and relatively narrow lip might annoy some people, but these are fairly minor issues in my book.  
Experience
Roughly one month of daily use on walks and hikes in hot, humid summer weather.
Source: bought it new
Price Paid: $34.99

Wide mouth and attached lid make this insulated 1L bottle easy to use on trail. Keeps contents hot or cold for longer than you'll likely need. Easy clean design with removable lid liner.
Pros
Excellent thermal performance
Easy to clean
Light for a thermos
Exterior surface is easy to grip
Cons
Can retain odors if not cleaned after use
Challenging to get completely dry
Lid tether binding possible
The Microlite 1000 Twist holds 1 liter / 33fl oz. GSI lists the weight as 13oz and it shows up as 13.3oz on my scale with a few drops of water inside. It measures about 8.5" tall with the lid on and 3.5" diameter across the bottom.
Construction & Features:
GSI used a double walled 18/8 stainless steel design to give this thermos a claimed 18 hours of heat retention and 32 hours for cold. The super thin 2mm profile keeps the bottle size down yet provides great insulation. The exterior has a textured surface applied which gives the bottle its color and makes it easy to grip. GSI offers the 1000 Twist in nine colors: White, Black, Teal, Fuchsia, Brushed Stainless, plus Watercolor, Olive and Apple Greens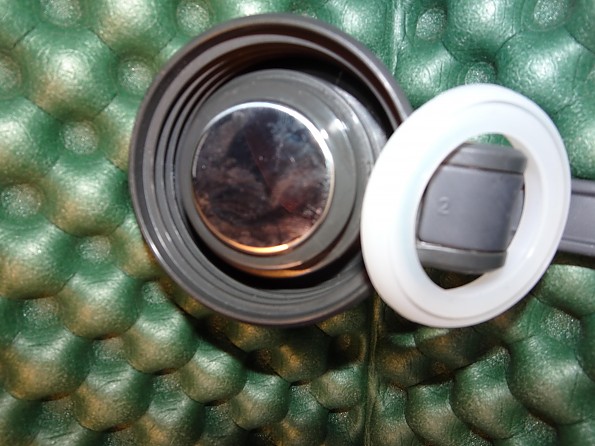 Lid with inner seal removed. Note the deep threads on the lid and the stainless steel stopper
The well designed lid is a big key to this bottle's function. Many insulated bottles have problems with heat transfer via the lid, but GSI uses an insulating stainless steel plug in the lid to seal off the top of the bottle. There is a silicon seal that can be removed for cleaning giving full access to the rest of the lid as well. The lid is fully secured by the deep threads on the inside of the lid.
The lid is attached to the bottle with a tether that also acts as a lever when opening the bottle. This appears to be a permanent attachment so I didn't force it off to see if it was possible to reattach.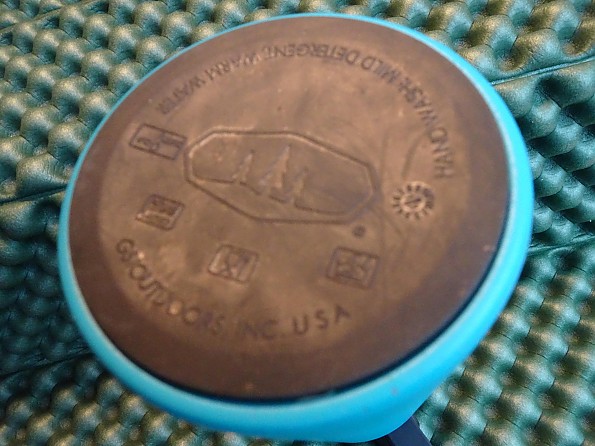 Soft base keeps bottle from sliding and protects from damage if dropped
Thermal Performance:
Caution, unscientific science ahead…
I performed two tests at home for heat retention and one for cold using crude instruments, but I think what I found will tell you what you need to know about this bottle.
For the heat tests I brought water to a boil and added it to the Microlite bottle which had been warmed with hot tap water first. After filling the bottle to just below the neck I found my thermometer was pegged above its 190°F limit and quickly put the lid on the bottle. When left undisturbed for 6 hours in an environment that averaged around 40°F I found the contents to measure at 167°F. 24 hours after the start of the test the water measured 125°F. When a similarly prepared bottle was left for 6 hours in an environment that held pretty stable at 0°F I found the contents to measure at 158°F. I returned that bottle to the deep freeze and found that 24 hours from the start of the test the water was still warm, measuring 115°F.
For cold testing I filled the 1000 Twist almost to the neck with ice cubes, then filled the bottle to the top with cold tap water. The bottle was kept in an environment that started out at 89°F, fell to 78°F over night, and then returned to 88° the next day. The bottle was opened several times during the test to check ice melt progress.
After six hours there was just a large, fused hunk of ice in the water. At the 18-hour mark there was still a large mass of ice. I continued to check the bottle and finally called an end to the test after 40 hours with a large chunk of ice still remaining.
Durability:
Steel body and solid lid design combine to make a bottle that is packable and droppable. Exterior wipes clean and shows little signs of wear. The lid tether did acquire a cut or nick, but that hasn't grown larger over time. Pretty sure that happened when it got caught on a rock as I was going down the trail.
Ease of Use:
The lid design lets hands easily open and close the bottle. The tether can be used as a lever so even small hands can twist without much effort. (My wife and daughter helped test that.) Wide open top is great for pouring contents into a cup or down your throat. That wide opening also makes cleaning easier both in terms of seeing inside and getting a bottle brush in there. The removable silicon seal is vital for keeping things clean and I found this larger one easier to remove than the one in the 500 Twist. I had no problem removing it without a tool despite my giant fingers.
Testing Conditions: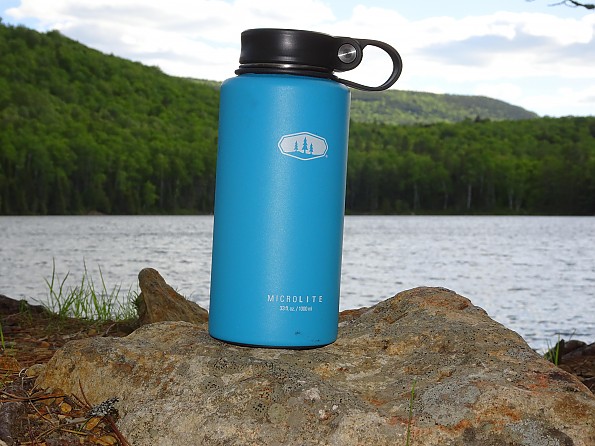 Early summer visit to Long Pond in Baxter State Park.
I used this bottle on all of my backpacking adventures over the last five months and on a lot of day hikes as well. It was part of my two bottle hydration system, carrying cold water for later in the day, or holding a half strength Gatorade mix.
Conclusions:
Like the Microlite 500, I found the 1000 Twist surprisingly low profile for an insulated bottle. The 2mm double walled construction provided great insulation without making the bottle bulky. This allowed me to use the bottle as one of two that make up my primary hydration system on trail because it fit into my Aarn Sport Pocket.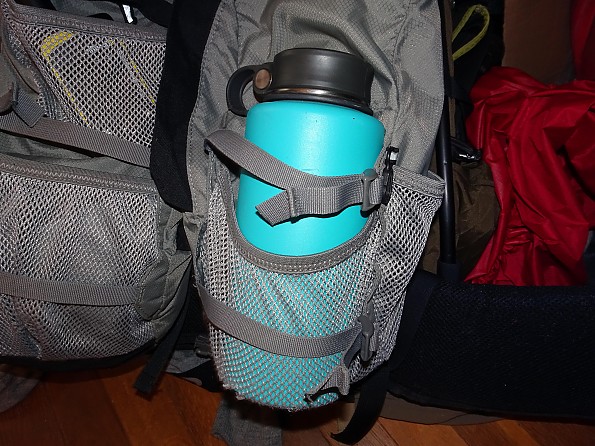 Despite the 1L capacity the 1000 Twist fit into side pockets on my Osprey, Kelty, and Seek Outside packs. Here you can see it in the Aarn Balance Pocket where I usually carried it.


Part of the time I used the bottle to keep water cold for later in the day, drinking from the uninsulated one first. When weight was more of a concern I'd leave the 500 at home and use the 1000 Twist for half strength Gatorade. The weight penalty of the bottle seemed worth it whenever I found myself enjoying a cold drink late on a hot day. With the cold weather setting in I have a feeling that filling this thing with tea or cocoa will make for some very happy breaks on family snowshoe outings this winter.
I was happy that the lid seal on this larger bottle was more manageable for folks like me with big fingers. That ability to remove that seal for cleaning is one of the features I really liked about these bottles. The ring that holds the lid tether to the bottle did tend to collect dirt or ice at times. This would work out with a bit of wiggling, but was one of the few negatives I found while testing this bottle.
With the MSRP around $35 and discounts to be found it isn't a huge investment. Given the durability and ease of cleaning I'd expect to get years of use. Obviously this bottle isn't for those whose primary concern is weight. Those who are willing to pay that price in return for the joys of a warm drink on a cold day or a cold one on a hot day will appreciate the Microlite 1000 Twist. I'm comfortable recommending this particular bottle and the Microlite line in general as being worth a try if you are looking for an insulated bottle.
Experience
5 months of testing with extensive use backpacking and day hiking.
Source: received for testing via the Trailspace Review Corps (Sample for testing and review provided by GSI Outdoors)

Your Review
Where to Buy
Help support this site by making your next gear purchase through one of the links above. Click a link, buy what you need, and the seller will contribute a portion of the purchase price to support Trailspace's independent gear reviews.
You May Like
Specs
Price
MSRP: $34.95
Current Retail: $24.73-$34.95
Historic Range: $16.93-$34.95
Reviewers Paid: $34.99

Weight
0.8125 lbs

Material
Stainless Steel, Polypropylene, Silicone

Capacity
33 fl oz

Dimensions
4.7 x 3.6 x 8.3 in

Includes
Lid, 1 L Vacuum Bottle

Recently on Trailspace