Yeti Rambler Bottle 36oz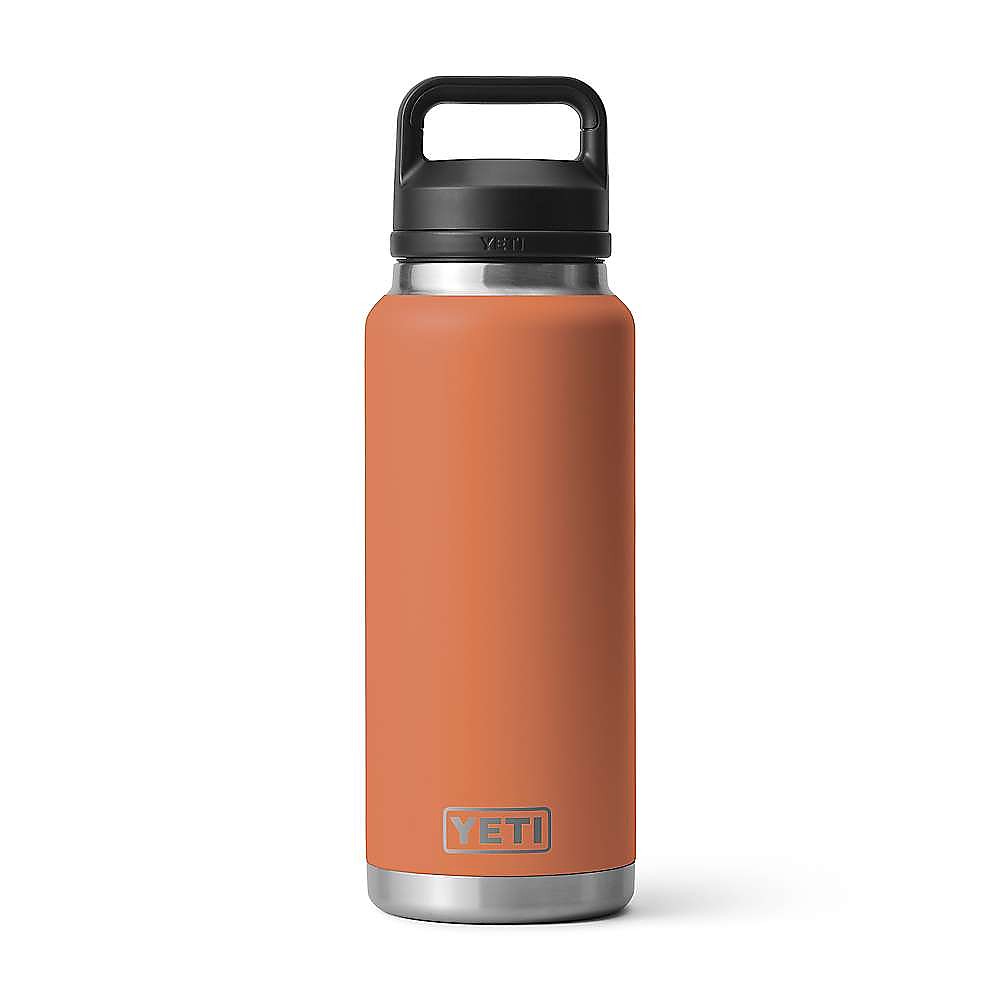 Heavy but highly functional storage for hot and cold liquids. Durability is a big plus. Does a great job keeping the hot stuff hot and the cold stuff cold. Pricy, but in my view worth it.
Pros
Insulating capabilities
Durability
Doesn't leak
Doesn't sweat
INTRODUCTION
The Yeti Rambler 36 oz bottle is a heavy and heavy-duty insulated steel bottle for toting drinking water, coffee, and other hot and cold liquids. This review tries to assess both the bottle itself and its utility for hiking and other outdoor activities.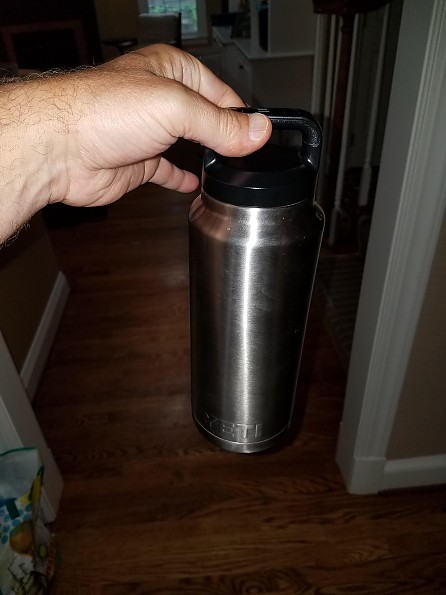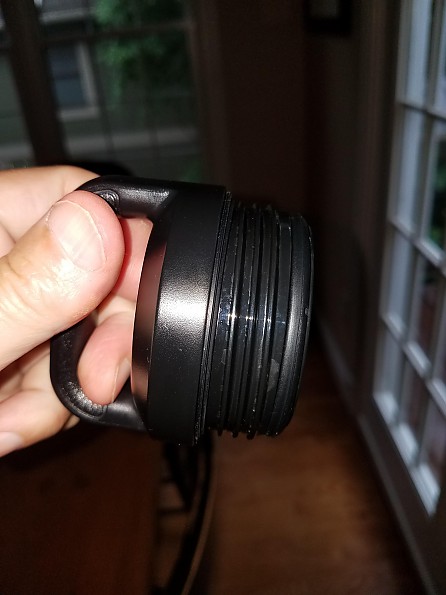 WEIGHT AND PRICE
Let's start with the negative characteristics first. The Rambler 36 retails for fifty dollars. To put that in perspective, every uninsulated water carry option costs a fair bit less than this. A 1.5 liter liquid reservoir with a tube (Platypus, Camelbak etc.) will set you back $25-35. Hard plastic water bottles cost roughly $7-12. Non-insulated steel bottles cost about $15-35.
The Rambler 36, empty, weighs about a pound and a half. This makes it among the heaviest water carry options on the market.
With these caveats, there are sound reasons to buy and use this bottle. Read on.....
BASICS
The Rambler 36 holds about a liter of liquid. It is a stainless steel double wall vacuum bottle. That means the inside of the bottle is made entirely of steel ('kitchen grade steel'), and so is the outside. It's basically a bottle within a bottle, and the space in between is sealed and partially a vacuum. Bottles made this way do a much better job insulating the contents from outside temperatures than a single-walled bottle or reservoir. 
As you can see above, the top is plastic and screwed into the top opening of the bottle. The plastic top is hard and has a handle—about the size to allow you to grab it with three fingers. The top is sealed with two rubber gaskets. As a result, if you fully screw in and tighten the top, the bottle does not leak. You could toss this anywhere in your backpack, upside down, and it will not leak. Period.
The top has a pretty wide mouth. I like that because it's easier to drop ice cubes in, and it's easier to pour tea or hot chocolate in. (I'm not a coffee drinker.)
INSULATION
The primary reason I looked at this bottle was to keep cold liquids cold and hot liquids hot. For long-ish and steamy hot summer day hikes in the Mid-Atlantic, it's nice to have really cold water handy. For hiking in the winter, I nearly always carry hot tea or hot chocolate in a bottle—starting out with a hot drink in an insulated container means it's less likely to freeze up in cold weather.
The bottom line, in terms of insulation, is that vacuum-sealed bottles do a much better job keeping liquids hot or cold than single-walled bottles. That is true even if the single-walled bottle is stored in an insulated bottle cover or jacket. When I hike and bring bottles rather than a reservoir with a tube, I often bring one steel vacuum bottle and one plastic bottle in a thick neoprene bottle cover. I usually fill half the bottle with ice, then fill up with water. On a hot day, within a couple of hours, all the ice in the plastic bottle melts, but the steel bottle still has quite a bit of ice. 
As a side note, there are plenty of non-steel vacuum bottles. Thermos makes many glass-lined vacuum bottles that do a good job insulating. Glass, though, is inherently brittle and fragile. Having dropped a few glass-lined thermos bottles and seen the internal liner shatter, I think glass-lined thermos bottles are fine for some things, like going to the beach or car-camping. I would not ever take a glass-lined bottle for a hike, and particularly not in the winter, where freezing/expanding liquid could easily destroy the glass liner.
The insulating advantage of vacuum bottles is even more of a factor for winter hiking. On a very cold day, if I start with hot tea in a plastic bottle inside an insulating cover, the tea will be lukewarm by the middle of the day, and cold with ice forming by the end of the day. The same tea in a vacuum bottle will be very warm in the middle of the day and warm to lukewarm by the end.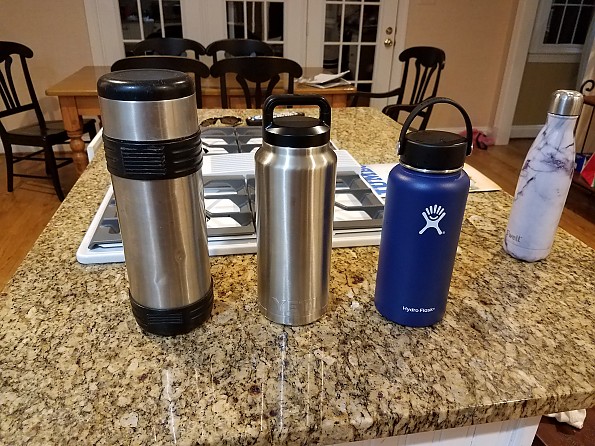 To provide some sense of how this bottle stacks up to other steel-lined vacuum bottles, I home-tested a 30-year-old 'Nissan' 1 liter Thermos, a 1 liter Hydro Flask, and the Rambler 36. I filled each bottle halfway with ice, then filled each bottle from the water dispenser in our refrigerator. I ran two trials. First, I let the bottles sit on the kitchen counter at room temperature and checked for ice melt and water coolness. The second round, I filled them up as I just described but threw them into a backpack and hiked in low to mid-80s weather.
The Rambler 36 and the Hydro Flask both kept the water cold for a long time at room temperature. 24 hours later, both still had some ice in the bottle. When they were out in the heat, both still had some ice left at 6 hours. The 30 year old vacuum thermos probably doesn't insulate as well as it used to; ice melted much more quickly in that bottle during both tests.
DURABILITY
Properly cared for, a plastic bottle can last for a very, very long time. I have a couple of white-ish HDPE Nalgene bottles that are over thirty years old, though I have replaced the tops once or twice. Plastic can also fail more quickly. My family has managed to crack two or three hard plastic water bottles and at least that many bottle tops over the years. 
The Rambler 36, on the other hand, should be able to absorb a very high degree of abuse. I did not intentionally drop or whack it, but I also have not been particularly gentle with it. It's basically scratch free after being used constantly for months. I have accidentally dropped it a few times, and there are one or two barely-visible depressions in the metal around the bottom of the bottle, at the edges. The outer shell of this bottle is quite a bit harder than the old Nissan Thermos bottle. You are much more likely to lose the bottle than damage it; it should give you years if not decades of service.
It's worth keeping in mind that some liquids can stain metal. Coffee and tea are somewhat acidic. It's worth cleaning the bottle regularly and not leaving coffee or tea in it for long periods of time. 
The Rambler 36 is, according to the manufacturer, safe to clean in a dishwasher. I have never cleaned mine that way, opting instead for a bottle brush and soapy water. If I had to do a more thorough cleaning, I would use either a solution of vinegar and water, a mix of baking soda and water, or a mildly abrasive cleaner like Barkeeper's Friend. I have, however, cleaned a Yeti tumbler (double-walled steel cup) and top in the dishwasher without harming it, and the tumbler, after a couple of years, has no rust or discoloration either inside or out. If you get a bottle with the powder-coated color material on the outside, I would think seriously about avoiding a dishwasher.
This bottle has a five year warrantee. For something this expensive and apparently durable, I would rather see a lifetime warranty.
HEALTH AND STEEL
Some years ago, polycarbonate plastic bottles came under fire due to a chemical, BPA, that could leach from the plastic and that raised concerns about health effects, specifically relating to hormones. Polycarbonate are the clear, hard plastic bottles that many commonly use for water on the trail. As concerns about BPA and other plastics grew, the public searched for alternatives. One such alternative is high density polyethylene—the milky white and softer plastics i grew up using. Another is stainless steel. The softer plastics and steel supposedly don't have the same risks of leaching chemicals.
If it matters to you, the steel used in this bottle has 'kitchen grade' stainless steel. It should be chemical-free. Of course, you could buy a single-walled steel bottle that is quite a bit lighter and less expensive.
KNOCK OFFS
I have read that there are similar bottles out there, available at big box stores and virtually identical to this, for a fraction of the price of this bottle. I can't comment on what I have not used, but a less-expensive bottle that functions the same and has the same durability would be interesting.  
HOW I HAVE USED THE BOTTLE
I bought this bottle earlier in the summer and have used it constantly since then. The bottle has accompanied me to every softball game and trip to the beach that I have taken this summer. The bottle also sat in the hull of my canoe for many hours this summer, and I took it on numerous day hikes. 
Source: bought it new
Price Paid: $49.95

No lid?
Terrible—paid $50 for this as a Christmas gift to replace an old Thermos. Every time you try to pour out your hot tea, it runs down the side and makes a mess.
Emailed Customer Service. They told me buy a lid at $30 more. Maybe it's me, but for $50, I think that it should work. The old Thermos is out of retirement. 
Source: bought it new
Price Paid: $50

Your Review
Where to Buy
Help support this site by making your next gear purchase through one of the links above. Click a link, buy what you need, and the seller will contribute a portion of the purchase price to support Trailspace's independent gear reviews.
You May Like
Specs
Price
MSRP: $49.99
Current Retail: $49.99-$55.00
Historic Range: $34.99-$59.95
Reviewers Paid: $49.95-$50.00

Recently on Trailspace