Six Moon Designs Minimalist V2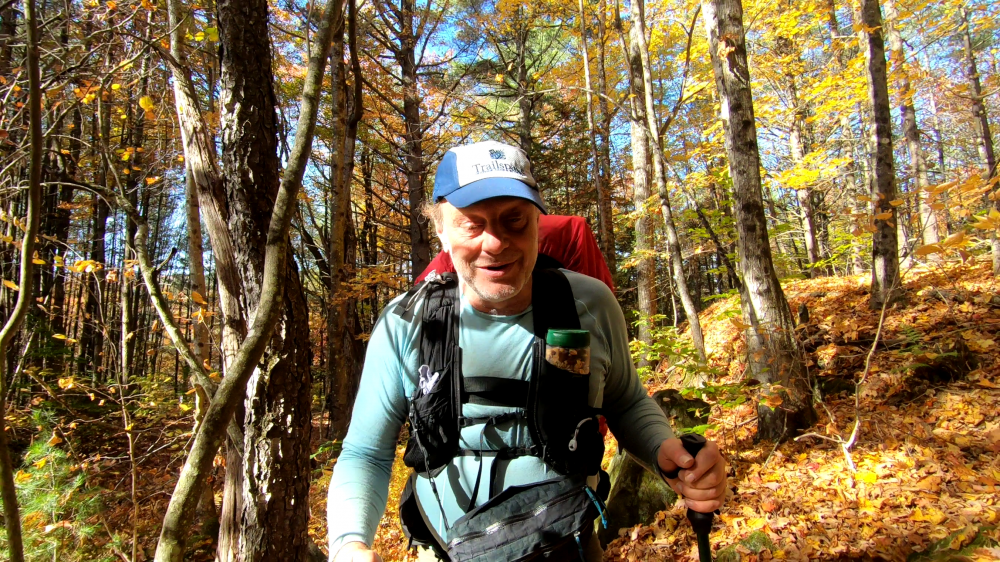 Six Moon Designs updated their 2018 Minimalist pack last year with an entirely new version that kept the good parts of the original while resolving some of that pack's issues. Still configurable with removable hip belt and internal stay and sold with optional shoulder harness or vest the V2 is best for light/UL packers looking for day after day comfort carrying lighter loads.
Pros
Comfortable even when loaded
Internal frame transfers weight to hips
Lots of attachment points
Long straps for top carrying canister
Removable frame and hip belt
Double layer bottom for structure
Cons
Bigger lid pocket still doesn't hold much
Exterior pockets still fragile material
If you've read my review of the 2018 Minimalist you know that I really liked that pack, especially for distance hiking. After years of use and a few thousand miles of trail abuse I finally managed to effectively destroy that poor pack near the end of this year's SOBO Cohos thru. I finished that hike with several pieces of my clothesline holding things together, though I have to admit it was still pretty comfortable even in that state.
When I got home from that trip I started looking into the new model SMD was calling the Minimalist V2. It seemed to be the same pack and they mentioned little about the redesign other than larger exterior pockets. Talking with their customer support person didn't give me any more info, but I'd gotten so used to the comfort of the original model that I was afraid to try something new given my plans for the rest of the season. So I took a chance and ordered a new one. While they now offered an option using a heavier X-Pac VX21 material I stuck with the Robic which held up well for me on the original.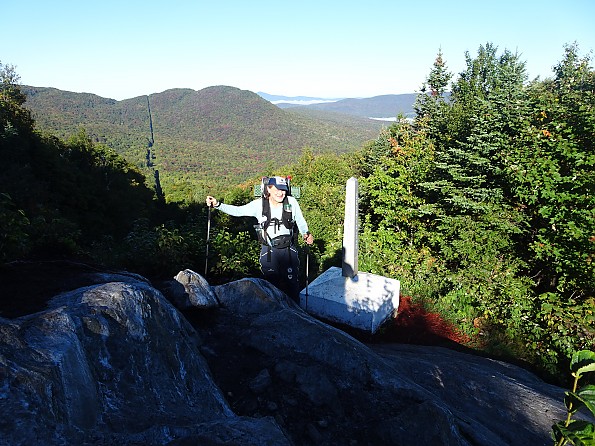 This review is based on my use of the pack for the rest of the summer and fall seasons including some time on the AT, LT, and GLT and one overnight trail work trip on the Cohos.
Specs:
Dimensions: 11"W X 7"D X 22"T
Torso Sizes: 16" - 22" | 38 - 56 cm
Maximum Load: 35 lb - 15.88 kg
Bag Material: Nylon Robic (X-Pac VX21 option)
Total Volume: 3600 ci / 59L
Weights:
                     Robic Body = 23 oz - 671 g
                     X-Pac VX21 Body = 28.5 oz - 807g
                     Shoulder harness = 5.7 oz - 161 g
                     Vest harness large sized  = 8.5 oz - 242 g
                     Hip belt medium sized = 6.5 oz - 184 g
                     Delron hoop stay = 3 oz - 85 g
Sizing:
The Minimalist V2 adjusts for torso sizes from 16 to 22 inches, so you don't need to worry about sizing for the pack itself. There are a lot of options when it comes to picking out the right sized hip belt, shoulder harness or vest though. Six Moon Designs put together this very extensive run down on sizing specifications for all of the belt and harness options which I'll just link rather than repeating here.
https://www.sixmoondesigns.com/pages/packs-size-guide
Fit: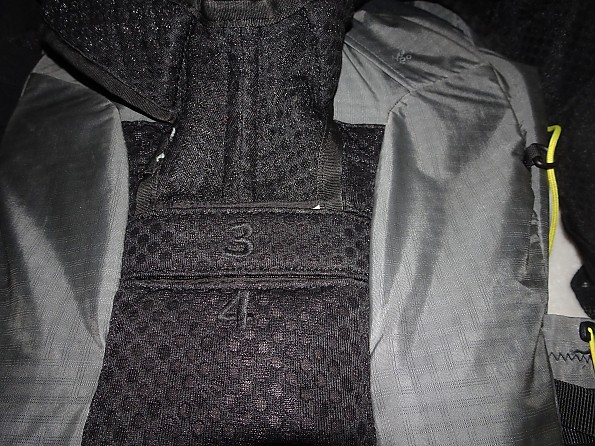 The key to how the Minimalist V2 rides starts with its adjustable harness attachment. Both the vest and shoulder strap versions can easily be moved up or down. This new version added a fourth slot allowing for more precise positioning. Finding the right spot sets the pack correctly on your back and puts the harness of choice where it can comfortably carry the load.
Fine tuning the fit comes from multiple adjustment points. The strap that runs from the bag to the lower end of the harness, along with the double sternum straps can be tightened and loosened to get the harness wrapped around you so well you no longer feel it.
Comfort & Ride: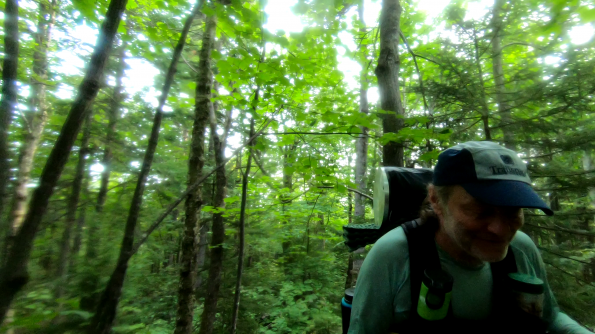 This is where that fit pays off! The stability afforded by the secure attachment means less work on rugged trails that throw obstacles at you. Even with a bear can riding on top the Minimalist follows the body without throwing balance off with a shifting load.
As a distance hiker I know that the same pack that feels great on day one may become a hated enemy by day ten. This new version of the Minimalist, just like the original, stayed friendly day after day, week after week.
Capacity:
The main body of the pack is a 40L, single compartment. It has a roll top collar that adds about 9L when fully extended. There are two side pockets, one about 8" tall, the other about 14". These are slightly larger in diameter than on the previous model.
On the back of the pack is a large stash pocket which has also been increased in size on the new model. It has a bigger opening as well, making it easier to cram larger items in.
If all that isn't enough room you can always strap more on top. Designed with an eye for carrying a bear canister, the Minimalist has really long straps that are great for holding a load on top of your load.
Compression: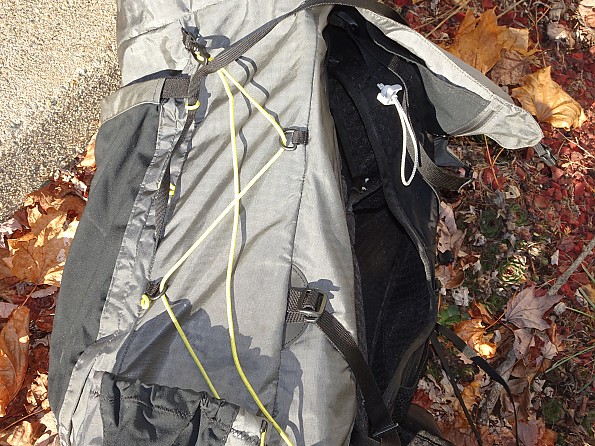 There are cords running down either side of the pack which can be cinched via an easy to use pull lock at the top if compression is desired. Even completely empty the pack doesn't feel floppy if I try to shake it around so I'm not sure this was even necessary, but it appears to function very well. It also works great for securing taller items carried in the side pockets which was my primary use for it.
Features & Ease of Use: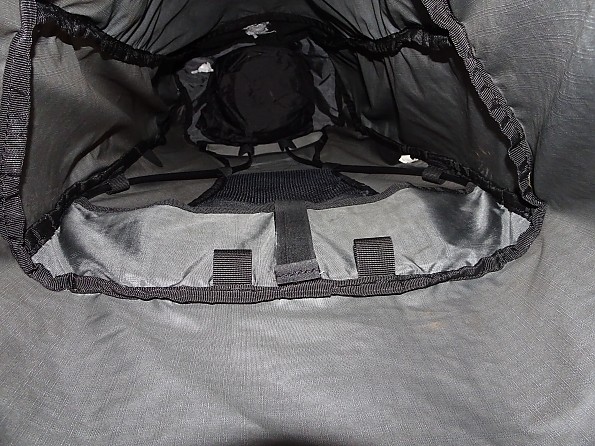 Starting on the inside, the Delron Hoop Stay is a small, light, plastic stick that has been bent into a sort of tennis racquet shape. The ends are tucked into pockets near the hip while the top forms a wide, rounded arc across the top of the main bag.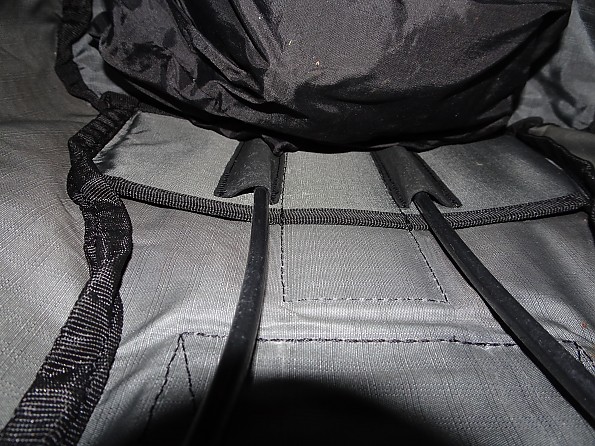 This thing not only helps transfer load to the hips, but gives the bag something to help it hold its shape making loading/unloading easier. For a 3-ounce frame this does an amazing job when pushing the 35-pound limit SMD suggests for the V2.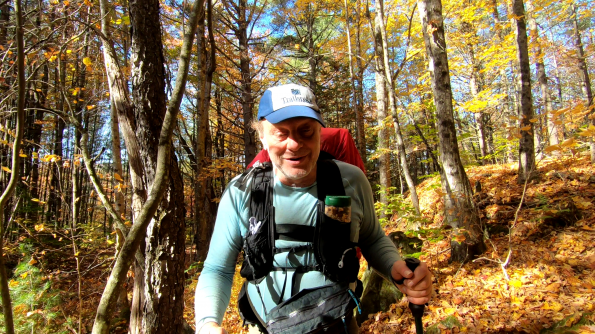 Six Moon Designs has changed the vest that is available for this pack, but it still performs the same great job of holding the pack on my body no matter what I'm crawling under or over. The changes made the lower part of the vest less useful for carrying anything other than flat items as the pockets are different, but there are still spots for two bottles in front and small items below.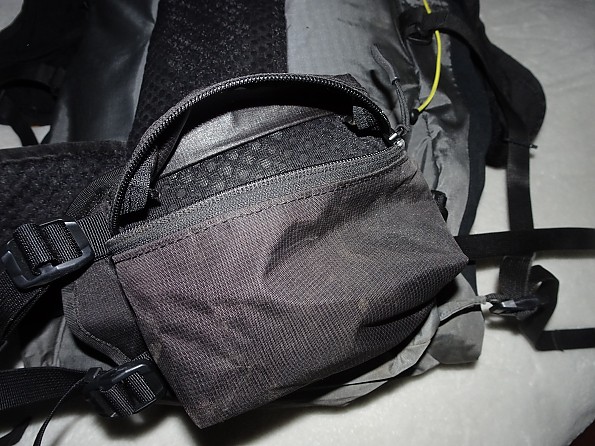 One more change for the better was to the pockets on the hip belt. Already very functional with easy access, they now have a little bit more room. Nice for folks who like to load those pockets up or for folks like me who keep a camera in there. The extra room make it easier to get in and out a hundred times a day.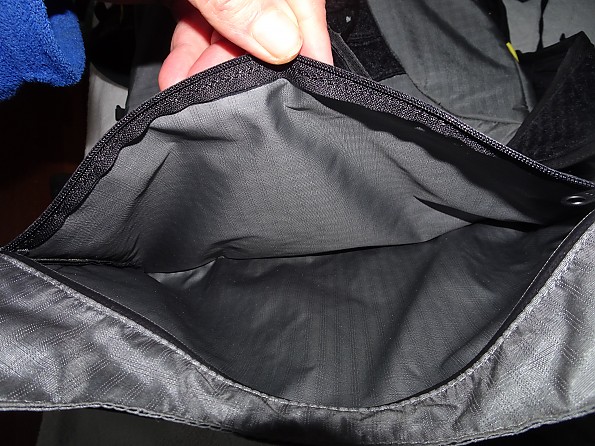 The top pocket has been reworked a bit and does have a little more room. Still, it really is best for small or flat items. I carry map and compass in there for quick access along with my UL wind shell and my Coghlan's line. Cramming larger items like hat or gloves in there makes it hard to close and it doesn't seem to want to wrap around the bag or canister very well.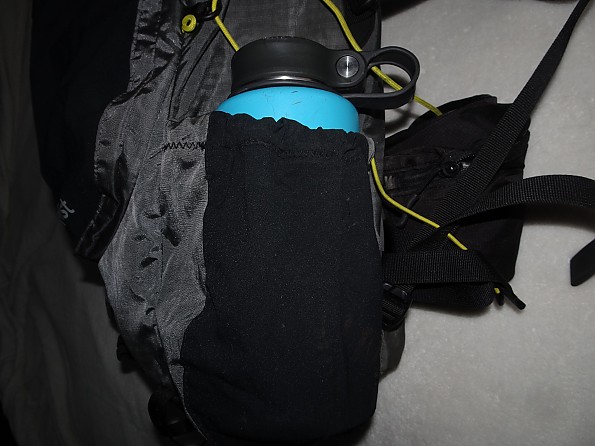 The side pockets still rock though! I love the short one for carrying a 1L Microlite Twist that I can easily pull out and cram in while walking. The longer side pocket has a lot of uses for me so I'm guessing other folks would come up with a lot too. It is a great spot for holding my umbrella on some trips, or trail work tools on others.
With space a premium for an expected to be chilly fall Long Trail attempt I moved tarp, stakes, and hammock straps in there with room for my small plastic ground sheet crammed on top. Perfect for fast setup in bad weather or with the sun setting just when you get to camp, with access to everything that doesn't need to be dry.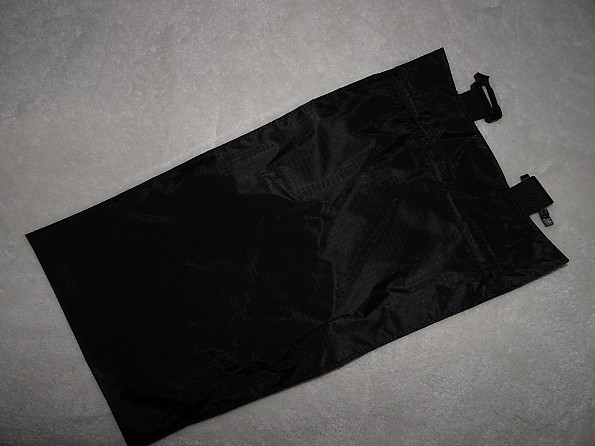 One added feature new to the V2 is this hydration pouch. It is easily detached for folks who don't need it. For those who like to carry water inside their bag this gives them a spot to carry it with easy access to the dual hydro ports on the bag. It seems designed to work with a 2L bag or smaller.
Construction & Durability:
Having beat the crap out of the original version of the Minimalist I stuck with the Robic material for the weight savings. The X-pac VX21 adds about 5 ounces as well as increasing the price by $100. It does provide a lot more durability and water protection. SMD still advises using a liner because the seams are not water tight. The Robic material provides almost no water protection at all, so you definitely want to use a liner there.
Over all the new pack is put together well, but I did have an issue with an elastic pocket retention cord pulling loose on one end where it wasn't sewn properly.
I also noted that SMD opted to continue using the stretch fabric for the external pockets which works well enough, but gets abused by rocks and trees along the trail. Something more durable would be better there I think.
Other than a few abrasions it has held up well to the abuse I've thrown at it. I've noticed that as the days on trail go on I am less and less respectful towards my pack, but it doesn't seem to mind.
Testing Conditions:
Summer and fall backpacking in Maine, New Hampshire, and Vermont have given me a chance to put the Minimalist V2 through its paces. Trips ranged from a single night to ten days. Almost all trips were done with the Wild Ideas Blazer riding on top.
Conclusions:
I've rated the SMD Minimalist V2 a half star lower than the original, but I still consider it to be a great pack. The new version is actually better than the original in some ways, but there seemed to be a slight decline in sewing quality. I was sorry to see they kept the flexible but more fragile stretch fabric for the pocket material. It works really well, but I put my first hole in it on one of my first trips. This would have been a good time to address that issue.
I was glad to see that they had changed the way the bottom of the harness/vest attaches to the bag. The previous material, used to allow for three adjustable attachment spots, was a failure point waiting to happen. The V2 has a much sturdier design, though no longer is adjustable.
The larger pockets are also a nice update. The big pouch on the back is definitely much more useful. The larger side pockets extend the options as far as easy to access items. I really liked having my tarp and hammock hardware there for fast set up.
Overall the V2 performs just as great as the original Minimalist on trail. I still find myself crawling  under blowdowns or bushwhacking between trees that seem too close together for me to fit a pack through and appreciating the way this pack rides. On a reasonable trail the pack sort of disappears as the vest harness spreads the load out. Even with a full bear canister riding on top it stayed with my body as I did what needed to be done to get up or down the trail.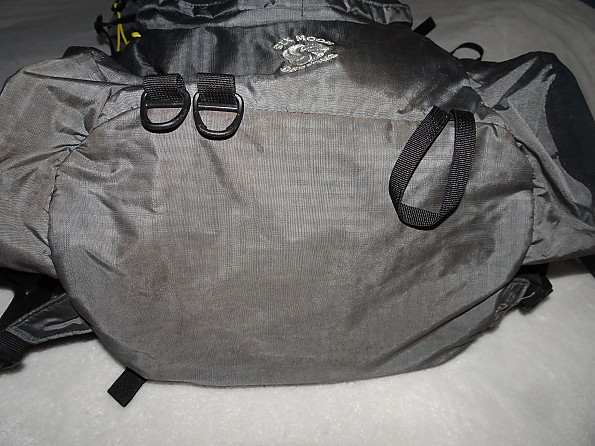 There are lighter packs out there for folks who are carrying loads on the true UL side. You could remove the stay and belt on the Minimalist, but you probably wouldn't need all that space anyway. I think the folks who would really appreciate the V2 are carrying total loads in the 15-35 pound range. It is too much pack if you are really light and starts to lose its comfort as you approach 50 pounds,  in my experience.
Bottom line from me is that I still really love hiking with this pack so I was thankful they didn't ruin it by making it better. I wish they'd made a few other changes; a better lid pocket and abrasion protection on the side pockets, but I like that they tried to fix the things folks were complaining about. Hopefully there'll be a V3 by the time I wear this one out, but I'm pretty happy with this purchase and feel comfortable recommending it for folks who'd find it appropriate for their load.
Experience
I've been backpacking for over forty years. This pack was tested over several months and hundreds of miles of overnight use.
Source: bought it new
Price Paid: $235 USD

Your Review
Where to Buy
Help support this site by making your next gear purchase through one of the links above. Click a link, buy what you need, and the seller will contribute a portion of the purchase price to support Trailspace's independent gear reviews.
You May Like
Specs
Price
MSRP: $210.00
Current Retail: $210.00
Reviewers Paid: $235.00

Total Volume
3600 cu in / 59 L

Robic Weight
35 oz / 992 g

VX21 Weight
40.7 oz / 1153 g

Suspension
Delrin Hoop

Torso Sizes
16-22 in / 38-56 cm

Dimensions
11 x 7 x 22 in

Maximum Load
35 lb / 15.88 kg

Base Weight
15 lb / 5.5 kg