Komperdell Contour Titanal Power Lock

#6 in men's Rigid Trekking Poles
The Contour Titanal Power Lock has been discontinued. If you're looking for something new, check out the best rigid trekking poles for 2023.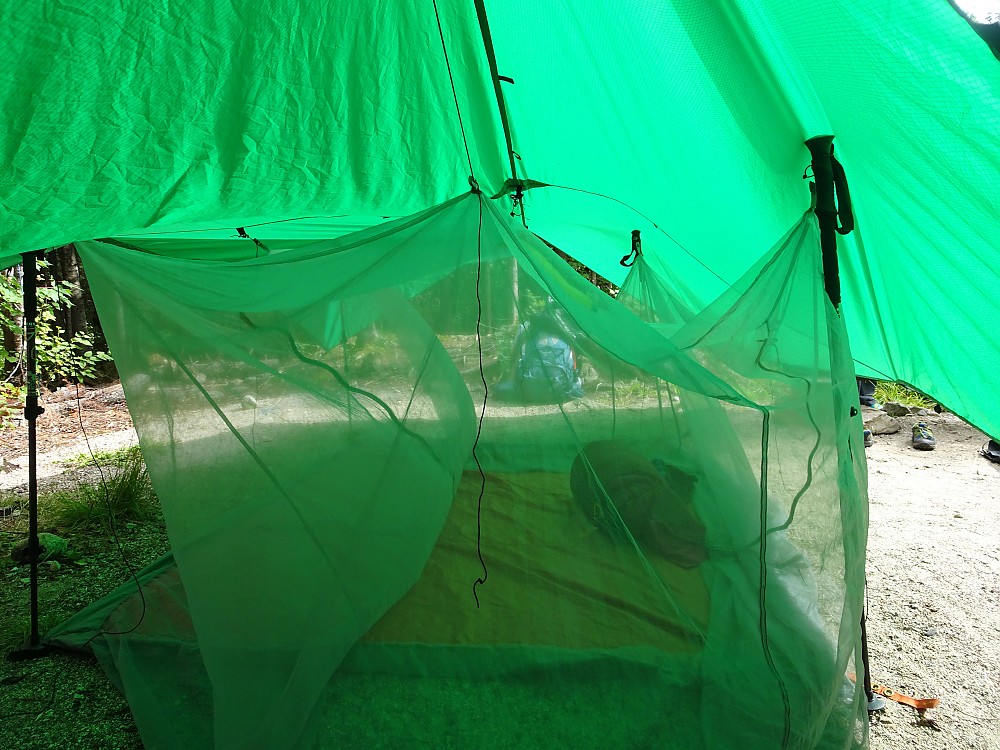 These poles balance nicely between weight and strength, being sturdy without being too sturdy. Three-piece poles with flick locks lets them shrink for carry and make for fast adjustment on trail. Very functional in rugged terrain and as shelter support.
Pros
Comfortable two position grips
Easy to use flick locks
Surprisingly sturdy
Cons
Possible strap issue for big hands
Locks opened a few times by surprise
Lower section not locked when fully collapsed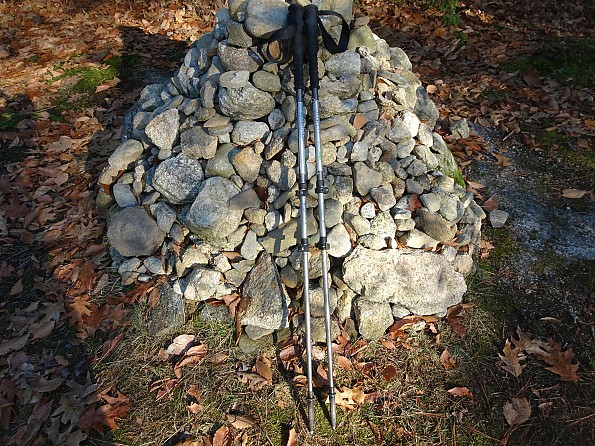 Komperdell has been making a product with this name for quite a few years and made changes and improvements along the way. These poles didn't impress me when I first held them in my hands, but have survived for almost nine months of use. They are not perfect, but I have found them to work well enough to justify the discounted price I paid.
Adjustability & Locking:
A multi-piece pole design lets you adjust pole length for changing conditions, shelter setup or storage. That doesn't matter if the pole won't stay where you set it or takes a long time to make changes. The Titanal Contours employ the Komperdell Power Lock which proved easy to use and relatively trustworthy.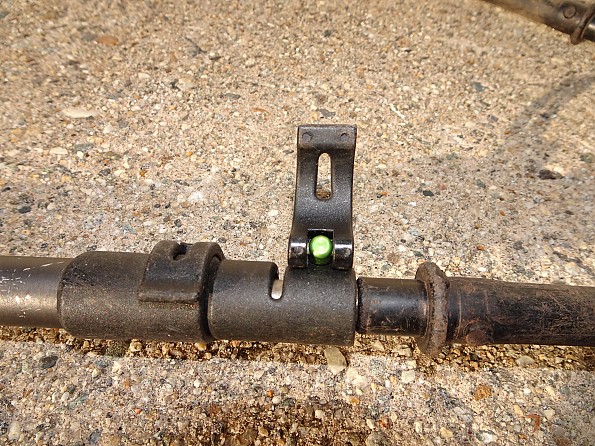 Looking at an entirely collapsed pole you can see the upper lock in the closed position and the lower lock opened. These locks have required no tension adjustment after initial setup. They also have repelled dust and grit which keeps the mechanism moving smoothly and freely. I can also say that they have never slipped while in use, despite my putting them under a heavy load at times.
The one issue I have had with them was a few episodes where the lock opened up after getting caught on underbrush or something. It didn't happen often, but does seem to be an unfortunate tradeoff for an easy to use lever and accounts for a fair bit of the score reduction.
Straps & Grips: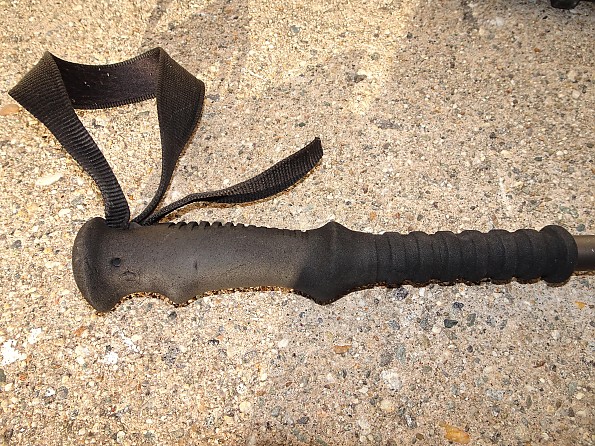 This is an area where Komperdell did some things very well and at least for me came up a bit short. The grips worked very well for me on trail and in camp. The extended lower area works great as a short-term hand grip for times you need to plant a shorter pole while climbing a steep area. I found that I could use it without pulling my hand out of the strap if I didn't need a solid grip. It also worked well for wrapping a line around that area when using the poles for shelter setup.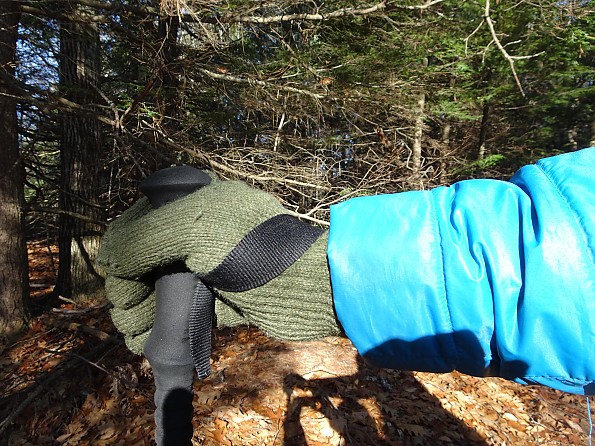 The straps were the other area that left me less than fully happy. They were long enough to wrap around my large hands, but became narrow before crossing the part of my hand that carries most of the load. You can see in this pic with a natural open handed grip the band starts to become smaller just a bit too soon for me. This wasn't an issue when using gloves, which I often do. When bare handed though there was some friction and pressure wear on that part of the hand.
This could be resolved by tightening the straps for most users, but those with larger hands might have a similar problem. I'd suggest trying them out in a store to see how they fit if straps are important to you and you have larger hands.
Flex & Traction:
This section will be very short. The Titanal Contours have very little flex and pretty good traction.
OK, maybe that is too short so let me elaborate a bit heh. I put a lot of weight on my poles at times. When descending or during water crossings I rely on my pole holding its position and the weight I'm putting on it so I don't want much flex in my poles. This also comes into play when using them to hold up a shelter. You want a tiny little bit of give, but not enough to actually flex in my opinion. These poles fit that description well.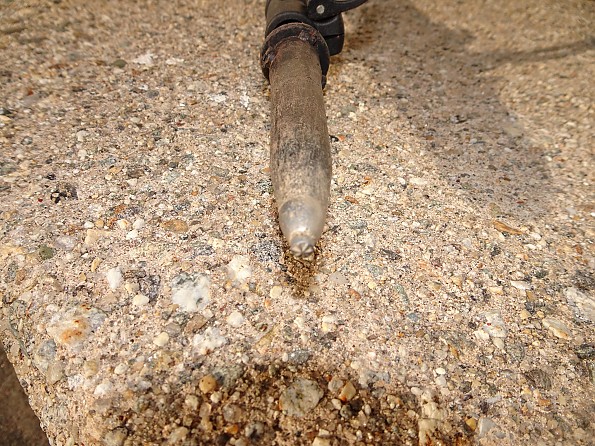 Sorry for the terrible background, but if you squint carefully you'll note the lack of wear on the carbide tip. This is after an entire season of poking at New England rocks and they look like they are brand new. They provided as much traction as one can expect; more on horizontal surfaces and less as you approach vertical heh, but I found them quite serviceable in this regard. They stuck pretty well from any angle and while most poles start out that way the tip keeping its shape means they still stick well today after many miles.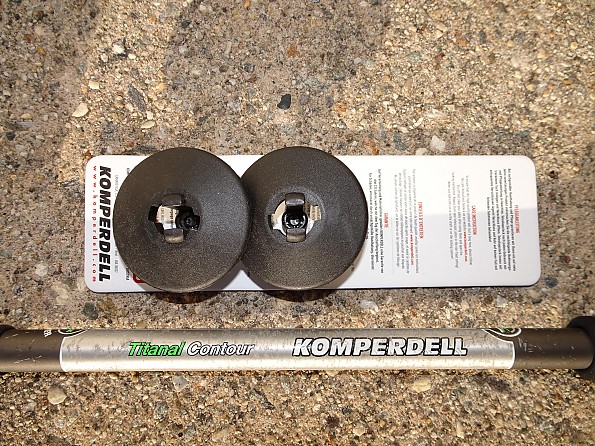 Baskets:
These poles came with a single set of baskets and as you can see I did not use them. They do go on and off easily, yet are held in place firmly by pins that set into small depressions after turning the basket to lock it in place. They are made of a slightly flexible plastic so they give a bit rather than crack under load. They also have a serrated edge on the bottom.
Construction & Durability: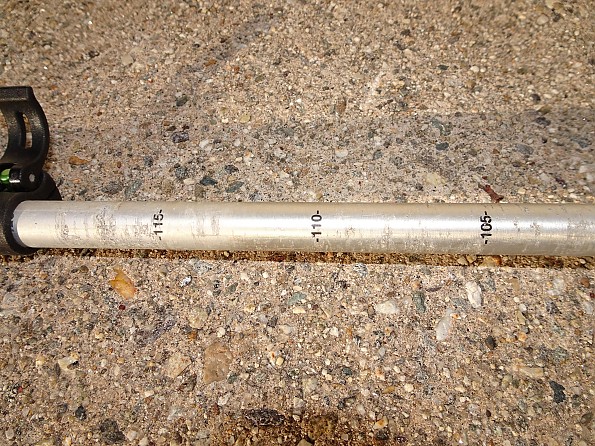 These poles felt light and somewhat fragile when I picked them up the first time. My goal was to find something lighter than the Eastons I had been using. The Titanal Contours fit that bill, dropping about 8 ounces, but I was afraid they would bend the first time they caught in between a couple of boulders. Turns out they are made of some pretty tough stuff and while they don't look as pretty as they did to start they have held up very well.
The shafts are made of titanal which despite the sound of the name is an aluminum alloy. Check out the info at the link if you want the full sales pitch, but I can vouch for it being light and sturdy, both within reason.
The foam of the hand grips has held up well to use on trail and some in camp bondage when used to hold up various shelters. As mentioned earlier the carbide tips will probably outlive us all.
Features:
As seen above, they included easy to see length markings making it easy to set your poles to a desired point the first time. This works well for those who need to change the poles to set up camp and again in the morning to hit the trail. Also is helpful for those who only use poles for some sections and need to stow them in between.
As mentioned earlier the extended grip area is useful while walking or for shelter setup. Such a simple idea and a little extra material made for many more possibilities in terms of use for those who are creative.
Conditions: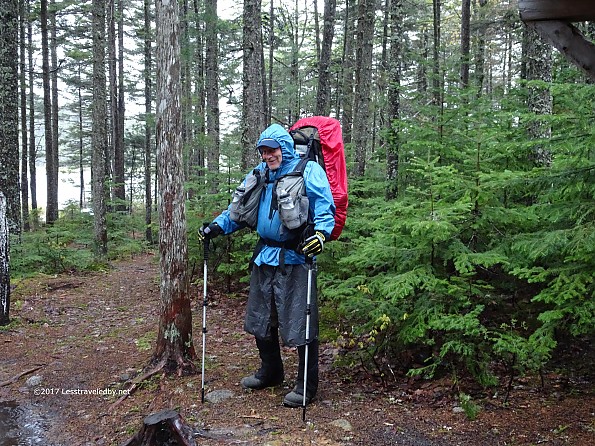 Sorry I can't find a rugged mountain top action picture of these poles so this rugged forest picture from a family Baxter trip back in late May will have to suffice. These poles have been with me on every trip since spring. That has included Maine, New Hampshire, and a fair bit of Vermont this year with plenty of rocks mixed into the mud along the way. A little day hiking with the family who are becoming peak baggers on me and lots of backpacking with and without them.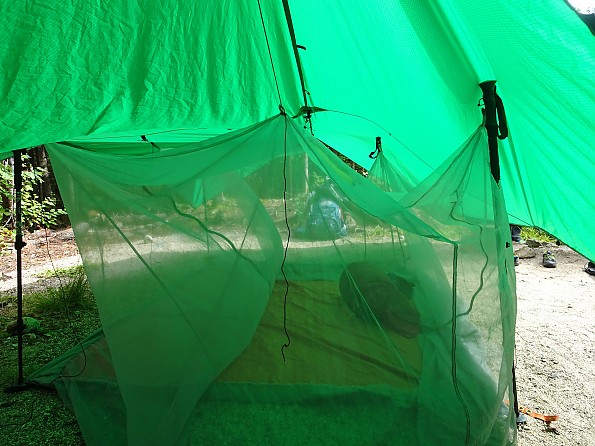 These poles were used in shelter construction at times as well. This picture is about the only one I could find and comes from a day we were expecting rain so kept everything close to the ground, but in better weather we could extend the height. The poles also worked to hold up the tarp itself when I set it up to seam seal in the back yard.
Conclusions:
Despite my initial misgivings I have been very happy with this purchase. These poles, when found at a good price, take the middle ground between cheap and expensive. They do the same when it comes to weight, coming in around a pound for the pair. You can go much lighter but you will either have to give up strength or money to get there. I found this middle of the road approach worked well for me.
I did have a little issue with the straps on my hands. Part of that might be due to my use of gloves most of the time leaving my hands more sensitive when I take them off. My large hands might also be part of the problem, but I see it as a design issue with the straps. They can't be adjusted to get the thick part where it needs to be on my hands so they need more thick or more adjustability to work better for me.
The other issue with the locks opening was not a frequent issue, but I felt it should be mentioned. In general I trusted these poles to hold me up or help me up if I fell down heh. I also slept a few nights with them holding the house up and would do so again. These poles are good enough is my final word.
Source: bought it new
Price Paid: $69.38 after some sort of REI discount

These are light and sturdy poles, but they have annoying glitches that were enough of a disappointment for me to take them back to the store and get my money back. The store owner agreed with my complaints and suggested that he knew of others with had the same issues. Most people, unfortunately, don't bring the poles back, so Komperdell isn't even aware of the true level of dissatisfaction.
I used the poles on a rugged 100 km hike in Killarney, Ontario, Canada... a single 4 day trip. The airshock system repeatedly seized for about 1/2 hour at random in both poles and then worked fine again for a short while. Having both poles working at the same time occurred for a small fraction of the trip time. No effort to 'unlock' the seized poles worked, they just kind of fixed themselves every now and then. Unreliable airshock is a big issue for me as I accepted the price and the weight on the basis of the airshock feature, as I have serious tendinitis of the elbows.
The second issue was the straps. They look like just about the most comfortable straps you could imagine, but these straps, of all the thousands of km of hiking with poles that I have done, are the only ones that have ever given me blisters on my hands! I had to wear light gloves for most of the trip!
The third issue is the pole locking. I had some problems locking the pole sections when they were cold and I was trying to make a length adjustment. Sometimes I would spin the pole segment for 5 minutes before it finally caught and locked! After the trip I could not get one of the lower segment to lock in the folded position for love or money!
Finally, the compass. If you are going to put a 'toy' compass on a trekking pole, it should be clearly marked "NOT FOR NAVIGATION". Toy carabiners for clipping your drink bottle, etc. to your backpack are clearly marked 'not for climbing', so putting a compass that doesn't work on a trekking pole is irresponsible without a similar warning. Of course, this begs the question why would anybody want to have a compass that doesn't work on a trekking pole!
I fell for this, because I thought, wow what a great idea... somebody's thinking at Komperdell! Well, Komperdell should have their butts kicked for this, and hard! I have an even smaller velcro strap compass that I put on my watch that works perfectly. There is no excuse for this, except to increase shareholder profits at the customers' expense. And I repeat, this compass DOES NOT WORK. Period!
The only feature on these poles that I am satisfied with is the weight, given all the features... oh, but wait, the features don't work! My advice... Give these poles a wide berth!
My suggestion if you want all the features (except the wonky compass) is the Leki Makalu Ultralite Air Thermo titanium poles. Their poles actually work reliably (and the airshock doesn't have an annoying squeak, like the Komperdell... when it's working). They'll cost you! You can put a velcro band super light, small compass on the shaft below the handle as I have done, and you have it all! You really don't need more if you have a topo map and you know the area... and you are traveling ultralight!
Price Paid: US 130

This is a lightweight, sturdy, good grip, and good looking pole. Easy to adjust the height on the go and with very comfortable straps. My only complaint is after my first trip in very wet condition the transparent film/lack protection get very cheeped. Probably my fault because I stored without to dry it.
Also it has a small compass in one grip which should not substitute your real one.
One day this summer a group of friends and myself went on a hike in the Austrian Alps. Our goal was the summit of a 3300m high mountain called "Muntanitz". As we wanted to start, I realised that I have forgotten my poles at home. A friend of mine offered me to use his Komperdell Contour Titanal poles for these two days because he doesn't use them often anyway.
My luck, because: oh boy, these poles only weigh a fraction of my old Leki poles and they are still extremely robust! Also the extended foam grip feels very comfortable and it doesn't get slippery from your sweating palms on a long hike.
The processing of the Contour Titanal poles is really state of the art and again, the lightness doesn't mean that they are less sturdy. One of the poles has a small toy-like kompass built into the grip. Imho it's more a gimmick than really useful. It doesn't replace the real thing which should be always in your backpack.
Conclusion: one week later I bought one myself and I'm still very pleased with this decision. My old ones...RIP....
Price Paid: € 89

I hiked from Mexico to Canada in 03. Twice in the Sierras I post holed and feel against my poles. I expected to pull out a bent stub but there was not a sign of a bend both times. The High Sierras is not a place for equipment failure. I am doing the PCT again this year with the same poles. It is going to be a meals-on-wheels promotion. I hope I have a chance to say something good about your titanal hiking poles. Thanks again they can truly be a lifesaver.
Will Smith, trail name Billy Goat

Price Paid: $104

Your Review
You May Like
Specs
Price
Historic Range: $62.95-$149.95
Reviewers Paid: $69.38-$130.00

Recently on Trailspace