LoneStranger
TOP 10 REVIEWER
REVIEW CORPS
12,166 reviewer rep | 1,829 forum posts
2:22 p.m. on June 22, 2017 (EDT)
Despite some foul weather this trip produced almost 300 pictures. I narrowed it down to 48 in the long version but will take it easy on the servers here. Complete reports can be found at the links below.
BSP-Martin Ponds/North Katahdin Lake
We like to start off every year with a late May, short distance trip. Again this year we opted to make that a visit to the Katahdin Lake area of Baxter State Park. Three nights in camps with a lean to and four days of just a few miles sounded like a great way to remember how we do this stuff.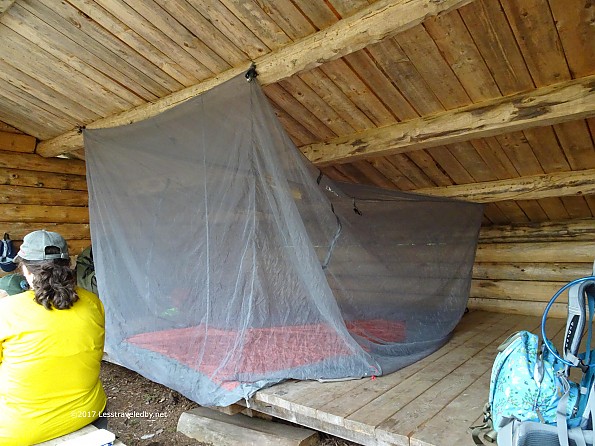 Also a chance to try out some new things we're hoping will add to our adventures including the new bug house. Rather than try to cram our tent under the roof we can now hang this from the rafters in minutes. In buggy weather it provides a safe respite and sleeps the three of us comfortably.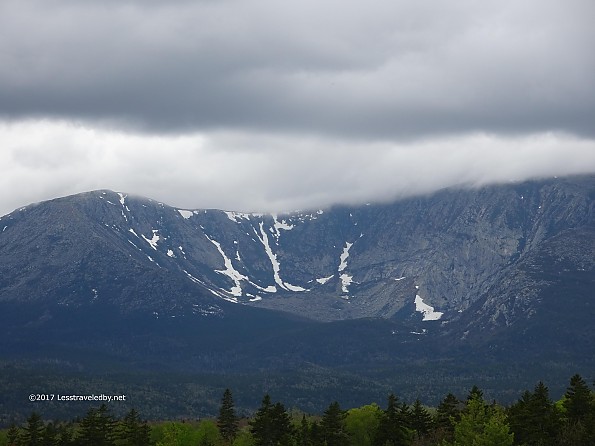 We were expecting some rain on day two, but day one was looking increasingly threatening as the afternoon wore on.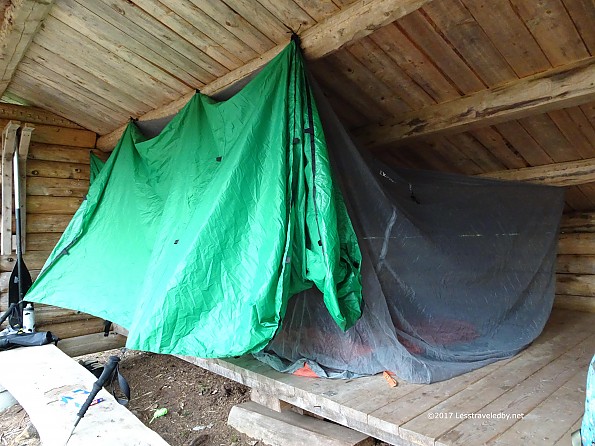 I got the tarp rigged for bad weather, but we found it too dark in there to play cards so I pulled it back some. We closed it up more before bed, but the night saw only a few light showers.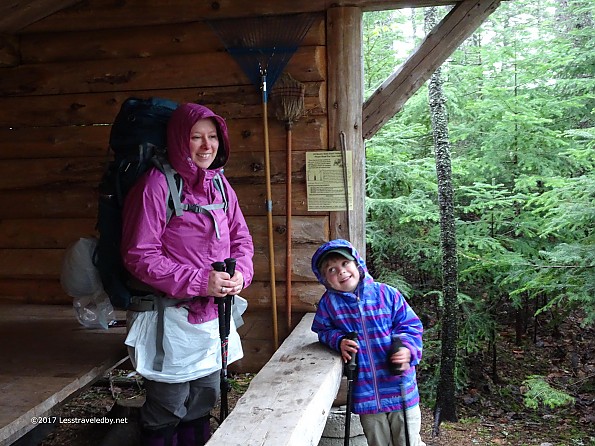 The heavy stuff started just as we finished getting our packs on. We stopped to document the smiling faces before leaving the shelter the roof provided.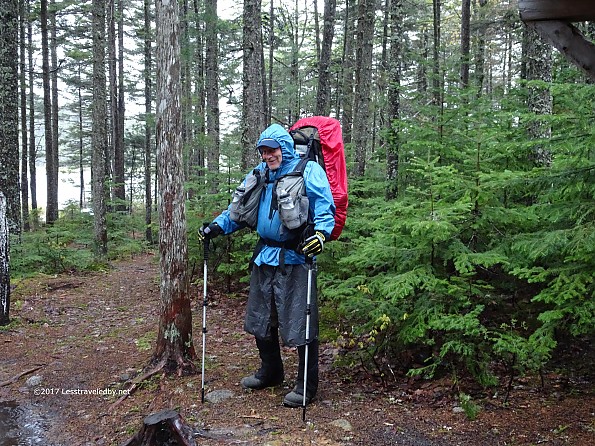 We thought it was raining at this point, but we found out later that it was just getting started. The new EE rain skirt worked pretty well on trail though bushwhacking doesn't seem to be its thing.
No more pics along the trail that day due to heavy water content in the air :) We had a couple of small brooks to cross and the second was really running high after a few hours of downpour. We don't take chances with our little one so spent some time finding a safer spot to cross as I'm pretty certain the usual crossing would have knocked me over if I tried to carry her per our normal technique.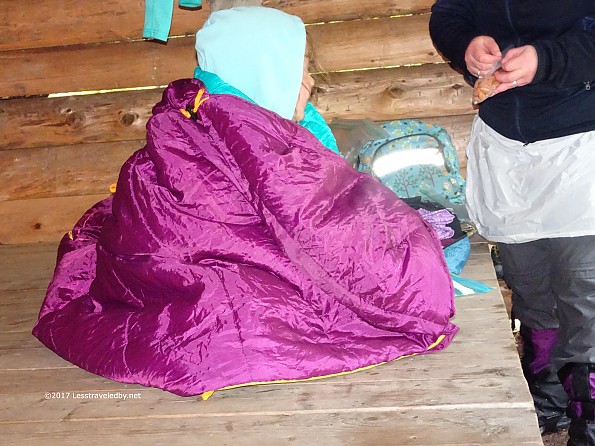 Between the exciting water crossings and a few hours of serious rain we were all happy to reach the LT at the North Katahdin site. First priority was getting the little one dry and warm, though I think she was less wet than the parents. I topped one of my gaiters while carrying her across one channel and that leg was damp to the ankle heh.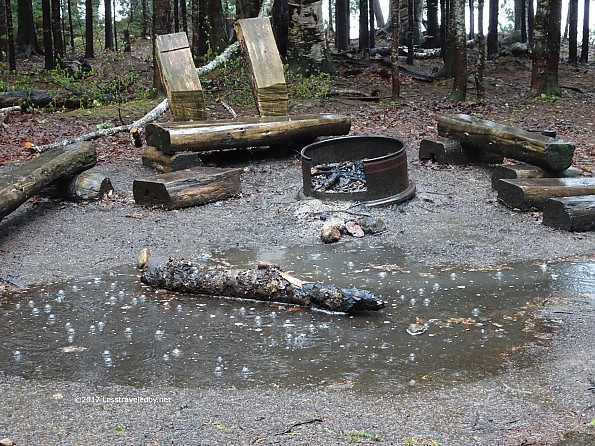 The site was flooded, but had unusually good drainage for the lean to which kept us mud free so long as we stayed under the roof. In many camps the area under the LT will flood in a heavy storm such as this, but this one drained around the building and into the fire area.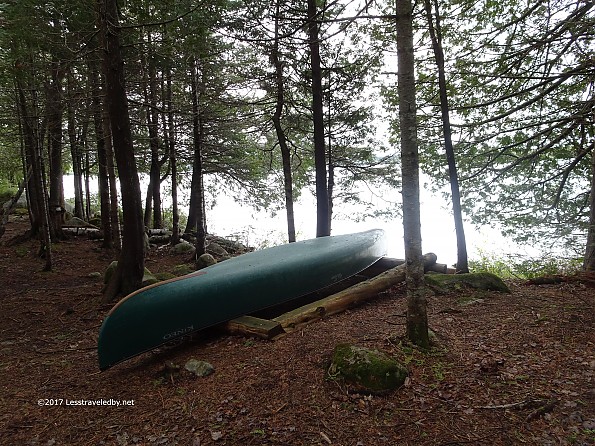 Canoe is included at both of the Katahdin Lake sites as well as at the one at Martin Ponds. Might be fun to spend a few days based here and take some time to explore the lake.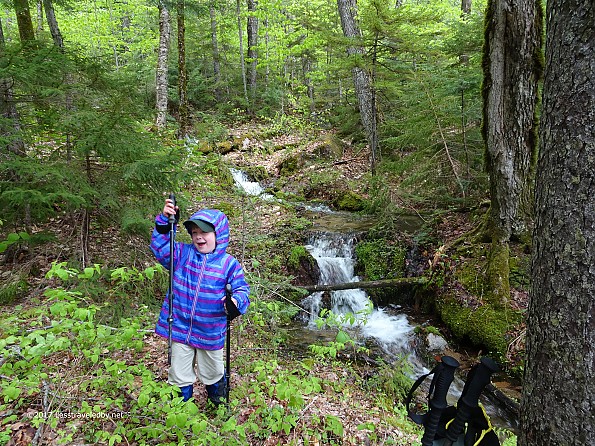 Day three we took our time before heading back towards Martin Ponds in hopes things would dry out a bit. There was still plenty of water out there. We were all just very happy that it wasn't raining!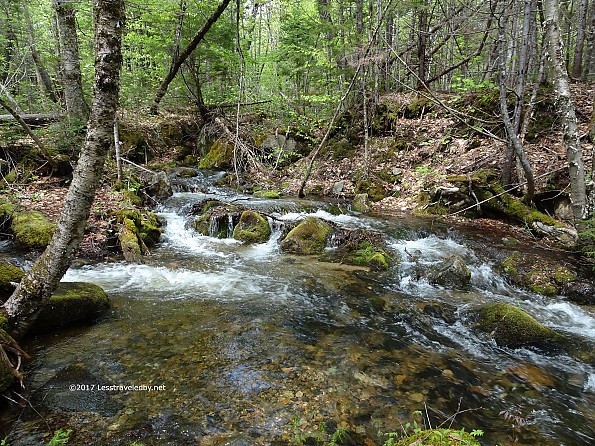 The water crossings were lower, but still running pretty high. We opted to bushwhack upstream again and cross where the brook split into two smaller channels.
This time my boots stayed dry inside! I tell my daughter to enjoy these rides while she can because their days are numbered. Soon she'll have to carry me :)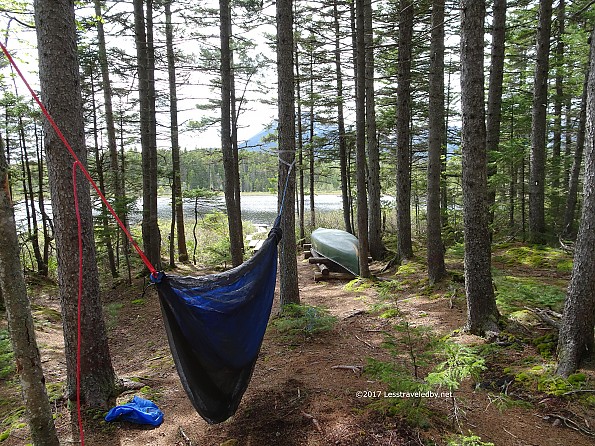 I set up my hammock down by the pond. Laying down was nice. Being inside the bug net was really nice! Being new to this whole hammock thing I spent some time working on my skills and found with a slight shifting of my hips I could get it to swing gently.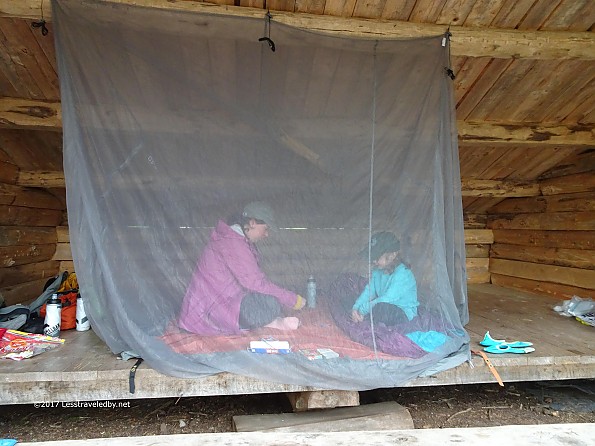 The girls hung out inside the big bug net and played a marathon Skip-Bo match. We have found that the only thing that saves us from being dragged off on an endless series of exploratory hikes around camp is to distract the little one with food and fun. We bring lots of good stuff to eat and at least a couple of games on every outing.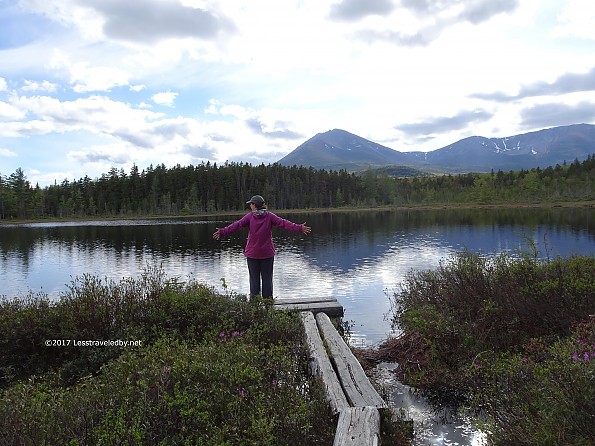 Since the rain stopped I finally was able to get the camera out again and boy did that get out of control. 130 some pics and a dozen videos later I have like a 1.5G of data from that day heh. Check the long version for more, but here are a few highlights.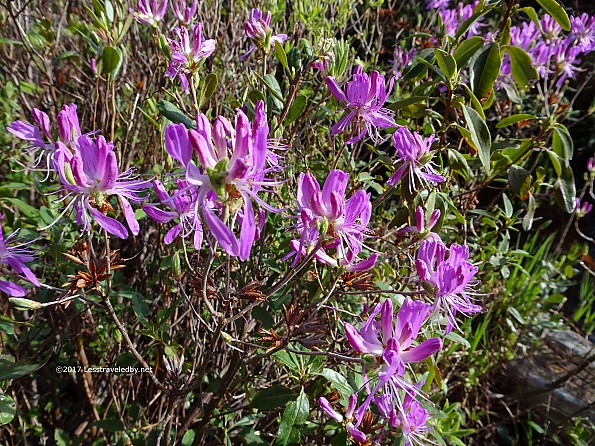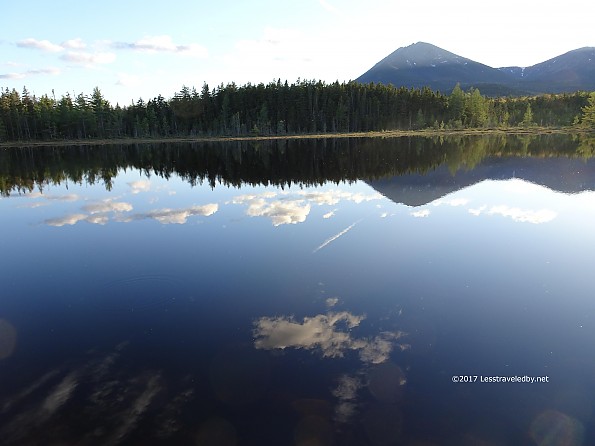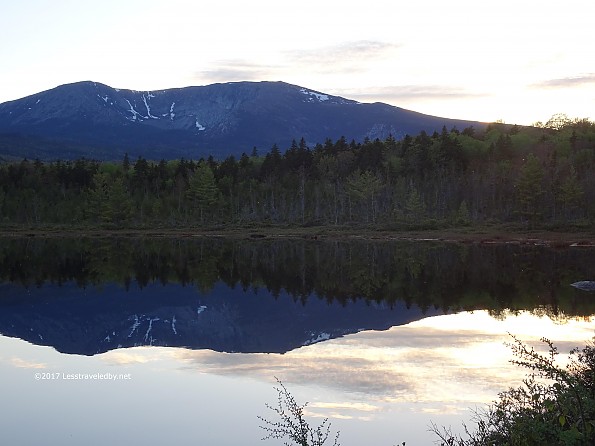 You will have to imagine the sound of a million frogs getting louder and louder as the light fades in these pictures. By dark it was nearly deafening and it was hard to hear if we didn't shout to one another. I haven't processed any of the video yet, but will post later.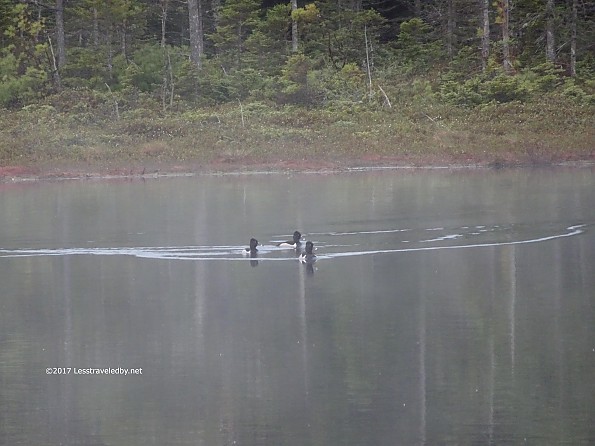 BigRed tells me these are ring necked ducks, but we were calling them "not loons" and were happy enough.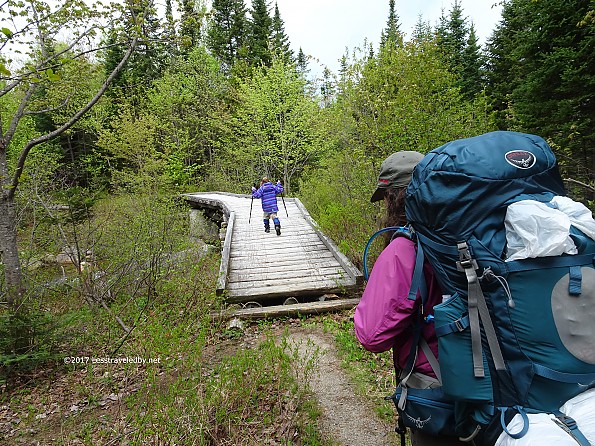 The nice thing about short distance trips is the short distance! When it was time to go home we were back at the car in what seemed like a very short time. A nice change of pace from hammering out 15 hard miles on the last day before getting that cheeseburger. It was a wet trip, but all had fun and there was much talk of mountains to soon be climbed.
Bonus Blueberry Mountain Birthday Hike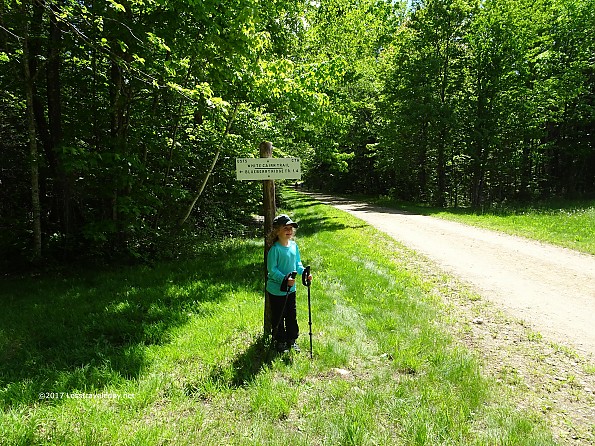 Soon after that trip we decided to celebrate my birthday by climbing some random mountain. A quick search gave us reason to believe Blueberry Mt on the NH/ME border would work so we packed a lunch and our head nets.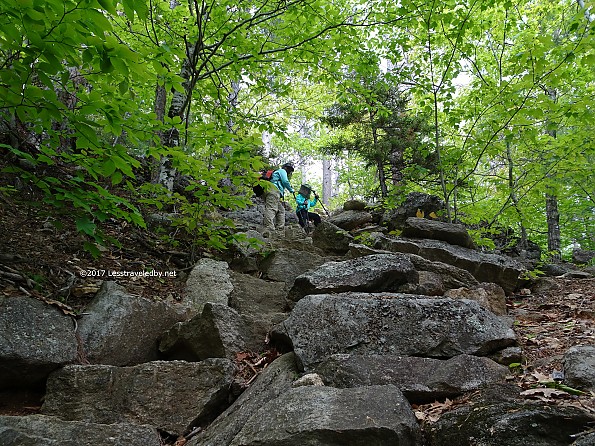 That little girl had me puffing trying to keep up with her on this section. Thankfully she let me rest for a minute while I pretended to be taking pictures. Well I was carrying 30 lbs in my pack for training purposes, but still...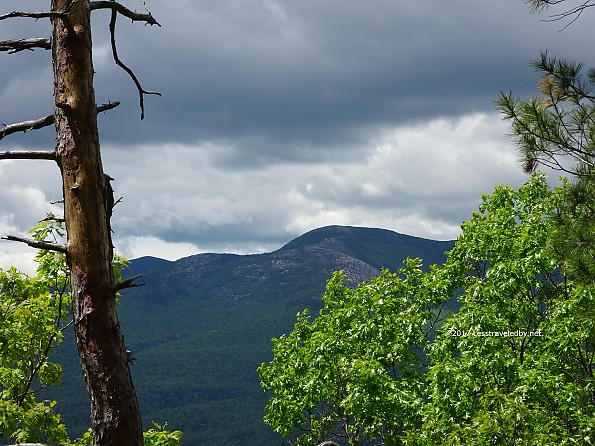 Baldface across the valley is now on our target list for the future. Maybe next year, though now that I've seen it I will likely have to climb up there sooner by myself. Always want to see what it looks like up there when I see a mountain just standing there like that :)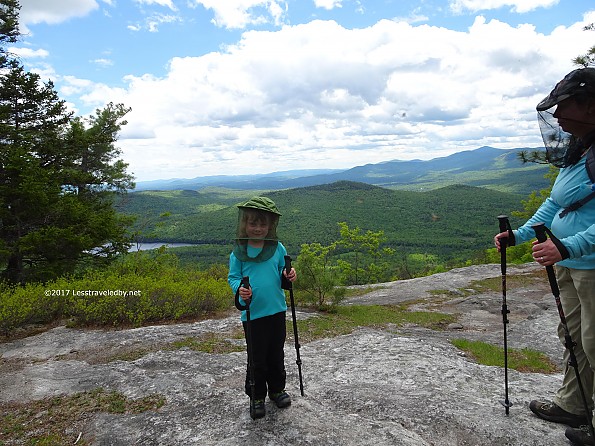 About 1100' of net gain and a summit close to 1800' found us up on these ledges looking back at where we had started down below. A picnic lunch with the ladies on top of a mountain made for a darn nice birthday celebration. So nice to be out there with those you love. Well at least if they are there voluntarily! Take yours out when you can, if they are willing :)