Sierra Designs Granby Insulated Sleeping Pad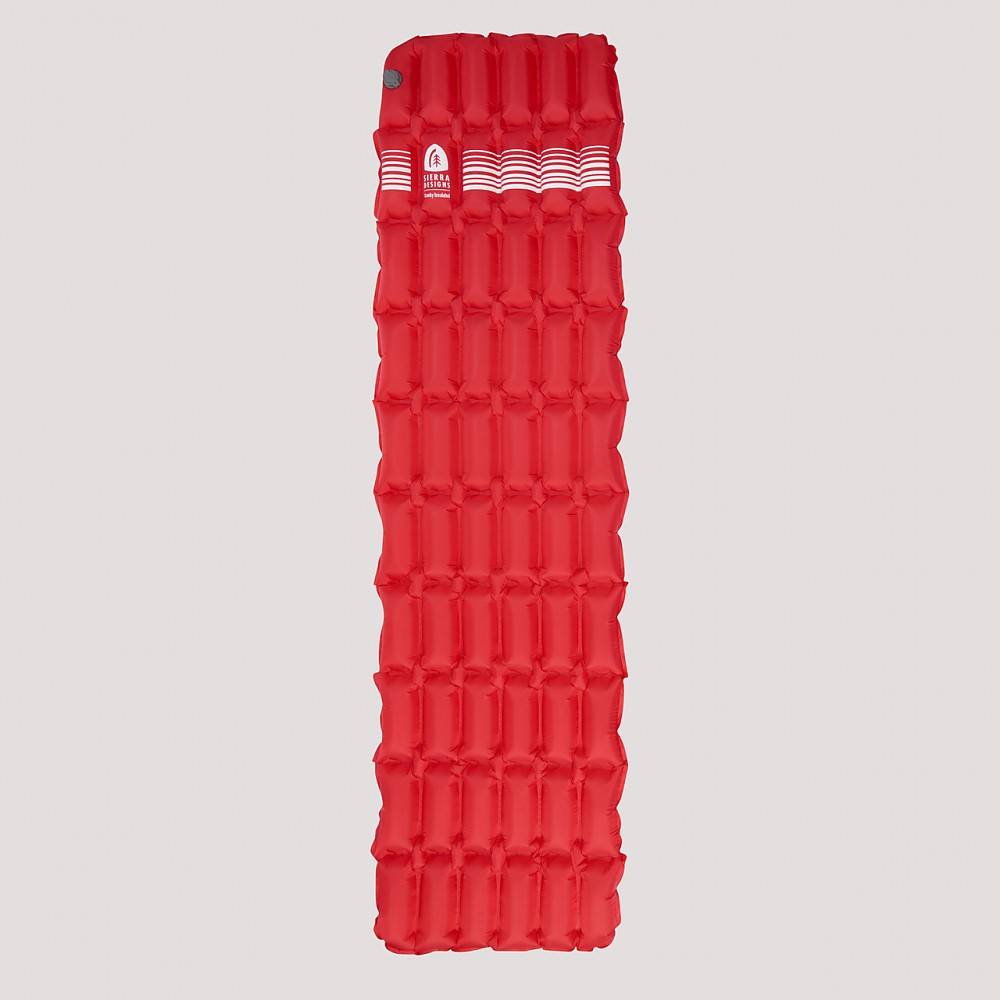 With the Granby Insulated Sleeping Pad, Sierra Designs brings a comfortable entry to the market. Easy setup and take-down with a two-way valve and SD's Burrito Bag for storage. Enough insulation for cool nights, but not too much for summer use, make this a great three-season option, especially for those who sleep cool. Could be paired with other pads to create a true cold weather system.
Pros
Comfortable for side or back sleep
Noticeably warm in cool temps
Easy to inflate and deflate
Burrito Bag for fast roll and fold
Feels wider than its 20 inches
Cons
Valve wear concern noted in review
Valve sticks up a bit
Shape cumbersome in hammock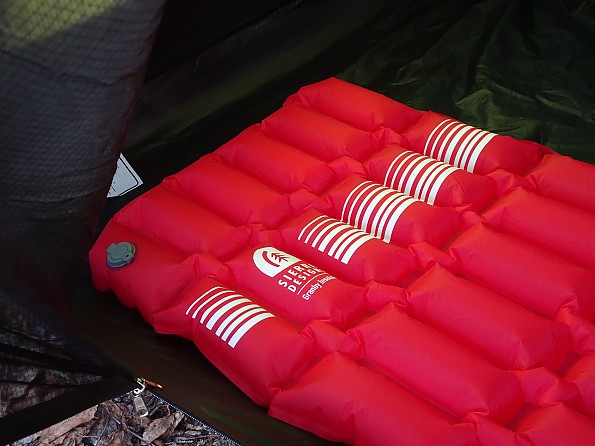 Sierra Designs, long known for its shelters, continues branching out into other areas with two sleep pad options this year. The Shadow Mountain, a light weight, uninsulated model that fellow Review Corps member Sean Van Cleve recently gave an initial review and this model, the Granby, which adds a layer of synthetic insulation upping the R value to 2.1 according to SD.  Despite being very similar pads, Sean and I seem to have had different experiences in our testing so far. Given their similarities, I'd recommend reading both reviews to get a more complete and balanced picture if considering either model.
With pads generally rated on an R-value scale from 1 to 7, with higher numbers denoting better insulating ability, the Granby, at 2.1, is not a cold weather pad on its own, but could be part of a true cold weather sleep system.
Pad Specs:
Weight: 1 lb. 4 oz. / .57 kg (spot on by my scale)
R-Value: 2.1
Dimensions (L x W x H):  72" x 20" x 3"/ 183 x 50.8 x 7.62 cm (accurate)
Storage Bag Dimensions: 10" x 4" / 25.4 x 10.2 cm (New, larger after use)
Insulation: 3oz Polyester
Tester Specs:
5'-7" 200lbs
Side sleeper
Ease of Use: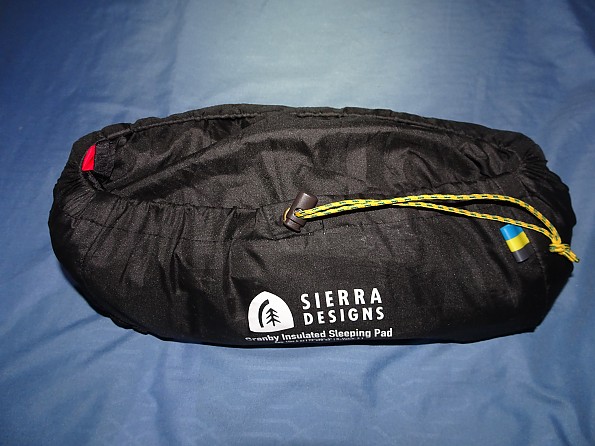 As much as I enjoy my bed once it is made, setting up is always a chore at the end of a day on trail. The Sierra Designs Granby seems as though it was designed with that in mind. Just getting an inflatable pad like my Therm-a-Rest NeoAir XLite out if its tight stuff sack can be a struggle at times. SD's Burrito Bag, which we'll look at closely in the Features section, opens wide and lets you yank the pad out in seconds.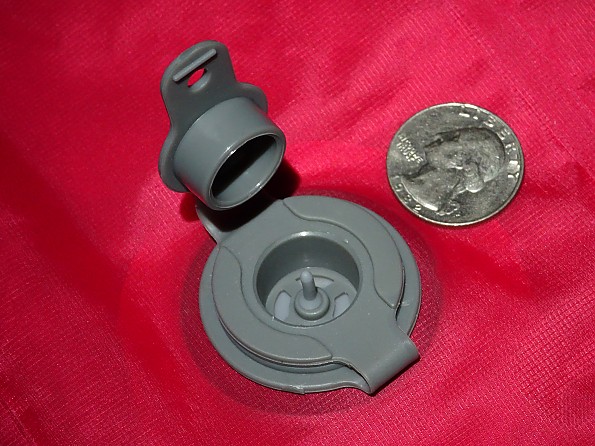 Inner valve is a tight, one-way seal to let air in, but not out.
The two-way valve makes lung inflation pretty easy, even for an old, fat man like me. The wide open portal measures a tad under an inch across its interior. That let me take long, steady breaths to inflate the pad without any sense of back pressure. Lung capacity is individual, but for me, 10 full breaths brought the pad to a pressure I could cap quickly enough not to lose air. Switching over to the inner, sealed part of the valve I could then add another small breath or two to bring the pad up to full inflation. The entire process could be completed in just a few minutes.
Some folks prefer not to blow up pads using their breath out of concerns about mold or impacting the insulation. The opening of the outer part of the valve is just under an inch and should work with most nozzles inserted. Folks who don't have a nozzle will find that any plastic bag strong enough to be squeezed a bit should work fine. This video should demonstrate that for those who might have doubts.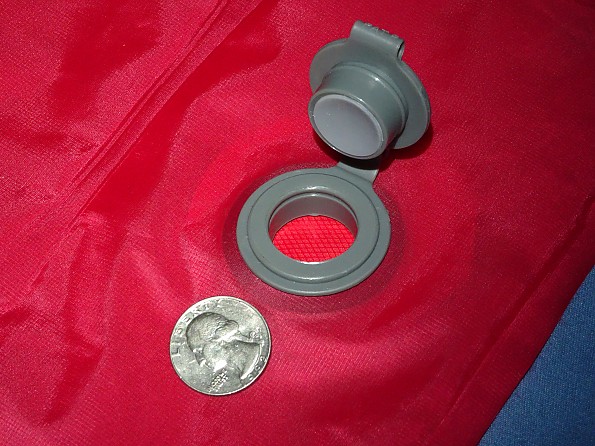 Outer valve has wide opening for fast inflation or deflation.
Deflation was even easier. Opening the outer, unsealed part of the valve and rolling from the bottom removed most of the air. Further effort to remove the remaining air seemed pointless, so that quick roll is really all that is needed before folding and stuffing into the Burrito Bag.
Features: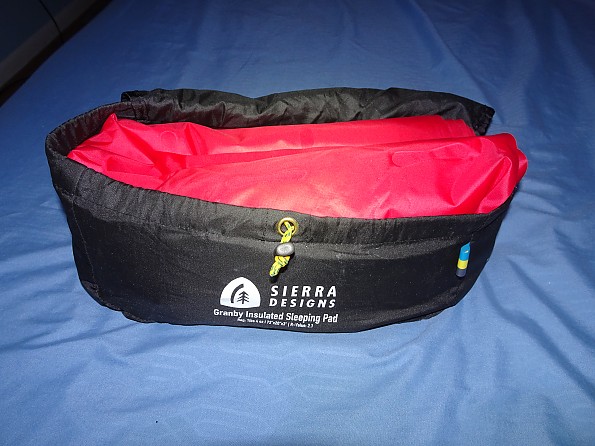 Enough talking about it, let's look at that stuff sack that Sierra Designs calls the Burrito Bag. I've encountered it before when I reviewed the Sierra Designs Sweet Suite 3 back in 2018. The Granby Insulated Sleeping Pad comes with one that is the same, just smaller in size. The wide open top makes it easy to stuff the filling, I mean the pad, into. Then you just fold the top flap over before cinching the drawstring just enough to hold it all together. It lacks any real compression, but you can't beat it for easy in and out.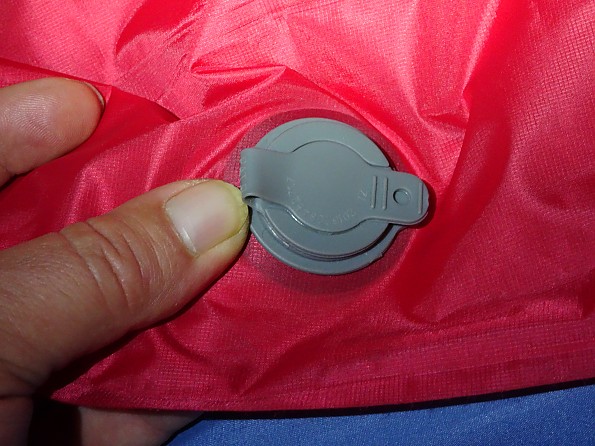 Not much to hold on to when prying open the tight valve plug.
The two-part valve works really well, but was also the source of some issues for me. As mentioned, it was pretty easy to blow up and take down because of how this valve works. The inner portal has a tight seal that requires some force to blow through and lets no air out. This inner portal also acts as the plug for the unsealed, outer portal, fitting into the opening tightly.
In terms of function, when using the valve I think it worked pretty well, but I found pulling the inner valve out of the outer opening challenging. It by nature needs to fit very tightly, but opening it seemed like it was an opportunity to stress the mattress material around the valve. An extra tab of the stronger valve material to pull on might be nice there. Sierra Designs did add a circle of protection on the back panel that faces the valve. Considering those layers get squished together inside the pack I thought that was a nice touch.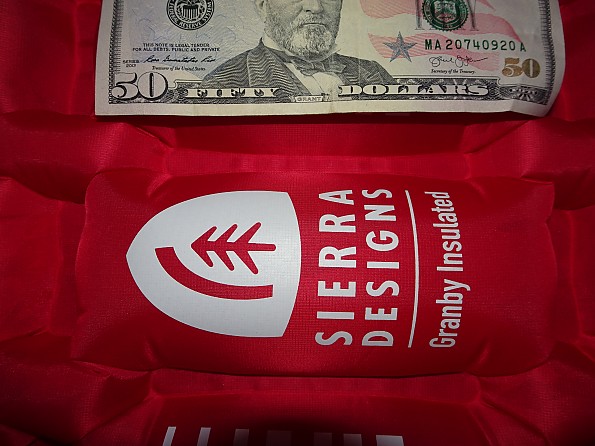 Close look at an individual chamber. Roughly 6"L x 2.5"W x 3"H
Let's take a closer look at the baffle structure that Sierra Designs used on the Granby. Rather than vertical or horizontal baffles running the entire length or width, the Granby employs rows of larger chambers connected at the corners via small chambers. This not only looks different from pads with longitudinal or lateral chambers, it seemed to work differently.
As a side sleeper I find most inflatable pads are more comfortable when slightly less than fully inflated. At full pressure the hip can't settle into the mattress and the spine is put at an odd angle. Trying my usual level of inflation in the Granby immediately told me that this pad was different, because it didn't work very well like that heh. I found that despite my instinct to under inflate, this pad worked best when fully inflated.
The space between the inflated chambers allows them to flatten and squish laterally a bit. This action allowed  me to sleep for long periods in one position comfortably, which I am not used to on a pad. In the predawn hours when rolling over and going back to sleep one more time was the goal despite those dang chipper birds waking up, I found that tossing and turning was pretty comfortable too. I was able to roll without my hip bottoming out as it often does on my NeoAir XLite.
Warmth: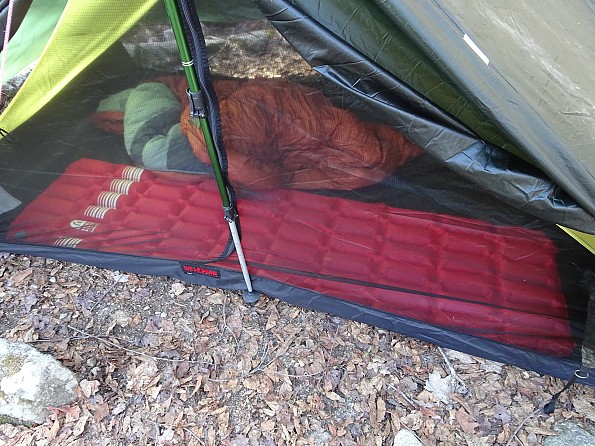 Camped just below the snow line on a spring trip to Sunday River Whitecap.
The insulation inside the Granby comes in the form of 3oz of polyester fiber that is spread thinly over the entire mat inside the inflation chambers. By sticking a finger in through the valve I was able to touch it and feel that it is a very thin mat rather than loose fibers which keeps it in place.
While the Granby arrived a bit late in Spring for me to really push its lower limits, I did get out on a few early season trips with cool evenings. Temps in the lower 30s demonstrated the warmth to be found in this pad. With my quilt over the top body heat soon could be felt reflecting back up from the pad. Early morning hours, when rolling over for "just five more minutes" exposes a pad's weaknesses, showed little loss of heat from a bit of tossing and turning.
I think this pad will take most folks to freezing and below into the 20s provided they have the right bag or quilt along. It also will probably pair well with a closed cell pad or something like the Therm-a-Rest TrailPro, in deeper cold.
Packability: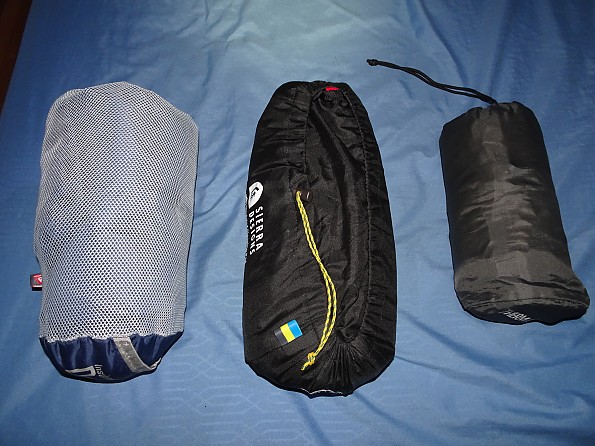 Big Agnes Double Z (left), Sierra Designs Granby (center), Therm-a-Rest NeoAir XLite (right) for size comparison.
The Granby packs down to about 12 inches long and 4.5 inches around when in the Burrito Bag. Trying to get all of the air out seemed to be futile, so I settled for rolling it up and getting most of the air out. When stuffed into my pack it crushes down a bit and conforms to available space. It seems to pack smaller than it looks is how I would describe it.
Construction & Durability:
The body of the Granby Insulated Sleep Pad is 20D nylon. The inflation chambers measure roughly 6"L x 2.5"W x 3"H and are created by joining the top and bottom panels. Each of these chambers, except the one with the inflation valve, are filled with a small amount of synthetic insulation.
Testing has only been going on for about six weeks at this point, but I have spent a total of 12 nights on the pad so far. It shows no signs of wear and appears to be holding up fine, but I'll be able to speak on this topic better after a few more months of testing.
Conditions: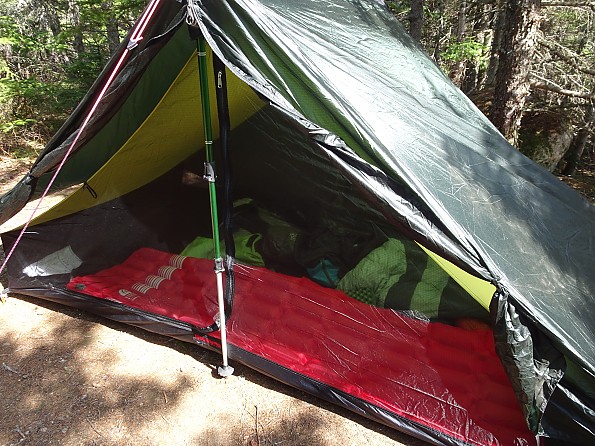 Speckled Mtn in the Caribou-Speckled Mtn Wilderness. It snowed a bit!
I have used the Sierra Designs Granby Insulated Sleeping Pad primarily for ground sleeping in a tent. There have been several trips on Maine's Grafton Loop trails, including one night with the tent set up on a wooden platform. On the other end of the spectrum, on a trip to the Caribou-Speckled Mountain Wilderness in western Maine I set up in random, backcountry locations. I have also spent two nights using the Granby in my hammock. Overnight temps ranged from low 30s Fahrenheit to low 60s during this test period.
Conclusions:
After my initial testing I have mostly good things to say about the Sierra Designs Granby Insulated Sleep Pad. Once I worked out the different inflation needed to make it work for me, it worked pretty well for me in terms of comfort. I have been almost exclusively a hammock sleeper for the last couple or three years. Going back to ground was an interesting challenge and I found the Granby helped ease the transition.
The inflation chambers, while unusual at first, soon became my friends. Warm, soft cushions that floated my fat body pretty well, unless I put all my weight on my elbow. This time of year I go over 200 pounds on the scale, so those chambers had their work cut out for them, but it seemed to work pretty well for me. Of course as a winter camper used to passing 14-hour nights I am well skilled in the art of rolling over without hurting myself heh. Novice users will find this pad is no feather bed, but should learn how to take advantage of those lofted pillows soon enough.
As mentioned, I didn't get the pad in time to test it below 30°f with a 31°f morning being the lowest I saw. Paired with a 15°f quilt from the Big Agnes Diamond Park 15 I was very comfortable. The warmth coming back at me from the pad was definitely noticeable in cooler temps. Oddly enough it wasn't annoyingly hot in warmer weather. I could feel it was warm after lying on it, but even with days in the 80s it wasn't a problem. The one exception would be in the hammock. There, on a warmer, steamier night the pad held in too much moisture.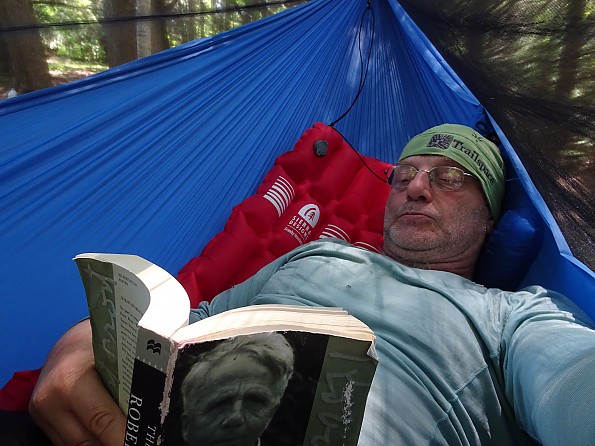 The hammock use was in a single hammock, so I was lying on the pad. In a double hammock, with the pad between layers, I think the moisture problem would be resolved. The hammock did present other issues, as the Granby's rectangular shape was challenging to fit into the position needed for me to get a good flat, asymmetric lay in my Dutch 11' netless.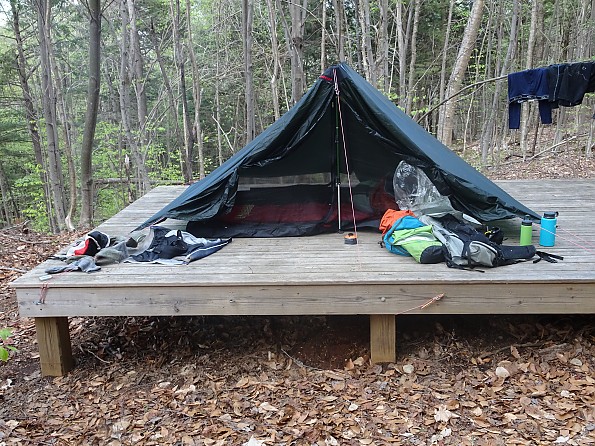 Wooden platform at Bald Mtn site on the Grafton Loop.
One real test of any sleep pad is how it performs on the boards. Whether you are tenting on a platform, setting up on a shelter floor or wooden bunk, flat, hard boards are the bane of comfy sleep. I found the Sierra Designs Granby Insulated Sleep Pad to be well up to the task. The tall, cushiony chambers, when fully inflated, were enough to keep my bones off the boards.
There were a couple of points about the valve worth noting that made me drop the score a bit. As I mentioned, I am worried about stressing the mattress material from opening the valve. It isn't the sort of problem that shows up right away, but over time with lots of use, could lead to a failure. I also find the valve sticks up from the pad just enough to be annoying. My arm catches on it at times and I find myself making an effort to avoid  putting my arm where it wants to be.
Overall I really have enjoyed testing the Granby Insulated Sleep Pad so far and look forward to continuing testing over the next few months. I am a side sleeper who is used to getting sore hips from lying on a pad, but didn't have that feeling at all with this one. Despite the fact that I shouldn't sleep on my back due to old motorcycle injuries and snoring that scares the poor animals, I did spend some time in camp relaxing in that position. Granted it was only for short periods of time, but it felt even better than on my side. I can't make any promises, but I have a feeling back sleepers will also like this pad.
Testing will continue and I'll update once I've had time to use and abuse it some more. For now I feel pretty safe recommending the Sierra Designs Granby Insulated Sleep Pad for both back or side sleepers. The insulation will have special appeal to folks who sleep cold, shoulder season campers and those hitting higher elevations where nights can be chilly year around.
Please let me know in the comments if you have any questions about the pad so I can include answers in later updates.
Experience
The Granby Insulated Sleep Pad has been tested for the last six weeks on multi-night backpacking trips in Maine. I have owned and used many sleep pads from Therm-a-Rest, Big Agnes, and others.
Source: received for testing via the Trailspace Review Corps (Sample for testing and review provided by Sierra Designs)

Your Review
Where to Buy
Help support this site by making your next gear purchase through one of the links above. Click a link, buy what you need, and the seller will contribute a portion of the purchase price to support Trailspace's independent gear reviews.
You May Like
Specs
Price
MSRP: $89.95
Current Retail: $69.95-$99.95
Historic Range: $69.95-$99.95

Weight
1 lb 4 oz / .57 kg

R-Value
2.1

Dimensions
: 72 x 20 x 3 in / 183 x 50.8 x 7.62 cm

Storage Bag Dimensions
10 x 4 in / 25.4 x 10.2 cm