Sierra Designs Sweet Suite 3

The Sweet Suite 3 has been discontinued. If you're looking for something new, check out the best three-season tents for 2023.
Spacious three-person shelter with lots of vestibule space. Light enough to carry for two or even solo, yet sturdy enough to take on the elements. Easy setup and takedown including Sierra Design's "Burrito Bag" stuff sack.
Pros
Light
Lots of room
Vertical walls
Well constructed
Lots of tie outs
Easy setup
Cons
Investment
Delicate UL materials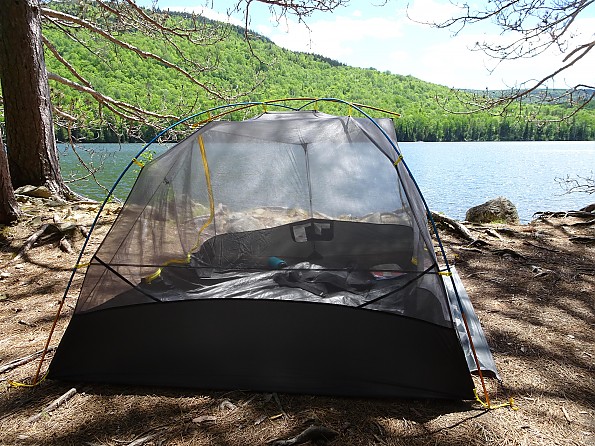 Long Pond Pines—Baxter State Park


Specs:
Vestibule Area: 8.9 sq ft + 8.9 sq ft / 0.83 sq m + 0.83 sq m
Floor Area: 40.4 ft2 / 3.75 m2
Peak Height: 43" / 109.2 cm
Dimensions (L x W): 85 x 70(head) x 67" (foot) / 216 x 178(head) x 170cm(foot)
Packed Size: (L x W): 17" x 6.75" / 43.2 cm x 17.2 cm
Minimum Weight: 3 lbs 12 oz / 1.70 kg
Packaged Weight: 4 lbs 4 oz / 1.93 kg
Pole Material: DAC Featherlite Aluminum
Fly Fabric: 20D Nylon Ripstop, Silicone/1200mm PeU, FR CPAI84
Floor Fabric: 30D Nylon Ripstop, Silicone/1200mm PeU, FR CPAI84
Body Fabric: 15D Nylon No-See-Um Mesh
Stakes: 10 SD FL with pull line 8g/3oz 15cm/6"
Setup & Packability: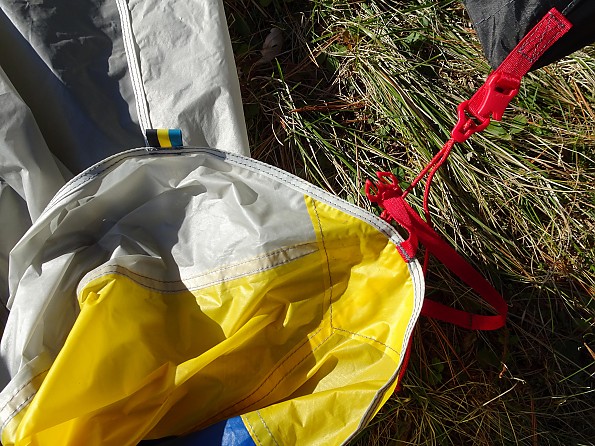 Color-coded corners and fast clip connectors make getting the fly on easy.
I set it up once at home, using the instructions, to be sure everything was functional. I made this video of my second attempt at setting up the Sweet Suite 3 later to demonstrate a relatively unfamiliar user experience. Time lapse has it crushed down to around two minutes, but it shows all of the important steps for a basic setup.
The process got a lot faster with some practice and/or a partner. Normal setup time was about four minutes or so, depending on site issues, like the stake in the video, heh. Windy conditions always make things more challenging, but I generally found setup to be very easy. The clip attachments really allow you to set up the base tent fast. The way the fly clips onto the body prevented a fly first setup, but the body wasn't exposed long if the poles were assembled before pulling anything else out of the bag.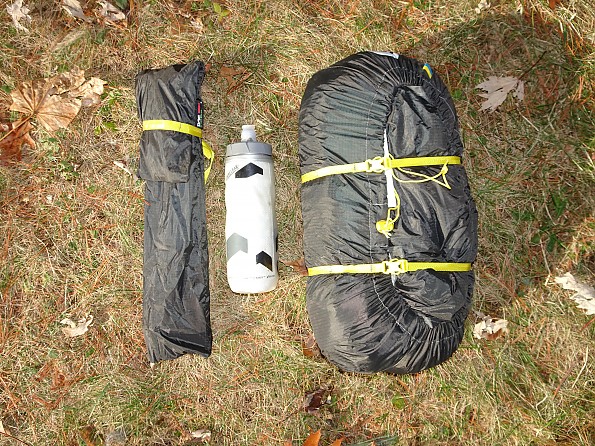 Double sided pole/stake bag on the left. Burrito Bagged tent on the right.


The SS3 went down just as easy in a rapid series of clip removals and stake pulling. Using Sierra Designs "Burrito Bag" seemed a bit odd at first, but soon became a real joy. Cramming the super light material could leave me worried about damage. The large opening allowed me to roll up the tent, body, and fly and set it gently into the opening.
Once poles and stakes were into their designated slots their joined bag could be rolled inside or stored separately. The Burrito Bag has a flap that folds over the opening before it is cinched completely closed. This small package for a three-person tent means one person can carry the entire thing easily if desired.
Stability & Weather Resistance: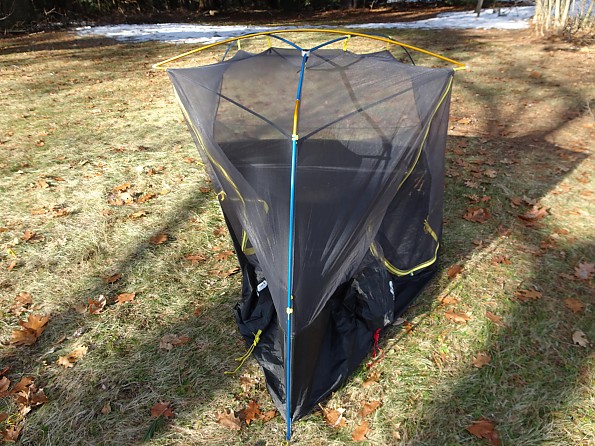 Sierra Designs describes the Sweet Suite 3 as being "Semi Freestanding" which means it sort of stands up without being staked out. The corners could be tied off on a platform or packs in the corner to hold the body out, but it will take some finagling.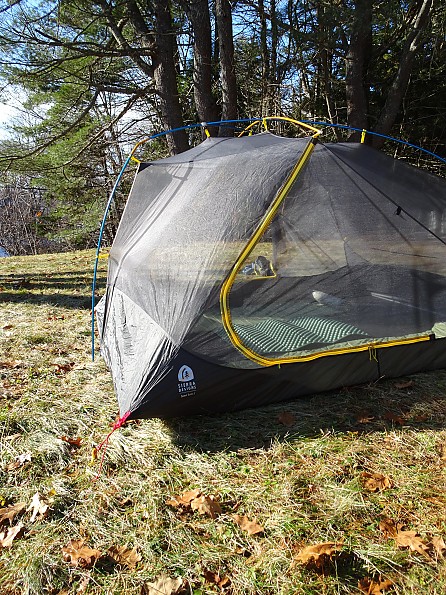 With stakes in place the body of the SS3 fully opens. The short, gold colored cross bar combined with the staked out tent body and the pole system to create a very stable platform even before the fly was put in place.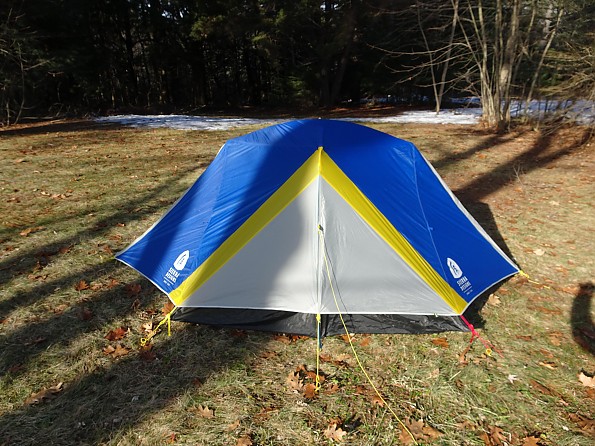 Adding the fly with stakeout points for the vestibules, another to pull the bottom of the fly away from the head wall, plus tie out points farther up along each of the three pole ridges takes the total possible attachment points up to ten.
Sustained winds of over 40mph with gusts around 60mph were encountered during a backyard test and the framework held very steady despite not being pitched optimally with the foot into the wind. The shape of the vestibule worked with the poles to absorb the lateral gusts, though the foot of the tent is better shaped and supported to handle the wind. After hours of sustained and gusting winds one or more of the stakes pulled loose from the very soft and wet ground the tent was pitched on. The tent frame and body were undamaged so ground attachment seems to be the weak link.
Maine's wonderful weather came through for water resistance testing as well. Rains encountered during field testing included sustained periods of moderate rain and some heavy downpours. Finally, I had a chance for a serious test when we had a period of rain here at home that lasted for over 24 hours. I mean it actually was raining the whole time, some heavier, some lighter, but it never stopped for almost a day and a half. Given how light the materials feel it was a surprise to find that even that extended exposure was no problem. The interior was completely dry despite the fly being soaked for all of that time.
Ventilation: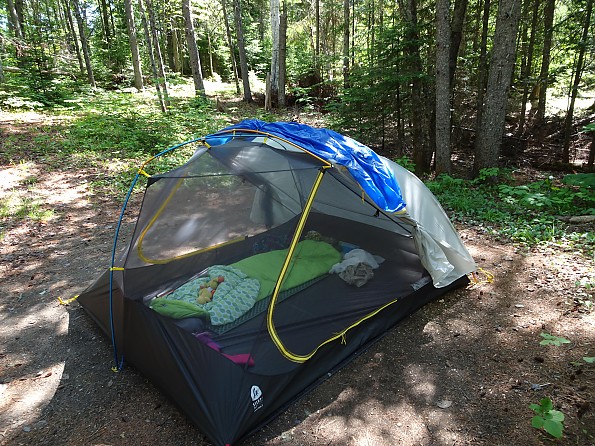 There are no vents in the SS3's fly so most air flow is controlled by opening up the vestibules or rolling back the fly to expose the inner body of the tent. The stakeout point on the head wall of the fly can be moved in or out to create space for air to flow on that side. Like many folks, I've been rolling up my tent fly for ages, so I was really happy to see that SD acknowledge that function by adding a toggle at the top to hold it up. You can roll head, foot, or both sides up to the top and keep them out of the way, but ready to use if the weather changes.
We found that even with three people sleeping inside and the fly down that there was pretty good airflow. Our little one puts out a lot of vapor when she sleeps and even her side of the tent remained dry. The one time we had noticeable internal moisture was after an all night rain. In the morning we definitely had moisture on the inside of the fly and I know from other testing that it wasn't coming from the outside. It wasn't a tremendous amount and there was no dripping. I was just able to feel it by running a finger along the inside of the fly.
Room & Storage:
We've used other three-person shelters before, most notably the Kelty Trail Ridge 3. Generally a 3P shelter is cozy for two and crowded with three. Elbows tend to bounce off of neighbors too often and being trapped inside by rain is torture. The Sweet Suite 3 uses a design that creates a lot of vertical walls which really adds to the feeling of space inside. We used it as a place to hang out in camp even on trips where we had hammocks for sleeping. It had lots of room for the three of us to play cards or eat despite the black flies all around us.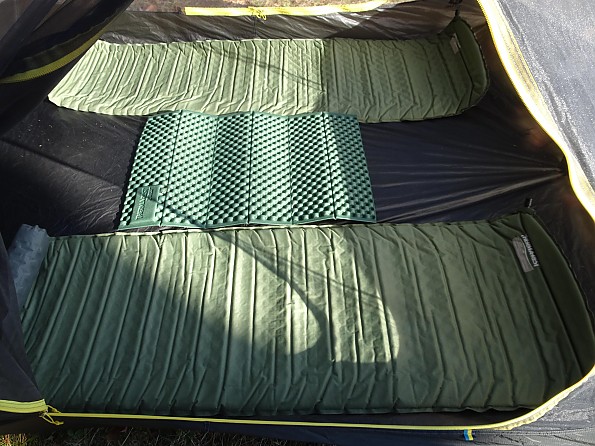 Here you can see three pads laid out side by side, two Therm-a-Rest Trail Pros and a Z Rest. There is actually room for three people to sleep in this three-person tent! Well, maybe not three 250lb people, but starving thru hikers should fit just fine. Slightly tapered, it measures 70" corner to corner at the head and 67" at the foot. 85" length means few will have any problem stretching out fully. With the vertical door walls and nearly vertical head wall three full sized people can be comfortable inside this tent. Of course three people inside means a lot of gear outside…or does it?

One external frame pack, like my Seek Outside Unaweep, fits under the large side of the vestibule.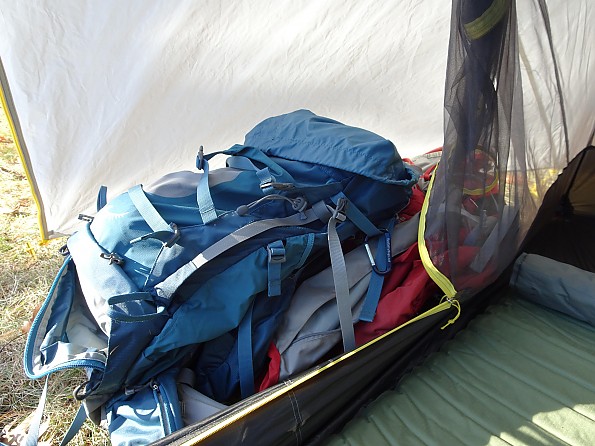 Two internal frame packs like these Osprey models fit in that same space, still leaving room to get in and out of the door.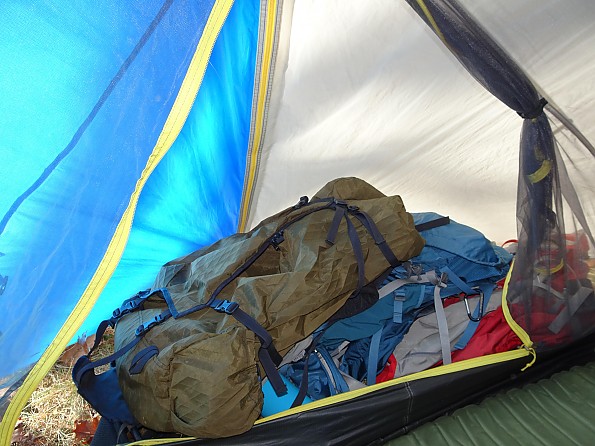 If you devote one side to storage there is room to fit all three packs in one vestibule. There is a lot of functional space that is protected from above. I found very little splatter in my testing as the fly pitched close to the ground.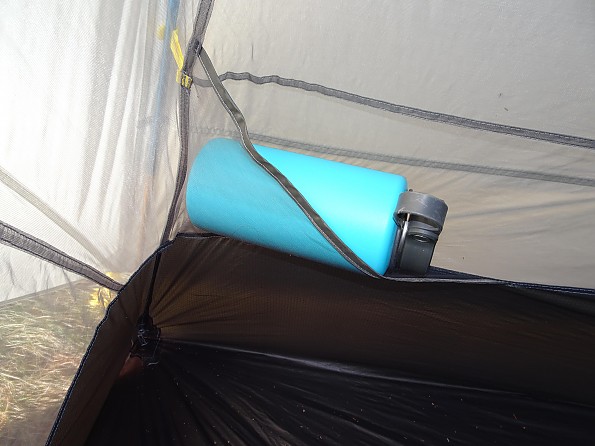 Inside there are a few small storage areas. On the corners of the foot wall are net pockets.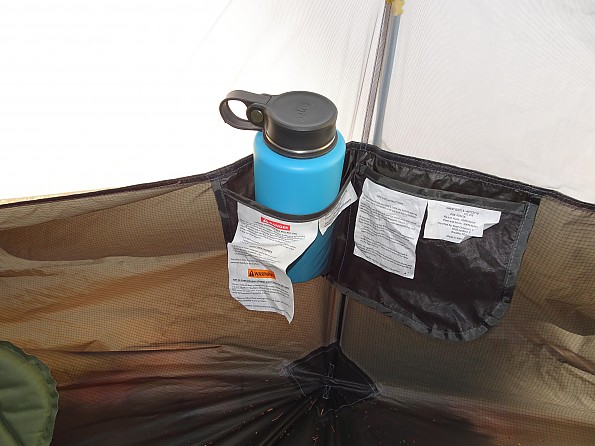 At the head is this double pocket right in the center. It looks small, but as you can see, holds pretty large objects.
Features & Ease of Use: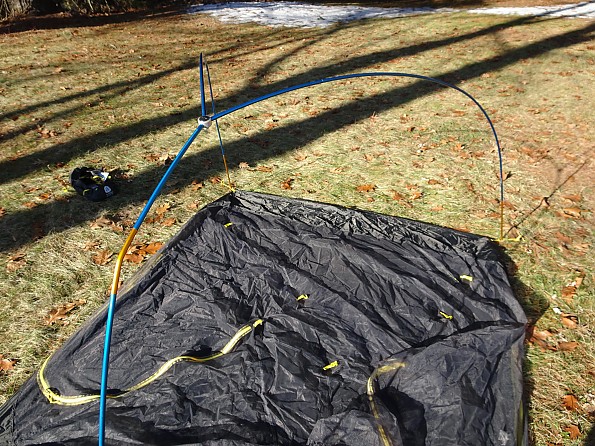 The pole design is the feature that really struck me about the Sweet Suite 3. Well, once I got over how light it felt, that is. The single hubbed main pole was interesting, but it was the shape that really caught my eye. The vertical head wall could be imagined just by looking at the pole and made me smile as I could see this made sense.
The way the ends of the poles fit into the tent hardware also made me smile. Despite being a three-person tent, it was very easy to set up the SS3 alone. The pole ends lock into place even as you put the others in. Anyone who has gone around a tent more than once putting poles back into brackets will appreciate the once and done approach, especially in bad weather.
Construction & Durability:
Despite being light on the scale and feeling like tissue paper between the fingers, this tent can take real world use. The design uses materials and stitching to distribute the stresses of use and weather very well.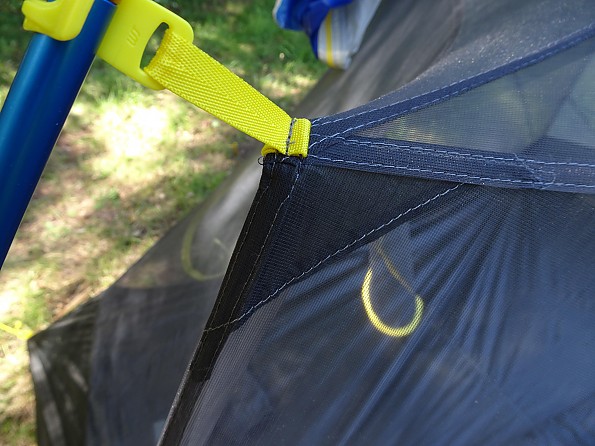 Anywhere you look at the stitching on the SS3 you can see the attention to detail. Seams are even and straight with extra stitching at corners and stress points to handle the load. The netting of the tent body held up exceptionally well. Despite squishing a few bugs against it from the inside and other real world testing, I found no holes or snags to mar the view.
The DAC Featherlite aluminum poles feel rugged despite their light weight. Their circumference is slightly larger than other lightweight poles I've handled, giving them a more solid feel when snapping clips into place.
We tested the SS3 with and without a footprint depending on ground conditions. The 30D floor fabric held up well on its own, but the footprint is probably a good idea for folks dealing with sharp rocks or thorns.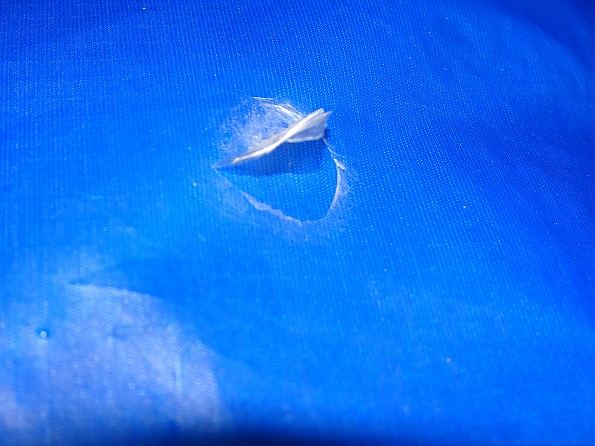 The only damage found after a six-month long testing period came from a pack failure of all things. Despite letting my daughter test as only she can, it was a snapped pack frame that poked this hole in the fly while the tent was in my bag. The waterproof layer took a solid hit, but the nylon itself is still intact. I was really impressed with how the UL materials held up. Sun and abuse will take their toll, but so far it is holding up very well to real world use.
Testing Conditions:
Primary testing was done on family trips with three of us using the tent. We used it for sleeping of course, but also as a bug shelter in camp. Our daughter specializes in door testing and has gone in and out what seems like thousands of times, heh, though she also was testing the floor a lot and the walls…well, you get the idea!
I also took the SS3 along with me on a few solo trips. Being so light I actually took it on a couple of trips as a secondary shelter to use along with my hammock. It made a great place to get away from the bugs.
Besides field testing I also took advantage of our exciting Maine weather to do wind and rain testing in the backyard laboratory. When I see bad weather in the forecast I start thinking about setting up a test!
Conclusions:
Sierra Designs has been making good stuff for a long time now, so it is no surprise that the Sweet Suite 3 is a great tent. What surprised me was how strong and tough a tent this light could be. I'm prone to avoiding gear that feels dangerously light in my hands and this tent scared me when I first picked it up. Being used to the 6lbs of our TR3 I really noticed the difference. Touching the fly material didn't help, as I worried it would tear in my hand.
Now, of course, I know just how solidly this tent is put together. The first family trips were a bit nerve-racking as I worried my little one would destroy it. Then it became apparent that it could handle little girls as well as it handled the weather.
I really found the SS3 to be easy to set up and take down for a larger tent. The Burrito Bag certainly made putting it away easy. It was a bit hard to dry out after it got wet, but most big tents are. It wasn't that the materials soaked up water. It is just hard to spread out a large fly fully.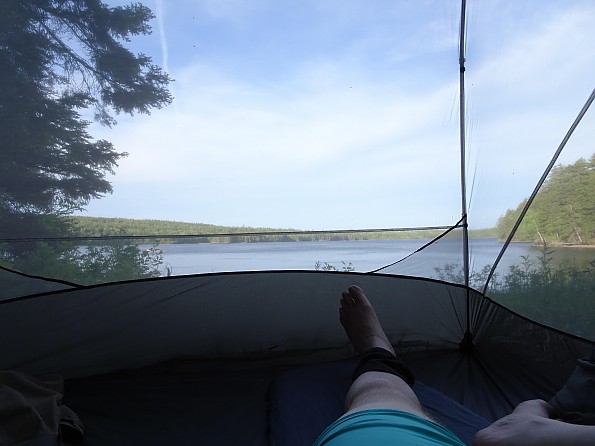 One thing I really enjoyed about this tent was the view from inside with the fly rolled up or off. Either way, the sight lines were unobstructed by poles or seams. The super fine mesh kept no-see-ums out and also made for clear views of the world beyond. Someone put some thought into this I am sure and I really appreciated it!
The Sweet Suite 3 is a bit of an investment, but if you are looking for a lightweight option that provides a lot of usable space it is definitely worth a long look. Sierra Designs has put a lot of thought into making this tent durable despite the light materials. Sunlight will probably be its biggest threat. Avoid extended exposure and I'd expect years of heavy use.
Background
I've used a lot of tents over the years, but this was my first experience with a Sierra Designs model or one made of such light materials. Testing was done primarily in Maine, but also in Vermont and New Hampshire from May to December. Assistant testers Frau Stranger and Little Hootah Girl were of great help in creating this review!
Source: received for testing via the Trailspace Review Corps (Sample for testing and review provided by Sierra Designs)

Your Review
You May Like
Specs
| | |
| --- | --- |
| Price | Historic Range: $248.95-$459.95 |
Recently on Trailspace