Big Agnes Diamond Park 15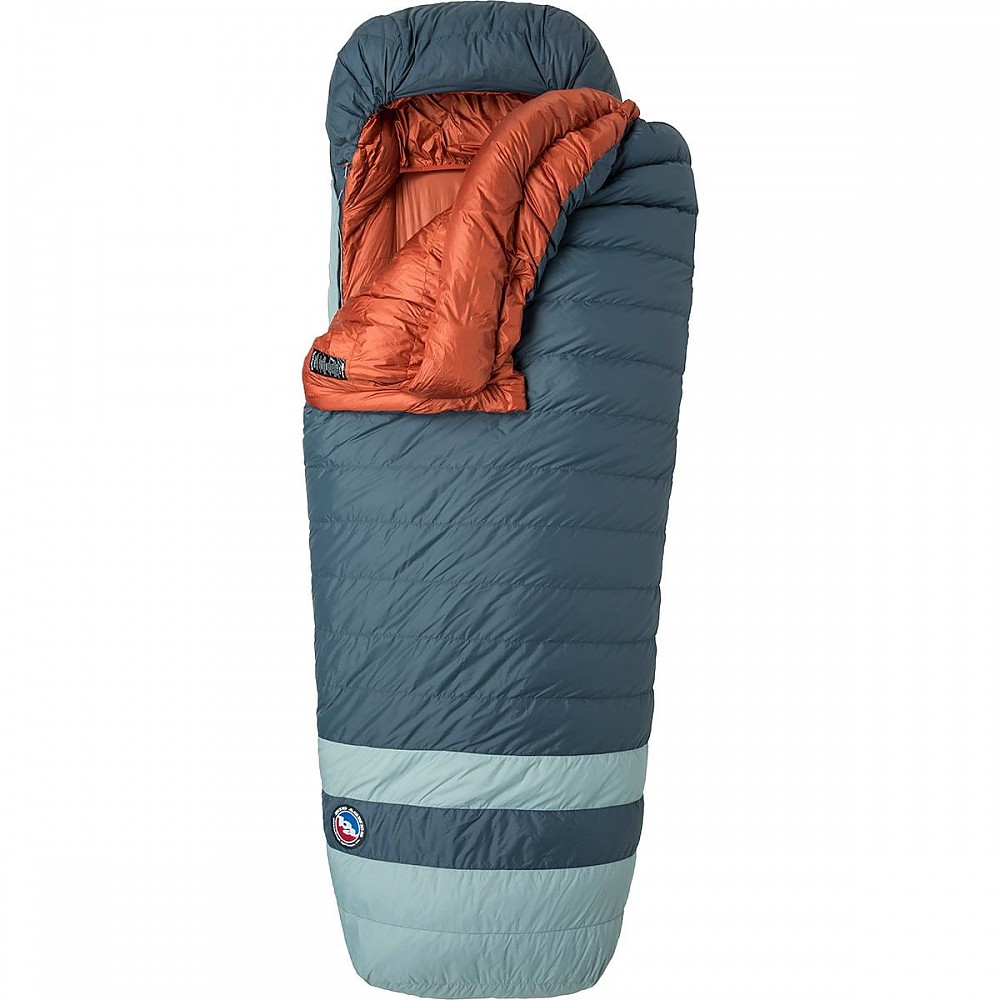 Big Agnes calls the Diamond Park 15 a sleeping bag, but it really isn't, except for sometimes when it is. It is more of a flexible sleep component system that converts from a back country bed style unit into a full featured, standalone quilt or even a mummy style bag with the optional Park Bag Wedgie Expander. Great for those who want flexibility without having to purchase a quiver of bags and quilts.
Pros
Warm in excess of rating
Versatile
Roomy in bed configuration
Quilt configuration great for hammock
Many small yet useful features
Room for big or multiple pads
Cons
Lacks real sleeping pad control
Minor zipper complaints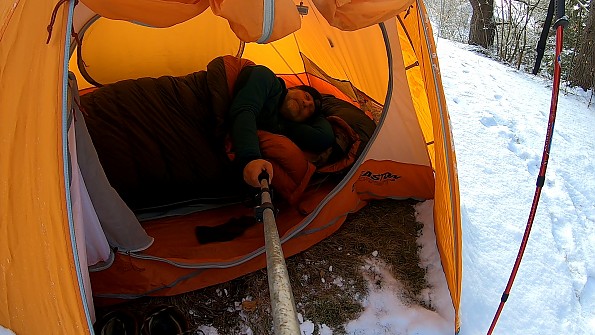 The Big Agnes Diamond Park 15 uses 600 fill DownTek for insulation and converts from bed, to quilt, to bag giving you choices to fit a wide variety of adventures and comfort levels. Paired with a pad on the ground or an underquilt in the hammock it made for some good sleeping. Hard to see it well in the tent or hammock, so let's take a closer look at the details.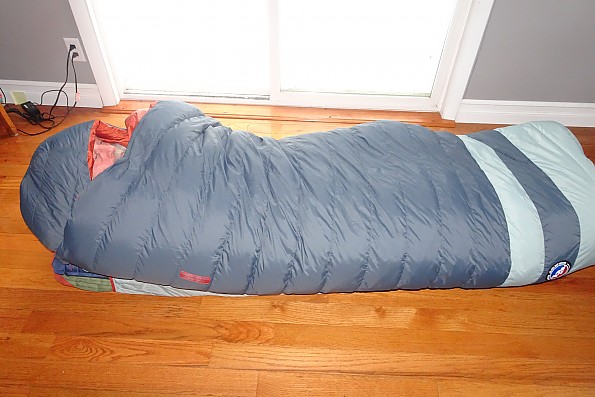 The Diamond Park 15 is a bit more complex than the simple quilts I've grown accustomed to. From that experience I've learned that the underside of a down bag is mostly wasted insulation with your body compressing it. BA took that knowledge into account when creating the Diamond Park line which is basically a quilt top joined to a mattress pad holding bottom.
While they were at it they made the quilt portion able to zip completely off and be used alone. They also made that quilt compatible with their bag expanding Wedgie which allows it to be used as a mummy bag. I've had a couple of months to get to know the Diamond Park 15 and while my testing continues I wanted to share my early impressions.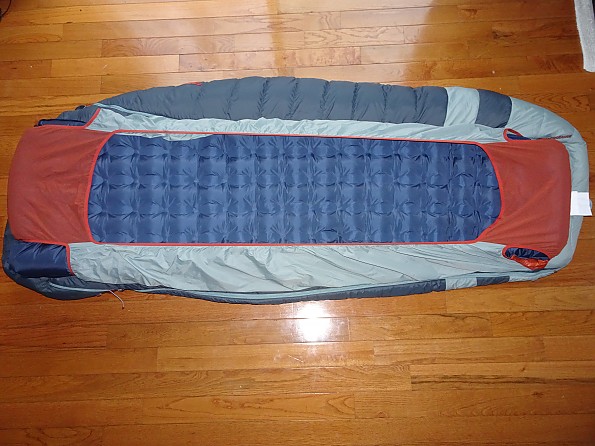 First I want to go over the basic design of the Diamond Park line which is available in 0°F and 30°F versions, in addition to the 15°F model I received for testing. When turned over you can see what Big Agnes calls the Flex Pad Sleeve, which is a pretty good description of what it is. The long, side panels are lightweight ripstop while the orange mesh at the head and foot are elastic in nature. This design is intended to hold 25- to 30-inch pads and there's room for stacking.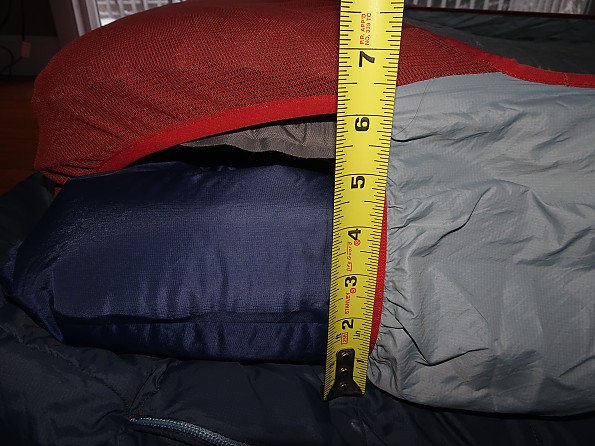 The sleeve is designed to allow pads of various heights or a stack of pads. Here you can see I have almost eight inches of pads stacked up with two Therm-a-Rest Trail Pros and a Big Agnes Double Z with room left for more if desired.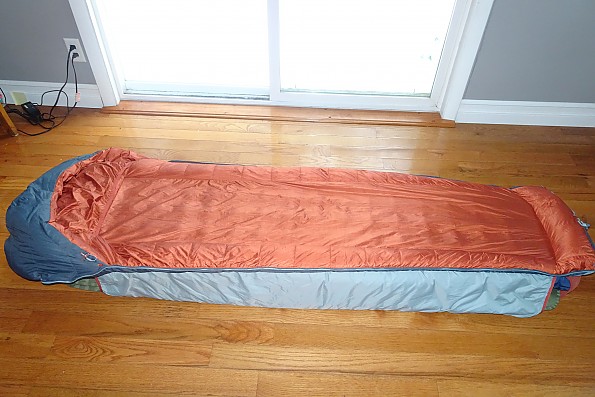 With the quilt component completely zipped off you can see the base component's features better. At the top there is a full width, cinching hood with a good amount of down inside. For side sleepers who don't use it as a hood, it makes a great place for an arm to stay warm, under or above the head. Along the length of the sides there are down panels where the zippers run and an even larger panel at the foot. When joined with the quilt these keep the heat in nicely.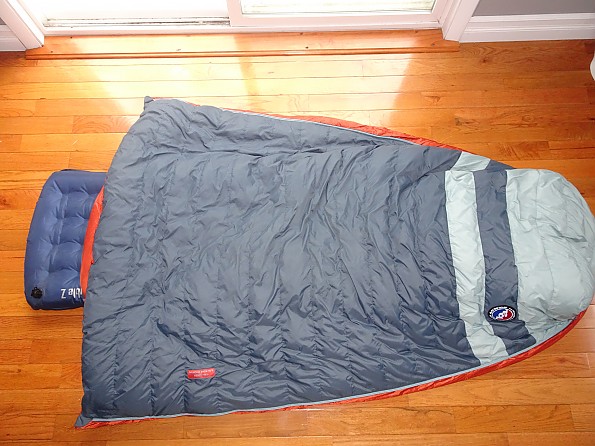 Unzipped from the base, the quilt component is a fully functional quilt for ground or hammock applications. The Long/Wide testing model measures roughly 50 inches across the top and the sort of rectangular footbox is about 20 inches across at the bottom. I say sort of rectangular because even fully opened there was some rounding and if the bottom end is zipped together to extend the footbox that becomes more pronounced. This was still quite roomy compared to the tighter footboxes on some of my quilts like the Enlightened Equipment Prodigy. For those of us with oversized feet this is a welcome comfort.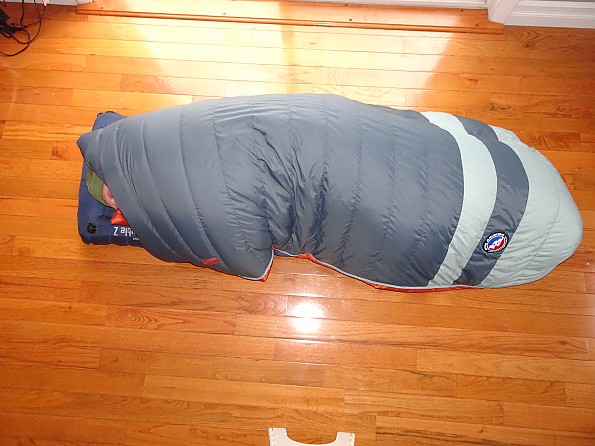 Wrapping the Diamond Park 15 around me was easy as the deep collar at the neck gave hands a place to pull the quilt around the shoulders. Hands tucked inside that collar were toasty warm as well.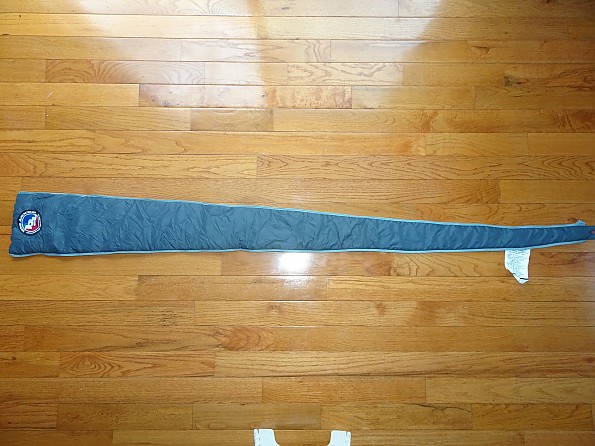 The third possible configuration requires purchasing Big Agnes' Park Bag Wedgie (MSRP $49.95) which zips the two sides of the quilt together into a more traditional bag shape. You actually could just zip the quilt to itself if you have a very narrow chest and shoulders. The Wedgie adds the few inches most folks will prefer for comfort without adding much weight (60oz/170g). Unlike the down used in the rest of the Diamond Park components, the Wedgie uses FireLine MAX synthetic insulation.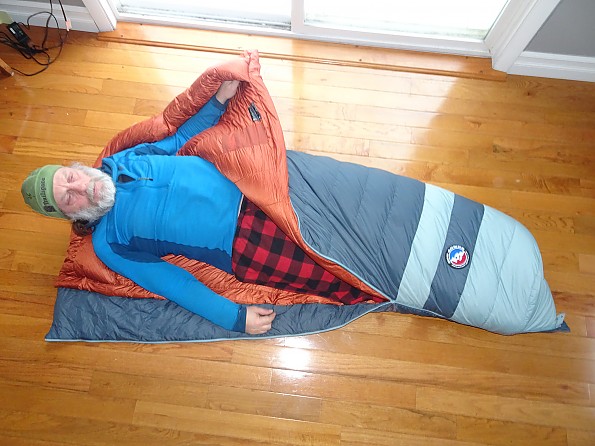 Configurable as either a left- or right-zip bag it created a close fitting, warm cocoon, but lacking a traditional style hood I'm not sure this counts as a mummy bag, despite BA using the term to describe it.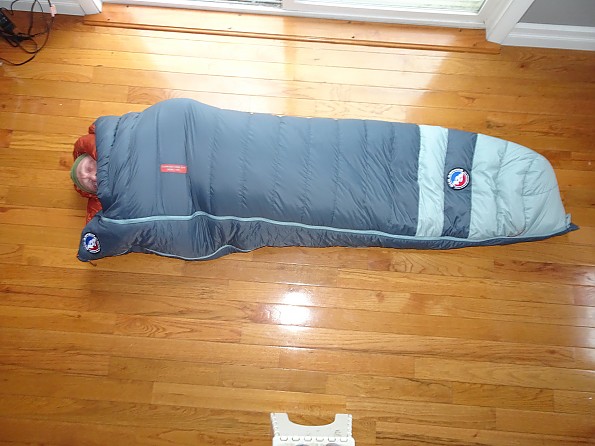 The neck collar of the quilt, when wrapped around in this manner does keep a lot of heat in. Still, an insulated hat seems a good idea in this application since the full hood one thinks of when hearing mummy bag isn't there.
Echo Park Line:
Big Agnes has used this same design to create a separate line that employs the Fireline MAX synthetic insulation. This line comes in at a heavier weight, but with a lower price and has models rated at 40°, 20°, 0°, and -20°F.
As a rough comparison the Diamond Park 15 lists at 65 ounces with an MSRP of $349.95 while the Echo Park 20 lists at 76 ounces with an MSRP of $199.95. Folks who don't intend to carry their bed on their back very far or at all might want to check out these options.
If you're looking at 15°f rated sleep components warmth is likely your major criteria. So far I've found the Diamond Park 15 to meet or exceed its rating. While in the bed configuration in the Easton Torrent 2 I had several nights in the mid 20s and one that hit 14°f. While testing the quilt in my hammock I lucked into a 12°f night. On a recent two-night mountain trip I was able to test going well below the 15°f rating on a night that hit 1°f. Expecting these conditions I'd brought along a 40°f summer quilt as bonus insulation. This worked really well as there was plenty of room inside the Diamond Park.
With one caveat, I found that I was comfortably warm throughout my testing so far. The only problem I had with temperature came from below. The issues had to do with the pad not being warm enough on one test and the multiple pads not playing well together on another. During both tests I could feel the warmth from above in contrast to the cold below.
I have done a fair amount of cold weather camping using quilts on sleeping pads and am familiar with this sort of issue. Winter sleeping pads and I have a long history of not getting along, but I will continue to make adjustments as I carry on further tests. On the recent mountain trip there were still a few fights, but I wasn't feeling cold at all from below.
This really is a function of sleeping on pads in deep cold rather than any issue with the Diamond Park 15. Finding the right amount of insulation and comfort is a personal thing, but if either is missing on a long winter night there will be regret. For my tastes I prefer to stack an old school Therm-a-Rest Trail Pro with a Big Agnes Double Z because neither is enough alone. The inflatable combined with the self-inflating foam, each rated at over 4R, work for me with quilts well below zero. Two pads means less chance of compressing into the cold tent floor when rolling around on a 15-hour night. The main problem is falling off that stack of mattresses.
Fit & Comfort: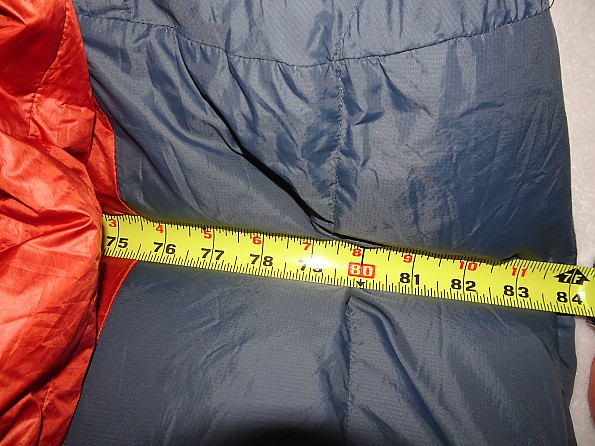 Big Agnes provided a Wide/Long version of Diamond Park, which I later learned is the only size it comes in. With roughly 74 inches from the bottom of the foot box to the top of the draft collar plus another 10 inches or so in the hood there was way more room than my 67-inch body needed. For cold weather camping all that extra space comes in handy though. Plenty of room to fill with clothing and electronics you want to keep warm.
What I appreciated even more was the width and shoulder room inside the bag. After years of the freedom of sleeping under a quilt I was worried about feeling confined in a bag, but it was just the opposite. I didn't have to worry as much about losing valuable heat while rolling over which I do often when ground sleeping. It was great being able to move around inside an insulated shell.

The materials all remained soft and flexible in the cold. The deep draft collar and hood both provided excellent spots for hands and arms to snuggle into warmly. Big Agnes created a built in Pillow Barn into the base. A roughly 14 x 10-inch envelope you can put your pillow into so it stays in place. The open end has a gentle elastic to hold pillows or stuffing inside, but has no problem letting a bigger pillow stick out. This spot worked well with a jacket stuffed into it rather than a pillow.
Entry & Exit:
Again, as a dedicated quilt user I had some concerns about returning to bag life. Over the years I've begun to hear the call of Nature more frequently overnight. Getting into, and especially out of, bed efficiently is important. The Diamond Park system has full length zippers running down either side giving you a left- and right-handed bag option or you can drop both zips and open it up completely. The zippers themselves are the only access issue as this design really makes a lot of sense.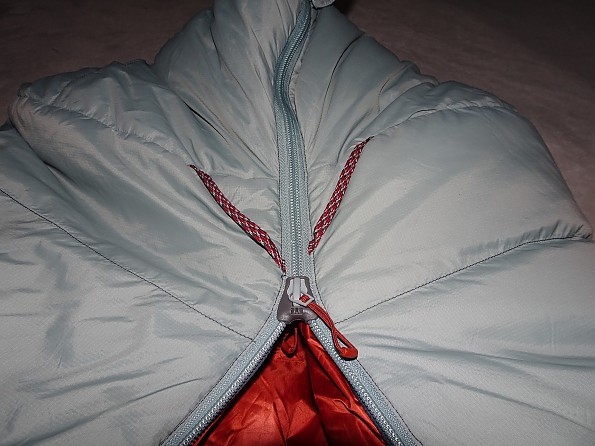 So far I have found that the zippers are a bit of trouble for me to use at times. The YYK #5 employed has what appear to me to be very wide shoulders combined with a small pull. It might just be a personal issue, but it feels like there is a lot of drag. I'm able to use the zippers well enough most of the time, but from inside the bag I've found it more challenging at times. Not a huge issue. Just something I'm monitoring as part of my testing.
Big Agnes used about a 1.4-inch string on the pull. I'm going to do some testing with a long string on one pull to see if that works better for me. Part of my issue is that I wear wool liner gloves for sleeping in the deep cold. I imagine that contributes to the issue, which again, is minor.
Loft & Packability: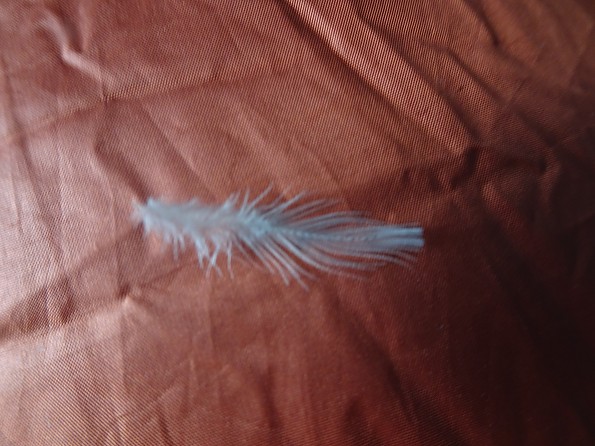 The 600 fill DownTek that Big Agnes used in the Diamond Park fluffs up pretty well, yet feels like it has some solidity to it. It seemed to stay well lofted throughout the night despite my rolling around in the tent. In the hammock that same feeling of resilience was a boon as it prevented the sides of the hammock from compressing the quilt too much.
I accidentally conducted another test when a planned trip was first put on hold and then cancelled. A forecast that included sub-zero wind chills for the entire three days made me think twice and then bail, but when I finally pulled the Diamond Park out of my pack after being stuffed in there for almost a week it popped right back up.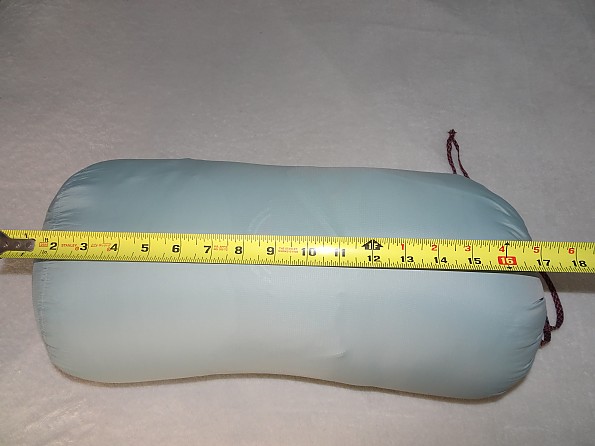 When stuffing that 600 fill down into the provided stuff sack it seems like it might not fit in there. Most of my quilts are 800 to 850 fill and there is a noticeable difference when compressing into a bag. The sack is of reasonable size though and as I mentioned I don't think packing it in there does it much harm. Being a bit rounded dimensions are hard to gauge in the pictures, but it is roughly 18 x 9 inches in the sack or around 18 liters. For just the quilt I was able to comfortably stuff it into a sack measuring roughly 16 x 7.5 inches or around 11 liters. Any smaller would probably be too much crushing.
Features:
This may take a while because Big Agnes really included a lot of small, but useful and important features in this system.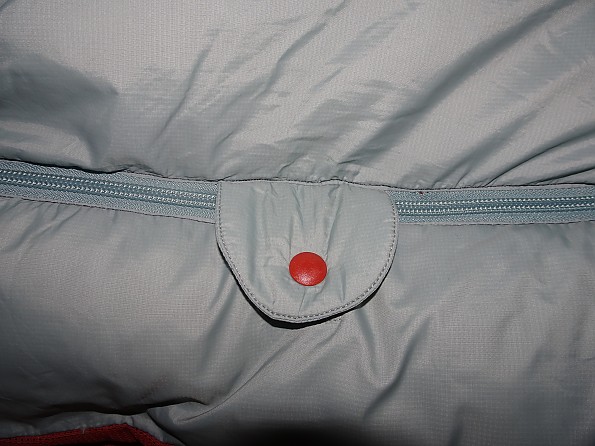 Starting at the foot end, let's take a look at this draft collar that snaps over the gap between the two zippers. Rather than ignore that gap or trying to cover it with bag loft that would only get caught in the zippers they created this simple, but effective barrier. The zippers are double pull, which means folks who want to vent the footbox can open the bottom up a little or completely if they prefer.
Also at the foot end there are two loops which can be used to hang the bed up to air it out. These can also be used for storage, but BA provided a better option by including a hang bag for that purpose.
The zippers are protected all the way up with lofted insulation though. Despite the full length zippers on either side there was no feeling of escaping heat or encroaching cold.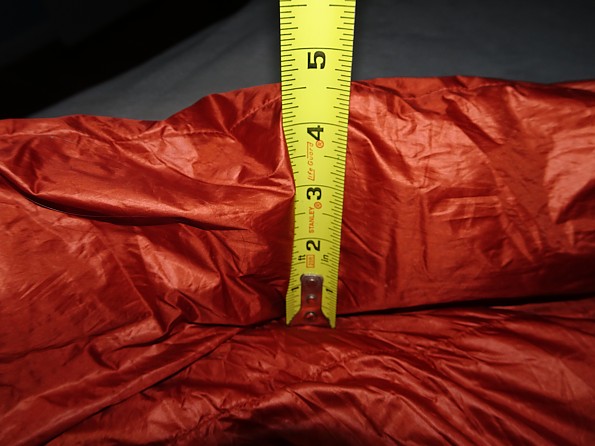 This deep draft collar at the neck not only kept the cold at bay, but also gave hands and arms a natural place to curl into. This is a feature that makes the for great cold weather sleeping. There is a cinch cord running inside which can be used to add tension to the collar.
The top of the base houses a lofted hood. With an easy to use cinching system this can be wrapped close to the head like the top of a mummy bag. If left open it creates a great place for an arm to snuggle into for side sleepers who find it comfortable to have one arm above their head.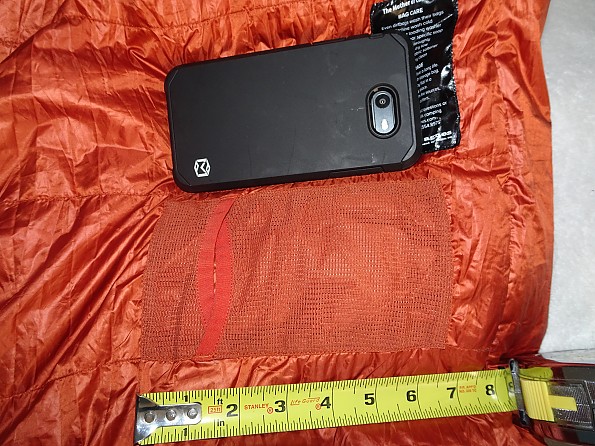 Inside the Diamond Park there are still a few more features lurking. First is this small, mesh pocket in the upper portion of the interior. Measuring roughly 65 x 3.5 inches it is a great spot for stashing glasses, a phone, or whatever you want to keep close at hand.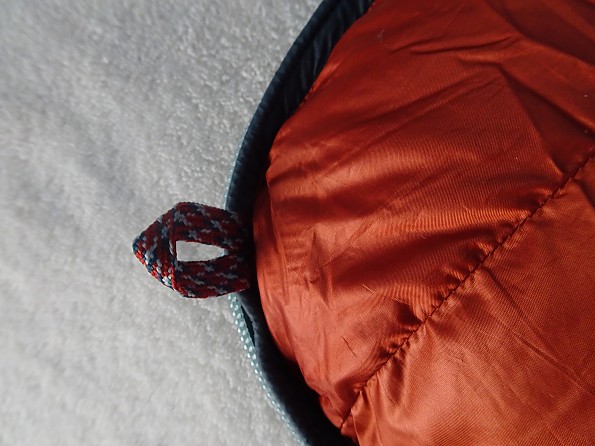 Finally on the inside there are two loops at the very bottom of the base which are for connecting a liner bag. This little thing can make a big difference in terms of how annoying getting in and out of bed can be when using a liner. There are two more of these attachment points inside the hood area to secure the top of the liner.
Construction & Durability:
Big Agnes used 600 Fill DownTek inside the components of the Diamond Park. There are 29 ounces (822 grams) of the moisture-resistant insulation in the entire system. Most is found in the quilt component, but there are runners around the perimeter of the base creating sides for the sleep chamber. There also is more down found in the hood portion of the base. The boxed baffles of the quilt component run horizontal and measure about 4.5 inches wide on the exterior surface. The baffles are well packed and I've had no issues with shifting insulation.
The outside shell is a solid, yet pliable feeling ripstop nylon. The interior is a softer and lighter weight polyester Taffeta lining. Both are somewhat water repellent with the exterior holding out water pretty well in my unscientific testing.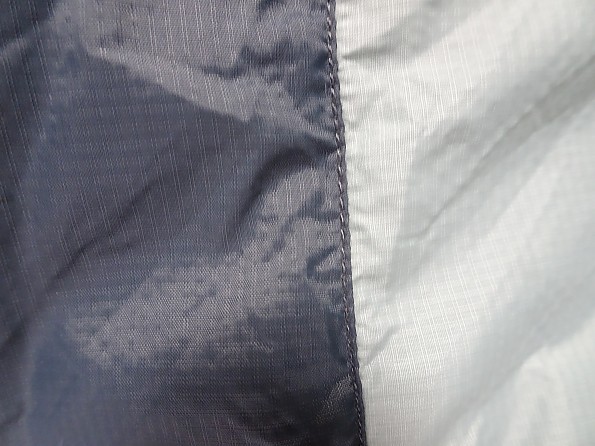 Taking a really close look we can see the exterior ripstop is joined by a well formed stitch. This is true of the sewing throughout the entire Diamond Park system. The design is what might catch your eye, but the execution of this Big Agnes bag shows real craftsmanship for a much bigger than cottage maker.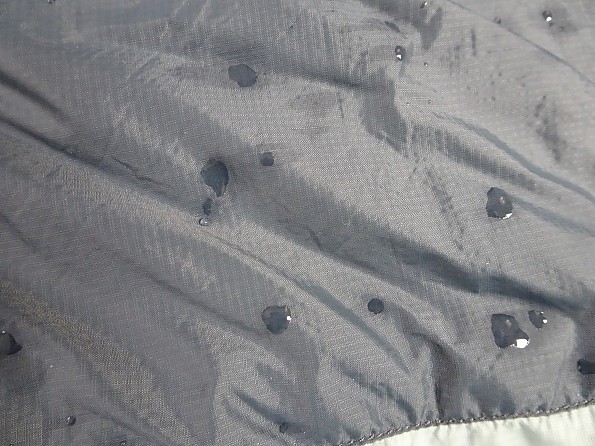 A few drops of water sprinkled on the exterior material beaded up as you'd expect. What you might not expect is that this picture was taken five minutes after the water was applied. It is still beaded up with a small amount soaking into the nylon below.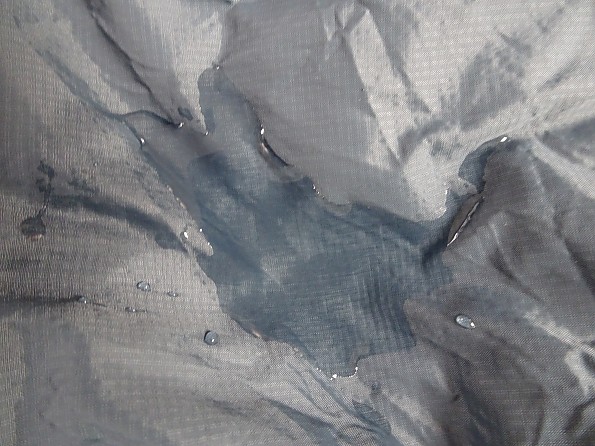 While I was in scientician mode I ran another test by pouring a pool of water onto the material. I left this in place for five minutes to see how much soaked in.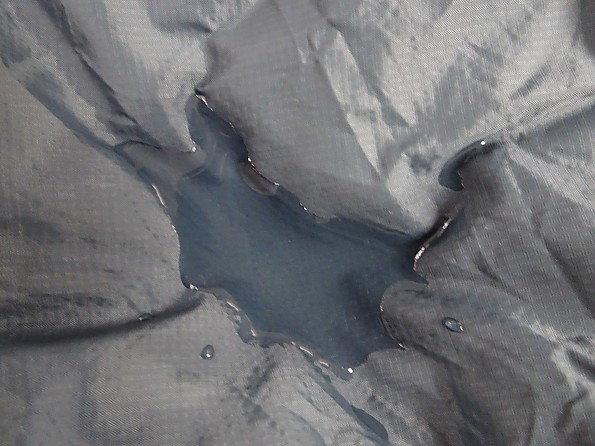 This isn't exact science, but it looks to me like most all the water remains, both the big pool and the smaller spots.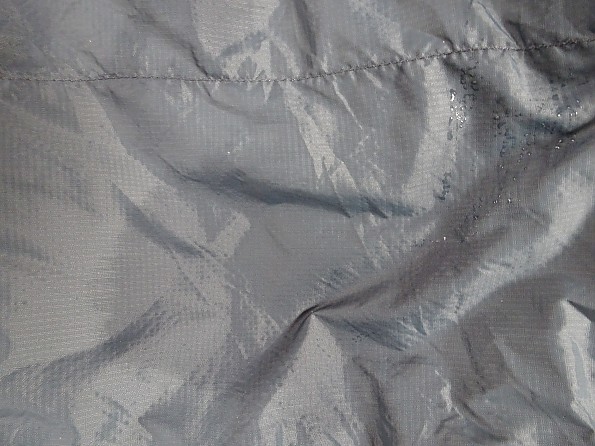 After blotting up the water with a paper towel there was some evidence that the material had begun to wet, at least on the surface. It is likely that it would have eventually let that water inside, but I'd definitely say this lives up to claims of being water resistant.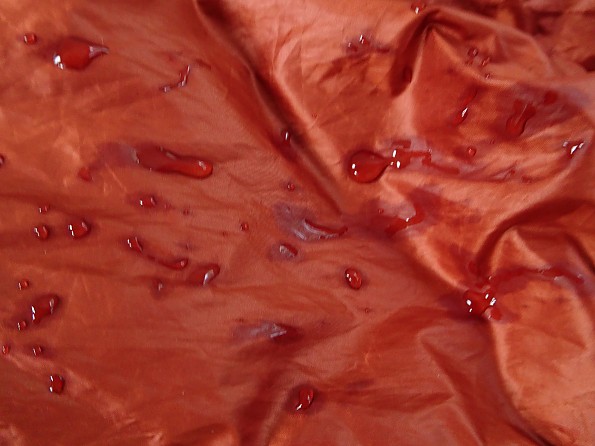 The interior material, as you'd expect, has less water resistance. Sprinkled water still beaded up, but there was immediate wetting of the material below.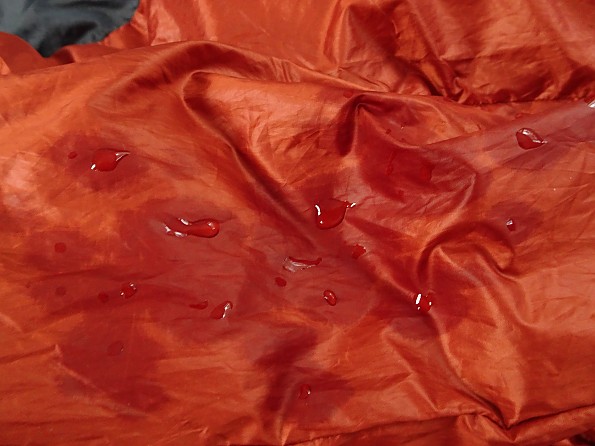 Five minutes later some of the beads remain while others have soaked in completely. Since this material is used for the collar of the quilt component it lives in the area where frost can form while sleeping. I've had one incident where this got frosty and then melted, leaving the collar area damp in some spots.
As far as durability, while I've only used the Diamond Park 15 for a couple of months now, it seems sturdy for a down filled item. I've made no effort to baby it, cramming it into packs and yanking on it as I rolled around during 14-hour nights. Everything still looks solid both in terms of materials and stitching.
Care: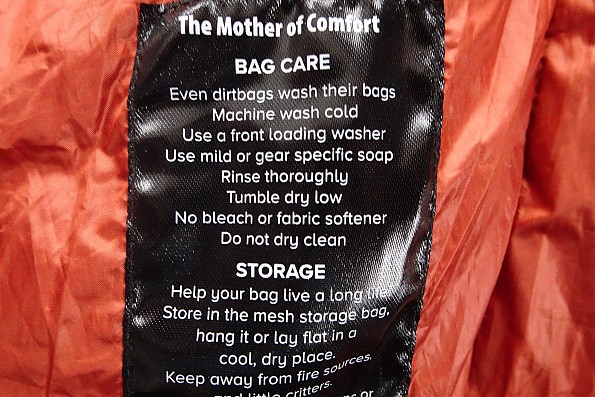 We can't always be on trail so Big Agnes included a large, roughly 32 x12-inch mesh bag for storing the Diamond Park 15. Plenty of room to keep the down from being compressed and it has good ventilation. Sewn to the inside of the quilt is this easy to read label with simple washing instructions.
Testing Conditions: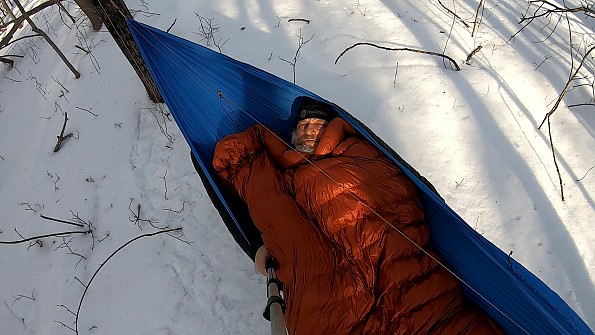 I've managed to get in five nights of local testing and two nights in the Mahoosucs. All but two nights in the hammock were in the bed configuration. I've had several nights right around the bag's rating including nights in both the bed and hammock. 1°f is the lowest I've seen and I augmented with additional insulation that night.
Early Conclusions:
At first glance the Diamond Park 15 seemed a bit gimmicky when I looked at it online. When it arrived I began to change my mind as I noted the functionality of its features. Every part seemed to make sense and there was no denying it was at least as warm as its rating. In bed configuration I found it easy to roll from side to side. As a quilt it wrapped well around my shoulders and stayed lofted inside my hammock.
Often when a product tries to do too many things it ends up not doing some of them well, but this is a definite exception. As a quilt user I find the quilt works well as a standalone. The bed mode surprised me at how comfortable and roomy it could be, even with an extra quilt inside to go far below the temperature rating. While the lack of a real hood was noticed in mummy bag configuration, the extra length made it easy to pull some of the bag around my head.
The one real negative I've found so far is the Flex Pad Sleeve. It is too heavy on the flex and too light on the sleeve for my tastes. With a single pad there was loose sleeve which let things slide around too much. I could slip off the side of the pad too easily. With multiple pads they were not held together and shifted around easily. My suggestion would be to add a strap or two across the bottom which could be cinched to the right size to hold the pad or pads being used. I'm going to do some testing with a strap of my own making holding the pads together, which I'm hoping will give me better results, but having that strap connected to the base component would work better I believe.
Other than that all I can say is this system does what it says; converts from bed to quilt to bag and it kept me warm in both tent and hammock. For folks who like options but don't want to invest in a quiver of expensive bags and quilts, the Diamond Park line makes good sense. I'm looking forward to continuing my testing of the Big Agnes Diamond Park 15 and will update this review in a bit with what I learn out there.
Background
I've been testing the Diamond Park 15 for a couple of months now. Winter camping has been one of my favorite parts of moving to Maine and I've been doing a lot of it over the last eight years or so.
Source: received for testing via the Trailspace Review Corps (Sample for testing and review provided by Big Agnes)

Your Review
Where to Buy
Help support this site by making your next gear purchase through one of the links above. Click a link, buy what you need, and the seller will contribute a portion of the purchase price to support Trailspace's independent gear reviews.
You May Like
Specs
Price
MSRP: $349.95
Current Retail: $399.95
Historic Range: $299.96-$399.95

Temp Rating
15°F / -9°C

Insulation
600 fill DownTek

Bag System Weight
4 lb 3 oz / 1.84 kg

Quilt Weight
2 lb 9 oz / 1.16 kg

Mummy with Park Wedgie Weight
2 lb 15 oz / 1.33 kg

Fill Weight
29 oz / 822 g

Compressed Bag Size
9.5 x 9 in / 24 x 23 cm

Stuff Sack Size
9 x 20 in / 23 x 51 cm

Size
Wide Long

Recently on Trailspace