Enlightened Equipment Prodigy

The Prodigy has been discontinued. It was replaced by the Enlightened Equipment Revelation APEX.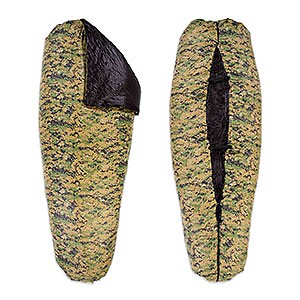 Version reviewed: 20°
Using Climashield APEX insulation this quilt is made for cold, wet conditions that make down quilts nervous. Made to order in ten degree increments across the 20-50°F range with an attention to detail that long time quilt users will appreciate.
Pros
Excellently sewn
Comfortable material inside and out
APEX insulation loves to be washed
Cons
Insulation is very bulky compared to down

Enlightened Equipment is well known for their down quilts, but they also offer the Prodigy which uses Climashield APEX insulation. For those who deal with very wet conditions or as is my case, extended cold weather trips, using down can be a bit nerve wracking. Keeping your down dry and free of ice is important for keeping it functional.
The Prodigy I ordered two years ago was built for a 20°F rating, normal length (6'), wide width (58"), using 10D interior and 20D exterior materials and that is what my review is based on. As with any custom made gear, other versions with other features will likely have other results.
Warmth:
Let's start with the important question; Is this 20°F quilt warm enough to use at 20°F? Yes! Testing with a Big Agnes Double Z under me and only standard sleep layers on a night that hit the 20° mark showed that my Prodigy met or exceeded its temperature rating.
The thick APEX insulation traps heat very well and expands to cover the sleeper's entire body with no cold spots. Taking advantage of the extra width a sleeper can wrap the quilt entirely around their upper torso eliminating any side drafts.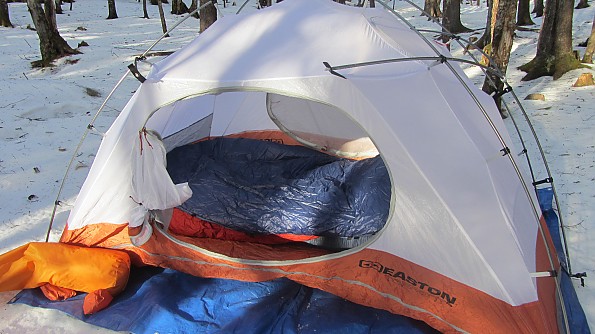 Packability & Loft:
This is an area where synthetic insulation is very different from down. The Climashield APEX that EE uses in the Prodigy quilt is bulky and somewhat resistant to being crushed down. This means any quilt using it, but especially one rated for lower temps, is going to be a challenge to pack into a small space. In fact you really don't want to over pack the quilt as it can leave the insulation crushed and it may lose some loft.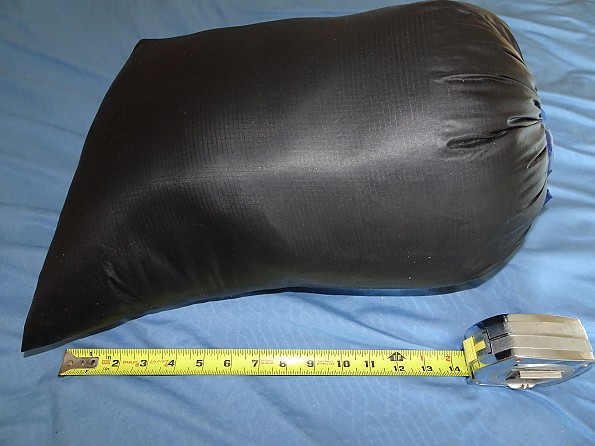 The reward for giving the quilt some room in your bag is that it requires no time or effort to become fully lofted. Just set it free and it will return to its toasty warm thickness. That comes in handy when you need to wrap up fast in cold weather. One other nice feature to the APEX insulation is that washing it makes the insulation happy and EE encourages owners to wash their quilts regularly. They say washing restores loft and makes the quilt warmer.
Fit & Comfort:

I'm average height, a shade over 5-7 and a bit barrel chested which is why I ordered a standard length with extra width. My many years as a quilt user have taught me how valuable that extra width to wrap around your shoulders can be when you want to sleep in on a cold morning.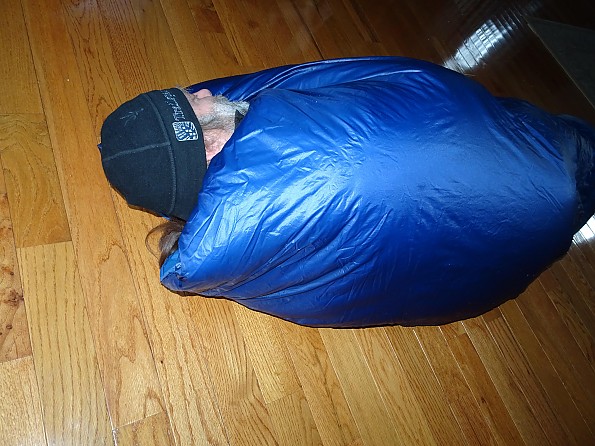 You'll need something for your head, but the rest of the body is well wrapped up. With the extra width there is no need for wind skirts which is good since EE doesn't offer that option.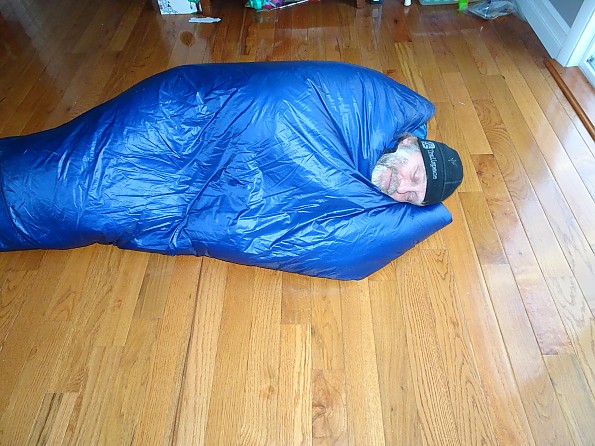 The fabrics, both the 10D interior and 20D exterior feel soft and comfortable against the skin. Those looking to save weight can specify only the lighter material be used, but the heavier exterior material provides a bit more water and wear resistance. Another option is to add just a stripe of the 20D material at the top and/or bottom of the quilt.
Features: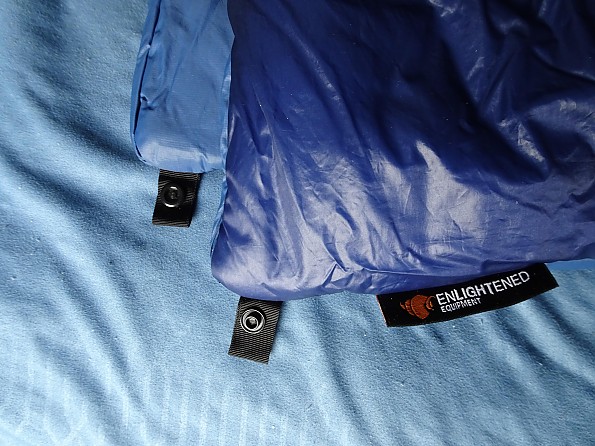 The attention to detail on the EE Prodigy starts with design and carries through with some well engineered features. The snap you see in the picture above allows for attaching the top of the quilt to itself after wrapping it around your neck. For those who roll around a bit while they are sleeping, this helps prevent the quilt from sliding down leaving exposed shoulders to get cold. There is a centered drawstring that can be used to cinch the top of the quilt as desired once the snaps are engaged.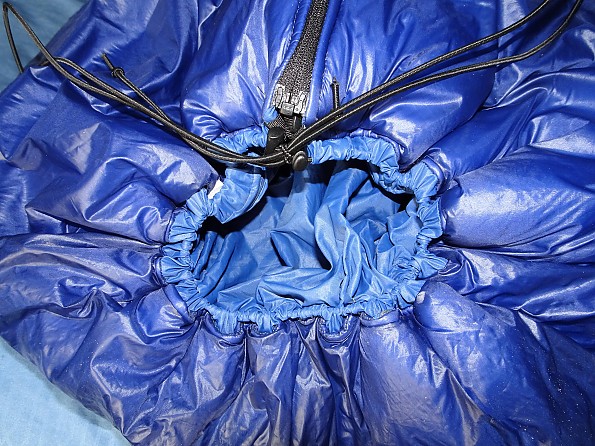 The footbox incorporates both drawstring and zipper closures which allows for a lot of flexibility. Left completely unattached the quilt lays flat like a blanket. Tightening the drawstring begins to form a gentle curve that catches nicely on sleeping mats or toes. Further tightened with the ends of the drawstring tied together creates a rounded footbox that holds feet well.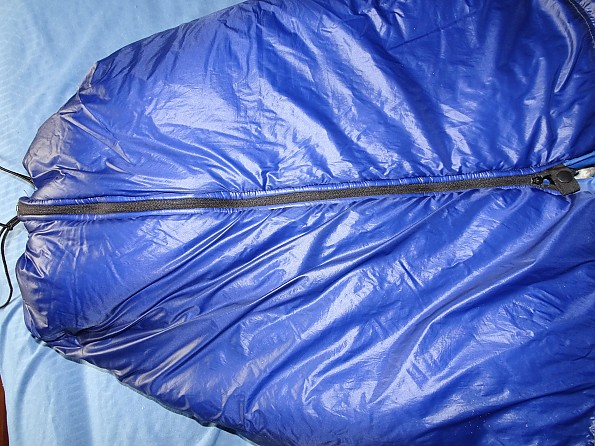 Extending up from the drawstring is a roughly 18" zipper which creates a footbox that extends up towards the knees. For those who really roll around this will keep your feet from popping out unexpectedly. This feature is also useful for corralling liners or inner quilts if you are attempting to extend the quilts temperature range. More on that later...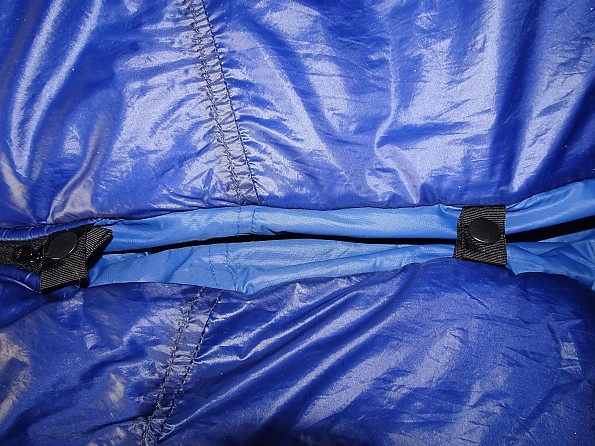 Above the zipper there are two snaps located a few inches apart. The first one takes stress off of the zipper while the second allows you to extend the sealed lower portion of the quilt even higher.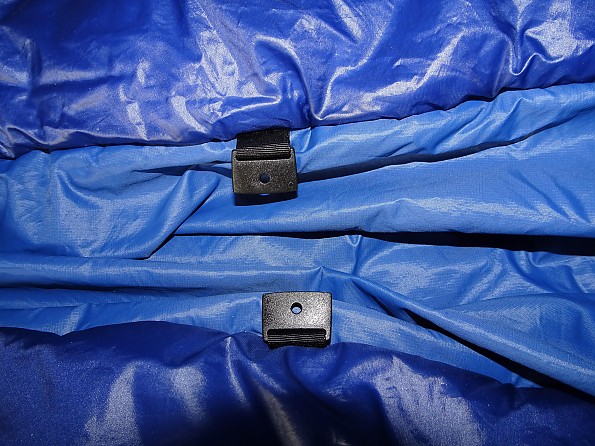 Finally there are two sets of buckles that can be used to attach straps which were included with the quilt. These can be used to keep the quilt wrapped to your body or looped under your sleep pad to keep that in contact throughout the night.
Testing Conditions: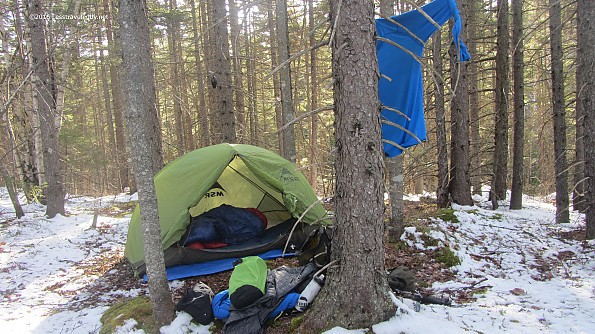 I purchased this quilt primarily to use on winter camping trips which might seem odd for a quilt that only rates to 20 degrees, but my theory was that this synthetic quilt would work nicely over the top of my three-season down quilt. In that application I have used the Prodigy down to -18°F as part of my sub zero sleep system.
During warmer months my wife has used this quilt for both backpacking and road trip adventures. Winter trips were local here in Maine as well as in the White Mountains of New Hampshire. Other adventures took the quilt to VT, NY, PA, IA, SD, WY, UT, and KY so this quilt has been around a bit.
Conclusions:
This quilt really impressed me on several levels. The craftsmanship from design to sewing really shows a lot of thought and care went into making it. Based on that alone I would say anyone in the market for a custom made quilt should put Enlightened Equipment on their short list of makers to consider. My interaction with their customer service was also positive as they expedited my order by a few days to get me the quilt before a planned trip.
Looking at the quilt in its designed use I was also impressed. It felt great wrapped around my body and with its thick layer of APEX insulation drafts found it hard to penetrate. Despite being crammed indelicately into my cold weather pack and going on a few family road trips the materials, inside and out, look brand new.
Again, my primary use for this quilt is as an outer layer for my cold weather sleep system. In that application I again was impressed. In sub zero temperatures moisture leaving the body rises through insulation layers as vapor until it reaches cold where it turns to frost.
On extended trips that frost can get trapped in down insulation reducing loft and warmth. I use this quilt to move that frost away from my down completely. In the morning I compress my down to remove as much residual vapor as possible and pack that quilt safely away. The Prodigy is taken outside and shaken out to remove any frost that may have formed on the outside layer overnight.
The ability to configure the footbox in so many ways seemed unnecessary to me at first. Then I started finding all sorts of neat ways to use the different features in different conditions. The drawstring opening allowed for a little ventilation without letting out all of the heat. The extended box created with the zipper and snaps was great for keeping my inner quilt inside where it belonged.
My wife sleeps cold and she really loved using the Prodigy as a three season quilt. There were a few nights at high elevation where she was nice enough to let me crawl under one side when my 40° quilt wasn't quite enough.
The only real drawback to this quilt is that it packs so large. It isn't terribly heavy, about 35oz, but it really does take up a lot of room in a pack. My packs run on the huge side so that isn't an issue for me. Just something others should consider. Of course a higher temperature rating would cut down on the volume considerably, so those looking for a summer or three-season quilt should take that into consideration.
The nice thing about ordering a custom quilt is that you can have them make what you really want. In my case that has worked out very well which is why I have given this quilt the highest possible rating.
Source: bought it new
Price Paid: $215 including shipping for custom quilt as noted below

Your Review
Where to Buy
Help support this site by making your next gear purchase through one of the links above. Click a link, buy what you need, and the seller will contribute a portion of the purchase price to support Trailspace's independent gear reviews.
You May Like
Specs
Price
MSRP: $185.00
Reviewers Paid: $215.00

Weight
32.37 oz

Recently on Trailspace