Easton Torrent 2

The Torrent 2 has been discontinued. If you're looking for something new, check out the best four-season tents for 2023.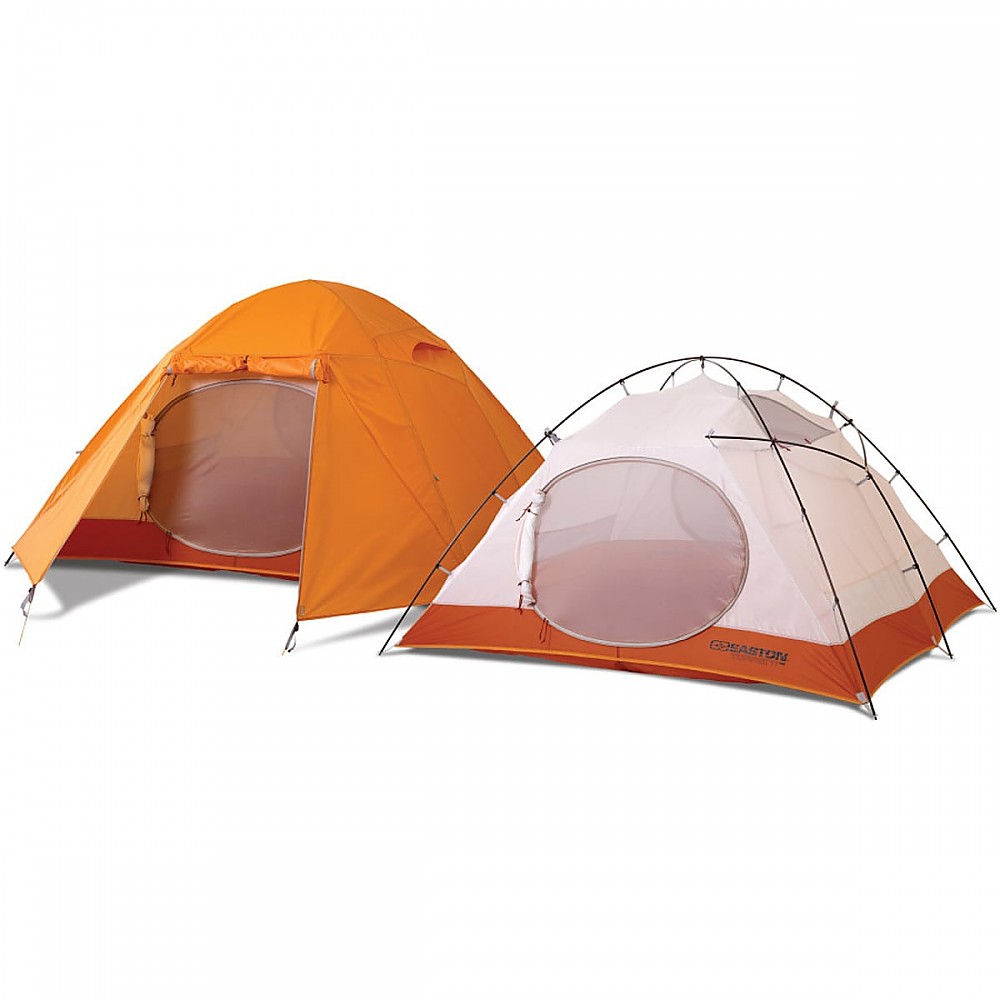 Doubled walled, four-season function that won't break the bank or your back. Strong enough to handle high winds or heavy snow loads with vertical inner walls to maximize usable space. Good all weather tent with room enough for two that makes a great winter tent for solo use.
Pros
Strong four pole structure
Good tie out points with included line
Wide double zipper outer door
Wide elongated D inner door
Vertical walls maximize usable space
Vented fly
Two entries and vestibules
Cons
Fly attaches to tent so can't be used with poles alone
Challenging to ventilate in still conditions
The Easton Torrent 2 is an all-weather, double walled tent that makes for a sturdy and affordable option when you need more protection from wind, snow, dust, or rain than most UL shelters can provide.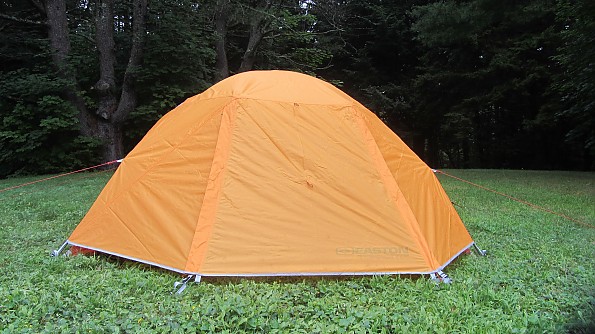 Fully staked with ten around the fly and four more on the guy lines.


Setup: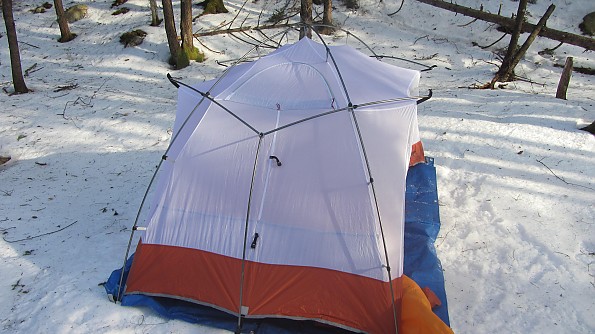 Both types of pole can be seen here with the inner tent mostly attached.


The Torrent 2 employs a four poled structural frame with the first two center crossing in a familiar dome tent fashion. The other two poles are three armed hubs which attach to the non-door sides to hold the vertical walls out and provide additional structural support. The poles attach directly to the inner tent via strap grommets and the fly clips to the end of the strap. The entire process can be completed quickly even with gloves on.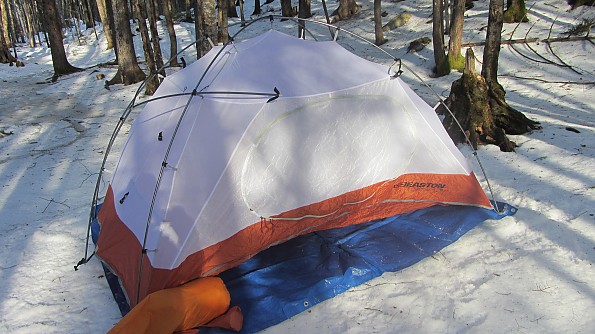 While the fly can't be pitched first, the fully enclosed inner tent provides protection until you can get the roof on.

Each pole attachment point has a corresponding stake out point which allows you to fully secure the inner tent before raising the poles on windy days. The fly clips on to the inner tent so can not be raised first to provide protection or used alone. There are two additional stake out points on the fly for each entry and four guy lines for a total of 14 ground attachments available.
Stability:
The configuration of the sturdy Aluminum 7075 T9 poles serves to hold the inner tent out and support the outer tent from below very well. When fully staked out the Torrent is surprisingly quiet in heavy wind with little to none of that annoying flapping noise. There are adjustable straps at the attachment points which make it easy to sync the fly with the tent's current pitch for maximum tautness.
Those poles also provide serious load bearing ability. I've tested that more by leaning on it than with snow because the Torrent's shape really sheds snow too well for it to have built up much. Sleeping is more restful when you don't worry about having to wake up and shake the tent every few hours.
Weather Resistance: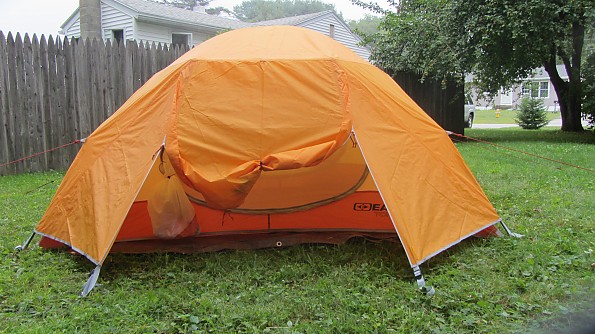 Set up in the back yard for a rain test. Note how the wide, double zippered door is rolled half way up to provide ventilation and protection at the same time.
Keeping out the weather is the primary reason most folks are willing to carry a heavier, double walled tent like the Torrent. The heavy duty floor and fly keep moisture out in all if its forms as well as doing a great job of blocking blowing dust and sand.
The inner tent has double doors on either side with a solid outer protecting an inner of fine no-see-em mesh. The fly extends well over the inner tent protecting it for the most part from rain splatter. The vestibules have a nice sized, well protected area in the center that is very useful in rain or snow.
Ventilation:
In a double walled tent ventilation is very important in almost all weather conditions. Due to the sealed in nature of the inner tent moving moisture out can be a challenge so it helps if the designers have put some thought into making that happen.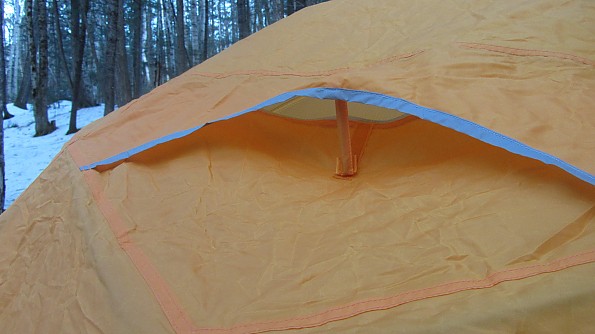 Closeup look at the fly vent with support strut holding it open. The strut has a Velcro attachment allowing it to be propped open or sealed shut.

The inner tent has zippered ceiling openings on either side allowing warm air to rise through to escape. These openings, like the entry doors, consist of a solid outer and a no-see-em mesh inner. The fly itself has two corresponding vents to allow circulation under the fly. These vents can be propped open using a strut or sealed shut if needed. This system works well provided there is air entry to the inner tent. When the inner tent doors are fully sealed the chimney affect seemed limited.
Room and Storage: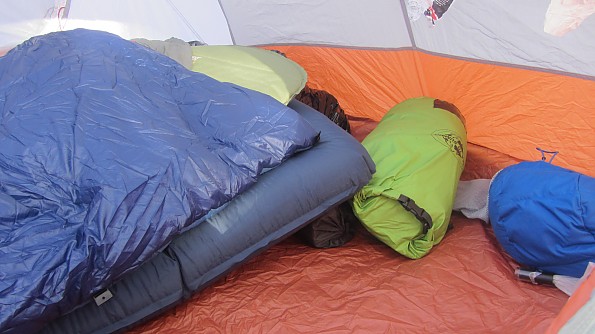 Sleeping single in a double tent means you have to heat it up yourself, but you do have plenty of room for all the things that get you through a long winter night.


The Torrent 2 has about 35 square feet of floor area and with the door side walls being relatively vertical most of that is usable space. There is plenty of room for two full sized sleeping pads without anyone feeling like they are up against a wall. The specifications say there is 10.7 square feet in each vestibule, but as with most vestibules, the area around the edge can be exposed. Still there is a good sized area right in front of the door that is very well protected. There are large, mesh pockets on the non-door sides and attachment points for an optional gear net above.
Packability: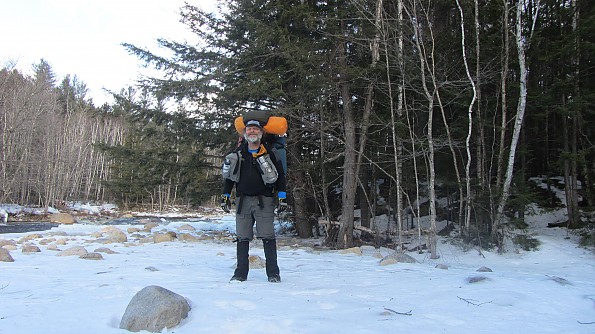 The Torrent strapped on top of my winter pack (Seek Outside Unaweep 6300) for fast access. Easier to carry if you bring a partner and split the load, but then you have to share the tent.
Weighing roughly 7.5 pounds the Torrent packs neither small nor light. The heavy materials don't compress much and the full compliment of poles and stakes take up extra space as well. This is what I'd expect from a sturdy, four season tent, but it does need to be taken into consideration. While my other tents tend to ride inside my pack I carry the Torrent externally both due to its size and all the other things I need to pack for cold weather fun.
Notable Features: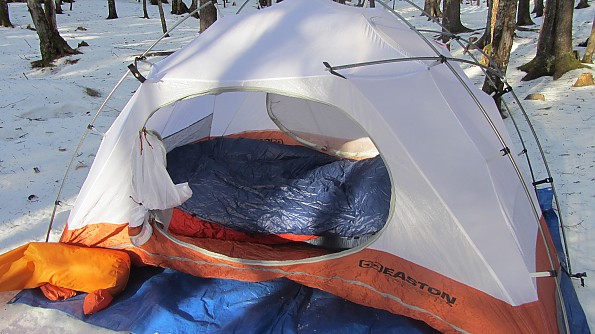 Wide, elongated D-shaped doors on the inner with both solid and mesh doors cinched back.


The doors are one feature of the Torrent that I seem to always appreciate a few times each time I use it. The inner doors when fully opened create a huge opening. This is great when setting up camp, especially for making the bed. Beyond that, every time I have to get in or out of the tent I'm struck by how much easier it is when you don't have to aim for a tiny hole.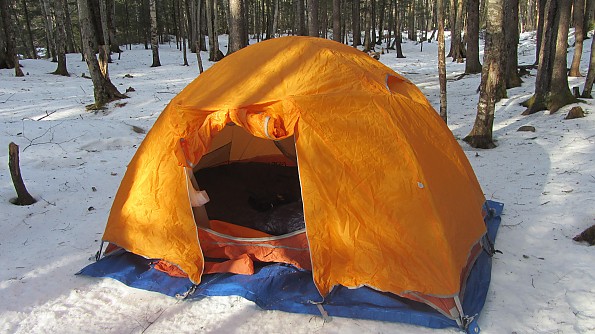 Even not staked out the fly entry is plenty wide for tossing in gear or jumping out for an exhilarating nature call.


The double zipper design of the fly door is also something I really appreciate about the Torrent. When fully staked out it creates a large protected area in the vestibule due to its shape, but it also provides great access. Being able to easily get in or out, even if you don't have the fly staked out properly, is a really nice benefit.
Construction and Durability:
The materials used to make the Torrent weatherproof also make it pretty tough. The inner tent is 40D nylon with a 70D nylon floor. The fly is made from 75D polyester and both inner and outer have fully taped seams. I have seen almost no wear from use though I did damage to a door screen when it was caught in a zipper, but that is very minor and self inflicted. The only other issue was a tie down for the rolled up entry door that came off which appeared to have been sewn incorrectly.
Testing Conditions:
I used the Torrent 2 primarily for solo snow camping. There was some additional testing done during warmer weather in the back yard including both sleep tests and weather testing during some heavy thunderstorms. Two person use was only simulated by setting up two beds because no one else I know is crazy enough to go camping in the snow with me.
Conclusions: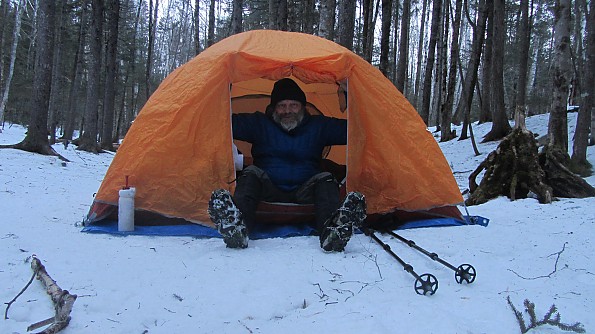 Looking out my front door.


The Easton Torrent 2 is a product I'd call "good enough". There are definitely more expensive options when it comes to double walled, four-season tents which may or may not come with a lighter weight or fancier names, but in terms of function I have found that the Torrent does what I need it to do pretty well for a price that was pretty reasonable.
There are two areas I've found some problems with though that should be mentioned. First, the inability to set up the outer tent first is not a huge issue, but at times it can be a nice option to have, especially when breaking camp in bad weather.
The other issue I had worth mentioning has to do with ventilation in still conditions. I would have liked to see a floor level vent or two which could be opened like the roof vents to provide air flow. Even with a door partially opened it seemed that without a breeze it was hard to move air through the inner tent using just the chimney affect. So long as I had even a light breeze ventilation seemed pretty good, but on still nights I found a fair amount of frost on the fly in the morning and even inside the tent on one occasion.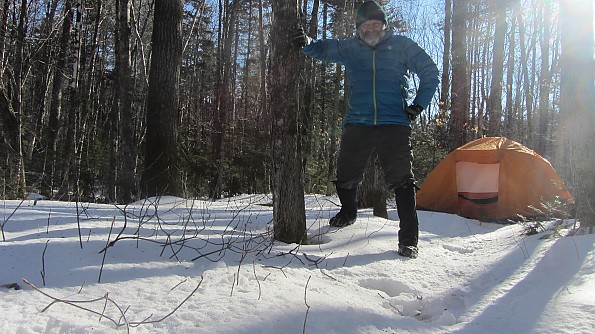 Enjoying the late afternoon sun deep in New Hampshire's Pemigewasset Wilderness before it was time to get inside for the night.


So I guess that is my final word on the Torrent 2; It's good enough. My rating reflects the fact that it could be better and I had a few things to complain about, but in the end this tent is definitely serviceable and even has a few areas, like the structure and the door designs, that are pretty neat in my book. The affordable price enters into my rating as well. 
Source: bought it new
Price Paid: $161.73

It's a great tent for four-season use.
Pros
Roomy
Wind-resistant
Excellent overall quality
Packed size
Came with me for six years of skiing tours, bike trips, mountain hiking, and other activities. It's very warm in really cold conditions. There is not any draft and condensate inside.
The vestibules is large. It's a two-person tent, but the Torrent is so roomy, that's why there is no any problem for sleep for three persons in extreme conditions.
The tent is good for three-person family use. It was made in the Marmot factory.
Experience
It's a great tent for fall, winter, and early spring.
Source: bought it new
Price Paid: $420

Disappointed in this tent and if I can reach a company rep I will be asking for either a refund or replacement.
Pros
Ease of setup
Gear hooks
Zipper quality
Cons
Coatings broke down
Cable tie-backs came off
I loved this tent at first use...then after one season in storage I used it a second time and noticed the fly wouldn't slide easily over the poles. What had happened was the coating underneath was breaking down and had become very sticky. 
The next time I used it it was worse and coatings on other parts were breaking down and one of the tie-backs and one of the velcro loops came off because the glue had broken down.
The drawstring on the tent bag won't slide any more and the tent won't slide into the bag due to this same problem.
I really like the setup and the doors and vents and it makes a good cold weather tent if it weren't for this.
Good ventilation and the footprint and fly do a good job of keeping the weather out.
Source: bought it new

Your Review
You May Like
Specs
Price
Historic Range: $183.99-$419.95
Reviewers Paid: $161.73-$420.00

Recently on Trailspace