Marmot Swallow 2P

The Swallow 2P has been discontinued. If you're looking for something new, check out the best 3-4 season convertible tents for 2023.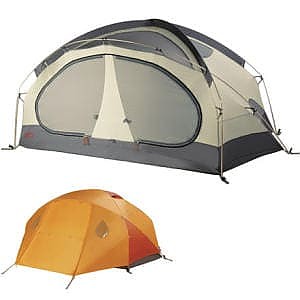 I purchased this tent because I needed a small, lighter tent for my kayak camping trips. I did not want a bivy sack so I went with a small 3+ season tent. I compared it with smaller tents from the following companies: TNF, Marmot (hoot), Mountain Hardware (light wedge), and Walrus (teramoto). I chose the Marmot tent because I liked the stablilty, ease of setup, light weight (compared to my Kelty Typhoon 4), its cool color and the convenience of the burrito sack.
The tent performed very well. I set it up in 2 minutes all by myself the very first time I used it. The fly on the tent needs improvement, however, since the seams do not line up with the poles (they are close but not perfect). The vents on the tent body and on the fly work as they are supposed to and when I woke up in the morning (hot muggy day) there was no condensation build up on the inside of the tent OR on the fly! I completely staked out the tent to improve the venting tho. I am used to my Kelty Typhoon 4, which has very thick, strong Easton aluminum poles. I liked the lighter weight of the Marmot's new DAC feather weight poles but I dont think they are as strong or could handle a snow load. I purchased the Marmot Swallow ground sheet and it works very well. It clips onto the bottom of the tent and fits the tent perfectly with no adjustments needed (alot nicer than custom cutting a tarp by yourself). The ground sheet also has its own clips to snap the tent body, rainfly and ground sheet into one solid unit. The color of the tent is mainly yellow with purple accents and 2 doors, the fly has 2 clear windows which are leak proof.
I really like this tent for lightweight weekend kayaking trips, however I do have a few gripes with it:
1. The fly needs work...The seams do not line up with the poles. For a tent at this price range the fly SHOULD fit considering it normally goes for over $300.
2. the tent body tends to sag a little on the bottom edges if the tent is not fully staked out. You really need to purchase 2 extra stakes to complete this. Without them the bottom of the tent tends to sag a little bit which *COULD* let rain settle in small pools along the bottom edge. (it has never happened to me yet fully staked out).
3. The tent is rated for 2 people. I can see two people sleeping in it with NO gear but since the vestibule is very small I consider this a one person tent with a little room for gear inside it (rather than in the vestibule). I am used to my Kelty Typhoon 4 which has enough room for 3 people and gear inside.
4. The door setup. The *NEW* Marmot swallow has a 3rd door built in on the opposite side of the tent. That will improve venting very well. My tent is the *OLDER* version and has only 2 doors on ONE side of the tent....so late night bathroom adventures involve climbing over the person next to you to exit the tent.
5. When the tent is set up without the fly its look reminds me of the old movie "The Fly" with 2 big bug eyes staring at you. The doors are also very small and require a great deal of bending over to enter/exit the tent.
The GOOD features are as follows:
1. The burrito sack is wonderful
2. Ease of setup / takedown
3. the tent rolls up very small
4. The 2 main doors have a VERY large 3rd door (built around the 2 smaller doors) which make it so you can unzip one whole side of the tent (the whole wall opens up) so it is VERY nice to sit in. That also helps dry the tent out if moisture gets inside. The *NEW* marmot swallow has this feature on the opposite side of the tent aswell making the tent open up completely on both sides like a tunnel or sun shelter.
5. The tent is NOT as light as a bivy but at around 7 pounds it is much lighter than my 13 pound Kelty Typhoon 4. It also rolls up small enough to fit in my kayak storage hatch.
6. The tent is long enough to fit my 6'2" long body, however, the width is not large enough for 2 people with gear.
7. The vents located inside the tent and on the fly work very well.
8. It has a lifetime warrantee and the customer service is TOP NOTCH. I called them and they sent me tons of free information and lots of tips. They are very friendly and I received their info in the mail within 3 days.
I hope this helps you in your choice of selecting a new tent. I would check out this tent...but also look at the Marmot Hoot...it is the same in a larger package so it will hold 2 people with gear. I think I will use the Marmot swallow for summer trips and keep my Kelty Typhoon for winter tripping with heavy snowloads. After using the Marmot tent many times I still like my Kelty Typhoon 4 much more. My next tent will definately be a Kelty Typhoon 2. The same as my typhoon 4 only smaller.
I think the Marmot swallow is perfect for a scout since it is light weight, sets up easy and is fun to be in.
Design: 3-4 season convertible
Sleeps: 2
Ease of Setup: Simple
Weight: Estimated 7 pounds
Price Paid: $250 on sale

When they say it's a Rolls Royce, it is. You may shave pounds with another tent, but you'll give up SO MUCH MORE.
Pros
Pockets, lanyards, ventilation, galore
Durability, strong in Burning Man Playa Winds
Spacious, and the vestibules rule
Cons
Yeah, a little heavy
Roll pack it stores in is a little tedious
I got this for not having my tent in my face during the 40-60mph winds/dust storms on the playa at Burning Man. I'm very happy with performance in that regard.  It also keeps the dust OUT when I properly zip it. The ventilated rain fly is brilliant for no condensation.  
I was just in White Mtns with it at 33degrees overnight, with 2 people in it, and the walls were not wet in the morning.  I bought an EMS Big Easy 2 footprint that fits the Swallow PERFECTLY. 
Setup is super-fast and easy, after the first time, very intuitive. Staking the rain fly for easy zipping is essential, and a little tedious the first time you do it (you kinda have to force a stake, but it works great), but otherwise no problems. You'll spend more time picking your site and directions for the tent than you will setting it up.
Inside, everything from light hook in the ceiling, to multiple ventilation tie-offs, dual doors are great, nice windows on rain fly. Countless thoughtful details such that any other tent you wind up in leaves you looking for what's not there by comparison.
Haven't tried it in snow, but in heavy rains and winds and dust so far, it has left me with zero complaints.  I keep my pack (Osprey Atmos 65 or Arc'teryx Bora 95) in the larger vestibule with zipper facing me, and it makes a perfect closet. Cooking gear at the other end, and I'm all set to accomplish many basic "get started" tasks in any weather without discomfort.
The storage pouch you keep it in is a little bizarrely challenging how it folds in on itself. And the poles are just a little long for it, but still fit. Just seems the storage was a poorly-done after-thought when in comparison to everything else that totally rocks.
Bottom line: if you can find one, buy it.  It's easily a 2-3person tent, easily 3-season. And those few extra pounds are so worth it. I keep looking at other tents for weight and what I give up on so many great features with this one simply makes those few pounds worth it.
Source: bought it new
Price Paid: $315

When I set out looking for a tent, I had a very specific design in mind. I had used the Mountain Hardware Skyview before and it made a great impression on me so I began my search keeping that tent's specifications in mind.
It's a heavy tent with nice access and highly adjustable ventilation and unfortunately, it's completely out of stock. Thanks to the similar products option on Trailspace.com, It didn't take long to find the Marmot Swallow.
In many ways, the Swallow surpassed the impressive skyview, but not on all accounts. First of all, the Swallow provides far more ventilation and allows you to choose what parts of the tent get ventilation. You may choose to close the windward vents in dust storms keeping drifting sand from penetrating the screen while leaving the low foot vents open to allow relief from stinky feet.
The Swallow's spectrum of ventilation options also makes this tent truly convertible. It performs below zero degrees and it stays comfortable to 80 degrees and sunny with so long as there's a light breeze.
One of the manufacturer's points that I disagree with is that this is a two person tent. This is a two person plus two backpacks, climbing gear and still enough room to see an acre of the floor tent. I once slept three people in this tent and then I (the fourth) slept in the vestibule. Of course I don't need a whole lot of room to sleep and it was only one night. Three people in below freezing is cozy just watch the condensation which is avoidable with vents. All of that extra room makes extended stays much more relaxing.
The thing I hate about staying in one camp for more than two nights is how cluttered my tent gets. At home, I'm pretty tidy but in a tent, organization is a little harder. That's why I make use of those little side pockets as much as possible. That's also why I almost freaked out when I found four wall pockets in the Swallow the first time I opened it up. Four pockets means two per person! (or one per person if you're as crazy as me). On the down side though, zipping the main zipper when the pockets are full, places a lot of stress on the curved part of the track.
In the vestibules, there is even more storage space. The main one has room for packs plus boots. The rear one has room for just boots. The toughest part is deciding who gets the side with the big vestibule. I love the versatility of having two vestibules but I must admit, the Skyview still wears the crown in my opinion. If only the Swallow was better set up for stove cooking in foul weather...
It is easy to tell the amount of thought that went into engineering this tent. Its strength against wind and snow, the practical shape of its side walls, the thoughtful loops and tie offs all make this tent what it is, great... but also kinda heavy. For me, that's a sacrifice I am willing to make for preparedness. Sure it's a stone in the pack but at least I get to sleep when the unexpected dust storm hits and everyone else is in bug net ultralights (that was actually a really fun night, at least for me).
I haven't even gotten into all of the little features that the Swallow provides but then it wouldn't be as exciting for you when you get it.
Design: Three pole boxy dome
Sleeps: 3
Ease of Setup: The body is easy, getting the fly evenly taught takes practice
Weight: 8 pounds

I have had this tent since 2002. I have to say it has lasted better than any tent I know of. I have about 100 days in this tent and it has backpacked and car camped everywhere in the PNW.

I think the tents you can get now are better with material and weight, but I returned a Mountain Hardwear tent I got as a replacement because it wasn't good enough.
Pros
Warm and good ventilation
Way ahead of its time in construction
Modular setup keeps your tent organized
Cons
Heavy, not too heavy, but it could be lighter
Storage is a little clumsy
Poles are good, but weak by modern tent standards
Pitch it quick in a puddle of mud and pick it up in two days without getting wet. I am serious. I camped at the Oregon coast numerous times and stayed beyond dry the whole time.
I am not going to lie. I am emotionally attached to this tent. There are things I don't like, mostly due to the fact that the tent is 15 years old, but overall the best tent I have every been in.
I recently got a Black Diamond to replace my Swallow and I am happy with the new tent, but the warmth of the single wall 3-season tent is unparalleled in this tent. Birds nest top gear holder is a must, pay extra to get the made for it ground pad.
Source: bought it new
Price Paid: $350

I have used this tent throughout the East Coast from the Florida Keys to the Adirondacks. To keep things short let me just say this is one great tent. If you are willing to spend the money my suggestion is to stop shopping around and buy this tent.
Pros: ease of setup, the most adjustable ventilation system I've ever seen in any tent (when the roof vents and the fly are adjusted properly - I've seen my tent stay bone dry on real cold nights where other tents get SOAKED), a rainfly thats more watertight than a frog's ass (I've been in 36 hours of straight DELUGE without a DROP of rain inside the tent), a fair sized vestibule (plus a second small one), plenty of storage pockets around the interior, pleasant color scheme to spend a rainy day inside, small windows on the rainfly, I use it as a four season tent with no problems.
Cons: weighs nearly 8 pounds packed which is a problem on solo backpacking trips, as with all tents - although rated as and can sleep 2 persons - is more comfortable as a very roomy one person (I'm 6'2" and prefer more space to move around) have seen the tent listed as high as $375 and a low as $275 so shop around a little bit.
Design: 3 + season, freestanding
Sleeps: 2
Ease of Setup: easy
Weight: 7 lb. 10. oz
Price Paid: $275

I spent the night in my Swallow a couple of days ago for the first time since it arrived in the mail. I paid a closeout price for it, 2005 model, but it looks the same as a 2006.
The conditions for my trip... plenty of snow on the ground, and a heavy wet snow. The day high was 37, the low that night was 23. Setting it up is easy provided you have done an initial setup at home and played with all of its features. 3-pole design makes for a very sturdy structure, especially when the fly is on and the guy lines are staked.
This tent kept me and my dog cozy the entire night. I had the fly on because we had some light winds and a bit chilly. I opened one of the vents and had no moisture problems. The tent had room for all of my gear, my dog's bed, my dog, and my sleeping gear all spread out. The vestibule is very roomy. The entrances on both sides make getting in and out very easy.
Design: 3+ season
Sleeps: 2
Ease of Setup: Easy once you have practiced once and explored all of its features
Weight: 7 lbs
Price Paid: $200

After only three 40 degree nights in the Marmot Swallow, I'm convinced it's one of the best 2-person, 3+ season shelters. I look forward to cold, hot, and wet conditions to test the tent's strengths.
The "convertible" zippered vents give you all options for holding in the heat on cool/cold nights by closing most vents, while still allowing customized ventilation.
The vent in the rainfly is wonderful, and it should allow cross-ventilation in all but the worst storms, when it may need to be closed.
In my limited use so far, I've managed to keep the inside tent walls dry by using the fly vent to keep airflow moving across the tent ceiling. With two sleepers on a cool night, the tent stayed bone-dry, while the underside of the fly was very wet, collecting sleepers' humid breaths, as there were no breezes and the vestibule was closed.
It's possible that if stuck inside for a day or two under wet conditions, some of this humidity from the fly will end-up on the tent walls. We'll see.
Design: 3+ Season-Convertible
Sleeps: 2+
Ease of Setup: very easy
Weight: 8 lbs. 6 oz.
Price Paid: $249 a steal

First trip: 2 Adults, 1 Child. Add 2 days of sheet rain and coastal winter winds (40+ Gusts) and normally we'd be soaked, but to our suprise we survived with only minor dampness in the interior (mainly from humidity and coming in damp..) Awesome ventilation.
Second trip: 2 Adults, 1 Child. (More gear, a bit cramped, but then ours is a 2 person tent) 4 days, avg 30 deg nights, 20 mph gusts, with some light rain, and due to the ability to CLOSE all venting we stayed nice and warm!
Wish it weighed 5lbs instead of almost 8! On the flip side, when you add up all the weight of wet/damp clothing and sleeping bags that often result from lessor tents leaking, and just being wet and cold, the extra weight is more than agreeable! Highly recommend! (Get the footprint for the tent! $30 it snaps right onto the bottom of the poles!) We want this one to last as long as possible!
Design: All-Season (Below tree line!)
Sleeps: 2
Ease of Setup: 5 min. Very Fast and Easy!
Weight: 8
Price Paid: $290

I just got this tent and I'm already impressed having not even set it up yet. The buritto sack that it comes in is really fantastic. I'll write a full review in the spring after my first time out with it in the kayak. It does replace the NF Talus 32 that I had to send back--it does not vent well in humid and/or rainy weather. More later. Expecting great things.
Update: June 22, 2005
In May I was on the upper Curent River for a week--got very cold, near 34 the first night out. The Swallow did just fantastic. The setup is easy-- very easy and very strong. The ventilation is perfect and they have seen to every detail--lots of storage inside plus the burrito bag serves as additional storage. This tent will be good for overnight trips in the kayak as well. Can't say enough about it . A perfect 10!
Design: free standing -modified dome
Sleeps: 2
Ease of Setup: Easy
Weight: about 6.9 pounds with fly, etc.
Price Paid: $259 on sale

I purchased this tent two years ago and have used it a lot in the White Mountains above and below treeline. Its claim to fame so far was a thunderstorm in August on Franconia Ridge. The Swallow won that day considering the 50+ mph winds. It's a great 3 season tent, but it can also be used 4 season (below tree line!!) because all of the mesh can be coverted by zipping over the flaps. I don't recommended this tent for alpine use in the winter because the pole design would not be able to withstand the weight of snow. I've had a lot of luck with it and recommend it to anyone who wants a three season tent that will hold up in anything.
Design: 3+
Sleeps: 2
Ease of Setup: very easy, three pole design. All the poles are the same size which is nice for those who set up camp in the dark.
Weight: 8lbs 1oz
Price Paid: $349

Just got back from trip in the Cascades... I'm dumping my fiancee for the Swallow. The tent can do it all. Camped on snow - no seepage and zipped up tight. Next night on rocks on a ridge - woke up hot cause the sun was beamin', opened the vents and windows/doors and it cooled down in a flash - went back to sleep. Rained that night - stayed dry.
Only drawback is 8+ lbs., but what can you do? That's not bad for all the features. The interior was very spacious for me, girl, and gear. Vents in the fly? Golden. Condensation - Buh bye.
Design: Three pole half-dome thing, free standing
Sleeps: 2
Ease of Setup: very easy - two poles continous sleeve, one passes through the sleeves perpendicularly and then clips. (trust me - it's easy)
Weight: 8+ lbs
Price Paid: $180 (dealer)

I got this tent in 2003 and it has been a good friend. It does what the advertisements say it will do and nothing has broken or failed to work.
It is easy to set up and easy to take down, keeps the wind, rain and bugs out. The interior is comfortable and doesn't drip. It is easy to get into and out of. What more can you ask of a tent? It is a little heavy, but no heavier than other tents in this class.
All in all, it is a very good tent and at a very good price.
Design: 3-4 season convertible
Sleeps: 2
Ease of Setup: Easy for one
Weight: 9 to 10 lbs with foot and extra pegs
Price Paid: $189

state of the art ventilation. rolls royce quality. gorgeous colors--makes waking up on a cold morning easier. have never regretted our choice. two little concerns--vestibule is small, and the zip gets snagged trying to reach from inside tent to unzip vestible. but it all works out!! i won't loan this tent out--i sometimes wonder if the Lord thinks i love it TOO much. roomy for two, wish sometimes it were a little lighter--but hey-- you can leave parts of it at home if you need incredible lightness. we won't part with it. it's a gas! GET it!
Design: 3/4 season
Sleeps: 2
Ease of Setup: presto
Weight: 5 or 6 lbs or so
Price Paid: $359

I have had this tent on numerous hunting trips. It has held up under snow, strong wind, and still been very comfortable in warmer weather. Incredibly efficient design with amazing storage space. Easy to convert and breathes very well with the fly on. Roomy double vestibules. Buy this tent, you won't be disappointed.
Design: 3-4 Season convertible freestanding dome
Sleeps: 2
Ease of Setup: Tent was extremely easy to set up, it was easily set up the first time with minimal effort.
Weight: about 8.5 lbs
Price Paid: $270 (sale on ems.com

Your Review
You May Like
Specs
Price
Historic Range: $199.94-$359.00
Reviewers Paid: $180.00-$359.00

Recently on Trailspace