Osprey Atmos 65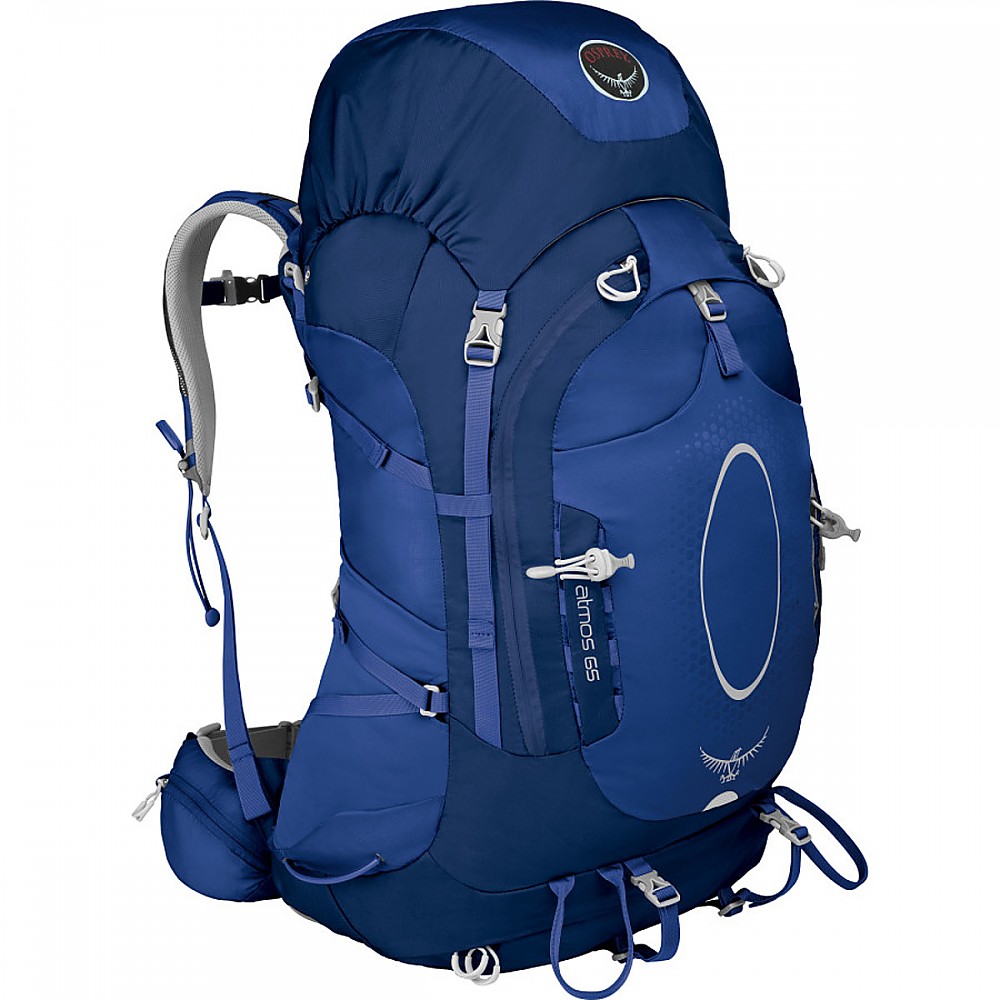 Overall a very good pack that is comfortable, attractive, and easily accessible. Ideal use is 3-4 day hiking trips. Recommended for someone who doesn't want to sacrifice comfort and is okay with your back being able to breathe.
Pros
Comfortable
2 front zippered pockets (not the mesh front) are perfectly sized and seperated
Darn good looking
Bottom zippered sleeping bag compartment. The divider can be removed if needed.
Cons
Mesh front pocket doesn't give as much as desired and tears semi-easily
Top external lid pocket is excessively large and undivided
Conditions: 5 years old now, but still in great condition. Most of its use has been several 2-3 day trips throughout New Zealand's South Island, weighing 30-40 pounds most times. Additionally, it's been used for hiking in the Adirondacks and Appalachians and even used as a checked bag while flying (just be sure to tie up all the straps the best you can if you don't buy the airport zipper bag, which I have not). I've had it very close to the 50 pound airport weight limit with no problems. 
Fit: Everything fits great whether it is fully loaded or just carrying the bare essentials. At 6'3", 200lbs, 34" waist, male, I bought the Large. I've had no issues whatsoever with the hipbelt, shoulder straps, or torso strap. 
Comfort: This was my first real multi-day pack and initially I didn't realize there was a proper way to load gear. The pack was pretty comfortable, with the exception of the hipbelt (rubbing), even with my mis-packing. A friend showed me the proper way to load gear (i.e. sleeping bag compartment, heavy stuff near spine, etc.) and the hipbelt issues went away. 
Capacity: This thing is a cavern. This is both positive and negative. The positive is obvious (fits more stuff), but the negative is it can be hard to find things, especially in the top external lid pocket. A recommendation would be to separate this area or compartmentalize it. See photo.
The best pockets are the two front zippered pockets. Great for stashing extra shoes or sandals (I wear a size 13 mens and they fit great) while keeping those stinky things away from your clean stuff in the main compartment.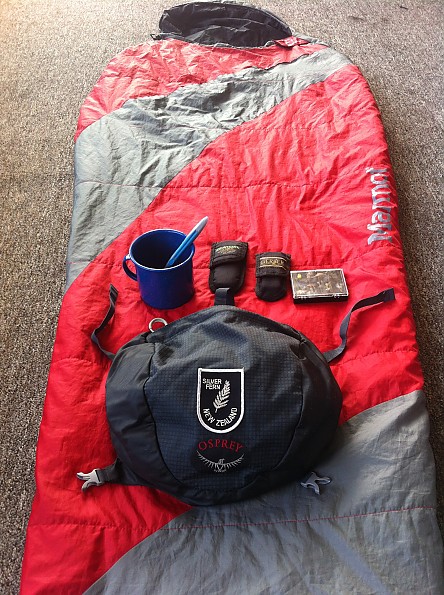 The lid to the Atmos 65 can be seen in the lower center of the photo. All other items in the photo can be stuffed in the lid's one large pocket at the same time. Items include Marmot Alpine 40F Minimalist sleeping bag, 1 pint camp cup, toothbrush, Gerber multi-tool, Gerber Gator knife and pack of spare flies.
I could have stuffed a few more small items (pens, wallet, keys, etc.) but I think you get the point. It's too big of a single pocket for my liking. Not shown, there is also a small mesh pocket on the underside of this lid. 
Organization and Accessibility: Everything seems to be secure, with the exception of that external top lid pocket, unless it is fully loaded. If not loaded, things rattle around in there.
Ride: The pack rides very comfortably when packed correctly. If the hipbelt is rubbing, it may be a sign that the pack is improperly loaded. Although the pack may seem lightweight and the frame fragile, it becomes apparent quickly that it is stable and able to take on lots of weight. 
Compression: I've taken the lid off (easily done, but the trick is in putting it back on) and can be used as a floating lid (3 straps secure it to the main pack) or used for a small carrying pack by itself. Otherwise, I don't use this pack unless it is near fully loaded. I have a daypack for smaller trips.
Ease of Use: All parts work consistently well. Although I have never used the hydration sleeve. Also, I have used the trekking pole and ice axe bungie loops for various purposes, but never for the intended uses. If I need to air a pair of sandals or something while hiking, I'll use these loops.
Features: Best feature is the two front zippered pockets. I can't speak highly enough about them. They are long, narrow and separated. Perfect for shoes (probably not boots), sandals, dirty laundry, tarps, etc. The sleeping bag compartment works fantastically well. I can tightly squeeze my sleeping bag (Marmot Aspen 40F Minimalist in compression sack), stuff pillow, hammock and hammock ropes into this compartment. Everything is right there.
Another nice feature is the draw string, which is a Cord Lord. Although this component is all plastic, I've never had an issue with it even in cold weather. See photo. Interestingly, the 7 Leave No Trace principles are printed on the inside of the pack near the top in both English and French.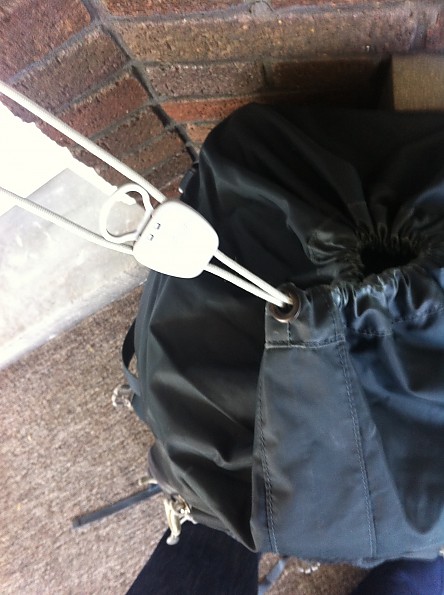 This is the Cord Lord drawstring component on the main compartment. It's easy to use and always pinches the cord tightly. 
Construction and Durability: The pack is beginning to show its first signs of wear after five years. Not bad. The only area that is really showing wear is the bottom-most part of the frame that would be slightly wrapped around the waist. The fabric is giving way, but the frame itself remains strong. Also the front-most stretchy mesh pocket has a tear thanks to a tree branch. However, the pocket is still very usable. See photos below.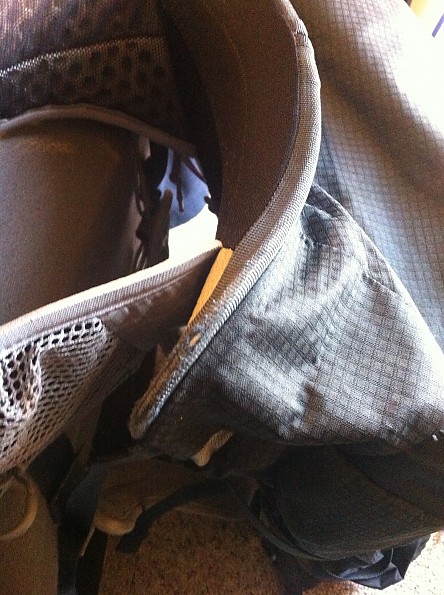 This is where the pack is beginning to show signs of wear. In this photo, the pack is upside down, so what you are looking at is the bottom of the internal frame beginning to show in the middle of the photo. The mesh you see on the left would be the hipbelt.
The center oval-shaped stretch mesh is prone to tear when snagged. Thankfully the tear has not expanded, even though I continue to stuff the pocket to the max, mostly with extra layers or rain gear because of the easy access.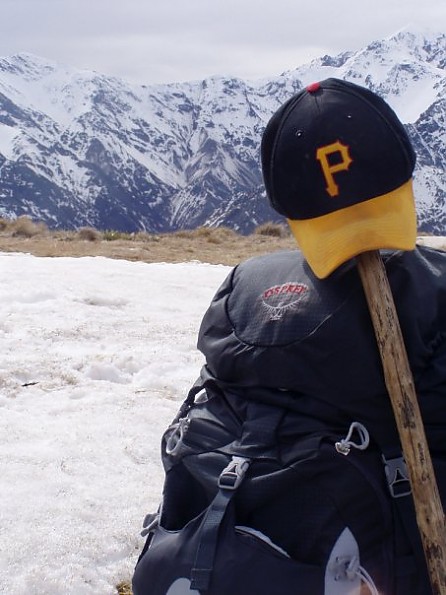 The Osprey Atmos 65 with me on a 4-day trip in the Kaikoura Seaward Range, South Island, New Zealand, with the Kaikoura Inland Range in the background.
Source: bought it new
Price Paid: $250 USD

I have an Arc'teryx Bora 95 for long hauls, so I'm used to quality and good fit. The Atmos amazed me. It was SO light, and I don't know WHAT it did with the weight ... but ... I was literally jumping up an down on the trail (I have a Marmot Swallow, so my tent has a chunk of base weight to begin with).
Pros
Weight and weight distribution ... brilliant
Fits everything excellent, thoughtful detail pockets
Did I mention weight? You almost WANT to pick up and carry it
Cons
The waist strap has MILES of extra strap.
Hydration design is lame, put mine in outer pouch and fine
Some pockets have no bottom to them .. huh????
"Detachable" top pouch isn't so easily detachable
My Arc'teryx is for long excursions and stays, like Burning Man events and such. Nothing tops it for that. Well, until the Atmos 65. Its weight by itself is a feather. It has so many ways and places to put gear, you can almost forget what all you're carrying.  
For long tedious climb hikes in the White Mtns, amazing. It keeps me nimble, conforms to my profile so I don't snag on narrow/low passes. I'm 6', ~165lbs, and it fits excellent, with (as noted above) straps to spare. It sits well on my hips, I only feel weight there and a bit on shoulders. The pack seems to "want" my posture to be upright and healthy. I fit my Marmot tent, sleeping bag, stove, pans, fuel, 3 days meals for 2 people, Camelbak, clothes, tent footprint/liner, etc. in there well. It was snug, but adequate and I could have added a bit more. 
Lots of outside loops and resources for carrying add-ons like extra shoes, poles, pad, etc. make its baseline capacity very expandable. Though I noted a "con" on the "detachable" top bag, I found I never really needed to detach it so that doesn't ultimately matter.
A couple pouches have no bottom to them (so why, then is there a zipper at the top of one of the inside ones, I wonder?), and the "hydration" set up is so incredibly stupid as to not be worthy of what is otherwise a totally awesome pack. Forget their "hydration" pouch and just stuff the CamelBak in the outside ... all will be well.
You do feel like a weightless astronaut with it ... like you're going to float down the trail.  I couldn't shut up and my companion kept teasing me about my orgy of delight with the weight mgmt.  Again, a Marmot Swallow is 8lbs+, and I didn't even feel it. After main bulk was offloaded (meals, whiskey, extra water) the weight was embarrassingly low. 
I read reviews of both the Arc'teryx Bora and the Osprey AFTER I bought the Osprey. I have been spoiled in my choice of both. The statement on Osprey that they lead the way, set the standards for other packs, is well noted.  I looked at a Gregory as well as some EMS ones ... the Osprey was awesome by comparison even in the store.  I cautiously kept sales receipts and such for until I loaded and tested it ... this one WON'T be returned.
Source: bought it new
Price Paid: $203

I purchased this pack as an upgrade to prepare for some true backcountry hiking. I was absolutely amazed at how well this pack carries the weight of my gear! The pack itself is feather-lite and I had no troubles fitting all the gear for a 3-day excursion into the wilderness. It's been on two trips so far and I have found nothing negative to say about it.
Pros
Lightweight
Fits great (comfortable)
Plenty of space
Technical pack at great price!
Cons
Um... straps are very long?
I got this pack along with a bunch of other lightweight gear. The wife and I are prepping for a section hike of the JMT with friends when I finish my RT program. Well, I did my research before and was looking at the Atmos and the Aether for packs.
We were fitted in a store for a couple of different brands and we both decided that Osprey was the best fitting for each of us. When it came time to purchase, the Atmos had the price range I was looking for AND I found it on sale!
I used to carry a Kelty Big Bend, and was able to use it on a few short trips (under 15 miles). The Kelty packed with older, heavier gear made me feel the weight everywhere on my body.
Onto the trip...
I carried around 25lbs, minus consumables. Up the mountain, down the mountain, I hardly felt the weight on my shoulders or hips. The weight distribution on this pack is amazing. The pack has many features that make it extremely easy to pack gear into and onto.
I really like the small hipbelt pockets for a digital camera and for snacks on the go. Although I didn't pack it full, the load stabilizer straps did their job and I kept my balance on uneven terrain. The mesh panel in the back does allow for some airflow to help manage a sweaty back but of course, this is rendered useless when you are wearing a jacket.
Overall, I have no complaints and love this pack. I should also add that I got my wife the Osprey Aura and she seems to really love her pack as well! Osprey's reputation for quality is noticed in every aspect of the pack and I would recommend it to anyone.
P.S. I also recommend that anyone looking for a pack be fitted from a reputable shop to ensure proper fit. That is all...
Source: bought it new
Price Paid: $189

The Atmos 65 is designed for about a 30lb load IMO. I own several packs: Aether 70, Atmos 65, Gregory Boltero 70, Granite Gear Meridian Vapor etc. This spring/summer I have walked about 275 miles so far, partial JMT-PCT and San Rafael Wilderness 70 miles.
My newest purchase, Atmos 65, works very well up to 30 lbs more or less. The placement of the pack and hip belt on the small of your back is crucial in achieving the correct fit, I hear many complaints about 30+lbs and sore back. The hip belt emerges out of the back of the pack with seemingly little distance width wise for your back.
Although, I believe "they" have figured it out and the configuration is great. The pack placed too low and one experiences two points of pressure on the pelvis which is formed in the posterior dorsal (back) by the sacrum and the coccyx
(the caudal part of the axial skeleton), and laterally and anteriorly by a pair of hip bones.
If the pack is placed just above this and snugged down on the small of the back not the center back portion of the bone plate and than the shoulder and sternum straps are adjusted thoughtfully, an excellent fit can be had. Simply put, nudge the pack upward on your back fully loaded before snugging down on the hip belt of course.
I have just walked 2,600 vertical feet 4.5 miles and 5 miles back down 9.5 miles total with a 30 lb. load. This is my third walk in 4 days testing and adjusting to the new pack.
The pack works. In my opinion if you are carrying a 35-45 lb load the Aether or Gregory Boltero pack or similar is better suited. I am in the process of refining my loads for a 6-7-8 day outing down to around 30-32lbs fully loaded including tent and good food/snacks. An art form worth exploring.
I am discovering that I can enjoy great food and comfort while traveling light. The Atmos 65 is my inspiration for refining my weight/load for these extended walks (60-80-100 miles). The pack has great volume, packs well with a little patience and ingenuity. A great addition to my small collection of packs.
I use the Neo-Air sleeping pad, Marmot Helium bag, Copper Spur1 tent, very minimal but high quality clothes, 1 titanium cooking pot and stove, one H20 bladder and 1 16oz ss bottle for hot and cold, one titanium spork, 1 headlamp, H2o pump, 1/2 a book to read, lots of powdered
electrolytes, powdered green foods, dried fruits and walnuts/almonds, breakfast/dinner, power bars, SPOT gps and a few other odds and ends.
6 nights 7 days starting @ 32lbs including some H20.....Some can do better I'm sure but I am happy @ 32 for 7 days walk.
BTW I rarely take my 1lb 8oz Bear Vault along. I prefer 2 40' ultra light lines @ 2 oz. The Atmos 65 is good so far, time will tell.
Max. Load Carried: 32lbs
Height of Owner: 5"10" 172lbs
Price Paid: $229

After 10+ years of hauling around my Dana Designs Terraplane -- a gigantic load hauler that was super-comfortable but also really heavy -- I decided to to move to something lighter, especially for summer hikes in the Sierra Nevada.
Since I sweat a lot, and I've always heard good things about Osprey packs, I quickly zoomed in on the Atmos 65, both for its weight (~4 pounds) and the nifty ventilation system. I am writing this after a few overnighters and one 5-day trip.
The Atmos 65 is a very competent pack. Compelling features for it are moderately capacious hipbelt pockets, a separate sleeping bag compartment, and of course the ventilated backpanel (basically a tensioned mesh panel against your back leaving an airspace). It also has a rear mesh pouch, elastic side pockets, space for a hydration bladder, and the seemingly-obligatory dual ice-tool loops.
While the Atmos is competent, I can't say I love it; it's really good but not great.
- Bear canisters are required for the Sierra Nevada so I always carry one (the classic Garcia). Fitting it into the pack is trickier and tougher than it ought to be (the packbag is a little too narrow except at the very top and bottom).
- The vented back can be nice when it's windy but it doesn't, in general, feel that much better than my previous packs.
- The ventilated back really eats up a lot of packbag space, and it makes it even harder than with most other packs to fit the hydration bladder in.
- The frame support for the vented back apparently is designed for differently-shaped hips than mine. It occasionally rubs, although it's not a huge issue.
- The hipbelt pockets are harder to use than I expected, the big openings turn out to not be so big.
- It would be really really nice to have a daisy-chain of some sort somewhere on the pack to attach random stuff.
- The sleeping pad straps have said sleeping pad hanging so low that I've actually abraded holes in my pad stuff sack, just from setting the pack down (Sierra Nevada granite). This is really annoying!
OK, all that being said, this pack is light, I've gotten the fit dialed in and it is capacious enough for a weeklong trip without any real problems.
All of the above gripes are really pretty small: it could be better, it's not perfect, but it's a good pack. I certainly won't be returning it to the store. But I might not keep using it for 10+ years, either.
Design: top-load internal with sleeping bag compartment
Size: 65 liters (~4000cu in)
Number of Pockets: 8 (main bag, 2 side, 2 hipbelt, top, kangaroo)
Max. Load Carried: ~50 pounds
Height of Owner: 5'6"
Price Paid: $239

I wanted to love this pack but I could not get it to fit. I am 5'11" with a 30" waist. I needed the large for my torso and a small for my hips. I actually bought the medium, got it home, packed it up, and took it back. It hurt to wear for more than ten minutes at 30lbs.
It seems that the pack wants to ride away from the back because of the trampoline like mesh that is stretched between the aluminum suspension. At 30 lbs the pack did not ride solid at all. Consider also that it may have been largely an issue of fit. I actually considered keeping the pack and having Rainy Pass sew on a new belt.
The pack has a HUGE capacity. To get to 30 lbs I put every piece of camping gear I owned plus two gallons of into it and it still had room to hold more. I kid you not- this pack will hold a lot.
Problem is that it can't handle or effectively distribute the weight of a lot of gear. Along with the voluminous main body are really well placed pockets and bottom access. The Atmos 55 would make more sense to me given that the 65 could hold everything and the sink. The 55 would still be plenty large and wouldn't tempt someone to over pack with a pack that has a definite upper limit.
I decided to return the Atmos because no matter what I tried I could not find the sweet spot. And I tried everything. I was told by the outfitter that Osprey packs "don't fit everybody", and in my case they are correct.
Thing is, I still LOVE the design of this pack. I would still consider having one adjusted or altered if I say, found one cheap on eBay or something, just to see if it made a difference. I would do the happy dance if Osprey ever redesigned this pack to mate the pack body with the suspension that they use in the Aether line.
My 3 star rating is because of the fit issue. If this pack fit, I'm pretty sure I would have kept it.

Number of Pockets: 6
Max. Load Carried: 30
Height of Owner: 5 11
Price Paid: $229

I love using the pack. The suspension system and main compartment are very good. Durability of some of the minor features — additional zippered pockets, and buckled sleeping mat holder at the bottom of the pack — disappointed me.
Pros
Lightweight
Comfort
Easy access and easy to pack
Cons
Durability of minor features
Fantastic pack as far as comfort and functionality: lightweight, lots of pockets, comfortable carrying weights 30-40 pounds (I have never carried heavier loads than that with this pack).
I love using the pack, BUT! The durability of some features does not impress me. After one year of use (quite a lot of use) one of the vertical zippers on the front of the pack is broken — keeps separating when it's done up — probably as a result of me overloading the pack, and one of the plastic buckles at the bottom of the pack snapped under pressure — to be fair it was winter camping (-35°C), low temps were definitely an issue.
I think the arched design of the vertical zippers makes them a little bit prone to failure, and when they do fail things fall out. I hope the warranty covers those things. I have not contacted Osprey yet but will soon. The rest of the pack seems very durable to abrasion and what not.
I do not regret purchasing this pack. I think in the future I would look for a more basic pack with less points of possible failure (less zippers). Anyone who is looking at this pack be careful with the zippers!
Good for weekend-week long trips depending on how light you pack.
Source: bought it new
Price Paid: $260 (ish)

The Osprey Atmos 65 is great for long distance backpacking. It can hold all you need and still be light. I highly recommend the pack.
Pros
Weight 3lb 12oz
Comfortable hip belt
Airspeed Suspension breathes extremely well
Adequate amount of pockets.
My pack fits really well. I've used it for several trips of varied days and it has been even better than expected.  I have had no problems adjusting it out no matter how much weight I carry. I felt no discomfort at all even when I carried 45 lbs (including 4 liters of H2O). It felt like I was carrying under 30lbs (compared to other packs I've used).
The capacity claimed seems right on. There was no problem loading all the gear I carry. When my pack was fully loaded everything was secure and was easily accessible. You just have to figure out what you need to get to the most and pack everything else around that. Everybody is different.
When I got my hip belt adjusted just right I never felt any weight on my shoulders and as I said earlier the 45 lbs. felt like 30 lbs. The pack was never wobbly or out of balance. It felt like the Cadillac of bags. I really like the large back pouch which I used for my rain gear and pack cover. I could get to them quickly and easily.
I was worried that the pockets on the hip belt might be too small as I have seen on some of the other expensive packs out there. Not an issue, they were great and I had no problem getting snacks, camera, compass, cellphone and my sunglasses in them.
After a few trips my pack seems to be holding up quite well. It's been through the rain and mud but still looks great. Granted I have only been using this pack in Florida (a lot of sweating) but I feel it has been through enough to accurately assess its strengths and weaknesses. I'm hoping to use it up north next spring.
I just couldn't find anything negative to say about the pack. Maybe it's a little too expensive. It's comparable to other high end bag prices. In a nut shell...I love it. No one should have any doubts when it comes to owning one of these. I haven't tried the new Atmos 65 AG yet but I'm sure it's great as well. I'll just stick with this one for a long while.
Source: bought it new
Price Paid: $250

Let me start by saying that until recently I had not packed for 25 years. I only have experience with two of the modern packs. I started off with the Lassen pack for my first two trips. I opted to go for something lighter for this trip due to knee surgery and back problems, and maybe age :-). The Atmos looked like it fit the bill well.
Received the pack last week and was very pleased with the construction and weight of it. I ended up with a 33 lb load with my new pack. Our trip consisted of a 1700ft ascend in just 2 miles, and a return decent of 1700 ft in just 1.75 miles. There was no trail, many very technical areas, several creek crossings/rock hoping and beating brush some of the way. We were int he Trinity Alps towards the end of July, it was hot.
I am 6'1" 255lbs and could not have asked for a more comfortable pack. The pack adjusted great and road very well. I think this pack will serve me well for quite some time. The only thing I would like to see changed is the water bottle holders. They are a bit of a bear to get bottles in and out of but the pack is designed for for a hydration bag anyway. Perhaps they will loosen up with some usage? The webbing of the pack keeps a nice airspace and does take up room in the pack but it was a "GREAT" feature for hiking in the heat.
Overview; I am very pleased with my new pack and would buy it again.
Pros: great construction, light weight, very comfortable, great ventilation by having the airspace between your back and the pack.
Cons: side water bottle pockets might be a little tougher to use than other packs? Pack is set up for a hydration back.
Design: Internal
Size: 4200 ci
Number of Pockets: Twin side pockets, side access to main compartment.
Max. Load Carried: 33 lbs
Height of Owner: 6' 1"
Price Paid: $199

Overalls this pack is substantially qualified to meet any standard overnight hiker/gear-men. The structure alone is not only versatile but comfortable, not to mention the million pockets for accessories. The package self I seem to be in love with more than my average day pack.
Pros
Uber comfy design
Vast array of storage
Durability at its best
Cons
Not enough click-on points, ie carabiners
Straps on bottom of pack not long enough
Needs more color options
After taking sent back a crossed a 2 1/2 day adventure, cycling, about a good 45-mile hike, two overnights in partial torrential rain, I have found that this pack is not only versatile and size and storage but withheld its structure, integrity, comfort, durability and size.
The pack itself held up against unsavory climate and intense climbing not to mention a 45 to 50 foot tumble from base camp. Nothing inside was broken, pack held up very nicely and was able to continue our journey.
Osprey itself as a company has revolutionized the hiker/backpacker/camper industry by offering people or the common consumer a durable long-lasting affordable and quality product. I myself will continue to use Osprey in my adventures and journeys throughout life as long as they stand by the infrastructure that they have made so far.
A+ rating 100% product, and the price point is unmatched by any other company I've seen.
Source: bought it new
Price Paid: $265

Nice and light, terrible side pockets, front stretch pocket is good, front zippered pockets are pointless. I find the hip straps and overall hip area to be uncomfortable.
Cons
Terrible side pockets
Uncomfortable on the waist
I've had this a year now and have had it out on four trips, a total of five nights/days. So not much. I generally like Osprey and knew this was a well-liked pack so I gave it a try. It's OK, but not great.
The side pockets are horrible. They are clearly not designed for bottles because you have to struggle to get standard Nalgenes in and out of the pockets, and even smaller bottles are difficult.
The front stretch pocket is fine. I use it regularly. The two front zippered pockets are overkill, IMO. When the pack is full, you can't fit much in these pockets and so they don't serve much purpose. The stretch pocket is all you need.
Other features are good—hip pockets are just big enough, the lid pocket is average, internal storage is standard. 
The shoulder straps are comfortable.  I get relatively little abrasion on my shoulders from them (a typical problem I get). I find the waist to be pretty uncomfortable. It has a rather rigid, rounded shape to it that feels too narrow (and I'm pretty scrawny). This ends up making my arse hurt by the end of a day much more so than with other packs I've used. Comfort is different for everybody, so YMMV. 
Source: bought it new

I love this pack. I've only had two other packs, a Gregory and a Kelty. I needed a pack for 2-3 days of backpacking and didn't want anything huge. I used this pack. Loaded it with my gear at just under 29lbs, it was comfortable and easy to adjust.
Pros
Holds a lot
Comfortable
Easy to adjust
Cons
Side pockets are a little too far set back
Water bottle is also far set back.
I'm by far not an expert backpacker. I needed a pack that was nice looking, fit nicely, and held what I needed.
After reading several reviews, checking out the packs at campmor and EMS, and loading them up, I found that the Osprey 65 was perfect. Lots of room, easy to pack, easy to wear and easy to adjust.
Tried it locally with gear to see how it felt and so far feels good, will see how it does on a short trip to Mt Slide.
Bought it at EMS after they had a huge sale, 20% off 1 item, plus had some gear bucks.
Source: bought it new
Price Paid: $160

Excellent pack, very lightweight and comfortable. Great for weekend or PCT.
Pros
Very lightweight
Easy to adjust
Extremely comfortable
Has room and a place for everything
I've been on 5 trips with this pack and overall was very pleased with my purchase of this pack. It is a good mix of weight, size, and construction. The area I traveled to required bear canisters and mine fit sideways into the pack no problem, which was a major plus.
It has sufficient exterior pockets, and the sleeping bag compartment is good size and able to fit my down fill bag with ease! I have not tried a synthetic but I don't think it would be a problem as well. The pack fit was good with no major adjustments needed.
My one small complaint would be accessing the side pockets: it is near impossible to retrieve a small water bottle out of them with the pack on, which requires you either remove it, or get a trail buddy to get the item out of the pocket. The waist belt fit and comfort is not super plush, but was fine for me.
Pack is definitely a keeper.
Source: bought it new
Price Paid: $280 with a 20% discount @REI

A great all-around pack for weekend adventures or longer. Spacious and lightweight, this pack has great stability and balance and is very comfortable even with heavy loads.
Pros
Comfortable
Lightweight
Durable
Highly adjustable
Good ventilation
This pack has a highly adjustable suspension system that carries large loads with ease. The mesh airspeed  back keeps you cool in warm weather, and the shoulder straps and belt fit like a glove. Its high capacity makes it ideal for luxurious 3-5 day trips or spartan longer adventures.  
Unlike some packs, this one is not unwieldy. It conforms well to your body, and doesn't shift weight easily, making it ideal for scrambling on rocks.  
The only quibble I have are the hipbelt pockets and stretchy side water bottle pockets – if the pack is very full, they're a tight fit for liter-sized bottles or other goodies. I've used the Atmos on short weekend jaunts up to 58 mile solo hikes and haven't been disappointed.   
Source: bought it new

Well, 50 years of age recently hit me in the face. I have been doing a bit of day hiking for the last few years, but I haven't seriously backpacked for about 30 years. It was time to get back to it! But where to start with all the new packs and technologies?
I started my research online and liked what I read on the Atmos 65. I tried on on at a local shop and I was hooked! I just needed to get it for a price I wanted to pay. Scored it at Moab Sports as a 2008 closeout.
I just returned from an overnight trip on the AT. Yesterday I humped about 45-50 pounds with it (I was packing about 10-15 liters of water for my sisters I was meeting on the trail). In spite of my get gassed on the way up the mountain, the pack hauled it without any discomfort!
Today with a substantially lighter load, 8 miles never felt so effortless. Absolutely no problem! I am truly impressed with its comfort and ergonomics. Yeah, I've read some grousing about how its shape minimizes some of its usable space, but packed properly, this puppy can really haul!
I can't wait to try it for an extended weekend trip. Hope all my experiences with it will be this pleasurable!
Design: Top-loading
Size: 65(4200 cubic inches-size Large)
Number of Pockets: 7
Max. Load Carried: 45-50 lbs??
Height of Owner: 5'11"
Price Paid: $137

This pack rocks! Fairly light weight, not ultra light. Take the time to fit and pack it correctly, and it will feel like an ultra light. I purchased the newer version, 2009 I guess. It is a very nice upgrade from the earlier model. I love the vented waist and shoulder pads! The back vent works great as well.

I took off .5 star only for the hard access to the hip pockets. They are really quite small. Expect to carry your fire starter, chapstick, small candy or just a few items similar to these in those. I guess some deduction for the intrusion of space inside the pack, due to the vented back, may be appropriate, but all good things come with a cost.

It's worth a dry back to me. I have packed up to 50lbs for a 12 miler and it was perfection! Any heavier and you may want to split up some gear with your buddy. Many exterior pockets that can be compressed makes this pack a winner for me. you may want to consider purchasing a small pouch to add to the waist belt.

At full price it's a great value. Very nice pack built with quality materials! Good job Osprey! Oh yeah...It looks cool too!

Design: Atmos 65
Size: L (4000 ci)
Number of Pockets: 8+
Max. Load Carried: 50lbs
Height of Owner: 6' at 200lbs
Price Paid: $239

I bought this pack for winter hikes in the Adirondacks, and I love it. Weight distribution is unbelievable, like you're not even carrying a load- just make sure you buy the right size. I got mine at EMS, usually there is someone there with some knowledge of how the pack should fit.
The whole mesh deal on the back panel is not perfect- on a winter hike my back still gets pretty hot. But it is way better than my old daypack. I can usually avoid sweating now.
There are convenient ice axe loops, enough room inside the pack to stash crampons, and plenty of loops on the outside to conveniently strap your snow shoes to the pack.
The only thing I hate is that the top of the pack sits too close to my head. I seem to hit my head on it all the time. But that's annoying at worse, and definitely not enough of a reason to not buy this pack.
I've not used this pack for lightweight backpacking (nor do I plan to because I'm not into that), but I will say that for just an all around great winter pack, this is it.
Max. Load Carried: Approx 20 lbs
Height of Owner: 5'7"

Large enough for a weekend trip through the Whites in New Hampshire, but unless you're a minimalist that's about it. Still enjoy this pack for what it does offer though.
Pros
Weekend backpacking trips
Great support for back and hips
Breathability on back
Storage compartments
Cons
Fills up rather quickly once the sleeping bag is in
I really like this back for a weekend pack. It's got large compartments for your storage. I do wish it had one more smaller compartment on the front with a little more organizability.
Overall though I have never had a problem getting everything I wanted into this pack. The frame for your back offers up great support and the mesh backing is awesome for breathability purposes.
I would recommend this pack to any weekend warrior.
Source: bought it new

This pack is a great pack. I personally think that the waist belt is useless as is for any weight if you have a curved back like me.
I replaced my stock belt with the belt from the Aether 70 (isoform). I got just the belt at Eastern Mountain Sports and have had it sewn into the original belt by a seamstress. It was a cheap mod. (fifty dollars) and with that modification the pack is perfect for me.
I live in New England and deal with the cold of The White Mountains and go to the heat and humidity of the Catskills and it performs perfectly.
I carry a bear canister inside on the top and all my gear fits underneath. I average under 30 lbs, closer to 25 fully loaded. I carry 2 liters and although it's not the most easily accessed the suspension is second to none for me.
It's a little big when ducking under fallen tree limbs like in the Green Mountains where its very overgrown and not as maintained but it's worth it.
Design: front loader
Size: 65 ltrs of 4200 cubic inch
Number of Pockets: depends on what you call a pocket
Max. Load Carried: 35lbs
Height of Owner: 6ft
Price Paid: $165 on sale

Best for backpacking. Waterproof meaning it's really waterproof. Badass.
Pros
Great extra pocket placement
Actually waterproof
Held all necessary equipment perfectly
Did not disappoint
After buying the pack, I almost immediately took it on a 30-mile hike for the weekend. It was great! It held up really well, I was able to pack more than enough. The extra pockets and the placement was helpful. Things were easily accessible.
On the second day, were were caught in an awful downpour that lasted for 2-3 hours. I myself was soaked, but the pack was untouchable. All of my items were A-ok, and everything was dry. No leaks. My sleeping bag was in the bottom...nothing...dry. Idk, I have no complaints.
Source: bought it new
Price Paid: $179.99

I really loved how this pack felt in the store. the Airspeed suspension back-panel section seemed like it would be great given I live in Arizona and your back can get really sweaty humping a pack around.
The main problem with this pack is that that awesome Airspeed suspension is so far off your back that it takes up A LOT of room in the main compartment. No way the usable room of the pack is 65L with that Airspeed back panel taking up all that room. Had to return it after a couple of trips (Thanks, REI).
I have since gone ultralight, and the newer Osprey Exos series gets it right. the Exos still has the Airspeed suspension, but it much shallower. It is still deep enough to allow air to circulate behind your bag, but shallow enough not to eat up any space in the main compartment, and it's a POUND lighter than the Atmos!
Design: Internal
Size: Medium
Max. Load Carried: 35 lbs
Height of Owner: 5' 7"
Price Paid: $225

If you are buying this pack for the purpose it is intended for you will love it. It is by far the most comfortable pack I have ever put on. I recently took it on the Kalalau trail in Hawaii and my back was never bothered, the Sierra Club rates this trail a 8 out of 10 as far a difficulty. This pack is not made to haul heavy loads so you need to either pack light or have a lot of the new light gear in order to go for a week. It is really only meant for 40 pounds or below but if you are a light packer or have light gear you will be glad you bought this pack.
It has a lot of pockets to pack you stuff well, which is one of the reasons why I upgraded to a new pack. My old pack only had one main compartment and then the top pouch.
Size: 65
Number of Pockets: 6
Max. Load Carried: 40
Height of Owner: 6'0"
Price Paid: $220

This is a fantastic multi-day or even day pack. It is considerably light and well built. The mesh backing creates a nice wall of air between you and your pack eliminating any hot spots or sweat build up. It also has holes in the side for a hydration pack tube.
The waist pouches aren't too difficult to reach and it cinches up very easily. It even has a built in whistle into one of the front clips.
I have used it about 25 times and have not had any wear issues. I also put 65 lbs of water in it for training on the weekdays and it handles it without an issue.
It has plenty of adjustable straps to conform to your body to help eliminate and areas that you don't want overstressed.
I have owned 3 backpacks and this is by far the best. I won't buy anything except an Osprey from now on.
Design: Top loading-internal frame
Size: Large
Number of Pockets: 7 + main compartment
Max. Load Carried: 65lbs
Height of Owner: 6 ft
Price Paid: $239

After section-hiking the AT from Springer Mt., GA to Rangeley, ME with a Kelty Flight 4500, I bought the Osprey for my final 220-mile section hike to Katahdin.
The Osprey was a great improvement in comfort and convenience. Though theoretically 500 cubic inches smaller that the Kelty, the Osprey held all my gear with a bit of volume to spare. Given the unexpected heat of Maine in August, I greatly appreciated the mesh back panel, a welcome contrast to the coated nylon against my back with the Kelty.
The many pockets were handy once I figured them out, especially the sleeping bag pocket, which also held my sleeping pad. Unlike the Kelty, the Osprey didn't collapse into a formless lump when unpacked, and it seemed sturdy, though I can't rate its durability after so short a test.
Now that I've completed the AT, I look forward to hiking other trails for this pack.

Design: top-loading internal
Max. Load Carried: about 35 lbs.
Height of Owner: 5' 11"
Price Paid: about $200 at EMS sale

Great all around pack. I would recommend this pack
Used it for a 5-day trip in the Adirondacks this summer and worked out great, and a trip to the Rockies as well as on other smaller trips and loved it. Carried about 40lbs on longer trips and suspension is great. Pockets are nice for sorting gear although I have never filled them all.  Back fits great and holds a good amount of gear. 
Source: bought it new
Price Paid: on sale

After a bad experience with a Mountainsmith pack I decided to go with this pack. I have been extremely happy with it. It carries well and it simple and intuitive to adjust.
As long as you don't plan on overloading this pack (45 + LBS) I think that you will be extremely happy with this pack. The internal frame does cut into some usable space in the pack and can make it difficult to locate items quickly, using stuff sacks has solved this problem for me though. And having the air able to circulate on my back is a nice feature.
Size: 65 L
Max. Load Carried: 40 LBS
Height of Owner: 5'10"
Price Paid: $180

Just got off the trail with this great pack, I've been through 3 different packs in the past few years looking for a good light comfortable pack and I think I will be keeping this one for awhile. Seems like it reely conforms to my back.
Only thing I didn't like was that the pockets on the waistband kinda shrunk after tightening the waistband making it hard to get my camera in and out.
Price Paid: $160

The most comfortable pack I've worn in 40 years of backpacking. Trade in the pounds of your old pack for the ounces of the Atmos. The suspension is great and the venting is wonderful. I've used it for weekend and week-long trips and it is currently packed (32lbs) for thru-hiking the Long Trail (24-28 days). Lighten up some of your gear, pack the Atmos, get a skip in your step and have some fun.
Design: AirSpeed suspension light weight internal
Size: 4,200ci (large)
Number of Pockets: 6
Max. Load Carried: 37lbs
Height of Owner: 6'0"
Price Paid: $229 @ EMS

You need to do a little warm up before you go on long trips. After the first day my hips were sore from the spartan padding on the hipstrap that is supposed to aid in ventilation. Overall though great pack, kinda small but the thru hikers that I met on the AT had managed to find a way to put two weeks of supplies in it so it can be done.

Design: internal
Size: 65 liters
Number of Pockets: 5
Max. Load Carried: 30 don't go over
Height of Owner: 5' 7"
Price Paid: 200$

This pack is great...the only thing keeping me from rating this a 5 star pack is the internal frame supports that really cut into your space inside. The pack is very comfortable and easily adjustable. If the frame supports were closer to your back you could definitely store more gear! I consider this pack a toss up between it and my Gregory Z-55.
I bought this pack right as spring sprung since it was on sale. I was deciding between this one and another and my wife has the women's version the Aura, but this one went on sale.
My first trip out with it was amazing! Just a quick 5 mile overnighter, but my second was an entirely different story. The second trip was a few day adventure around Little Cottonwood Canyon, uphill it killed, downhill it weighed on me, I had to take a break almost every 15 mins!
My wife was making fun of me (which I think hurt worse than my shoulders did). So I sold it, paid the difference between the two original packs and got the other, I am so much happier.
Size: 65 Size Medium
Number of Pockets: 6ish
Max. Load Carried: 15
Height of Owner: 5' 9"
Price Paid: $179.90

Your Review
Where to Buy
Help support this site by making your next gear purchase through one of the links above. Click a link, buy what you need, and the seller will contribute a portion of the purchase price to support Trailspace's independent gear reviews.
You May Like
Specs
small
medium
large
Price
MSRP: $239.00
Current Retail: $340.00
Historic Range: $119.93-$340.00
Reviewers Paid: $137.00-$280.00

Weight
3 lb 7 oz / 1.55 kg
3 lb 9 oz / 1.63 kg
3 lb 12 oz / 1.70 kg
Capacity
3800 cu in / 62 L
4000 cu in / 65 L
4200 cu in / 68 L
Recently on Trailspace