Osprey Aether 60

The Aether 60 has been discontinued. It was replaced by the Osprey Aether 65.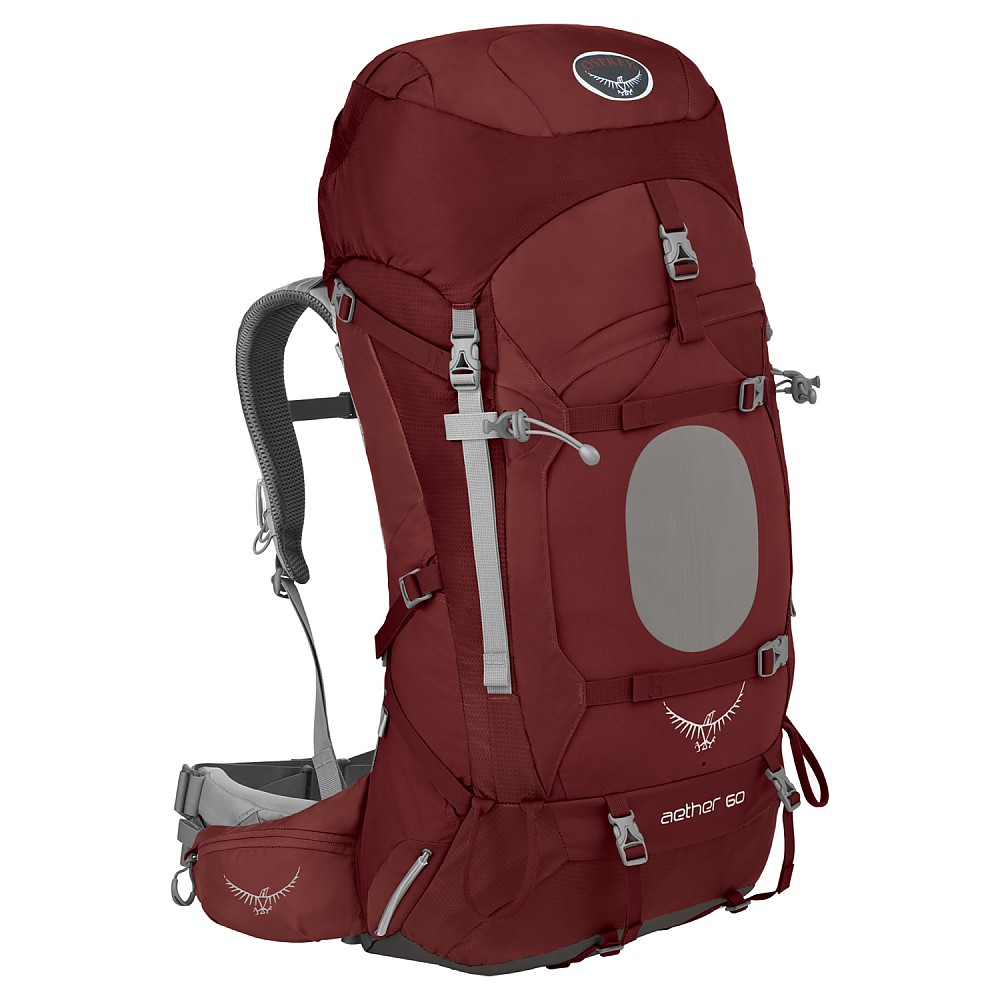 There is no better balance between features, durability, lightweight, fit, comfort, and function.
Pros
Light weight
Tough
Full featured
Superb fit
Fantastic customer service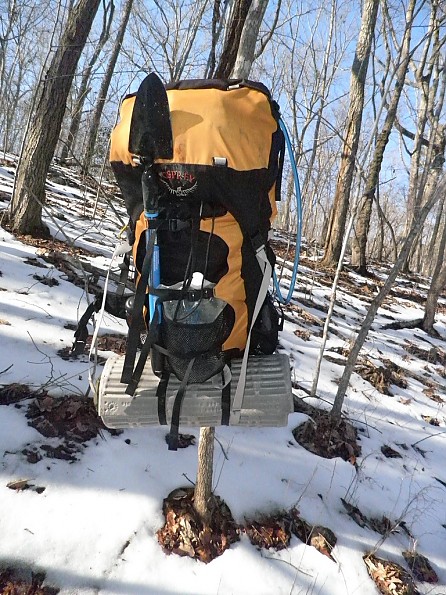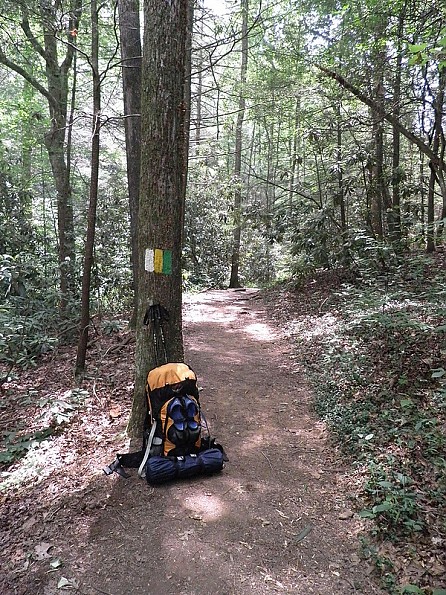 I am a lifelong backpacker and this is the best pack I have ever owned. In fact I own the 2003 version. Fit and function are superb.
I could not believe that a 60L pack weighing 3 lbs 4 oz could be made of fabric this tough. This pack is very durable. 
I had used the pack so much that the hipbelt wore out next to the pack on each side.  Osprey repaired it at no charge and sent it back to me in less than a week because I told them I needed it for a trip.  Osprey said they only see the kind of wear I had on the pack from thru hikers.  I use my gear a lot.
After 9 years the pack is still perfectly serviceable, however the suspension is a bit saggy and the water repellent coating has worn out.  Also the draw cord at the top has frayed a bit, and since it is sewn in, it is difficult to replace. I noticed that the pack had reached its retirement age last summer on my 76 mile thru hike of the Foothills trail.   I have researched other replacements, but will probably go with the newer model Aether 60 even though it is heavier. 
Features:  three mesh pockets on the back and sides are excellent and have never stretched or failed.  The two side mesh pockets are shaped to hold a water bottle and small objects.  The mesh pockets also feature a double entry so that bottles can be slid in from the top or side.  The side entry works best for 1/2 L bottles.  I also found the side pockets expecially useful for carrying my camera case. 
The removeable/adjustable hood is the only other pocket on the pack. Spacious and simple one zipper design is perfect.  The cut away at the top allows ample head room. The zipper has never snagged or failed and runs past half way around the pocket. There are also 4 loops on the top pocket for lashing jacket, shirt, shell, etc.,
The hipbelt is by far the best design out there. Very good fit. Adjustments are very easy/ergonomic by pulling straight out front instead of to the side. 
There are two sleeping pad straps on the back of the pack, not on the bottom. This is a good design feature that keeps your pad off the ground when you set it down.
8 adjustment straps allow for stabilizing the load, and achieving perfect balance. This is one of the best systems I have seen on a pack. 
The only con is the back panel (since improved) has no ventilation, but can be accommodated by careful suspension adjustment while walking. 
Source: bought it new
Price Paid: $200

First, know I only review a backpack after I've used the hell out of it. We've carried my pack (2006 Aether 60) and my wife's pack (2006 Ariel 65) eight-weeks hiking through Europe's Alps, and on countless hikes and climbs throughout California; we've used them with loads ranging from only a few pounds up to forty pounds of gear, through rain and snow both at sea level and at 15,000 feet. We know the pro's/con's of these packs.
Summary: Aether 60 is a good pack, but not best-in-class because it lacks a zippered access at the bottom forcing you to inconveniently remove everything from the pack just to reach an item at the bottom, and it becomes somewhat uncomfortable when loaded up. I'm slightly overweight at 6' tall and 210 pounds and found the hip belt wasn't as comfortable as many claim. When loaded with more than about 25lbs (admittedly above the "recommended carry range" for this pack) the hip belt has less cushion than optimal (cuts into the hips somewhat) and tends to slide down over the hips, even though the pack was custom-fitted and belt heat-molded at time-of-purchase. Somewhat more expensive packs (compare to Gregory products, for example) have hip belts more comfortable for bulkier body types like mine, but those suspensions also increase pack weight. Hikers with leaner body types, with a more well-defined hip outline may find the Aether hip belt to be very comfortable.
While the Aether 60 has no fatal flaws, hikers should also evaluate competitor products, or within the Osprey line consider the Aether 70 because it does have a zippered main bag access at the bottom, and comes with a detachable Top Pocket/Lumber Pack. Also, if you're seeking a pack to carry everything for a multi-week trip, you'll need the extra storage of the Aether 70, or something even larger. We found both the Aether 60 and Ariel 65 too small for a backpacking trip through Europe, and I should note we did not carry any tent or sleeping gear.
Additional Comments:
• I did NOT have the problem noted by another reviewer: "At the bottom of the pack where the seam joins together there is a piece of plastic for support. This piece of plastic presses against you and makes for a very uncomfortable ride."
• Another reviewer complained about the Aether's non-removable "sewn-in-hip belt." This is incorrect because the Aether 60 has a removable hip belt, which I have in fact removed and replaced already on my pack with a large sized belt.
• The deep elastic side pockets + side carry loops on the Aether are very handy, securely holding even large items such as 22" (collapsed) camera tripods or a pair of 28" (collapsed) hiking poles.
• This pack's camel pocket is a perfect match to the Camelbak products and we found the Stoaway/ UnBottle 100 oz to be a perfect companion to the Aether 60/Aether 70.
• It is true as many of written that the Aether series is exceptional not only for lightness but for flexibility in holding its shape as a day-pack, not flopping around when under-loaded with as little as a few pounds.
• We did buy the Airporter LZ, thought the product somewhat overpriced, but it did work well as a cover to protect our packs when checked as luggage during air travel.
Design: top-loading internal frame
Size: 3800 cubic inches
Max. Load Carried: 40 lbs (88 kgs)
Height of Owner: 6 ft
Price Paid: $200

I prefer the Aether.
I tried both the Atmos 65 and the Aether 60 at the EMS store here in NYC. I loaded each with about 25lbs and walked around. I have to say, the Aether was sooooooo much more comfortable to me. The Atmos held the weight out too far because of the meshed back panel space and seemed TWICE as heavy. No joke. I really felt the load. But the Aether, because it fit snug against my back, felt like i was carrying nothing.
I was shocked at the huge difference in feel. Going in, I thought that the design of the Atmos would be more comfortable with the airflow system, but it actually made the weight much much heavier. And when you twisted your body from side to side, the pack swung more compared to the Aether which stayed snug against he back and felt more a part of your body.
In hot climates, the Atmos design may create more airflow and less sweat...but the tradeoff is too much. I rather sweat a little more than have back pain. And to be honest, the mesh padding on the Aether created some airflow itself, so i don't think your back would sweat THAT much more. Actually, i would argue you'd probably sweat alot more with a fully packed Atmos because it felt TWICE as heavy as the Aether.
My personal opinion, is that the Atmos style design is much better suited for smaller packs and day hikes as opposed to heavier hiking or traveling needs. But that's me.
I am glad I tried them out in the store, because just based on internet reviews and videos, I WAS leaning towards the Atmos. Just goes to show ya, there's no substitute for testing out backpacks in person. Glad I went with the Aether. Great pack. :-)
Price Paid: $160

Great pack for work and recreation. Adjustable torso length, comfortably carries big loads, mostly good features, pretty durable so far. The way it feels on my back is most important to me and it does pretty well overall.
Pros
Fit/Comfort
Versatility
Features
Cons
Bad waterbottle pockets
Too many straps and buckles and crap
The adjustability of and subsequent comfort are great. I usually fall right between small and medium and I was able to get this pack to fit perfectly. I occasionally put 40+ pounds in it and it rides pretty well with a load. I sometimes use it as a day pack, especially if I need to carry tools or something.
It's got a lot of good things going on: hydration sleeve, big hip-belt pockets, outer mesh pocket, and lots of strap options. I actually cut a bunch of straps off because they seemed silly. The water bottle pockets on the side are too small for Nalgene-sized vessels and unnecessarily deep. I often take the brain off.
Source: bought via a "pro deal"
Price Paid: $120

My Aether 60 is now 4 years old and has had a hard life through the Bibbulman track (1000km) 2008, Larapinta track 2009  and the whole AT this year.
The main problem has been when the qantas broke a side strut and then I broke the other side leaning on it. With wear, the waist band started to slip badly, needing to be reset every 5 minutes or so. 
As I was in the USA, Opsrey was able to replace the waist band and struts FOC while I borrowed a friend's Gregory (which gave me persistant sciatica from pressure on the side of the tail bone). I also found trouble with the abrasive quality of the back support of the Osprey. The waist band and shoulder straps had to be very carefully adjusted to set the pack at the sweet spot on my lumbar area, large patches of moleskin also helped.
The pack is light and that usually means flimsy but that this one has survived and is still functional despite carrying a typical 40 lb load for many months says positive things about its durability. Mind you my wife's Macpac is now 10 years old, has done far more walking, and is showing no signs of age. That pack is the epitome of toughness.
I wouldn't take the Osprey into the Tasmanian wilderness, but for any other walking it's fine.
First I must say that this is an AWESOME pack.
First the cons. To be completely honest I can't really find that many. The only thing I really noticed is that when the bottom of the pack is stuffed tight it makes it slightly difficult to take out and replace a one liter Nalgene because the water bottle pockets are pulled tighter. Also, the area at the top where it dents in to allow head movement can make it a little difficult to unpack something if the pack is stuffed full.
The pros? Awesome fit. It offers a very comfortable ride. I have had it loaded down with 35 pounds of crap and I hardly noticed it was there. Even with 20 pounds in it I hardly break a sweat. Also, the Airscape ventilation system for the backpanel seems to work pretty well. While you still get a bit damp you don't end up with a soaking wet back. It can carry enough stuff for a 4-7 day trip and still not be packed to the brim. And the area that is dented for your head is an awesome feature. It makes a huge difference.
Overall a very very good pack and honestly the best I've ever owned or tried on for that matter.
Design: Top-loading internal
Size: LG
Number of Pockets: 5 (1 top, 1 main, 1 outer, 2 water-bottle)
Max. Load Carried: 35 lbs.
Height of Owner: 6' 0"
Price Paid: $160

Bought this pack two years ago now for several reasons. The store rep helped me chose this pack to fit my needs: carry loads up to 50#, relatively light pack, comfortable and well fitting, good back venting. He put the 09' model straps on it for me (they weren't technically released at the time I purchased this pack) which are very comfy!
The AirScape foam back padding is very comfortable to me and allows very excellent air circulation to cool your back. The hips straps are moldable to fit the user, and it really works! They fit my hips like a glove.
There's a hydration port on both shoulders if you hike with a bladder. The sternum strap has a built in whistle, which is nifty but trivial. I've taken it through Ireland and the UK, the Appalachians, and Michigan winters.
This pack has served me very well and it's the one piece of gear I own that I have honestly never thought about replacing. Oh and Osprey's lifetime no questions asked warranty ensures that it'll be in working condition forever!!!
Price Paid: $180

I own a 2005 model and I have to agree with Traveler in the first review. The previous models weigh less than the 2006 model and do the same thing if not more. As far as I can tell, there's no need for a heavier form fitting hip belt. I broke mine in on the Kalalau Trail in Kauai with 30 lbs and never got a sore spot. It's quick and easy to transfer weight, too.
I bought the pack with the intention to go lighter. Out of all the packs of similar size and weight, none are as solid and compressible. I've never had more than 30 lbs in it, but I've read reviews that it starts to sag around 40 lbs. A 3.5 lb pack made of 210-denier, that can hold everything you need for an extended trip, inside the pack (considering you use a tarp or very small tent), is real nice. The large mesh pouch is great for wet items and the compression straps help to hold them down. The side pouches will hold a water bottle horizontally or vertically. Again, real nice. The built-in whistle on the sternum strap is a nice touch, also. In fact, I think that's the only bells and whistles (pardon the pun)this pack has.
The older model has very little extras. It's a great pack for someone who's not ready to go ultra-light, yet or ever. Believe me, I'm sure the form-fitted hip belt on the new one feels great, but it's removable and I can't see it being as solid and stable as the sewn-in model.
I'll have this pack for a very long time.
Price Paid: $199

I recently purchase an Aether 60 to replace a Dana Design Glacier. I'll start with the cons.
My biggest complaint is the "Airscape" system that supposedly pads your back and lets air flow to keep you cool. (Essentially, this is kind of egg carton design made of plastic and then covered with mesh that presses against your back). I have to wonder if anyone from Osprey has tried to use a pack with this system in a warm climate because when bare skin brushes against the airscape system it is very uncomfortable (practically painful). Thus, when wearing short sleeves, it hurts to put the back on and if you want to go shirtless in Canyonlands/ Moab etc., you can forget about it.
Second, the suspension is not as comfortable as I'm used to with my Dana-maybe I've been spoiled, I'm not sure. Lastly, the pack could definitely do with a second side compression strap about a third of the way up the pack. It has side compression straps about a 1/3 of the way down from the top, but that's it.
The pros are mainly that the 3900 cubic inches goes a long way-I was concerned about whether it would be big enough when I ordered it, and have been pleasantly surprised. This pack can easily hold a tent, sleeping bag, stove, sleeping pad, clothes, and food for a 4 day trip.
All told, the pack isn't bad, and will do fine for shorter trips. For packs in this price range, this is probably one of the better packs overall.
Size: L
Max. Load Carried: 40
Height of Owner: 6 ft 1 in
Price Paid: $189 (on sale from $219)

I took this on the Alabama Pinhoti Trail for 2 1/2 days, and it held up well. It stayed snug against my back and, once I got it adjusted properly, didn't bear too much weight on any one area.
Pros
Plenty of features
Breathes fairly well
Compression straps and removable top bag allow for nearly infinite versatility
Cons
Not as light as some other packs of the same size
Adjusting by yourself can be a bit of a challenge.
The first day on the trail, I adjusted the pack wrong, leading to difficulties all day. It was a bit worse considering that we were going 18 miles that day. But it held all of my gear nicely and wasn't too much to handle. I had it packed nearly full, and it didn't cause too much issue.
The second day, I adjusted it better, and the difference was amazing. I felt like there was barely anything there. Even when the load started to lighten up, the compression straps allowed me to keep all of my gear close against my back.
All in all, it's a great pack. I just wish it were a little bit lighter.
Source: received it as a personal gift
Price Paid: Gift

Excellent pack for 2-5 day walks. Close to back fit, very stable, very light but not made of flimsy materials. Had the hipbelt heat-moulded, fantastic! The only addition I would welcome is a built-in rain cover as Osprey have on their Kestrel range.
As for most of Osprey's packs, the actual capacity is always generous, especially with the front stretch pocket. An awesome pack.
Price Paid: $250 Aust

Great pack! Carries moderatly heavy loads well. Very happy.
Pros
Great suspension system
Good accessibility to inside of the pack
Durable
Cons
Water bottle pockets are useless unless you take the pack off every time you need a drink. You just can't reach them with the pack on.
Sleeping bag compartment is tight. Need a really compressible bag to go through the opening of the compartment.
OK, I bought this pack because REI had a sale on it. It was between the Atmos and this.
This is a great pack. This is the first pack that I have really spent time researching and really doing my homework on, and it doesn't disappoint. I carried 23 lbs for 7 miles and was comfortable all the way.
As I've stated, water bottle pockets are inaccessible with the pack on. I don't like water bladders, but had to go with one on this pack. The plus is Osprey has put the hydration bladder sleeve between the harness and the back of the pack, so you can pull the bladder in and out with going into the main compartment.
The Aether has great stowing capabilities. The stow-on-the-go feature for trekking poles is great. The pack has ample straps for compressing the load for a stable ride.
I love the pack. You won't be disappointed!
Source: bought it new
Price Paid: $180

This is a comfortable, fully adjustable, reasonable weight pack for light backpacking. 60L is a fairly tight fit, but enough room if you pack wisely.
Pros
Comfort
Heat mouldable hip belt
Everything is where it should be
Brilliant design keeps pack away from the back of the head
Water reservoir is outside the main compartment
Cons
Side pockets are a bit difficult to access
Not much to complain about with this pack. I use it for overnight hikes and winter snowshoe trips to shelters. It holds just enough gear without anything outside. And if pressed I'm sure I could pack more.
It's extremely comfortable and I often forget I'm wearing it. I've never used the removable top as a waist belt and feel it's a somewhat useless feature. The side pockets are made so you can top or side load them, but I just find them awkward and tight. There isn't much room in the main outside pocket either, without stretching the heck out of it.
However, the rest is brilliant and I couldn't be happier.
Source: bought it new
Price Paid: $180

Used this pack for a 4-day 42-mile hike through Patagonia's W-Circuit in Chile with a 40-lb load. It performed well -- stable, pockets and straps in the right places. It could use some other exterior pockets, however. My shoulders began to ache after about 5-7 miles with the pack on, but this could easily be attributed to me cinching it wrong or just the fact that it was so heavy!
I was able to easily attach my Marmot Highlander (which I used as a day-pack) onto the back of the Osprey with the built-in straps there. It cinched down hard and didn't cause any extra bounces or vibrations. I like that kind of flexibility. Also, my Thermarest Prolite 4 rolled easily into the holding straps at the bottom. During air travel, I was able to fold it (tightly!) into the exterior pocket of the Osprey.
Unlike others, the Airscape system worked well, and my back didn't get overly sweaty as it has with other packs. I don't sweat a ton anyway, but this was a great added benefit.
Design: Top-loading internal
Size: 3900 cu inches
Number of Pockets: 1
Max. Load Carried: 42 pounds
Height of Owner: 5'10"
Price Paid: $126

Awesome pack!!! Its suspension is so light (about 9 oz I believe) that you could even use this as a day pack. Osprey did a wonderful job. Excellent foam for superior comfort. Very nice attention to detail such as loops for carrying skis or extra straps on sides for carrying your tent poles. Hipbelt is a foward pull of course and it is much easier and faster to tighten then traditional side pull hipbelts.
Really well made and designed pack, but don't buy it online. With a sewn in hipbelt you must try it out first, especially if you are of slim built like me. I had to get the Large to fit my torso size, but the hipbelt must be tightned as much as possible.
Conclusion: great pack if you like to travel light. (The pack alone is about half the weight of TNF's Crestone 60.)
Design: top loading
Size: 60 L
Number of Pockets: 3 external pockets + top lid
Max. Load Carried: 30 lbs
Height of Owner: 6'4"

I can't say enough good things about this pack. I bought it 130 miles into my thru-hike of the Appalachian Trail last summer (replacing a Go-Lite Breeze) and it performed beautifully for the next 2,000 miles. Most comfortable pack I've ever owned.
I do wish the hip-belt was removable and replaceable, since as typical of most long-distance hikers i lost several more pounds and more inches around my waist than i though i would, and came close to being too skinny for the size medium pack's belt. But in ordinary life the medium is a perfect fit for me. However the non-removable hipbelt is part of the overall wonderful design that allows the pack to weigh only 3 pounds and yet still carry everything you need in great comfort. Not a lot of bells and whistles on it, just elegance and intelligent design.
Design: top-loading internal
Size: 3500 cu in.
Number of Pockets: 4
Max. Load Carried: 40 lbs
Height of Owner: 6 ft
Price Paid: $259

I am average height but large in the shoulders and stomach. With the ability to get larger straps for both the shoulders and the waist it fits perfect.
It is nice that it can be ordered to fit the person, instead of having to send it back till you get the right size. The straps are very comfortable even with extra weight.
Source: bought it new
Price Paid: $260

Have used my Aether 60 for the last four years. Wanted a light pack for long weekends and more, under 4 lbs, flexible attachments, compression, and great fit. So far no regrets other than a failed seam where the black oval on the front attaches to the stretch panel.
Returned it to Osprey and they stitched it back together... looks funky now, but works, and was covered under their lifetime warranty.
Some kind of pocket on the hip belt would be handy in a future redesign.
Looks like the redesigned 2010 pack line might not meet my weight criteria now (it's not under 4 lbs).
Design: Top loading
Height of Owner: 5'9"

Used often. High quality construction. Very adjustable to individual fit. Comfortable fit.
Pros
Hardly know you are carrying a pack
Great hydration system
Awesome fit system
Carried it from Maine to Vermont on the Appalachian Trail and all over Colorado. I'm 72. Having a load feel comfortable is a high priority.
I bought this pack new for a mountain climb in Columbia Sept 10. I put 51 pounds in the pack.
The idea was to take planes, bus and truck to the approach, spend a couple days in camp to acclimate, empty most of the stuff in the pack, and use it as a summit pack.
The third time I lifted the pack, in the Bucaramanga airport, the hand strap pulled loose from the pack. The strap and attachment looked flimsy.
Price Paid: $185

Comfort and quality. Ergonomic and exchangeable belt.
Cons
Pricey, but watch the sales I found mine for half price.
Best pack ever. I have other Osprey packs and wife does to. We hike all over and they are the best quality and comfort! Great warranty too.
Source: bought it new
Price Paid: $150

This is for the 2006 model. The pack has a design problem. At the bottom of the pack where the seam joins together there is a piece of plastic for support. This piece of plastic presses against you and makes for a very uncomfortable ride. The pack has made improvements from the previous model but the early pack rides much more comfortably.
Design: Internal
Size: 3700
Max. Load Carried: 25
Height of Owner: 5' 7"
Price Paid: $199

No need to say what has already been said but simply put, this is a great fully featured backpack great for long weekend trips or lightweight extended trips. Lots of pockets and straps for stablity and it looks really cool too.
Highly recommend.
Price Paid: $185

The best weekend pack I've ever owned. The custom molded hipbelt is amazing. I have about 500 trail miles in total comfort with this pack.
Design: top-loading internal
Size: large
Number of Pockets: 4
Max. Load Carried: 30 lbs.
Height of Owner: 70 inches
Price Paid: $219.95

Your Review
You May Like
Specs
small
medium
large
Price
MSRP: $229.00
Historic Range: $28.48-$290.00
Reviewers Paid: $120.00-$260.00

Weight
4 lb 11 oz / 2.11 kg
4 lb 15 oz / 2.20 kg
5 lb 2 oz / 2.31 kg
Capacity
3500 cu in / 57 L
3700 cu in / 60 L
3900 cu in / 63 L
Recently on Trailspace