Big Agnes Air Core

The Air Core has been discontinued. It was replaced by the Big Agnes Air Core Ultra.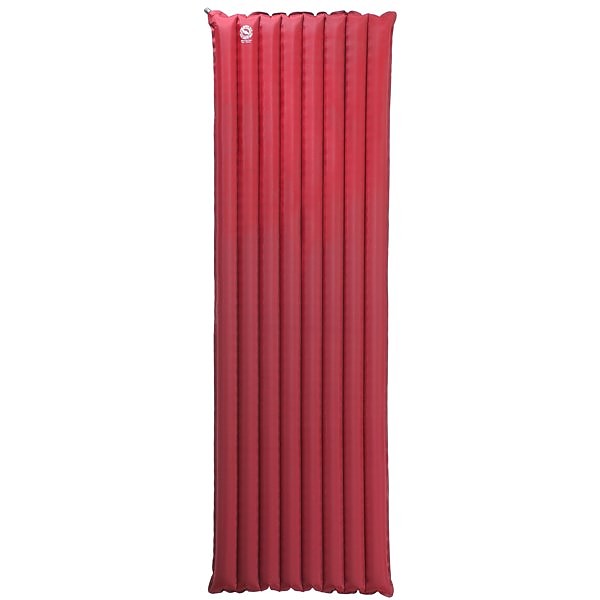 Packs small, about the size of a 1L bottle, doesn't take long to inflate and really gives you a luxurious sleep!
Pros
Comfortable
Lightweight
Comes in many sizes
Well priced
Cons
Not self-inflatable
Can be too hard
We recently switched our self-inflatable pads for these air chamber mattresses: a short narrow one for me, and a long wide one for my bigger and better half. Why? Because we move a lot in our sleep, from back to side, and our previous pads were very uncomfortable, giving us "hippers" by the end of the night. Sure, you can buy thicker self-inflatables, but then the price sky-rockets if you still want ones that don't take up the entire volume of your 40L pack!
Sleeping on 3.25" air cushion has allowed us to have the best outdoors night sleep in years. We joke that it's better than the mattress at home! Using them in the tent on several 3-5 day backpacking trips, we have found them to be durable and lightweight. They hold their air for a few days, without having to give it another "top-up blow", and the construction sort of cradles you so that you don't slip off the mat easily when you roll over... That was a real problem with our previous self-inflating pads.
Also the fabric is sort of textured, which prevented us from sliding down when sleeping on a slope. There's an added bonus that they're relatively quiet when moving around: I've slept on others that sounded like you were making balloon animals all night. For spring nights, we placed a thermal emergency tarp underneath to insulate against the cold wet ground. 
The only downside really, is that you have to inflate them yourself. Not that it takes very long (2-3min), but it's nice to be able to let the pad inflate in the tent while you get going on cooking. That being said, don't wait until the end of the night to inflate, especially after some wine!
Also: if you inflate it all the way, the mattress can actually be too hard for side-sleeping. Woke up with a charlie horse the first night out with it... I had overzealously inflated it.
Source: bought it new
Price Paid: $70 CAD

Sleeping comfort is worth the hassle.
Pros
Comfortable
Stuff sack included
Repair kit included
Strengthens your lungs
Cons
Breathe, breath, BREATHE
Light-headedness from inflating pad
Takes some time to fully deflate
Great pad to sleep on during warmer months (there is an insulated version for colder temperatures). The version I own is a rectangular one. I'm able to fit on the pad head to toe (5'8" here).
Pad is "easy" to set up: just unroll and breathe to inflate. Be prepared to huff and puff for at least 2 minutes to get it inflated. The sleeping comfort is worth the hassle. Some reviewers complain that the pad is "noisy" but it hasn't bothered me nor my sleeping companions. 
Included stuff sack makes the pad pack small and light; about the size of a Nalgene bottle. However, to get the pad deflated and able to pack takes a great deal of time. I normally lay on the pad, turn the air nozzle so it deflates quickly, but then when rolling the pad up there is still air trapped inside.
Making sure this residual air has escaped before packing is the issue.  Expect to spend some time making sure the air is gone before you pack. 
Filling and emptying aside, the pad is worth the hassle.
Source: bought it new
Price Paid: $40

This pad is extremely comfortable to sleep on and I am one who is not fond of being uncomfortable when I sleep. Just like another reviewer said... once you lie down on it, you can adjust the pad (the valve is right by your head) to the firmness you like. You can sleep or your side and not have your hips or shoulders touch the ground.
I also just bought a Big Agnes Savery SL sleeping bag and the initial returns are outstanding. The bag has a sleeve on the back that holds the pad perfectly.
The only two complaints I have seen anyone have that make any sense to me are 1) If you plan on camping in colder weather (30 F or below) you need to buy the insulated version of the pad and 2) you cannot sit upright while in your sleeping bag with the pad in the sleeve and inflated. I suppose that is a big deal to some but in my opinion, it is a small price to pay for such comfort in the backcountry.
I will also comment that it takes some blowing up. I does inflate minorly by itself but you will have to help it along. Again, it feels like a small trade-off for such sleeping comfort.
Price Paid: $45

Packs up small and is light-weight. However, it can be quite noisy if you toss and turn. It can wake up others.
Pros
Packs up small
Comfortable
Cons
Noisy
Doesn't self inflate
This review is for the regular/rectangular version.
Pros: This was purchased because of it's size and weight.  It packs up nicely and fits in any pack. It is also quite comfortable for side sleeping.  Durable - been used for 2 summers of backpacking trips without any issues. Haven't experienced any issues with sleeping bags sliding off.
Con:  It is noisy when moving around and can easily wake others.  
The lack of self-inflation is somewhat bothersome, but is a small price to pay for the size and weight improvements over previously used mattresses.
Source: bought it new
Price Paid: $50

Comfort is the best I have experienced in many years of sleeping in the wilderness.
Pros
Comfort
Reasonable weight
Easy to inflate and deflate
Compact when deflated
Seems durable. Well made
Having had lots of years of mountaineering and backing experience I have to say this provides the most comfortable sleep ever. It does add a couple of ounces compared to my self-inflating pad it replaced, but well worth a good night's sleep, me thinks.  
Experience
Decades
Source: bought it new

This thing is awesome! It takes a minute or two to blow it up when you get to camp, but it is well worth it. I bought one for my wife, because she wanted to have a thick pad to use for backpacking when she got pregnant. She likes it so much that sometimes she blows it up and lays on it in our livingroom and takes a nap.
I decided to get the 3/4 length for myself, because it only weighs 1 lb and I don't use the extra length (even though I'm 6'2"). This pad is designed to be used with Big Agnes bags, but it works great with my Mont-Bell Burrow Bag. It folds/rolls into a very small package which stores nicely in my ultralight pack. I would suggest this pad to anyone who values a good night's sleep on the trail.

Price Paid: $40 (employee discount)

I LOVE my Big Agnes!!! I have probably spent about 14 or so days with it and it is the best invention since sliced bread! It is a wonder to sleep on because I do not feel the roots or stoned that are underneath me.
I was hesitant about the durability but I think that I have put it thru its paces and will now backpack with it all the time. But, I carry a small Ridgerest with me to sit in around camp so if it does go flat I have a backup, but it does come with a repair kit in the stuff sack. I will absolutely not camp with anything else!
Version reviewed: mummy
Great pad!
I got this for Christmas, and since then have gone for two winter backpacking trips. The pad has worked wonders for my sleeping comfort. Yeah, it takes a few minuts to blow up at night and deflate in the morning, but a night of actualy getting sleep is more than worth the time. The pad does a great job of insulating me from the snow, wow is it comfortable.
One minor downside to it is that it can be hard to get into the stuff sack when you have frozen hands and the pad has a little crust of ice on the bottom.
Get one, sleep well.
I bought the Big Agnes after I got sick of waking up on the ground when, after 10 years of use, my Therm-a-rest finally bit the dust. On the FIRST NIGHT camping, where I'd used the Therm-a-rest before, I was back on the ground! I'd camped on prickly things! They say "sturdy 70 denier" -- but it sure wasn't half as sturdy as my old Therm-a-rest. I patched it up (they include two patches -- and you'll need them), but after finding four holes, I gave up and threw it out! Too skimpy by a long shot! Back to a Therm-a-rest for me!
Price Paid: $50

I bought the mummy bag shaped Air Core Pad for a trip. If there is a "perfect setting" I never found it. It was agony to sleep on this thing. Big Agnes is lucky it has been a few days since I slept on it, as I was really cussing them on my backpack trip. I'm going back to my Therm-A-Rest, which is very comfortable. It did not leak and did fit in my Horse Thief bag, which is why it got 2 stars.
Price Paid: $35

I have spent many nights on the trail on four different sleep mats. I was on an ultralight kick for a while and used a Thermarest ultralight for about four years. I finally got tired of not sleeping and bought an Air Core. I slept like I was at home. This mat could not be more comfortable. Two inches of wonderful air under your whole body. And still for 22 oz. What a wonderful company.
Price Paid: $60

Everyone else here did a great job explaining the positives and negatives of this pad. As a dual-use minded backpacker that likes to target trips around playtime there is one use for this pad not previously stated. It doubles perfectly as a non-lifesaving flotation device in the lakes and ponds of the great outdoors. Just don't trust it far off shore and it is a welcome addition to a little lake edged luxury.
Price Paid: $55

This is AWESOME- although to get the BEST results you need a Big Agnes bag, as they slip inside the bottom of the bag and you will never roll off. If not it's easier to roll off of this pad than a conventional pad.
Considerations: fill up all the way- then lay prone, and release air slowly until you get your "sleep number" lol and you are set!.
I've spent about 20 nights on my BA so far (including 8 straight nights on the AT). I much prefer it to the Therm-A-Rest pads. It's lighter (a big plus) and easy to inflate and deflate. In cold weather (30 degrees +) I found it had enough insulating value. Great bargain for lightweight gear.
Your Review
You May Like
Specs
Price
Historic Range: $19.93-$99.95
Reviewers Paid: $35.00-$60.00

Recently on Trailspace