MSR PocketRocket 2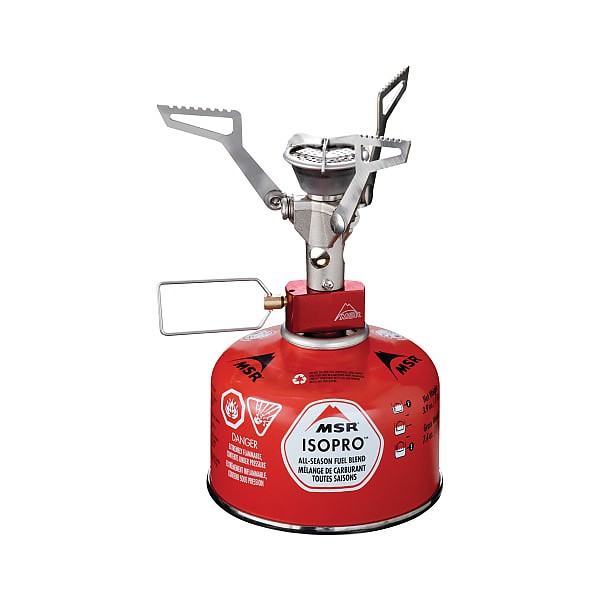 A good redesign of a classic. For those who like the ease, speed, and the versatility of a compressed fuel canister stove to boil and simmer, the MSR PocketRocket 2 is a great choice. It's very easy to use and very reliable. It's more compact and sturdier than its predecessors, and fairly lightweight, especially without the case. Any cons associated with a PocketRocket2 involve gas canisters and not the stove.

If you use a canister, I recommend this stove.
Pros
Lightweight
Very easy to use
Sturdy
Low/no maintenance
Quick boil
Very compact
Cons
No built-in igniter
Gas canister fuel levels are hard to gauge
Gas canisters are bulky and heavy
Gas canisters don't work well in cold weather
The MSR PocketRocket 2 (PR2) is the latest generation of canister stove from MSR. It replaces both the original PocketRocket (PR1) and the MicroRocket, which are now discontinued (though the original PocketRocket is available for purchase in the MSR PocketRocket Stove Kit), and combines the best elements of both.
It is more similar in design and specifications to the MicroRocket, though after extensive use of all three, performance differences are negligible.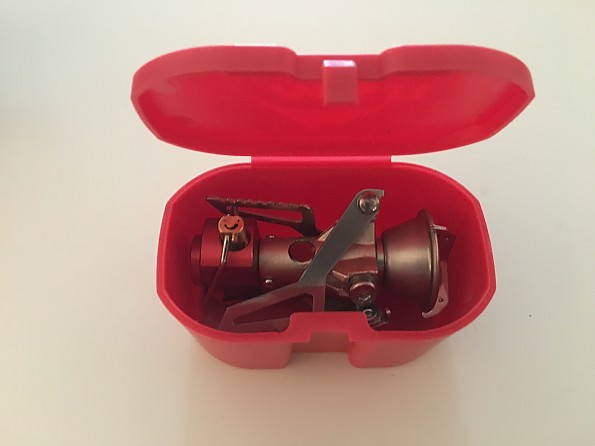 MSR's write up:
The next-generation PocketRocket™ 2 stove takes everything impressive about the iconic original and puts it into an even smaller and lighter high-performance design. Barely noticeable in your pack, it's fast at camp, boiling 1 liter of water in 3.5 minutes. Precision flame control goes from torch to simmer, while our WindClip™ windshield boosts efficiency in breezy conditions. New folding pot supports create an exceptionally tiny packed size, and they now accommodate a wider range of vessels—pair this stove with the MSR Titan™ Kettle for the ultimate fast and light kit.
Ultralight: Weighs just 73 g (2.6 oz.)
Fast: Boils 1 liter of water in just 3.5 minutes.
Compact: Folding pot supports pack exceptionally small, fitting into an MSR Titan or Insulated Mug.
Strong: Robust pot supports offer excellent stability.
Wind-Resistant: WindClip™ wind protection and focused burner pushes a persistent, solid flame.
Includes: Ultralight, hard-shell carry case.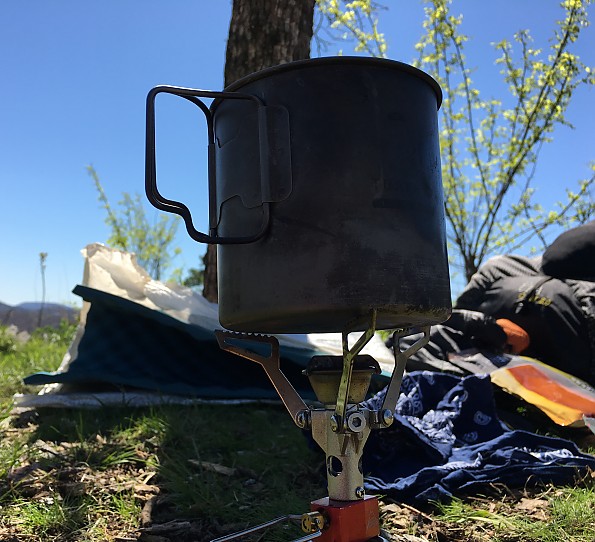 Size and Weight
The PocketRocket 2 IS barely noticeable in your pack. It fits in both my 550ml Toaks Titanium mug, and in my GSI Infinity mug.  I pack it in the mug without the case (in a ziplock to protect it from moisture that might remain in the mug after use) and I can't tell you how pleased this makes me. It takes up so little space that I'm also able to fit a few days of coffee, sugar and cream in the mug comfortably at the same time. 
The original PocketRocket wouldn't fit in either and had to be carried separately in my food bag, along with its case to prevent it from being smashed and to stop its pointy arms from poking a hole in something. The PR2 gets high marks for packability at 3 inches tall with a 4 inch circumference at its widest. The canister, being the bulky item in the equation, is wrapped in a cloth handkerchief and stuffed in the titanium mug: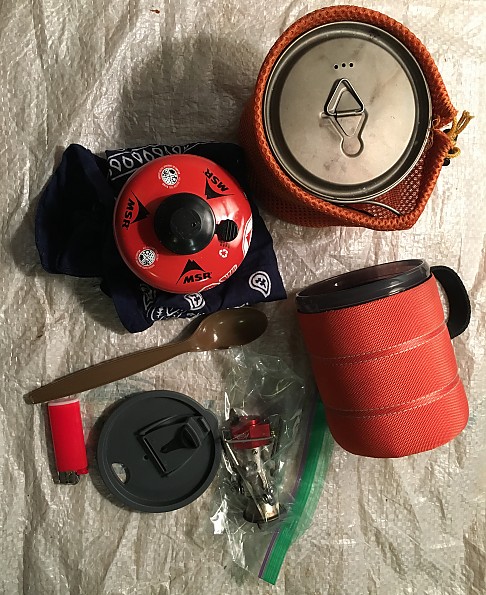 It's light, too, as canister stoves go, weighing in at 2.6 ounces without the case. The case is overkill in my opinion, though it does have a sturdy feel at 1.1 ounces.  Below is a breakdown of the Original and PocketRockets 2 and Micro from my scale:
MSR PocketRocket 2
Weight with case – 3.7 oz
Weight without case – 2.6 oz
Weight of case – 1.1 oz
Original PocketRocket
Weight with case – 4.8 oz
Weight without case – 3.9 oz
Weight of case - .9 oz
MicroRocket
Weight with case - 3.8 oz
Weight without case - 2.6 oz
Weight of case - 1.2 oz
PocketRocket 2 at left and MicroRocket at right, PR2 has a new, flip top case: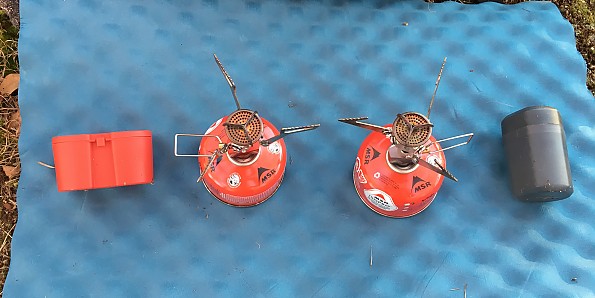 The pot support arms on the PocketRocket 2 are noticeably thicker than the arms on the Original PocketRocket (one arm is very slightly bent on my PR1) and a tad thicker than the arms on the MicroRocket. One would have to try to bend an arm on a PR2. The ends of the arms are more rounded than the PR1, there is little chance of poking a hole in something while packed if not in the case. 
The PR2 doesn't come with a built-in or stand-alone igniter. This could be a con for some, I use a small butane lighter which I prefer to carry over a Piezo or something similar.
Performance
There was no noticeable difference in boil times, wind resistance, simmer ability or fuel economy between the PR1, PR2, and Micro. The flame pattern is the same as the Micro, which is very similar to the PR1.
MSR's claim of 3.5 minutes to boil 1 liter of water is accurate. If it's windy enough a third of the burner will go out and your boil times will be longer. It is best to shield your flame from the wind. This is common sense for all types of stoves. If it is cold, say below 40°F, it is best to warm your gas canister before using.
This is one of the inherent disadvantages of compressed gas canisters. If you are planning on using a canister stove regularly in below freezing temps you would probably be better off using a stove with a built-in pressure regulator, an inverted canister stove, or forgoing a compressed canister all together for a white gas stove. That said, with a little care and attention, a canister stove like the PocketRocket 2 can be used well below freezing, albeit with increased boil times and lower gas efficiency.  
From left to right: Snowpeak LiteMax, PocketRocket, and PockRocket2, banana holder for scale: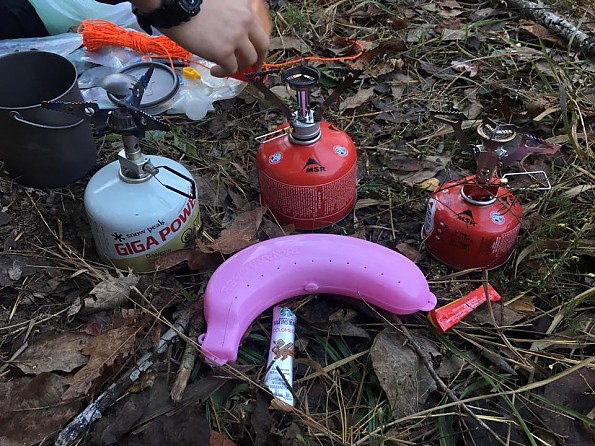 No difference in fuel economy was noticed between the MSR stoves. MSR's claim of 60 minutes per IsoPro 8oz canister is accurate. Obviously if it's very windy or cold a canister won't last as long.
A new user of a canister stove will discover that there is a sweet spot for boil and fuel efficiency. The flame should be adjusted with the valve control so that it doesn't exceed the diameter of the bottom of the pot. If you practice hitting this sweet spot for boil a canister can last significantly longer than 60 minutes in 3-season conditions. 
Ease of Use and Maintenance
It's very easy to use a PocketRocket 2. Unfold the arms, screw into canister, open the gas valve, and apply spark or flame. The simmer function via the valve control works well and is easy to use. The PR2 is best used for boiling and simmering. The concentrated flame pattern isn't ideal for frying or baking, as with all stoves of this type. 
The pot supports have slightly more tines that the PR1 and Micro. This is an improvement, and offers a bit more stability than the PR1 and Micro. Mugs and pots from 450ml up work well with the unit. The is no inherent stability difference between the MSR varieties. Pay attention to gravity and your dinner won't fall off your stove.
Left to right: MicroRocket, PocketRocket 2, PocketRocket: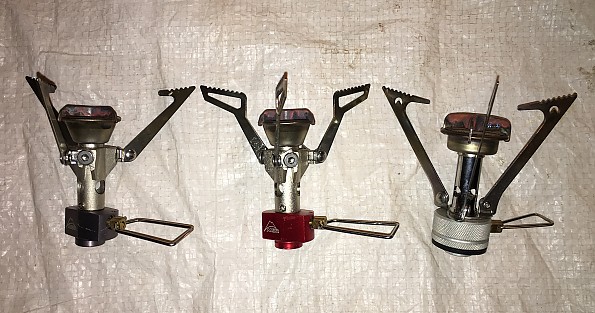 Maintenance is virtually nil. If the arms should loosen over time they could be tightened with a hex wrench. No warping from heat was noted. Occasionally I'll lightly wipe the burner head and arms with a cloth to remove residue or dirt, and I keep the unit dry. This is typical of all canister stoves of this style in this price range, and I have never experienced a failure of an MSR unit of this type nor heard of one. 
For longer trips where weight and resupply become real issues, I will sometimes take an Esbit setup instead of a canister stove due to its light weight and the fact that I know exactly how much burn time I have left. Even more folks use alcohol stoves for the same reason. The new compactness of the PR2 over my PR1 and its ease of use have me packing the PocketRocket 2 more often that not, however, and this is a piece of gear that would make it on 90% of my trips.
Testing Conditions
This stove was tested in the Midwest from mid-October 2016 to April 2017, in temperatures ranging from lows in the teens up into to the 80s Fahrenheit, in varying wind and moisture conditions, to boil water for dehydrated food and to simmer vegetables.
Source: received for testing via the Trailspace Review Corps (Sample provided by MSR for testing and review)

Your Review
Where to Buy
Help support this site by making your next gear purchase through one of the links above. Click a link, buy what you need, and the seller will contribute a portion of the purchase price to support Trailspace's independent gear reviews.
You May Like
Specs
Price
MSRP: $44.95
Current Retail: $44.95-$59.99
Historic Range: $31.77-$109.95

Fuel
isobutane/propane, MSR IsoPro

Boil time for 1 L of water
3.5 minutes

Water boiled per 1 oz of fuel
2 liters

Dimensions
1.3 x 1.7 x 3.1 in

Weight
2.6 oz

Recently on Trailspace