MSR LowDown Remote Stove Adapter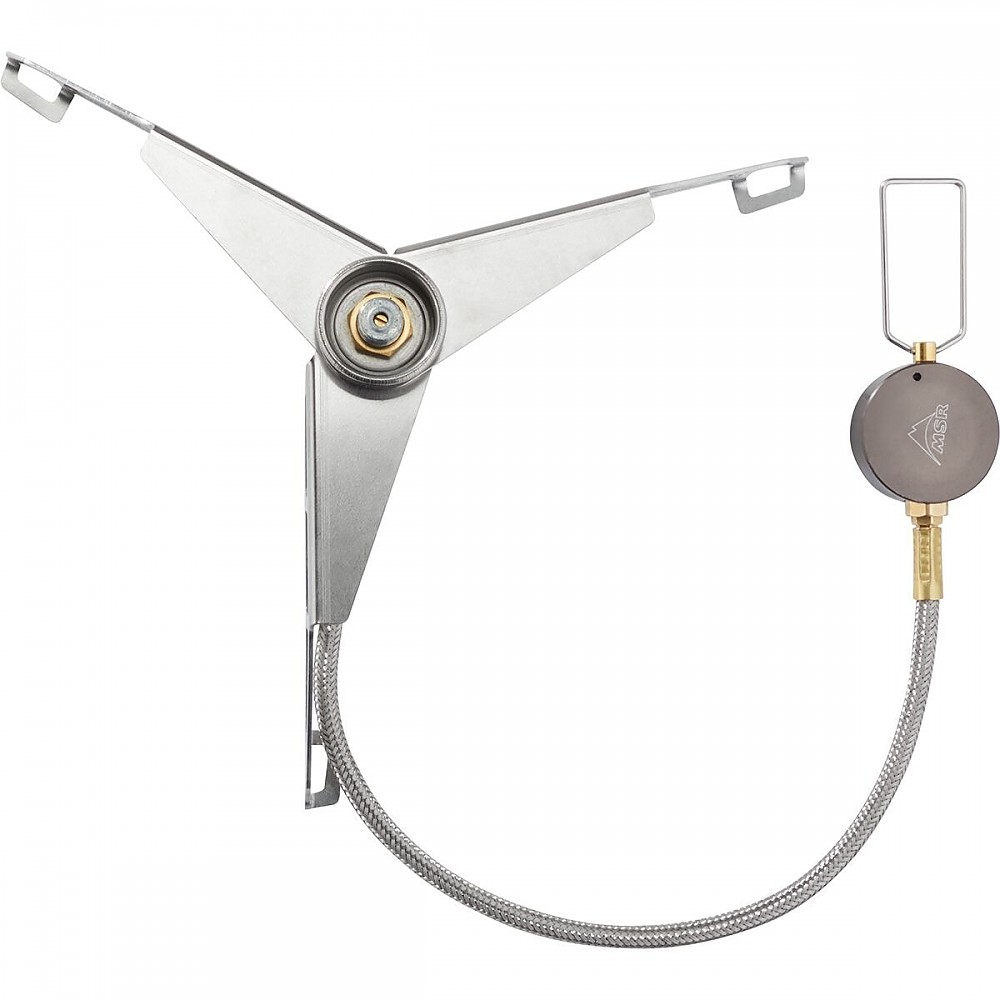 This MSR LowDown Remote Stove Adapter is designed for use with MSR canister stoves, as a means to increase the safe use of stoves by removing the need to reach under a pot to adjust flame control, to facilitate fine adjustment on temperature control for cooking, and to allow the safe use of such stoves with larger pots and on uneven surfaces. Essentially, the adapter allows the stove to be controlled from a remote controller, mounted on the fuel canister. The adapter is new for spring 2022, and I obtained one packaged as a "sample" for testing from Trailspace.

After giving the adapter quite a few uses in various conditions, I confidently recommend it for any campers looking to improve the stability, safety, and versatility of their MSR canister stoves.
Pros
Increases stove safety
Packable in small pot
Simple to use
Compatible with different brand canister stoves
Same design for controller on stove and adapter
Cons
Need to be careful not to move canister, or stove can get tugged and pot can fall
Introduction
I have owned the MSR PocketRocket and PocketRocket 2 stoves for many years and they are my go-to stoves on my frequent canoe camping and front country camping trips. I use them on solo trips, and with family groups of 3-4, primarily for boiling water and hot liquids in small pots. However, over the past two or three years, I have started to use larger pots and pans (such as Sea to Summit X-Pots and X-Pans) to diversify my camp cooking options. I cannot fault the stoves' reliable performance, but it can sometimes be problematic to use the small canister stove on uneven terrain, or with the larger pots.
When given the opportunity to test out a sample of the MSR LowDown Remote Stove Adapter I jumped at the chance. This adapter is designed to allow improved and safer cooking performance on rougher or uneven terrain, and with larger pots balanced on the small stove tops. I used this adapter on 14 occasions while camping this fall, and it has proven to be a great addition to my camp kit.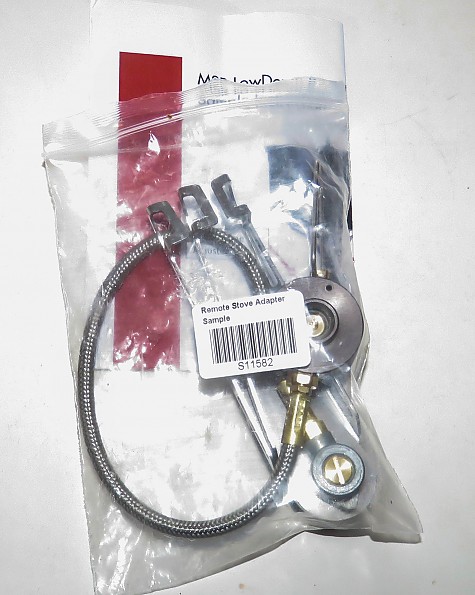 Per MSR, the benefits of using this adapter are:
Added Stability - Low center of gravity, use large pots and cook on uneven ground with confidence
Remote Flame Control - Canister-side flame control adds safety - especially with boil-overs
Universal - Works with all current MSR canister-mounted stoves and stove systems including: PocketRocket 2, PocketRocket Deluxe, WindBurner Personal and Reactor stoves. 
Easily Packable - Compact, folding design
Weight - 6.3oz (180g)
Price: MSRP $49.95 USD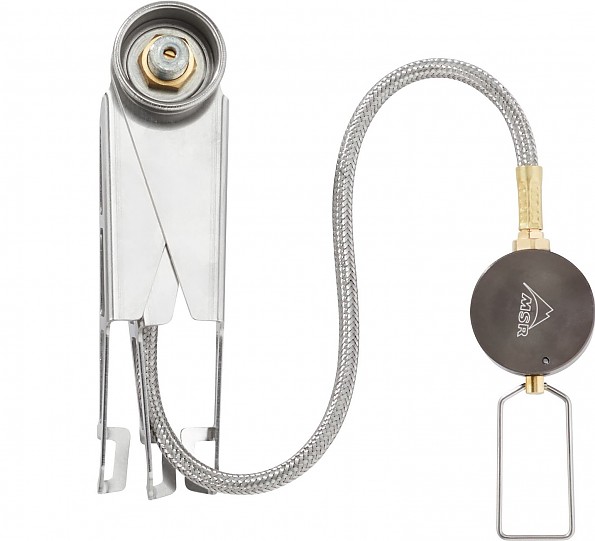 I used the adapter on 14 different days while camping this fall, which included remote canoe camping and front country campground camping.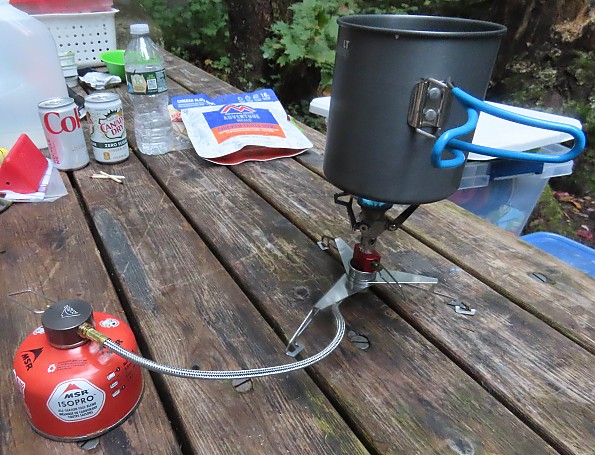 I primarily utilized the PocketRocket 2 stove, but also checked the adapter's performance with the original PocketRocket. Though designed for MSR stoves, I did try the adapter with a different brand of canister mounted stove; the adapter worked just fine with a stove similar in design to the PocketRocket stoves.
I do not own either the MSR WindBurner Personal or MSR Reactor stove, but I also tried this adapter with another manufacturer's stove similar in design and function. The adapter worked wel and did provide a more solid base for this pot-top stove. Note, MSR's instructions do say that the adapter cannot be used with inverted canister stoves.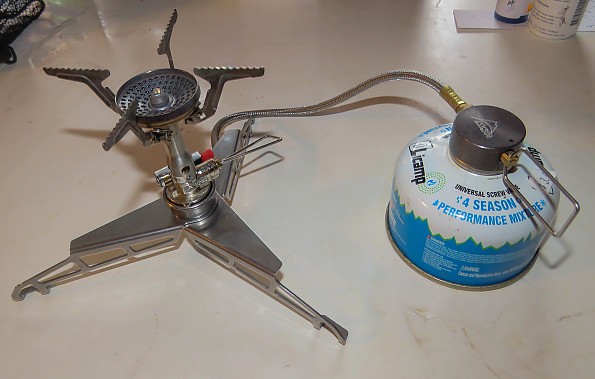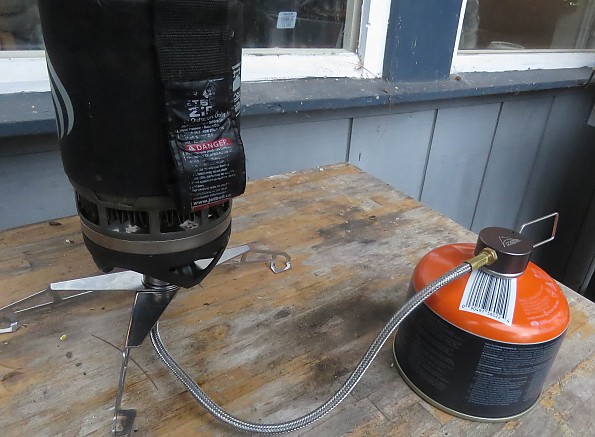 In order to test the claims made by MSR, I tried the adapter with pots and pans of different sizes, and on different type terrain and surfaces. Temperatures for use ranged from 35 to 80 degrees f. (1.6° to 26.6° C)

I really like using the adapter! Yes, it is another piece of gear to carry, but I was able to nest it inside the same pot in which I carry the PocketRocket 2 stove, pot grabber, matches, and pot scrubber. I found it easy to use, and I did feel safer by not having to reach below a pot of boiling liquid, or remove the pot before adjusting, in order to control the cooking flame.
Design and Setup
This adapter is a single-piece, consisting of a) fuel canister adapter with flame adjuster, connected by b) a 12-inch (30-cm) fuel line to a c) stove adapter mounted on a 3-legged fold-able base.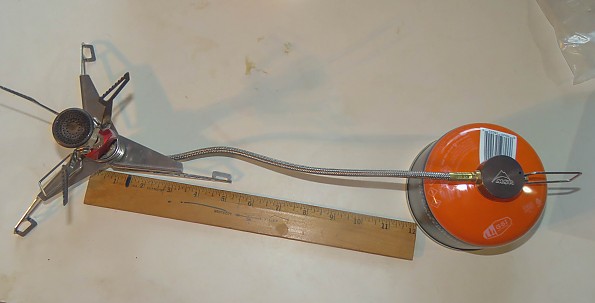 Setup and instructions are clearly explained in the enclosed directions sheet, with photo illustrations and step-by-step written instructions. MSR suggests that users be familiar with the operation of MSR canister stoves prior to utilizing the adapter system.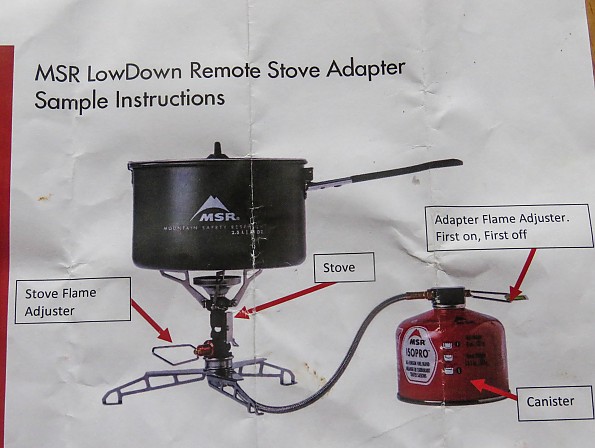 The steps are clearly identified in the provided instructions; I found if I just remember that the control on the canister is "first in, first off", the process is simple.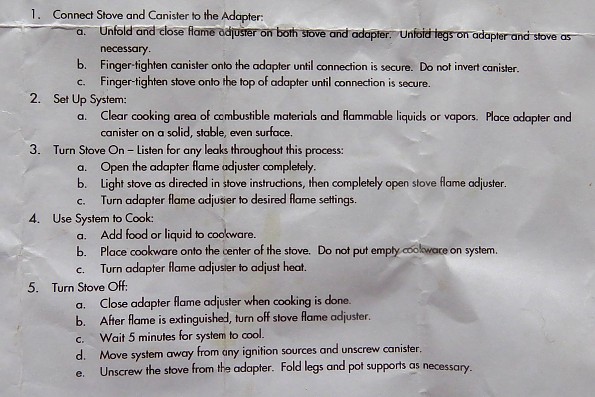 The adapter flame adjuster is first attached to the canister. The stove unit itself (usually a PocketRocket 2 for me) is then attached to the stove end of the adapter. The stove adapter has a sturdy fold-able tripod base, increasing stability for the "hot" end of the stove. This seems to work much better than adding stability legs to a canister with a stove on top of the canister. These legs are approximately 4.5 inches long (11.4 cm) and are 8 inches (20.3 cm) apart when extended, providing a large base for cooking with small or larger pots.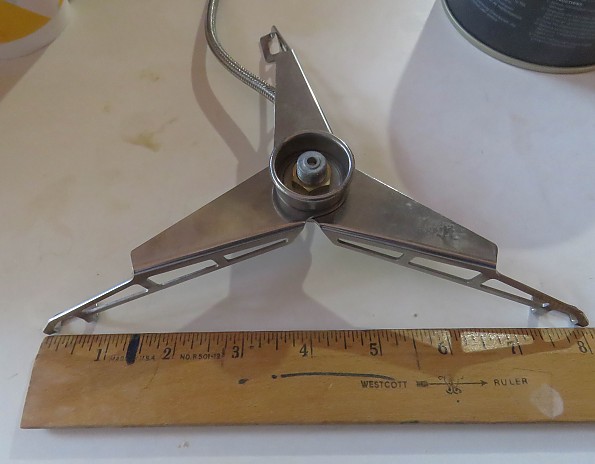 The cooking stove is also lower to the ground than in conventional use on top of a canister, making it more secure, less prone to tipping or being knocked over, and easier to shield from wind.
Using a MSR PocketRocket 2, I determined that the height of the top of the stove using the adapter is 4.25 inches from a level surface. Using a 110 g. canister it is 5 1/8 inches above, and with a 230 g. canister it is 6 inches above.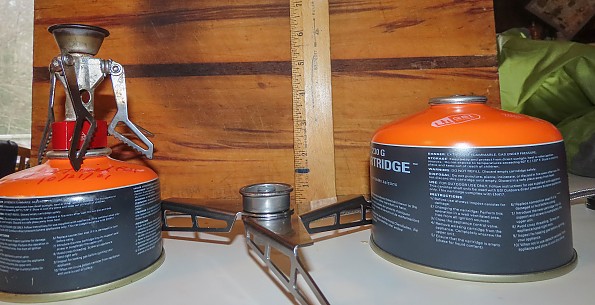 The stove works as well with the adapter as when it is attached directly to a canister. I checked the time required to boil water, in controlled conditions, and found that the "time to boil" was practically identical for use with and without the adapter. The reliable performance of the PocketRocket 2 (and also Pocket Rocket original) is not impaired in any way by use of the adapter.
My cooking with the adapter utilized three different size pots. In each case, it was nice to be able to adjust the stove flame without having to reach under the pot or having to remove the pot to adjust the stove. I felt that I could more finely tune the flame, slowly and carefully, while watching the pot and its contents while using the adapter.
Though larger pots can be used more safely with the adapter, I would suggest using care in not exceeding a safe load on the pot supports of whatever stove you may use.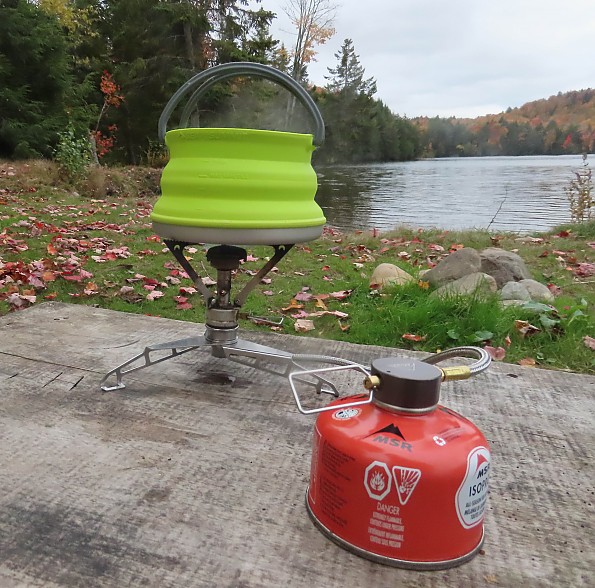 The adapter does allow you to position the cooking stove, pots, and fuel canister in a way that accommodates uneven surfaces. It is important to remember to be careful; if the canister gets moved, the stove, and its hot contents, will follow since they are "leashed" by the adapter fuel line.
When packing, I keep my stove kit in a 1 L. pot with lid, which then goes inside a dry sack with a fuel canister on top; traditionally, the pot has contained the stove, canister feet, pot grabber, matches, and scrubber...I thought perhaps the adapter would have to stay out of the pot. But no, I can put the adapter and accessories inside the pot.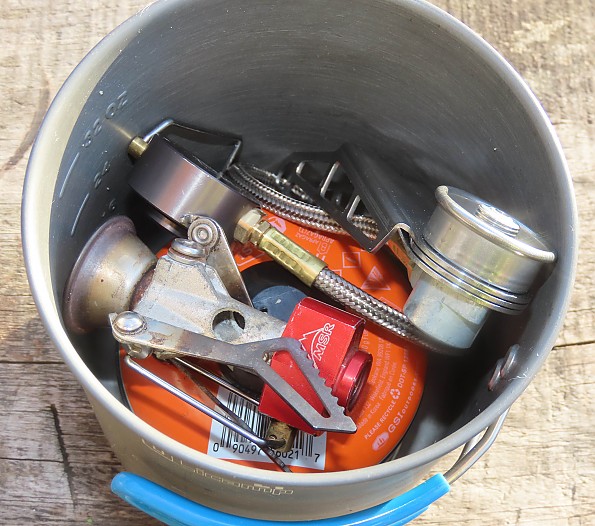 This adapter appears to be well made, and I expect it to be durable for a long period of time. There are no loose or flimsy elements in its design. It weighs 6.3 ounces, which is probably acceptable for all except the most extreme ultra-light campers. The MSRP is $49.95.
I have already recommended this adapter to fellow campers, both solo campers and small groups campers. I may not use it every time I am just boiling water or doing a quick warm-up meal, but certainly when I am cooking for a longer duration food prep or using larger pots, this MSR LowDown adapter will see lots of use.
Experience
I am a lifelong camper, who has utilized many different types of camping and backpacking stoves. I camp a few times each month from April to November, and use small stoves to cook up hot drinks while on winter snowshoeing day trips. I have used MSR stoves for many years, and the PocketRocket stoves are my go-to stoves.
Source: received for testing via the Trailspace Review Corps (Sample for testing and review provided by MSR)

Your Review
Where to Buy
Help support this site by making your next gear purchase through one of the links above. Click a link, buy what you need, and the seller will contribute a portion of the purchase price to support Trailspace's independent gear reviews.
You May Like
Specs
Price
MSRP: $49.95
Current Retail: $54.95
Historic Range: $49.95-$54.95

Weight
6.3 oz / 180 g

Universal
Works with all current MSR canister-mounted stoves and stove systems including: PocketRocket 2, PocketRocket Deluxe, WindBurner Personal and Reactor stoves

Recently on Trailspace