Sea to Summit X-Pot 2.8L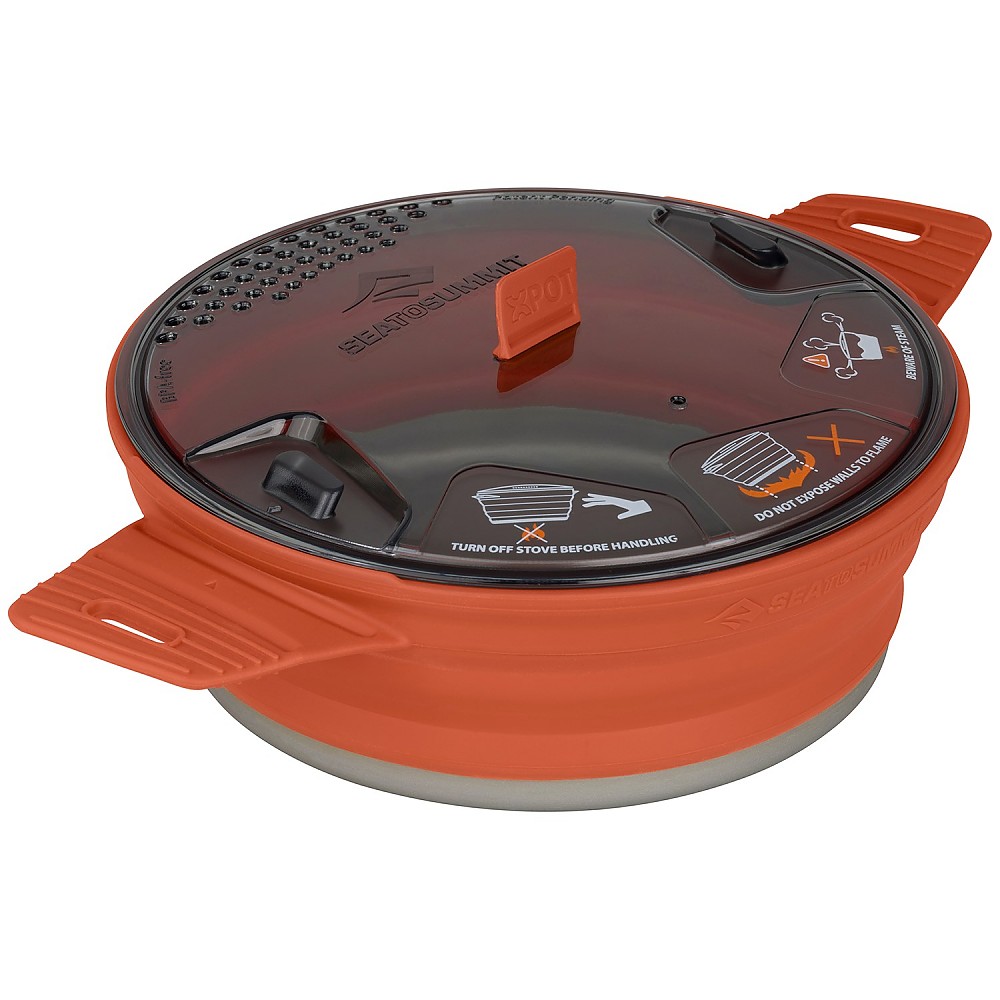 A unique and innovative product to fill the niche of collapsible cookware, the 2.8 L X-Pot performs well as a pot for heating water and re-hydrating/cooking foods. It also serves additional functions as a water catchment/collection bucket, measuring device, and basin for chemically treating water and washing dishes.

It is a bit on the heavy side at around 11 oz. and so is best suited for groups of two or more. It is also limited to use with backpacking stoves. If you like being able to cook on an open fire, this pot is not for you.
Pros
Takes up less space in your pack when collapsed
Has the capaicty to boil up to 2 liters
Unique, specilized design
Cons
A bit heavy for a solo backpacker
In certain circumstances, not as efficient at boiling water as metal pots
Durability of silicone
X-Pot: 8.4" dia. X 4.7" tall x 1.5" tall collapsed, 2.8 L capacity. The advertised weight is 10.2 oz but it was actually 11.8 oz on my scale…this included the lid.

X-Bowl:  5" dia. (though I measured 6") x 2.25" tall, 650 ml capacity, 2.9 oz. The bottom is solid and can be used as a cutting board.
X-Mug: 4.5" dia. x 3.25" tall, 480 ml capacity (I measured only about 400 ml), 2.2 oz.  The mug has a solid rim which facilitates sipping (but not pouring).
The mug and bowl set weigh a little over 5 oz; 5.9 oz if you include the complimentary storage bag. They reportedly withstand a temperature range of -40 to 180 C…I didn't test this.
All products are made from BPA-free, food grade, heat resistant silicone. The X-Pot additionally has a hard anodized 6063-T6 aluminum base.
These collapsible products come in a variety of sizes and combinations sets. There is also an X-Pan and Kettle. More information can be found on the Sea to Summit website.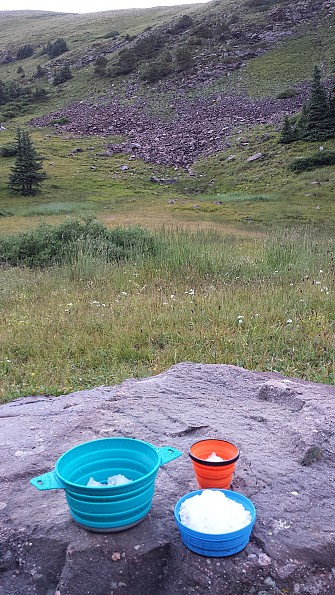 (The X-series comes in useful for collections during a timberline hailstorm...when life gives you hail, enjoy not having to filter water!)
Note: Given some of the discrepancies that I found in the advertised weights and dimensions, I wonder that there haven't been some further modifications to the products since I received them. That or the website has some errors and/or lack of quality control in the production. None of these discrepancies affected performance, however.
Initial impressions
I was familiar with the collapsible cup/bowl designs from Sea to Summit but a collapsible cooking pot is truly a new and unique product within the industry. My first impressions with the X-Pot were that it is large and a fair bit heavier compared to backpacking pots I have previously used.
Of course, the advantage is that it takes up less space in your pack, when collapsed, while also providing enough volume to cook for at least two persons, possibly more.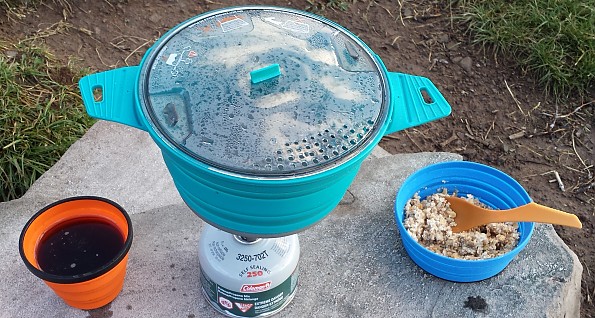 (My standard breakfast in the backcountry...oatmeal and coffee...good to go!)
This new hybrid silicone/aluminum design introduces a long list of questions/concerns, most of which I tested and are headlined below. It's also important to first note the pot's limitations/restrictions, as described by the manufacturer. Here is a brief summary of the do's and don't's:
Only use the pot with a backpacking stove. No open flames, campfires, ovens, microwaves, etc. I noted that the instructions did not specifically rule out an electric range-top, so I tested this just out of curiosity (making sure to use a low heat setting and a small-sized ring). The pot performed just fine but realistically, this is probably insignificant to backcountry use.
Never allow the flame of a stove to extend beyond the base, as the silicone might be damaged. Medium to low heat is recommended. This helps to save fuel as well.
Be careful using sharp objects or abrasives (knives/forks/scouring pads) around the pot. Similar rules for avoiding scratches in the non-stick surface of a regular pot. The pot is NOT dishwasher safe, either.
The pot is best for heating liquids and should not be allowed to boil dry. This is not to say that you can't rehydrate/cook food stuffs like rice, quinoa, noodles, etc. Just that it is not ideal for stir-fry/fried items. A previous reviewer did note that bread was toasted just fine in the pot, so it's really a matter of how comfortable you are testing the limits of a rather expensive piece of specialty gear.
Ease of Use
The X-Pot is one of the more adaptable, versatile, and trouble-free pots I have used in the backcountry. First of all, it is easy to clean, as the flexible walls really facilitate this. It's also wide, therefore simple to get in there to scrub, as opposed to the typically narrow and deep backpacking pots on the market. Further, the quinoa and pasta sides that I cooked in it did not stick to the aluminum bottom or silicone walls. But mostly I used the pot to heat water. I'll describe its efficiency at doing this later on.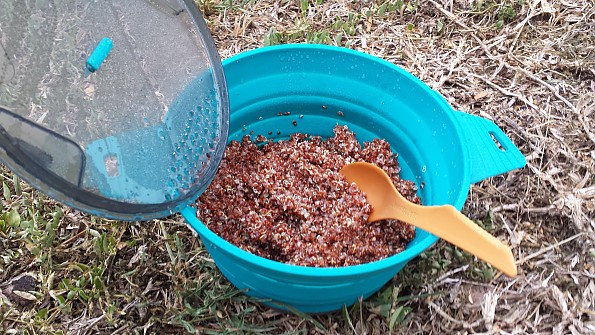 The pot also performs well as a water catchment device. Because of its larger volume, I found it very useful in collecting water from lakes, streams, and even during a hail storm. The flexible shape makes it even more suitable for water collection than a hard-sided pot, as its size and shape can be somewhat adjusted to the circumstances. I wouldn't be surprised if S2S added a handle and started marketing a collapsible bucket next.
Another surprising trait I discovered is that the light color of the pot (light blue walls that are semi-transparent along with the light silver color of the aluminum) made it easier to see inside and therefore filter out particles. On a recent trip in the Colorado Rockies, I found the spring-fed waters to be so clean that I opted for my water treatment method rather than a filter. Still, there was some organic matter in my collections, which settled nicely to the bottom of the pot. I was then able to pour the clear water off the top, into another container.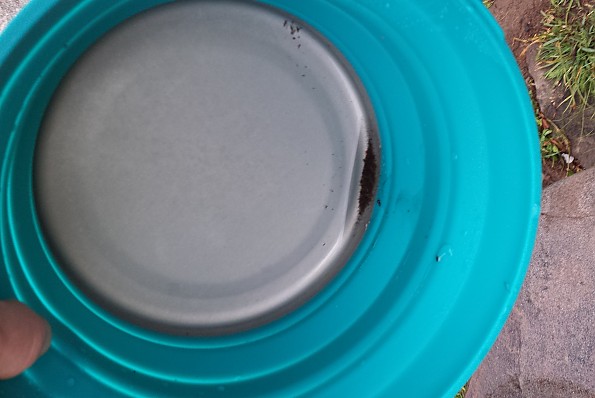 (You can easily see the silt at the bottom that I was able to sieve off)

The bright colors of all the collapsible products have the added effect of making them hard to misplace or forget behind in your campsite.
The 'malleable-ness' of the pot makes it easy to grasp the pot, while an internal ring at the rim provides just enough stiffness to pour water and keep the sides from collapsing under the weight . I found that I could use just one hand to pour by grasping the pot over the rim, which frees up the other hand. If pouring hot water, of course it's best to use both hands either by grasping the silicone handles (side-tabs) or just holding the pot at the sides.
To that point, the silicone walls make handling the pot very easy and efficient almost immediately after boiling liquid. The instructions caution that you should wait at least 30 seconds after a boil but this was certainly not necessary in temperatures below 50 degrees. Even while using the pot in 80 degree conditions in Florida, the silicone walls were comfortable to touch within seconds of turning off the stove.
You'd have to wait much longer to touch the sides of an aluminum or titanium pot, and by then the contents would be cooled as well. In this regard, the pot does not need accessory cozies or fold-out appendages to serve as handles, eliminating bulk and weight.
Features
The X-Pot has measurement gradations for every ½ liter/2 cups up to the 2 liters/8 cups max fill line. On this note, the advertised capacity of 2.8 L is a little confusing. There is room for 2.8 liters but common sense would dictate that it would spill over if you tried to boil at full capacity. But do consider that if cooking something like rice or quinoa, there will be room for expansion and so in that case, the capacity is greater than 2 liters.
The gradations are a really nice touch, helping you boil just the right amount of water for your re-hydrated meal and/or coffee. They also work great for getting the right ratio while chemically treating water in the pot.
The X-Mug additionally has gradations in milliliters and cups…both fourths and thirds of a cup. Like the pot, it has a stiffening rim. But I should note here, neither the Mug nor Bowl can be used on the stove to heat liquids! The X-Bowl does not have gradations but has a solid bottom, similar to a plastic cutting board…which it incidentally can be used for, if chopping small items
The pot lid, made of clear Lexan with a small silicone lift tab, has additional features such as strainer holes and warning pictograms to remind you of what not to do with the pot. While the stiffened rim of the pot gives an even, uninterrupted pour, I had less-than-desirable results trying to use it in combination with the lid strainer …mainly because I was trying to use the strainer to filter large-particulates while pouring the water off into a small-mouthed container.
If you are straining water from your noodles just to discard the water, the strainer works fine. But use caution since water tends to dribble down the side of the pot and spill everywhere if you aren't completely committed. I also found that liquids did not pour well from the Mug either. I didn't even try it with the Bowl.
Packability and Weight
The 'packability' of the X-Pot is excellent…after all, this is the product's main selling point. It's a large pot that doesn't take up large real estate once collapsed in your pack. The best way to collapse it is to place both hands on top, opposite sides, and push straight down (atop a flat surface). It collapses instantly in one easy motion.
This method works great for the Mug and Bowl as well, in which case it only takes one hand. Unfolding the products takes a few more steps, but you'll easily figure it out. All pieces can be set-up or stored away in mere seconds.
The Mug and Bowl nest conveniently inside the pot but you'll want to pack some additional filler (a few energy bars work well) under the lid to keep them from rattling around. Another reviewer noted that there was just enough room for a second mug/bowl set, but as I only received one set, I couldn't test this. It looks entirely possible, though. Lastly, the silicone handles fold over the tabs on the lid to securely close the whole package…users are warned not to do this with the lid while cooking, however.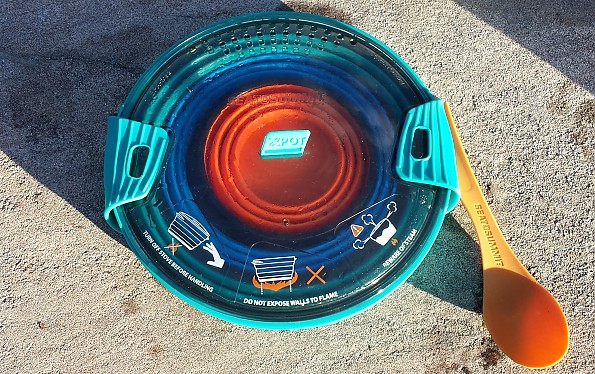 At over 11 oz (by my scale), the X-Pot is a bit on the heavy side for a solo backpacker. Since I have mostly kept my focus on lightweight, personal cooking systems, I don't know of a backpacking pot that has a similar capacity, nor what it would weight as such. But the solo minimalist is not this product's intended audience. It is more ideal for couples or even larger groups traveling together. Or for when space is more critical than weight. As such, it is a perfect solution for a bicycle pannier, kayak hatch, or motorcycle bin.  But the fact that this pot can serve both a soloist or a large group and still be in the realm of other backpacking pots, speaks volumes.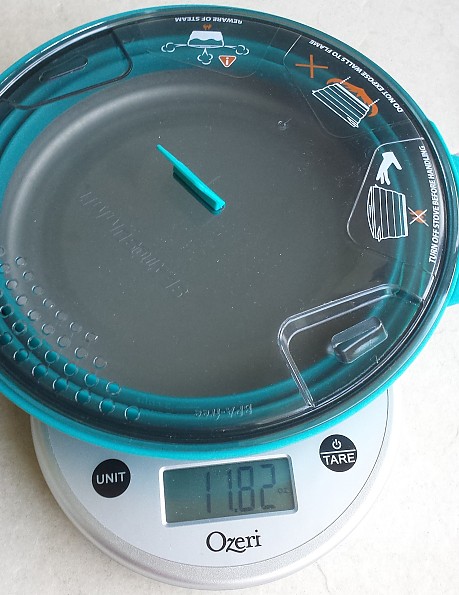 Efficiency at heating water
I did several efficiency tests using my MSR MicroRocket stove and a GSI Pinnacle Soloist 1L pot, for comparison. In all tests, I set the stove to one full open turn (medium to low heat) and timed how long it took to reach a boil. All tests were done under the same environmental conditions…at sea level, around 80 degree ambient temperature, with water from the tap.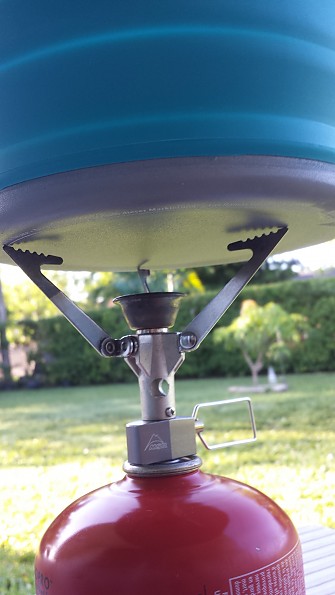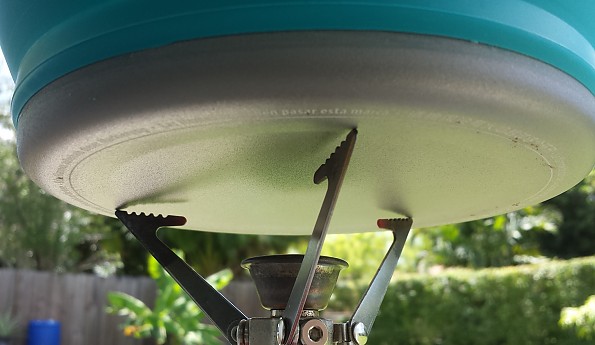 (The X-Pot fits pretty well over a standard canister stove)
My results were rather surprising. As I somewhat expected, the X-Pot was not as efficient at boiling 1 liter of water. It took my GSI pot around 4.8 minutes and closer to 6 minutes in the X-Pot. However, the X-Pot was the winner in the ½ liter boil challenge, coming in at 1.5 minutes versus 1.75 minutes for the GSI pot.
I attributed this to the larger surface area of the X-Pot bottom. A wider bottom translates into better heat transfer…up to a limit. Once you start approaching a liter or more, the non-metallic walls of the X-Pot appear to be the culprit in decreased efficiency. The silicone simply doesn't transfer heat, as demonstrated by the ability to touch the side walls almost immediately after boiling.
I didn't test boil times for anything more than a liter because that is the limit of all my other non-modular backpacking pots. The X-Pot has them all beat in terms of capacity. You just may have to burn through more fuel to get those 2 liters boiled. But I guess the alternative would be to carry a solid metal 2 liter pot…and who has room for that in their pack?
Durability & Construction
Construction of the X-Pot appear to be very good and it's a mystery to me how the silicone is welded together with the aluminum so seamlessly.  I was concerned that the silicone might add or retain flavors, but so far I haven't noticed anything. I can't say the same for the X-Mug, however. I have tasted an odd plastic flavor when I have used the mug for hot coffee. All products are stated to be BPA-free and food safe, though.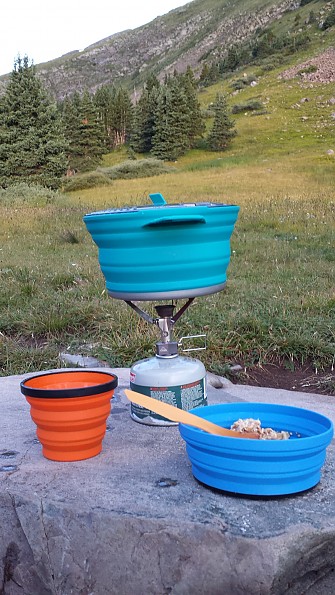 Durability may be the product's biggest downside. While I did not experience any deficiencies whatsoever during my use, it remains to be seen how long the product will last in relation to a regular hard-sided metal pot. With the ample cautions on how to properly use the pot, it's clear that it needs some special care.
But then, that's true of a lot of high-tech, specialty gear. For instance, I highly covet the comfort, weightlessness, and small pack size of my Therm-a-Rest NeoAir Xlite, but know better than to try to use it as a chair or outside of my tent where the ultra light material may be damaged. Treating it right, it's serving me into our 4th season together, with not one problem yet.
Perhaps it's also not a fair comparison with regular metal pots. Yes, this is a high priced pot and yes, it has limitations on how it can be used. Even with proper use, it's possible that the silicone may degrade over time. The individual will have to make the call on whether its unique features outweigh these factors.
Conditions: I tested the pot and dish set on multiple day and overnight trips over the past four months. I used the products in a variety of conditions ranging from sea level to 11,000 feet and 40-80 degrees F.
In summary, the X-Pot is a versatile product, most useful in situations where space is more critical than weight or for groups of 2 or larger.
Concerns/Dislikes: Longevity of silicone. Not dishwater safe, food safety, does silicone absorb odors or affect flavors over time?
Suggestions for improvement/clarification: Offer an ultra-light, minimalist version at around 1 liter. Clarify if these products can be used with alcohol stoves and you may win over a lot of ultra-light, minimalist backpackers.
Thank you to Sea to Summit and Trailspace for allowing me to test these products.
Source: received for testing via the Trailspace Review Corps (Samples provided by Sea to Summit for testing and review)

This pot is great for our canoe camping expedition. It collapses down flat, packs easily, and works well with our small canister stove. This review is for the 2.8 liter size, which we initially thought would be too big, but it works great with our stove, and we are very pleased with it.
Pros
Collapsible
Heats evenly
Has lid with strainer
Cons
Have to monitor it carefully, to prevent flame contact with sides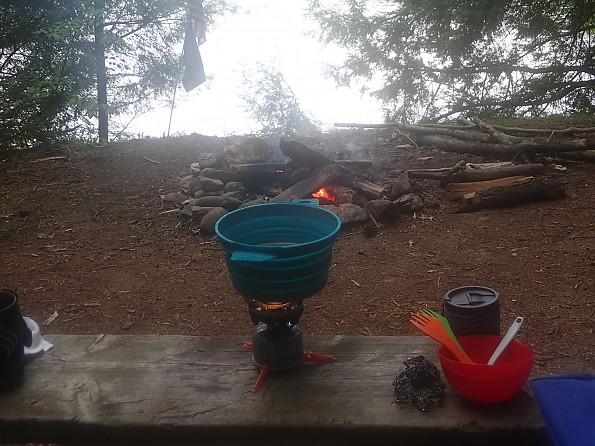 This pot is really nifty! We have been adjusting to use of silicone cookware in the home kitchen, but the idea of using it over a flaming stove seemed impossible. I had seen this pot advertised, and definitely thought it might be a logical addition to our canoe camping kitchen. It looked versatile, and the collapsibility factor seemed a definite plus.
Initially, we thought the 2.8 l. size would be too big for our small stove, and thought we should wait for the release of the 1.4 l. version in the summer of 2015. However, last spring, we saw the 2.8 pot at the Sea to Summit display at a PadddleSports show. Since the base is of similar size to the 1.4, and since we would not "overload" the pot, the 2.8 was suggested to us.
Great decision! This pot has an anodized aluminum base, and water boils very quickly in it. The pot has little handles as part of the silicone sides, and is stable enough, so that contents can be carefully stirred. The lid (clear) has a built strainer and the pot's ribbed handles lock onto the lid for transport.
We have found that the pot cleans up very easily. We have even grilled ciabatta bread in the pot, and we could see that the heat was pretty evenly distributed.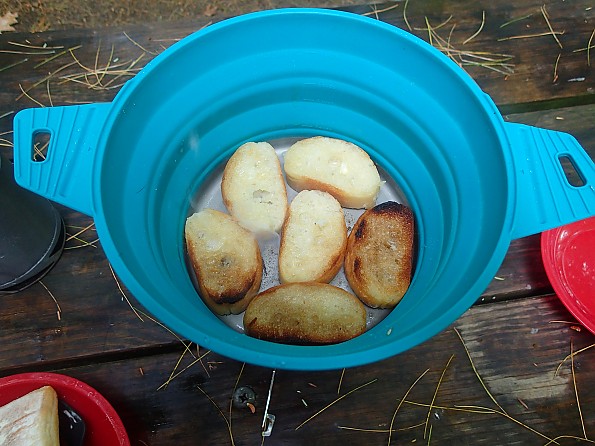 (only 3 pieces had been flipped!)
This pot appears to be very well made, and we are considering acquiring some of the other sizes of Xpot cooking gear. We highly recommend this item!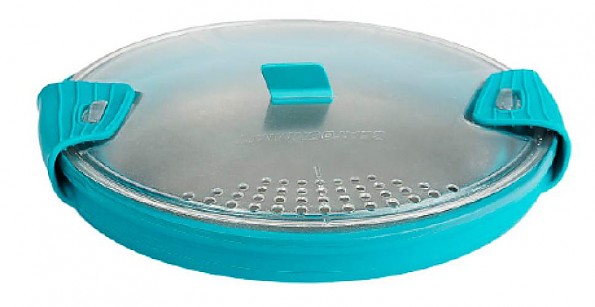 FOLLOW UP: ADDITIONAL INFORMATION: The customer service from Sea to Summit cannot be beat! Approx. 2.5 years after purchasing this pot, the lid got cracked...not from a  defect, but probably from my poor packing in a portage bag. I contacted their customer service to find out how to order and buy a replacement lid. They asked me to send them a photo of the cracked lid and they quickly, and for no charge, replaced the lid. This response is the type of action that makes a customer want to return again and purchase more products from this company.
Source: bought it new
Price Paid: $50

Great packable, collapsable pot for every adventure. Well worth the cost.
Pros
Very packable
Fun colour
Great customer service
I bought the very first generation of the Sea to Summit X-Pot not really understanding the technology and wonders of collapsable cookware. I was nervous about burning a hole in the pots, whether it would work or retain its shape.
Well, I have been blown away! Not only does it take little space in a backpack or canoe pack, but I can even fit a couple of bowls in the collapsed pot and secure the lid for travel. 
This pot has gone on canoe trips, backpacking trips, trips I have guided, you name it. With very heavy use, I have only managed to crack the pot lid after five (maybe six?) years of use, and the company was fantastic replacing the lid for free.
I am a huge fan, the steep price is worth it. 
Experience
25 years backcountry canoeing, kayaking, and backpacking experience everything from solo to leading guided trips. I have a major gear fetish and love this product.
Source: bought it new
Price Paid: 75?

Saves a lot of space, but you can't have it in your pack with any sand or the sides wear through. I really like the pot, but after three years it developed a hole in the side. I bought another so all in I am sold on the concept.
This pot saves a ton of space, but the seams are delicate. After three years of use mine got pinholes from abrasion in the pack. I like it enough I bought another one however.
Source: bought it new
Price Paid: $59

Your Review
Where to Buy
Help support this site by making your next gear purchase through one of the links above. Click a link, buy what you need, and the seller will contribute a portion of the purchase price to support Trailspace's independent gear reviews.
You May Like
Specs
Price
Current Retail: $33.99-$59.95
Historic Range: $29.88-$228.75
Reviewers Paid: $50.00-$59.00

Weight
10.3 oz / 285 g

Dimensions
8.4 x 4.7 in

Volume
2.8L

Recently on Trailspace