Sea to Summit X-Pot Kettle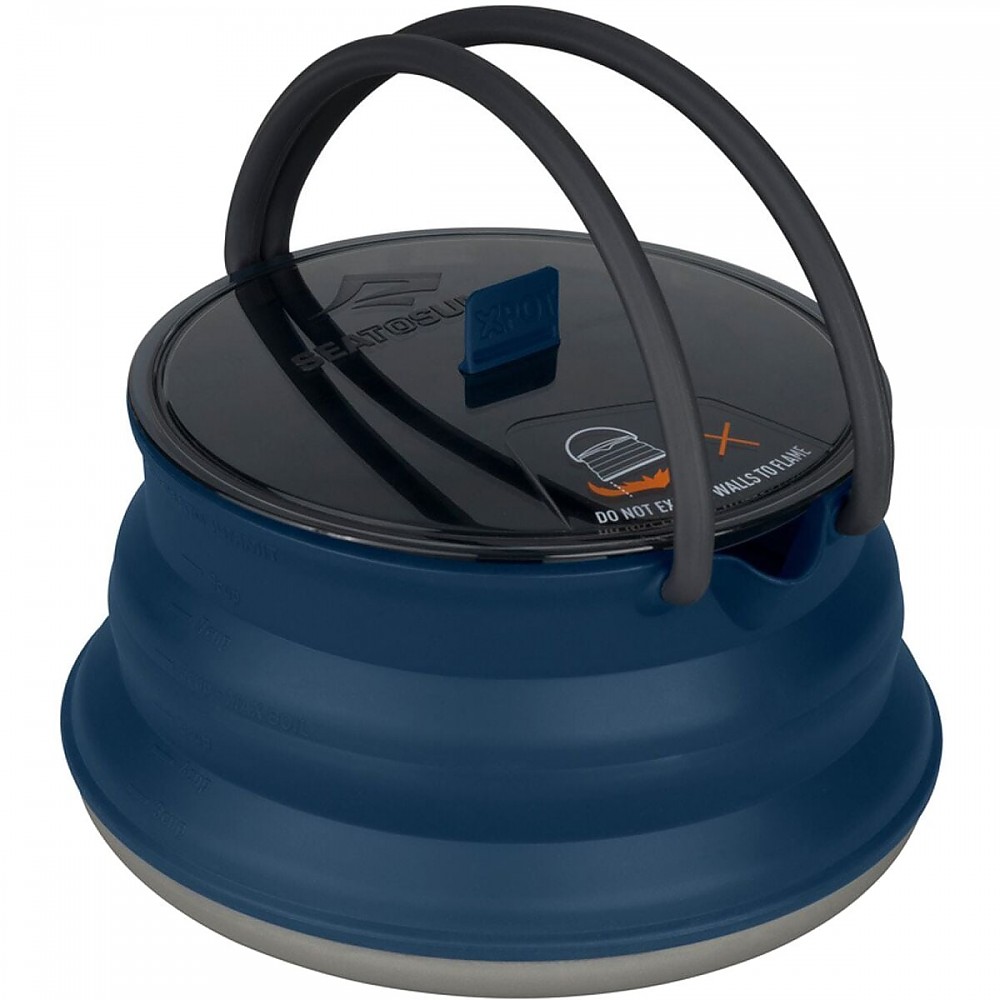 Works great as either a kettle or pot and cleans up easily as well.
Pros
Collapsible = very packable
See through lid
Handles double as lid holder
Can be easily cleaned up
X-Mugs/Cups will nest inside when collapsed
Comes with a custom rubber band to hold lid on when collapsed
Cons
Weight. Not as light as Ti pots/kettles
Can't fit a cozy around it for cooking
Can't be used with stoves where flame is not controllable
So, a first off disclaimer. I did not test this item in the field, but rather in the controlled environment of my travel trailer. However, I don't see this performing any less well outside.
I picked up the Sea to Summit X-Kettle/Pot from CampSaver where it was on sale. I was pretty excited as I'd wanted to get ahold of one of these, but thought the nearly $45 price tag to be a little too steep for yet another kettle/pot. To be fair to me, I currently own at least a dozen pots and six kettles of varying sizes. However, since the X-Pot Kettle is at 1.3L, I only own two pots of that size and two kettles of that size.
So, it was hard to justify spending that much just to try it out. However when I saw CampSaver had it on sale for around $36, I jumped on it. When I got it, I was initially surprised at just how small it is in comparison to other kettles of the same volume. (The venerable Ketalist from GSI.)
The Pros
I removed the packaging, and pulled the specialized rubber band from around the pot and expanded it. I liked it right away. It doesn't get too tall, and to aid in stability, the body slightly tapers inward as it goes upward.
I also liked how the handles when lifted up, act as a lid "holder" when you go to move it off the stove and pour water out. This is due to the way the handles are aligned with the pot. In the picture below, you can see how they straddle the pouring spout, while coming together on the other side of the pot.
I find this arrangement to be far superior to any other kettle handles. This setup provides a greater level of stability when moving or pouring the kettle. There's no noticeable swaying that can happen with most kettles that have a bail type of handle. There's also a little lid handle made of silicone or rubber on the top of the lid which allows you to either hold the lid down securely, or to lift it off to check on either the level of boil, or to stir whatever's cooking.

Another additional feature to this handle setup is that while the handles are up, you can't remove the lid. I like this because it means you have to put the handles down before removing the lid. This allows you to vent some steam off before lid removal to prevent burns. Others I'm sure will find this to be a non-issue, or a potential disadvantage.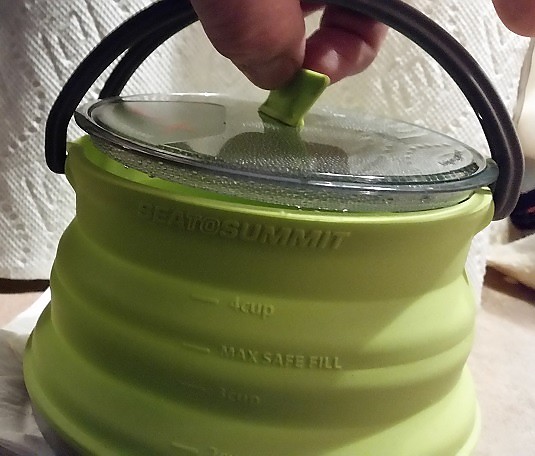 (Lid doesn't come off when handles are up)
S2S recommends using no more than a medium high flame setting to avoid flame/heat licking up the side of the pot and damaging the silicone sides. This is why I gave it a con for not being able to use it with a stove you can't control the flame on, such as a Trangia with the simmer ring. (see the next part of my review, below.)
In the pic below I was trying to illustrate the amount of flame that seemed safe to me. I was using a gas burner that was remote from the canister, and had it set fairly open.
In use, the kettle is quite rigid when expanded, and I had no feeling that it would collapse on me without warning, despite having boiling water in it. I have used it to boil water for instant coffee, hot cocoa, and tea. It has done this well, and the boil times have all been around 5 minutes with the water starting out around 50 degrees. I have also cooked oatmeal in it just to test out the "Pot" moniker. It performed flawlessly.
Its greatest strength though is in its size when collapsed. In the picture I compared the height to a Smartwater bottle cap and a AA battery. For the diameter, a simple table spoon. This compacts so well, and is small enough that you can put it anywhere in your pack. That includes in the side pockets if they're wide enough front to back.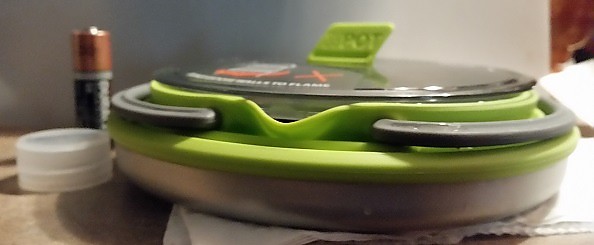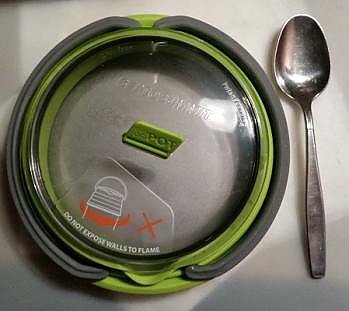 Another great feature is that both an X-Bowl and X-Mug will nest inside, along with some other small items like a lighter, scrubbie, and even a tiny Ti burner. And, as mentioned earlier, it comes with a rubber band to keep the lid on and the X Kettle collapsed in your pack.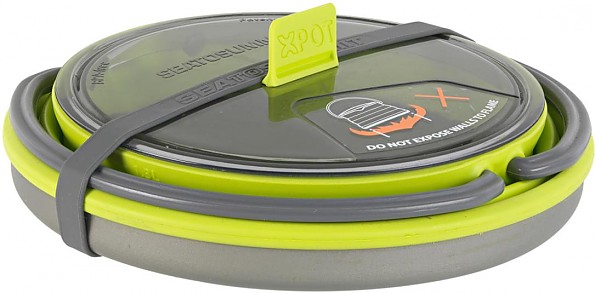 (rubber band to hold it together)
The Cons
The first down side, an interesting and confusing feature of this, is the graduation marks on the side and the fact that, although it's a 1.3L capacity, the "Max Safe Fill" line is well below that of the 4 cup mark. It actually looks to be at the 3.5 cup mark. (In the picture I tried to highlight the actual lines. On the kettle they are the same color as the sides. I intend to use a Sharpie to highlight the lines as they aren't that easy to see).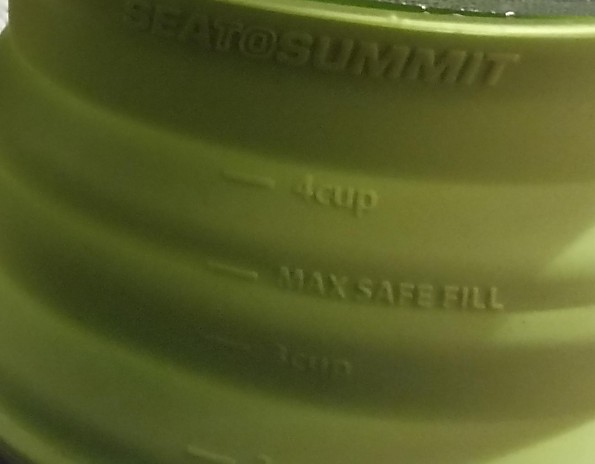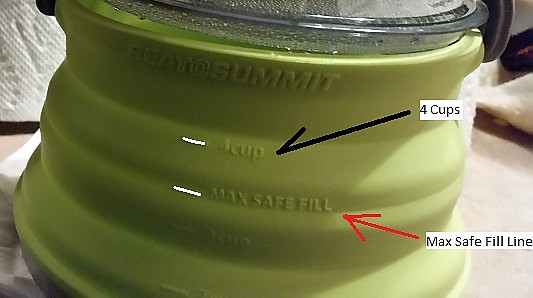 (the graduation marks and Max fill line)


Second, is the fact that you can't use this with alcohol stoves that don't have some way of controlling the flames. A Trangia with its simmer ring, or one of the "Ring of Fire" stoves formerly made by Smokeeater901 would work, but a Fancee Feast, Zelph, or other style of alcohol stove won't. And a wood stove is right out of the question.
Finally, its shape doesn't allow for the use of a cozy or other way to allow you to remove it from the heat and let it sit while the food cooks inside. For those who don't like to cook in the bag (I'm one of them), but do like to boil water, remove from heat, then add the food to the pot and set the pot in a cozy while the food "cooks" inside the pot. This is how I prefer to cook pasta or Ramen meals so I'm not using up fuel while cooking. You could probably make one out of Refletix, but it wouldn't fit tightly against the kettle, so may not work as well as it does on other straight sided pots.
Because of these downsides,  I wouldn't recommend it for a long trip, or a through hike. 
Finally
Although I listed it as a con, I'm leaning towards being more neutral in my thoughts about its weight. At 6.65 ounces (189 gms) this kettle/pot is comparable to most of the more popular aluminum or small stainless steel kettles and pots. So, If you're a gram weenie, this is definitely not for you, nor would I recommend it if you're a strictly cook-in-the-bag type.
The reason I'm on the fence about its weight is, I've seen many a video of folks thru-hiking the PCT, AT or CDT using comparably weighted pots or kettles such as the GSI Ketalist, Minimalist, Pinnacle Soloist, MSR Windburner, Snow Peak Stainless Kettle, or a Jetboil system. All of these weigh in at the same or heavier than the X-Kettle. Weight alone would not cause me to not recommend this for a thru-hike, but rather the sole fact that you can't use it with stove/burner that has an uncontrollable flame.
That said, if you're looking for a packable kettle/pot combo for a short term (1–3 nights), or a car camping trip, I'd highly recommend the Sea to Summit X-Kettle.
Source: bought it new
Price Paid: $36

Collapsable silicone sides make for a fussy pot.
Pros
Very compact
Easy to clean
Cons
Slow to heat water
Silicone sides can melt
I bought this pot as a way to create more room in my bags for bikepacking, and to its credit the X-pot Kettle has done just that. Sea to Summit achieves this through a collapsable silicone sidewall attached to an anodized aluminum base.
Unfortunately, this is also where the pot has its greatest weakness. If your stove flame runs around the sides of the base, you will melt the silicone.
This means that you can never run your stove at full blast to heat the kettle quickly. I used mine with a Trangia alcohol stove, which comes with a simmer ring. I was so worried about melting the sides, that I ran the simmer ring quite low. This meant that as my companions were eating dinner or drinking their morning coffee, I was still waiting for my water to boil. That could be chalked up to user error, but fear of ruining a not-inexpensive pot is surely something to take into consideration when making this purchase. 
In all, it's a well made pot, but you have to be super careful with it. It does squish down quite small. 
Source: bought it new
Price Paid: $45

This kettle folds down to nothing and with the lid works great even in the cold. The integrated handles are great.
Pros
Small size
Light
Has integrated cups, both have measurement lines
Cons
This works great with a stove, but if you run out of fuel and need to heat water over a fire it could be a problem.
Great product to use with a stove.
Source: bought it new

Best backpacking kettle I've found.
Pros
Low weight
Takes up very little space in pack
Cons
Not campfire friendly (duh)
Works perfectly. Doesn't weigh much. Takes up very little space in a pack. What's not to love?
Just don't use it over a campfire.
Source: bought it new
Price Paid: $45

Your Review
Where to Buy
Help support this site by making your next gear purchase through one of the links above. Click a link, buy what you need, and the seller will contribute a portion of the purchase price to support Trailspace's independent gear reviews.
You May Like
Specs
Price
Current Retail: $49.95-$59.95
Historic Range: $29.96-$59.95
Reviewers Paid: $36.00-$45.00

Weight
6.5 oz / 186 g

Dimensions
6 x 3.5 in

Volume
1.3L

Recently on Trailspace