GSI Outdoors Halulite Minimalist Cookset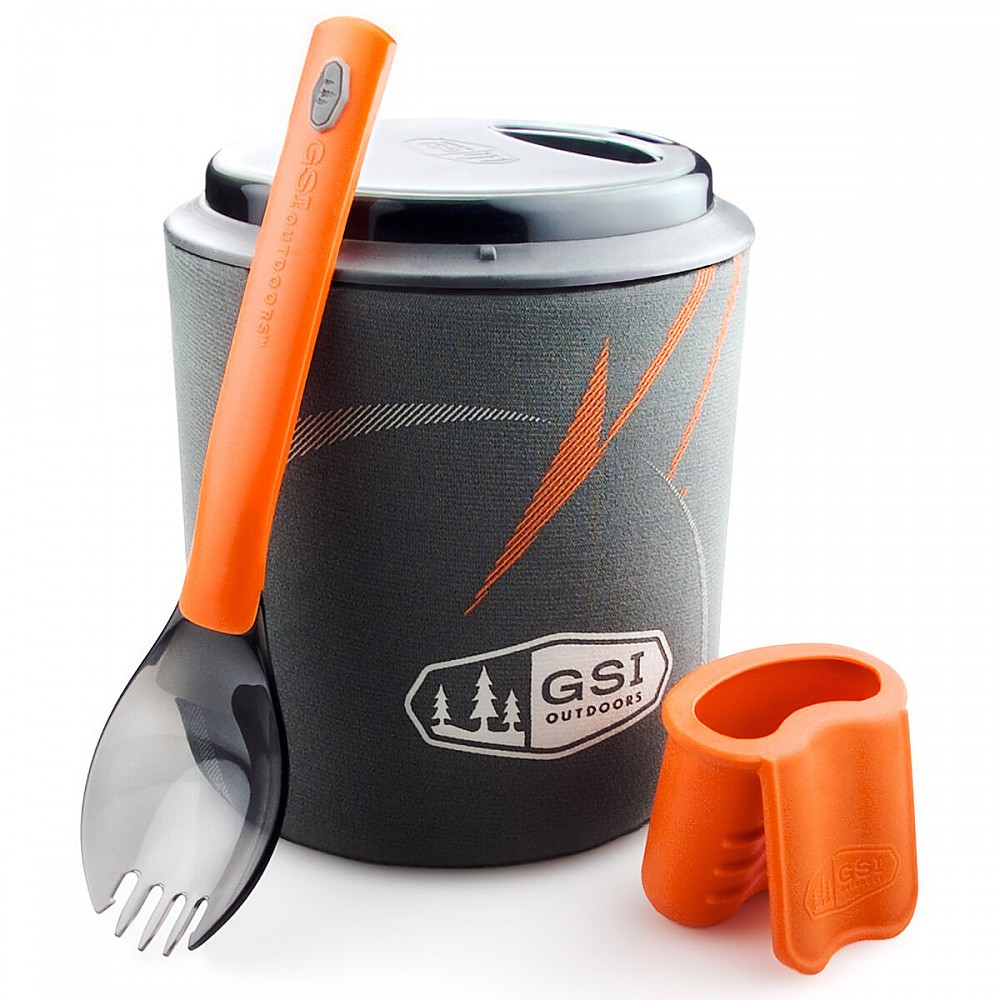 Weighing in at 6.3oz and costing under $30 caused me to rethink the value of titanium. This cookset may be the last I ever own!
Pros
6.3oz!
Pot lid doubles as travel mug lid--hike and drink coffee
Takes us minimal pack space
All-in-one cooking
Cons
The "foon" (fork/spoon) is flimsy and too short
Koozie is same color as pot (see review)
"Snugness" of Koozie (see review)
I was searching for Titanium, when I came upon the GSI Halulite Minimalist Cookset. The first thing that caught my eye was the price—$28. No, that wasn't a mistake or an advertised special. That was the regular price on Backcountry.com. Of course, being that cheap it couldn't POSSIBLY be a quality product...could it?
So I began researching reviews—here on Trailspace, on retail sites, and on a few...er...other review sites. I read reviews ranging from car campers to AT thru-hikers to folks who spend more time backpacking than living in their homes. I haven't read a single negative review—other than a universal hatred of the foon (Come on, GSI, when are you going to admit that's the flaw in the system?)
The POT:
The pot is .6L and measures 4.2 inches across and 4.6 inches high. It's made of hard anodized aluminum. It is a perfect size to hold MOST of my mess kit, which includes my Trangia alcohol stove, homemade windscreen & pot stand, and matches. The Trangia holds up to 10oz of fuel; so an additional fuel bottle is not necessary. It does not hold my Snow Peak Titanium Spork, but GSI was counting on their foon to be a success. Other reviews note the pot will hold a small fuel canister, but not the PocketRocket, unless the ends are ground down a bit. Some canister stoves appear to fit.
After cooking on this pot several times (with my Trangia), I've noticed no scorching or signs of wear. One review I read was from a guy who used this cookset 50 straight days. His picture showed the pot looking nearly new. GSI gives this pot a lifetime manufacturer's warranty.
The LID:
I love this feature. Turned upside down, it serves as a pot lid to aid in boiling water faster. Flipped back upright, and you have a sippy lid that 1) keeps you from spilling your meal/coffee all over camp, and 2) allows you to start your morning hike with a Cup of Joe in hand. It also helps to keep your food or beverage hot for a long time, and you don't burn your lips on a scalding piece of titanium.
One word of warning: when the lid is snapped on, it tends to swell a bit. So it's important to make sure the lid is upside down as you use it for a pot lid.
The Koozie / Coozie:
Here is a serious advantage over a titanium pot. The koozie keeps the food / water hot for an exceptionally long time, without the need to burn your fingers to a crisp when you handle it.
One NEGATIVE to the koozie: It is grey, like the pot (with a few decorative orange stripes). One thru-hiker posted that after a long, tiring day, she abscent-mindedly put her pot on the stove with the koozie still on it. Of course, she then had a ruined koozie and a rubbery mess on her stove. I know what it's like to roll into a camp site so tired that I could barely think straight to pitch my tarp. So I empathize with her accident. I could see an advantage in making the koozie orange (with a few decorative grey stripes) to avoid this problem.
A second NEGATIVE is the koozie is very snug. So much so that sometimes I have to really work the pot down into it. Of course, a koozie is suppose to be snug to do its job, BUT when I'm holding a cup of boiling hot water, I don't want to fight the koozie it is meant to fit in. This is the reason I marked the cookset down half a star.
The Pot Gripper:
This lightweight and rubbery "gripper" eliminates the need for a handle (in conjunction with the koozie). There is a magnet to attach it to your fuel canister while you cook to avoid misplacing it, a worthless feature when using an alcohol stove, but still a nice touch.
I do have concerns that the gripper might melt in the open flame of a alcohol stove, where you can't shut it off (like a canister stove). No problems yet, but I am mindful of this risk.
The Foon (Fork/Spoon):
Ha! Ha! Ha! Ha! Ha! Someone at GSI actually thought backpackers would appreciate this thing!
In theory, this is a cool idea, and it looks very nice in the picture. But it's flimsy, and it's too short! I wouldn't trust this in the backcountry.
Here is a video using my GSI Halulite Minimalist Cookset with a homemade foil packet dinner (similar to something from Mountain House Foods). I have a few more comments below:
As you can see, you really need both hands free to make it work smoothly, but I was able to do it with one hand. It was difficult to pull back out of the koozie with just one hand, and that goes back to my snugness comments.

SUMMARY:
I'm sure there are some who would say the GSI Halulite Minimalist Cookset is still too heavy and complicated. They'd prefer to spend $75 on a Titanium cup in order to shave 2oz; and they probably don't have any feeling left in their lips after burning them off.
For $28, I don't see the need to look elsewhere for a "better" system. I don't think you'll find one for that price.
Source: bought it new
Price Paid: $28

Very light and compact.
Pros
Light
Versatile
Good size
This is probably my most frequently used bit of camping gear. I have made up a 'kit' using this, inside it I fit a 100g gas canister, a Soto Amicus stove, the pot gripper supplied, and a windproof lighter. An Optimus clip-on windshield fits snugly on the outside held on with an elastic band and then clips on to the gas canister when in use.
What I end up with is a very light and compact setup that comes with me on most day trips and is compact enough to fit in a small daypack without taking up much room. I boil water for teas and coffees, also for instant noodles. On longer camping trips I still use it as a second stove to boil water for tea etc while the bigger Coleman 442 takes care of proper meals.
The telescopic spork is next to useless and mine quickly broke. It was no great loss. The well designed lid is a good fit and can be used facing up or down, though I have never used it while boiling/cooking.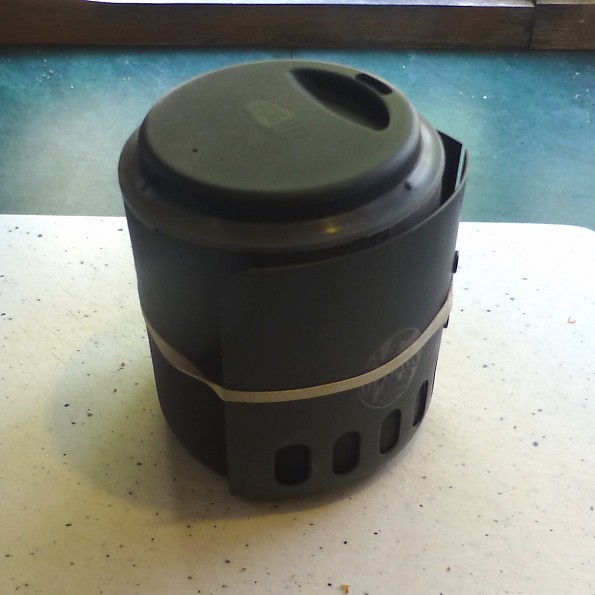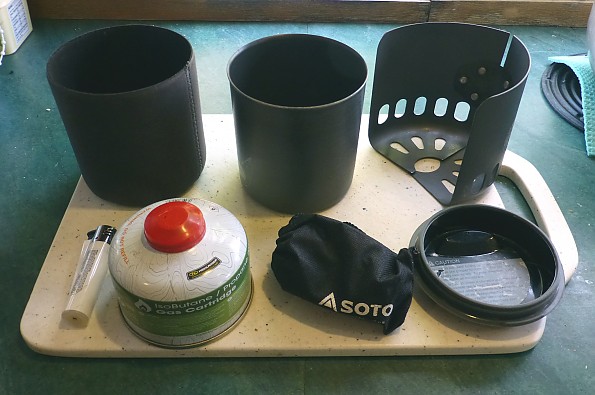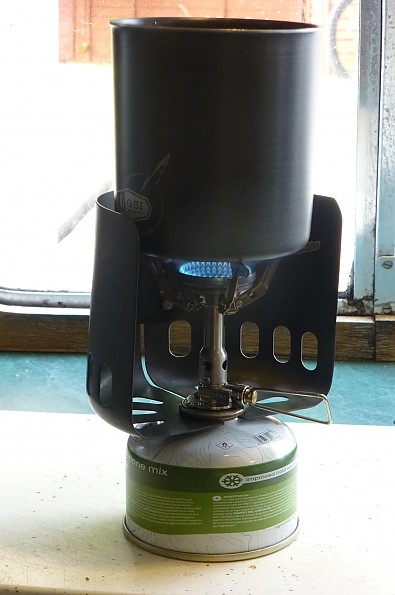 Source: bought it new
Price Paid: £22

Excellent quality pot and lid. Super lightweight with room to store gas and stove.
Pros
Super small/lightweight
Stores entire cooking system
Doubles as coffee mug
Cons
Spoon is flimsy
Falsely depicts spoon as storable within cooking system.
This set is really great if you are looking to pack small and light but still have what you need. The pot doubles as a coffee cup as it comes with a cozi and a drink lid that you can also cook with if you flip it upside down.
It comes with a spoon that kind of sucks because it is flimsy and doesn't fit in the lid as depicted on the box. It also comes with a rubber thermal gripper to grab the pot after heating food/water. The gripper has a small magnet in it, though I'm not sure what function it serves (maybe to stick to the can while you are cooking so you don't lose it).
The box shows a picture of the the pot holding a can of gas, a stove, the thermal gripper, and the spoon folded up in the lid. The spoon simply does not fit in the lid however or in any position at all if you plan to store those other things. It isn't a huge deal given the quality of the rest of the kit, but is pretty aggravating because it is marketed as a self containing kit and you can't freakin' use part of it.  
Personally, I pack a small can of MSR gas, an MSR stove, a fire steel, and the gripper, the cozi stays on the outside and the lid holds everything in place in my pack.  Other than the spoon issue this kit is awesome. Just leave the spoon at home. 
It's only been on a few overnights in the SoCal mountains with me and shows no signs of wear yet. The pot transfers heat well and the lid fits tight. 
***UPDATE***
Here is a video of me using the cooking set while car camping on the beach. I just made some tea, but you get to see some of the features like the gripper and the cozi, as well as the lid.  
Source: bought it new
Price Paid: $27.95

Compact convenient cookware.
Pros
Rugged, durable build quality
Lightweight
Great accessories
Perfect size
Packability
Innovative features
Cons
Coating melted when used over fire, making it sticky
Foon is foolish, upgrade it.

I think a lot of thought went into this product from people who really use it and love the functions. It is downright perfect for a soloist or couple to get their water boiled, food made, and drink on.
I really like the materials it is made out of. I sat there at the sporting goods store and it compares nicely to considerably more expensive Ti equipment.
The durability has been great. I will note though that it has some sort of coating on the outside, that when exposed to direct fire it melted weird and caused it to now have a stick to it. I have had to kind of scrap this off to get the coozie back on.
The 6-10 times I have used it have all been favorable for the product. From situations where the ground did not cooperate with a stove setup, the minimalist handled it well with solid balance sitting on a jet stove.
It is just the right size to sit on that stove without causing stress or concern about tipping.
Best of all, it boils water quickly and evenly.
I find the way the lid integrates for fast boiling and then flips to drink from fantastic.
I took a Tyvek mailing envelop from work and constructed a nice little carry sack for it and it fits perfectly. I keep my fuel, stove, gripper, coozie, and cookware all nicely nestled in the sack, with enough room for my Ti spoon.
I rarely use it for anything other than boiling water and drinking from it, so I can't rate how easy it is to clean other than the drink residue, which rinses nicely.
Overall, I have been highly satisfied with the product and I am personally big on value and this one definitely fits the bill for me.
Source: bought it new
Price Paid: $28

Great for 1 person, good for 2 people, this pot handles both your dinner and your morning coffee while being extremely light and durable. Fits around 24 oz water, 18 safely for boiling.

Lightweight cozy and the silicone grips complete this set for any backcountry person looking for a light cooking solution.
Pros
Lightweight
Durable
Silicone grips are really useful
Pod lit doubles as sippy cup lid
Keeps food warm for a long time
Cons
Spork is useless, breaks after one use
After three years, I still use my pot on every backcountry outing. I've made oatmeal, couscous, quinoa, tea, coffee and even have eaten backcountry lasagna in it, and it's always been pleasurable to use and clean.
The silicone grips are extremely light, but fit my lighter and a dried/compressed sponge for cleaning inside while stored. The lid still holds after years of use, and it makes boiling water a breeze by covering the pot (put the lid sippy part down so you can remove it easily!)
My one complaint would be that the cup is extremely well insulated with the cozy and the lid, so I have to wait extra time for my coffee/tea to cool down... Oh wait, that's not a bad thing :)
Boiling 12 oz of water with MSR PocketRocket in this thing takes around 5-6 minutes. Silicone grips make it very easy to transfer it into the cozy, from which I can pour it anywhere. 
I've tried using the spork once, and it's supposed to be a slide/collapsible spork, which breaks immediately.
Source: bought it new
Price Paid: $20

This is a great lightweight cook set, if you have the right type of stove to accommodate the small 4.2 inch diameter.
Pros
Lightweight
Abrasion resistance
Lid for sipping
Insulating sleeve
Cons
Does not fit all stoves
Telescoping foon/spork is fragile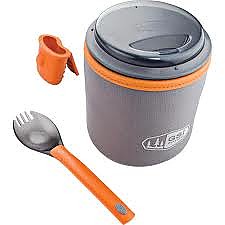 I have recently discovered that I am no longer the young guy who can haul 80 lbs in his pack for a week long adventure. Therefore I have started downsizing on gear trying to find a way to make my adventures a little more pleasant. My first ultra-lite purchase was the Haulite Minimalist cook set. This cook set was a good idea, but I think I have the wrong stove to compliment this cook set.
Specs.
This set weighs only 6.3 oz. it stands 4.6 inches tall and is 4.2 wide. It comes with a telescoping foon/spork, a silicone magnetic gripper that only takes two fingers to use, a lightweight insulating sleeve, and a sipper lid. The lid can be flipped upside down to assist with faster boiling times or you can use it up right to sip you coffee or tea.
The Goods
Haulite is super lightweight and distributes the heat evenly. The size is perfect for cooking Rice-a-Roni or similar type meals. This makes it the perfect cook set for 1 man cooking. The material used is abrasion resistant and is easily cleaned with sand or snow. With this system you have a bowl, cup and pot all in one.
The Bad
While the telescoping fork was a great idea you have to be very gentle with them or the foon will slide right of the track. The track itself breaks pretty easily. If you're rough on gear like I am I suggest leaving the foon at home.
The diameter is barely too small to accommodate my MSR Whisperlite. It will work if you are super careful but the slightest bump can leave you food all over the ground.
Conclusion
I would highly recommend this set if you have the right stove. I would imagine it would work great with most canister type, or alcohol stoves. It cooks fast and evenly. The insulating is a great bonus feature for sipping on cocoa in the middle of winter.
My only real complaint would be the foon. I actually liked the idea of the telescoping foon so much that after I broke the first one I ordered another and tried too be really careful, but I have come to the conclusion I am hard on gear and that is to fragile of a system to be in my hands.
Source: bought it new
Price Paid: $22

This is about the perfect solo trail kitchen out there for those looking for an all-in-one solution. I only took off a half star because the included spoon is very cheap and now sits in the bottom of a gear tub in my garage. Rather, I use the Vargo folding Ti spork.
Pros
Compact
Lightweight
Good heat transfer
Can fit entire kitchen in the cup
The kit is designed to be used with a compact canister stove like a WhisperLite, but I use it with my homemade cat food can alcohol stove. With this configuration, I can fit my entire kitchen in the pot: titanium foil windscreen (Suluk46, cut down to fit), stove, pot grabber, lighter (mini-Bic), spork (Vargo Ti folding spork) and collapsible mug (Sea to Summit X-mug).
I find the pot conducts heat better than the titanium cookware out there and weighs about the same. It's the perfect size to cook a box of mac and cheese — it really is meant for one. If cooking for a group you'll want something else. In the mornings, it's perfect for a cup of coffee and some oatmeal.
The pot is well constructed. The lid is quite well thought out and even includes the helpful tip to flip it over when cooking so it doesn't get stuck on my a vacuum as the pot contents cool. The pot grabber has an embedded magnet which is designed to stick to the side of a fuel canister. Not applicable to my setup but thoughtful design nonetheless. Since I bought mine I think they redesigned the cozy a little bit, adding reinforcement to the top to increase durability, but I've not had an issue with mine.
I've used this kit on several hikes in Colorado and not been disappointed.
Source: bought it new
Price Paid: $28

One of my favorite pieces of gear. Very well designed.
Pros
Low cost
The cozy fits and works great
The lid is amazing for hiking while drinking morning coffee, and it will not melt durring cooking
Small rubber pot gripper included
Also comes with a small plastic spork
Holds 2 cups of water, with about an inch to spare to the top
Cleans very easily
I love it
Cons
All the nice features add up in weight, but the lack of features in other cooksets make it a toss up
Made of aluminum
I like this pot. I use it with my denatured alcohol can stove, stand, and windscreen setup, and it works great. It can boil 2 cups of water in a few minutes, though I usually only need to boil 1. It comes with a cozy, a rubber pot holder, a telescoping plastic spork, and a double sided lid.
I like the cozy. At first it fits a little snug, but after some use it loosens up.
The rubber pot holder is made of melt resistant rubber, and has a magnet inside of it for quickly attaching/unattaching to things. It does the trick.
The telescoping plastic spork is a nice back-up option, but plastic breaks and this one seems cheap. I ditched it and carry a titanium "light my fire" spork.
The plastic lid has a rubber gasket around the outside for a nice tight fit for when you use the pot as a cup, and it holds the heat in great when combined with the cozy. When used for cooking, just turn the lid upside down so that it just sits on top (it fits loosely for easy removal) and it helps hold heat in, and will not burn/melt.
I store my stove, stand, lighter, pot holder and sponge inside the pot with the lid on, and the windscreen around the outside of the cozy.
UPDATE 11/3/2016:
I've been incredibly pleased with this purchase, and have been debating on if I should switch to my new lighter Snow Peak titanium solo cook set, or stick with the feature packed GSI minimalist cook set. 
The weight difference is very substantial, but so are useful features. I love hiking with my morning coffee, and the lid of the GSI does a great job of keeping my drink in the cup, no matter what the terrain is. The cozy keeps the beverage/food hotter longer on cool mornings. When I use my titanium Snow Peak set, I take the GSI's rubber pot gripper, to avoid burnt finger tips. It's a very comfort driven cook set that could only be improved if it was made of titanium.
In my opinion, this cook set is pretty amazing, and I'm having trouble trying to convince myself to "upgrade".  I would very much recommend this product to a friend.
Source: bought it new
Price Paid: $30?

Awesome set.
Pros
Lightweight
Compact
Sturdy
Perfect size for dehydrated meals
Mug lid and insulated slave are handy
Cons
"Telescoping foon" a little flimsy
I have used this on every backpacking trip I've gone on for the past year and a half and really like it. I had to modify my MSR PocketRocket with a grinder to get it to fit inside with a 3.5oz Jetboil canister, the foon, and potholder.  I often switch between the PocketRocket and a Vargo Triad.
With the Triad I can fit the stove, wind shield, pot holder, foon, priming cap, 3.2 oz bottle of fuel and lighter all inside.  It is very durable, heats quickly and cools quickly as well. The insulating sleeve will keep tea or coffee hot for a long time, and the lid works great both as a drinking lid for use as a mug, but a lid while boiling.
The pot holder works well and is light enough to be worth bringing even if you're counting ounces. 
Source: bought it new
Price Paid: $28

Great cookset for 1 or 2.
Versatile cookset looks built to last. Huge pot holds enough water for 3 dinners.
Source: bought it new
Price Paid: $50

Awesome little set. Super-lightweight and compact. Get the right stove and fuel canister, and it can all fit inside! The insulation sleeve protects your hands from the hot really well, and the little mitt works well when you figure out you're supposed to put two fingertips inside it.
Cons
Spork is a little awkward
This thing is super-sweet. I love that everything fits inside (if you get the right size fuel canister and stove). I use Snow Peak Giga Power 4oz fuel canister and a small, cheap stove I purchased on amazon.
The insulation sleeve protects your hands from the hot really well and keeps the contents warm, but just watch your finger on the bottom: there's a hole and the metal is hot (learned that one the hard way).
Seems to be made of quality materials and should last. Spoon is a little awkward in the way it goes together. Otherwise, it's a great product at a reasonable price.
Source: bought it new
Price Paid: $23 (on sale)

Love having purchased this. It's light, packs everything inside and I don't have to rely on anyone else for cooking. It's great as a backup and I never leave home without it even if I'm not providing meals for the group. Inside I pack a canister of fuel, my Brunton Raptor (tried the Pocketrocket, but like how the Brunton packs better in it), and all the accessories.
The silicone holder works great and the magnet sticks like glue so you don't lose the thing. The flipping lid is so novel a concept, I love it.
Only complaint with the lid is the silicone gasket which can be a wee-bit tricky to get the lid on there when storing everything because it can slip a bit if not on right. But by the 3rd use you'll have no problems getting used to this.
Keeps everything hot and the sleeve allows you to keep your hands warm but you can hold the mug with boiling water with no problems.
A little tip for the canister, I wrap the edge of the base with electric tape to prevent scratching the insides of the Minimalist.
For the money, the weight savings, the ultra-compact size, there's nothing been better for me.
Price Paid: $18

This mug/pot is perfect! It's small and light yet has a short wide shape so it will never tip and has plenty of room for storing a 110g fuel can, pot gripper, tele-foon and "rocket" style stove.
The pot gripper seemed a little sketchy to me, but upon actually using it it's a genius idea. You can use it for all your handle-less pots and pans. We have 2 that we bring and mainly use as our coffee mugs, but they work perfect for solo meals, fast heat up, fast cool down, lightning clean up. The insulated sleeve lets you hold the pot when its practically on fire.
We also use the GSI Dualist for larger meals, using the minamalist as the mugs and the dualist bowls as plates, a perfect combination. For what's out there (35$ titanium mugs and nothing included) these are worth their weight in gold.
Price Paid: $17.99

I've owned it for two years and use it a lot. It's a really a great form factor (kudos to the designer!) and keeps my full cooking setup all in one container. Perfect for boiling water for dehydrated meals or to heat up a cup of hot chocolate quickly on the trail.
Pros
Lightweight
Perfect size
Heats up and cools down fast
Transfers heat well and cools down very quickly, which is nice when you're on the go. It's easy to wash, but you do have to pull off the rubber ring around the edge of the pot lid to clean it completely if you spill a little drinking out of the spout. The insulated sleeve keeps drinks warm for a long time and can be wiped off easily.
The pot gripper works well; you just have to watch your positioning when pouring water to not hit your hand with steam. I store the gripper on the bottom of the fuel canister when it's in the pot.
I haven't had any problems with the foon and it's the only utensil I've found that will fit in the pot with the fuel canister inside.
I currently have all the kit pieces along with an MSR MicroRocket, 110g MSR fuel canister and SOL flint sparker in the Minimalist. Note: You can fit an MSR PocketRocket or a larger spork in the pot, but you have to take the fuel canister out.
The pot has a few small dings on it from being dropped, but it still works well. Great product and it will be in my backpack for years to come!
Source: bought it new
Price Paid: $32 Canadian

Your Review
Where to Buy
Help support this site by making your next gear purchase through one of the links above. Click a link, buy what you need, and the seller will contribute a portion of the purchase price to support Trailspace's independent gear reviews.
You May Like
Specs
Price
MSRP: $27.95
Historic Range: $19.93-$74.95
Reviewers Paid: $17.99-$50.00

Weight
6.3 oz

Dimensions
4.20 in x 4.20 in x 4.60 in

Materials
Proprietary, Hard Anodized Alloy

Includes
0.6 L Pot/Mug, Sip-It Lid, Insulated Sleeve, Silicone Gripper, Telescoping Foon