Vargo Titanium Folding Spork

Unbreakable construction, light weight, and ease of packing make this a reliable choice for any back country adventure. A little care is needed with securing the lock mechanism, and the depth of the spoon and length of fork tines are the only minor complaints.
Pros
Lightweight
Quality construction
Packability
Unbreakable
Easy to use
Cons
Locking mechanims needs firm push
Volume of spoon bowl
Length of tines
Length for boil in bag meals
I or my wife have used the Vargo Titanium Folding Spork (VTFS) on every trip since March 2017. I have eaten more than 30 meals with the spork and my wife has used it on three trips totaling six nights. Most meals were typical backpacking food: breakfast included granola with fruit, grits, or oatmeal while most dinners were pasta and barley based soups and stews or pre-packaged meals like chili or chicken and dumplings. Several of the dinners had medium sized pieces of pasta or meat to test out the ability to hold food in the spoon, and some needed some "stabbing" with a fork.  
No cutting was attempted with the spork beyond typical breaking of pieces as you would with any spoon or fork. We mostly eat from bowls when hiking together, and I eat directly from a 1.3 liter pot when solo hiking. A couple of meals were eaten directly from a boil in the bag type Ziploc.   
I generally carry only a spoon and a folding pocket knife for eating and camp chores. I have been using the same Lexan spoon since the early '90s and therefore was reluctant to switch, but felt like I should give a new utensil a try and possibly carry two for longer trip backup…just because I haven't lost one in a quarter century doesn't mean I won't!  Therefore I have been carrying several different utensils for the last year to try out (Light My Fire plastic sporks and Human Gear spoon-forks).
The VTFS was used from March through July 2017 and will continue to be tested throughout the year. It is so light I will carry it as a primary utensil or backup to my old faithful spoon when it's not in use by my better half.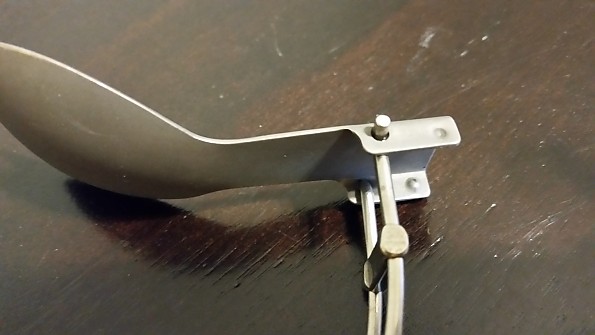 Initial Impression, Packaging, & Specs
The VTFS is a simple folding spork made completely of titanium (the Vargo specialty). It folds in half and can be locked in place (either folded or extended) by a simple slide bar on the looped metal handle. The slide bar widens the handle loop ends and secures them behind two indents on the main shaft of the spork. I chose the natural titanium spork, but it comes in several colors (blue, lavender, and yellow) so that you can tell yours apart from others and also find it easier.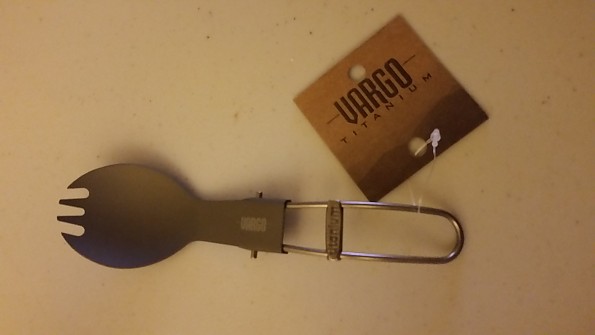 The VTFS comes in a simple package which I really appreciate…no muss or fuss but rather a small recyclable tag that tells you what it is. The manufacturer specs state the VTFS weighs 0.6 ounces (17 grams), and my scale read almost exactly the same: 0.625 ounces (18 grams). While this is twice the weight of my old faithful Lexan spoon, I still consider it light. Size measurements by Vargo are accurate: 3.7 inches folded and 6.3 inches extended.
Basically all the Vargo measurements and claims seem accurate although the website states it is "biocompatible" which I had to think about for a minute. I assume this refers to its lack of toxic materials or being harmful to life…possibly suggesting that plastic utensils are not.
Ease of Use
The Vargo Titanium Spork is extremely easy to use and has no instructions…let's face it, most of us have used utensils from childhood so the operation shouldn't need to be explained.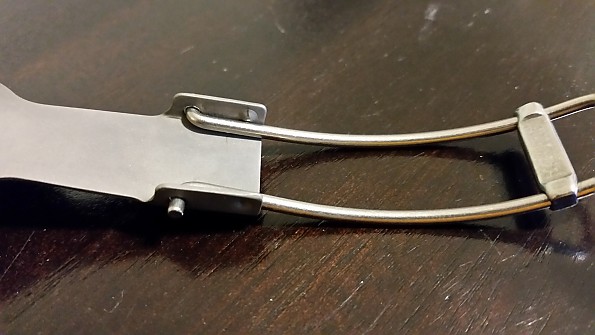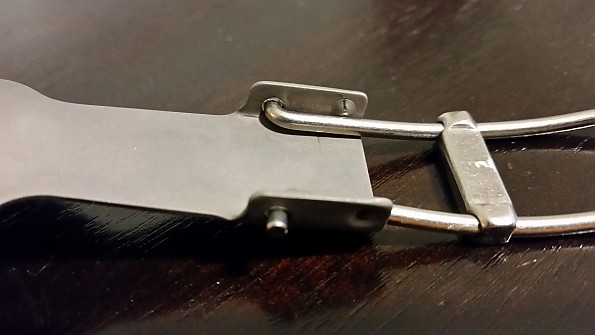 The locking mechanism is very easy to understand and use—just unfold the spork and slide the "lock" bar toward the spoon end. If it doesn't lock, you haven't slid it far enough. Once you get used to how firm you have to slide the lock, I have had no issue with it folding during use. It does take a firm push on the lock, but that only builds confidence in the construction and durability of this handy little utensil.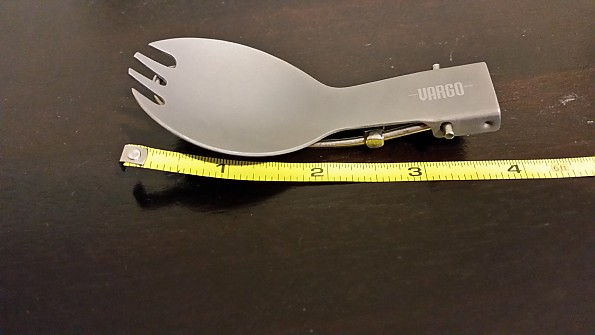 It folds up small enough to fit into any of my coffee mugs, and easily fits into my cooking pot with the stove and a few kitchen odds and ends. At under 4 inches, it can conveniently be packed pretty much anywhere, in fact the biggest concern to me would be misplacing it if you are not an organized backpacker!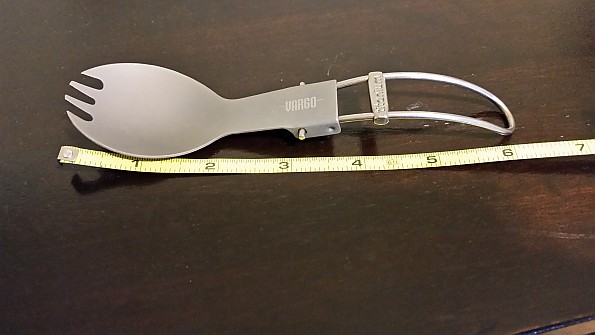 The 6 inch extended length was just about right for me (see boil in the bag comments below) and similar to what I usually use. The balance of the spork was just right and the handle was comfortable to hold despite being metal.
As a spoon, the VTFS functions adequately. The depth is enough to eat most meals, although it has slightly less volume than my go-to spoon as shown in the photos below (excuse my "scientific" approach of filling a Glacier National Park shot glass with water from each spoon—it's all I could come up with). 
The first photo is my old Lexan spoon, and the second is the VTFS. 
I had no problem eating soup with the spork, but did sometimes wish it was a bit bigger due to my long use of the older spoon with more volume.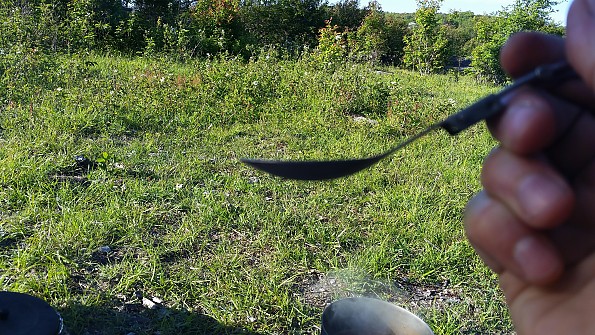 The reduced volume is a function of the tines of the spork limiting how much liquid can be held in the bowl—a similar issue for all sporks if that is important to you. Personally, I need to slow down my wolfing of food so it didn't bother me too much, plus you can still pile it up with food as most meals are not pure liquid like water.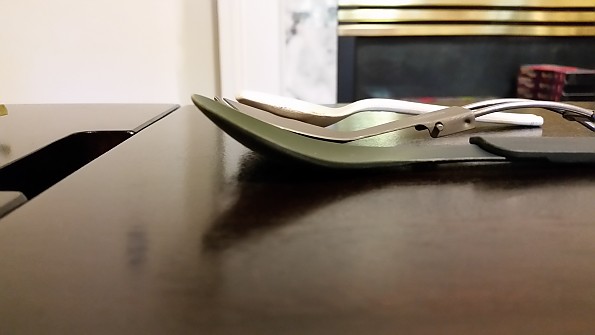 Here is a side view of the VFS alongside my old reliable Lexan spoon and a HumanGear spoon-fork that is in review right now. You can see the best depth is in the old spoon and the other two are close to equal.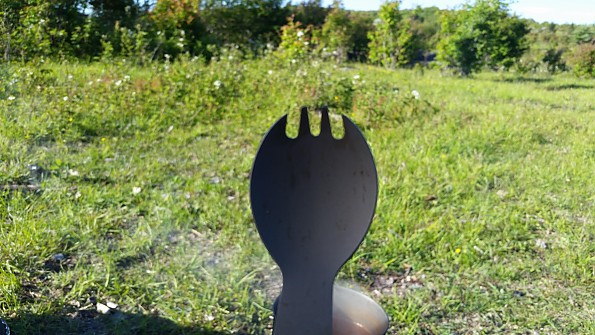 As a fork, it functions as well as any "spork" I have tried out over the last year. This comes from someone who has used only a spoon for almost 30 years, so if you are picky about your fork function you may want to evaluate longer tined options. However, that would inherently reduce the spoon volume more. Note that I use "spork" as meaning only those utensils where the tines are part of the spoon—not the spoon-fork combos that are on either end.
The tines were able to stab larger pieces of pasta and chicken in meals without too much trouble. However, if you want a full fork, don't use any spork as they don't adequately replace either spoon or fork functions. In other words, don't rely on a spork of any brand to hold your steak over the campfire!
For those who like to eat their meals out of a bag, I would suggest a longer utensil. Although I generally don't eat out of the bag, I did try this for testing purposes a couple of times, and had to tear or cut the bag down the side to fold back and allow access to the very bottom without getting my hands messy. Since the length of the VTFS is clearly not intended for this type of cooking, I didn't detract from its rating for this. There are longer utensil options offered by Vargo and others to fill this niche.
The simple design also means it is easy to clean and I have not found an issue with getting food out from the shaft or lock mechanism. I can see that there would be times where a small amount of food might get stuck in the lock, but it has not occurred to date for me.
Construction & Durability
As with all Vargo products, the construction is where they really excel—I tend to hang onto equipment for a long time if it works and the reason I have several Vargo products is the combination of light weight and durability. The spork is well made out of titanium and very sturdy, and the construction is simple and effective. I examined it for flaws and found none, and the spork has not suffered any wear and tear since then. I have no fear of it breaking (unlike the three Light My Fire plastic sporks I went through last year) and expect to use this spork for years to come.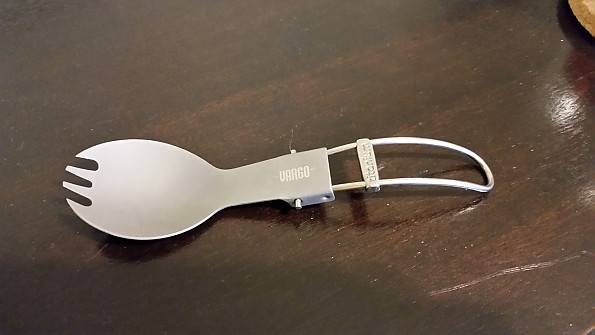 As mentioned above, the sliding lock needs to be pushed firmly into place to prevent the spork from folding back, but I don't see this as a flaw as once you know to push firmly it is not a problem. The lock portion is basically indents on either side of the shaft of the spoon. 
While this seems like a weak point, in my testing when the lock was in place it took a serious amount of pressure to unsnap the lock. For all practical uses, I don't see that much pressure being applied to the spoon while eating. I have used it repeatedly for months and have noticed no wearing of the "nubs" of the lock mechanism.
Recommendations
I highly recommend the Vargo Titanium Folding Spork for those wanting an almost indestructible lightweight spork that packs away nicely. As with any spork, it will not fully replace both functions of a spoon or fork. I will be carrying this on most trips as my primary utensil or a backup of my old Lexan spoon if I am just eating soup...and I think a lavender one may be in my wife's future so we don't have to share!
Source: bought it new
Price Paid: $14.95

Your Review
Where to Buy
Help support this site by making your next gear purchase through one of the links above. Click a link, buy what you need, and the seller will contribute a portion of the purchase price to support Trailspace's independent gear reviews.
You May Like
Specs
Price
MSRP: $14.95
Current Retail: $14.95
Historic Range: $13.53-$15.95
Reviewers Paid: $14.95

Weight
.6 oz / 17 g

Folded length
3.7 in

Extended length
6.3 in