Light My Fire Spork Titanium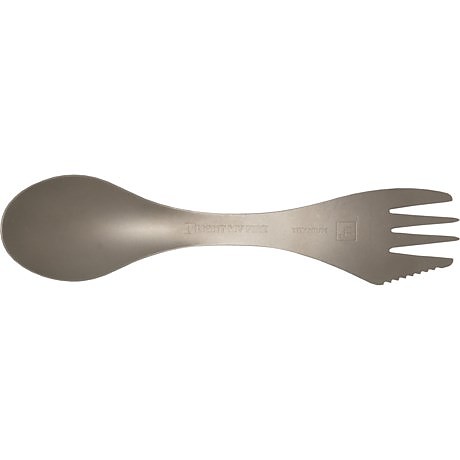 A highly durable and highly practical eating utensil. It's as simple as that.
Pros
Durability, particularly compared to the plastic version
Practical for many uses
Feel of the finish in both the mouth and hand
Cons
A little bit longer would be ideal
Reviewer's Note:
In July 2015, I reviewed the plastic version of this spork, which I was generally pleased with at the time. In March 2017, I updated that review to reflect some of the breaking issues that had occurred with the plastic. I purchased a titanium version of the spork in April 2017 and have used it extensively since, while three of the four plastic sporks have now broke. Recently, I purchased a second titanium spork because my wife and I were tired of fighting over who got the titanium one and who was stuck with the plastic one.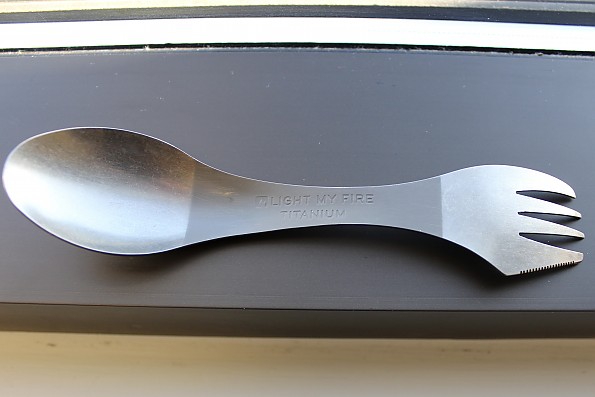 Conditions:
Most of my use with this spork is actually away from the trail, as I take it to the office nearly every day, no matter what I take for lunch. It's also a great conversation starter, as a lot of people have asked about it. I've also used it plenty of times on the trail, at tailgating events, and around the campsite as well. 
Usage:
Similar to how I used the plastic ones before they broke, I use the fork end the most (pastas, salads, etc.), but also use the spoon end regularly (soups, breakfast cereals, stirring hot drinks, etc.). I find I don't use the knife edge all too often, especially when out on the trail, as I typically have a sharper knife with me, but it is certainly serviceable for easier cutting and despite initial uncertainty, it does not cut your lip.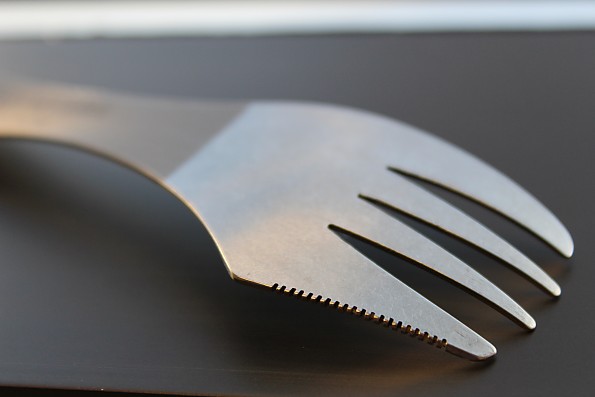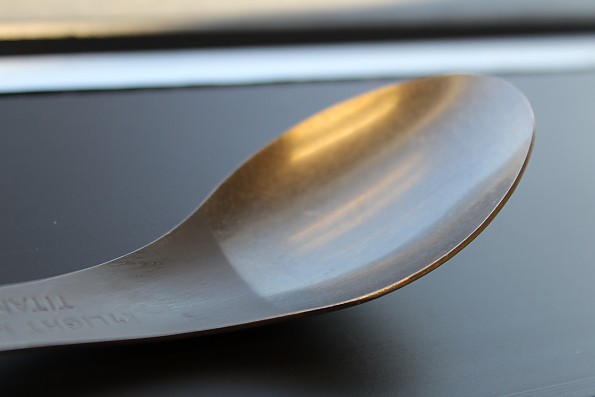 Construction & Durability: 
Here's where the titanium spork truly outshines its plastic relatives and is on par with other titanium utensils on the market. There are zero signs of wear, weakness, or over-usage on the one I've used well over one hundred times in the last nine months.
Similar to the plastic ones I previously used, I think the length could be a little bit longer. Part of that reason is because the longer it is, the easier it reaches the bottom of a cooking pot, mug, food pouch, etc. Also, my hands are fairly large, so small utensils feel especially small in my hand.
Recommendation: 
As long as you can get over the initial shock of spending more than $10 for an eating utensil, this is well worth the cost over its plastic counterpart (yes, the plastic four-pack is typically less expensive than one titanium spork). Whether you're on the trail or not, it's a one-time purchase for a highly practical and very durable tool that you could use every day (that is, unless you use your hands to eat food).
Source: bought it new
Price Paid: $13 USD

A great example of "Penny wise, pound foolish."
Pros
A perfect backcountry tool
I think when a lot of people get in to camping and backpacking the prices make them blink. "14 bucks for a freaking spoon? I'll grab a couple of these plastics ones for 5 bucks." And then the spoons break so they buy more. If they get in to it, eventually they start seeing the wisdom in spending the money to "buy it once."
If you're researching sporks this is the one to buy. Once.
Less than an ounce, rock solid, perfect form, cleans easily, and unless you lose it, could be the last spork you buy.
It also has a way better "feel" than plastic and, while I don't have any scientific data to confirm this, I'm pretty sure it makes food taste better.
Source: bought it new
Price Paid: $15

The Light My Fire titanium spork is a handsome blend of form and function, light weight and strength. If you are counting ounces for the trail, and need a spork that will not melt or break, "fork" over for this one.
Pros
Strong
Lightweight
High bling factor
Cons
Not cheap- $13
Scratches non-stick surfaces
Does not float
Small
17 grams, 7 inches, titanium. This Spork is not a one-ended spoon with little nubs in it. It is a gracefully arched handle with a spoon on one end and a fork on the other.
The fork end is modified a bit with a serrated flat on the last tine for a makeshift knife edge. All edges are just dull enough to not poke a hole in your dry-bag. The knife function is kind of a bonus but bring a steakknife if you like your fillet well done.
I have broken several plastic versions of this design but have been using this Ti version for 7 years and just bought another to have a pair. Probably it will scratch non-stick coated cookware. Being made of Ti, you can heat it in a fire to sterilize or clean it. I heated mine red hot to get a cool blued metal color. It will not rust. Wish they made a larger version as well.
Source: bought it new
Price Paid: $13

Rock solid, but a little short and I never use the fork.
Pros
It won't break, unlike the plastic version
The spoon scoops
The fork pokes
It's lighter than a long handled spoon by .2 of an ounce
Good sized spoon for hefty scoops (hike efficiently)
Cons
It's a little short for eating out of tall bag meals
Most trail food doesn't need a fork
I use to have two plastic versions of these until two cold mornings, and two cups of thick oatmeal broke them in half (plastic is very brittle in the cold). Luckily, the titanium version doesn't have that problem. I've owned this spork for a few years now and it still works like the day I got it. 
Edit 3/29/2018:
I've switched to the Toaks long handled spoon since I broke my spork. I originally bent it so that it would fit inside my cooking pot, but then I started eating out of tall bags every once in a while, so I tried to unbend it and it snapped. No fault of the product. You can't just bend metal and expect it to go back at 100% strength. But even with the spork at its normal length, it's a bit short and awkward for eating freeze dried bag meals. The longer handle of the Toaks spoon is also much more user friendly when stirring food over heat. It feels like a chef's utensil when in hand.
The biggest reason I switched products was that I NEVER used the fork end. Trail food normally uses boiled water and is eaten with a spoon.
Source: bought it new
Price Paid: $15?

Great backcountry eating utensil.
Pros
Metal, so won't melt on hot pans
Fork, spoon, and knife, so you only need to carry one utensil.
Cons
Heavier than the plastic LMF spork
For thick stuff like steak one needs a separate knife
The Light My Fire Spork is a wonderful addition to your backcountry gear. I use this spork on my scout troop's monthly outings and have never been let down.
The spork combines three utensil into one handy to pack spork. On one end is the spoon and the other a fork with serrations down one side of the fork. This is a wonderful peice of gear for all but the most stringest ounce-counters. The titanium is expensive but worth it because of its durability and long-life.
I also used the spork for an overnighter on the Art Loeb trail and it worked amazingly storing in pack and working for every food we ate.  The only con would be the fact with thick food you need to use a separate knife. 
Bottom Line: This is great piece of gear that will for a long time and always be there when you need it.
Source: bought it new
Price Paid: $14

Received Light My Fire Spork Titanium today. I used it on a great Mexican burrito; it was very sturdy looks great and is reasonably priced.
I will be using this soon. It's still winter in Wyoming and I'm not a winter weather guy. So, as soon as I go hiking I will be updating my review.
As of right now by the looks and using it on my breakfast burrito I would say I will be using this for a very long time. Remember this isn't the first spork Light My Fire has ever made. They have been around for a very long time.
Source: bought it new
Price Paid: $9.58

Your Review
Where to Buy
Help support this site by making your next gear purchase through one of the links above. Click a link, buy what you need, and the seller will contribute a portion of the purchase price to support Trailspace's independent gear reviews.
You May Like
Specs
Price
Historic Range: $9.99-$17.95
Reviewers Paid: $9.58-$15.00

Recently on Trailspace