GSI Outdoors Pinnacle Soloist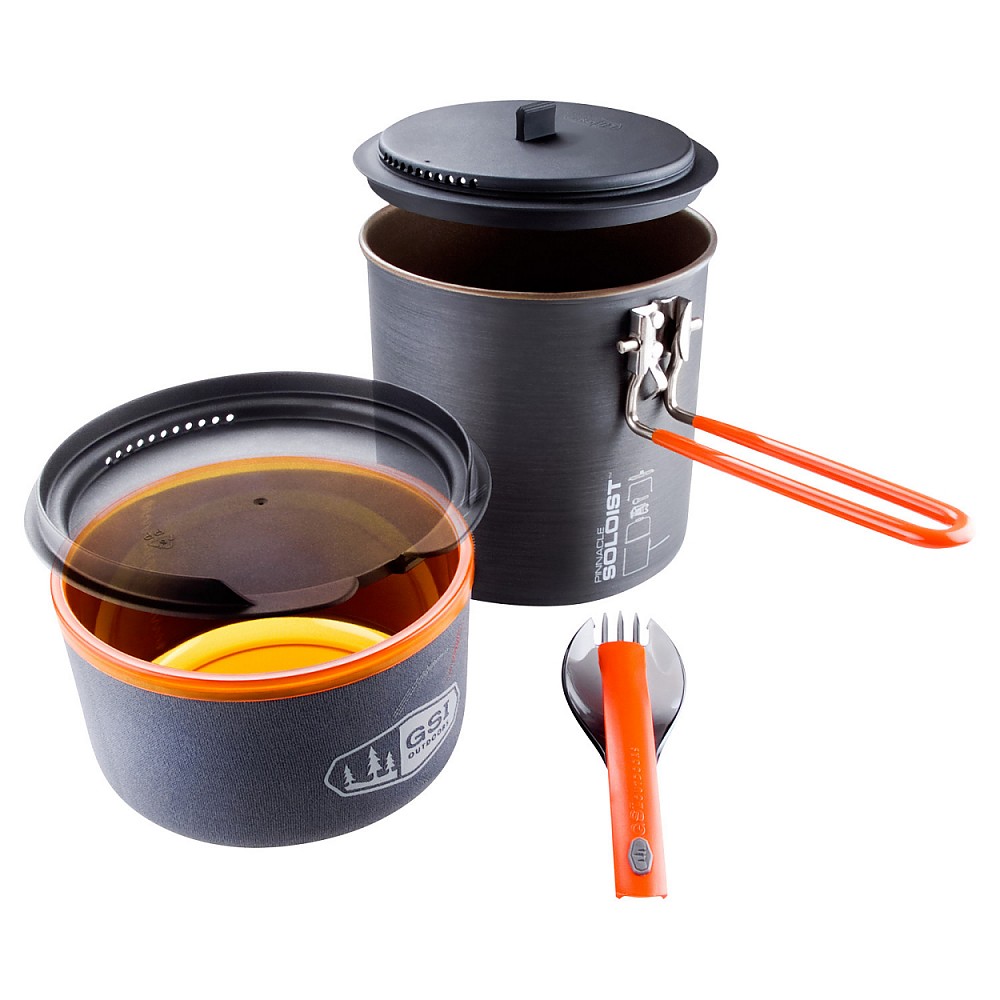 This kit allows you to carry everything you need for summertime cooking without any wasted space inside your pack.
Pros
Light
Inexpensive
Efficient
During the spring of 2011, I went through an exercise where I wanted to reduce the bulk of several pieces of gear. The ultimate goal was to ensure I could carry a 58L pack during a 5-day trip into the mountains and not be compelled to leave something at home that I otherwise normally carry. 
Quite by accident, I stumbled across the GSI Outdoors website and started looking at their Pinnacle Soloist.  After a few minutes of reading, I quickly realized this little kit would allow me to drop some serious weight and reduce a ton of bulk. Before I purchased the Pinnacle Soloist, I was carrying an MSR Whisperlite Internationale stove, an MSR 1.3L pot, an 11 ounce fuel bottle and a small coffee mug.  The total weight of this setup was 40 ounces and since nothing fit inside one another, it took up lots of space in my pack.
The guys at GSI deliberately sized the pot to hold a fuel cylinder, a stove, a bowl/mug and a spoon (the fuel and the stove obviously come separately). Since I didn't have a canister stove, I picked up an MSR PocketRocket at the same time I picked up the Soloist. When all is assembled from bottom to top, the fuel cylinder (4 oz), the stove, thebowl/mug (upside down so the stove is on the inside of the mug) and then the pot lid fit neatly together into one small package.
GSI also provides a seam sealed nylon sleeve that is intended to be used as a kitchen sink. While I have never used it as a sink, the nylon is thick enough to protect other items in my backpack from the pot. All together, everything weighs in at 20 ounces. Not only did I save a lot space, I lost 20 ounces.
Here is the whole package.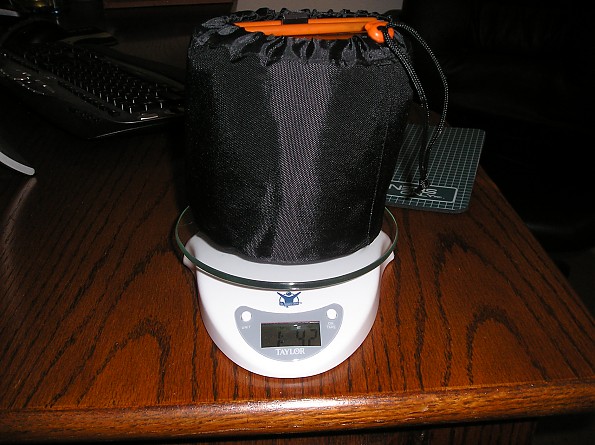 Here is everything spread out.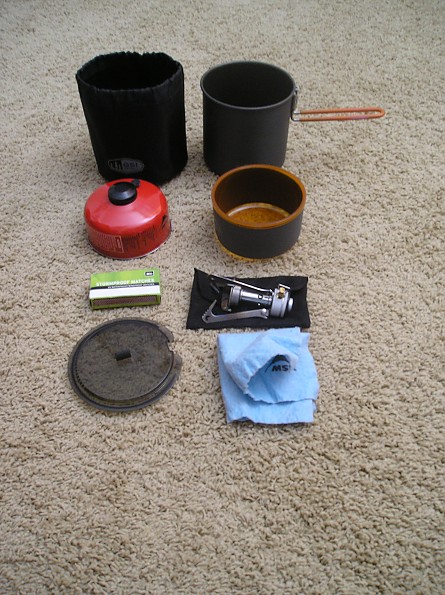 In addition to the pot and the mug, the Soloist comes with a spoon and a little synthetic pouch for the stove.   The pouch saves the Teflon lining from being damaged by the stove.  The spoon...personally I think it's useless.  It's too flimsy and short to be effective while eating a mountain house meal (my typical dinner). I leave the provided spoon at home and carry a full size lexan one in my food bag.
The GSI website doesn't exactly tell you what stoves fit inside the pot.  Since I'm an MSR fan, the PocketRocket was a logical choice. The first time I tried to put everything together, I couldn't quite make the stove fit.  I ended up taking a Dremel Tool and cutting off about 1/4" from each of the 3 wings on the stove.  Here is an unmodified picture from MSR's website.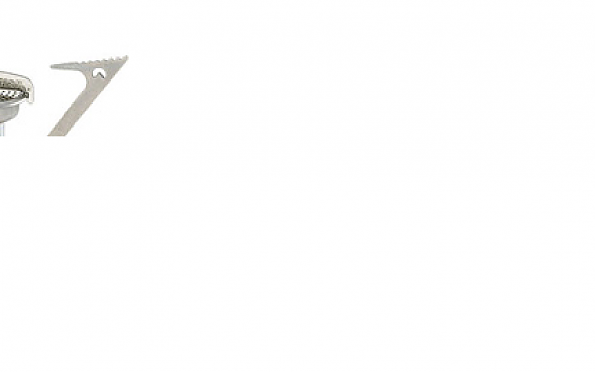 Here is what I did to it.  A little blurry, but you get the idea.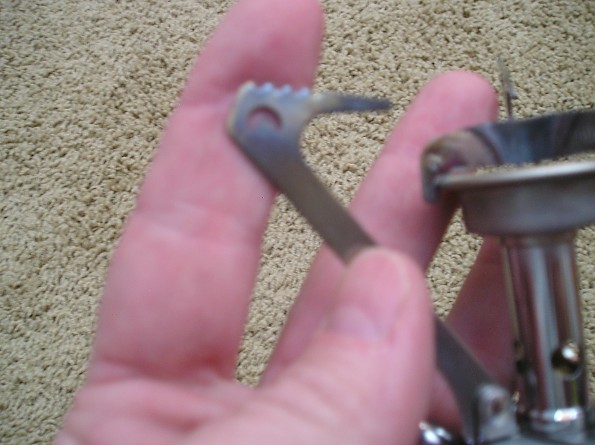 This small change didn't affect the stove since the pots outer diameter is still smaller than platform provided by the stove. Once I made the 3 cuts, everything fit together just as GSI had intended. With the stove fitting nicely on top of the canister, I also managed to pack away the windproof matches that I normally use. 
For added protection, I have a little pack cloth towel that I wrap around the fuel canister before I put it into the pot. I would imagine over time, the metal on metal contact would wear away the Teflon coating on the pot.  The towel thickness around the canister makes a snug fit inside the pot and also keeps everything from rattling around when hiking. Plus it's nice to have a little towel when cooking.
The name says it's a Soloist, but the 1.1L pot is well sized for 2 people. My typical day is coffee in the morning, graze during the day and then a hot dinner before it gets dark. I've used it dozens of times in the mountains and I've never wished the pot was any bigger. If you hike with more than 2, I think you will get frustrated with the size.
The GSI Pinnacle Soloist is by far my favorite piece of gear. It's efficient, inexpensive and packs away everything I need for cooking. For summertime camping for 2, I don't know how it could get any better.
Source: bought it new
Price Paid: $29 on sale

Nice pot that packs up small and fits your cooking gear inside. But the rest of the set sucks.
Pros
Lightweight
Durable
Compact
Stuff sack is good for water storage
Cons
Cheap spork
Cup doesn't insulate
After two years of use, I'm not very impressed by this product. Yes, it looks really cool, and fits together very nicely, but as a set it flat out does not do the job, or hold up with prolonged use.
First off the spork is a complete piece of junk. It's made of plastic and comes apart very easily. If you don't believe me go to REI and pull one out of the box and see for yourself. You might as well take it from the package and throw it in the trash.
The cup is one solid piece of thin plastic so it obviously won't fall apart, but the problem is that it will not keep your hot drinks hot for long. That may not seem like a big deal sitting around the campfire at 9pm, but in the AM when you're running around camp packing things up it really sucks picking up your cup of coffee just to find it warm or even cold.
The pot itself works well. I've boiled water and cooked in it on many occasions. The lid is nice too, and I usually leave it on while boiling water. You can also flip the lid upside down and use it on the cup. The only gripe I have with the pot is the handle. It tends to come loose from the locking mechanism on the pot itself. It's an easy fix, but a pain in the butt because it happens way too often. Apparently it was designed for the handle to come off easy. I personally don't like it because the only reason I could see for removing the handle is if you were cooking over an open fire (as opposed to a controlled burn of a stove) because higher flames could melt the rubber coating. 
The other redeeming quality in this set (other than the pot) is the actual stuff sack it comes with, which doubles as a water carrier. I usually fill it up with water and cinch it so I have some extra in camp, and to save trips back and forth from my water source. This sack is durable and does not leak. I would give it 5 stars if I could rate it by itself.
On a side note if you use an MSR Pocket Rocket stove then you might want to reconsider buying this product, as it is just too long to fit inside. Which brings me to another point: All of my kitchen and bathroom kit fits inside this pot (except my stove). I put a small fuel canister at the bottom, followed by the cup upside-down and packed with toothbrush, toothpaste, bear bag kit (I use spectra cord and a mini carabiner) lighter, soap, and TP. My spork then slides into the bag next to the pot. Now that I think about it, this pack-ability is probably my favorite thing about this set.
The problem is that there just isn't enough about this set for me to recommend it to anyone, even though on other websites it's highly reviewed. 
Source: bought it new
Price Paid: $40

If you don't want to put out the money for titanium, and have basic backcountry needs, the Soloist is a great choice for one or two.
Pros
Light
Durable
Efficient
Scratch resistant
Cleans and stows easily
Cons
Poor performing Piezo
Fragile telescoping spork
Specs:
1.1 liter hard-anodized aluminum pot
14 fl. oz. insulated mug/bowl
Telescoping spork
Stuff sack / Welded sink
Insulated handle
Size: 5.5 x 5.4 x 5 inches
Weight: 10.9 oz.
I've used the GSI Soloist for the past five years or so and except for the tiniest of dings it still looks as good as new with zero degradation of the pot surface.
While I typically use it to boil water (easily enough for two meals) when I have cooked in it the cleanup is super easy. Given the insulated handle I wouldn't use it over a campfire, but it's the right size, and offers excellent stability, for use with a backpacking stove.
What I like is that while it's perfect for one, the insulated bowl (which nestles in to the pot) allows two backpackers to eat. While I bring a separate titanium mug for coffee the insulated bowl would work well but, given that it's plastic, won't maintain the heat as long. Excellent for oatmeal or if you'd rather not eat out of a dehydrated food pouch. 
It includes a lightweight lid with a strainer that also fits on to the nested bowl for sipping if desired. A nice touch. The silicone covered handles lock in to place and are super stable. They fold over the lid to keep everything secure during transport.
It does have a couple of dings. The Piezo lighter that's included stopped functioning consistently for me pretty early on and while the telescoping spork weighs practically nothing, and is good to have for a partner, it does feel a little flimsy and needs to be handled accordingly.
What I have found myself using more than I thought when I'm around water sources is the welded "sink" that double as a carrying case. Scoop up some water from a stream or lake and you've got it handy for washing, putting out a fire or cleaning your hands. Zero leakage.
In the pot I'll usually carry the nested bowl, the Piezo lighter and spork, a windscreen, hand sanitizer and my remote canister stove. A perfect fit.
So if five-course backcountry meals aren't your thing, and you'd rather go with a lot of function at a very reasonable weight, size, and price for a superior backpacking cook set, the Soloist might be one to look at.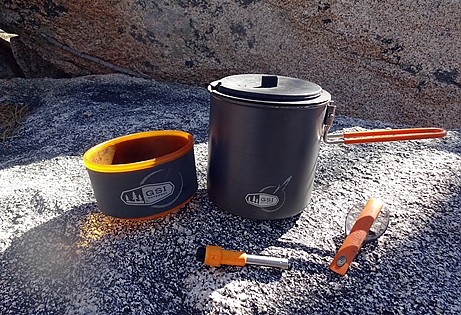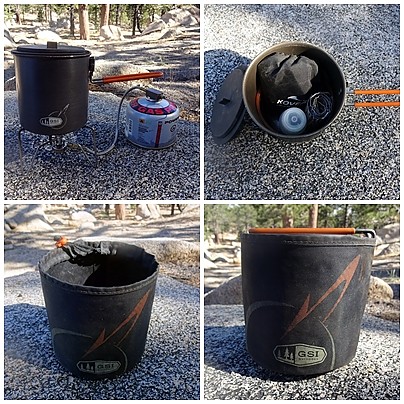 Source: bought it new
Price Paid: $45

A perfect size/capacity and reasonable weight cookset with great features for wilderness backpacking.
Pros
Great size/capacity
Reasonable weight
Solid design and features
Cons
No stick coating has started to show wear
Spork is not so good
There are lighter options
My GSI Soloist cookset was a personal gift to me. When I first received it I thought that it might be a bit gimmicky. All of the pieces nest and fold conveniently inside the pot and cover. However, after many years of using this cookset I have found that it is not gimmicky—the design is purposeful and fully functional. 
The pot is relatively compact and easy to use. Just pull it out, unfold the handle and it is ready to place on top of a stove. The Soloist fits on top of my MSR PocketRocket perfectly. The handle works all of the time and has never failed. The kit comes with a plastic lid with a straining gap which works fine under normal conditions.
I let a friend use the kit once and it came back with a melted lid. I wrote a letter to GSI and they replaced it at no cost. What!?! That's great customer service.
The kit also comes with a nesting plastic cup/bowl with an insulating coozy. It works great and is fairly lightweight. It also comes with a little folding spork that works OK, but is a bit flimsy. My kit came with a cover that also doubles as a water container or sink. It protects the kit during transport nicely. The pot has a non-stick coating which makes clean up easy.
All of these pieces and features work great, except for the spork. A small canister fits inside the pot with all the accessories fine. A large canister will fit inside the pot by itself, but not with all the accessories.
The pot has the capacity to boil four cups of water at one time. This is handy when backpacking with another person and you only want to perform one boil of water for two dehydrated meals. With a small pot you might need to perform two boils. This capacity saves time and fuel.
I've owned this kit for 7+ years now and it has proven to be reliable and durable. The only issue that I have had is that the cup rim has rubbed on the pot and has started to wear off a little of the non-stick coating inside the pot. 
I've used this kit while traveling, motorcycle camping, weekend trips, and for a thru-hike of the John Muir Trail. It covers the cooking needs for a single person or couple. Once you get above two people you might need a larger capacity kit.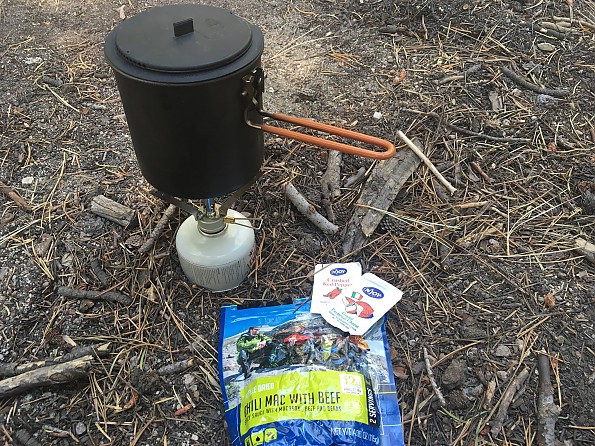 Source: received it as a personal gift

The best thing about this kit is its modular type design... everything stores in the pot securely and it's very compact. It's probably the all-around best kit out there, but you can find lighter options.
This kit fits together nicely and is pretty sturdy. While not the lightest option, it is designed well and is not "heavy."
I like to just take the pot, lid and spork... leave the cup at home to save a little weight. The spork feels quite fragile, but you can always replace it with a titanium one like I did. I like this kit a lot.
See my video review for more details.
Disclosure: The reviewer received a sample of this product from the brand or its representatives in exchange for a review.
Source: tested or reviewed it for the manufacturer (I kept the product after testing.)
Price Paid: $44

Love the pot, extras are iffy.
I really only bought this because it was on sale. I have never been into teflon but I'm on a little gear improvement/ lighten it up adventure and I figured I'd give it a try. 
When I was looking at it in the store I was having these thoughts about the neat things I could do with it. Re-hydrate, cook, boil for tea/coffee and do it all with one little pot. It's great for that and pretty lightweight.
Teflon..... It's not my favorite thing but I'm taking a chance that the ease of cleaning up after re-hydrating or cooking some soup will make up for it. The radiance technology claims kind of sold me.. Hopefully it will hold up as advertised. I bought myself a titanium long spoon to go with it but will probably end up with a wooden spoon/spatula maybe some chopsticks or something.
I did a test boil with my pocket rocket set at 3/4 flame and boiled a pint of water for tea in 2 minutes 15 seconds using a coleman fuel canister. I was pretty impressed. 
My gripes so far are with the little accessories and the plastic lid. I am NO fan of plastic. The spork is flimsy and not long enough to stir in the pot, the bowl is plastic and small. However the insulator sleeve is nice. Why they didn't include a separate sipper lid for the bowl is beyond me. Come on GSI, for the cost, it needs the sipper lid..
I do love the little water bag. A small sink is a GREAT accessory and one of the reasons I didn't return the kit.
Honestly, I think I'd have been happier with the stainless or Halulite Minimalist for the price. But impulse purchases are what they are. If GSI would offer this as just the pot and bag with a stainless or halulite lid for slightly less money it would be a better value IMO. 
Would I recommend it? That depends on what you need. The pot is great IMO and if the teflon survives as advertised it will be amazing. If money isn't a huge issue for you and you would use the accessories elsewhere.. go for it.
If you're tight on cash, and you're not really into the plastic extras I'd save my cash for something else unless your really into the pot. Maybe contact GSI and see if they will sell you the pot separate. 
Source: bought it new
Price Paid: $37

About all a person needs for meals in the woods.
Pros
lightweight
food doesn't stick
boils water easily
I have a 15-year-old 'billy set' made by GSI out of anodized aluminum. It was very similar to this upgraded model except that the top cup/pot was also aluminum (which sets nicely on top of the bottom pot as a lid), it was a little lighter, but the butterfly-wing style handles were a little harder to use. I am still using it to this day, but with this new set, it's nice to be able to mix and match.
This newer pot has a non-stick finish, which works great when cooking your noodle packets in the pot. The pot is also a lot easier to clean. If just boiling water, then either the old or new work about the same. I like the handle on this a lot better, but it does add some weight to the pot.
I used to use the old top pot as my coffee mug, but I find the new lexan cup to be easier to hold and drink from. On the downside, it can't be used to heat water. So sometimes I just carry both.
SO depending on how I'm traveling and who is with me, I find the combination of the old and new GSI sets to be great.
I ditched the folding spork as I found it flimsy.
And oh yeah, fuel canisters do fit inside this but be careful that they don't scratch the Teflon...I put mine inside a sock.
Source: bought it new
Price Paid: $35

This was my first backpacking kitchen set and I love it. It's great for solo hiking. The pot holds 1.3 liters. It's lightweight and compact. It comes with a bowl, a spork, a lid, and a water bucket pouch. It's all you need out there!
Pros
Compact
Quality
Durable
Lightweight
I use this set only and do not need any other kitchen set. I love the way everything fit inside of the pot and then the pot fits into water holding sac, the handle of the pot folds up to secure lid for easy transport. It's a great little kitchen set.
My Snow Peak stove fits inside and a small fuel canister fits in as well for easy transport.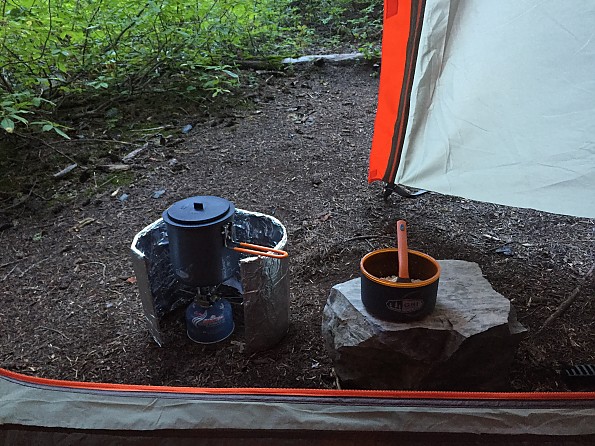 Great GSI kitchen set!
Source: bought it new
Price Paid: $44.95

Your Review
Where to Buy
Help support this site by making your next gear purchase through one of the links above. Click a link, buy what you need, and the seller will contribute a portion of the purchase price to support Trailspace's independent gear reviews.
You May Like
Specs
Price
MSRP: $42.95
Current Retail: $59.95
Historic Range: $21.93-$59.95
Reviewers Paid: $29.00-$47.00

Weight
10.8 oz

Dimensions
5.00 in x 5.40 in x 5.50 in

Materials
Non-Stick Coated, Hard Anodized Aluminum and Clear

Includes
1.1 L Pot, Strainer/Sip-It Lid, 14 fl oz insulated mug/bowl, Stove Bag, Welded Sink

Recently on Trailspace