MSR Reactor Stove System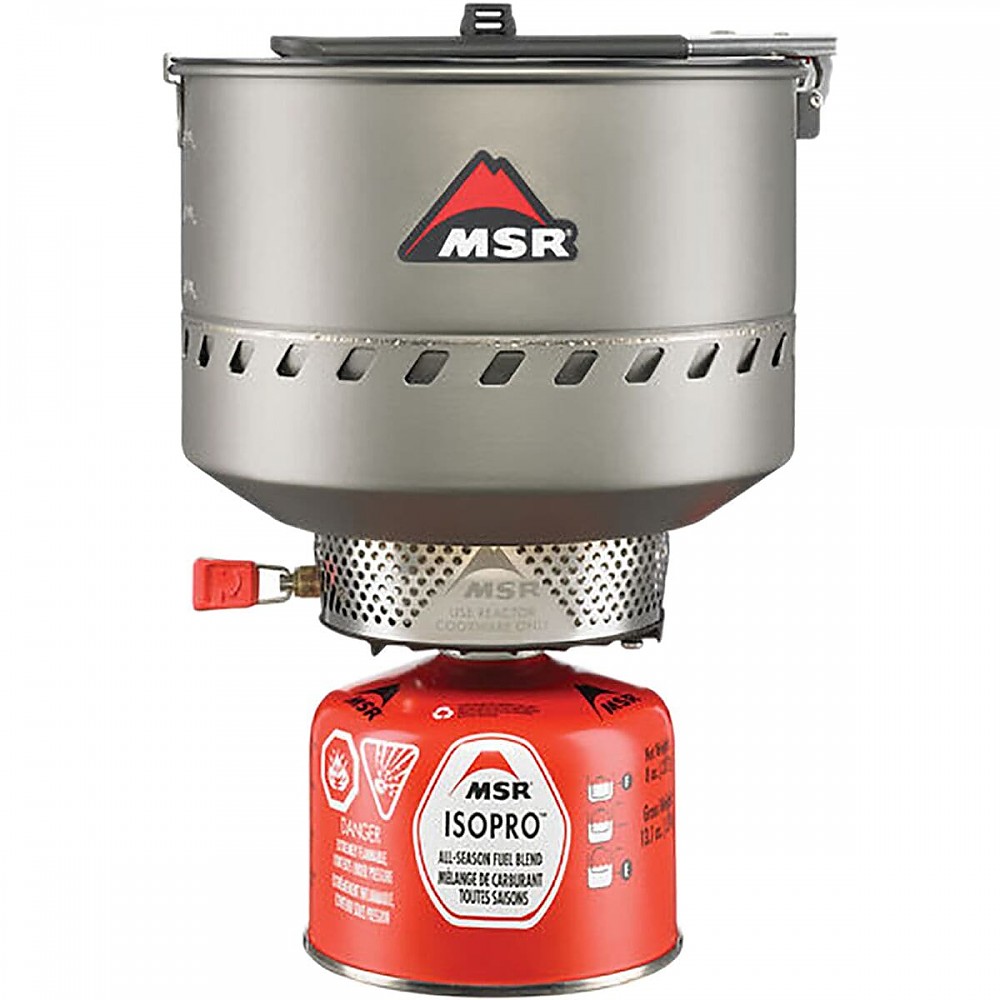 Like one of the other reviewers, I'm a longtime Dragonfly user. I bought this as a second stove for shorter/lighter trips and mountaineering. I have used the Jetboil solo and GCS configurations and both are good, but different. I find the Reactor to be a bit more efficient, but it's also more basic.
My stove routinely performs better than advertised. I get about 2 min, 45 sec boils (1L) most of the time unless the cannister is down to less than what I would estimate to be about 1/3 full. Then it's closer to the 3 min-3 min, 20 sec. That's mostly on Primus fuel cannisters because of availability (sorry MSR!).
It's also a very efficient snow melter, the fastest I have tried. I find that a 220g isobutane cartridge is good for roughly 18-22L of water boiled depending on how often the stove needs to be re-lit in between cooking (since the warm-up phase, while short, still uses up some gas).
There were a lot of warning labels to peel off regarding the dangers of cooking inside of shelters with it (I was familiar with the controversy surrounding this stove's emissions before I bought it). It took some time to remove them. Oh how I wish people would stop suing others for their own stupidity!!
As with all stoves, I would advise not using it in your tent unless you have to, and of course to use the appropriate cautionary steps when it is deemed absolutely necessary to do so. Take responsibility for your own actions when taking calculated risks.
I would back up the findings that this stove seems unaffected by wind. The pot fits nicely with the burner, and won't slide off. There is only one pot, so this unit is for fairly basic cooking tasks. The clear lid lets you see when things are rolling without letting any heat escape.
This is my first hard-anodized aluminum pot and I like it. It's similar to titanium in lightness and strength, reasonably easy to clean, and distributes heat really well. You don't have to take the cannister off the stove to pack it. It's actually more secure to leave it assembled and put it in upside down into the pot so that the lid holds the cartridge bottom preventing and rattles.
There aren't any of the cool accessory options like those available for the Jetboil stoves. Maybe in time there will be a group camping sytem. Although the included pot is 1.7L it cannot be filled without spilling over when it boils. It can sustain a rolling boil with 1L, and 1.5L if you are watching it to take the pot off the burner as it starts to roll. I guess I will have to rig up my own hanging kit for it too (see my comment on the warning labels above).
It's a suitable stove for short winter trips, you just need to understand the way cannister stoves perform in cold weather. On cannisters that still have their propane and isobutane content, the Reactor performs the same way in cold weather (the isobutane works down to about -15C and the propane works to -40C) as it does in warmer temps. Once you use all of the cold weather fuels up, you are left with regular butane which involves keeping the fuel warm enough (just above freezing) for it to burn.
I did some experimenting with a cannister that had only butane left in it. I had used up all of the propane/isobutane on a previous cold weather trip. For those who have not experienced this, it feels like the cartridge still has lots of fuel, but below freezing it won't work because all that is left is the butane. Warming the cannister in my jacket and hands worked fine.
My favourite trick is using a small reusable sodium acetate hand warmer pack (Toasterz, etc) under the cannister. They are recharged by boiling them in water for about 5 min which is handy. On pure butane in this manner, boil times were a bit longer (closer to 4-5 min per 1L). For longer winter trips I still use my white gas stove, but I use my Reactor for those quick winter overnighters.
Overall, I would recommend this to friends. It performs as or better than advertised. I held back 1/2 a star because it does not yet have any other pot options which limits its usefulness for groups larger than two campers, or 3 with very basic cooking needs such as climbers melting snow for water. For pure solo use, I would think about a Jetboil as it's a bit more compact and has more versatility built into the pot system.
On long trips you'll only need one fuel canister! My Reactor boils water fast, even when it's windy.
Pros
Uses far less fuel than my favorite Pocket Rocket.
Boils water fast, and works well in windy conditions.
Packs up neatly
Quiet
Great for two people
Cons
The cooking surface is too hot for anything but boiling water.
Packed up, it's rather bulky
A bit too expensive
I take my Reactor when I'm on trips of longer than three or four days. I find that a fuel canister is good for breakfasts and dinners for more than seven days. Setup is simple. My stove is easy to light; I open the valve slightly, hold a lit match or lighter over the grid, and an eerie glow spreads across the grid.
Within a few seconds it's like having an electric stove on HIGH, which makes it too hot for anything but boiling water. I tried lowering the heat, but simmering is impossible. Think electric stove on medium high. 
When I'm hiking with a friend the pot is a perfect size. Unlike the Jetboil, which requires taking turns boiling water, I can make ample water for two dinners and one drink. I usually add an extra cup of water for beverages
to the pot after filling the freeze dried bags. If you only use freeze dried food, then this stove is perfect. If you like to cook things, then a Whisperlite or PocketRocket serves better, but will use up slightly more fuel. 
I've used my Reactor mostly in the High Sierra, above 10,000 feet on five, week-long trips. It works perfectly, and since on these trips I only need boiling water because I use prepared freeze dried foods and just add water to my cups for hot beverages, I find the stove exceeds my expectations.  
I dislike the wastefulness of canisters, but enjoy their convenience. Since this stove is the most efficient I find it perfect for me. 
Source: bought it new
Price Paid: $150

For boiling water quickly or melting snow in windy conditions, the MSR Reactor gets the job done. It's the heaviest (by only 0.3 oz.) and least fuel-efficient of the three stoves tested, but by far the best performer in a variety of conditions. And don't overlook the "gee-whiz" factor – the Reactor's unique design will get some stares wherever you light it up.
Integrated Canister Stove Showdown

In the beginning there was the humble campfire. Today the cutting edge of backcountry cooking technology is the integrated canister stove: cooking systems that mate a compressed-fuel burner with a specially designed pot and high-efficiency heat exchanger. These stoves promise faster boil times, increased fuel efficiency, and greater convenience than their forebears.
How do they stack up? We put three integrated canister stove systems to the test in an Integrated Canister Stove Showdown: 
MSR Reactor
Due in stores this April, the MSR Reactor is the newest offering from stove giant MSR. While the Jetboil stoves bear some resemblance to traditional backpacking stoves, the Reactor's flying-saucer burner design and beefy, fully-enclosed heat exchanger are completely unique.
The design difference is more than skin deep: in addition to conventional convective heat transfer, the Reactor utilizes a glowing mesh in the burner assembly that radiates heat into the hard-anodized aluminum pot, much the same way the sun heats up a dark-colored tent. (Read more about the technology inside the Reactor.)
Weight (measured)
Total: 564 g / 1 lb 3.9 oz

Burner: 179 g / 6.3 oz

Pot: 332 g / 11.7 oz

Lid: 53 g / 1.9 oz
Packed dimensions
Height: 6"

Diameter: 5 3/8"
Capacity
Pot size: 1.7 liters

Boiling capacity: 1 liter
MSRP: $140
Boil Time
The Jetboil PCS and the MSR Reactor feature deep, narrow pots that are designed primarily for boiling water quickly and efficiently. That's great if your backcountry diet consists mainly of dehydrated meal packets, but if you're interested in creating culinary delights, these stoves are probably not for you. The Jetboil GCS is more oriented toward actual cooking, while retaining boil times similar to the PCS.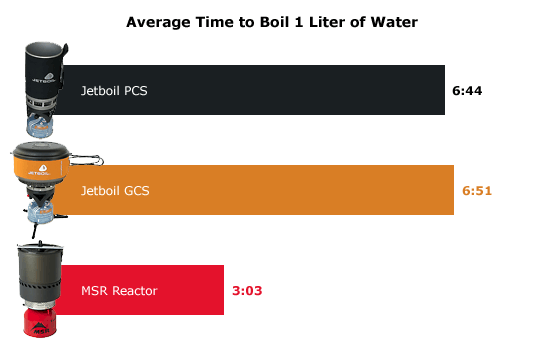 Under controlled conditions and using a full canister the Reactor boiled a liter of water in just less than three minutes (2:54) – so quickly it almost took me by surprise. Subsequent boils were nearly as quick, averaging 3:03 over five test boils. The Reactor has a built-in fuel pressure regulator, which provides steady output throughout the life of each canister.
About the tests: All of our tests were performed using 69° F air and water temperatures. The stoves were fueled with an 80/20 Isobutane/Propane mix from 220-gram canisters and operated at maximum output.
Fastest Boiling: MSR Reactor
Fuel Efficiency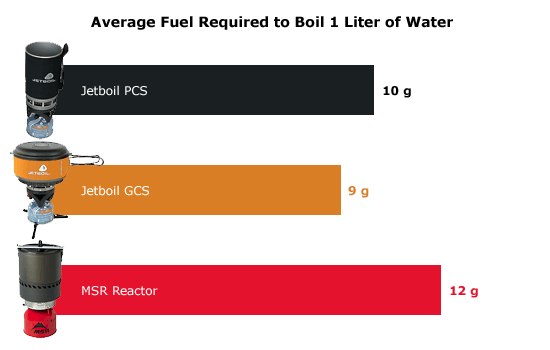 The Jetboil stoves were designed with efficiency foremost in mind. They feature burners that sip fuel at a decidedly slower rate than most canister stoves.
The Reactor takes a decidedly more high-output approach, relying on a beefy heat exchanger that extends up the sides of the pot to capture every last bit of heat. This results in very fast boil times, albeit using a bit more fuel than the Jetboil stoves. The Reactor consistently required 12 grams of fuel to boil one liter of water. That's 18 boils per 220 g canister – not quite as stingy as the Jetboil GCS's 24 boils, but still better than traditional canister stove designs.
Because of their efficient use of energy, all three stoves put off very little residual heat. No worries about singeing your hands while stirring these pots.
Most Fuel-Efficient: Jetboil GCS
Real-World Performance / Wind
Most stove tests are conducted under controlled laboratory conditions – conditions you'll probably never replicate in the backcountry. But even a small breeze can have a big impact on a stove's performance, sapping heat away from the pot and into the passing air, so we also conducted tests in an 8 mph wind.
All three stoves' heat exchangers help to shelter their burners from the wind, giving them a distinct advantage over traditional canister stove designs. But the Reactor is the only design that completely encloses the burner. In an 8 mph wind the Reactor boiled a liter of water in 3:16, just several seconds longer (and using no more fuel) than in calm conditions.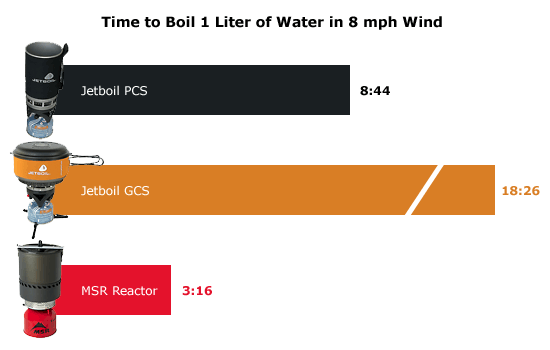 Thanks to their built-in piezo lighters, both Jetboil stoves are easy to light under windy conditions, while firing up the Reactor requires keeping a match or lighter going in the wind. This negates some of the Reactor's advantage in the wind, but MSR plans on adding a piezo to future versions.
We haven't done cold-weather testing of these stoves, but the Reactor's pressure regulator promises to maintain steady performance over a range of temperatures.
Also in the real world, how you adjust your stove can have a big impact on efficiency and boil times. While we weren't able to test every stove at every conceivable output level, the Reactor boiled a liter of water in 4:04 using just 10 grams of fuel at a medium setting.
Best Real-World Performance: MSR Reactor
Weight / Packability
At 15.3 ounces, the Jetboil PCS is the smallest and lightest integrated canister stove, but the tradeoff is that it has less than half the capacity of the Reactor and the Jetboil GCS. That's okay if you're traveling solo, but not so convenient when cooking for a crowd of hungry backpackers.
For an additional 4.3 ounces (Jetboil GCS) or 4.6 ounces (MSR Reactor) you get a pot with nearly double the capacity. The Reactor is the heaviest stove of the three, due mostly to its beefy heat exchanger, but requires less pack space than the GCS. When sharing the load with a partner, carrying a GCS or Reactor is lighter than bringing an additional pot for the PCS.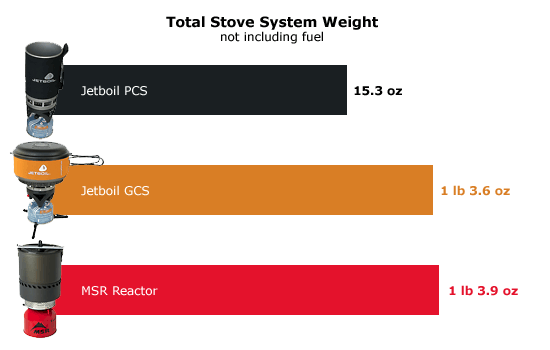 The Reactor and the Jetboil PCS are both designed so that their burners and fuel canisters (220 g canister in the Reactor, 100 g in the PCS) fit snugly inside their pots. The Jetboil GCS's components also pack inside its pot, but the fit is loose, which can leave the pot support rattling annoyingly in your pack.
Best for Weight and Packability: Jetboil PCS
Compatibility
The Reactor is limited to using its single 1.4-liter pot. Because of the burner's convex design, other pots cannot be placed on the Reactor. MSR has not announced plans for any additional Reactor-compatible cookware.
Most Compatible: Jetboil GCS
Cooking
Both the Reactor and the Jetboil PCS are designed primarily for boiling water and melting snow. Their deep, narrow pots are awkward to stir without an extra-long spoon, and are not particularly conducive to preparing haute cuisine. Neither is compatible with other cookware, so frying up breakfast pancakes is impossible. I did manage to cook a packaged rice and chicken meal in the Reactor, but stirring and eating out of the deep pot was awkward at best. For the most part with the Reactor and Jetboil PCS you'll want to stick to boiling water for drinks and freeze-dried meals.
Best for Cooking: Jetboil GCS
Ease of Use
The Reactor has the fewest parts: pot, lid, burner, and fuel canister. The PCS adds a protective cover for its heat exchanger, the cover doubling as a small measuring cup. Both stoves allow you to store the stove with the burner and canister still connected to each other, which saves time and hassle both before and after a meal or a quick brew. Packing up the GCS requires separating the components and arranging them just so inside the pot.
The Reactor's rugged Lexan lid sits nicely on top of the pot without having to be "snapped" on or off like those on the Jetboils. However, I found that the surface tension of collected condensation tends to "seal" the Reactor's lid to the rim of the pot when boiling water – making it very difficult to pry off when it's still hot. The curved design and protruding handle of the Reactor's lid also makes it pretty much useless for anything other than covering the pot. The GCS's plastic lid and heat exchanger cover, on the other hand, can double as plates, cutting boards, or shallow bowls.
Like most canister stoves, a small knob built into the body of the stove regulates output of the Jetboil GCS and PCS. The plastic knob stays cool to the touch, but its recessed location can make it awkward to adjust, especially with gloves on. The Reactor's adjustment knob is located in a somewhat more accessible location, on the outside of the burner body. (Our test Reactor featured a large plastic throw lever that did not make it into the production version.) Since the Reactor is very quiet and the pot completely encases the burner, you have to lift the pot off the burner to tell if it's still lit; several times I extinguished the burner while attempting to simmer.
Easiest to Use: MSR Reactor and Jetboil PCS (tie)
Conclusion
The MSR Reactor, the Jetboil PCS, and the Jetboil GCS are all solid performers and each has something unique to offer. Which stove is the best will depend on your specific needs.
For boiling water quickly or melting snow in windy conditions, the MSR Reactor gets the job done. It's the heaviest (by only 0.3 oz.) and least fuel-efficient of the three stoves tested, but by far the best performer in a variety of conditions. And don't overlook the "gee-whiz" factor – the Reactor's unique design will get some stares wherever you light it up.
Review originally published as part of Integrated Canister Stove Showdown.
Source: received for testing via the Trailspace Review Corps (Sample provided by MSR for testing and review)

We had three different stoves fail on successive years while hiking and camping Grand Canyon. Bought the MSR Reactor and no more failures at the bottom of Grand Canyon! Wonderful stove that heats fast and does not fail!
Cons
Does not have ignitor and you have to carry matches or lighter.
MSR Reactor is far better vs. Jet Boil.  First hand experience — two years in a row the Jet Boil failed at the bottom of Grand Canyon on the fourth day! The MSR Reactor does not fail. It's easy to set up. You must carry matches or a lighter but it's a fast start. Design allows the MSR Reactor to work just as well in windy conditions as it does in calm conditions.
It's a boiling deamon and not really designed for adjustment. Boils so fast that it's easy on fuel. Spent five days and four nights in Grand Canyon and one fuel cannister lasted until the morning of the fifth day with two people using boiling water for breakfast, coffee and dinner. 
Design is very stable and secure when boiling. It's a fast & light pack with pot holding burner and fuel cannister all in one simple bag.
You do not know just how much a reliable stove is worth until you have a failure at the bottom of Grand Canyon and face two more days without hot water. With the MSR Reactor that will never happen again.  It's the ONLY stove for me. Going on three years with my MSR Reactor and it seems to keep getting better!
Source: bought it new
Price Paid: $110

Got it today and couldn't wait to fire it up. Got home, read the instructions started it up. Got a weird blue flame hovering over the entire grill, instructions say turn off and try again. It turns off like a champ, no little wisps of flame, off is off. Started it up again... WOW hot red glowing grill in 5 seconds the trick is not doing 3 full turns, (as instructions state) but 1-3 half turns.
The first thing I noticed is commercial but cool looking none the less, it has a MSR logo emblazoned in flame on the inside, hard to describe, looks really, really cool (like a neon light). So I put a liter on with the lid and started a timer. After about 2min15secs the pot started making noise, I couldn't believe it would be boiling after just 2 mins so I took the top off, no boil. I put the top back on and about 30 secs later it was howling, took off top, no boil. I gave it 10 secs for the loss of heat and looked under at 3min10sec and whaddya know, boiling water. I am really impressed.
Playing with the heat I took off the pot and tried to determine the difference in settings. It seems like there are two. About 1/8th a turn gives you a low, and the next 5 full turns give you a volcano. I couldn't get my hand within 10-12 inches above or around the edges. As soon as you put the pot on you can move your hand to within less than an inch. I was too afraid to actually touch the welded on wind screen but imagine it wouldn't burn me. So instructions say wait 5 mins for the stove to cool down before packing. With other stoves they are still pretty hot at this point.
After 1 min I touched it and could keep my finger on the stove itself, pretty warm/hot. 2 mins and it was comfortable to hold. I poured the water into a nalgene, a little spillage. The smallest pour spout would be such a nice addition. Given the depth of pot and weight at bottom with welded on heat exchange in relation to handle placement it is a bit unruly when it comes to pouring. I can see that it will take practice to get a precise pour. I myself will keep it solely for water boiling, don't want to let food give it any chance.
Possibly the most impressive and amazing part of the whole package is the way it packs up. When you use a 8oz MSR cannister the whole thing folds away into the pot, no big deal right? Wrong, the rubber stopper on the lid flushes up perfectly with the top of the cannister inside the pot. It makes the whole thing clank proof. It just stays perfectly stable inside the pot, no rattel at all. The weight isn't spectacular and you do need a cannister but it is sooooo convenient.
BOTTOM LINE
pros: Lightning fast boil time, coolest looking flame output I've ever seen, whole package fits and stows into awesome package. INSANE heat exchange. SIMPLE SIMPLE SIMPLE, no add-ons,(windscreen, baseplate, etc.) because of the lightspeed boils it saves fuel/weight.
cons: after a second liter boil I realized the lid kind of vacuums itself on and will hit you with steam when you lift it up (also when boiling kind of rocks about), hard to tilt pour, pricier than other stoves, not ultra-light, cannister only option.
I will leave a rating after I have used it more, I will be up in the Sierras for the next couple days so I will put it through its paces. On first use though it is a really impressive, innovative stove.
Price Paid: $85

Fastest boiling of water and melting of snow you can buy on the market today. Canisters need to be warmer below about 15°F though. Not as fuel efficient as Jetboil, but boils faster.
Pros
Boils water and melts snow
Packs all together
Cons
No low power setting — no simmering etc. Can turn on, boil, and then turn off multiple times to get same effect.
Fastest boiling of water and melting of snow you can buy on the market today. Canisters need to be warmer below about 15°F though. Not as fuel efficient as Jetboil, but boils faster.
Super easy setup. No built-in igniter, but with a striker lights easily. Stove is either off or in volcano, rock melting mode. Boils .5L with full canister in about 90-100 seconds. Melts and boils a whole thing of  snow in the 2.5L pot in about 4:30 min. Super stable in the wind. Same boil times no matter the wind. Just need to get the stove lit is all.
Pot is stable on top of stove, but as always it is a good idea to watch out and be careful. 
Lives up to and exceeds all expectations. An amazing stove. Boils water for a group of 4-5 in minutes. Only had it for a winter and a summer here in AK, but have used it on backpacking trips, days out ice climbing, and in my aviation emergency kit.
Source: bought it new
Price Paid: $175

Version reviewed: 1.5L
Fast Fast Fast—did I say Fast?
Pros
Quick boil time
Easy setup
Durable
Miserly fuel consumption
Cons
Heavy
Expensive
Can't cook on it
No simmering adjustment
I have had a man crush on this stove for many years. I have been waiting for the price to go down so I could get it. Well, I got tired of waiting and I picked one up for $159. It did not disappoint.
In any temperature or wind condition it boils fast. I would recommend this for freezer bag cooking or just re-hydrating you food in a cup. I have not tried cooking anything directly in the pot, but I think it would probably stick.
I like the size of the pot (I have the 1.5 liter pot) and this is perfect for two people re-hydrating two meals. It's so fast you burn very little fuel. A push-button igniter would be nice when the temperature gets low.
Overall it has not disappointed.
Source: bought it new
Price Paid: $159

Rapid boil -1 L in 3 minutes! Quick ignition and good in windy conditions! Compact and excellent on fuel consumption.

Pros
Good quality
Compact and fuel/time effcient
Cons
No simmer capability — primarily boil only
Only uses Reactor cookware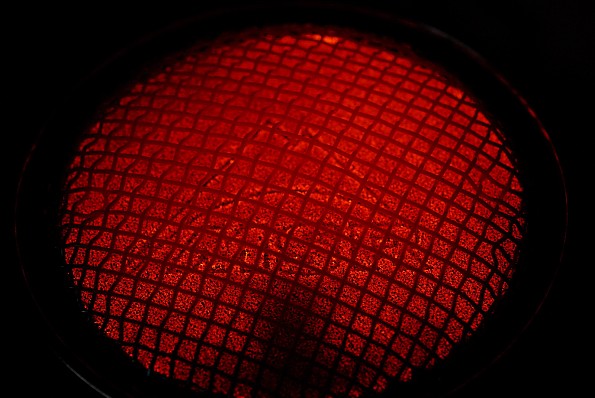 Easy setup: screw on the fuel and go. Easy ignition — flame control is primarily full on — not recommended to use low settings. Stove is for boil only but does that very well with 3 mites per L consistently in -or out- of the wind. Stove is stable: addition of the extended base makes it more so. 
Excellent product over the 25 days use thus far.
Source: bought it new
Price Paid: $149 1.7 L version

I just used my new MSR Reactor for the first time today. I am actually very impressed! It was extremely easy to set up and with 1 liter of water cooking, I saw steam at less than 1:30 and reached a full boil in 2:35.
The conditions were breezy and it lit with no problem. The stove was very stable, but I did use the optional MSR stand that clips onto the canister.
This stove lived up to all of the hype I have read on it. I will add further reviews for this stove as I use it more on the trail.    
Price Paid: $150

First of all let me declare myself as an avid Dragonfly user. I bought the Reactor to add to my collection and try something new.
The biggest drawback to the Reactor is that it is a one pot stove and practically a one stove pot. The pot will fit on a Dragonfly, but my pot I use with the Dragonfly won't fit on the Reactor. I like that all the pieces of the Reactor fit in the pot with either size fuel canister. I wish they would have put a self ignitor on the Reactor.
I've run several unscientific tests to boil water outside (36 degrees, light breeze) with three stoves against the Reactor. The other stoves were white gas, propane and IsoPro. The Reactor was not noticeably any faster or any slower. It was quicker to set up and easier to set up. You can't use a wind screen, and you don't need to use one.
Price Paid: $149

Your Review
Where to Buy
Help support this site by making your next gear purchase through one of the links above. Click a link, buy what you need, and the seller will contribute a portion of the purchase price to support Trailspace's independent gear reviews.
You May Like
MSR is claiming the second revolution in stoves with the Reactor, which they're calling "the fastest-boiling, most fuel-efficient windproof stove system available."
The Reactor stove system's burner utilizes both convective and radiant heat, for greater heat output. The integrated heat exchanger is fused right into the 1.7-liter pot and completely encloses and locks in the radiant burner to provide total wind protection.
An internal regulator equalizes fuel pressure for consistent flame output in all temperatures, meaning you'll be boiling that last liter of water nearly as fast as the first. The Reactor boils its first liter of water off a full canister in less than three minutes and its last liter from the end of a canister at three and a half minutes, a marginal performance difference. And since it burns 22 liters of water per 8-ounce canister, you'll be carrying less fuel overall.
The whole stove system fits inside the pot with its locking Lexan lid and handle for easy packing and no rattling in your pack.
Minimum weight: 21 ounces/595 grams
Packaged weight: 21.6 ounces/612 grams
Fuel type: MSR IsoPro/MSR Canister Fuel (Europe)
Boil time: 3 minutes per liter
Suggested retail price: $139.95
Accessories: MSR LowDown Remote Stove Adapter,
Specs
1.0 L
1.7 L
2.5 L
Price
MSRP: $219.95
Current Retail: $229.95-$309.95
Historic Range: $39.95-$309.95
Reviewers Paid: $85.00-$175.00

Fuel
isobutane/propane, MSR IsoPro

Boil time for 1 L of water
3.5 minutes
3 minutes
3 minutes
Water boiled per 1 oz of fuel
2.5 liters
2.8 liters
2.8 liters
Dimensions
5 x 4.8 x 6.3 in
5.4 x 5.8 x 6.7 in
7.7 x 7.2 x 5.8 in
Weight
14.7 oz / 0.42 kg
1 lb 1 oz / 0.50 kg
1 lb 4 oz / 0.59 kg
Recently on Trailspace