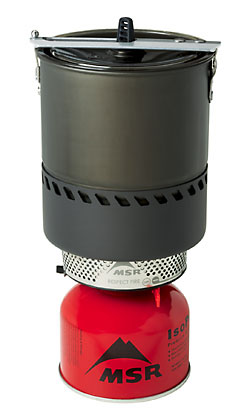 In 1973 MSR separated a camping stove from its fuel canister to make the Model 9 (now the XGK EX) and revolutionized backcountry stoves. While stoves continued to evolve over the last thirty years, they've mainly done so around the same technology. Now MSR is claiming the second revolution in stoves—the Reactor, which they're calling "the fastest-boiling, most fuel-efficient windproof stove system available."
"Conventional stove technology is not a guarded secret," said Jon Almquist, MSR brand manager, during a demonstration of the Reactor at the Outdoor Retailer Trade Show on Thursday, August 10. "A lot of people are making pretty good stoves" and stove specs like boiling time and efficiency have compressed among competitors. However, he points out that those specs are for controlled environments. "The goal was making a stove perform better in the field," said Almquist, "to make a stove's performance in the lab holdup in backcountry real world conditions."
The Reactor uses MSR's Auto-Start ignition, which fires up the stove with the push of a button, and the stove system's burner utilizes both convective and radiant heat, for greater heat output. The integrated heat exchanger is fused right into the 1.7-liter pot and completely encloses and locks in the radiant burner to provide total wind protection.
An internal regulator equalizes fuel pressure for consistent flame output in all temperatures, meaning you'll be boiling that last liter of water nearly as fast as the first. The Reactor boils its first liter of water off a full canister in less than three minutes and its last liter from the end of a canister at three and a half minutes, a marginal performance difference. And since it burns 22 liters of water per 8-ounce canister, you'll be carrying less fuel overall. "For performance-to-weight ratio it wins hands down," said Almquist.
The whole stove system fits inside the pot with its locking Lexan lid and handle for easy packing and no rattling in your pack.
"Where the Reactor really shines is when you step out of the lab," said Almquist. "The Reactor was designed to be a performance stove in all conditions." During the MSR demo, he and designer Redwood Stephens put the Reactor up against the MSR PocketRocket, with both fuel canisters sitting in ice baths and with a fan providing a light 9.5 mph wind. The Reactor won easily. In fact, it even boiled a second liter of water, while still in the wind, before the PocketRocket, now out of the wind, boiled its first.
The Reactor is part of MSR's Fast & Lite series.
Minimum weight: 21 ounces/595 grams
Packaged weight: 21.6 ounces/612 grams
Fuel type: MSR IsoPro/MSR Canister Fuel (Europe)
Boil time: 3 minutes per liter
Release date: March 2007 (although I also heard January 2007 from one Cascade Designs rep)
Suggested retail price: $149.95