Jetboil Personal Cooking System (PCS)

The Personal Cooking System (PCS) has been discontinued. It was replaced by the Jetboil Flash Cooking System.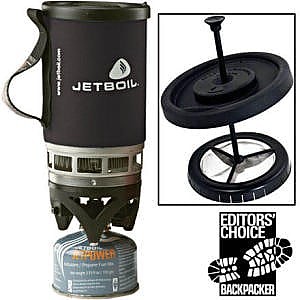 If you often travel solo and are looking to cut your pack weight, the Jetboil PCS is the obvious choice. Its diminutive size and miserly fuel consumption make it handy for brewing a quick trailside cup of tea. Used with smaller 110 g fuel canisters, it packs down small and saves weight on shorter trips, but may not make sense if you're traveling with a group.
Integrated Canister Stove Showdown: 
In the beginning there was the humble campfire. Today the cutting edge of backcountry cooking technology is the integrated canister stove: cooking systems that mate a compressed-fuel burner with a specially designed pot and high-efficiency heat exchanger. These stoves promise faster boil times, increased fuel efficiency, and greater convenience than their forebears.
How do they stack up? We put three integrated canister stove systems to the test in an Integrated Canister Stove Showdown: 
Jetboil Personal Cooking System (PCS)
In 2003, the Jetboil Personal Cooking System (PCS) was the first integrated canister stove to hit the market. It's essentially a 1-liter insulted aluminum mug that attaches to a burner via Jetboil's FluxRing heat exchanger – a ring of aluminum fins that conduct heat from the PCS's burner into the pot. While the pot will hold a liter of water, Jetboil cautions that the maximum safe boiling capacity is only 2 cups (approximately half a liter).
Weight (measured)
Total: 433 g / 15.3 oz

Burner: 169 g / 6.0 oz

Pot w/ Cozy: 202 g / 7.1 oz

Lid: 35 g / 1.2 oz

Bottom Cover: 27 g / 1.0 oz
Packed dimensions
Height: 7"

Diameter: 4 1/4"
Capacity
Pot size: 1 liter

Boiling capacity: 2 cups
MSRP: $80
Boil Time
The Jetboil PCS and the MSR Reactor feature deep, narrow pots that are designed primarily for boiling water quickly and efficiently. That's great if your backcountry diet consists mainly of dehydrated meal packets, but if you're interested in creating culinary delights, these stoves are probably not for you. The Jetboil GCS is more oriented toward actual cooking, while retaining boil times similar to the PCS.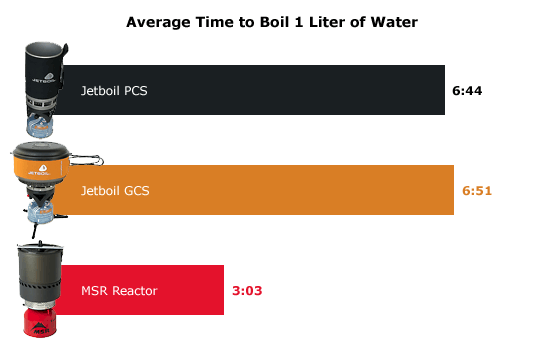 The Jetboil stoves didn't live up to the speedy performance that their name implies. The GCS averaged 6:51 per liter boiled and the PCS averaged 6:44 per liter boiled (3:22 for its half-liter capacity), achieving low times of 6:20 and 6:37 per liter on a full canister, respectively.
About the tests: All of our tests were performed using 69° F air and water temperatures. The stoves were fueled with an 80/20 Isobutane/Propane mix from 220-gram canisters and operated at maximum output.
Fastest Boiling: MSR Reactor
Fuel Efficiency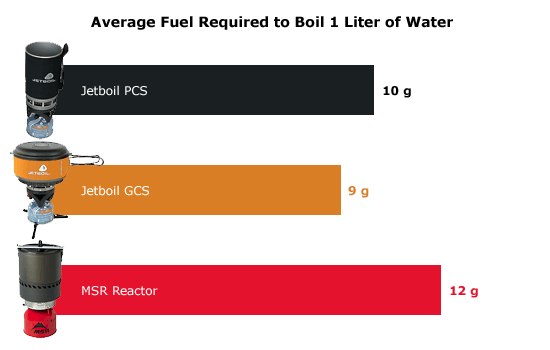 The Jetboil stoves were designed with efficiency foremost in mind. They feature burners that sip fuel at a decidedly slower rate than most canister stoves. Instead of blasting the pot with as much thermal energy as possible – and losing much of it up the sides – the Jetboil burner is calibrated so that the heat exchanger captures the stove's energy before it escapes up the sides of the pot. This design makes the Jetboil stoves very fuel-efficient: in our tests the PCS and GCS averaged 10 grams and 9 grams of fuel, respectively, per liter boiled. That translates to 22 and 24 liters per 220-gram canister. The trade-off for this level of efficiency is in boil times (see above).
Because of their efficient use of energy, all three stoves put off very little residual heat. No worries about singeing your hands while stirring these pots.
Most Fuel-Efficient: Jetboil GCS
Real-World Performance / Wind
Most stove tests are conducted under controlled laboratory conditions – conditions you'll probably never replicate in the backcountry. But even a small breeze can have a big impact on a stove's performance, sapping heat away from the pot and into the passing air, so we also conducted tests in an 8 mph wind.
All three stoves' heat exchangers help to shelter their burners from the wind, giving them a distinct advantage over traditional canister stove designs. But the Reactor is the only design that completely encloses the burner. In an 8 mph wind the Reactor boiled a liter of water in 3:16, just several seconds longer (and using no more fuel) than in calm conditions. The Jetboil PCS didn't fair as well, taking a full minute longer (4:22 vs. 3:22) to boil its smaller half-liter cup. The Jetboil GCS performed poorly in the wind, needing 18:26 to boil a liter, and burning more than twice as much fuel to do so as in calm conditions.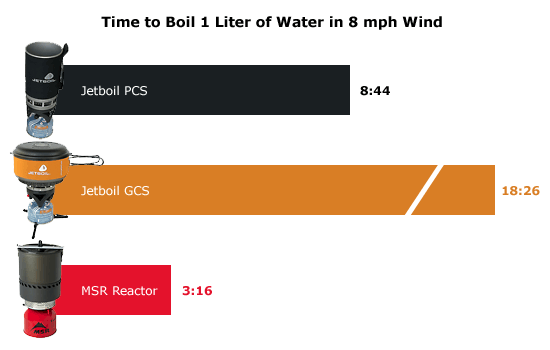 Thanks to their built-in piezo lighters, both Jetboil stoves are easy to light under windy conditions, while firing up the Reactor requires keeping a match or lighter going in the wind. This negates some of the Reactor's advantage in the wind, but MSR plans on adding a piezo to future versions.
Best Real-World Performance: MSR Reactor
Weight / Packability
At 15.3 ounces, the Jetboil PCS is the smallest and lightest integrated canister stove, but the tradeoff is that it has less than half the capacity of the Reactor and the Jetboil GCS. That's okay if you're traveling solo, but not so convenient when cooking for a crowd of hungry backpackers.
For an additional 4.3 ounces (Jetboil GCS) or 4.6 ounces (MSR Reactor) you get a pot with nearly double the capacity. The Reactor is the heaviest stove of the three, due mostly to its beefy heat exchanger, but requires less pack space than the GCS. When sharing the load with a partner, carrying a GCS or Reactor is lighter than bringing an additional pot for the PCS.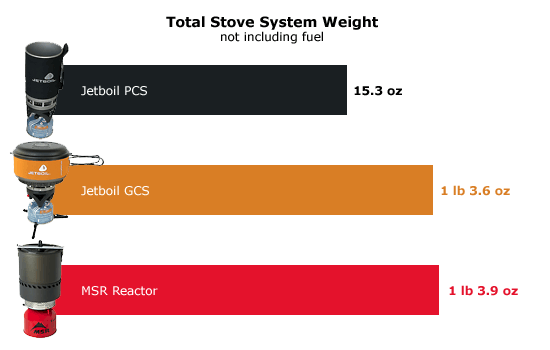 The Reactor and the Jetboil PCS are both designed so that their burners and fuel canisters (220 g canister in the Reactor, 100 g in the PCS) fit snugly inside their pots. The Jetboil GCS's components also pack inside its pot, but the fit is loose, which can leave the pot support rattling annoyingly in your pack.
Best for Weight and Packability: Jetboil PCS
Compatibility
The Jetboil GCS's pot support allows you to use the Jetboil burner with almost any cookware, including frying pans and larger pots, although you'll lose the advantage of the heat exchanger. Since the PCS and GCS use the same burner it's also possible to mix-and-match Jetboil components for different trips, using the PCS pot for fast-and-light summit attempt or carrying the whole kit along for family backpacking.
Most Compatible: Jetboil GCS
Cooking
Both the Reactor and the Jetboil PCS are designed primarily for boiling water and melting snow. Their deep, narrow pots are awkward to stir without an extra-long spoon, and are not particularly conducive to preparing haute cuisine. Neither is compatible with other cookware, so frying up breakfast pancakes is impossible. I did manage to cook a packaged rice and chicken meal in the Reactor, but stirring and eating out of the deep pot was awkward at best. For the most part with the Reactor and Jetboil PCS you'll want to stick to boiling water for drinks and freeze-dried meals.
Best for Cooking: Jetboil GCS
Ease of Use
The Reactor has the fewest parts: pot, lid, burner, and fuel canister. The PCS adds a protective cover for its heat exchanger, the cover doubling as a small measuring cup. Both stoves allow you to store the stove with the burner and canister still connected to each other, which saves time and hassle both before and after a meal or a quick brew. Packing up the GCS requires separating the components and arranging them just so inside the pot.
Like most canister stoves, a small knob built into the body of the stove regulates output of the Jetboil GCS and PCS. The plastic knob stays cool to the touch, but its recessed location can make it awkward to adjust, especially with gloves on. The Reactor's adjustment knob is located in a somewhat more accessible location, on the outside of the burner body. (Our test Reactor featured a large plastic throw lever that did not make it into the production version.) Since the Reactor is very quiet and the pot completely encases the burner, you have to lift the pot off the burner to tell if it's still lit; several times I extinguished the burner while attempting to simmer.
One unique feature of the Jetboil PCS is that the burner securely latches to the pot. By clipping the pot's nylon webbing handle to a carabiner, the PCS can easily be rigged into a hanging setup favored by big wall climbers. Neither the GCS nor the Reactor is so equipped.
Easiest to Use: MSR Reactor and Jetboil PCS (tie)
Conclusion
The MSR Reactor, the Jetboil PCS, and the Jetboil GCS are all solid performers and each has something unique to offer. Which stove is the best will depend on your specific needs.
If you often travel solo and are looking to cut your pack weight, the Jetboil PCS is the obvious choice. Its diminutive size and miserly fuel consumption make it handy for brewing a quick trailside cup of tea. Used with smaller 110 g fuel canisters, it packs down small and saves weight on shorter trips, but may not make sense if you're traveling with a group.
Review originally published as part of Integrated Canister Stove Showdown.
Source: received for testing via the Trailspace Review Corps (Sample provided by Jetboil for testing and review)

For my review, you should know that I do not have a NASA calibrated scale nor thermometer so don't expect me to tell you that the stove will use 12.2 grams of fuel to heat 875.0374ml of water to a temperature of 102.7836 deg C after 98.401seconds at an altitude of 78.7253m above sea level with an atmospheric pressure of… you get the idea. I will give basic measurements and human related feedback that will be useful to the outdoors-type person.
Product information
o Manufacturer – Jetboil
o 2004
o URL of top level manufacturer web site – www.jetboil.com
o 400g / 14oz
o Weight as delivered – I guess pretty close to what's listed
o MSRP - $79
Field information
o Tested in Okinawa, Japan
o The initial review was conducted at my home in Okinawa
o Weather conditions were fair and air conditioned with a temperature of 22.7 deg C / 73deg F
Features from the website
• A revolutionary, all-in-one design combining an insulated cooking/drinking cup and a quick-starting burner into a single package for superior heat transfer! The Jetboil uses less than half the fuel required by a conventional stove, saving you weight, space, and money. Ideal for backpacking, climbing, snowshoeing, skiing, hunting, adventure racing, and rescue work.
• FluxRing™ technology directs heat into your food, rather than into the air as waste
• Lightweight burner with piezo electric igniter is housed in a wind-protective shroud and adjusts for low simmer to high boil
• Hard-anodized aluminum cooking cup with lid and drinking spout provides optimal heat transfer and is perfect for hot drinks, soups, freeze-dried foods, and pasta
• Cooking cup can hold one quart of water, but is designed to boil only 2 cups (16 fluid ounces) at a time
• Compact 7-ounce (3.5-fuid-ounce) propane/isobutane canister (sold separately) stows away in cooking cup when not in use; boils up to 12 liters
• Neoprene sleeve allows you to grip the cup while it insulates the contents to speed up boiling time
Initial impressions
I received my Jetboil stove packed in a plain box with not a whole lot of interior padding. This leads me to believe that the manufacturers believe their product to be pretty rugged seeing how it traveled from New England all the way over here to Okinawa, Japan. The product's box is nicely illustrated with informative graphics covering how it works, efficiency, and a general overall verbal description of its main features. If I had never heard of Jetboil before and had simply picked up the package to look it over, I'd want to buy it (and the Backpacker Editors' Choice Award for 2004 helps that also).
Upon opening the box everything was all packed up, wrapped in plastic, with no visible instructions. Opening the lid revealed instructions and the burner portion of the stove inside. Both the Jetboil and the instructions are plastered with a myriad of warnings – covering all possible lawsuit angles. Truly a reflection of today's society and a smart move on behalf of Jetboil – so when you use it to boil eggs with the stove overfilled at night inside a sleeping bag inside a tent on the back of a flatbed truck going down a bumpy road – and you burn yourself and then succumb to carbon monoxide poisoning while trying to extinguish your brightly burning sleeping bag -– you will have no one to blame but yourself.
The instructions are very detailed and organized in a common sense, straight forward approach. Nomenclature of the various parts of the Jetboil Personal Cooking System (JPCS) is covered 1st, along with pictures. Setup, lighting and heating liquids, what to do after the liquid is heated, storage and troubleshooting is then covered. Warranty information is also on the instruction sheet.
Putting the Jetboil together
Setup of the stove is very simple and after a quick review of the instructions I was able to setup my stove in less than a minute. The most difficult part of the setup was the removal of the plastic cover from the burner base. There is a very tight fit going on indeed. I thought at first there may be a locking mechanism or tabs holding it in place – but it was just old fashioned friction keeping everything together. Start, fill and ignition of the stove took just under a minute and a half on the 1st try, and I was not rushing.
NOTE – Jetboil says to only use their fuel with the system (again, the threat of lawsuits rears its ugly head) but being in Okinawa they were not able to send me the correct fuel. The book answer I received from the guys at Jetboil was this:
"The Jetboil PCS is equipped with a standard hiking canister valve fitting (EN417-style). We are not able to recommend the use of fuels canisters apart from the Jetboil Jetpower 100 gram fuel canister, due to our inability to verify full and safe compatibility with our product with other canisters. In addition, and for similar reasons, other fuel canister manufacturers will not allow us to recommend use of their canister with our product. Therefore, the user assumes responsibility for any lack of compatibility from using an alternative fuel canister."
I picked up two different types of canisters at a local store here in Okinawa. One was an Iwatani-Primus 110g (3.88oz) Propane mix canister (PG-110) and the other was a 110g (3.88oz) Snowpeak Giga Power propane mix canister (GP-110). Both of these canisters mated up perfectly to the Jetboil without any leaks. Both fit perfectly inside the Jetboil stove and when packed together with the burner base, the lid closed just right and everything fit snugly inside. An important note here is the lack of noise produced when everything is packed up. For me, and my military brethren, silence is golden. The Jetboil is 100% silent when packed up and shaken providing you use the plastic cap on the canister.
Without it, there is just enough room inside the Jetboil to allow everything to move a bit and make noise when shaken. It's the little things that make the big differences
Operation
The Jetboil is made up of 2 main component groups. They are….
• the Cooking cup group – this consists of the
o cooking cup – 1000ml / 32 fluid oz total capacity
o The Cozy – a neoprene cover (about 2mm thick) with a nylon webbing carrying handle sewn into it. Slips over the cooking cup, no snaps or fasteners needed.
o The Lid – with a drip free spout for sipping and pouring. Attaches to the cup via friction. Heat resistant.
• The Burner group – consisting of:
o The burner base, a thermoplastic molded base that holds all the burner parts.
o The burner head, an aluminum or steel cup with a brass grill assembly for the burning gas to pass through. This has what appears to be a woven steel center (rust problem? Time will tell).
o Steel base plate – this appears to help direct heat upwards and has inward facing nipples to allow it to lock into the cooking cup.
o The Valve assembly – the control valve allows adjustment from a low simmer to a rolling boil.
o The igniter head is a piezo electric igniter for 1 touch, match free lighting.
o The plastic cover – protects the Burner group when the stove is stowed. Graduated at measurements of ¼ , ½, ¾, and 1 cup. Makes a nice drinking cup also. Has a small mystery tab and hole on the lip of the rim, for a tether perhaps? Hmmm
Instructions for use from the enclosed paperwork
JETBOIL SETUP & IGNITION
1. Remove fuel canister and burner base from cooking cup. Make certain control valve on burner base is closed and check that O-ring is clean and not cracked, cut, or broken. Do not use Jetboil if O-ring is damaged. Fuel will leak
2. Remove fuel canister cap and store. While holding canister upright, screw it securely to burner base. Do not overtighten.
3. Set burner base and fuel canister on a firm, level surface.
4. Turn control valve 1/2 turn counterclockwise to open, and then immediately press igniter button repeatedly until flame is observed. Use control valve to adjust flame to low-to-medium setting.
COOKING & HEATING
1. Remove plastic cover from bottom of cooking cup. If plastic cover is too tight for easy removal, tabs on cover can be trimmed to achieve desired fit.
2. Orient cooking cup with lighted burner base by visually aligning slots in cup with projections in base. Then lower cup into base and turn cup clockwise until cup locks in place.
3. Rest lid loosely on top of cooking cup during heating
4. Do not fry or cook foods with low moisture content. Unit will overheat- you can be burned. Low flame settings only should be used when using cooking cup filled above the 2 CUPS fill line, as boil over may result.
AFTER COOKING OR HEATING
1. Turn off control valve (clockwise) and tighten to extinguish flame and to prevent gas leak.
2. Detach cooking cup from burner base by holding plastic portion of of burner base and rotating cup slightly counterclockwise. Do not touch exposed metal; it will be hot.
3. Replace plastic cover on base of cooking cup to prevent burns. If you plan to reuse Jetboil soon, leave burner base and fuel canister attached and on level surface.
STOWING
1. After use, unscrew fuel canister, put on plastic fuel cap, and keep canister away from heat, direct sunlight, and sources of ignition.
2. Let cooking cup cool, then clean and dry it.
3. Place fuel canister in bottom of cooking cup. Place burner base with igniter up in cup on top of fuel canister.
4. Secure lid and plastic cover on cooking cup. Do not discard fuel canister until empty and then only in a safe place away from heat.
My experiences…….
Setup and ignition – As stated above – Simple, simple, simple, and quite fast – less than a minute to put it together and less than 1.5 minutes till fire was under water. Ignition is always fun as I somehow manage to create a small explosion every time I turn it on. I believe my technique is too blame, too much gas and not quick enough on the igniter. Fine by me – I like the baby boom 
COOKING & HEATING – All I have cooked and heated is water. Even at a rolling boil the cozy insulates the cup so it is always comfortable to pick up. I have been able to boil 1 liter of water (the recommended "Max Fill Level" is 500ml) without a boil over – one just needs to pay attention to what's going on. 800ml of water was brought to a rolling boil without over boiling. Worth noting are a few things ….1. The cup by itself pours better than my Nalgene bottle and with the sipper lid on it, the Jetboil pours great also. The cozy does a wonderful job of insulating the cup – keeping it cool enough to pick up with bare hands just seconds after boiling water. When carrying the Jetboil by the nylon strap carrying handle, the cozy will stretch and pull away from the top of the cup if it is more than ¾ full of liquid – not really a problem but not very stable.
For the volume of liquid I was able to boil - I was able to boil 14 liters / 3.7 gal of water with the 110g canister. To add a real world element to it, I switched between room temperature and cold tap water for my heating trials. I varied the amounts in the cup from the halfway mark (the manufacturer's max safe fill level) to just under being filled to the brim. I did purposely let the stove boil over once – it did not self extinguish and was very interesting to shut off with boiling water cascading over the edges – ha ha.
AFTER COOKING OR HEATING / STOWING – The stove itself cools rapidly while the cozy does an excellent job of maintaining the cup's temperature for quite a while – an hour and 15 minutes after boiling water it was still 45deg C / about 112deg F.
If all you heat is water storage is a breeze – after emptying the residual heat from the cup does a nice job of drying the interior out. Just be sure that the bottom of your propane canister is clean before putting it back inside your cup. If you heated something else – just rinse away and that should be it. Packing the stove takes just a little longer than unpacking it.
TROUBLESHOOTING – The instructions provided by Jetboil have a very extensive troubleshooting section, but I don't think that will be put into use very often. It is such a simple design with so few moving parts that it should stand up to the rigors of use and the test of time nicely. I would carry an alternate ignition source just in case. Murphy has an ugly way of rearing his head at the worst possible moment.
OVERALL IMPRESSION – This stove is the heat (pun intended)! Simple to use, fast to set up and take down, more fuel efficient than a Toyota Hybrid car – I love it! Looks like it could take as much, if not more, abuse as any other stove on the market. It is easy to pack, quiet and dependable. If you eat like I do in the woods (mostly fluids and dehydrated foods) – this is the perfect stove. A couple small propane canisters ought to last you quite a while in the wilderness (12L / 3.17 gal of water per 100g canister is a great fuel to water ratio). Just remember – this is a personal stove. Don't go making coffee for your 15 person expedition twice a day or your fuel won't last long at all – but for 1 or 2 people, perfect!
As an added bonus – the Jetboil just fits inside my Kifaru Liter Pouch Plus Pocket (http://www.kifaru.net/MG_nalg.htm) which makes storing the stove on my pack ever so easy. They ought to be sold as a pair 
Some changes I would like to see are
• Some sort of a base to attach to the bottom of the propane tank to increase the stability – right now this is a flat surface use only, top heavy stove.
• Titanium or hardened aluminum used instead of steel for the burner head and base plate. If that is too expensive, I'd like to see it in brass – some material that will not rust over time.
• Alternate cozy material – the cozy right now insulates great, but I can see it coming apart over time. No cozy = a bad thing indeed. Thermo-molded composite, carbon fiber or heat resistant plastic are all viable options, I believe.
• Some sort of an attachment to enable a frying pan or larger pot to be used. I'm happy with how it is, but I know lots of people that really like to show off their cooking skills in the woods.
This is a great stove and I highly recommend it, the guys at www.jetboil.com have a real winner on their hands.
Any questions or comments, feel free to contact me at javahedz at msn dot com
Best suited for one or two person backpackers, cooking dehydrates meals or simple reheat style meals. Not Ultralight Weight @ 14 ounces but still better than a 2-ounce soda can stove.
Pros
Very efficient
All-in-one system
Cons
Best for dehydrated meals
Fuel size can be a pain on longer trips
Relatively heavy
This is one of the best stoves I've tested and used. It's small, light, speedy, easy to set up, and stable. Many useful features make this my top pick for minimalist activities.
My favorite feature on the Jetboil is the neoprene covered pot, which means that you can handle the pot whilst its hot and means that your food/water/meal retains heat better not leaving you with cold food. Furthermore it means you use less fuel heating your food.
Stove is incredibly easy to set up, meaning you can do it when you forget to pack the extra batteries for your headtorch, and you arrived to camp late and need to reserve all the light you have. Once setup its an idiot proof ignition system turn the knob click the lighter. The burner is reasonably adjustable, however dont expect a super low simmer... It seems to have Medium, High, Higher & Nuclear Fusion (probably because it was designed around boiling water for dehydrated meals).
Because of the pot and heat exchanger design the stove works well in most windy conditions, however sometimes you will need to rig up a windscreen for very exposed campsites. Packing the stove away is easy and it all fits into the pot w/ fuel can as well. 
Overall the stove has been with me on countless trips and I'm yet to break it. Fantastic for 90% of the hikers out there.
Source: bought it new
Price Paid: $130

The original and still the most versatile.
Pros
Compact and neat when packed
Quick without blowing through fuel
Easy to handle and manipulate without being burned
Cons
Moderate temp control medium to very high only
A bit heavy
I've had this one for six years now and have been quite happy with it. I have several stoves, but when it comes to winter trips where we are usually eating soups and having hot drinks, this one works out the best. When we go flyfishing, this works great to warm soup and hot drinks and is very stable to use under the back door of an SUV. It sets up quickly, then cleans up and breaks down quickly. no muss, no fuss. 
For long adventure motorcycling trips, I use an MSR Whisperlite Universal that I can burn gasoline so I don't have to worry about about different fuels (I do carry a small canister for backup). That being said, the MSR is much more cumbersome to pack and set up. It has sharp corners (which the Jetboil does not) that require special care when packing as the vibration caused when riding will allow those points to chew holes in the storage bag and anything packed around it. 
I did purchase one of the new Sol systems but returned it as the temp control was negligible. I started a can of chicken noodle soup on low and in the 45 seconds I dug a spoon out to stir it, the soup had already scorched on the bottom. It boiled water like lightning, but that all it was good for and this system does that and more.    
Source: bought it new
Price Paid: $79

I will admit that I was at first very resistant to the point of bias against the Jetboil PCS. When I was stove-shopping, the MSR Reactor and Primus EtaPower EF both had just been released and I was looking very hard to get my hands on one of these "2nd generation" integrated stoves. Did I mention that I'm a gearhound and totally get off on bragging rights? I wrote off the Jetboil even as the cute REI saleschick recommended it to me as her personal recommendation... which I managed to pooh-pooh to result in a stupid missed opportunity... Anyways long story shortened, I ended up "settling" for the Jetboil PCS a week later due to a combination of reasons, mostly price and availability. I figured that it would work "acceptably".
A few outings later, I am absolutely in love with the Jetboil PCS. This is simply due to the fact that the overall package is so well-conceived that it makes reconstituting dehydrated meals (we subscribe to the I-can't-be-bothered-to-really-cook-tired-and-without-a-real-kitchen school of thought) a complete no-brainer. The stove locks together in 5 seconds, and lights in a twist and a click after you fill it with water relative to the 2-cup "max. safe fill" line.
Now, personal experimentation has revealed that a 750ml+ (3-cups) fill is still safe for boiling water, but the thing is that most reconstituted meals require ~2 cups of water, give-or-take depending on the meal. The "max. safe fill" line is therefore the perfect mark to eyeball the majority of required amounts with.
The thing about the Jetboil PCS that is obvious but requires actual use to appreciate the totality of the genius is the fact that 1) the entire stove locks together, 2) almost the entire stove is insulated/touchable, and 3) the profile of the unit is a cylinder of hand-friendly proportions. It does not handle like a stove, but rather more like a thermos. Why bother with a pot handle when you can just grab the pot? Why worry about a pot and a stove, when all you have to do is just deal with the single potstove?
I guess a few years ago when the Jetboil was new on the market, it had top bragging rights for speed, efficiency, and wind-resistance. It's not that it lacks in any of these qualities these days, but it is true that newer integrated stoves have exceeded the Jetboil on some of these fronts. That said, the Jetboil PCS is still king for ease-of-use and being un-stove-like (ie, free of the hassles and concerns of a typical stove).
In the months before the Jetboil hit the market, I was kind of discouraged by the preview commentaries--"Jetboil probably won't live up to its hype in real world conditions," I remember reading somewhere. I hope that writer didn't make any wagers on his accuracy, because he would have lost BIG time.
I've been using the Jetboil for almost a month now, and it's FANTASTIC. The Jetboil is a complete cooking system--cook pot attaches directly to the burner, and you can even carry the thing around safely like a coffee mug WHILE it's cooking. Try that with your MSR WhisperLite and Alpine Cook Set, eh? In short, Jetboil blows away most of the multi-component ultralight cooking systems out there.
The only perceived drawback is that it's not self-cleaning. Because the burner will only work with the fitted Jetboil pot, you have to clean out the cooking pot for each use--so, you make tea and then clean out the pot so you can make spaghetti and then clean out the pot so you can make coffee, et cetera, which might be too linear and tedious for you multi-taskers out there.
One answer is to buy another Jetboil cooking system (or two), and have multiple burners cooking at once. Another answer is to buy multiple Jetboil pots, to switch-out and pass around.
My favorite answer is to use a cheap boil-n-bag inside the Jetboil pot... make coffee and drink it, turn the boil-n-bag inside-out, make oatmeal and eat it, rinse and turn the bag inside-out, make cocoa and drink it, for example When you're finished, place your utensils in the boil-n-bag and stow it, and your Jetboil is barely soiled, if at all.
You'll realize the value of this baby immediately--the Jetboil is worth every cent. In fact, by the third time I had used it, I was seriously thinking that they should have charged MORE for this gizmo. It's an invaluable tool, IMHO, and I wish the company all the luck in the world as they develop their product line.

Price Paid: $75

I give it one star for ease of use, and one for both its efficiency and its weight.
The first time that I used Jetboil was the last time that I will ever use Jetboil, that is, that I will ever use Jetboil with the cozy-covered aluminum cup. I will now use Jetboil only with the pot stabilizer sold by the manufacturer.
Why? In a word, I don't like to drink coffee that tastes like metal. Yes, I washed the cup several times before using it; and I boiled five 'pots' of water before I boiled water in it for coffee. No luck. It seems too many molecules of aluminum find their way into the water that is boiled. (I drink my coffee black, and I have drunk my coffee black for decades. Never do I detect a metallic taste when I brew it at home. I always drink it from a ceramic mug, and, when on the road, from a mug made of hard plastic.)
It may be difficult or impossible to detect a metallic taste in food prepared with water that has been boiled in that cozy-covered aluminum cup made by Jetboil, but I for one will not kid myself, and pretend that my food is aluminum-free. The human body is not made to metabolize aluminum. I plan to use a titanium pot when I use the Jetboil burner for cooking, unless I can find a really light Pyrex pot, which is probably the safest thing to use for boiling water and for cooking in general. My advice is, don't kid yourself.
By the way, I never sweeten my coffee with anything.
Also, I would never take a Pyrex pot on a backpacking trip, and did not mean to imply that I would. I use my Jetboil (with the pot stabilizer and a titanium pot) at work. (I work outside.)
Price Paid: $79

This little piece of cooking equipment was well worth the weight. During a week long backpacking/canoing trip to Canada with several other guys we ate a lot of freeze dried meals. The Jetboil would out boil the other guys' stoves and be ready to make another run before most of them ever even got the water very hot. The way it packs down into a very small and convenient package had a few more experienced campers who already owned stoves to take a closer look at the Jetboil system.
The efficiency is next to none, I was very wowed by the performance of the Jetboil even in windy conditions. I was also very happy to find that the stove worked with other types of fuels (even though the warning says not to). I also tasted nothing in the food as Aluminum goes, I was afraid I would get contamination at first, but I got nothing.
I found that the pan adapter is hard to use well without creating a hot spot in the middle of your pan. I have not used the Jetboil pan so that might work better. If you use a 220 ml can you wouldn't be able to pack it up the same but it will still work. It can become a little unstable when full (2 cups, don't do much more, it WILL boil over) and at a rolling boil. If you plan to make eggs over easy, bacon or pancakes, look into the pan or another system, if you're making lots of that freeze dried stuff (which can be quite good) you can't beat a Jetboil stove.
Price Paid: $65

This is a review of the PCS and all the accessories. The price ($300) is for all components.
I'm a gear junkie. I love buying new equipment, and even though I didn't need the PCS I ended up buying it anyway. I even bought the frying pan, the part needed to use it (which in itself is ridiculous) and the coffee press while I was at it. I think I spent $30 on the utensils, and $20 on the tripod for the canister to make the whole thing a bit more stable as well.
What a waste of money!! I was not impressed by the boil times, as they were so far from what it said on the box that it bordered on being a joke. The gas consumption was also a lot higher than expected, just a fraction lower than my little Primus Litech burner and kettle, that boiled water almost as fast.
OK, the PCS was a little bit more effective in wind than the Litech, but not a lot. The frying pan worked just like any other thin metal frying pans, the heat is located in the middle were everything gets scorched while the rest of it stays too cool to fry properly, even though there are heat exchangers around the edges.
The spatula melted when trying to flip pancakes, the tripod snapped on the first try and the bottom lid kept on falling off exposing the rather hot heat exchanger on the pot. The coffee press does work though :)
So I'll give the PCS one star for being compact when not in use, and half a star for being usable as a large insulated mug.
Too bad return policies are so different here in Norway, otherwise I would have been the owner of some other equipment at the same price. Now the PCS is nothing more than a waste of space in my gear closet.
Price Paid: $300

Works well, fast when not filled to the top. Ignitor is not reliable but I just use a lighter. Works OK in cold temps (sub 0), but performance is reduced significantly. I would definitely recommend this.
Pros
light weight and compact
fast
Cons
canisters are wasteful
ignitor is not reliable
I've had the Jetboil for about 2 years now and it's still going strong. Works pretty well in all conditions. I use it a lot backcountry skiing in the snow and it has performed reasonably well in sub 0 temps.
It does take a lot longer in cold temps, and I have had one canister freeze OPEN, spewing gas out into the air. As long as you only fill the cup to the line it boils VERY fast, filling to the top takes much longer.
Compact size is excellent, and one small canister will last several days in the backcountry.
Source: received it as a sample, freebie, or prize (raffle prize at a movie)

Pretty convenient, but not without flaws.
I have the Jetboil Personal Cooking System (PCS) and the Group Cooking System. They're essentially the same thing -- a PCS becomes a GCS with the addition of 1) stabilizing legs that fit under the canister; 2) a pot stabilizing device that fits on the burner; and 3) a 1.5 liter pot instead of that big mug.
Hard to beat the conveniences of the system -- quick to set up, quick to boil, packs down conveniently, not too heavy, easy to adjust the flame, integrated igniter.
However -- and this is why I give it 3.5 stars -- while I have used it successfully in warm and cool-ish weather, when I used it on a cold Columbus Day weekend in the Adirondacks, it was difficult to get started; I was worried I might not be able to get it going.
This is always a problem with canister stoves, I realize, but this wasn't winter camping, it was colder-than-usual fall camping, so I was a bit disappointed.
I won't give up on this system, but in the future, I will probably feel compelled to carry a back-up stove that can invert the canister (MSR Windpro or Snowpeak Gigapower or similar).

One trick pony.
Pros
Boiling speed
Lightweight
Cons
Igniters
Lack of versatility
The annoying thing about Jetboil is the igniters. They last about a week of use before eroding away, totally unacceptable when you consider what these devices are used for and where they go. Why Jetboil allows such inferior igniters to be used in their product mystifies me. I would not use one again and in fact sold all of my Jetboil  gear.
Another reason not to use them is that the pots are useless on anything other than the Jetboil stove. i.e they are no good on a hot plate or campfire situation and they are not good for anything other than heating water. If all you need is to boil water, they are fine. But no good for cooking.
In the future, l will go back to my versatile stainless steel pan which l can also use on a fire and trusty simple gas burner with a dependable ignition system.
Source: bought it new

Bought the JetBoil a couple of years ago and loved it, the concept is fantastic and the boil time as good as it says on the box.
However I have hit a problem that has rendered the unit useless The JetBoil uses a burner from Primus that has a fabricy type disc in the middle of it. This disc is sandwiched between a perforated and profiled washer and the burner body. It seems that over time this fabricy disc deteriorates and reduces in size making it loose within the burner assembly.
When you use the JetBoil in this condition the fabricy disc can oscillate whilst in use making a very distinct pulsing/rasping noise, the heat output to the cup will drop but all the heat will be channeled into the burner body turning the burner ORANGE to WHITE hot.
I have contacted customer support a number of times to get a resolution to this, but it seems all they are interested in is taking your money as I have heard nothing back. This leaves me very disappointed as overall I thought the JetBoil was a fantastic concept.
Price Paid: £68 Blacks

JetBoil makes hot water happen fast, in a medium weight package.
Pros
Fast
Low CO production
It all hooks together so you can even run it in your car on trips, w/ the window cracked
Convenient, not fiddly at all
Cons
Struggles to cook thick, goopy food
Cup is a narrow, 1L vessel, which is not super convenient to eat from.
Mine has been flawless. It goes in my hunting pack when I need hot food quickly and quietly, in fire ban areas, as well as at altitude.
Mine heats water for hot drinks, Mountain House, and Campbell's condensed soup.
This stove is extremely convenient when you are reheating or cooking instant types of food.  I've used it at 9K feet in the autumn, and been very happy.  A 110gram fuel can lasts forever.
The only thing I would change is to make it wide enough for common 220 gram fuel cans. I see that JetBoil has now attended to this minor concern, in their newer models.
Source: bought it used
Price Paid: $50

This took the place of my beloved MSR Whisperlite Internationale. It was getting old, needed cleaning far too much, and it was starting to get a little dangerous, so I sniffed around for something new. This won't be an extensive review - others here have covered those bases. But I did want to agree with them and say that the Jetboil system is a gem - it does everything it says on the tin.
Lightning quick to boil water, and with the pot support it makes a nice stove (particularly if you invest in the $49 Jetboil 1.5l pot, which has a flux ring similar to the cup's.) I'm a caffeine fiend, so I love the fact that I was able to grab a coffee press for perfect java every morning on the trail too! When you're done with it, I love the fact that everything stores within itself, making morning cleanup a snap.
All in all, this is the stove I'd recommend for anyone who's comfy with a canister stove. If you're a liquid gas fan, though, you still can't go wrong with the MSR!
Price Paid: $79

This is an amazing piece of equipment - if all you're gonna do is boil two cups of water and pour it into the ubiquitous two serving Mountain House freeze dried dinner then this is the unit for you! It boils water twice as fast as my second favorite Snow Peak GigaPower stove which tells me it's using half as much fuel (it is!).
Mine gets used to 1) boil two cups of water as mentioned above, 2) melt snow and 3) to make coffee. I'm 59 years old and I've probably consumed more aluminum from metal pots than anyone would care to think about and I've suffered no ill effects to date so that isn't a concern for me. So far I haven't sprung for the coffee press (I use the kind of coffee that comes in a tea bag) but I just might. I WOULD recommend the feet for this thing as it is a little tall and top heavy, particularly when cooking inside your tent.
I have used the Jet Boil on my past few outings. I decided to use it for backpacking in Glacier National Park. We wanted to keep the weight down so we only used it for boiling water. No extra pans, only dehydrated food. If you go this route it is very good at what it does, boil water fast without using lots of fuel. I like the fact that I can pack the fuel, the burner and the stand into the container.
We have used it with the pot stabilizer and cooked with pans but it seemed to go through a lot of fuel. We also bought an extra cannister but have yet to use it. As an earlier reviewer commented, be careful not to let it boil over or you can't turn it off without risking burning your fingers. Also be careful when pressing the lid on. Steam can come up from the holes and burn your hand.
Price Paid: Gift

I received this as a gift this last Christmas. Since then I've used it twice. The first time I used it was on Wildcat in January. It was really cold, but not windy where we took lunch. I tried to boil some water for soup, but could only get it to bubble a little. It was still hot enough to make soup, and too hot to drink. I was still kind of disappointed though.
Then I used it during a hike two weeks ago. Both times that hike I made ramen and it boiled very quickly. Just remember to lower the heat after you get it boiling, before you put the noodles in, or else it overboils. Which is annoying. I have the support and pot attachment which are great, but over priced. I haven't used up a fuel canister yet, but hear they last a while. This is a great compact lightweight hiking stove. I love it.
Price Paid: $79.99

Here's another rave review for the Jetboil.
I have a bunch of stoves and use everything from alki, esbit, white gas and canisters. I probably never would have considered getting one of these until one morning a friend offered me a cup of coffee.
I was getting ready to light my stove and he offered me the coffee..which he provided in under a minute!
I had heard about these but had never seen or used one.
I bought one and have been enjoying the beejeebers since.
The Jetboil boils water fast! The fuel canister lasts forever and the other folks talking good talk about this whizbang thing are speaking truth.
Carried in a side pocket this thing adds endless possibilities to quick food and hot drinks while hiking.
I consider myself a gear junkie and this is one piece that makes me smile.
Price Paid: $99.00 (REI)

The Jetboil system is unique in that it forms one unit. It is very efficient at boiling water. With minor modifications (a zip tie and some string) the Jetboil can be hung while cooking. This approach is much more stable than trying to sit it on the ground. The unit is very unstable when full. Another drawback is that if you allow the unit to over-boil, it is almost impossible to turn it off without getting burned.
Aside from that, I enjoyed using the Jetboil on my last trip. It is lightweight and fuel efficient but has certain cooking limitations. The burner of the Jetboil has very low output. This is fine until you need to use a pot over the unit for a meal. It has a more difficult time heating conventional cookware than a regular canister or multi-fuel stove.
Price Paid: $75

Super real deal gear here.
All the praise is due this little mother. Not only does it work as well as everyone says it does, but I totally loved the way that it packed down as well. It does so such that there is not any rattling even when the lid is placed on the unit with the burner and fuel inside. This was especially pleasing to me, leading me to believe that perhaps the engineers really did take just about everything they could into account.
The igniter is a little temperamental at times, mainly in cold weather or after a number of consecutive lights in a short time period.
Great product. And it is sold everywhere now, so you can always seem to find one for a good deal from somewhere if you do your research.
Price Paid: $67

Love this stove!! Highly recommend the PCS if you can find one.
Pros
Size, makes the perfect two cup of coffee
Held up for 15 years
Easy to clean
Has never failed to work
Cons
Jetboil doesn't make this stove anymore.
I've had this stove for 15 years and it has never failed me. It shows some wear, but works perfectly. It is my go-to stove on every backpacking and camping trip. A couple of the plastic pieces have broke, but that was due to age and many uses.
Highly recommend this stove if you can still find the PCS model.
Background
Experienced user. 15 years worth. Makes my coffee and breakfast in 5 minutes.
Source: bought it new
Price Paid: $100

Purchased earlier this summer for 1-3 day hikes in Utah area. Excellent for short trips, for boiling water for a few of people. Also purchased tripod stand and coffee press for an additional $20 a piece; Both are well worth the xtra $. Coffee press is nice for morning coffee.
Skeptical at first, however soon became believer in this stove; quick and reliable for what it is meant for. Was able to boil 2-4 cups of water in 4-5 minutes at 9-10K altitude and 30-40F Temps, with Snow Peak fuel.
Will use later this Fall to test performance in a little colder temps.
For 3 season short trips, strongly recommend, can't say for late fall and winter. I have read recommendations to use MSR or Jetboil's fuel for late fall/winter trips.
Price Paid: ~60

Holly Cow... can you say "best bang for your buck"?
SERIOUSLY though, this thing gives you 2x the prof. in usage in fuel. That's awesome for those long tour hikes. Not to mention, it's an all-in-one. When you are done, you just pack it up inside itself, instead of trying to pack the pans, fuel, burner, and other gear hap-hazzardly around your bag. It's all there taking up less space.
The only problem is airlines, "some" don't like you to take it once you have pumped fuel through it, but hey, it's that way with all the airliners these days.
ENJOY. For 80 bux you really can't go wrong, since your water will be boiling in 90 min, and your tummy will be filled shortly thereafter.
Cheers!!!
Price Paid: $80

I've logged a lot of miles (on and off trail) with the Jetboil PCS. It's an outstanding and practical approach to lightweight hiking/trekking. Its compact self storage makes it simple to pack and unpack.
The flaws I find in this unit are in its electronic igniter and the measuring cup that grasps and protects the heating coil. All it took was one solid drop onto a granite boulder and the porcelain insulater within the igniter broke. (However, a spark from a lighter or firestick does the trick.) The measuring cup doesn't uphold to much pressure either. A split up the side can be repaired with duct tape!
My suggestion to the buyer: There's no better stove on the market for solo excursions.
Price Paid: $80

The Jetboil is a great stove for someone that likes things simple. The stove and fuel and measuring cup all fit into a package about the size of a Nalgene bottle. It sets up quick and boils water faster than any other stove that I have used. I work at an outfitter so I play with alot of gear. The downside of the system is the deep pot. It makes it hard to clean after cooking without getting food on your nuckles. And you end up holding the very end of our spoon while you try and scrape that last bit of food from the bottom unless you have a long spoon. Overall a great stove that lives up to the claims.
This is a fantastic device for boil water. That is all I mainly use it for. I always bring freeze dried meals and this will boil the 2 cups I need in about 2 min and 20 sec.
It has a great pack size and weight. It is completely self contained as one unit while traveling.
I would advise purchasing the support for the base and be cautious if you need to hold this while cooking on a windy day. The heat can blow out the side and be hot on your hand. Again, that is only in a very windy environment. The unit is never hot to the touch.
I have used it approximately 15 times and have not had one issue.
Price Paid: $99

Had my Jetboil for about 3 years now, and still love it! You know its limitations when you buy it, and survival trips at 5oooft in -20c is not where this wants to be! But for camping, hiking, fishing, motorcycling etc the Jetboil excels.
Lights first time and boils water in a couple of minutes. You can heat food nice and slowly with the lid on, giving it that casserole feel, and the neoprene cozy keeps it hot.
Heat distribution through the fluxring is excellent, and fuel economy is amazing, even the small 125 cannisters that will pack inside last ages.
A well thought out, high quality, very efficient piece of kit.
Price Paid: £60 (English)

I'll be honest - the only other stove I've ever used was a Coleman Peak One about twenty years ago, so for me to experience the Jetboil was like a caveman seeing a flamethrower for the first time. Or something like that.  
Anyway, the Jetboil is by far my favorite piece of gear.  Well-constructed, works every time, and does exactly what it claims it will do - boil water super duper fast.  
I love the heat exchanger.  I love the neoprene sleeve.  I love the company's commitment to the environment.  This plus some freezer bags of dehydrated food makes me very, very happy.
Price Paid: $100

I got this stove as a gift already used and loved my MSR Wisperlite. Then I went on a short trip only planning on boiling water for freeze dried meals. After that trip I never looked back not even sure were the Whisperlite is anymore. This little stove is amazing. First time I used this stove I started counting the boils from a Jetboil fuel can I boiled 2 cups of water 18 times AMAZING. Took it on an 8-day AT hike used one can might have had 1 or 2 more boils left in the can AMAZING. Will never go back to white gas stoves.
Price Paid: gift

Version reviewed: with pan, utensils, and coffee press
Went on a 3 day trip in the White Mountains (Liberty, Haystack, Lafeyette, and Lincoln) with 3 friends, first real trip with Jetboil. We had 3 stoves total. One was a primer any type fuel older system and the other had a MSR stove and the Jetboil was the best by far. Everyone was jealous and coffee was delicious in morning and enjoyed by everyone.
Everyone complains about cleaning the Jetboil system, but I found it simple with the spatula and spoon that came with it. Just boil some water and scrape away, definitely trail clean. Overall, like I said, everyone was jealous!
Price Paid: $100

Best used only for boiling water and possibly for cooking pasta without sauces as cup tends to hold strong flavours.
Care required when packing to prevent damage to ignitor insulator, I cracked the ceramic tube allowing the spark to short out, I removed the ignitor and binned it and now use a separate lighter.
For cooking I transfer boiled water to a wider pan and simmer using the Jetboil adapter on the burner.
Forget about the coffee press.
I take this to work every day to make hot drinks and a pot noodle and for this it is unbeatable.
Price Paid: £50

Using this at 7000 ft in 10 degree weather it boils the whole container in about 4 and a half minutes. I love the fact that it all goes in one case and the heat indicator is neat but not hard to look at boiling water. It light easily enough but the ignition will wear out like they all do but they make replacements. Seems like an unstable design but so far it hasn't tipped over.
Would have gave it 5 stars but pretty small for snow melting. It is an awesome product though and I would recommend it to anyone.
Price Paid: $100

I L-O-V-E my Jetboil!!!!! It is the most amazing stove. I used to be a big fan of the MSR stoves (particularly the Whisper Light), but when I heard about this gem, I had to check it out. It boils water MUCH quicker than any other stove I have used, and is lighter/more compact. I am a Boy Scout in Southern California, so I have used lots of backpacking stoves. This is by far, the best I have tried. I highly recommend this to anyone looking for a quality, fuel efficient, light and compact stove.
Price Paid: $80

I am impressed with the reviews here. So I bought one.
I love it. It is now my favorite way to prepare foods when I am hiking, backpacking (which I just started), motorcycling, and boating.
I have read several reviews that say it does not work well in above 12,000' in the cold. Something tells me that I don't have to worry about that.
Also, piece of advice. I tried a cheaper canister of fuel by Snow Peak. Not good. It only worked very poorly. It would not always give a jet style flame.
-John

Price Paid: $79

Great stove!
Pros
Compact
Options
Accesories
I have used this stove for making hot drinks, and food on the tail now for several years. It's as close to push button hot water on the trail as you can get! I have owned other stoves and now they're all gone, Jetboil is the only stove I use on the trail.
Source: bought it new
Price Paid: $100

I've had the Jetboil since March and have been on three backpacking trips with it. It's simple to use, reliable, and it boils water fast. Two of the trips have been in the winter here in Minnesota and even then it will boil water faster than just about anything else. Definitely a well designed tool.
The only downside is that the petzo ignition doesn't like to work if it gets wet, which really isn't a problem if you have a lighter with.
Price Paid: got as a gift

This little beast is awesome! I get about 15-20 boils per canister, depending on weather conditions. It is a little slow to boil in cold weather conditions. I was out last weekend and the weather was around 20 degrees or so. Not extremely cold but it had a little trouble getting going. I simply placed my hands around the canister, and it started going full throttle again. A simple fix for the cold weather sluggishness. Don't go hiking without it.
Price Paid: Gift

Fantastic system! It boils water in nearly the time claimed on the packaging. The only complaint I have is with the French-press coffee making insert. I bought mine separately at significant cost (but hey, fresh coffee is worth it). The press is cheaply made, doesn't work very well, and the coffee inevitably leaves your JetBoil wreaking of... well... coffee. Not the best taste to go with your pasta. I'd buy the JetBoil and pitch the press.
Price Paid: $70

I've been a fan of MSR stoves for some time and they would still be on top of my list if not for this gem of a stove. It is lightweight, fuel efficent, has a built in igniter, and packs within itself. I have used mine on numerous hikes and climbing on Mt. Rainier and various other spots in Washington state. It goes in my pack every time I go out.
Price Paid: $68

I'm not a postmodern ultralightweight minimalist, so I can say this with pride: this thing goes in my daypack every time. It heats fast, the small cans last seemingly forever (20 boils), and despite what the manufacturer says, you can boil a liter of fluid (if you're VERY careful). The only downside is that it's a bit tippy, but its small footprint makes finding a flat spot a chore, not a challenge.
Price Paid: $64 at EMS (during club days)

Just like American Express, you should alway have one in your vehicle, cabin, or fanny pak. I've cooked at least 12 full meals with simmering on one canister of fuel. I'll be purchasing the group cooker next month because I love cooking in the field so much. Best price around is www.travelcountry.com out of Florida. $64.99, no shipping or tax for non-Florida residents. GET SOME.
Price Paid: $64.99

Great stove. I use just for boiling water for the most part, and it does it quick. Have used it without a problem at 30 degrees.
I've had it for about 4 years, used around a hundred times and just replaced the igniter, which was easy and cost six bucks. One of the best features is the way it compacts.
Highly recommended.
As much as I desire to be an outstanding backpacking chef, I found myself doing nothing more than boiling water for a freeze dried meal, or for brewing some coffee. 
The Jetboil is perfect for my backpacking needs. It is more compact than my MSR Whisperlite and pots combined, and quick and easy setup and store. 
It simply rocks. 
Absolutely love it!!! Very simple design with outstanding results...quick, clean lightweight, self contained, fast and efficient.
The Coffee Press is an excellent addition although it is not the easiest thing to clean afterwards.
DON'T LEAVE HOME WITHOUT IT!!!
Price Paid: $69

Love the Jetboil PCS! It has made its way into my daypack for lunches on the summit. Brilliant design, the little extra weight is a fair trade for the ease of operation and the compact storage in your pack.
Price Paid: $89

Ingenious design with the ability to nest the fuel canister and burner inside the cup. My friend packed his MSR Windpro and was jealous of the weight and ease of use of the Jetboil I packed.
Price Paid: $69

Can't say much about the JetBoil PCS that hasn't already been said. It's small, lightweight, simple, and efficient. Between outings, mine lives in my car - just in case.
Bottom line:
Go get one!
Price Paid: 79.90

Jetboil is perfect for a single backpacker looking only to boil water. More people or complex cooking should look elsewhere.
However, this product is perfect for the use it was intended.
Price Paid: $90

The Good: Great design, non-stick pot, everything fits inside, looks cool.
The Bad: Not the lightest thing in the world, igniter doesn't work well in the cold.
Overall good product.
Price Paid: $89

I have had the Jetboil PCS for several years now, and I have found it to be the best stove for my needs. I have used it here in northwest Montana for everything from multiple overnight  hikes to ice fishing in -30 degree weather, and it has always performed flawlessly.
In my experience fuel consumption is surprisingly low and boil times are fast. I mostly use it just to boil water for coffee and meals when hunting/hiking.
I can recommend it above all others if you are not weighing your pack to shave every last ounce. Personally I would ditch something else to make room for my Jetboil, and I have to say that I would buy another one if this one is ever lost, stolen, or taken over by my son.
Update: December 17, 2011
Another hunting season down and ice fishing is just gearing up. Really it is worth its weight in gold, people. I cannot say that it is the best, but I can say that if you buy it, you will not buy another unit of any kind. You cannot go wrong with Jetboil.
Price Paid: don't remember

Your Review
You May Like
Specs
Price
Historic Range: $48.98-$149.95
Reviewers Paid: $50.00-$130.00

Fuel
propane/isobutane, Jetpower

Dimensions
7.1 x 4.5 x 4.1 in

Weight
15 oz / 425 g

Recently on Trailspace