Jetboil Flash Cooking System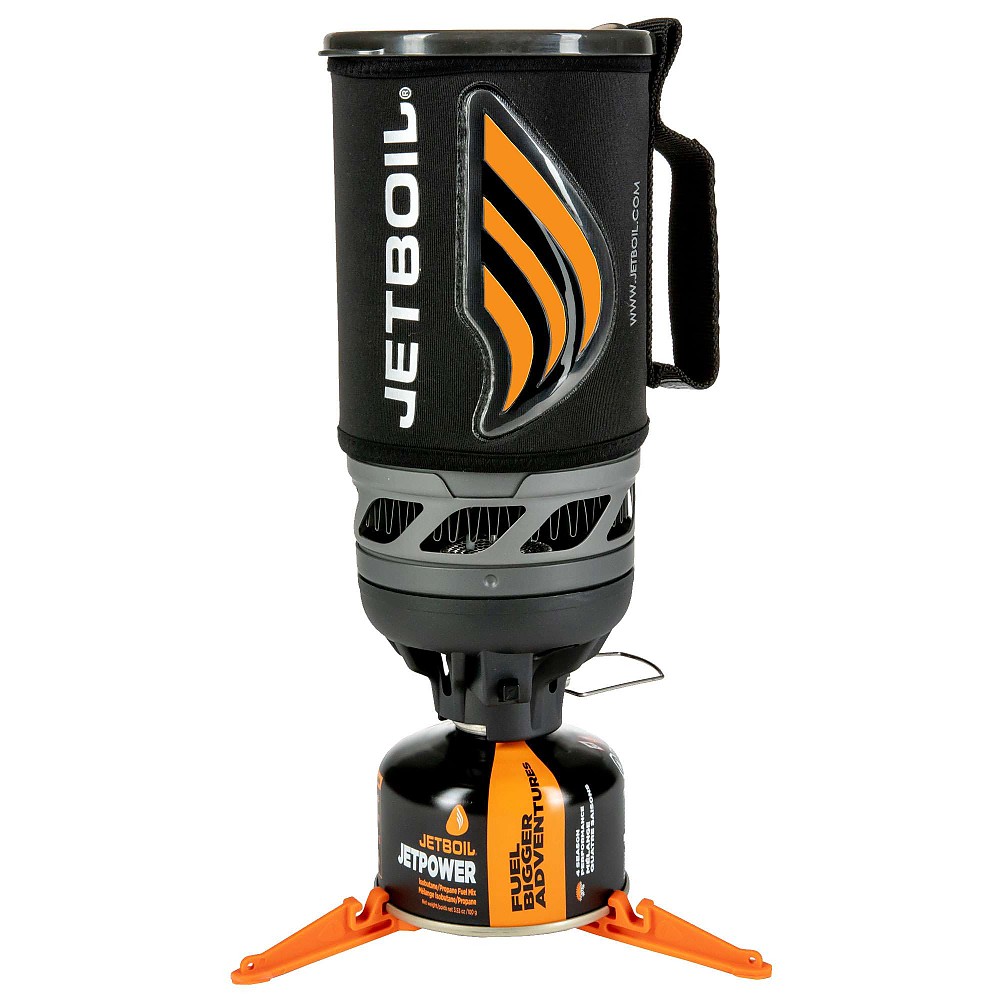 Version reviewed: 2018
The new 2018 Jetboil Flash is designed to boil water even faster than the original Flash. Jetboil's Flash cooking system is a convenient option for the traditional or lightweight backpacker, who is looking to quickly boil water for hot drinks or dehydrated meals. Double the BTU's? Jetboil DID IT.
Pros
Extremely efficient/fast boil
Excellent design/nice features
Reliable ignition system
Cons
Little/no flame control
Only boils water
Non-reusable fuel type
Minor updates beyond improved burner efficiency
Not the lightest option for backpacking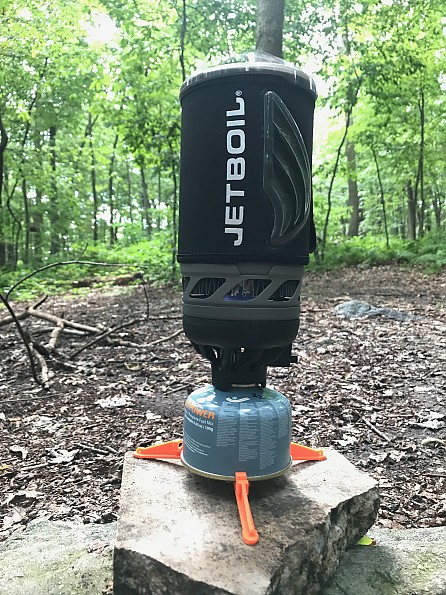 A mainstay in the outdoor industry, Jetboil was founded in New Hampshire of the USA in 2001. Their function-specific design has won millions over, and seem to be on every trail these days.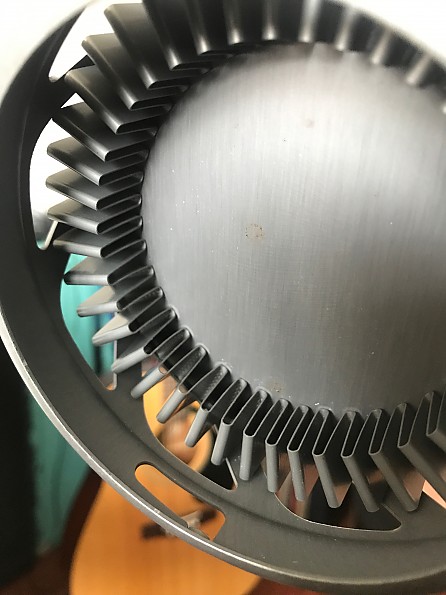 Close-up view of the heat exchanger
Specifications
Weight: 14.1oz/400g (stove, reservoir, lid, cup, and fuel stabilizer)
Ignition: Built-In piezo igniter
Fuel type: Iso-Butane canister
Fuel regulator: No
Boil Volume: 2 cups/ ~ .5 liter
Max Volume: 4 cups/ ~1 liter
Boil Time: 100 seconds/2 cups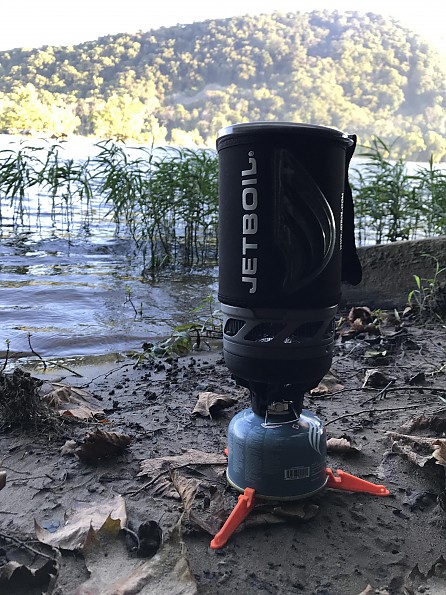 Taking in the view alongside the Potomac River, Harpers Ferry, W.V.
The Flash cooking system is a reliable, no-fuss way to quickly heat water and provide peace of mind to the user. The entire kit packs into one streamlined canister, which keeps virtually all camp kitchen items in one place. Sadly, Jetboil deleted the utensil sleeve that was sewn into the neoprene sleeve in the previous Flash model. There happens to be just enough free space to fit a bandana, which is necessary to silence the rattle when hiking.
The pot stabilizer, burner, and small fuel canister (not included) all nest into the reservoir.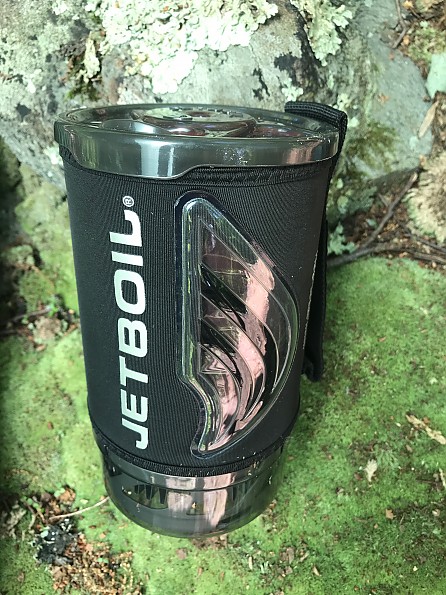 The Flash packed away, for convenient storage
The plastic cup protects the heat exchanger at the bottom of the canister, and also has volume measurements.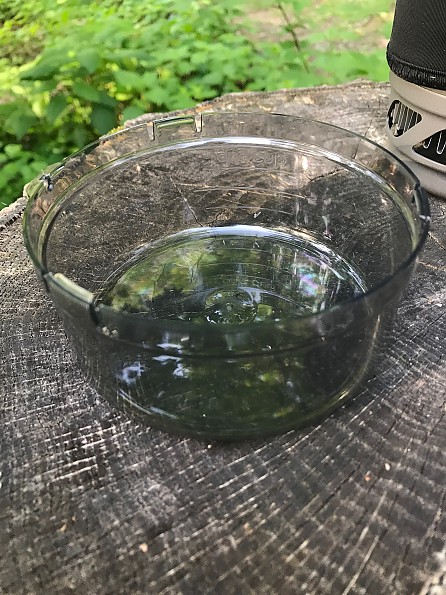 Setup for the Jetboil Flash is quite intuitive; simply screw the fuel canister into the burner, attach the cup to the top of the burner, clip the fuel stabilizer onto the fuel can, and it's business time!
The Flash cooking system is very stable when using the included fuel stabilizer. The stabilizer will fit all canister sizes: 100g (pictured in review), 230g, and 450g.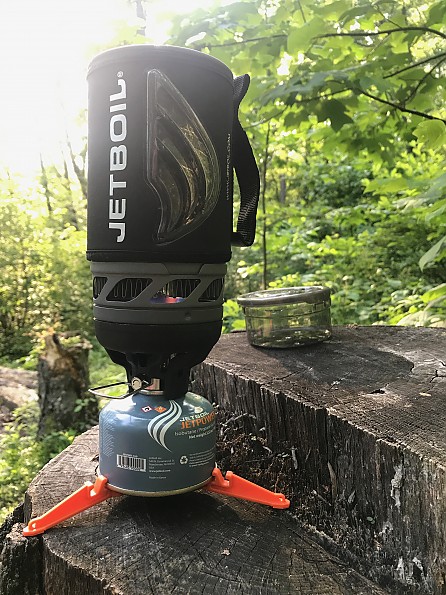 Note: only the 100g fuel canisters will fit packed inside the Jetboil Flash Cooking System
Lighting the stove is a breeze; open the gas valve, press the piezo-igniter, and that's it. Over a four-month period of testing, the ignition system successfully fired off the stove at first press. Every single time.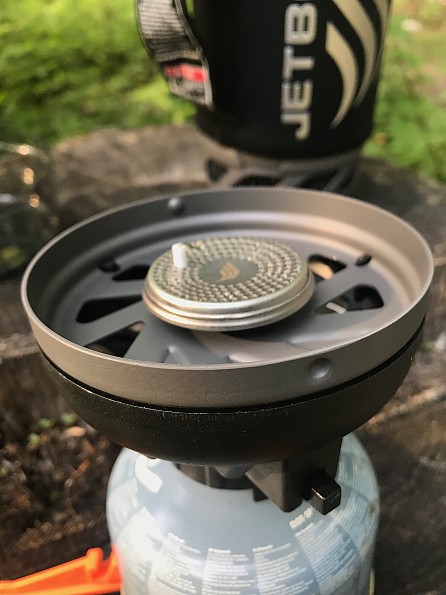 Simple push-button ignition makes for an easy boil
No need to adjust the gas valve, the Flash does not use a fuel regulator. Boil-only cooking systems need no flame control, alleviating the need for that simmer fine-tuning. This clearly limits the use of this stove to boiling water, rather than cooking.
The lid has a sip/pour spout, as well as a strainer. The Flash cooking system is also compatible with Jetboil's proprietary French press kit. The newly added strainer design works well, as does the pour spout for enjoying a hot beverage.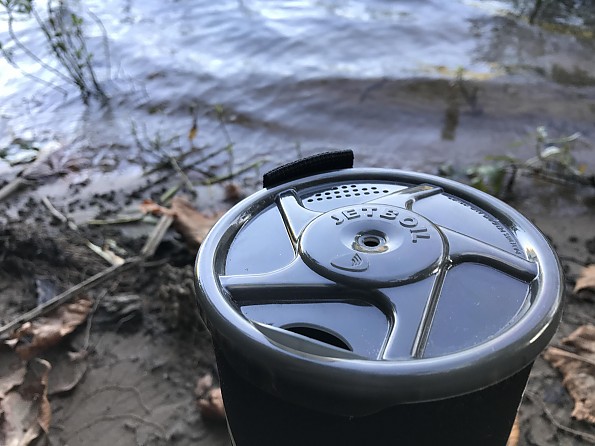 The strainer is a new feature on the lid of the Flash
Jetboil claims that their updated burner cuts up to a minute of boil time off of the earlier Flash model. Over the course of product testing, this appears to be a sound statement. The Flash is specced to boil its .5 liter volume at 100 second. Tests on boil time in the field showed nearly half that time this summer on the trail. The Flash was not tested outside of typical summer temperatures. There is no doubt that the R&D of the updated version has proven to yield one of the most fuel efficient cooking systems on the market. Although not tested, Jetboil claims an average of 10g of fuel consumption per .5 liter boil.
The Flash appears to be just as wind resistant as the previous version. Using nearby wind-breaks, the stove has never been blown out by the breeze. It should also be stated that this stove has found fair weather during the summer of 2018 on the East Coast.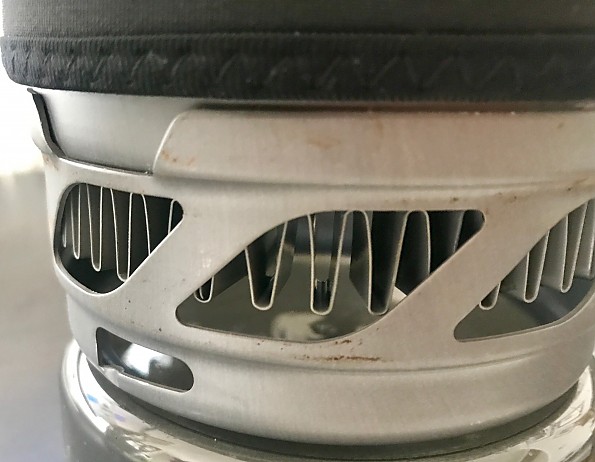 The bottom structure of the stove aids blocking wind
Other than a slight aesthetic redesign, all updates to the Jetboil Flash live "under the hood." The boil indicator on the removable sleeve appears to be higher contrast, with a more quickcolor change.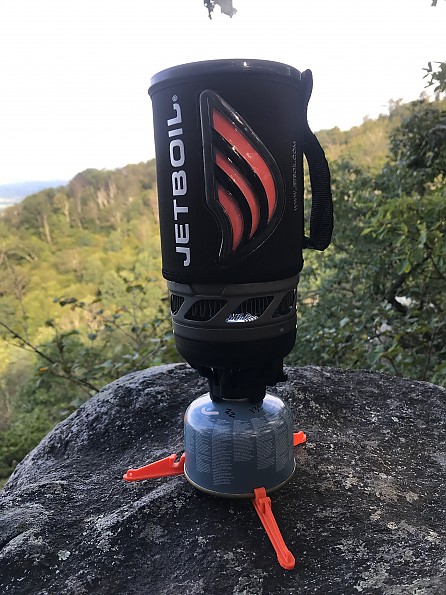 Like many other iso-butane burning stoves, the newly updated Jetboil roars as loud as ever…
Construction and Durability of the Flash seems to be just as good as its predecessor, with no cons to note. All components are well designed in a simple, straightforward system that is very easy to use.
Note: Iso-butane canisters must be carefully recycled after use, making sure the canister has been punctured with a can opener, or Jetboil's proprietary Crunchit tool. Without doing so, remaining vapor in the empty canisters are hazardous and potentially explosive!
Conditions
The Jetboil Flash has been tested during the summer of 2018 on the East Coast of the USA. This product was used on several Appalachian Trail section hikes, backpacking trips in northern Vermont and West Virginia, as well as multiple day hikes in Maryland and Virginia.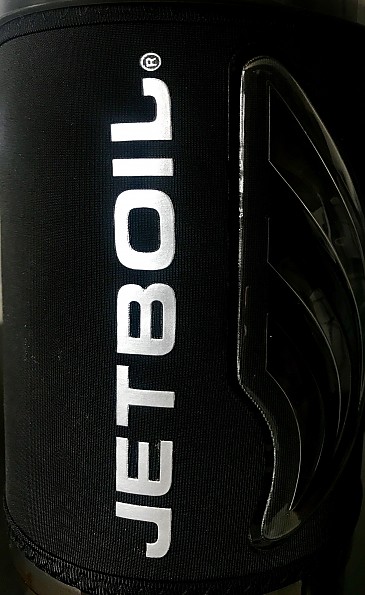 Many thanks to the people at Jetboil for the opportunity to test the Flash cooking system for the Trailspace Gear Review Corps.
Source: received for testing via the Trailspace Review Corps (Sample for testing and review provided by Jetboil)

The product boils water in a few minutes flat and the compact construction allows the user to store the whole unit within itself, without having to worry about damaging the stove.
Pros
Boils water quickly and is easy to set up and break down
compact storage.
Pot is insulated and can be used to eat out of or pour without getting burned.
Cons
The size of the pot is a little small and the stove sparker is temperamental.
This stove sets up in seconds and is very easy to use and compact. The fuel is pressurized canisters that you must separately buy specifically from JetBoil for proper fit inside the stove.
The ignition is a bit temperamental. It is built into the stove, however does not work consistently every single time. Sometimes it takes more than a handful of times to get it started. I have had to resort to using an outside ignition method such as a lighter in the past.
The flame control is consistent and easy to use. Getting the pot to simmer can take a little practice and can be a little touchy at times, but overall I am very happy with it.
Cooking in the pot provided is easy and very quick however it is small. If you are trying to cook for more than one person then you are pressing your luck and are better off doing two separate batches.
Boil time is excellent at only a couple minutes I would say it is one of the fastest in its class.
Even though the pot has built-in wind deflectors, air can still manage to sneak in the area in between and blow the flame a bit. Shielding the flame by other means is recommended. However even with a breeze cooking is only minimally effected. 
Using the fuel provided you can manage over 30 minutes of cook time on a high setting (which I rarely used, a medium setting worked fine, and it still managed to boil in minutes). If you are on a multi-day backpacking trip bringing another canister is suggested. If you do not mind storing fuel not with the stove as designed you can carry extra larger canisters that are still compatible.
You need to find a stable spot to put it. The canister it sits on is the only "foot" this stove has, so a nice level place is necessary. Taking off the pot can be tricky too and may require a bit of finesse, making you have to watch about flinging food everywhere if done incorrectly. 
The JetBoil packs awesome. It is very compact (a little larger than the size of a large Nalgene bottle) and stores within itself, even the pot doubles as an insulated cup or mug and another is attached to the bottom.
Compared to other stoves this might be the most straightforward one I have ever seen. Setting up the stove and breaking it down takes half the time of some others I have used. 
Having the pot insulated and able to double as an eating container or soup pot has proved extremely helpful.
It is well made and has held up to some physical abuse and a lot of cooking abuse.
I have used this stove on exposed mountains, hiking, backpacking, at sporting events and campsites for a few years now and the fact that I still use it is a testament in itself. 
Source: bought it new

I love my Jetboil. Flash Cooking System. I bought it watching how many other outdoors people loved theirs (at Facelift in Yosemite). What sealed the deal was camping with my brother near the Bristlecones. I was able to become familiar with it, before buying it. Since they are a bit pricey, this was a great opportunity.

My only "con" is the temperature is either very hot or off. If you know this, and understand what the best use is, you're good to go. The Flash is great for boiling water — quickly. I also purchased one of the pans (60 bucks), love that, too. You still need to watch the heat. The ignition system is fantastic.

I ended up buying two more, for my two sons. You need to take care not to scratch the surface of the cooking canister, and watch out not to melt the neoprene cover. This is a hot little stove. The cover is there to help you not burn, and has a heat sensor to show you when you must turn it off.
Pros
Extremely quick, efficient heating
Easy and quick to put together for use
No problems / well made
Ignition system — don't get one without it
You can buy replacement for cover
Great cover sensor to tell you when to turn it off.
Cons
Gets so hot you can melt the cover if you don't pay attention
All cons are due to user error if you forget you have it on
I love my Jetboil Flash. I was able to get to know it, before buying it, due to camping with my brother. I used it daily for coffee and simple cooking when first buying it. Had a great little area at work to use it. I used it so much for portable coffee making, my kids started bugging me about it. It's now part of my "Car Bistro": two lightweight umbrella chairs, a lightweight aluminum folding camp table, and my Jetboil.
Love taking rides with friends (as well as camping) and stopping anywhere to have a fantastic coffee moment — Alabama Hills checking out Whitney.
Ignition system is awesome, You must watch the heat! Water boils extremely fast. I use it in windy conditions, just need a little shield. Uses little fuel since it boils so fast. Burner is adjustable, but not that much. Super easy to put together for use, and break down for packing.
I love it so much, bought one for each of my grown sons' birthdays. 
Source: bought it new
Price Paid: $79 special sale

Great little backpacking stove, both space and fuel efficiency in a clever, self contained package, but the best part is how fast it boils water and the stabilization means you won't spill it either. Great for hikers who want to go light and minimal but still have a hot drink or meal.
Cons
I forgot how to repack it, luckily directions are included.
I LOVE this stove.   This is the easiest stove I have ever used. It fits in my pack easily and includes everything but the food and water.
The self contained package includes a small burner, built-in 2 C pot, neoprene cover and handle, additional bowl/cup, lid, stabilizer and fuel canister. All of it, including the small fuel canister, makes into a 4 x 7inch cylinder, with no wasted space or weight. Setup is almost instantaneous. Open it up, screw on the fuel canister and its ready to light.
The igniter never failed and burner adjustment fine tunes the flame easily. Only used for boiling water, but that is all the cooking I do on a backpack trip and this stove does it extremely fast, under two minutes. Get your dehydrated meal pack ready before you turn on the burner because the water boils that fast.
Extras: No need to wear gloves to handle it as it comes with a built in cozy. Pot can be used as a your coffee cup, comes with a sipping lid and handle, and a keeper for a spoon. The handle can be used to attach to the outside of your pack. An extra cup for sharing attaches to the bottom so it is adequate for two people.
There is no external wind screen but the burner is somewhat self sheltered, so the design works well and it did not seem to be affected by the wind at all. Max safe limit is marked at 2 cups, but looks like it will hold 4.  I have done over 3 before I noticed that warning, but honestly it is so quick, you don't need to do more.  
I used it last summer for backpacking and it is now our favorite stove, even when we have a vehicle to carry a larger stove. We have used it in the Idaho mountains around 5 - 8000 feet on five day backpack trips for three people.  Carried extra fuel, but never needed to refill the canister during the trip.
Packs up quickly and easily too, but remember how to pack it back together, as it only works in one order.  Fits nicely and compactly into my backpack, and unlike my previous stove which was in a soft bag that I always worried about damaging my stove, this one is self protected by the pot and cup.
Source: received it as a personal gift

Simple, effective. The Jetboil Flash is a lightweight and efficient stove that will quickly boil water for tea. We have also used this beautiful stove when bringing water to temperature for rehydrating backpacker food-in-a-bag :)
Pros
Elegant design, convenient packing
Boil water in a flash
Easy assembly for use
Lightweight
Insulated covering allows for handling at temperature
Works in cold weather
Cons
Not designed for food prep
My push button igniter failed after years of use
The Jetboil Flash (older model) is a great stove for boiling water for tea or coffee. We have also used the stove to boil water when reconstituting dehydrated backpacker food.
As you see in the attached video, setup is quick and easy. The wind was blowing a little while reviewing the stove. I needed to use a match because my auto igniter has been dead for a few years, but love the stove enough to continue use with a lighter.
The burner is easily regulated and works as expected. This stove boils water quickly. It seems to work well in highly exposed areas—even in slightly windy situations. The user will hear if the flame is blown out by wind as there is a recognizable roar when in use. My stove does not have a windscreen but we have never really needed one anyway.
Since you only need to boil water with this bad boy, fuel consumption seems to be very reasonable. It seems like one little can of propane/isobutene lasts for longer than expected.
Once set upon its base and fuel canister, the Jetboil is a bit tall, but that is manageable and it doesn't fall over. Plan on acting carefully in the camp kitchen anyway.
Other than the failed auto igniter, this stove is a joy to have in the kit and I will continue to pay attention to the brand in the future.
Quality design and construction. I feel this stove has a definite position in the market and has demonstrated staying power over the years.
Source: bought it used
Price Paid: $90

I am going to rate this 3.5 stars for one single reason, otherwise I would rate it closer to 5 stars.
The Piezo igniter is exposed when separated from the container. The insulation is thermally protective ceramic (it has to be).
Drop this stove once on rocks or a hard surface upside down and you will need matches or a lighter to ignite it for the rest of the life of the stove unless you get it repaired (always have matches and a lighter in a pocket stashed in your pack with this stove and every other stove). Several users reviews have noted this and current owners should take care when handling because of this.
Simple (forward thinking) Solution: a raised metal flange welded around the rim of the burner would protect the flange better, or a small sparking tower nearby the spark wire (that would take the impact force of most impacts).
Don't get me wrong. JetBoil has taken the heat exchanger idea and welded it to the bottom of their container, geniuses. Every other camp cook company since the dawn of camping can now beat their collective heads on a wall somewhere in the world. This makes Jetboil a very lightweight and effective remote boiling solution.
The Jetboil hanging kit even makes it ultra portable, but if the weather gets hairy you may want to consider using the Ortik Heat-It for serious hanging stove survival.
Must have accessories:
1. Coffee/tea press (get it and ditch the third party press and save space and weight)
2. Pot adapter (you do want to eat for more than one at the same time right?) If you camp singularly never mind.
The Flash comes with a thermally actuated indicator that lets the user know the contents are still hot (another bright idea). It is the ultimate camping dummy light on your camp container. Hot spills should be a human experience of the distant past right? My wife disproved this theory by pouring her first cup of tea without the lid pressed firmly in 15 seconds. I promptly slapped my head in disbelief.
Warning:
This stove is ridiculously easy to use; a three year old could assemble it and start the stove. Think about that, it could be a curse in disguise.
All in all, this is a seriously lightweight sampling system costing close to what other stoves alone cost. So think of the container thrown in for free and the price may just be convincing.
Good luck with your stove decision.
Scott McClarin

Update: December 12, 2009
Longterm use revision:
After abusing this little stove by cooking with it repeatedly outdoors and in my basement when the gas was disconnected for the last two months, I have much more to talk about.
See my Blog: soon to be posted on repairing the piezo starter with simple tools in about 10 minutes! This stove's piezo starter can be repaired easily, and it is worth noting that Jetboil probably designed this in, as many companies aren't planning for the longevity of their products these guys are obviously making stoves thoughtfully. I feel this feature alone is worth the upgrade to the 5 star rating.
I have to admit to extended and repeated cooking without using the pot bracket. (it's next on my list as a must have items) so the piezo starter's wire melted and broke at the ceramic collar. (This is most people's concerns with this stove) but there is little to worry about once you read my blog on the repair!
Price Paid: --

Be clear, if you are a gourmet camp cook, this is probably not the item for you. If however, like my husband and I, you have found that you can live quite well on dehydrated food cooked in the bag when you are camping, you will love this little stove.
Cons
A little bulky, a little heavier than some options
Can't really cook anything
It all fits together neatly, there is no soot or ashes or smoke. There is no messing around with liquid fuel or trying to light an esbit cube in the wind, etc. You just quickly assemble the stove with a few twists, put some water in the pot, turn on the fuel and click the ignitor switch.
One pot of water for a bagged meal split between us and another quick pot for a cup of hot tea or coffee or broth while we're waiting for the bagged meal to "cook". There is no pan to wash. Just twist the components apart and put them back in the pot and be on your way.
A small fuel canister lasted 5 days/night for us in the Glacier backcountry and that was heating at least two pots of water at each meal of the day. You can make real coffee with the cup and a press, but that is too messy for us in a leave no trace world.
Also you can't really "cook" in the pot as it gets too hot. There is no way to regulate the heat so you need to be thoughtful about meal selection. Meals that require you to cook them in the pot will probably not do well and may burn or stick to your pot.
I'm considering getting the titanium version for future trips and leaving the old Flash for the car. I've looked at other stoves and usually carry a tiny esbit stove for emergencies or day trips, but I really like the convenience and reliability of the Jetboil Flash.
Source: bought it new
Price Paid: $99 at REI 2 years ago

Awesome all-in-one cooking unit.
Pros
Fast
Easy to use
Compact all in one system
Cons
Larger fuel doesn't fit
Rust rings if not careful with fuel canister
As a freezer bag backpacker this is the best fastest way to heat meals. I boil a cup or 2 of water in less than 5 minutes, add the hot water to my dehydrated bag of food, leave in a cozy to stay warm while I set up/breakdown camp for 15 minutes.
I love the fact everything fits into the "pot." The level foot the fuel canister sits on creates a very level spot on sometimes rocky terrain to alleviate the possibility of a tip over. The ignition works great and flame control is handled better than the Zip version with a wire adjuster.
The water boils very fast 1 cup in less than a minute. I have never experienced problems with wind as the flux-ring design is pretty much a built in windscreen. It comes with an adapter to use other cooking vessels but I have never used that as the one post system works great for my needs.
The Flash also has a nifty design feature that allows you a visual indication that the pot is hot. The pot is encased in neoprene but the lip and bottom is exposed and could burn. The neoprene does help but it can get very warm when removing from the base and sometimes it is a little tricky to get the pot off the base and requires the use of both hands. 
One problem I have is the larger fuel canisters are too big to fit and if they were designed longer to fit, may create a top heavy, unstable system. Another caution about storing the fuel canister is to ensure the inside and the canister is dry as I have seen badly rusted rings in the cooking pot part of the system. Either store the fuel outside the pot or be certain the canister and the inside of the pot are bone dry when storing and store in a non humid environment.  
Source: bought it new
Price Paid: $105

WOW! That can easily describe this entire product!
I picked this Jetboil Flash Java kit up approximately 2 weeks ago and it has completely changed the entire way I camp. No longer are you waking up in the morning, fighting with stoking a fire and waiting for water to boil, only to mix in cheap instant coffee mix.
This thing boils water unbelievably fast! Wake up after a good sleep in the beautiful outdoors have make yourself a REAL coffee in minutes. You definitely have to make sure whatever you're cooking, or whether you're preparing coffee or tea is ready to go before you fire this thing up because you DO NOT have the time to do it while it's boiling!
Not only for camping though, this Jetboil has already proved useful even during a day of boating. It's nice having something around that just works so quickly and seamlessly whenever you feel like a hot meal or drink.
The only thing I could possibly complain about this unit (and I'm not sure if it can or not) is being compatible with just fire cooking when you don't want to use your fuel.
Price Paid: $78.95 USD

This is a great personal cook stove! Easy to use, and packs up small and compact. One of my favorite gear purchases.
Pros
Simple, push button start up.
Fuel canisters are inexpensive.
Great for one or two people.
This thing has changed my whole backpacking experience. I went out on the North Country Trail for 5 days solo and each night I had a large dinner and a hot cup of tea in a matter of minutes! I also used this with a friend on Isle Royale, and the whole time my friend kept saying "I've got to get one of these!"
Overall it's just so simple to use, fast, and inexpensive. Get yourself the French press attachment and you will be able to enjoy a fine cup of coffee each and every morning without the wait of using...say... a percolator. Which just takes too long and requires building a fire.
Source: bought it new
Price Paid: $90

It's a great stove and very simple to use. Extremely efficient and man does it boil water fast!
Pros
Easy to use
Boils fast
All in one
Everything packs inside
Cons
Limited use
Heavy compared to other options
When I first got into backpacking, I knew one of the key pieces of gear I needed to get was the Jetboil Flash PCS.  I like how everything packs inside the cookpot and thought that it was a very efficient system.  To date, this IS the fastest and most efficient stove I own. 
The JB Flash PCS that I received came with a canister stabilizer, cookpot, cozy sleeve, cup, and lid.
Here's a photo with everything packed up including the fuel canister (JB on left)
Some features of this system:
Ignition: Piezo
Flame Control: Adjustable burner housed in a built in windscreen
Cooking: Hard to cook inside but good for boiling or steaming
Boil Time: My average boil time of 4 cups has been under 4 minutes.
Fuel Efficiency: Very efficient, a 7 oz. canister can last 5 days (2 boils a day)
Stability: With the added canister stabilizer and how the pot snaps to the stove, it is very sturdy
Packability: As seen on the photo above, everything can be packed inside the pot.
Weight: In my scale this system weighs 15.5 oz.
This system is my go-to system on group and family backpacking trips.  Highly recommend this cooking system if you don't mind the weight.
Source: received it as a personal gift

Great for the day hike or over night hike, easy set up quick to boil water. Does not perform well in cold weather, hard to light.
Pros
compact
quick to boil
easy to use
Cons
not good in cold weather
no reusable fuel canister
Bought this to use for the day long hike and overnight hikes. The ability of the stove to nest everything inside of itself was extremely attractive feature.
The other feature that was intriguing was the ignitor meaning no lighter or matches. The color gauge on the side indicating how close to a boil. The cozy around the containing is impressive to say the least, grab the container with boiling water in it and not burn yourself.
The setup is easy and simple, when it is warm, above 30 deg F, stove ignition is great, below that hard to get going. Heats things quickly, no simmering here—all or nothing. Wind does not seem to have a great effect on it, but jury is still out on that as have used it only half dozen times.
Uses what seems to be very little fuel, still using the 230gm canister and considering I have not had much experience with it is still going strong. The fuel is not that expensive or hard to find if you do not mind using other names then Jetboil.
Overall the stove will accomplish what I purchased it for, quick setup and quick boil. My 7-year-old is impatient to say the least and this stove will help stem that when feeding time or snack time arises on the trail.
Source: bought it new
Price Paid: $98.95

Love this stove! Super fast and packs well.
Pros
Quick to boil
Built-in ignition
All-in-one system
Easy setup and built-in, one-strike ignition. This is a really solid stove and easy to use. I was amazed at how fast it boils water, usually around 100 seconds at low altitude.  
I purchased the french coffee press to go with it and now I can have my favorite coffee on the trail just like I would at home. This system comes with basically everything you need for simple heating (i.e., water for dehydrated foods or hot drinks).
If you are going to do any serious cooking you need to bring the pan and some of these come with a pan stabilizer and some don't apparently? Mine did, and I believe that all recent models of the Flash do also but always check.
I really appreciate how everything, including fuel canister, fits into the cup and the gets capped with the lid. It keeps everything packed tightly together so no need to rummage for odds and ends. 
Source: bought it new
Price Paid: $85

I love this stove! Boils water so fast you won't believe it and uses very little fuel to do so. Compact when packed up and very easy to use.
Pros
Works amazingly well
Everything packs inside of cup
Comes with base for stability
Cleans up easy
Dinner in minutes, love it!
Cons
Somewhat bulky for a long trip
Slightly heavy for backpacking stoves
I love this stove, what more need I say? It's very easy to set up and comes with a base to keep it level, and had good support with a pot also.
Made my own homemade windscreen by covering paperboard with aluminum foil that worked just fine. Completely adjustable burner and the igniter works great every time. Packs inside the cup and well worth the space it takes up.
Has consistently worked great every time I have used it. The insulating cover with built-in handle works good to prevent getting burned. I would highly recommend.
Source: bought it new
Price Paid: $100

I love the weight and speed of this cook system. Every time I go backpacking with friends I end up boiling water for everyone. I can boil a cup of water by the time they are finally set up and ready to start cooking.
Cons
Can't regulate the heat for longer cooking times.
Setup is a breeze. I love the self igniter which works every time. I wish you had better control on the flame. It tends to scorch if simmered too long.
One can of fuel will allow me approximately 10 meals. This system packs up inside itself and is very light weight. I haven't had any problems cooking on a windy day. No wind screen required.
I've been using this stove for over a year now and will not go back to my old alcohol stove.
Source: bought it new
Price Paid: $99

I would recommend the JetBoil Flash cooking system to anyone who wants a lightweight compact cook system.
Pros
Fast to boil
Lightweight and compact - Fuel fits inside
Very easy adjustability of heat
Cons
Cannot use metal spoon while eating out of it
Not very stable without the fuel stand
This cook system is very easy to set up and I like how it has a built-in igniter and it seems to always work on the first or second push.
The flame control is amazing. You can have it set to a roaring boil or a smooth simmer with relative easy. It is not the best for cold weather or winter camping. The fuel is not made for the cold weather and will not always work.
It can also use multiple brands of fuel which is nice. I don't notice any difference when using the Jetboil brand fuel.
Source: bought it new
Price Paid: $64.99

Hot, boiling water...instant gratification...here you go!
Pros
Fast, fast, fast
Easy to use
Dependable
Great system for summertime camping. I really like it. Colder weather...ehhhh, not so much. If you're going to have some mornings in the 20s better take that canister to bed with you bucko...or you're not gonna be enjoying that first cup o' joe until the sun comes up! Thank goodness we always take multiple stoves!
I've heard the piezo can be a problem at altitude, but in 5 years I have not experienced that problem...and as they say that's hearsay.
BTW I got the additional pan with visions of 'cooking' on the JB...f'get about it! This unit is the world's best water boiler...that is it's one superpower...simmering? No, no way, uh uhh!
Cheers
Source: bought it new
Price Paid: don't remember...old person's memory syndrome

Fantastic for boiling water for your coffee, tea, or dehydrated foods.
Pros
Compact
Fast to boil water for quick food and drink.
Cons
Low flame in sub-freezing temp.
Poor adjustability. About 35 degrees of turn from off to full.
Setup is fast and easy (remember to unfold the flame control before attaching canister). Built-in spark lighter is ideal. Adjustability is not all that great; maybe 35 degrees from off to full, 325 degrees of full flame.
Very fast time from cold to boil, two minutes under optimal conditions. I've never run out of fuel on a weekend, although i always carry a spare. Completely self contained with everything you need, including a coffee press.
Need to research a little more on different types of fuel canisters to use in sub-freezing weather; lost pressure quickly at 25 deg. with wind.
Source: received it as a personal gift

The Jetboil Flash is a superb compact system.
Cons
Can be blown out in heavy wind
It is a well tried and tested camping kitchen that offers a number of great features including very high efficiency, low fuel use, windproofing, push button ignition that actually works, and a very safe to use design.
The Jetboil has climbed Everest, been taken on expeditions to Antarctica, and helped Ukrainian families survive the winter. You can't go wrong buying one of these and it easily falls into our top 3 spot with a reliable, effective design. It also has an optional frying pan for those of you who want to cook up some bacon for breakfast!
I wrote a full review on my blog at:
survivalcook.com/5-best-camping-stoves-this-new-year

Source: bought it new
Price Paid: $100

Very, very easy to fire up, and use. Super easy to use also.
Pros
Very few pieces
Canisters twist on easily
Cons
Could it be smaller?
Cup shroud could be snugger.
I love this thing. Throw it in your pack, and hit the road-any meal, anywhere, at anytime-in two minutes. Like coffee? It's yours in two minutes, or less, depending upon your temperature level. If you ever wanted to have the most convenient personal cook available here it is.
Source: bought it new

I love my Jetboil. I take it with me every time I leave the beaten path.
I take my Jetboil with me all the time. I'm going to buy the coffee maker for it soon, but for dehydrated meals it works perfect. Fast boil time. Easy to use. I can't wait to use it again.
Source: bought it new

Would not ever backpack without it.
Pros
Light, small, and easy to use
Easy to find replacement parts
By far the best piece of gear we have ever purchased, though it's neck and neck with the Sawyer Squeeze Water Filter we purchased. I love how easy it is to pack and how quickly it boils water. It's so compact and light. Perfect camp stove in my opinion.
Source: bought it new

Excellent product for the trail.
Great product, very easy to put together and use. I also like that I can store everything including the fuel cannister inside. Also, because it is so effiecent it boils water very fast. I really have no compliants.
Source: bought it new
Price Paid: $75

Awesome product to use. Made setting up and tearing down incredibly easy. Loved cooking with this stove.
Pros
Easy to setup
Fun to use
Boiled water very quickly
Loved using this stove. Made my first trek out with so much easier.
Source: bought it new
Price Paid: $100

Backpacking cooking system/stove.
Pros
Compact/Lightweight
Quick boil
Easy to use
The Jetboil Flash is an incredible cooking system. Brings water to a boil quickly (2 mins). Very easy to use with built-in igniter. Have used on several backpacking trips and always leaves me impressed. Pretty perfect really.
Source: bought it new
Price Paid: $80

My Jetboil is reliable, fast, and efficient. My son and I have shared one for several years of backpacking in Virginia in all kinds of weather.
Cons
Lid does not stay on well while packed
Source: bought it new
Price Paid: $70

Bulletproof, fast, light and easy.
I have been using my Jetboil for about 5 years now. My ignitor still works every time. I love my Jetboil. It goes with me on every camping and hunting trip I take.  I have the coffee press too which is a nice addition.
Highly recommend Jetboil system.  
Source: bought it new
Price Paid: $100

It boils two cups of water FAST!
It boils two cups of water FAST! Makes a perfect companion to Mountain House meals!
Ignition worked every time. Setup is easy and it is reliable.
Source: bought it new
Price Paid: $85

great cooking system. once boiled 3 cups of water in 1 minute 24 seconds.
should really come with an accessory that can actually cook something besides water, but all around good. although seriously other companies that make this kind of stuff may begin pulling their hair out and possibly breaking their jaws ( though i would say to them "EMO").
Price Paid: $150

Very light and very fast boiling. Solid construction. Doesn't light quickly... takes 8-15 "clicks" of the ignitor.
Source: bought it new
Price Paid: $80

Incredible stove. Boils fast, really lightweight, and is simple to use.
I do not like that the FluxRing accessories (pot and fry pan) are approximately $50 though. I did purchase a pot stand to go with this.
Good for scouting, and excellent for solo backpacking. Functions well enough for a pair of tent partners though.
Price Paid: $60, with a 10$ gift card, and some coupons.

Your Review
Where to Buy
Help support this site by making your next gear purchase through one of the links above. Click a link, buy what you need, and the seller will contribute a portion of the purchase price to support Trailspace's independent gear reviews.
You May Like
Specs
Price
MSRP: $99.95
Current Retail: $93.71-$124.99
Historic Range: $43.99-$124.99
Reviewers Paid: $60.00-$150.00

Fuel
propane/isobutane, Jetpower

Boil time for 0.5 L of water
100 seconds

Water boiled per 100 g fuel
10 liters

Weight
13.1 oz / 371 g