Jetboil MicroMo Cooking System

The MicroMo is the latest in Jetboil's impressive line-up of personal cooking systems for backcountry use. Conceptually, the MicroMo attempts to provide a compact, low weight solution, without compromising either quality, features, or performance, which includes the much lauded ability to simmer; in my opinion, it succeeds.
Pros
Compact
Low weight
High performance (rapid boil, low fuel use)
Can simmer, great for cooking
Excellent construction
Competitively priced
Cons
Performance drops off dramatically when not using proprietary Jetboil pot
The MicroMo is the latest in Jetboil's impressive line-up of personal cooking systems for backcountry use. Conceptually, the MicroMo attempts to provide a compact, low weight solution, without compromising either quality, features, or performance.
Below are the currently listed specifications found on the manufacturer's website. In addition to the MicroMo system, I also received the Coffee Press, and the Pot Support for testing. They will be discussed within the overall context of the cooking system.
Lightweight .8 Liter FluxRing® cooking cup
Lightweight drink-through lid with pour spout and strainer
Jetboil engineered valve for unmatched simmer control
Lightweight insulating cozy
Consistent performance down to 20°F
Lightweight shroud
Push-button igniter
Bottom cover doubles as a measuring cup and bowl
Compatible with all Jetboil accessories
Able to store a 100g Jetpower fuel can
Fuel canister stabilizer is included
Compatible accessories include Coffee Press, Hanging Kit, and Pot Support
Item Weight: 12 oz. (340g)*
*System weight excludes fuel stabilizer
Volume: 27 oz. (.8 Liter)
Boil Time: 2 minutes 15 sec. per 16 oz. (1/2 Liter)
(avg. over the life of Jetpower can)
Water Boiled:12 Liters per 100g Jetpower can
Dimensions: 4.1" x 6.5" (104 mm x 165 mm)
Power: 6,000 BTU/h (1.75kW)
One of the hallmarks of the Jetboil range is their clean integrated design, which allows for a facile setup and very intuitive usability. This is, of course no different in the MicroMo. As can be seen in the pictures below, the entire system comes in one small, neatly designed package. The 100g (3.53 oz) fuel canister, burner, fuel canister stabilizer, lid, and measuring cup/bowl all fit together perfectly in a reasonably small package (scale can be ascertained compared to the 100g fuel canister, see below for size comparison).
The weight of the setup, sans fuel canister and stabilizer (27 g/ 0.95 oz) comes in at 336 g (11.85 oz), as measured, and is just slightly under the 340 g (12 oz) noted on the manufacturer website; pot and cozy (151 g/5.33 oz), lid (19 g/0.67 oz), bowl (32 g/ 1.13 oz), and burner (129 g/ 4.55 oz).
While not the lightest cooking option, it is admirably lightweight considering the completeness (bowl, burner, pot, lid with strainer, and cozy) and the impressive performance (to be discussed). Setup is very easy as all the pieces simply fit together. This also extends to the provided accessories (these are sold separately from the main unit): pot support (35 g/1.23 oz), and coffee press (24 g/0.85 oz).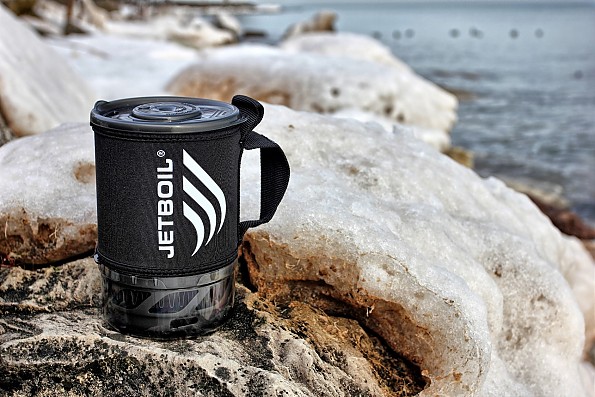 The MicroMo is not the smallest unit, but reasonably compact considering it houses a 100 g (3.53 oz) fuel canister, the fuel canister stabilizer, and burner, as well as featuring a bowl/cover. 
Pictured below, left to right are a Jetboil 100 g (3.53 oz) fuel canister, alpkit 900ml Ti pot, GSI halulite solo pot, MSR Reactor 1L, and the Jetboil MicroMo. Also pictured is a 5x7 panel for comparison. The slightly shorter MSR Reactor 1L does not come with a bowl, and only has enough space for the burner and 100 g (3.53 oz) canister, the canister stabilizer has to be stored separately.  
All in all, the MicroMo is a fairly compact unit!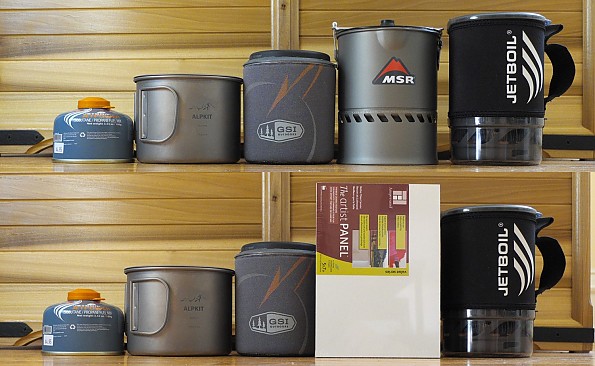 Ignition and Flame Control:
The MicroMo comes with a push-button igniter. While I am not generally a fan of these for the simple fact that they add extra weight, and also the added potential for something else to fail, the igniter on the MicroMo worked perfectly every time throughout the testing period (3 months, to date).
The flame control has the most sensitivity in the first ~3 turns, after which the unit generates a very intense, and focused flame. The impact of the flame control on cooking will be discussed below.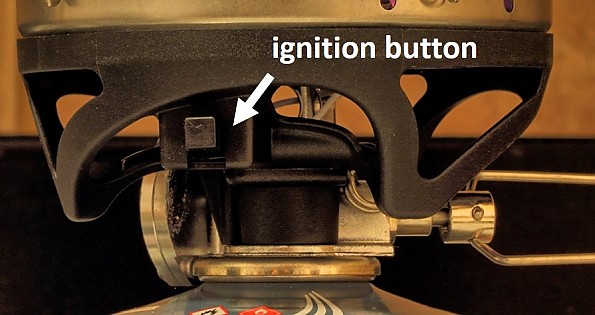 Boil Time and Fuel Efficiency
To test boil time and fuel efficiency, I compared the MicroMo system versus the following setups which I had on hand. The MSR Reactor 1L, the MicroMo with pot holder, and GSI halulite solo pot, a Firemaple FMS118 remote canister stove with GSI halulite solo pot, and the very lightweight and compact Firemaple FMS116-T and GSI halulite pot.
The two conditions tested were fuel and water at 5 °C, and fuel and water at 20 °C. The volume of water was 500 mL, and all stoves were run completely open, with time measured from ignition to a complete rolling boil. All tests were performed two times, and the average times, as well as the corresponding amount of gas used are reported in the figures below.
As can be noted, the performance of the MicroMo system (0.8L pot with FluxRing technology) is genuinely impressive, falling only to the more expensive, and bigger MSR Reactor (though it should be noted that the MSR Reactor has a slower initial startup, which skews the results against it in this test). Notably, the 114 second boil time at 20 °C (or room temperature) of the MicroMo system is faster than the average (perhaps conservative) value quoted by Jetboil, and just as impressive, this required the least amount of gas used at 5 g.
Switching from the proprietary MicroMo 0.8L pot with FluxRing technology, to the Jetboil pot support and a GSI halulite solo pot results in a drastic increase in boil time to 190 seconds at 20 °C. This is substantially worse than the much less expensive Firemaple FMS116T burner with similar pot, which reaches boil at 154 seconds.
This further highlights the utility of the Jetboil system as a whole, and the importance of the FluxRing technology to attain peak performance. As such, the burner on its own is clearly not overly impressive, but combined with the entire package, the performance is admirable, and in terms of boil time, falls only to the more powerful MSR Reactor, and in terms of gas efficiency, is second to none.
Jetboil claims:
Outfitted with a new fuel regulator, the MicroMo provides a consistent flame - no matter how much fuel you have in the can. This enhances cooking control, even in cold conditions down to 20°F (-6°C). Take your MicroMo anywhere and trust its performance.
At lower temperatures, the unit still performs admirably. The coldest I took it down to was 23 °F, but with strong intermittent gusts of wind which prevented an accurate assessment. Surprisingly, given the conditions, the stove still performed remarkably well, reaching full boil at ~150 seconds.
Because of the design of the burner, and the way in which the pot fits over it (see photos), the stove has excellent wind resistance. However, because its height-to-width ratio is reasonably high, strong gusts render it unstable. Under most reasonable conditions, people would not cook in such strong winds, but this was done purely for testing purposes.
Cooking Performance
Jetboil claims:
With the best simmer control of any compact camping stove, it's not just about boiling anymore - it's now about cooking. Equipped with the latest fuel valve technology, the MicroMo delivers the finest simmer control of any upright canister system on the market with 2.5 turns of simmer range. This allows for fine-tuned control, a lower final simmer point, and the ability to cook a variety of foods.
While the performance of the MicroMo in terms of boiling efficiency (time and fuel consumed) is very impressive, one of the main claims that Jetboil makes is that its fuel valve technology allows for a better simmer control, and as a result, the ability to go beyond simply boiling water quickly, to actually cooking in the backcountry.
Testing the MicroMo system (ie burner with proprietary pot), this indeed is the case. Within the first ~3 turns of the valve, I was able to get a high level of control and achieve various intensities of flame without sputtering, allowing for facile simmering. This allowed me to prepare all manner of delicate foods such as pasta, fresh vegetables, and even soft, and semi-soft boiled eggs (pictured below).
This is, at least sometimes, a nice departure from simply reconstituting dehydrated meals. Additionally, the cozy, and its respective handle make it very easy to remove the pot even when very hot, and works well to keep the contents warm longer than an uncovered pot (great when making coffee).
With a gentle simmer, soft-boiled eggs = 5.5 mins, semi-soft = 7 mins
However, switching away from the Jetboil pot, to the potholder accessory and other pot (tested several 1L + titanium pots and fry pans) produced less than stellar results. In particular, frying was very difficult. This is because the burner produces a very narrow, focused, and as a result, intense central flame. Without the FluxRing technology of the Jetboil pot, this results in a localized hot spot, and as a result, very uneven cooking. This can be seen in the photos below.
I was curious to try the MicroMo with the proprietary Jetboil Fry Pan to see if this would improve the shortcomings, but I admittedly shied away from the purchase for several reasons: the pan is heavy, the reviews are mixed.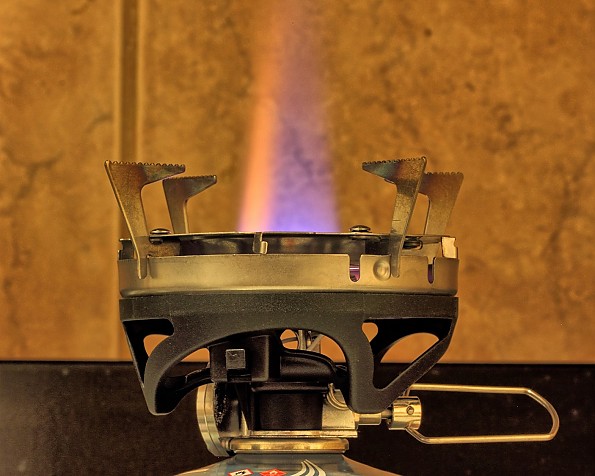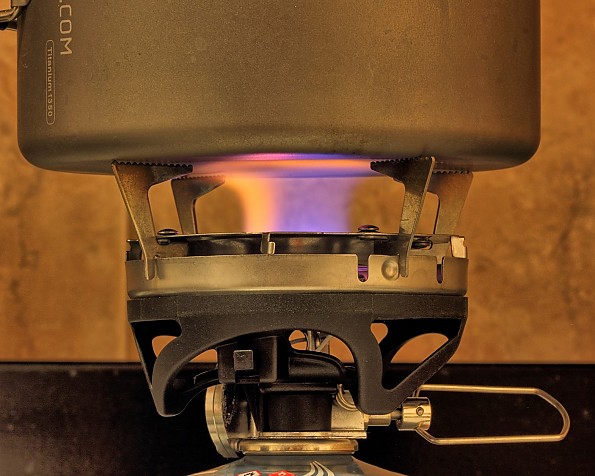 Construction and Durability
As has been my experience with other Jetboil products, the MicroMo has excellent construction. Everything fits well and is made to tight tolerances. Throughout the test period, I had no issues, and the unit looks virtually good as new.
If I had any complaints about potential durability problems in the future, perhaps it is with the bowl which is made of a semi flexible plastic. I could easily see that being accidentally broken, particularly in very cold weather. Ideally, I would prefer that bowl to be made of metal, matching the pot.
Conditions
The stove has been used under late fall to mid-winter conditions in Eastern Ontario and Illinois. As noted in the above assessments, it has performed remarkably well. The harshest conditions I used this stove under was 23 °F, but with strong intermittent gusts of wind (20-30 mph). 
Ideally, I would like to further test this item for mountaineering. I think it would be an ideal surrogate to the MSR Reactor on trips where conditions are not expected to be as harsh, and the weight savings (as well as fuel savings), would be welcome.
Value and immediate competitors
Using prices from REI, the MicroMo stacks up as follows:
Jetboil MicroMo (12 oz, 0.8L capacity, can simmer) $130

Jetboil MiniMo (14 oz, 1L capacity, can simmer) $80-140 (probably the current best buy if you are OK with funky coloured warmers!)
Jetboil Flash Lite (11 oz, 0.8L capacity, does not claim simmer) $100
Jetboil Flash (15.25 oz, 1L capacity, does not claim simmer) $100
Jetboil Zip (11.75 oz, 1L capacity, does not claim simmer) $80
MSR WindBurner (15.5 oz, 1L capacity, does not claim simmer) $130
Clearly there are quite a few options in this segment, particularly from Jetboil. In my opinion the $80 Jetboil MiniMo is the best deal going, but at regular price, given the size, performance (including simmer control), and weight, the MicroMo is very competitively priced, and certainly worth looking at.
Additional Thoughts
Although not directly involved in the test, I also received the Pot Support and Coffee Press accessories. These are excellent, highly practical, and lightweight items which were a genuinely nice addition to the system. My thoughts on the pot holder are mostly noted above, particularly in that the appeal, and the performance of the unit decreases when you don't use the proprietary pot. However, it is still nice to have, particularly if you already have many different pots, and do not want to re-invest in proprietary Jetboil equivalents.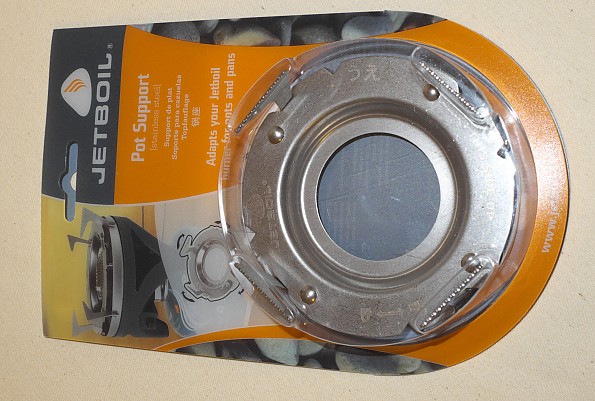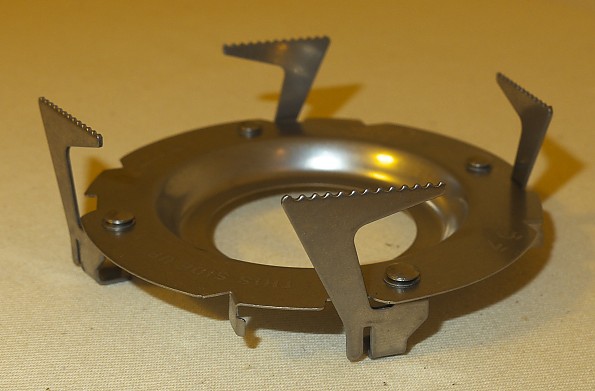 The coffee press I thought was particularly nice. Especially for such a simple, small, light, and easy to store item. Paired with the impressive boil times of the MicroMo, the 0.8L pot readily facilitates the brewing of morning coffee for two people in just minutes. The press is mostly self-explanatory, so perhaps the only thing I could add, is that while its very lightweight, it sufficiently sturdy for the job. It is also reasonably easy to clean. Overall, a great little item.
Conclusion
Overall, I was very impressed with the MicroMo, and I give it 4.5 stars. The loss of ½ star is largely due to the decrease in performance when using pots without the FluxRing technology. Other than that, there isn't much to complain of in a small, high performance cooking system, which goes beyond just rapid boiling, to reasonably controlled cooking.
Because of its compact size and reasonable weight, the MicroMo is a great unit for the solo camper or two people. Larger group sizes will want a higher capacity unit, even for boiling water, but especially for cooking bigger meals. I would have no qualms recommending this for milder winter conditions (probably no colder than 20's). Also, this seems like a great unit for mountaineering in moderate conditions (can't vouch for high altitude performance) as the wind performance is excellent.
Overall, it's a winner.
Source: received for testing via the Trailspace Review Corps (Samples provided by Jetboil for testing and review)

Excellent, lightweight, compact, easy to use stove system. Self contained when stored, quick setup and very quick boiling time. Great for camping, hiking, and backpacking.
Pros
Lightweight
Quick boil and simmer control
Easy to use
Cons
I'd like another cup or bowl at times
Extreme cold
Fuel canister could use a gauge
Jetboil has been my go-to stove away from base camp and my preferred method of boiling water during outdoor activities. The stove sets up quick, has a built-in igniter and is stable. I don't simmer much as I am mostly re-hydrating but the MicroMo has good simmer control when you need it. It will boil a cup of water in about a minute, my favorite feature.
I have not tried to use it in extreme temps or wind, but in fairly windy conditions it performed well hidden behind my pack as a windscreen. I find it to be very fuel efficient, at least 20 boils per small canister and I've yet to damage it or its predecessor, the Sol (which I also still use) in the last five years.
Source: bought it new
Price Paid: $80 (on sale)

This product is great for anyone who camps. I travel to Canada and BWCA to fish and wouldn't use any other system. Very lightweight and self contains itself. Will boil water in less than a minute.
Pros
Will boil water so fast
Lightweight
Easy to pack
Cons
If igniter gets moisture it has to dry out before it will spark
Very easy to set up stove. Screw in the gas canister and you are ready to go. The igniter works well as long as it stays dry.
The adjustments for the flame could be a little better. Adjustments are too sensitive. I fry fish with the Jetboil and Jetboil skillet—less than 5 minutes I'm eating fresh walleye.
Product does very well on windy days, stayed lit. You don't use a lot of fuel because the cook time is so fast. A very well built system.
I use when I go walleye fishing every year in Canada and the BWCA. No better system to use but the Jetboil.
Source: borrowed it

Like the size and weight. Handle melted on the first use.
Everything packs away into one. On my first use the handle melted on it.
Source: bought it new
Price Paid: $129

Your Review
Where to Buy
Help support this site by making your next gear purchase through one of the links above. Click a link, buy what you need, and the seller will contribute a portion of the purchase price to support Trailspace's independent gear reviews.
You May Like
Specs
Price
MSRP: $139.95
Current Retail: $116.21-$154.99
Historic Range: $97.46-$154.99
Reviewers Paid: $80.00-$199.00

Fuel
propane/isobutane, Jetpower

Boil time for 0.5 L of water
2:15

Water boiled per 100 g fuel
12 liters

Weight
12 oz / 340 g