Jetboil MiniMo Cooking System

The JetBoil MiniMo makes cooking in the wilderness easy and enjoyable. It also boils water really quickly! The newer materials, however, are a bit of a letdown.
Pros
Pot capacity is large enough for a meal for two.
Heats up food or liquids quickly
Adjustable burner
Easy finite system to work on
Built-in bowl
Perforated lid for draining
Maintains flame in windier conditions
Pretty good customer service
Cons
Pot cannot hold fuel canister and stove at the same time
Valve filter can become obstructed
The plastic cup breaks easily
Ceramic housing around the piezo rod can crack if jarred
I bought the MiniMo at the co-op garage sale. The previous owner had returned it stating that on the maiden voyage, the stove shot flames out of the sides of the chassis and burned the plastic housing.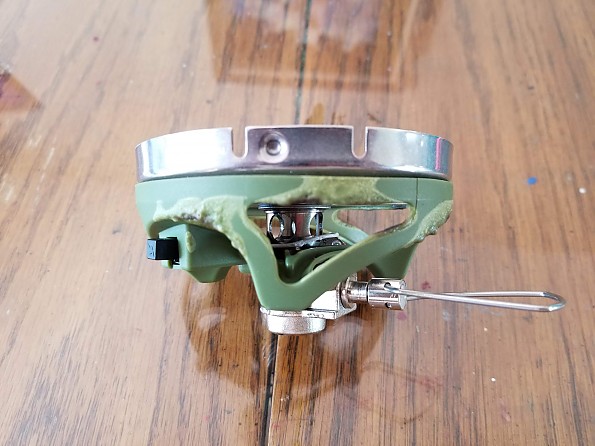 Burned the system was. I couldn't figure out how this might have happened so I thought I'd purchase it used for the $44 price tag and troubleshoot it. 
The first time I screwed on the fuel canister, the can sprayed back some fuel onto my hand. There's normally a very small hiss when attaching cans, but this was fluid shooting on my hand. 
I turned on the valve and lit the stove with the piezo ignition. It worked fine. I adjusted the flame and had no problems. 
My first time bringing it into the field, I experienced the spray back once more when attaching the can. I lit the stove and adjusted the valve. It worked fine again. I then tilted it on its side to shoot the flame into my unlit campfire to ignite it (this is how I usually start my fires and have been doing so for years with my previous JetBoil model). The flame attenuated after about 15 seconds. The control valve also stopped functioning. I turned off the stove and stopped using it. 
At home, I took the stove apart and inspected it. You can pull out the cotter pin out and disassemble the unit quite easily. I unscrewed the brass hex (this is where the fuel comes out)...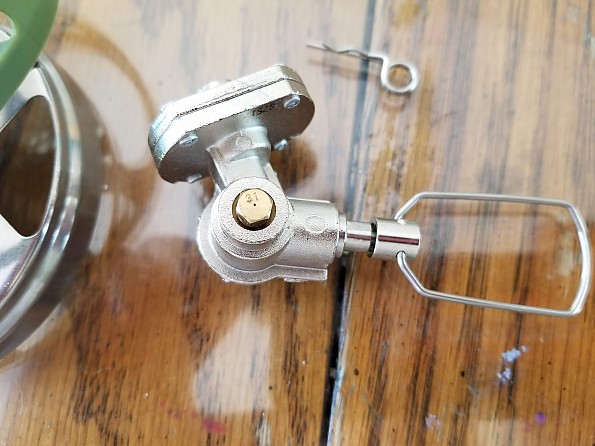 and looked at the internal portion. There's a small filter on the inside. It was obstructed with a fine gray residue.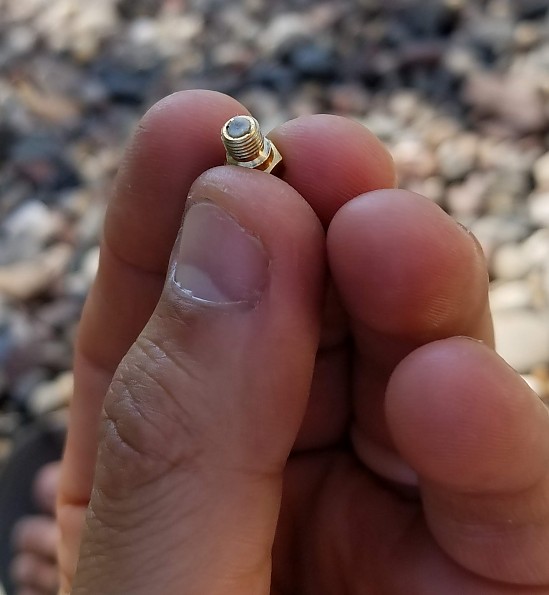 I tried the stove without the filter and it worked great. This led me to believe the filter was the problem. I trimmed the end off that had the blockage and it has worked fine ever since. You can see my video of the fix here:
Stats:
Boiling water
1 cup = 46 seconds
2 cups = 1 min 22 sec
1L = 2 min 22 sec
Weight:
Adjustable flame: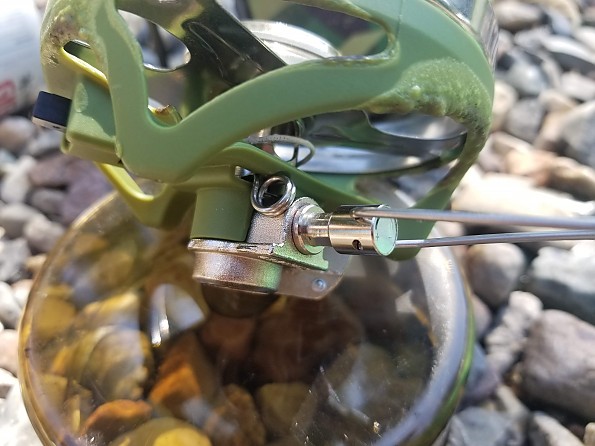 The flame is adjustable and fine tunes quite well. 

The MiniMo looks like it has more capacity than the Flash; the volume is actually the same.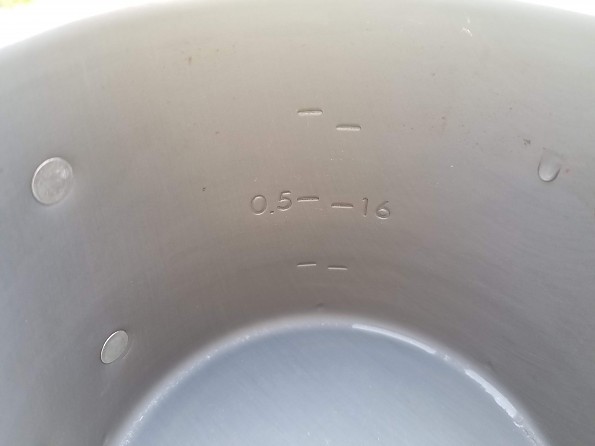 The difference is in the shape and depth of the pot. The MiniMo has a larger mouth making stirring, sauteing, and fitting the dried ramen noodle square into it a little easier.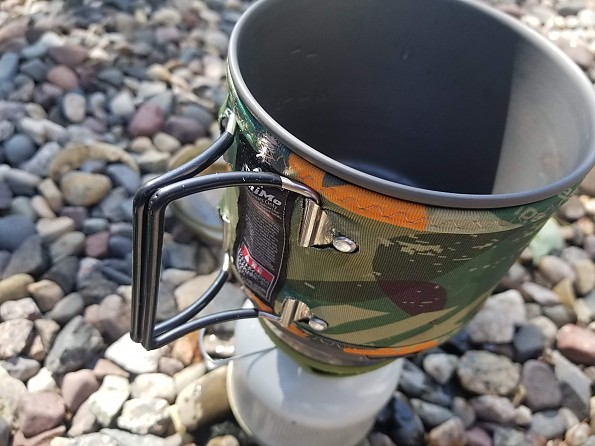 A larger size isopro fuel canister fits perfectly inside the pot but it leaves no room for stove. You either have to choose one or the other to put inside. I wish that they would somehow both fit so it would be one easy unit for transport. 
Piezo
The piezo ignition is lighter gauge than earlier models.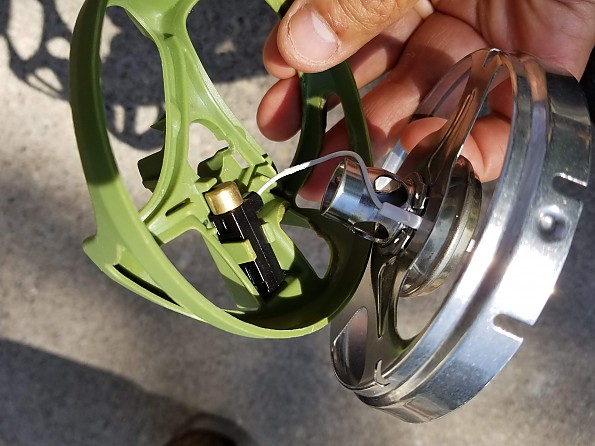 The ceramic housing around the piezo is thinner and the metal piezo spark rod is also thinner.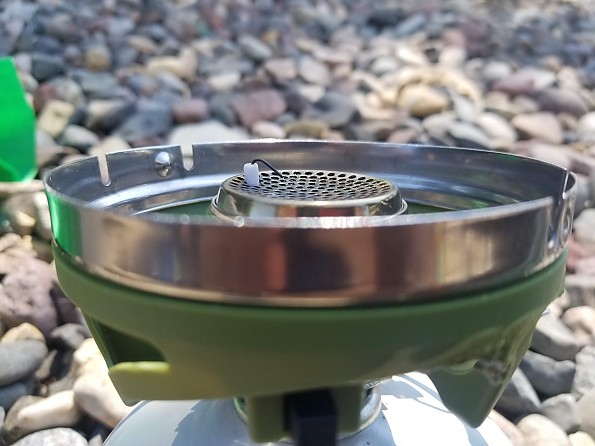 I haven't personally had problems with it yet, but on older models, the ceramic housing has a tendency to crack if banged around. This allows the arc from the piezo to escape before it reaches the fuel and renders the ignition useless. You can see how using a thinner ceramic housing wouldn't help. More and more of the modern stoves are eliminating the ceramic piezo to reduce breakage. This might be something that JetBoil may want to consider on future models. 
Weight
Looking at the burner of the MiniMo compared to the old JetBoil classic, you can see that the materials are thinner and molded with different plastics. At first glance, I thought that JetBoil did this to lower the weight. I weighed both stoves and they are approximately the same weight.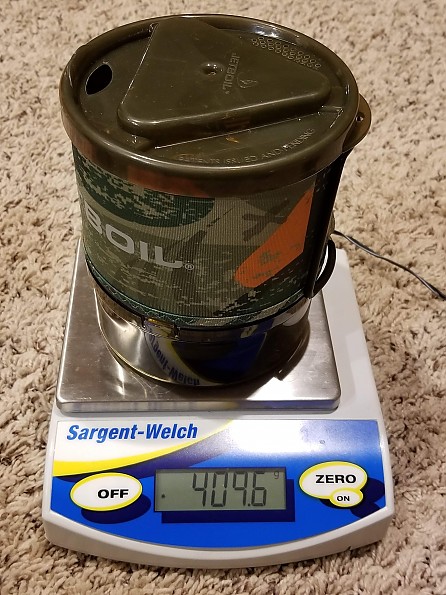 There is a mysterious metal component on the side of the fuel regulator.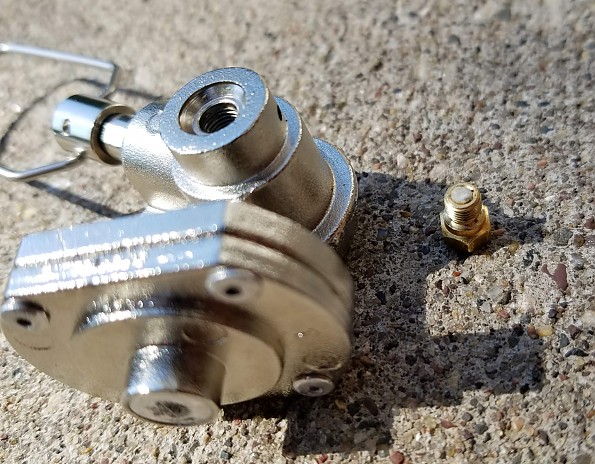 I'm not sure what it's for but it adds weight to the unit. There is a picture of a snowflake and sun on the side of the metal component. I can only speculate what that means. 
Durability
On my first trip out with the MiniMo, I took it out of my pack to make dinner and noticed that the plastic cup was shattered.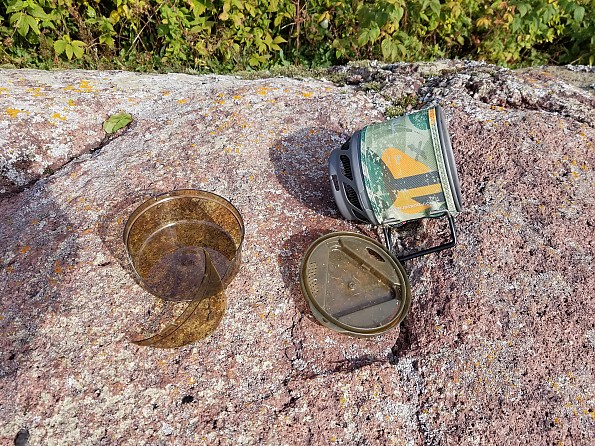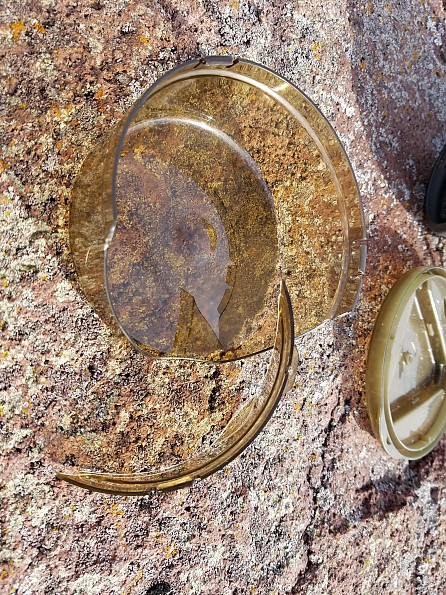 I did hike up some cliffs and through some gorges but nothing out of the ordinary. I was unpleasantly surprised at how easily the new plastic (relative to the older models) breaks. I had to eat out of the pot. At home, I looked at replacing the pot. The replacement is not that expensive but the cost of shipping makes it much too expensive for a plastic cup. I have not replaced it. 
I might bother to contact Jetboil and see if they'd be willing to replace it free of charge. 
If I do, I'll post the results. (Results: they gave me a card for 50% off the replacement purchase). Fair enough. 
Features: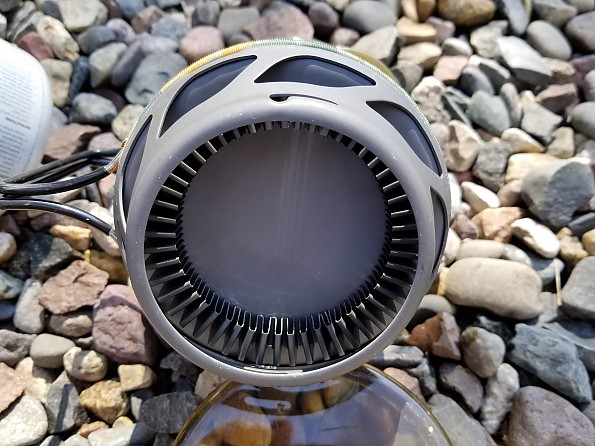 Good distribution of surface area for fast heating and dispersed cooling.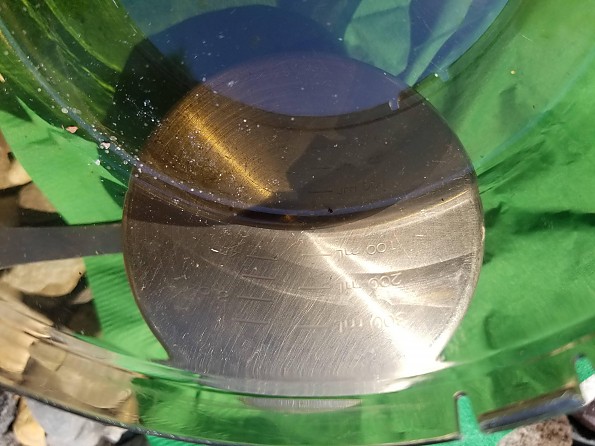 Measurement indicators on the side of the plastic cup.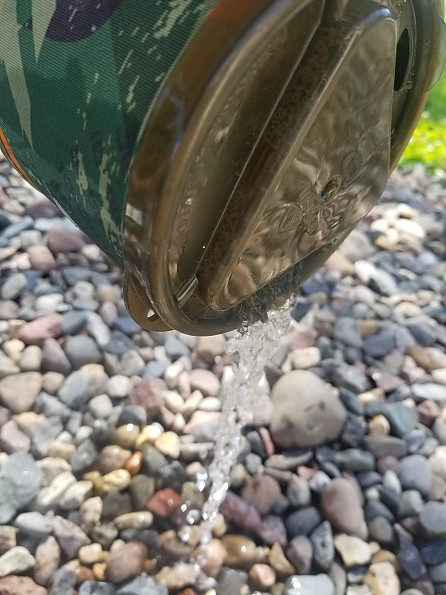 Sieve to drain water.
Conclusion:
In the end, I've now used the MiniMo on a couple of outings. It cooks fine. I like the larger diameter pot when making my own recipes (as opposed to just boiling water). The non-stick allows me to sautee and make a larger variety of dishes than a traditional metal pot. I like the fold out handles that allow for easy holding of the pot. 
Because I have used the older JetBoil model for so many years. I found myself comparing it to the features of the older model and have since switched back to the older model. I feel like the reliable cup, the trouble free fuel regulator, and the pot being able to store the stove and the canister together give it an edge over the MiniMo. 
Would I recommend the product? For those who hike long distances in the backcountry like me, No. I rely on my gear too much for it to fail in those types of situations. 
For someone who is an overnighter and tends to stay in higher use areas, I'll let you make that decision. 
One last thing I'd like to mention about the MiniMo is that the newer materials are not as sturdy or reliable as the materials in the older models. I think that there was some cost cutting that may have taken place. I hope that Jetboil (or Johnson Outdoors) considers returning to the old formulas for the plastics in particular. Having your things break on you in the middle of the wilderness, miles from civilization, will quickly cause outdoor enthusiasts to look elsewhere for more reliable gear.
Background
I used the cooking system on about a half dozen outings before switching back to the older model.
Source: bought it used
Price Paid: $44

Jetboil fans rejoice! Satisfying simmer control plus a new pot size/shape make this complete/modular canister stove worthy of adding to or upgrading your kit. The versatility of accessories such as the pot support also elevate it to a fully stand-alone stove for most applications.

Given its size (1 L), base weight (14.6 oz) and weight-saving options, it can serve a solo backpacker or small group alike. The ease and speed at which such an all-inclusive unit boils water has made it my preferred stove in all but the most extreme ounce-counting forays. But ask any cold, starving adventurer that has ever struggled or dallied in getting a meal prepared in the backcountry, ease and speed win hands-down over weight-savings.

A review of the Jetboil Grande Coffee Press and Pot Support is included.
Pros
Shorter/wider pot increases ease of use and stability
Regulator/valve with 4.5 full turns of simmer control*
Boils 1 liter of water without spillover, pot has measuring gradations
Adaptable to lighter-weight components/removable handles and cozy
MUCH quieter than other Jetboil stoves
Accessories include coffee press and pot stand
While still finicky at times, built-in piezo igniter is most dependable I've tested yet and a nice convenience
Cons
Because of extended simmer control, the value must be opened a full 1-1.5 turns to ignite
Connection points/rivets in handles exposed, can burn skin if not careful
Lid hard to remove when fully seated & does not pour well
Stated Weight: 14.6 oz / 415 g

Volume: 32 oz / 1 L

Dimensions: 5″ x 6″ / 127mm x 152mm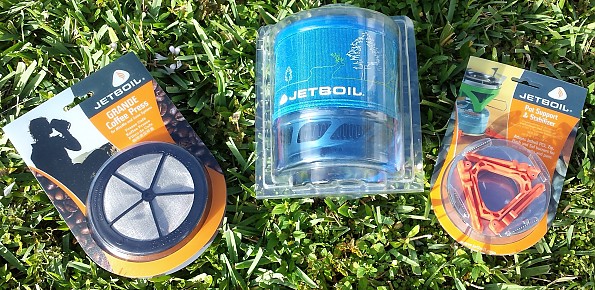 My measured weights—a detailed breakdown (all in ounces):
Stove: 4.6, Pot: 7.3 (5.6 stripped of handles and cozy), Lid w/ support: 1, Cup: 1.7, Pot support: 1.2, Coffee Press: 1

Total Unit (without coffee press or pot support): 14.7

Total Unit with coffee press and pot support: 17.8

Minimal weight (stove and stripped pot only): 10

My preferred kit (stove, pot, other lid, other cup): 13.9
A Word of Caution:
Completing a backcountry stove review properly is a task…consider just one facet: burn times and fuel consumption rates under a full range of conditions, which can yield enough data to fill a page. Plus, there is a lot of knowledge to impart to someone that may be new to the many options available in backcountry stoves. 
For the purposes of keeping the focus on the new and unique attributes of the Jetboil MiniMo, I will not go into depth about all the pros and cons of canister stoves, along with warnings of how to properly use them. For everything you ever wanted to know about canister stoves and more, I highly recommend reading Bill S's Jetboil Joule review.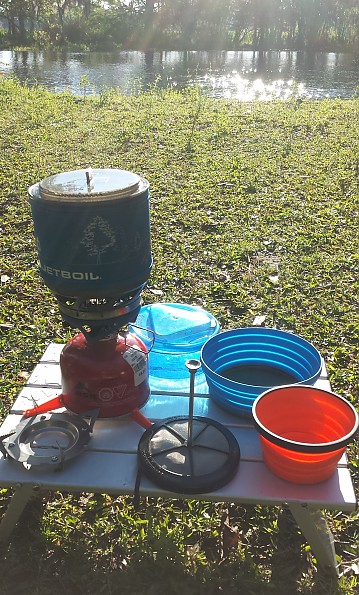 Also, I do not advocate any modifications, adaptations, or processes outside of the manufacturer's recommendations. As such, heating water from a kayak and other similarly illustrated concepts is generally not a safe practice and should not be attempted by anyone.

Introduction/New Features:
The Jetboil MiniMo is a new addition to the line, based off of tried-and-true models such as the Flash and Sol. Jetboil appears to have quelled consumer demand in producing the first model capable of more than just boiling water. Additionally, they redesigned the integrated pot to make it shorter and wider.
While still having a 1 liter capacity, stability is slightly improved and it facilities better spoon angles in scraping that last bit o' Mac & Cheese. Not having eaten directly from the pots of previous versions, I cannot say that this design makes eating significantly easier or that it's the biggest highlight.
Flame Control/Regulation and Range of Cooking Options:
What is, then? I would venture that the highly improved fuel regulation and flame control are the MiniMo's best attributes. More often referred to as "simmer control", this is certainly what Jetboil has touted and yes, the MiniMo does deliver. There are a few drawbacks to this added ability, but let me first cover the basics.
The valve adjusts a full 4.5 turns, as seen in the video I'm providing below. Also of note, the flame ALWAYS goes out with a full turn yet to go, so the range is really limited to 3.5 rotations. This is somewhat of a drawback, because to ignite the stove, you have to open the valve at least a full turn, usually more.
But what you get with such a range is the ability to cook almost anything. Boiling water and cooking noodles is a no-brainer, which I cover next. But my first real test was to fry a steak…easily done (sorry for the boring video but it's here if you want to see it).
And a big pan of bacon...
For the final exam, a friend made his signature red curry. For this we stir-fried vegetables and simmered a large pot of regular rice. Again, the veggies were pretty easily accomplished but I was most impressed by the rice. On a good day at home, I still manage to burn the rice at the bottom of a pan. But perhaps in large credit to my friend's expert skills, the MiniMo cooked that big pot of rice. We turned it down to the lowest flame we could manage and it ended up tasting like it came out of a rice cooker, with nothing stuck to the bottom. Very impressive.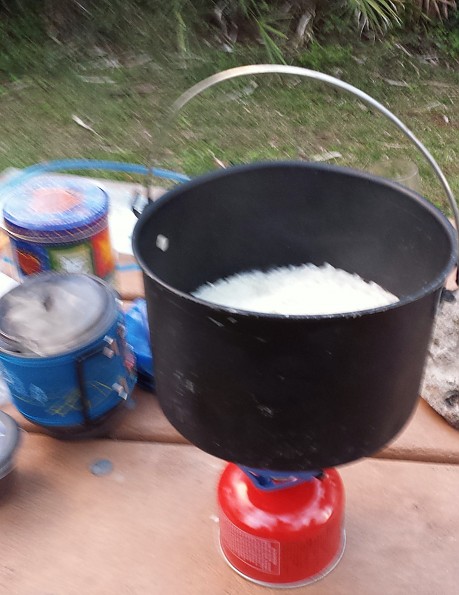 Boil Time & Fuel Efficiency: 
The pot's integral heat exchanger base combined with the stove's regulator and wide burner head provide swift and efficient heat transfer. Under ideal conditions (sea-level, no wind, using refrigerator-chilled water), the MiniMo achieves a roiling boil of a ½ liter of water in under 2 minutes (test repeated 5 times with ¾ full MSR Iso fuel canister). In averaging the weight difference of the canister under these tests, each boil burned around 4 grams of fuel. Given such parameters, I would say that boil speed and fuel efficiency under normal conditions place it above most all competitors.
Additionally, if you've ever been in hearing range of a Jetboil, you knew so by the roar of its engine—it's the Harley Davidson of stoves. Well, not so much with the MiniMo, which can burn so quietly you won't even know it's lit. Even at full blast, it's still relatively quiet.
Setup/Ease of Use:
Well, for me, these criteria are what really sets a Jetboil stove apart, even from other canister stoves (though several now emulate the modular design). And let's be honest, all canister stoves require a minimal amount of effort to set up and ignite, when compared to other types (alcohol, wood, and multi-fuel primed stoves). This is the main reason for their rise in popularity and domination of the market for the past 15 years.
But having exclusively used a MSR PocketRocket/MicroRocket for nearly my entire backpacking career, I appreciate the savings of just 10-20 seconds in the faster setup of the Jetboil MiniMo. OK, that doesn't sound like much but given the repetitiveness of this very basic piece of gear (long-distance hikers will know what I'm talking about), it makes a difference.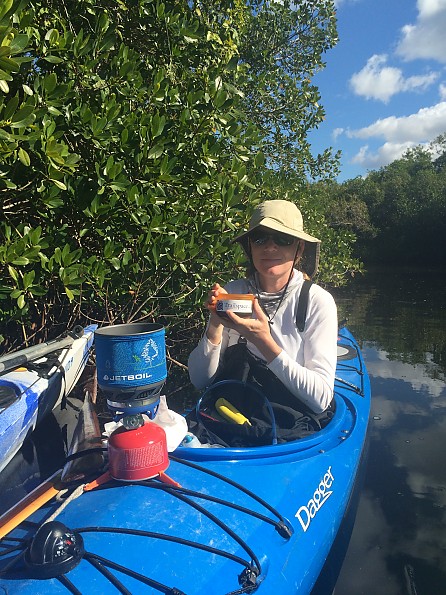 The stove has no moving parts, save for the valve, so it's a simple matter of lining up the pot and giving it a twist. This mating does require a precise fit, as there are two grooves that must be aligned properly. As such, it can be difficult to detach the pot from stove if you've given it too hard of a twist. But I prefer this to having to fold out the tines of other stoves (as in the MicroRocket). The MiniMo is a bit heavier and bulkier than the MR but I can have it set up and boiling water in half the time.
That almost anyone can easily figure it out is also a testament to the Jetboil design. On several 'beginner' backpacking trips that I led as a Florida Trail Activity Leader, this stove was the clear winner. Either because people didn't bring their own or had too much trouble setting up/starting the stove they brought, the MiniMo ended up being the go-to appliance for heating water. I have boiled gallons of water during such trips, just to meet group needs quickly and efficiently.
The biggest drawback of the MiniMo is its supplied lid. The tupperware-seated design ensures a very tight, efficient fit, but I found it cumbersome to remove. It takes two hands to peel it off, which inhibits routine pot stirring or boil checking. It also doesn't pour very well. I prefer a lid that can be removed with one hand and therefore substituted one from another product (which lingers easily just on top). This lid, along with the accompanying cup, reduce the weight of the package to asome extent, as well. Over repeated use, this became my standard setup (seen in above pictures).
The handles are a new feature to the Jetboil line and I found them to be pretty useful. They are removable, if you want to shave some weight. I just wanted to caution here that if you aren't careful, your skin can come in contact with the rivets and other exposed metal parts not covered by the cozy.
Stability: 
The MiniMo achieves good stability due to its wider pot design and therefore lower center of gravity. The precise coupling of the pot and stove ensure that the pot will not slip off if accidentally jostled (which hasn't been the case with past 3-tined-stove designs). Additionally, the pot support accessory mates well to the stove and allowed for a rather large pot of rice and bacon to be cooked (though I noted that we exceeded the recommended pot size diameter of 9"…oops).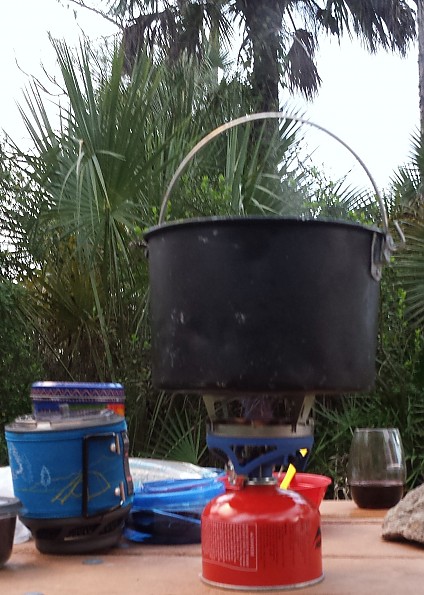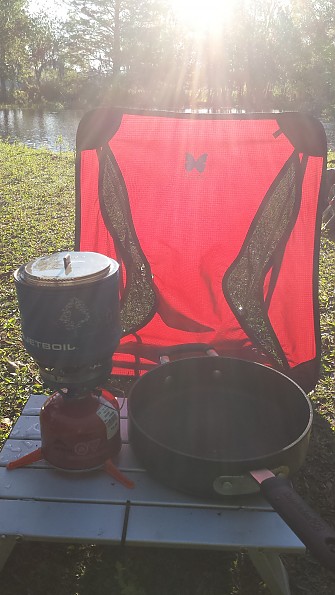 I have rarely found a need to use the fuel canister support legs (supplied both with the MiniMo package and the pot support accessory), but they did come in handy when stabilizing the stove atop my kayak. I repeat, you should not attempt this, but it is nice to be able to make coffee without having to make landfall. This was done on a very calm backwater, while not in jeopardy of other boat wakes or rogue waves. Regardless, spilling hot water on my lap would have been a very bad thing, so I kept my skirt on most of the time.
Ignition:
The built-in piezo ignition can be tricky, but this is more due to the range of the valve. Once I figured out that I had to open the valve a full turn to turn-and-a-half before trying to ignite the stove, I got very consistent results. The manufacturer insists that the stove always be lit without the pot in place but (shhhhh!) I found it easier to ignite with the pot on. Understandably, with this method, the gas begins to pool inside the heat exchanger so you get a nice build-up, then POOF! the stove lights as soon as you push the piezo. 
Be forewarned, this could cause injury and users of Gollum-intellect to exclaim "It hurtses us, it burnses us!"  I find the built-in piezo to be quite a convenience but am always prepared in the event of a failure. It is still firing after four months of use, so that's something!
Extreme Conditions—Wind, Cold, and Altitude:
While the MiniMo fares better than my other canister stoves in windy conditions; it will still go out in a good puff. The heat exchanger does provide some level of a wind screen, but there are a few competing models with better wind performance.
I would say that it also handles the cold and altitude consistent with most other canister stoves…that is, not great but the regulator should help in this regard. High altitude mountain goats would be better served by a stove with higher wind resistance, output, and a pump-pressurized fuel source. But the MiniMo is an otherwise excellent all-around stove for lower-48 backcountry use.
Packability:
By design, a Jetboil is like a Russian nesting doll: everything fits inside or around the base. And with this wider pot design, a 4 oz. fuel canister can fit upright or on its side while still allowing space inside for the stove component.  An 8 oz. canister fits perfectly upright inside the pot but doesn't allow for anything else inside.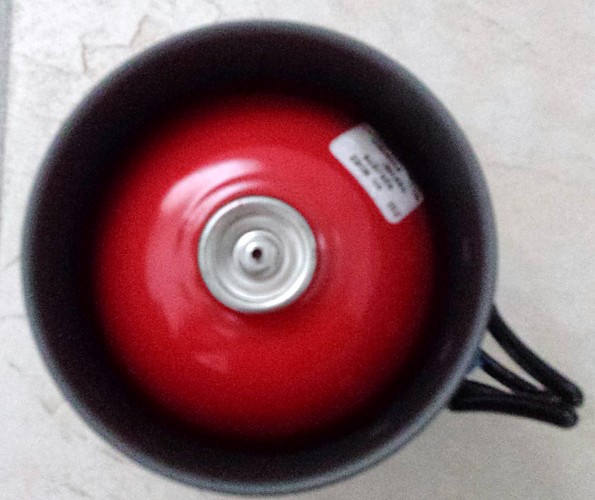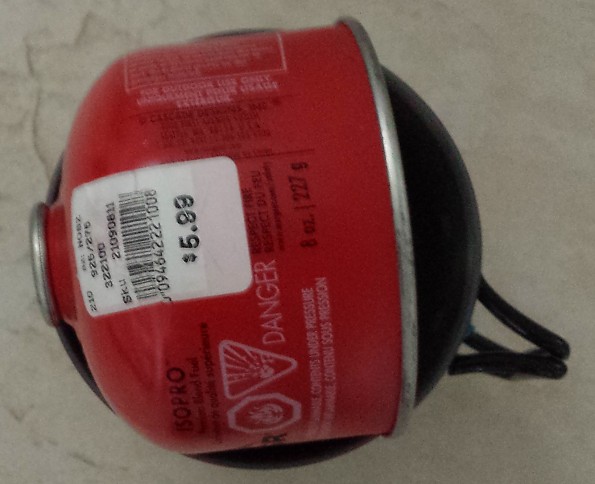 (an 8 oz. canister fits fine upright but not on its side...a 4 oz will fit on its side)

Having a compact, all-in-one unit is very ideal from a packing standpoint. I generally keep it at the top of my pack or in an accessible kayak hatch so that I can easily get to it during the day. I find it easiest to keep the stove and pot mated together, with the fuel canister inside the pot. So for a coffee break, all that is required is to screw on the canister, add water, and ignite. There are no other components to become separated and have to dig for, save for your spork!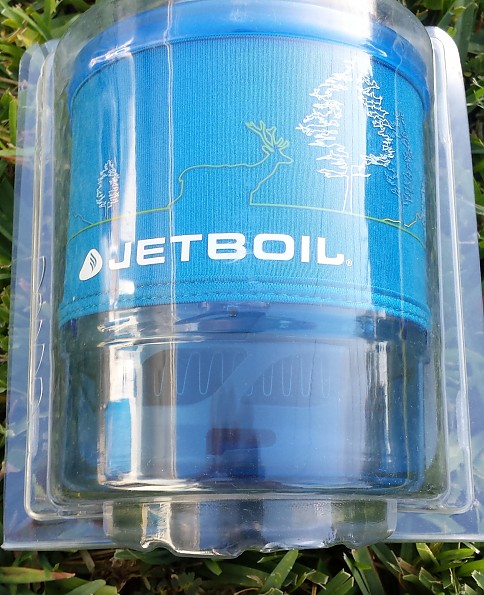 Yes, some canister and alcohol stoves are more compact in size, but also don't provide as quick of a setup and/or boil time. Simply stated, the Jetboil system is made to work and fit together and it does so very well.
Construction & Durability:
The MiniMo meets all expectations of durability. So far, I have encountered nothing that gives me concern about its ability to hold up to the rigors of backcountry use.
Accessories—Grande Coffee Press and Pot Support:  
My sample included these two accessories, which I have made reference to several times previously. But I wanted to address each individually. The Grande Coffee Press is nice addition, but not something I would normally backpack with. At home, I use a press exclusively and used to always carry a lighter version into the backcountry. Good coffee is a luxury and yet a necessity.
But since the advent of Starbucks VIA instant coffee packets, my high-brow coffee needs have been quenched with this very simple, convenient product. However, for car-camping and paddling trips, I enjoyed having the press. I was going to note that it tended to make a bit of a mess (grinds everywhere, extended cleanup) but in reviewing the destructions just now, I realize I have been using the filter upside down all along!
A retrial just now got much better results. Wow, and I thought I was a coffee snob but turns out I can't even work a press right. Note to would-be users: make sure the side of the filter with writing faces up!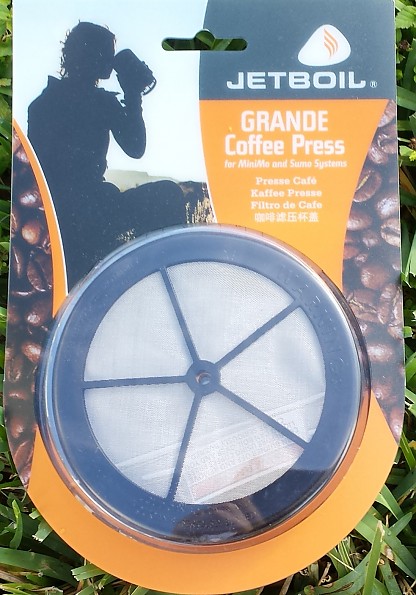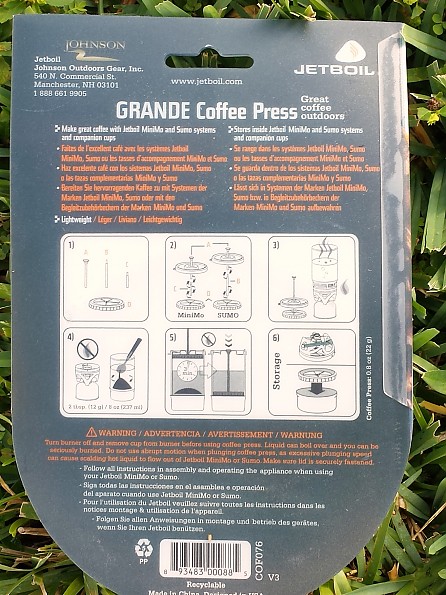 The Pot Support is a simple, must-have accessory if you wish to really utilize the stove's full cooking range. The support allows for regular pots and pans to be used with the stove. The four tines fold in and out but it does add more bulk plus an ounce in weight, thus it's generally not justified for backpacking trips.
Again, it's a great addition when weight is not an issue or if the stove is going to be used by a group. I would say it's a more useful accessory than the press, but hey, why not get both? I guess it depends on your preferences and budget.
Conditions and my stove experience:
I have tested the supplied MiniMo sample, along with a friend's identical stove (prior to receiving the sample), for almost six months. I've used it on several multi-day paddling trips, day-hikes, and multi-day backpacking trips, all taking place in Florida. While I have not used it in very cold or high-altitude conditions, I am familiar with canister stove performance in such conditions from past experiences. I will continue to update the review once I am able to test this particular stove under such conditions.
As many gearheads can relate, I am somewhat enamored with of my collection of stoves…my closet has seen more stoves than pairs of heels, to be sure. And like many in the canister stove era, I started out with the good old MSR PocketRocket, which saw me through my first 10 years of wilderness pursuits. I have employed several other similar canister stoves since then (Brunton Optimus Crux and MSR MicroRocket).
Trying to lighten my load, I also experimented with a home-made alcohol stove (didn't like it) and have recently been testing the wood burning Solo stove, which I also received thanks to Trailspace. After using a canister stove for so many years, it's hard to get away from the convenience and confidence that this class offers.
Thank you to Trailspace and Jetboil for the privilege of testing this stove and for your patience in awaiting the review while I recovered from a car accident. I'm so happy to be outside and testing gear again!
Source: received for testing via the Trailspace Review Corps (Sample provided by Jetboil for testing and review)

I liked the look of the MiniMo. Self-contained stove camping system that could heat water to boiling point in under three minutes! I read the reviews; it clicked all the core "must have's" in a hiking/solo camping stove.
Pros
Heats water to boiling point fast! This was a great selling point for me as being able to stop while hiking and get a hot drink in under three minutes is a real morale booster on a cold rainy hiking day.
Can be used as a pot for cooking or as a cup for hot drinks. This is a multi-purpose camping cooking system.
Simple and easy cleanup
The handles and cozy make it easy to handle when hot.
Perfect for canoe camping reducing amount of equipment needed for preparing a meal.
Has removable cozy that you can replace or purchase extras in another color or design to fit your hiking moods. I liked this idea of adding color or individual branding to your activity, sadly they didn't offer any canoe designs and in Europe I was only able to purchase the black cozy.
Cons
I think the lid could use a redesign. I have steam burned my hands several times in trying to life the lid. Solution is a good multitool to lift the lid.
The MiniMo is larger and bulkier than my other backpacking stoves. The bulky nature takes up a large amount room in my backpack.
The lock system for attaching the pot to the burner is difficult to release when cooking is complete. Watch for burns to hands or spills of contents when this happens.
Weight of the MiniMo is heavier than my other backpack stoves, making this not my first choice for longer pack trips.
Price, for less than half what the MiniMo stove costs, smaller backpack stoves will offer the same capabilities.
You can find my detailed review at the following link...https://thecedarjournal.com/blog/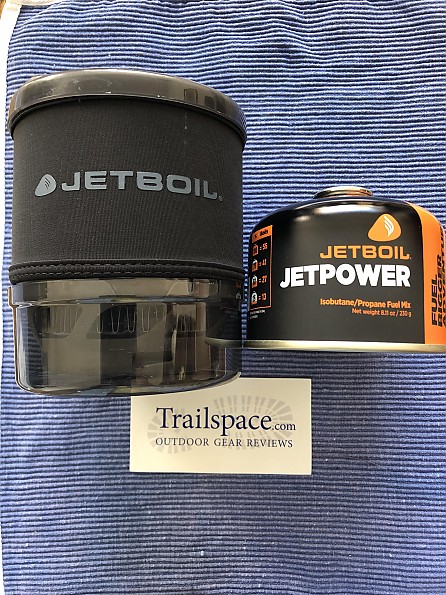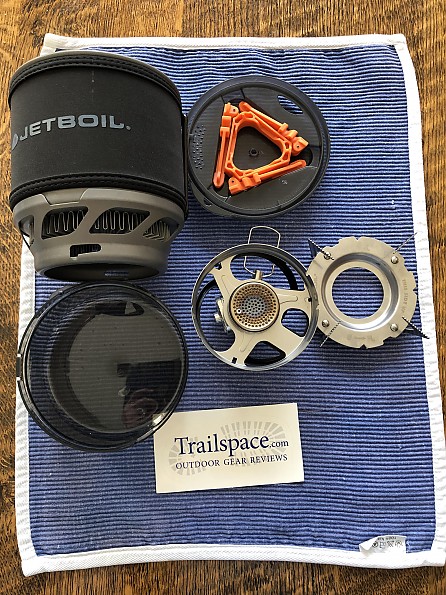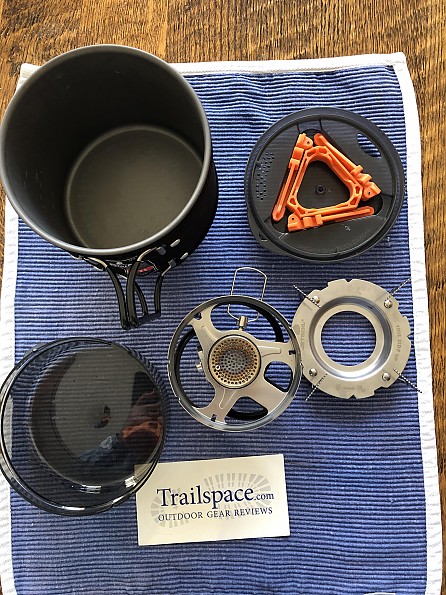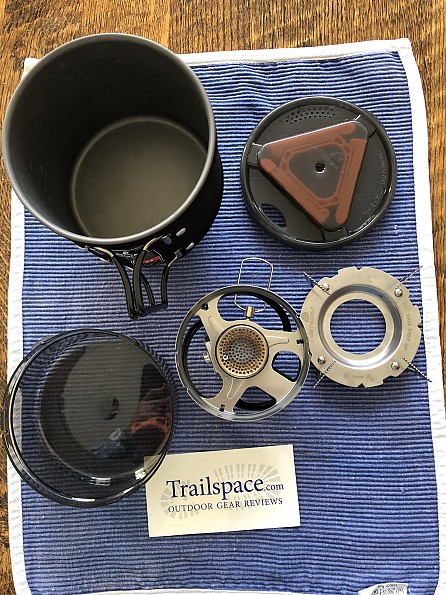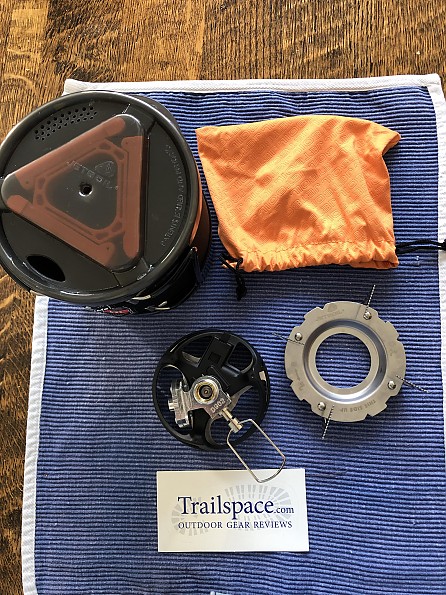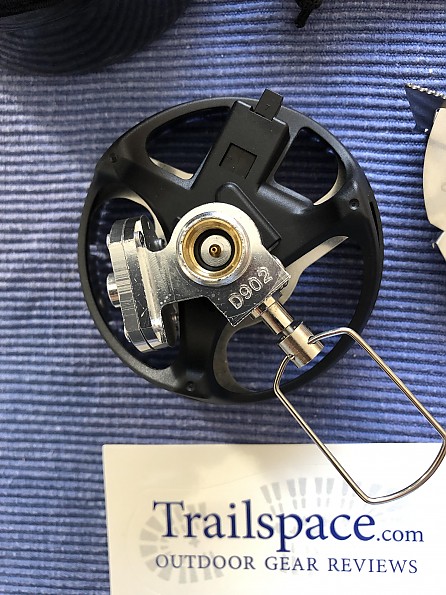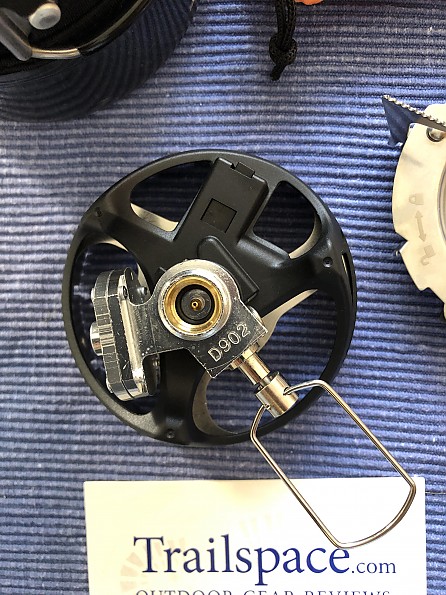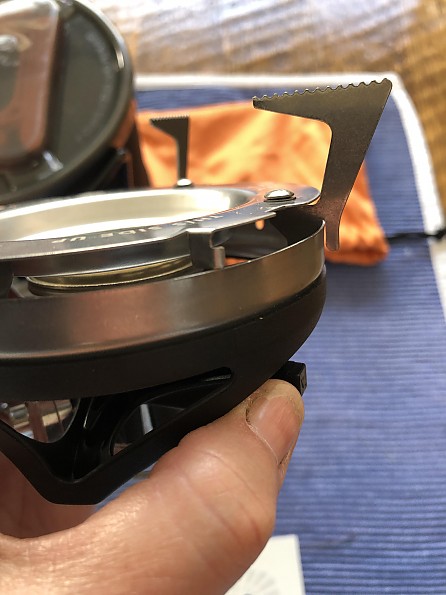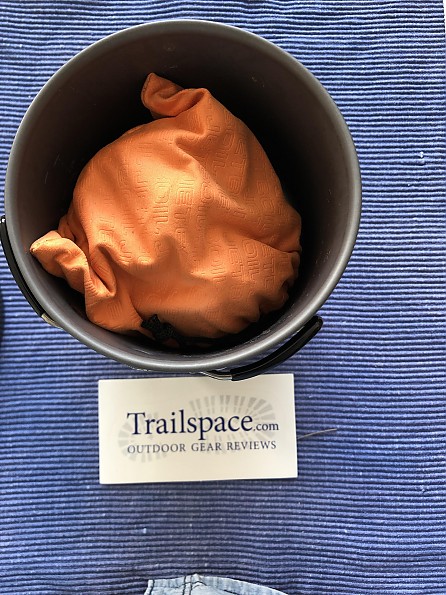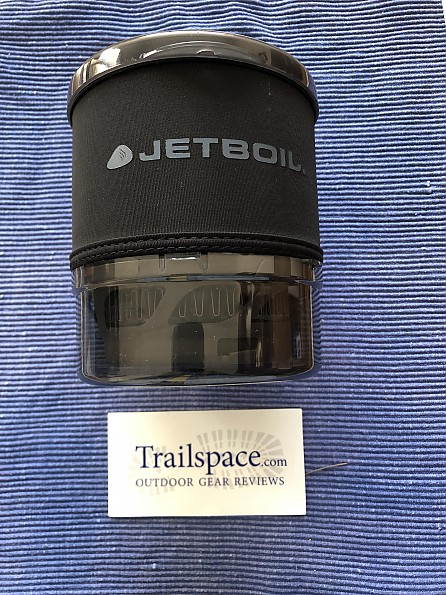 Background
I liked that the MiniMo has a wide opening for making a one-pot camping dish. The handles on the side of the MiniMo make it easy to steady the pan while stirring, a struggle with most small camping stoves. The intensely focused heat of the flame did make it a challenge cooking without burning at first. All camping stoves, I have found, have "hot" spots and the MiniMo can easily burn food if you are distracted. Although the flame is easier to regulate to simmer than any other camping stove I have used.
Source: bought it new
Price Paid: 150 Euro

Best lightweight stove on the market. Save fuel by boiling water in a jiffy. Also excellent for cooking meals in the pot.
Pros
Less fuel used per boil
Excellent for cooking in the pot w/ new regulator
Compact, everything fits in pot including fuel
Cons
Little heavy for thru hikes compared to other stoves
Stove is very easy to set up and use. Igniter is built in so no looking for a fire source. Flame control is excellent with the simmer regulator. 
You can cook almost anything with this stove. Depending on elevation, boils two cups in less than two minutes. Works great in wind unless its a really strong wind then shielding is needed.
One of the best stoves I have ever used.
Source: bought it new
Price Paid: $135

Don't buy!!! I repeat—don't buy!!!!!
I bought one today and get it home all excited to test it out. Mine was leaning off centre and the pot leaked and I found it didn't simmer very well. For the price this was a huge disappointment  for me. Will be returning and getting my second choice, the MSR Reactor.
Background
I owm 15 other stoves of various types.
Source: bought it new
Price Paid: 179.99 cad

Your Review
Where to Buy
Help support this site by making your next gear purchase through one of the links above. Click a link, buy what you need, and the seller will contribute a portion of the purchase price to support Trailspace's independent gear reviews.
You May Like
Specs
Price
MSRP: $149.95
Current Retail: $123.69-$164.99
Historic Range: $99.88-$164.99
Reviewers Paid: $44.00-$135.00

Fuel
propane/isobutane, Jetpower

Boil time for 0.5 L of water
2:15

Water boiled per 100 g fuel
12 liters

Weight
14.6 oz / 415 g

Recently on Trailspace