Jetboil Sol

The Sol has been discontinued. It was replaced by the Jetboil Flash Cooking System.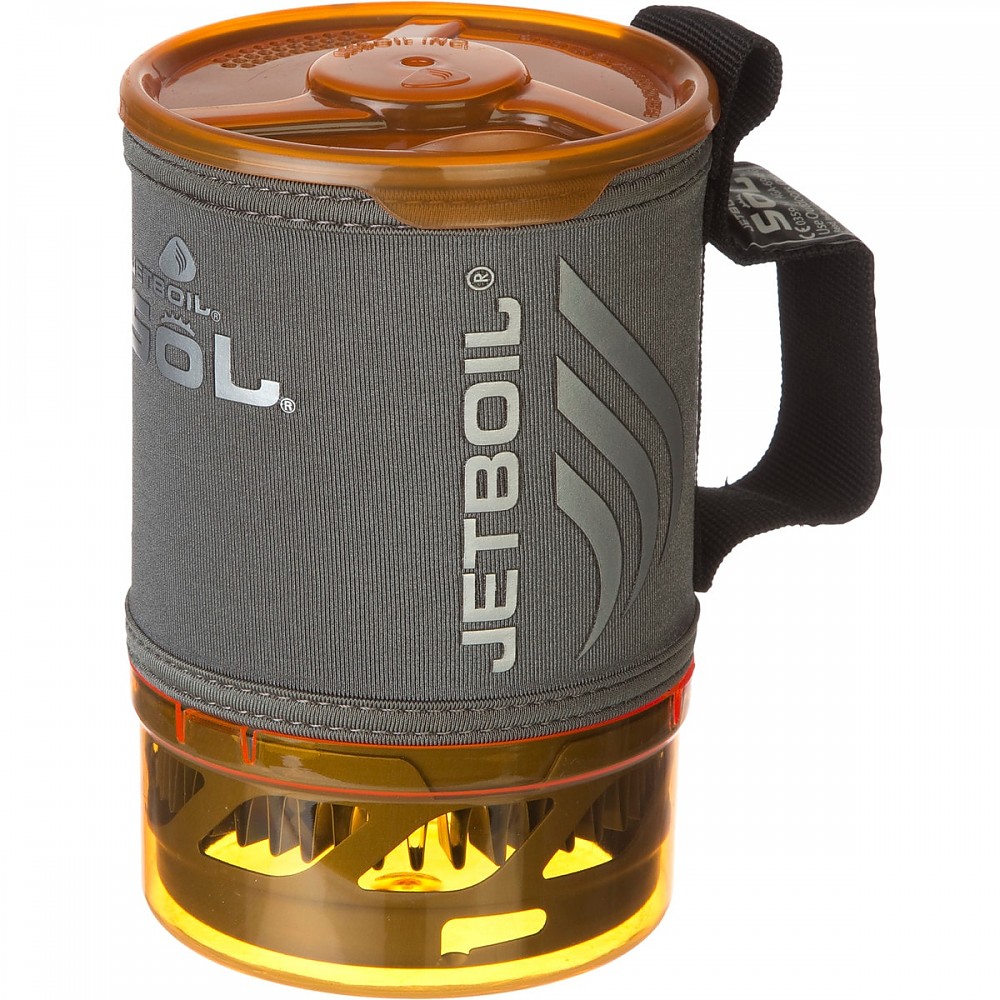 Excellent canister stove. This is my second Jetboil, the first was the standard size stove, and it was a gift. Until then, I had never contemplated a fuel canister stove, preferring the MSR Whisperlites for years because of their reliability. It didn't take long to convince me that the Jetboil stoves were incredibly convenient. I still prefer the Whisperlite for winter excursions, but for all other seasons I now carry the Jetboil.
Pros
Lightweight
Quick to boil water
Compact storage
Although I bought the Sol for solo trips, I recently used it to provide boiling water for freeze dried meals, oatmeal, hot drinks, wash water, etc., for a group of 6, for three nights. It boiled the water so fast, the other canister stove we had was never used. We were pretty loose with its usage, and the 8oz fuel canister lasted for that trip and two days into the next.
The compact breakdown, with all parts and a small fuel canister fitting into the pot, in addition to a strap on the sleeve to hold my spoon is another bonus. Everything being contained together also makes it easy to break it out in the middle of the day for a hot drink after lunch on a cold day. I also like the fact that the thin insulating sleeve in sufficient to hold the pot comfortably with boiling water in it, making it easy to pour water into cups or freeze dried food pouches.
My last trip was four nights staying at 11,000 to 12,500 feet. One night it was cold enough to put an 1/8" layer of ice in the pot, but the stove fired immediately after sitting out all night, alleviating some of my concerns about fuel canisters in moderately cold weather.
The biggest drawback I have found is the lid does not stay on well, and can't be trusted to stay on while pouring. I also find it dislodged in the pack sometimes if it has any space around it. I'm willing to live with this small issue for the overall convenience of the stove though.
Source: bought it new
Price Paid: $114.95

This stove has been reliable through every single situation I can throw at it. It is a one-stop-shop for most cooking essentials, especially those utilizing dehydrated meals on the trail. Although I have been using an Esbit and looking into wood-burning options to change my game a bit, this Jetboil will be the one I turn to when I need ultimate efficiency and reliability. My only complaints would be that the lid does not stick well (I use a large rubber band to make sure it stays together), and the handle is a bit flimsy.
Pros
Compact
Efficient
Lightweight
Reliable
Durable
Setup: Piece of cake! Quick and easy
Ignition: It's electronic...who can't push a button?  :) Piezo has been great even in cold weather
Flame Control: Adjustable burner works well, but I haven't had a use for it as I mostly boil water for tea and dehydrated food
Cooking: You can't boil any faster or conveniently!
Wind: I haven't used this in a tornado, but if you were in a tornado I would suggest holding off on eating. Seems to work well in most situations
Fuel Efficiency: This wasn't directly measured but I had one regular canister last through seven nights, being used at least 15 times
Stability: Pot stabilizer really helps out! Never had an issue.
Packability: Amazing
Ease of Use: Simple! Consistent! Love!
Construction & Durability: Orange covered neoprene shows dirt quickly but no complaints.
Conditions: This has been used for 30+ nights in the wilderness without a single fault.
Source: bought it new
Price Paid: $119.95

Jetboil, like its name, boils in a brutal fashion in which 600ml max water gets done within a minute or two. I tried it for the first time thinking that I can do other things on the side and it turns out miraculously fast. It's also very efficient on gas too with ideal storage plan for the cook set to completely fit into the cup with another 100g tank of gas.
Pros
Weight
Storage plan
Fuel efficiency
Cons
Aluminum
The handle burns
Hard to get the lid off when boiled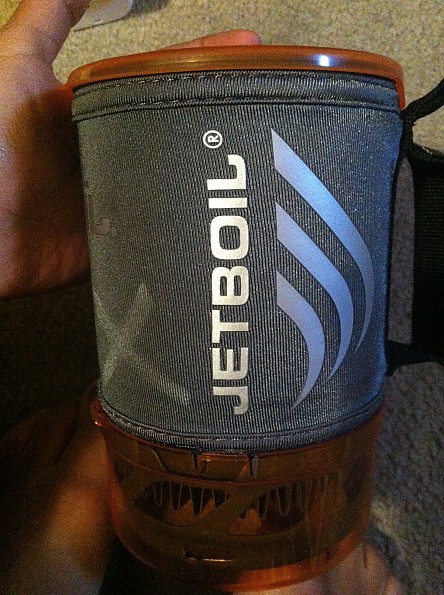 I bought it in REI garage sale with a burnt off handle. After a few stitches it works just as good as new. I personally would like to switch to a titanium cup once saved up enough money. Good thing is that they sell cups separately. 
Source: bought it used
Price Paid: $41

All in one place. I don't have to dig thru my pack for parts. Like the side igniter. Flame control was good also. It is quick on water boil.
Pros
All in one unit.
Working great during trips, had to cook for 3 people one trip.
I have owned several stoves but this is my newest. Not a problem that I can find, but realize the trip is still young.
Neat stack system in which all is together in one place. Seems quicker than other stoves on the trips. Give it another year and I'll tell you the rest of the story.
whiteout
Great stove to boil water, and that is what we needed.
Pros
Fast boil times
Low fuel usage
Packs compactly
Cons
Could be more durable
Price
On an 11-day backpack trek with a group of scouts we were able to cook every night on 2.5 canisters of fuel. This thing  is great. Easy to use, easy to pack, if you only put water in the pot, no clean up.  
Source: borrowed it

Your Review
You May Like
Specs
Price
MSRP: $119.95
Historic Range: $83.93-$119.95
Reviewers Paid: $41.00-$119.95

Fuel
propane/isobutane, Jetpower

Boil time for 0.5 L of water
2:15

Water boiled per 100 g fuel
12 liters

Weight
10.5 oz / 300 g