MSR PocketRocket 2 Mini Stove Kit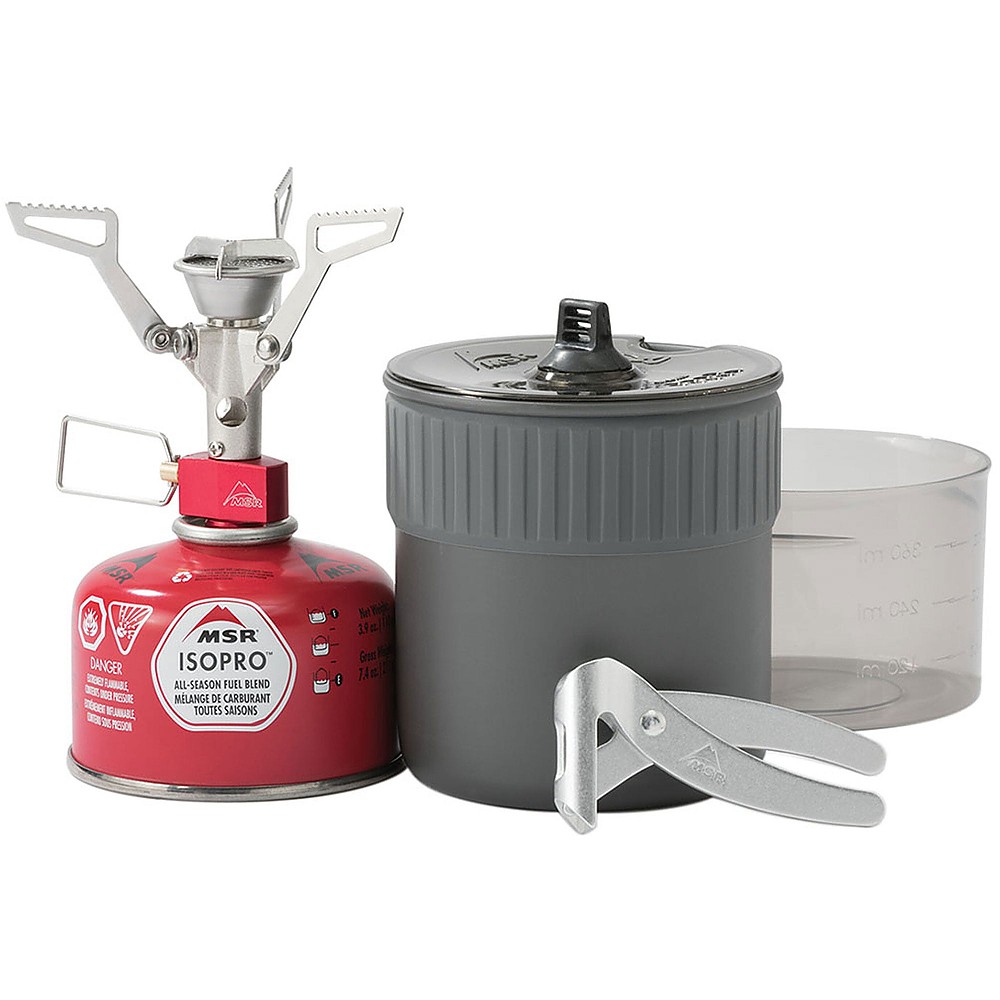 This small stove kit, designed for minimalist solo backpacking includes the new MSR PocketRocket 2 stove, a pot grabber, a plastic cup/bowl, a cup lid, and an aluminum pot (.75L capacity). A small 4 oz. fuel canister (not included) will fit within component system. The entire system (not including fuel) weighs only 10 oz. Its small size, versatility, and efficient stove action make this an ideal stove kit for camping or backpacking.
Pros
Compact and lightweight
Components nest well
Good temperature adjustment control
Very simple and easy to use
Cost effective as a complete system
Cons
Can be unsteady with larger pot
Plastic bowl not always visible (when on the pot)
As with most canister stoves not efficient in really cold temperatures or strong wind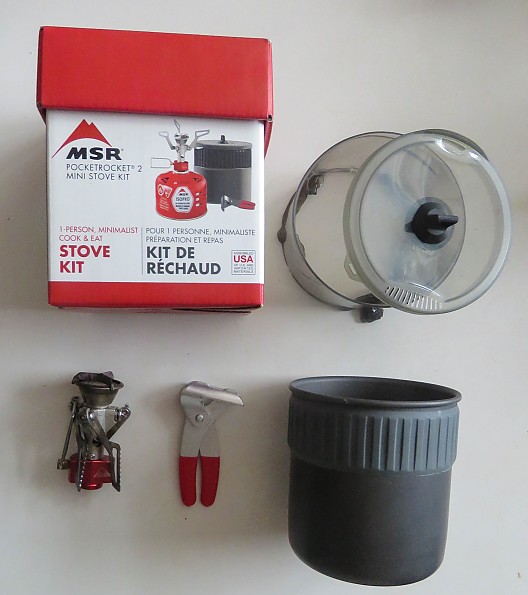 This stove kit arrived in a solid cardboard box, protecting the contents well. I have loved my original PocketRocket stove, and have used it for many years. However, MSR no longer makes the original PocketRocket Stove. This improved stove is .5 oz lighter, and demonstratively more compact than the original version.
The original PocketRocket ,and this newer version have nearly identical spacing of pot holder arms, and height when in position for use. However, the dual-hinged arms of the PocketRocket 2 result in its ability to fold smaller for storage. The burner head of the PocketRocket 2 is ¼ inch smaller diameter than the original.
                                PocketRocket 2 on Left; original with its case on right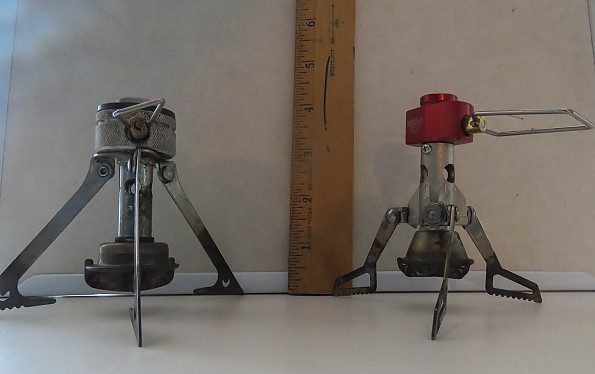 Original (left), and new PocketRocket 2 (right)


A small plastic case is available from MSR for this new stove, but it is not necessary with the stove kit; such a case would negate the ability to nest the components, and the stove is protected by being enclosed within a hard pot.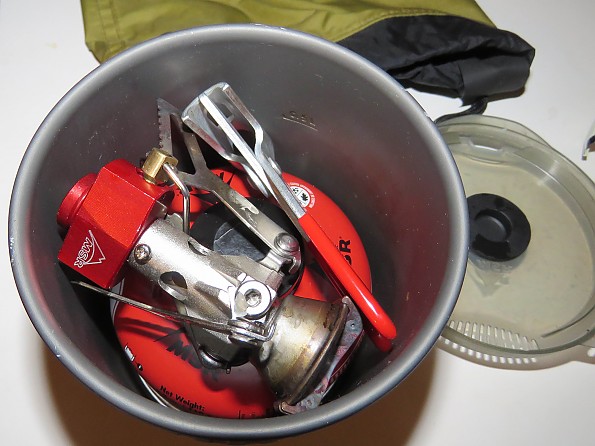 Nested within pot, with a 4 oz. fuel canister
The kit comes with the stove, as well as an aluminum pot, a pot lid, a plastic exterior cup, and a small mechanical pot grabber. In my testing period, I utilized each of these components while canoe camping, car camping, winter hut camping, and trailside while snowshoeing.
Metal Pot:  This .75 L capacity hard-anodized aluminum pot is 4 inches high, with a diameter of 4 inches, and has a rubber sleeve around the outside edge, for safer grabbing of the pot. This sleeve is removable. The small size of this pot makes it perfect for the placement on the stove's support arms. The interior measurement designation stops at .5L, 1 3/8 inches below the top of the pot. For safe use, the practical capacity for boiling liquids would most likely be .5 L. The pot weighs approx. 3.75 oz.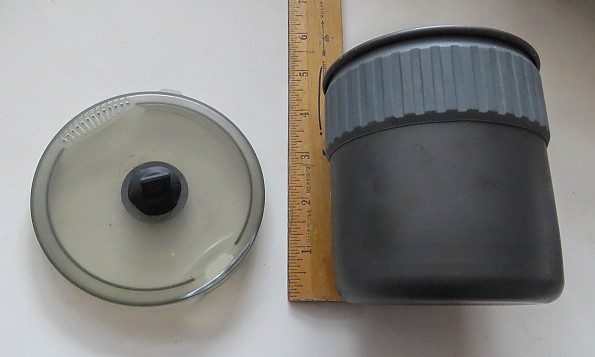 Snap-on Lid: The lid snaps on ether the pot, or on the plastic cup/bowl. The BPA- free plastic lid has vents and a sipping opening. There is also a small rubber handle in the center, and a lifting tab on the side. The lid weighs less than an ounce.
Plastic Bowl: Described by MSR as a "hot and cold safe bowl" made of BPA -free plastic, this cup/bowl fits over the metal pot, and comes up to the base of the rubber sleeve on the pot. Its upper end measurement designation indicates a capacity of 12 oz.  This bowl is made of a plastic that is translucent, and the same color as the lid. When placed over the dark grey of the pot, it essentially becomes invisible.
On the box, the photo of the kit apparently shows the bowl; however, it was not until I disassembled the components that I actually realized there was a bowl. My first thought was that it would be very easy to inadvertently place the pot on the stove, with the bowl still covering the pot. For my first few outings, I placed a small piece of orange duct tape on the bowl, to prevent such an occurrence. However, after time, that fell off, and sure enough, I did it…while using the stove in pre-dawn low light, the plastic bowl was not readily visible, and within seconds of putting the pot on the stove to boil water, I realized the bowl was melting! My error, but if the bowl were a different color, or contrasted with the pot material, it may still be intact.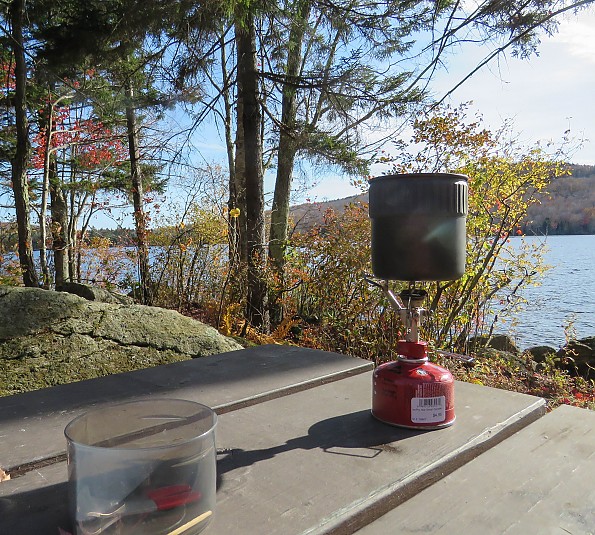 Before...the plastic bowl intact


Pot Grabber: This small pot grabber, a mini LiteLifter pot handle, works very well. It is, light (less  than 1 oz), and fits well with the other components when nesting in the pot. Even with its diminutive size, I was able to use it successfully (no spilling!) with bare hands and also while wearing gloves. The basic hinged mechanism seems durable, and has worked in temperatures from below zero to the 70's.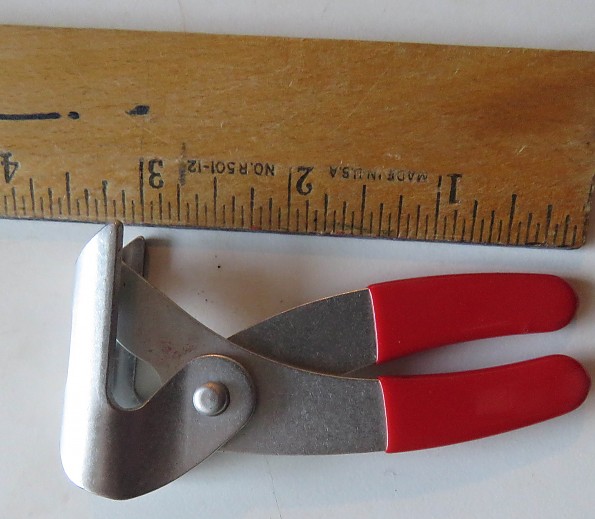 PocketRocket 2 Stove: Yes, the crux of the kit review! All the above described components would be useless without the stove itself, the small, compact, and efficient MSR PocketRocket 2. This is the newest MSR PocketRocket, replacing the no longer manufactured original version.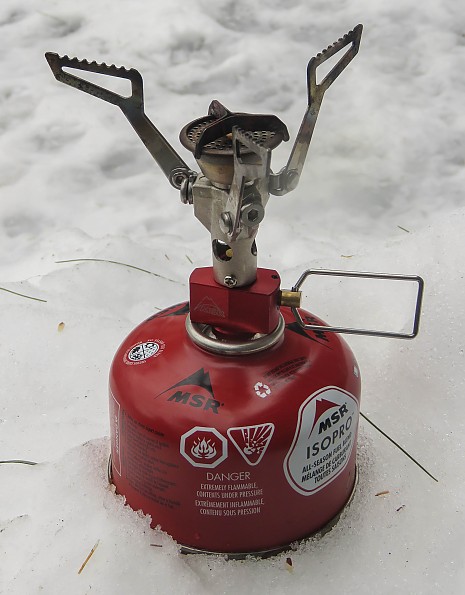 The stove is quite small and lightweight (2.75 oz). MSR reports it has 8,000 BTU power, with a boil time of 3:30 for 1L., said to be 25% faster than competitors' stoves.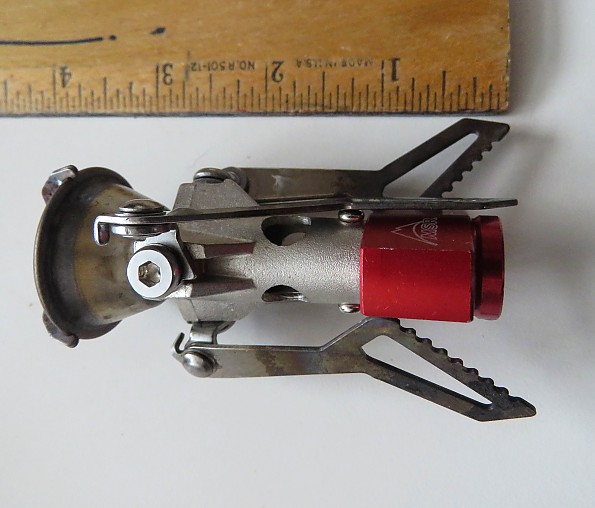 I know that I used the stove in different conditions (rain, wind, snow) and  both cold and warm temperatures, and found it to be an efficient, easy to use, quick boiling stove. The variables are many for fuel consumption (air temperature, how open the fuel valve is, canister capacity), but anecdotally, I feel that the fuel canisters last longer than with other similar stoves I have used.
I used the stove with different brands and sizes of fuel canisters, and its excellent performance did not change. The fuel canisters I used were the 4 oz. MSR Isopro, 4 oz. JetBoil Jetpower Isobutane, and 16 oz. North 49 Isobutane.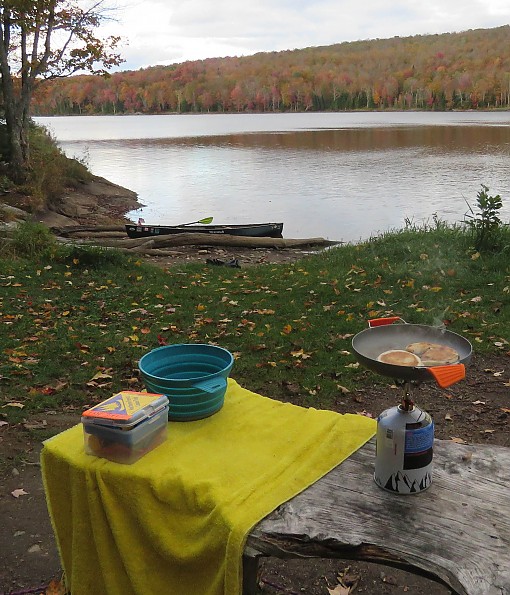 A rainy morning canoe camping...stove on  large canister


The stove is small, and when the surface on which I placed the stove warranted it, I used an MSR universal stove stand on the fuel canister for additional stability. This is especially important when using a larger pot. When the pot support arms are in position, they are approximately 4.5 inches apart at the ends.
The pot support arms are double hinged, so they can fold up compactly against the stove for storage. It can take a bit of manipulation to maneuver the third support arm down into nesting storage position, as it has to fit around the fuel adjustment lever.
I had been a little concerned that the multiple hinge design might negatively affect durability, but for the most part, those concerns have been unwarranted. The stove has received a lot of use, and has been packed and unpacked numerous times, but the support arms remain stable. I did have to slightly tighten up one of the hinge screws, using a small hex wrench, as it appeared to be getting slightly loose.
The connection to fuel canisters is easy, and the 1 inch long stove base (red), used to screw the stove to a fuel canister is easy to manipulate.
The fuel adjustment lever is easy to use, and controls fuel output well, for simmering as well as boiling. Lower temperature grilling, as well as higher temperature boiling has been successful during my uses.
I was able to check out the boiling time for this stove, using the small pot from the kit. I boiled water at different temperatures, and in windy and non-windy conditions.
While camping at 40 degrees (f) temperatures, the stove boiled 1 cup of water, to full boil (open pot/no lid) in 1 min. 15 seconds, with stove turned up to nearly maximum. The stove was on a rock on the ground for this use.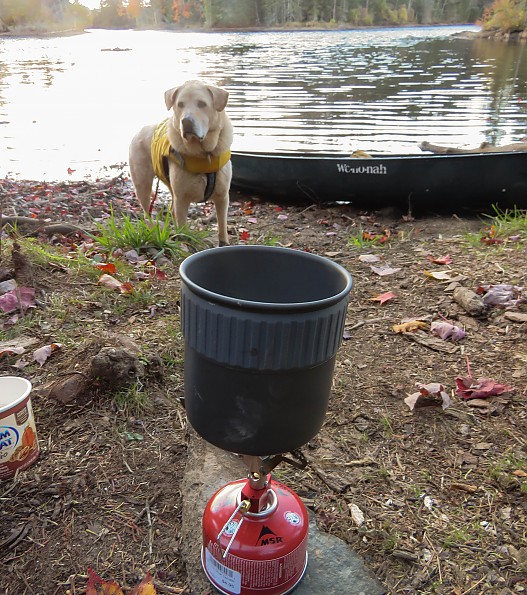 40 degrees, lakeside breakfast


When placed in the snow, with air temperature of 26 degrees, and (the fuel can having been stored in my pack) it took 2 minutes to bring the same amount of water to a boil. There was a moderate wind, but I had placed the stove in a natural wind-break behind a rock, and used the pot lid only briefly.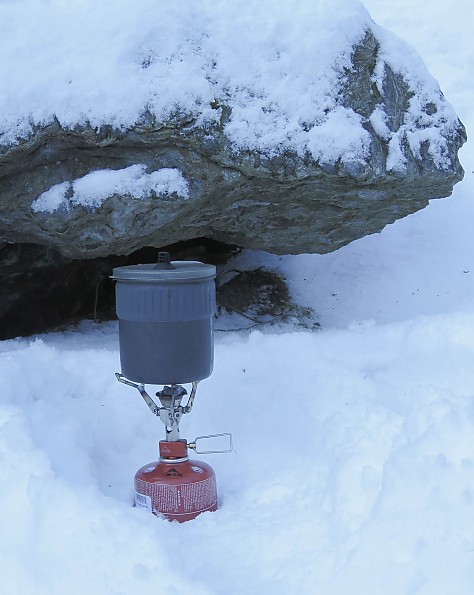 Trailside coffee while snowshoeing


When the temperatures got quite a bit colder, I did notice a reduction in performance for the stove. This is important information for me, since I like to carry a stove while snowshoeing, to make trailside coffee or cocoa. At 5 degrees, with a moderate wind, the stove worked fine. The canister had been kept warm inside a jacket, but then was outside for approximately 10 minutes before lighting. The stove lit without issue, and boiled 1 cup of water in 2 min. and 25 seconds, with the fuel valve fully open (open pot/no lid).
I repeated the test, at negative 5 degrees, and the starting and boiling times were almost identical. There was just a bit less wind for the negative 5 degree test, but essentially, the stove worked well in both temperatures. The water in both situations began to bubble before 2 minutes, but it took another 30 seconds or so before a full boil was reached (open pot, no lid).
I did try the stove in much colder temperatures, in a controlled environment, to see how it would function. The fuel canister was not completely cold (as I did not want to cause an explosion), but had been exposed to the -15 temperatures for a brief period. The stove did light, but sputtered, and the flame control was not effective. This was a quick test, and verified that temperatures that low are beyond the stoves functional capacity. For recommendation and or suggestions on safe cold weather use of canister stoves, the Trailspace forum has some great information (https://www.trailspace.com/forums/gear-selection/topics/48025.html )
I do feel comfortable using the stove, with a warmed fuel canister, in temperatures in the single digits. I am not sure that I would want to depend on it, though, as too many variables have to fall into place for effective use. In general, it boils a cup of water in 2-3 minutes, in a range of temperatures upwards, from slightly below zero (f)

Conclusion:  The PocketRocket 2 is an effective, compact, and lightweight stove, suitable for basic cooking while backpacking, canoe camping, or trailside. The Mini Stove Kit is an efficient way to carry most essential cooking components for a single person, and takes up very little space in a pack. I would suggest that the exterior plastic cup/bowl of the kit be a different color, to prevent my low-light disaster of melting the bowl! Otherwise, I found the kit components, including stove, to be well-made and durable.
The Mini-Stove kit will retails for $79.95 msrp, and the stove alone retails for $44.95 msrp. This calculates to a Stove Kit component value of $35, very reasonable for a pot, lid, pot grabber, and hot/cold bowl. Certainly, the compact nesting ability of the kit makes me highly recommend the stove be purchased as part of the kit.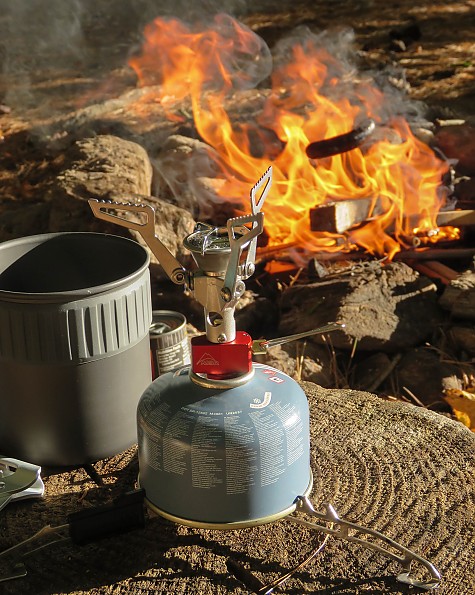 MSR canister stand in use, with a nice fall campfire behind!
Source: received for testing via the Trailspace Review Corps (Sample provided by MSR for testing and review)

The MSR PocketRocket 2 Mini Stove Kit is light and compact with all the components you need to boil water or simmer food with the addition of a lighter and fuel canister.
Pros
Light
Compact
Accepts different sizes of pots and pans
Lights easily in windy conditions
Boils water quickly
You can simmer food in the pot
The flame is adjustable
Cons
Doesn't have an automatic igniter
Has lots of individual pieces
The MSR PocketRocket 2, representing a redesign of a long-time favorite stove, the original PocketRocket, has been out for a couple of years. I recently had a chance to test it to compare to my original PocketRocket along with a convenient MSR Mini Stove Kit.
Light backpackers love items that nest together efficiently and this kit is a marvel. Like the original PocketRocket, this stove is tiny, lightweight, reliable, heats water quickly and accepts a variety of cooking vessels. The most significant changes are the smaller size, lower weight, and arms (pot supports) that fold like origami to make a more compact stove. MSR has a long and storied history developing innovations in camping stoves and other equipment.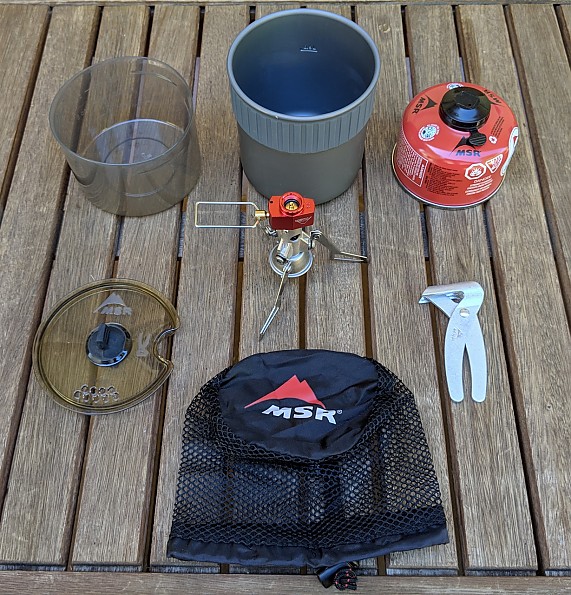 MSR PocketRocket 2 Mini Stove Kit
The stove kit contains six items:
PocketRocket 2 stove
Aluminum pot (0.75 liter)
Plastic lid
Plastic bowl (0.5 liter)
Pot handle
Stuff sack
Everything except the stuff sack fits together inside with a 4-oz fuel canister. This is the best part: the pot, which is 4.24 inches high and 4 inches wide, holds everything. The plastic cup has standard and metric measurement markings and is safe for hot and cold liquids. The lid has 10 strainer holes and a rubber knob so you can hold the top on and strain liquid from the pot. The lid also has a semi-circular cut out that allows the MSR Mini LiteLifter pot handle to be placed without disturbing the top. The stove is ringed with a rubbery 1.5-inch insulated grip at the top that prevents burned fingers. I added a lighter since the stove doesn't have a piezoelectric igniter built in.  
The slightly lower height of the PocketRocket 2 means that it fits into smaller pots and cups such as the MSR Titan Cup. I tested it with my Toaks 450 ml titanium mug and it fit perfectly, whereas the original PocketRocket was an annoying half inch too tall.
Field Test
I tested the stove on a backpacking trip in the spring. Everything worked as expected, just like my original PocketRocket. There was only a light breeze so I didn't get to test it in wind (test in Sausalito). I found that I've gotten lazy with my JetBoil's piezo igniter so I fumbled around with the lighter to light the flame—no big deal but if a piezo igniter is important to you, consider the PocketRocket Deluxe, which has push-start igniter. Having an igniter is a pro for some who appreciate the convenience and a con for those who prefer simplicity and durability.
The pot felt stable on the stove and I appreciated the rubber tip on the lid and insulated grip on the pot so I didn't burn my fingers. The pot handle worked well and felt secure when used to remove the pot from the stove. There are a lot of separate pieces compared to a JetBoil that I use when I'm with my husband. However, the PocketRocket 2 Stove Kit is lighter by 5 ¼ oz (that's significant!) and more compact than the JetBoil, which is my goal when I'm solo.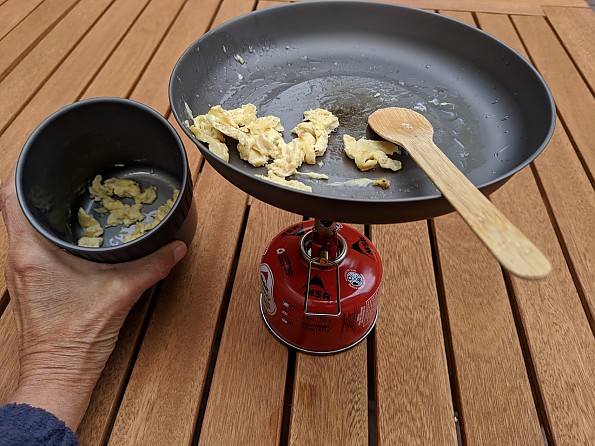 Egg Test: One of the reasons I wanted to try a simple stove design was to free me from oatmeal in the mornings. On short, relaxed trips I put a high premium on being able to have eggs for breakfast. Our JetBoil doesn't have an adjustable flame and we prefer to just boil water in it to keep stray flavors from contaminating our tea water.
I tested the PocketRocket 2 at home, comparing the MSR pot that comes with the Stove Kit and my Toaks titanium plate that can double as a frying pan. I used olive oil and OvaEasy Egg Crystals, mixing the egg powder with water according to instructions on the package. The flame was easy to adjust and both products resulted in acceptable eggs but the MSR pot was better. The MSR aluminum pot distributed the heat evenly for better cooking while the Toaks titanium pan got too hot and scorched the eggs a bit.
This is not surprising as titanium transmits heat efficiently, a little too efficiently for real cooking. MSR has a good article comparing aluminum, titanium, and stainless steel. The benefit of the titanium pan is that it doubled as my plate, is easier to clean, and doesn't matter so much if there's a little oil or flavor residue. I still dislike having an oily pot to clean, but it might be worth it to have an improved cooking experience.
Mixing and Matching: I love how all the parts work together with the Stove Kit, but I also have some other products that I can swap in and out. If I'm really shaving ounces, I can reduce the weight further by using my Toaks 450 ml titanium cup instead of the pot. If I want to use a pan to scramble eggs, I can use my Toaks titanium plate. If I want a shallower bowl, I can use my REI plastic bowl. See below for individual weight comparisons.
It's possible to ditch the stuff sack except that it keeps the lid intact when the kit is nested. I often store my stove in the long pocket of my Gossamer Gear Mariposa pack where it sits snugly in a vertical position. For this placement, a rubber band worked fine to secure the top.
Boiling Time: MSR states a boiling time of 1 liter in 3.5 minutes. For my home test, I filled the MSR 750 ml pot with 500 ml cool tap water using the 500 ml mark inside the pot. There was an ambient room temperature of 73 degrees. It took 1 minute for the water (500 ml) to feel hot enough for hot chocolate with significant movement of the water and 2 min 40 seconds for a full rolling boil. For the wind test, in very windy conditions, it took 4.5 minutes for 500 ml to come to a full rolling boil in 67 degree temperatures.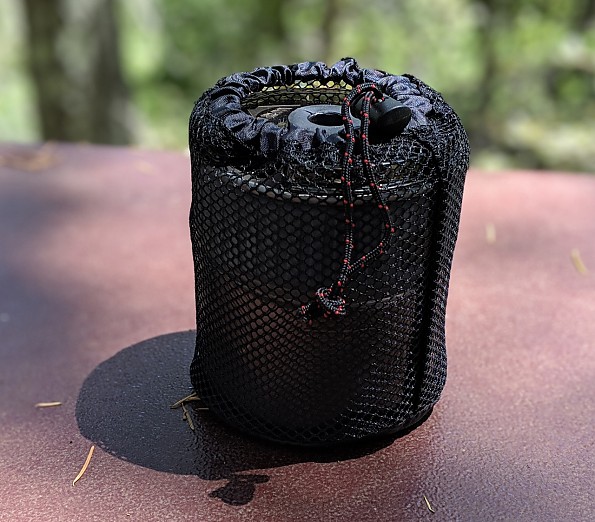 Summary
The MSR PocketRocket 2 Mini Stove Kit is light and compact with all the components you need to boil water or simmer food with the addition of a lighter and fuel canister. The recently updated PocketRocket 2 continues to set the standard for lightweight, efficient stoves that perform well in a variety of conditions.
Information
Weight List:
PocketRocket 2 Stove Kit without fuel: 10 oz total
PocketRocket 2 stove: 2.625 oz
Aluminum pot (0.75 liter): 3.125 oz
Plastic lid: 1 oz
Plastic bowl (0.5 liter): 1.125 oz
Pot handle: 0.75 oz
Stuff sack: 0.5 oz
Other products for weight comparison: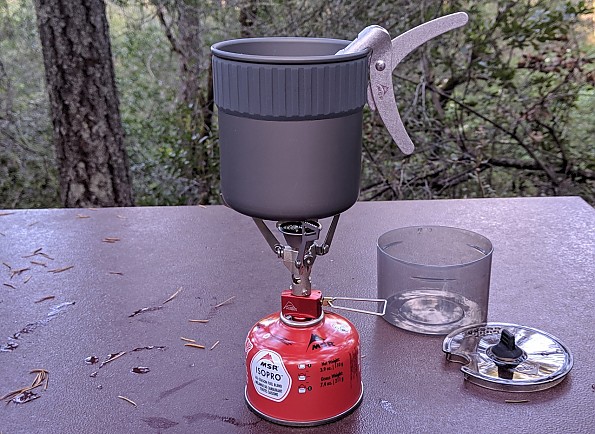 Experience
Lots of experience with many stoves including PocketRocket original, JetBoil, twig stoves, and others in our collection.
Source: tested or reviewed it for the manufacturer (Kept it)

The author of this review received a sample of the product from the brand or its representative in exchange for a review.
Your Review
Where to Buy
Help support this site by making your next gear purchase through one of the links above. Click a link, buy what you need, and the seller will contribute a portion of the purchase price to support Trailspace's independent gear reviews.
You May Like
Specs
Price
MSRP: $79.95
Current Retail: $104.95
Historic Range: $79.95-$104.95

Fuel
isobutane/propane, MSR IsoPro

Boil time for 1 L of water
3.5 minutes

Water boiled per 1 oz of fuel
2 liters

Dimensions
4 x 4 x 5 in

Weight
9.8 oz / 0.28 kg