OvaEasy Whole Egg Crystals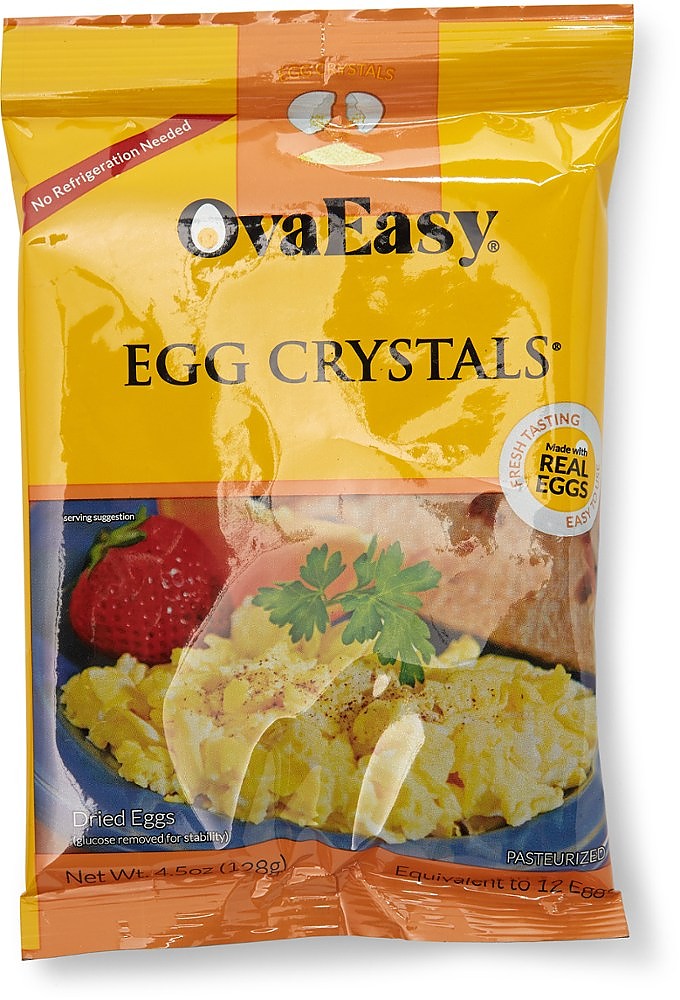 Often, dehydrated eggs are nasty. I found that OvaEasy eggs are quite tasty, easy to use, and stable. I have found them to have great bang for the buck in price, ease of use, and flavor.
Pros
Good texture!
Good taste
Easy to use
Lightweight
Nutritious
Cons
Eggs mixture can leave quite a bit of water
Must cook the eggs
No "just add water"
Pots need a little more clean-up
I have tried other eggs before, and while other products are pretty good, I think this one is the best. I found it tastes and behaves most like real eggs of all the kinds I have tried.
Since the eggs are crystals versus powder, the product cooks up more like real scrambled eggs. The caveat is that these eggs are not just add water. Since they have to be cooked, some users may not like the prep and cleanup.  In that, be careful to not overcook these eggs, because just like real eggs, scorching them leaves more clean up in the pan. — And nothing tastes good scorched :(  Outside of that warning, I am a real fan of this product.
As a middle aged lady, I do not require the calories of a younger, stronger person, so I tend to go to a crystal equivalent of 3-4 eggs, depending on the trip and calorie requirements. My daughter, an advanced athlete, may require up to 4-6, depending on her work load. 
The eggs when coupled with a burrito wrap,  pre-cooked bacon, cheese stick, and salsa make a fantastic meal.  I usually save this for a dinner versus a breakfast, since the eggs require cooking.  This meal is ALWAYS a favorite with my hiking crew! When I get "what's for dinner," and my answer is heuvos rancheros, everybody smiles.
My crew all agree that the eggs stick to our ribs. With the good flavor and consistency, coupled with with tasty complements, this makes a very satisfying meal with nice mouth feel and satisfying flavor.
I bought the eggs in the #10 can to up the amount I want by need of the trip and participants.  I really like having it in bulk because I can customize the amount per individual and calorie demand. 
I have used this product on a 100 mile rails to trails bike trip in Canada, many trips backpacking, and a Missouri River canoe trip. The eggs are core to my adventures' meals menu. They are light, nutritious, tasty, and easy. The military has even switched from powdered eggs to using OvaEasy eggs.
The eggs are sold in a variety of sizes, ranging from bag of one dozen (retail of about $7) to a can of 8.8 dozen (for about $46).
I am including a couple of links which outline the science and specs of the eggs for further information.
http://www.campingsurvival.com/ovaeasy-whole-egg-crystals.html
http://americanpreppersnetwork.com/2012/10/ovaeasy-whole-egg-crystals-review.html
I am including a nutrition chart: Nutrition Facts
Serving size: 2 tsp. (9.5 grams) (equals 1 medium egg)
Calories 60
Calories from fat 40

% Daily Value*
Fat 4.5g 7%
Saturated fat 1g 5%
Protein 5g 14%
Total Carbohydrates 0g 0%
   Dietary Fiber 0g 0%
   Sugars 0g 0%
Cholesterol 165mg 55%
Sodium 50mg 2%
Potassium 0%
Vitamin A 10%
Vitamin C 0%
Thiamine 0%
Riboflavin 0%
Niacin 0%
Calcium 2%
Iron 4%
I will continue to use and buy this product as long as I keep getting "out there!"
Source: bought it new
Price Paid: $42

These are the best tasting reconstituted eggs I've ever had.
Pros
Lightweight
Great texture
Good flavor
Natural color
Long shelf life
No refrigeration required
The scrambled egg texture, color, and flavor makes it difficult to tell they didn't just come out of the shells. They look, taste, and feel like freshly scrambled eggs. I'm not sure I would be able to tell the difference if I hadn't prepared them myself.
I haven't yet prepared them on a trip, but I did a test run at home in my back-country cold-handled skillet on the small stove top burner. I followed the instructions for portioning exactly.
I haven't yet prepared them on a trip, but I did a test run at home in my back-country cold-handled skillet on the small stove top burner. 
I don't foresee any issues with preparing these outdoors, either over a camp stove or open fire. I will perform additional experiments to see how well I can "eyeball" the mixture in terms of the proportion of crystals to water and desired portion size.
I intend to bring some along on my next trip.
Based on this initial test, I'm not convinced that the stated portioning is necessarily equivalent to real eggs. I prepared a two-egg portion, but once cooked, it felt like less (I eat "real" eggs quite regularly). In the future, I will almost certainly add at least one egg more than what I actually want (e.g., if I want two eggs, I'll measure for three).
I'm not sure if all the packaging is the same, but the three packages I purchased are NOT re-sealable, which is a shame. IIRC, one package supposedly makes 12 eggs, which I'm not likely to make all at once. It would be great if the package were re-sealable rather than requiring me to transfer the remainder to another zippered plastic bag.
I think these are a wonderful option for weight-conscious backpackers who like to include scrambled egg in their menu (e.g., breakfast, rice dishes, etc...).
Background
I've tried a number of other options for powdered / freeze-dried eggs, but they've always been obviously unnatural, so I had given up trying to prepare eggs while backpacking. It just wasn't worth the hassle for something only egg-like. These could be a game-changer for me.
Source: bought it new
Price Paid: $36 for three 4.5oz packages

Tasted even better than fresh eggs, super easy to prepare, stayed fresh for months.
Pros
Great taste and texture
Easy to fix
Very good shelf life
Cons
Now what am I going to do with the Coghlan's egg container I bought just a little earlier?
Shipping costs — not too bad, but would be nice to find locally
I'm aware the OvaEasy eggs have been reviewed many times on Trailspace, almost uniformly positively. Heck, it's why I decided to try them. I just have to add my "Yea!" vote. It's so nice to find a product that works, isn't super expensive, and makes camping and backpacking just that little bit more comfortable.
In January of this year, I took Nutriom.com up on their introductory free-shipping offer to buy one small packet of the eggs and two of the French toast mix.  Then due to various boot woes and other issues, I ended up not actually using the eggs until a car camping trip on the Blue Ridge Parkway recently. 
Even with the really bad gnat swarms at that particular campground and with what undoubtedly were hungry bears rustling in the bushes, the quick breakfast I made with these and a can of smoked ham started my day off just right. The taste of the eggs was better than the scrambled eggs I make at home. The texture was identical (I tend to like eggs on the drier side). I used the second half of the packet to try out an omelette at home: that worked just fine too. The five+ months on the shelf hadn't hurt them at all.
Haven't tried the French toast mix yet but am about to order much more of the egg crystals. Like many other things (Moss tents, authentic Raichle boots, Optimus stoves) they may disappear just when I've decided I can't live without them.
Source: bought it new
Price Paid: $5.98 (special offer with free shipping)

Will never have to worry about the eggs bag breaking in my pack!
Pros
Surprise—they really taste like eggs!
When I first saw these several years ago, my first thought was, "more powdered eggs that will taste like regurgitated powder."  The directions seemed very simple—mix contents with water, stir, and cook like normal eggs. 
So I made a small batch, making sure to use the exact amounts of eggs and water. They need to be cooked just like "real" eggs without any other special considerations. Of course the final proof is in the eating. I could not tell any difference between the Ova Easy and the real eggs I cooked at the same time (different pan).
I am completely sold on this product. Besides for outdoors usage, I keep some packages in the house for emergencies (we live in hurricane country).
Anything else I could say has already been said by the other reviews here.
Source: bought it new
Price Paid: Somewhere around $8 per package

Surprisingly simple and quite tasty.
Cons
Cleanup...but what did you expect? They're scrambled eggs.
This was the first time I cooked these up while backpacking. I tried them at home first and I must say that my trail results were no different.
These cook up quite well and have a good egg flavor. There's nothing difficult about it...add water and then cook. I have Southern roots and so I pair this with some grits and find that I am well satiated for the morning.
Source: bought it new
Price Paid: I really don't remember

I've been using these eggs for two years cooking for groups on backcountry trips. As scrambled eggs, the texture and taste is indistinguishable from fresh eggs. I've also used them to make frittatas, omelets and french toast.
The only ingredient is egg and they are available in several different sizes. I buy them in the 6 dozen size and divide them for specific meals. They are available from Nutriom and much cheaper there than through resellers.
Price Paid: ~$20 for 6 dozen

Your Review
Where to Buy
Help support this site by making your next gear purchase through one of the links above. Click a link, buy what you need, and the seller will contribute a portion of the purchase price to support Trailspace's independent gear reviews.
You May Like
Specs
Price
Current Retail: $11.95
Historic Range: $3.93-$26.96
Reviewers Paid: $42.00

Recently on Trailspace