Snow Peak LiteMax Titanium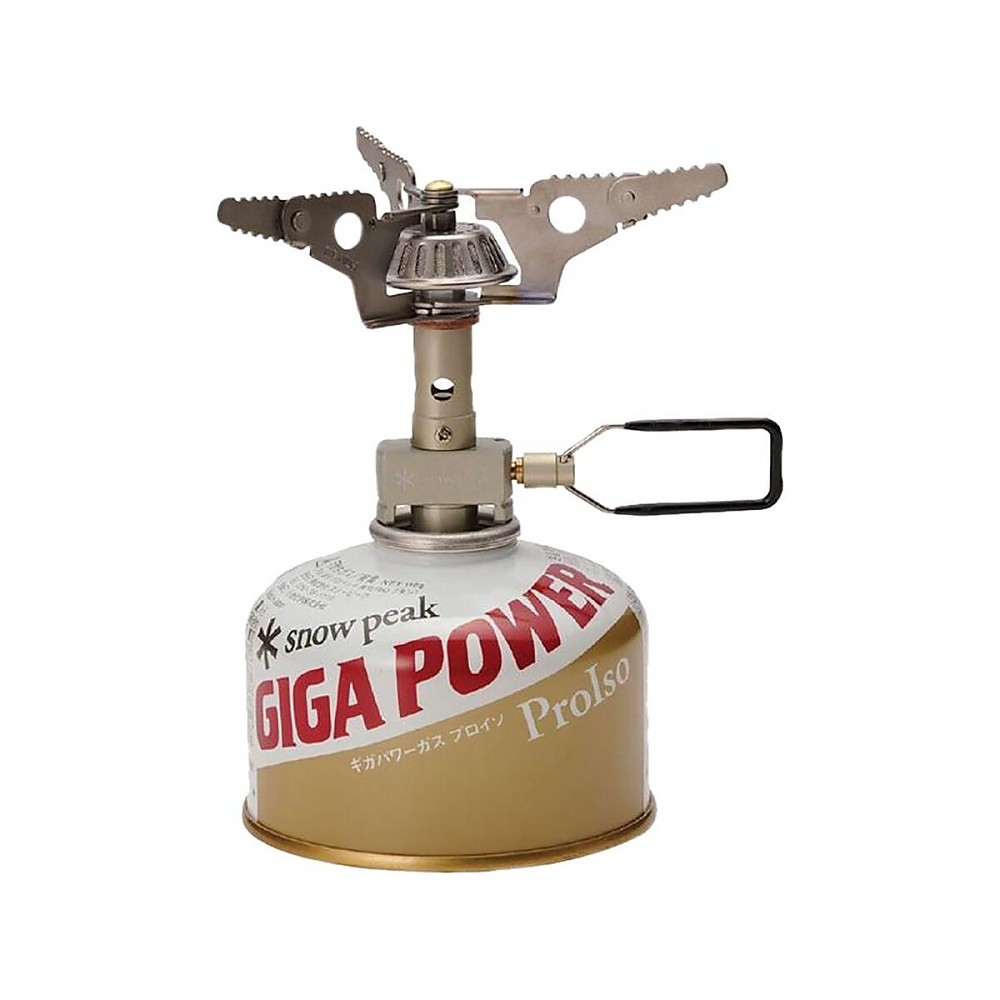 Compact stove with excellent flame control.
Pros
Small
Ease of use
Flame control
The LiteMax stove sets up in seconds...and is as simple as your stove at home to operate (with the added task of ignition). Like most stoves in the back-country...the need to screen the flame from the wind is important...but this problem is easily solved by building a windscreen from available materials or bringing your own from home.
To further maximize the efficiency of the LiteMax stove I use a small disc with a hole cut in the middle made of the same sheet aluminum I constructed my windscreen from to create a reflector that protects the fuel canister by forcing most of the heat upwards towards the bottom of the pan (the reflector rest between the fuel canister and the stove and is put on before the stove is attached to the fuel canister).
Of all the methods for cooking outdoors I prefer canister stoves the least...as their fuel is bulky...temperamental...and expensive...but the LiteMax stove does offer excellent flame control in a more compact size and cheaper price than the MSR Dragonfly which I consider one of the best simmering stoves available. I have on several occasions cooked rice with the LiteMax stove which requires very low heat...but you will need to watch things closely to keep the rice from cooking too fast and scorching the rice on the bottom of the pan.
Overall I think the LiteMax stove is a great choice for those who don't mind the demands of the fuel...and who wish to do more than boil water for dehydrated meals.
Source: bought it new
Price Paid: $60-70

The lightest canister stove in the world, sounds to good to be true right? At 1.9 oz it's near a full ounce lighter than its competitors. With zero trade-off for performance. At 11,200 btu's it will boil 16 oz of water in ideal conditions in about 4 minutes.
With the new redesigned burner the stove doesn't shoot the flame straight up like the MSR Pocket Rocket, but has the right mix of side and top flame holes to prevent scorching your expensive titanium cook pot. The wire knob is not as fickle as other stoves so you won't accidentally turn the stove off when simmering.
Last weekend I had a chance to test out my new Litemax I picked up open box at adventure 16 in San Diego. I first tested the stove in my garage at sea level and 74 degrees. It boiled 16 oz of water in my Snowpeak 700 with the bottom painted black with stove paint in 4 min 15 seconds. I used that as my control for the trip up San Gorgonio Mountain.
At first camp 7,040 feet at 55 degrees I had boil times of about 7 min. with a light breeze and no wind screen.
At the summit of 11,499 feet and 50 degrees the boil time was only a minute longer, with a little stiffer breeze using only some rocks as a wind screen.
With the new style titanium pot stand with fold out arms, the stove was surprisingly stable. It doesn't feel like it will bend if I put a heavy pot on it like the Pocket Rocket and Gigapower stoves and the flat titanium added to the burners wind resistance.
All together I cooked 4 meals and 1 breakfast at 16 oz water a piece. Two 8 oz oatmeals, and four 12 oz coffees, and had fuel to spare in the small Snowpeak Gigapower canister. At 3 bucks that's is a steal for a weekend of cooking.
The best part is the stove folds down and everything you need to cook with fits inside the cook pot. Canister, stove, lighter, and bandana to keep it quiet.
I definitely recommend this stove, and will be bringing it on all my backpacking trips.
Price Paid: $49.99

Absolutely love this stove. It is so compact it fits nicely in my cook pot with the isopro cannister. The pot support arms are easily positioned. I can adjust the burner to a pretty low setting and kind of simmer (with stirring now and then). For a lightweight backpacking stove it's really good.
Pros
Lightweight
Compact
Easy to set up
Cons
Not much of a wind shield.
Support arms can move if not careful when positioning cook pot
I had some trouble on a mountain top with 16mph winds and gusts. It didn't blow out completely but some gusts blew out one side or the other—as expected they re-lit on their own.
A bit slower to boil water but I never set my burner to the highest setting. My friend had a JetBoil with a built-in windscreen and his boiled water in no time (I don't think it is adjustable—just sounds like a jet burner). I like to simmer my freeze dried meals and this stove allowed me to do it without burning the bottom (I did stir every now and then). Once the support arms moved a bit when I put the pot back on, but it wasn't a big deal; I just used the pot to push them back in position.
I had a PocketRocket but like this one better mostly because I like the way it stores and sets up. Not a big deal but the PocketRocket requires some twisting and doesn't store as compactly. I couldn't fit it in my stove kit with all the other stuff. 
Experience
I've only owned this a couple months. I used it on two backpacking trips and it was always windy but never rainy. I only used it for rehydrating food (I got my own freeze dryer).
Source: bought it new
Price Paid: $59.95

Super solid backpacking stove that weighs next to nothing.
Pros
Lightweight and compact
High quality
Reliable
Works in any environment
Boils quickly and simmers well
inexpensive
Cons
Uses non-reusable canisters
less efficient than a white gas stove (like MSR Whisperlite Intl)
Excellent stove. Has served me well with zero issues on many trips in all kinds of climates, including 25 days on the John Muir Trail. I've had it in the desert, in the snow, throughout the High Sierra, rain forests, Alpine Forests, and on top of the tallest peak in the lower 48.
Does well in elevation and cold weather (I used it on the summit of Mt. Whitney without a hitch). I've used it to melt snow as well and it does just fine. The flame control is sensitive and consistent. I've never had the flame blown out by the wind, although it could probably benefit for some type of (DIY?) wind screen — just be careful to give it plenty of ventilation.
Despite its low profile, the stove feels very stable even with a liter and a half of water boiling on it. The construction is solid and feels very sturdy and well made. It's also built with a sense of design and is a nice object to look at.
Overall, the pros far outweigh the cons on this stove. Even though I can get more mileage from fuel on something like my old Whisperlite International, the savings in weight (my kitchen is now 3 lbs lighter!), the convenience and ease of use make it totally worth it.
Could not recommend this stove high enough for anything from casual car camping to serious multi-week expeditions.
Source: bought it new
Price Paid: $59.99

Very light, very small, so far very durable. It lights reliably, even in windy conditions. I have used it up to an altitude of about 11,000 feet with no issues. On cold mornings it's a little slower to get going. In wind, you definitely have to shelter it or make a wind screen (which I have not done).
Pros
Light weight
Small
Durable
Cons
Slightly susceptible to wind
I bought this about two years ago.  It's my first canister stove after many years of using an MSR Whisperlite.
Set up and ignition are a breeze.  Flame control is ok - I can simmer ok but it's not great. I wouldn't try to make anything touchy. 
Boil time in good conditions was...I dunno...I didn't time it.  i was not disappointed though.  Noticeably slower in windy conditions (duh).
With a large canister I can go one night for two of us, but that's two dehydrated meals, two cups of tea, hot cereal, and four (!) cups of coffee.  And there's still fuel left, probably enough for another dinner.
It's a little wobbly so you have to be careful.
Bottom line, it's the lightest, smallest canister out there (that I know of) and very reliable.  Perfect for mild conditions, and good enough at high altitude.  I'd use it again at high altitude.
Source: bought it new

Great stove that delivers when it matters, when you're in the middle of nowhere.
Pros
Output of 11,200 BTU's
Lightweight
Reliable
This is my second stove and it does what I wanted it to, work in the backcountry. It was affected by a slight breeze. I would hold my hand up to block the wind and it would jump back up toward my pot. I actually used my Nalgene bottle as a wind block and the stove worked fine.
It says on their website that the pot supports act as a windscreen, a claim I find hard to believe. I believe it is susceptible to wind because of the way the flame comes out, the flame comes out at an angle and then up, unlike my Primus stove, it was a much more directly up focused flame.
I think that the flame pattern of the Snow Peak would be beneficial I you were looking to simmer different types of food vice just boiling water for dehydrated meals.
Overall I am very happy with its performance and it met all of my expectations. It is as sturdy as the Primus stove I've used and it folds up and stores as small as most stoves on the market. The base is solid where it connects to the canister and the pot supports are grippy on the pot.
As far as the wind affecting the flame, a little ingenuity will overcome that issue. In my opinion, the wind affects any/all canister stoves.
Source: bought it new
Price Paid: $47

We just got one of these for a wedding gift and love it! This is comparable to the Pocket Rocket (though 1 oz lighter- but who's counting, right?). We have a Whisperlite as well, but thought we'd get a canister stove for summer camping. I read up on stoves before we added this to our registry and found pretty positive reviews.
We've used a friend's PR and liked how easy it was to use (all canister stoves are pretty easy, for that matter) but found that it got to be pretty unstable with a full pot of water on it. The thing is so light and the fold-out arms make the pot-to-stove contact area large (and thus more stable).
I can fit the canister and stove in my cook kit now, which I couldn't do before with my WhisperLite. I'm not entirely sure, but I think it's shorter than the PR, too, which would offer more stability. The spread of the flame is much wider than the PR as well which increases boil time, too. I forgot to time how long it took 1 L of water to boil- sorry.
The downside to this (and all stoves, really) is that any wind just kills your boil time. However, the set-up is too tall for the windscreen that came with the WhisperLite to work effectively.
Price Paid: gift ($60 otherwise)

This is a compact and light stove that packs a punch. Great stove for the majority of your adventures.
Pros
Lightweight and small
Powerful output with great flame control
Very durable
Without going to an alcohol stove, this is the lightest stove you can buy (1.9 oz)! I've found the the titanium pot supports allows a stable platform for some of the largest pots. With over 11,000 BTU's, you can blast your water to a boil in no time, or simmer your sauce to perfection! It packs small (fits in the smallest solo cooksets), but performs big. This will be the stove I use for 90% of my trips.
Most canister stoves are meant for quick boiling. But, the Litemax is perfect for gourmet cooking as well. I wasn't a believer in canister stoves before, that is, until this little giant came around the corner. Sell your old canister stove, and grab this stove.
Source: bought it new
Price Paid: $59.95

I have been really impressed with how light and compact this backpacking stove is. I also own the MSR Whisperlite and it worked well and was super reliable, but....it was bulky. It is especially bulky and I would even consider heavy after owning the Snow Peak LiteMax Stove.
was originally going to purchase the MSR PocketRocket for my cooking configuration based on my pleasant experience with MSR products. However, it wouldn't fit into my Snow Peak Titanium Trekker 700 cup.  So...I am not myopic when it comes to the Snow Peak brand.
Currently my LiteMax Stove, fuel canister, and lighter all fit into my Snow Peak Titanium Trekker 700 cup.  The size/weight of this configuration is actually lighter and more compact than the actual Whisper lite stove.
As I've gotten older, I wanted something that is easy to start after a long hike.  You can't get any easier than screwing on the stove to the fuel canister
If your primary concern is weight, ease of use, and compact-ness, you CANNOT go wrong with this stove. 
Price Paid: $54.95

I have owned a LiteMax for over 4 years now. It was one of the first pieces of equipment I bought when I decided to get back into backpacking.
This stove has been used literally hundreds of times on camping trips, backpacking in Florida, on the AT and Yosemite and with the Boy Scouts.  It has been from sea level to near 10,000 feet with temps near 100 down to 19 degrees. It has never let me down and the only slight damage is that one of the arms has a slight bend to it. 
The stove is very adjustable and cooks everything from simmering to full out boil.  Being a very small design, you must be sure to center your pots, but that has never been a concern.
My son wants to take it to college, but I won't part with it so I'll have to buy another.
Price Paid: $59.95

An ultralight, packable stove to boil water or reheat meals.
Pros
Weight
Size
Wind resistance
Cons
Pot can be unstable
Not efficient at elevation
I bought this stove to boil water and re-hydrate meals. This fits great along with matches and fuel in the GSI kettle. Very simple, light, and fuel efficient, this stove has treated me well during the past two years.
The only problem I have had are efficiency at elevation. Overall great stove and very lightweight.
Source: bought it new
Price Paid: $59.99

I have used this stove and would recommend it to all backpackers.
Pros
Hot
Universal to canisters
Lightweight
I have used this in the cold and warm temperatures. It works great for boiling water and cooking spam as well as heating gravy. It worked well (the spam was burnt a bit). It can attach to MSR canisters and I assume to most on the market.
Source: received it as a personal gift

Pros
Lightweight
Compact
Good flame control
Good flame dispersion
Quiet burning
Wish it was in a hard case, but I can buy one easily.
The fold out extenders need to be just a little more rugged as the hinge gets loose and the extender becomes a little difficult to manipulate.  Fixed by pressing the hinge pin with rivet press tool.
Source: bought it new

Your Review
Where to Buy
Help support this site by making your next gear purchase through one of the links above. Click a link, buy what you need, and the seller will contribute a portion of the purchase price to support Trailspace's independent gear reviews.
You May Like
Specs
Price
MSRP: $59.95
Current Retail: $59.95-$64.95
Historic Range: $46.94-$64.95
Reviewers Paid: $47.00-$59.99

Weight
1.9 oz

Dimensions
4.9 in x 3 in

Size Stowed
2.6 in x 3 in

Material
Titanium, Stainless Steel

Output
11,200 BTUs

Boil time
4 min 25 sec / 1 L

Fuel Type
Gas Canister

Combustion Type
Vapor Burning