GSI Outdoors Infinity Insulated Mug

Top 25 in Cups and Mugs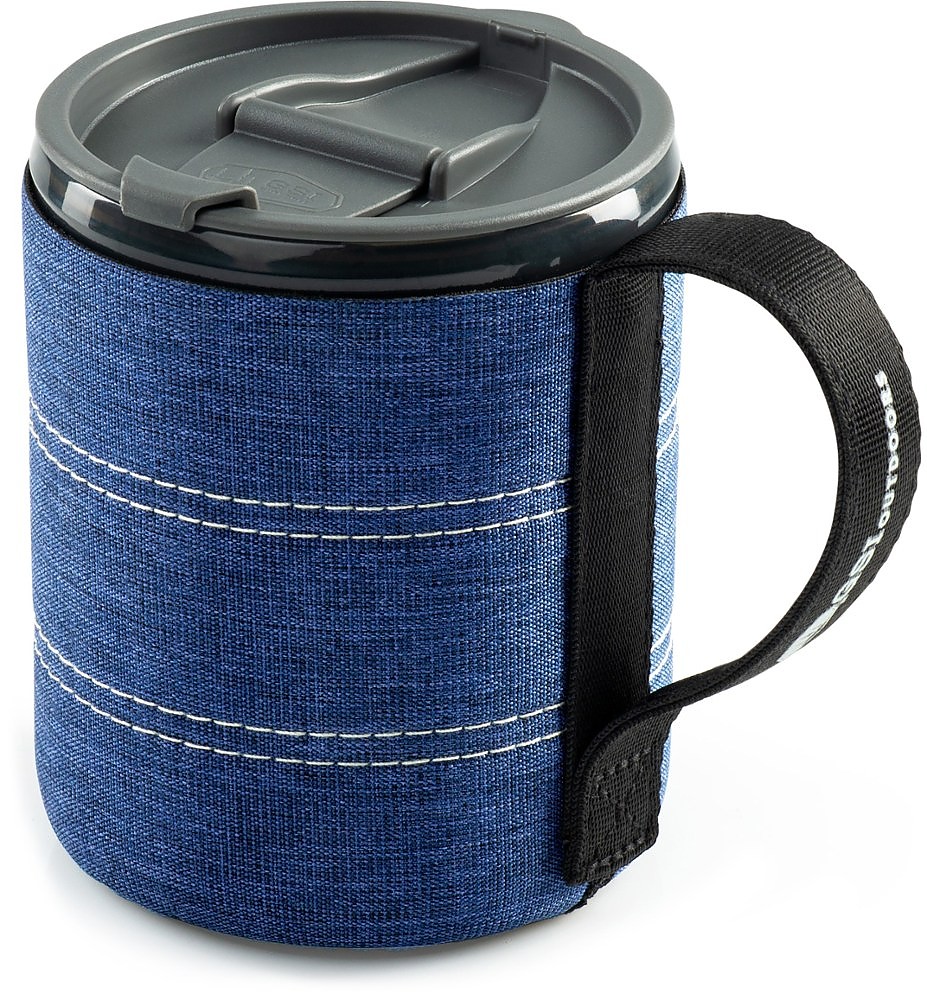 Lightweight insulated mug that edges out the competition on all the finer points.
Pros
Light
Heat-stable polypropylene
Tight-fitting lid with closure over sip hole
Outer sleeve removable for cleaning
Soft handle for nesting in pot
Keeps beverage hot but not too hot
Comes in colors
Price
This mug has been amply and ably reviewed in its various versions by other TSers, but I thought I'd put in my .02 with the addition of some SCIENCE!
When my well-used old Sea to Summit mug developed a tear in the outer insulating layer, I picked up the GSI version at a local outdoor store. Since my wife's S2S mug was still intact, I decided to do a head-to-head comparison of these two very similar products.
Here are the results in numbers: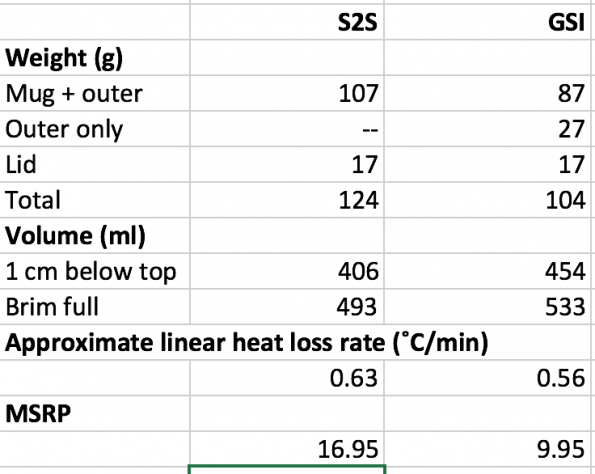 The GSI mug is 20 g (0.7 oz) lighter, has approximately 40 ml greater volume, will hold liquids hot somewhat longer than the competition, and costs less. Plus, if you really wanted to save weight, you could leave the insulation behind and save almost a full ounce!
To test the insulating ability of the mugs, I boiled some water, quickly filled both mugs (GSI first), and put the lids on, with the sip hole open on the GSI mug. I inserted a kitchen thermometer through the sip hole, with the probe at an angle so that it was away from the wall of the mug, and alternated measurements between the two mugs at intervals ranging from 30 seconds at the start to 4 minutes later in the test.
I recorded time and temperature and ran the test for about 30 minutes. I agitated both mugs after 20 minutes and again after 28 minutes.
Here's the experimental setup: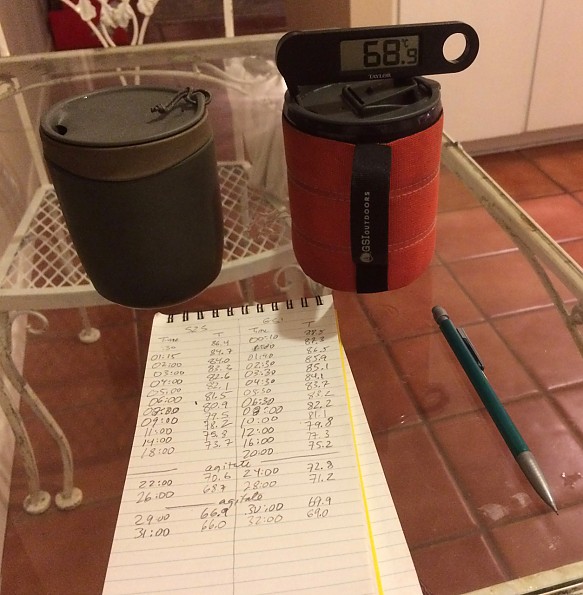 Aaaand the results!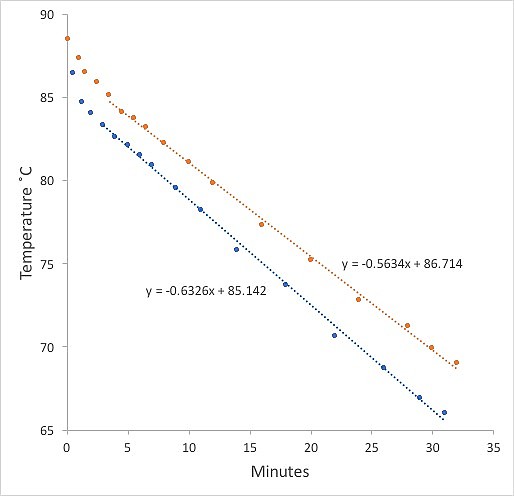 At the start of measurement, the S2S mug was already about 2˚C cooler than the GSI mug, but I'm not sure that this wasn't a result of the order in which they were filled, and I have not replicated the experiment to test for that. But as the equations on the graph show, the line fit to the S2S data is slightly steeper than that for the GSI data, indicating a slightly more rapid cooling rate. These lines were fit to the data after the initial rapid cool down, where the cooling rate became approximately linear.
More subjectively, I really like the durable and colorful outer nylon cover on the GSI mug, and that the body of the mug is made from polypropylene, which is more heat- and stain-resistant than many other plastics. You can hold the mug by the fabric handle, but the handle won't get in the way if you want to nest the mug in a small pot or stash it in a pack. The outer cover can be removed to give all parts a thorough cleaning:

The addition of a flip top on the tight-fitting lid allows the mug to be sealed, maybe not enough to travel in a pack but certainly tent-safe: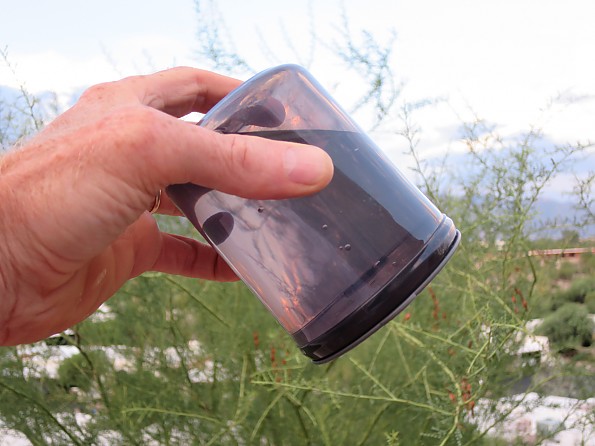 Put it all together and this mug is a winner! Now my wife wants one of her own. Too bad they don't come in purple...
Addendum September 27, 2017: We picked up one for my wife, blue not purple, and they now come with very legible volume markings printed on the outside of the plastic, where they should last a good long while: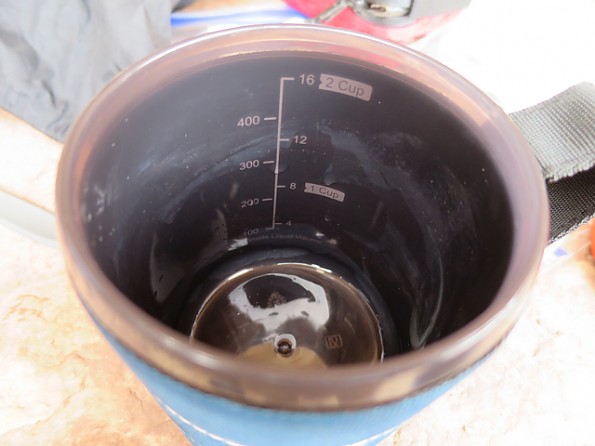 So that should resolve the volumetric issues discussed below, at least for folks who haven't bought one already.


Source: bought it new
Price Paid: $9.95

The GSI Infinity Insulated Mug is my go-to backpacking cup. It is lightweight, sturdy, insulated, and has a lid. I use it for hot chocolate, backcountry cocktails, and Propel water mixes.
Pros
Inexpensive
Lightweight
Sturdy
Nice size
Insulates drinks well
Cons
Lid is difficult to remove
The GSI Infinity mug is a 3.2 ounce cup that holds 17ounces of liquid. It has an insulated coozie on the outside of it that both insulates the liquid and keeps your hand from getting hot or cold.
It is made from BPA-free polypropylene. It does not absorb odors or colors and it is dishwasher safe.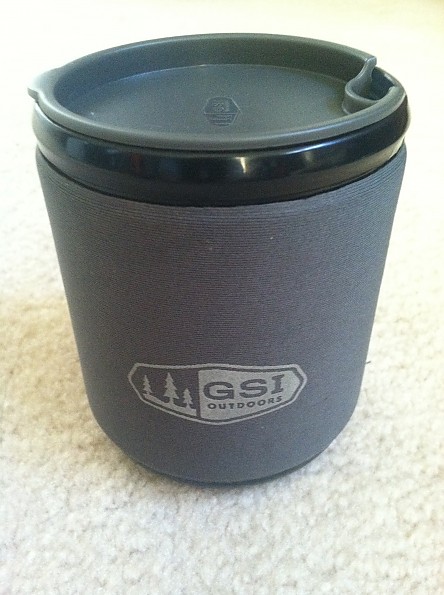 Another nice feature of the Infinity mug is that it has a Sip it lid that has a small opening on the side of the lid. I found the size of the opening and its location to be convenient. It helps further insulate your beverage and serves as a splash guard.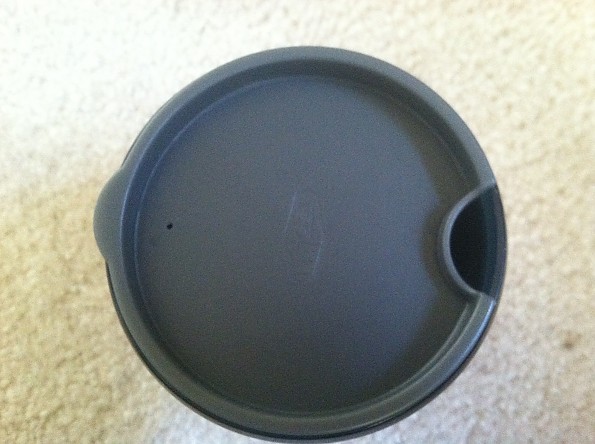 The only thing that I do not like about the cup is that the lid is difficult to remove.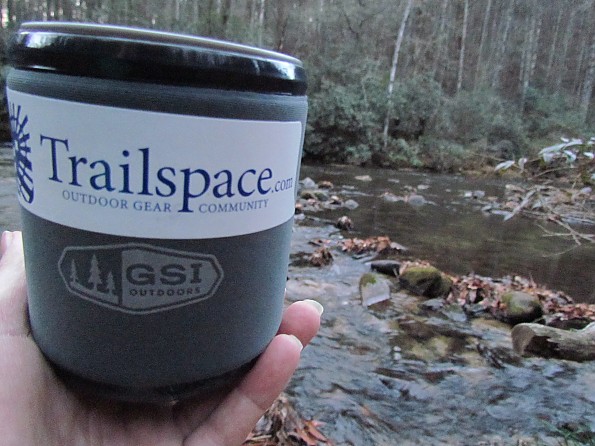 I have had this mug for about two years now and it has been used on every trip I've been on since it was purchased. It is very durable and sturdy. I still can not justify a need for any other mug. This one has met all of my needs.
Overall: If you are looking for a lightweight, functional, inexpensive backcountry mug, this is a great choice.
Source: bought it new
Price Paid: $5.95

Just about perfect.
Pros
Webbing handle
Insulating
Lightweight
This is a great coffee mug. Picked this up about three months ago and it's held up well on several overnight and multi-day trips. It's stable while on the ground, it doesn't have hard edges or angles making for easy packing, it insulates well, and the webbing handle can be used to drink in a couple of different ways.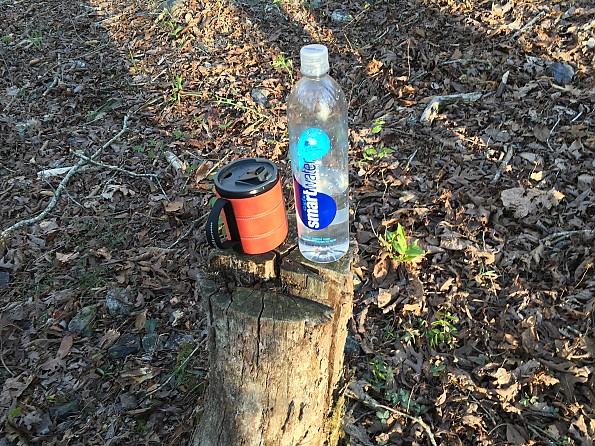 The locking lid and closure are snug. The lid has a drinking opening and a small opening for air that both seal when in the closed position. The only negative I'd give this mug is the cheap rubber gasket that seals the lid.  It tends to slip off, but it's easily replaced. It will close and seal without the gasket, and if it was ever lost I would buy an O-ring to replace it: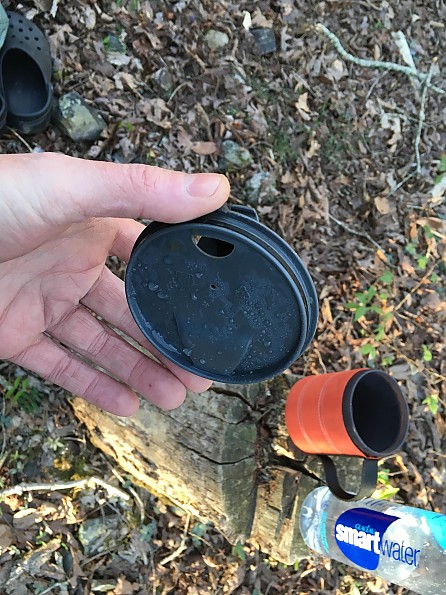 Overall a great, inexpensive mug that does what a mug should!
Source: bought it new
Price Paid: $9.95 US

This is a very smartly priced mug, insulated for cold or hot beverages. It is lightweight, durable, and has served us well for canoe camping and car camping trips. It also would be good for backpacking or day hiking excursions.
Pros
Lightweight
Price
Insulated
Snug lid
Cons
Handle is a bit tight when wearing gloves
This is a great mug for our camping purposes. We do not usually backpack, but since we canoe camp, we do appreciate how light this mug is. It only weighs 3.2 0z. It also comes in a variety of colors.
The mug is strong, made of BPA-free polypropylene, and is dishwasher safe. It is not microwave safe. However, that is not a big issue, as we rarely have access to a microwave when canoe camping! We now have two of these mugs, and they are with us on every canoe camping outing.
The mug has a soft, insulated outer layer, which makes it easy to grab, even when it is full of very hot liquid. It has a nice integrated webbing handle, which may be a bit snug when wearing gloves, but does allow you to hold the cup and drink while using the handle. The diameter of the mug is such that is stays stable on even uneven surfaces, and is also wide enough that it can be used as a small bowl, for oatmeal, etc.
The lid snaps on and off easily, yet stays securely on the cup. There is a small "sippy opening" in the lid. The mug keeps both cold and hot beverages at the desired temperature much longer than other mugs we have used (anecdotally). The capacity is 17 oz. So even though the mug does not look that big, it has a nice capacity. The mug has cleaned up easily, after use for hot chocolate, hot cider, and milk based drinks.
I think the mug is very reasonably priced, at $9.95 msrp.  Should we lose one, or it becomes damaged, we would replace it, as at that price, it is not a large investment. We definitely recommend this mug.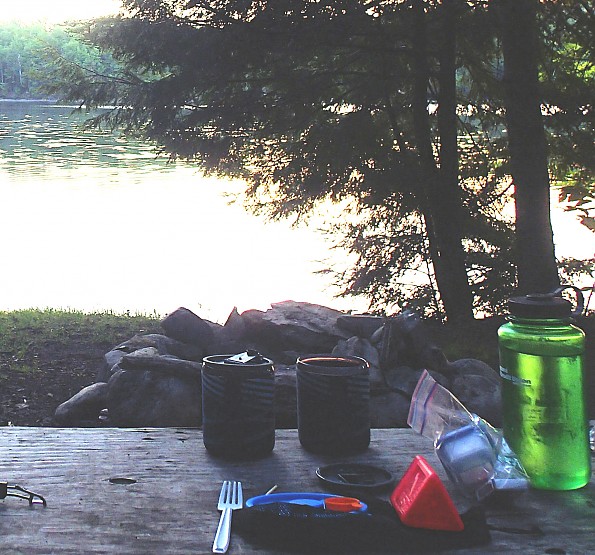 Two mugs, canoe camping on an island in Vermont....
Source: received it as a sample, freebie, or prize (It's More Fun Outdoors)

Lightweight and temperature versatile, perfect for coffee and measuring for rehydrating. This mug seals great and with removable innards, you can cool your drinks quickly and clean it more easily. The sheath has a well-secured fabric handle so you can lash it to your pack/a beltloop for berry picking. Highly recommended.
Pros
Newer versions have liquid measurements marked
Can use for rehydration meals, cold/hot drinks/oatmeal, etc.
Fully sealing lid (after venting out heat) allows for spill-free canoeing
Heavy-duty outer layer can take a beating and not show wear
Cons
Would occasionally like a larger vessel
The outer layer (washable) can get stinky on longer trips
Only two colors, in larger groups need to flag ownership with carabiners or stickers
I have been rocking this mug for 4+ years on all my camping, canoeing, and hiking trips. It keeps liquids hot for a long time and is very lightweight. If the coffee's too hot, I simply remove the interior to allow it to cool faster. I have used it for coffee, hot chocolate, tea, soup, storage, oatmeal, etc. It has never failed me and was so coveted by my group, all four of us now own them. I have used a carabiner to hook a mug of hot coffee to my belt loop and walked 3/4 a mile on the Ice Age trail without any leaks.
The newer version has not changed much. There is a lime green available and there are liquid measurement lines on the interior now—seems minimal, but with such a well-designed original model, I cannot see much room for improvement.
If mine ever fails, hard to believe with the abuse I have put it through so far, I will definitely replace it with the same/newer item.
Experience
Used in BWCA, backpacking the Ice Age Trail, backpacking Porcupine Mountains, river/canoe tripping, car camping where I could use a regular cup, but still prefer this one.
Source: bought it new
Price Paid: $10

Best darn backpacking mug I have ever used.
Pros
Lightweight
Reasonably-priced
Insulated nicely
Easily cleaned
Markable for measurements
Cons
Would be nice to have cup measurements come on it
In the 1960s, I used the stainless steel Boy Scout cup which burned my lip on the first sip and yielded cold coffee on the second sip. In the late 1970s Aladdin came out with a 12oz insulated mug that was very cheap but worked nicely.  I used these until about 2011 or 2012 when I discovered the GSI cup.
What an awesome product at a reasonable price! Coffee and soup stay hot, it is easily cleaned and, instead of taking a measuring cup, I took out the Lexan insert and scratched measurements on it at 1/2 cup levels so we could hydrate our backpacking meals.
It would be nice if it came in more colors, since all of my hiking friends (and anyone else who sees it) now has one and the few colors available can lead to confusion.
Source: bought it new
Price Paid: $9.95

Reasonably light mug that works well as a cup or even a small bowl.
Pros
Lightweight
Insulated sleeve
Removable lid
Large
Dishwasher safe
Cons
Lid can get stuck
Not microwave safe
I own the older version of this mug which had a removable lid and an insulated sleeve, but no handle and no cover over the opening in the removable lid. This mug is pretty simple, but the sleeve and the detachable lid are nice features that really help to keep heated beverages and food warm while keeping your hands from getting burnt. Additionally, the sleeve is made of neoprene-like fabric that dries quickly if it gets wet.
This is a wide mug that has the same diameter throughout that makes it ideal to use as a small bowl that is easy to get a spoon or a fork into. If used as a small bowl, it will probably not hold your entire meal in it at once.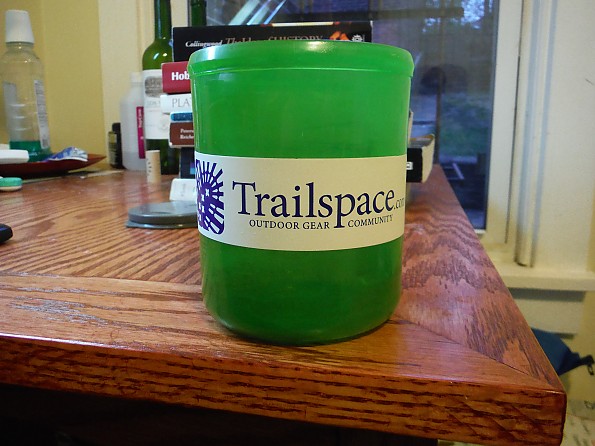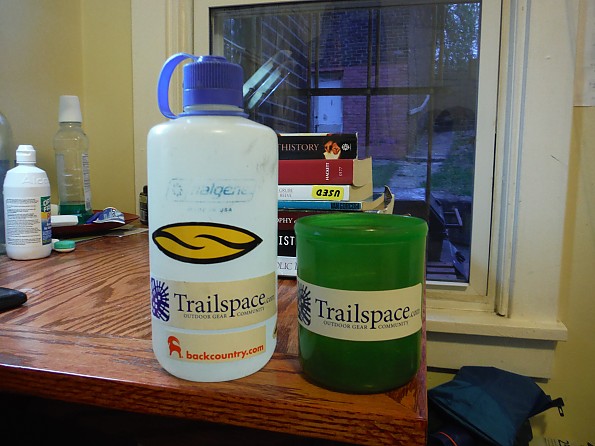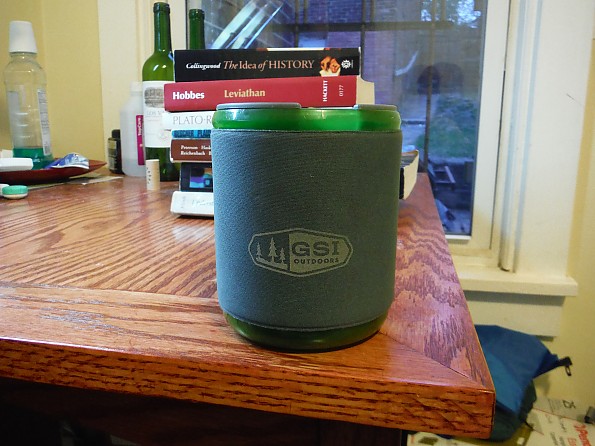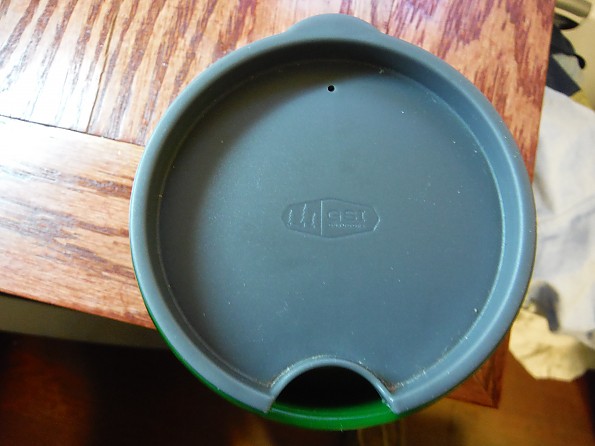 I really like this mug because it nests perfectly inside my Snow Peak Titanium Mini Solo Cookset. Additionally, the Infinity mug is large enough to hold my Coleman Isobutane-propane backpacking stove (without the fuel canister). I have also tried nesting the MSR PocketRocket inside this mug and it fits as well.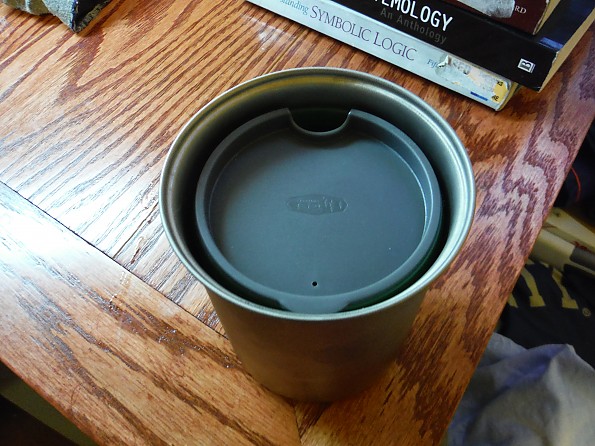 This mug is very durable—there really aren't any moving parts that you can break on it. The lid can be difficult to remove at first, but after some use it comes off with ease.  
Given its relatively light weight, it is good for backpacking. I also like to use this mug at home when I want a large amount of tea or coffee; however, it is not microwave safe so it is not as convenient when you want to heat something quickly. 
Source: received it as a personal gift

Improved with locking lid!
Pros
Light
Small
Insulated
Locking lid
I've been wanting/needing a new backpacking mug because when I bring my girlfriend with me I can't drink coffee out of my Jetboil anymore.
Up until they improved this mug I couldn't find a lightweight insulated mug with a licking lid.
I've spilled my coffee plenty of times to know I'm clumsy and this is perfect.
It's so light you won't notice it and it's in a cozy so it stays warm a long time.
So now you can make soup, tea, or coffee and not spill and it will stay hot until it's in your belly.
Source: bought it new
Price Paid: $10

Lightweight, keeps drinks hot, fun to use.
Pros
Lightweight
Good insulation—keeps the brews HOT
Webbing handle is nice touch
Cons
Lid over mouth hole is not tight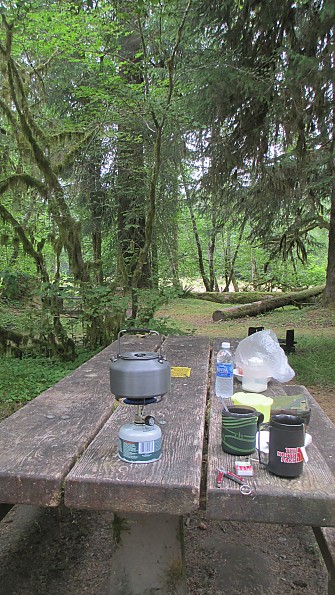 Mug in use at the Hoh Rainforest, WA
I ordered this item from Amazon, thinking I was getting the Infinity mug that had no handle. Imagine my surprise and delight when I got this model! Not only was it better-looking, it had a webbing handle!
This mug is my new favorite (my previous being an old North Face insulated mug that I got at a product seminar when I worked for an outdoor retailer in the early '90s). It's light, the insulation is fantastic, and it looks just the right amount of outdoor stylish. The lid fits tight (another reviewer thought this was not a good thing, but with a full load of hot beverage, believe me—you want that lid tight!). My only complaint was that the lid over the mouth hole did not shut tight, so if you knock the mug over, it would probably spill.
I love the fact that the mug does not retain odors, which makes it nice to switch between tea and coffee with no residual taste. That's because it's made of non-leaching, clear polypropolene that is also 100% recyclable.
The mug has an insulated sleeve that works very well; I've had a steaming mug of coffee for a long time after pouring. It also has a collapsable webbing handle, which is a very nice touch.
The 3.5 oz. weight of the mug holds a generous 17 oz. of liquid.
Well done, GSI, well done!
Source: bought it new
Price Paid: $9.95

Keeps coffee hot, though you can feel the heat through the insulation and colored cover and the cloth handle is not stable.
Pros
Price
Size
Marked cup measurements inside
Lightweight
Insulates
Cons
Cloth handle is not sturdy.
I found the coffee drips down and stains the colored cover.
Repeat of pros and cons where it keeps my coffee hotter than an insulated, unlidded coffee cup, but I don't like the cloth handle or the stain on the cover from dripping coffee while sipping.
Experience
Tried a few until I found Ozark Trails' 12oz insulated cup
Source: bought it new
Price Paid: $9

Figured I would review the updated version...
Pros
Insulated (or not)
Completely sealed
Can carry with no drip
Clip outside your pack
Cons
Must vent steam
Keeps certain flavors
Heavy for a mug
I'm reviewing the updated model (the one pictured by Trailspace, mine is in the sink...or in the car. I don't know). 
I wanted something to keep drinks hot and to keep bugs out of it!  It's actually done more than just those two things and I have to admit I was pleasantly surprised:)
Firstly for those not understanding how steam and pressure works—vent the mug as soon as you add hot fluids to it. Just like with anything else when heat builds up it will pop the seam on the lid itself.  I simply add my fluid of choice and put the lid on with the vent open!! Then after a moment close it and check the seal.  9/10 it's sealed. Simple folks...
The insulating quality is okay, nothing special, nothing inadequate. I do like the handle on it however and can fill up my mug, hike with a full cup of hot coffee or throw it on my floorboard of the car and not spill a drop. I actually bought another for a friend of mine who climbs professionally in the cold and loved it, he tried stealing mine.  
However...there is a terrible aftertaste that never dissipates. In mine it is dish soap. Better than some other things I can think of. Still when I want to use it on road trips as a recycler mug at Starbucks or something and in the woods for my espresso...it's less than stellar to have an underlying hint of Dawn lol.  
I actually rarely take it out on hikes anymore. The weight is ridiculous for just a mug.  I'll take it on day trips or short weekends, road trips, etc. Usually it's in my cupboard for a to-go cup. 
Source: bought it new
Price Paid: $7

Great bit of kit, I own at least three. I'm a Scouter. I have seen them all over the years.
I have every mug made I think, and I just couldn't settle till I found this one. For canoeing for years I used an MSR Ugamug.
The one feature I like about this mug is if you throw a folding titanium spork and small salt and pepper shaker inside it and close the lid, it will fit inside a Fairshare Mug. Great feature. Compact full mess kit.
Source: bought it new
Price Paid: $10

Overall it's not a bad mug, it's just not perfect.
Was purchased as a lightweight mug for day-hiking and backpacking use for a coffee addict.
Pros: lightweight, lid fits securely but isn't impossible to get on and off, outer insulated sleeve slides off/on easily, size of the mug isn't too big around for my stubby fingers, volume it holds is perfect, relatively easy to clean plastic mug and lid (haven't washed sleeve).
Cons: handle is too big/floppy to safely use as a true mug handle, you always have to slurp coffee off of the portion of the flip down lid that actually seats into the hole or it will drip on your nose when you tip the cup to drink, actual lip of mug could be a bit taller — I envision the edge of the neoprene sleeve getting gross in time.
Overall it's not a bad mug, it's just not perfect.
3 out of 5 stars in my opinion.
Source: bought it new
Price Paid: $10.67

Your Review
Where to Buy
Help support this site by making your next gear purchase through one of the links above. Click a link, buy what you need, and the seller will contribute a portion of the purchase price to support Trailspace's independent gear reviews.
You May Like
Specs
Price
MSRP: $6.95
Current Retail: $12.95-$12.99
Historic Range: $4.87-$12.99
Reviewers Paid: $5.95-$106.00

Weight
3.2 oz

Dimensions
3.70 in x 3.70 in x 4.40 in

Materials
Clear Polypropylene

Recently on Trailspace